Black Friday, one of the biggest shopping days of the year, is just around the corner. That's why I've put together these helpful Black Friday tips to help you get the best bang for your buck.
I remember when Black Friday was just one day a year (the Friday after Thanksgiving). Now, there are pre-Black Friday sales and sales that last the entire holiday weekend.
Black Friday has even made its way to Canada, which seems to be growing in popularity each year.
According to Pixlee, Americans spend an average of $335 per person during the five-day period between Thanksgiving and Cyber Monday. The biggest spenders are millennials (aged 24 to 35), who spend an average of $419 per person.
I love looking for deals, but it's important to learn how to resist the temptation that comes with shopping during this time of year. Today I'm sharing 10 tips to help you create a budget that you can stick to this Black Friday. Use these Black friday tips to help you save money and feel good about your spending.
Related Posts: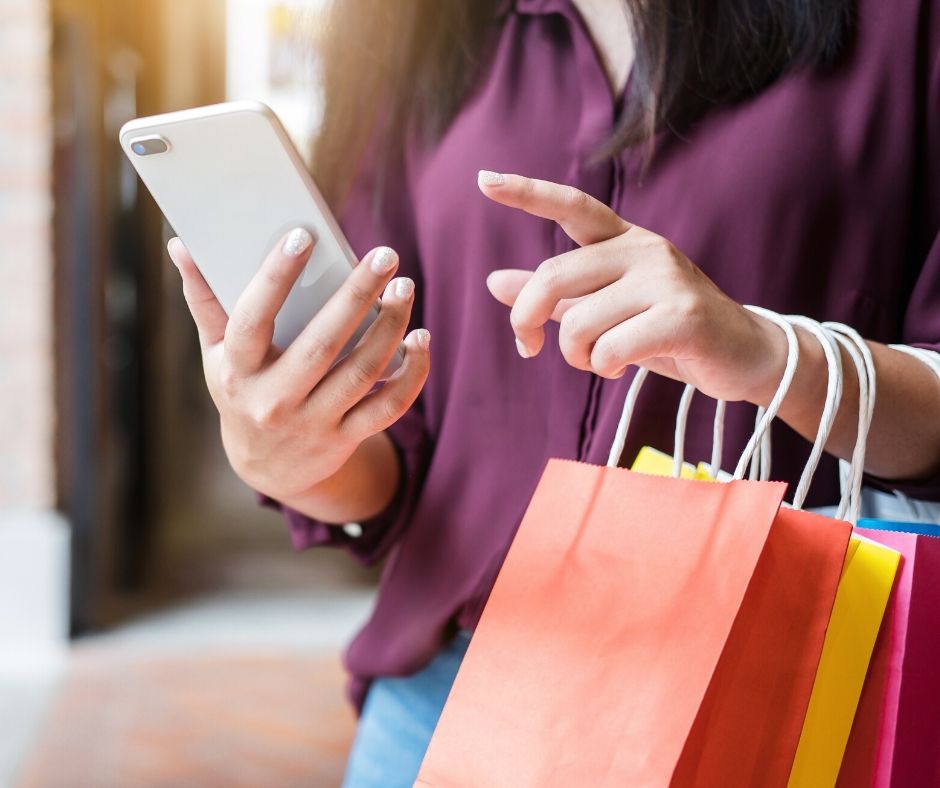 1. Make a shopping list
Before heading out to the stores or shopping online, you'll want to make a list. This is one of the easiest Black Friday tips. I recommend making two shopping lists: 1) Items for yourself and for the home 2) Gifts for family, friends or upcoming events.
You can put everything on one page. I just like to organize my shopping list this way.
Planning ahead can help you save money and time when Black Friday shopping. This also gives you a chance to research items on your shopping list.
For example, if you're on the hunt for a new TV, you want to make sure that you are familiar with the different TV models available. Then you can choose the model that gets the best reviews and fits within your budget.
Shopping List #1
Create two columns.
One column will be for essential items. These are items that you're ALREADY planning to purchase.
The other column will be for non-essential items. These are items that you wish to purchase.
Optional: You may also want to include household items on your shopping list, such as toothpaste, shampoo, and so on. These are items that you use frequently but won't spoil. Buying these items in bulk at a discounted price can help lower your expenses.
For example, I buy these household items in bulk each year (when it's discounted) and it's enough to last me for the next 6-8 months. It helps me save money and time.
Shopping List #2
Then you'll want to create a separate shopping list for upcoming holidays and events.
Make a list of people you need to purchase gifts for and which items you would like to buy for them. This might include Christmas gifts, birthday gifts, or a gift for an upcoming wedding.
2. Create a budget
Before you open your wallet on Black Friday, it's important to sit down and create a shopping budget.
Step 1: Review your shopping list and write down how much you expect each item to cost. You can do a quick price check online to get the cost of the item, or you can just estimate the cost.
Step 2: Calculate the total amount. You should have three separate totals: 1) Total amount for essential items 2) Total amount for non-essential items 3) Total amount for gifts (Shopping list #2).
Step 3: The next step is to figure out how much money you can afford to spend. I like to review my spending for the month and see how much money I have available to spend.
PRO TIP: In the months leading up to Black Friday, I like to do money challenges to help me set aside money for Black Friday shopping. For example, I didn't buy any new clothing in September or October. I put those savings aside for buying clothes I need when they're on sale for Black Friday.
If the totals in Step 2 exceed the amount you can afford to spend, then you'll want to review your shopping list again. Prioritize items by order of importance. You may need to cross off items on your list that are not urgent. There will always be another sale in the future.
I know Black Friday sales are hard to resist, but your wallet will thank you for flexing your willpower. No sale is worth going into debt for.
Optional, but recommended: I like to set a budget for impulse purchases. I understand that it's easy to get caught up in the heat of the moment when Black Friday shopping. That's why I like to set aside money (in cash) for those unplanned purchases. For me, this is $30. You can choose the amount that works best for you.
The key is to challenge yourself to stick to your shopping list and NOT touch your "impulse spending" money. However, if you do make an unplanned purchase, make sure to keep it within your budget. This extra spending money gives you a financial cushion, just in case.
3. Start tracking prices early
Once you've created your shopping list, it's time to start checking prices. This will give you an idea of how much the item costs and if you're really getting a discount on Black Friday.
Sometimes the Black Friday prices are not always the lowest. Check prices at least one week leading up to Black Friday (or earlier if possible). You might find that the price is the same, if not lower than what you'll find on Black Friday.
4. Shopping online? Get cash back with Rakuten
If you don't feel like braving the crowds, shopping online can be a better option. I recommend shopping through Rakuten to earn up to 20% cash back on your purchases. It's free the join and I've been using Rakuten for years.
Rakuten will even apply coupons for you automatically at checkout so you'll always know you're getting the best price.
Plus, you'll get a free $10 welcome bonus just for signing up!
How to claim your free $10:
Start here to sign up for Rakuten. (It's free to join)
Find your store on Rakuten next time you need to buy something. It's connected to over 2,000 stores, including Amazon, Target, and Walmart. You'll need to spend at least $25 on your first purchase within 90 days.
Your Rakuten account will be credited with reward points. Get this cash sent to a PayPal account or choose to receive a Big Fat Check from Rakuten. It's up to you!
For Canadian shoppers, you can click here to sign up for Rakuten (free $5 welcome bonus).
5. Check the flyers
Before heading to the stores, you'll want to do your homework first. This is one of the most helpful Black Friday tips. Now is the time to check the ads and Black Friday flyers. Here's what to look for:
Which store offers the lowest price for items on your shopping list. If more than one store carries the item on your shopping list, which store is offering the better price?
Are there doorbusters for items on your shopping list?
Are there early-bird specials for items on your shopping list?
Does the store have limited quantities? Do you need to get there early?
Doing your homework can help you save time and money when shopping. It can also help you plan out an efficient itinerary for the day.
6. Sign up for retailer emails
I normally don't recommend signing up for promotional emails UNLESS you need to buy something. This is because retailer emails can encourage impulse purchases or tempt us to overspend.
However for Black Friday, I recommend getting on the email list for stores that you're planning to shop at this year. They may offer special discounts only available to those on their email list.
Once Black Friday is over, hit the unsubscribe button so you won't be tempted to make any unnecessary purchases.
7. Check the return policy
Not every store offers the same return policy. It's important to check before making a purchase.
Some stores offer generous return policies that allow returns for a full refund within a specified time frame. Some stores only offer returns for a store credit. Some stores have restocking fees. Some stores offer no returns or exchanges on sale items.
Understanding the return policy can make you think twice before spending money at certain retailers. I also recommend getting gift receipts for items that you're planning to give as a gift. This will make it easier for the person to exchange the item, if needed.
8. Set a time limit per store
I can appreciate that Black Friday shopping can be hectic. It may take longer than expected to visit the stores on your list.
However, it's important to set a time limit per store. This can help you stick to your shopping list and avoid browsing around. I personally find that if I don't set a time limit, I'm more likely to start looking at items that are NOT on my shopping list, which can lead to overspending.
PRO TIP: Avoid using a shopping cart (unless you're buying a heavy item that's difficult to carry). Shopping carts encourage us to buy more items. Instead carry the items in your hand (or carry a basket if you must). This can help you stick to your shopping list and save money.
9. Ask yourself the following shopping questions
Before you buy something, it's important to ask yourself the following questions. The answer can help you figure out if you're making a good purchase decision.
It's also good practice to interrupt your shopping experience so you can pause and reflect before making a purchase.
Is this item on my shopping list?
If no, then it's probably a good idea to put it back.
Will I still want this item a month from now?
It's not a good idea to buy something just because it's on sale. It's not a good deal if you don't need it.
How often will I use or wear this item?
Make a plan for how you will use or wear the item. If you're buying a dress that you'll only wear once, then you may want to consider borrowing or renting the item instead. Don't buy stuff that will add clutter to your home.
What else could I do with this money?
I ask myself this question ALL the time when shopping. Before buying something, think of the different ways you can use that money. This helps me prevent impulse spending.
10. Put one item back
It's easy to get carried away with Black Friday shopping. If you find yourself struggling to stick to your shopping list, consider leaving the store. This is one of my favorite Black Friday tips.
Yes, that's right. Walk out of the store. Give yourself a chance to catch your breath and relax. This can help you get into a better frame of mind so you can think more clearly when shopping.
Another shopping strategy I recommend is to put one item back. I teach this technique in my course, Freedom From Shopping. This can help you save money and decide if you really need to buy something.
How it works: Before you head to the cashier, look at the items in your basket (or the items you're holding if you skipped the shopping cart). Now, consider putting one item back.
We often buy stuff without thinking and it keeps us trapped in the cycle of buy, buy, buy. When you consider putting one item back, this can help break the mindless shopping cycle.
You'll feel more intentional about the item(s) you decide to purchase, by making sure that it's practical and it also makes financial sense.
Final Word
Black Friday is just one day. There is no need to feel pressured to shop and spend money on Black Friday. You are not missing out on the deals, especially if they're for items that you didn't need or want in the first place.
While Black Friday can be a great time to check off items on your Christmas shopping list, remember that it's just the beginning of the holiday season. You still have plenty of time to get ready for the holidays on a budget that you can afford.
Once you've done your research and established your shopping budget, make sure to stick to it! You don't want to show up to Black Friday and just wing it. That's a surefire way to get sidetracked and overspend by all the temptations of the holiday season.
I hope you've found these Black Friday tips helpful in creating your shopping budget. Remember that you're in control of your money. You're in control of how much you want to spend on Black Friday or any other day of the year. Not the retailers.