Whether you're trying to save money for the holidays or making a plan to get out of debt, there is always a good reason to improve your finances.
While you can certainly fine-tune specific areas, such as making more money or reducing your monthly expenses, I truly believe that if you want to build a healthy relationship with your money, it requires a holistic approach. This involves:
Developing the right financial mindset for success
Creating a budget which aligns with your financial goals (and sticking to it)
Creating a schedule which prioritizes wellness and income-generating activities
To help you get started in building a healthier relationship with your money, here are 10 ways you can improve your finances today.
Related Posts:

1. Change your mindset
Want to know the secret to financial success? Spend less than you earn.
This is the easiest way to improve your finances, yet so many of us find it difficult to live within our means. That's because our brain is constantly trying to trick us into believing something that we know is not true and trying to sabotage our financial success.
When we think about money, it creates a very emotional response for many people. Some of these emotions include happiness, sadness, guilt, anxiety, and so on.
Warren Buffett once said, "If you can't control your emotions, you can't control your money". This doesn't mean that you should block out your emotions when making financial decisions. Instead, success comes from having the self-awareness to know which feelings are helpful and which ones are hurtful when making decisions.
When it comes to our money mindset, we usually fall into two ways of thinking.
Money Mindset #1: I didn't hit my savings goal this month, which means I'm a financial failure.
Money Mindset #2: I didn't hit my savings goal this month, which means I need to learn why this happened so I can make improvements next month and reach my financial goal.
What money mindset sounds most like you? Be honest with yourself.
If you said Money Mindset #1 sounds most like you, this means that you probably see failure as a reflection of oneself. You may also feel that your circumstances are fixed and holding you back from reaching financial success.
If you said Money Mindset #2 sounds most like you, this means that you probably see failure as independent from oneself. You may also feel that your talents and abilities can be developed through effort and setbacks can drive you to learn how to improve and do better.
Our money mindset plays a vital role in our financial success. If we have the mindset that we can learn from our mistakes and we are not bound by our circumstances, this will help tremendously in reaching our financial goals.
Another important part in financial success is planning. It's important to create an action plan for ourselves on how we're going to achieve our goals and follow through with the plan. A good place to start is by sitting down and creating a monthly budget. You can check out this post here to get started.
Read Next: 5 things to do before creating a budget
 2. Save money on your student loans
Have 10 minutes to spare? That's great! You could save thousands of dollars on your student loans.
A smart way to improve your finances is to have a good repayment plan in place for your student loans. Letting your debt linger can hinder your financial success for years to come in the form of more interest payments and lower credit scores.
To get the best deal possible on your student loans, I recommend using LendKey. LendKey can help you save thousands of dollars by refinancing and consolidating your student loans into one manageable loan with a lower interest rate. Here are some of benefits of using LendKey:
A quick 2-minute rate check with NO impact on your credit score
You can reduce monthly payments up to 40% and save an average of $10,000
Over 275 not-for-profit and community lenders to choose from mean higher chances for approval and LOWER rates
How LendKey Works
There are 5-easy steps to get started with LendKey. Each step only takes a couple minutes to complete, then you'll be on your way to saving a TON of money on your student loans.
Get Your Rate
LendKey will ask you to fill out a quick online form to see personal rates. This will only take a couple minutes to complete. Then LendKey will use a soft-pull of your credit to show you real rates. This WON'T impact your credit score.
Pick Your Loan
LendKey will show you the best rates from over 300+ community leaders. Then with just a simple click, you can select the right loan for you and your budget.
Upload Your Docs
You can easily upload files from your computer or photos from your phone for verification.
E-Sign & Click
You'll receive an email from LendKey letting you know that your documents have been verified. Then you just need to e-sign your loan agreement with DocuSign.
Loans Paid Off
LendKey will get to work paying off your existing loans immediately so you don't have to. Click here to learn more about how to get started with LendKey.
3. Get up to 20% cash back on your purchases

Rakuten is free to join and it's my favorite way to earn cash back when shopping online. Rakuten will even apply coupons automatically at checkout, so you'll always know you're getting the best deal.
Plus, you'll get a free $10 welcome bonus just for signing up.
I use Rakuten all the time when shopping online and have been able to earn over a thousand dollars through them. Pretty awesome right?
How to claim your free $10:
Start here to sign up for Rakuten. (It's free to join)
Find your store on Rakuten next time you need to buy something. It's connected to over 2,000 stores, including Amazon, Target, and Walmart. You'll need to spend at least $25 on your first purchase within 90 days.
Your Rakuten account will be credited with reward points. Get this cash sent to a PayPal account or choose to receive a Big Fat Check from Rakuten. It's up to you!
For Canadian shoppers, you can click here to sign up for Rakuten (free $5 welcome bonus).
4. Pay less for your internet
It's no secret that negotiating your monthly bills can help you save lots of money. But have you picked up the phone yet?
If you haven't, don't worry. Instead, let Trim do the negotiation for you. Trim is a digital personal assistant that makes it easy to save money on your monthly bills.
All you have to do is sign up here and Trim will do the heavy lifting for you. Trim will negotiate not just your internet bill. It'll also negotiate your cable, cell phone, and car insurance bills. Trim works behind the scenes and automates ways to save you money.
Now you can have more money in your pocket to help grow your savings, pay off debt faster, and so on. This is an excellent way to improve your finances. To get started, you can sign up for free here.
5. Get paid to do online surveys
Companies are willing to pay you to get your opinion. If you're looking for an easy way to make money fast, this can be a great option. I started doing online surveys when I was in college to help me make extra money. This can be a simple way to improve your finances.
PRO TIP: Earn the most money when you sign up for several survey websites. Then you'll get to choose the surveys which pay the most money. Save time and earn more cash!

Survey Junkie – This is my favorite legit survey company and it's a great way to make money. It's one of the largest survey companies in the world. It's similar to Swagbucks, where you'll earn points for each survey you complete. Then you can exchange your points for cash paid directly to a PayPal account, or you can redeem your points for a gift card. It's super easy.
Sign up to start making money with Survey Junkie today
---
Branded Surveys – This website will pay you for each survey you complete. It's an easy way to make extra money.
Sign up for a free account with Branded Surveys
---
Swagbucks – This is one of the most popular survey websites. I've been using Swagbucks for years to earn free gift cards. For each survey you complete, you'll earn "swagbucks" which can be redeemed for free gift cards, or you can get cash paid to a PayPal account. Plus, you'll get a free $5 welcome bonus just for signing up today.
Sign up for Swagbucks and claim your free $5 here
6. Start investing (the easy way) and get $5
A simple way to start investing money without much effort is to use Acorns. This is actually one of the easiest ways to make money. Especially if you're new to investing and don't know where to start.
Every time you make a purchase, Acorns will automatically round it up to the nearest dollar and invest that change towards your future. Your spare change can quickly add up and every nickle and dime counts. This can be an easy way to improve your finances.
With Acorns, you can also earn cash back on your everyday shopping or set up recurring investments. You'll even get a $5 welcome bonus just for signing up.
Sign up with Acorns today and claim your free $5 bonus
---
Another easy way to start investing money for beginners is earn a monthly return on money you already have. With lending services, such as Lending Club, you get to act like the bank and earn a monthly return on your money. Lending Club is America's largest marketplace connecting borrowers and inventors. The process is simple and straightforward. It's actually pretty awesome!
Start earning with Lending Club today
7. Save money by meal planning
Every day I receive emails from my readers saying that they really want to save money, but eating out takes up a huge portion of their budget.
When I started working at my first job, I used to eat out all the time too. It wasn't until I took a look at my budget that I realized how much money I was spending on food. That's why I created this Meal Plan Binder printables to help me save money and eat healthier too. Meal planning can be an excellent way to improve your finances.
If you prefer someone else to do the meal planning for you, then I highly recommend trying the $5 Meal Plan. This is a weekly meal plan service that can make your meal planning super simple.
For just $5 per month, you will receive a delicious meal plan, where every meal will cost about $2 per person (or less). It's a great way to save time and money, plus they offer specialty plans, including gluten-free and vegetarian meals. Click here to try it free for 14 days.
If you're short on time and prefer someone else to meal plan AND do your grocery shopping, then I recommend trying Hello Fresh. I just recently tried Hello Fresh for the first time and loved them.
I was having a hectic week, so it was nice to get fresh groceries and meal plans delivered straight to my doorstep. Each meal was delicious and took less than 30 minutes to prepare. Try Hello Fresh today and get $30 off your first box.
8. Increase your income
Yes, at the end of the day, there are only so many ways you can slice and dice your monthly budget without wanting to pull your hair out.
Instead, challenge yourself to increase your income. Here on Mint Notion, I love sharing ways to increase your earning power. This can be a great way to improve your finances.
For those currently in debt, determine how much extra money is needed each month in order to pay down debt faster. Ideally, you'll want to set a realistic income goal for yourself and find a way to make extra money. Whether it's an extra $100 or an extra $1,000 each month, there are lots of different ways to increase your income.
Some of my favorite ideas include blogging, freelance writing, selling items online, starting a drop shipping store, renting out your extra space for cash, and so on.
Read Next: 34 legitimate ways to make extra money in 2019
9. Declutter your space
Just a few years ago, I used to be a shopaholic. I was constantly buying new clothes because I was addicted to shopping. Many of the items in my closet still had the price tag attached or had only been worn once.
In order to break this bad habit, I made a promise to myself that I wasn't going to buy any new clothing for an entire month.
Well… that month turned into a full year of successfully doing the no new clothing challenge. It was not easy, but it taught me how to develop better spending habits going forward.
I also discovered that decluttering my space felt good. It felt amazing actually! Being able to donate or sell my old stuff was a great way to make extra cash while I was in college. Some of my favorite places to sell items include:
CardCash (sell your unused gift cards for cash)
Gazelle (trade in your old cell phone and electronics for cash)
Amazon Trade-In (trade in your items for an Amazon gift card)
10. Get paid to lose weight
Did you know that studies have shown that regular exercise can fatten your paycheck by 7% to 12%? I'm not making this stuff up! For example, getting a full night's sleep has been shown to boost pay by 5%.
I truly believe that when we choose to make our health a priority, it will naturally motivate us to develop better financial habits too.
Now's the perfect time to start getting fit for summer. Companies, such as Healthy Wage, will actually pay you to lose weight. Make a bet, lose the weight you say you're going to lose, and get paid. Sounds simple enough, right? Check out this post to learn more about getting started with Healthy Wage.
---
For more ways to improve your finances, I invite you to take THIS free challenge which can help you save up to $1,000 in 12-weeks!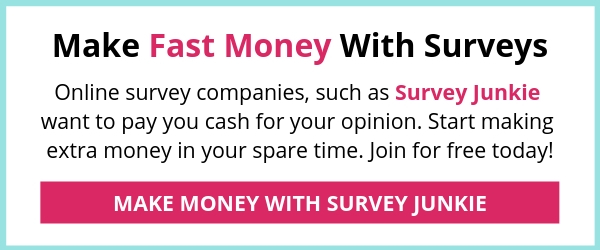 Save $1,000 in 12 weeks!
Save up to $1,000 with this fun money challenge. Get your free printable worksheet now!