Are you interested in working from home and making extra money? You may want to consider becoming a virtual assistant. Today I'm sharing everything you need to know about how to become a virtual assistant with no experience.
The job prospects for virtual assistants are strong and growing as the result of a number of trends. With technology advancements, businesses are more comfortable than ever working with virtual assistants.
If you have good communication skills and a general understanding of all-things-internet, then working from home as a virtual assistant (or "VA" for short) can be a great opportunity for you.
As a VA, you can get paid to offer services such as social media, email, or data entry to other business owners from afar. Pretty straight forward right?
Not sure which virtual assistant services to offer? You can check out this list of over 150 services you can offer as a virtual assistant to get inspired.
One of the best parts about making money as a VA is that you can set your own hours and work from anywhere that has an internet connection. All you need is your computer or laptop to get started.
Does becoming a virtual assistant sound like a good fit for you?
Sometimes it can be intimidating to start something new. The good news is that you don't have to go through the process alone. Today I'm sharing some helpful tips for beginners on how to become a successful virtual assistant.
Related Posts: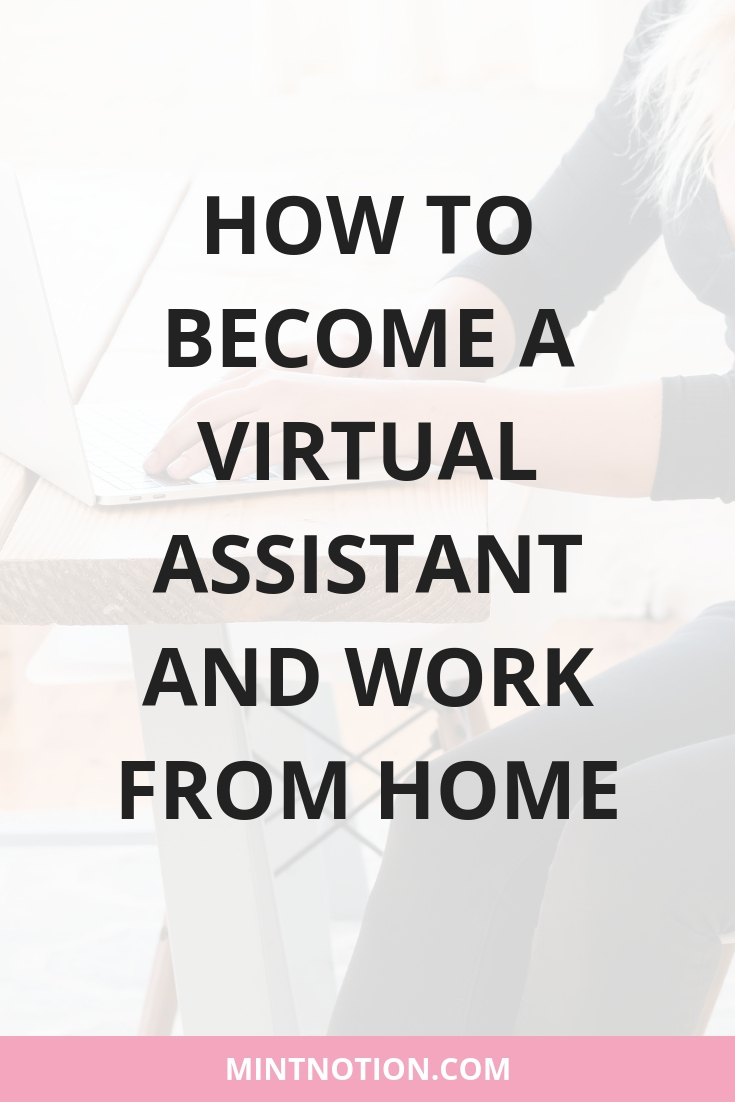 What does a virtual assistant do?
Virtual assistants are remote administrative assistants. Most virtual assistants work from home, which can make the job very appealing for stay-at-home parents or caregivers.
While VAs can perform diverse tasks, in its simplest terms:
A virtual assistant is anyone who offers services to other business owners from afar in exchange for an agreed upon fee.
VAs perform tasks that an administrative assistant or secretary would normally do, such as scheduling appointments, planning travel arrangements, making phone calls, managing emails, and so on.
While these are more traditional tasks associated with administrative work, some virtual assistants have more specific jobs based on their unique skill set. This may include bookkeeping, graphic design, data entry, and more.
Still interested? Yeah? That's awesome!
What services does a virtual assistant provide?
One of the most common questions aspiring VAs want to know is — what type of services can you offer as a virtual assistant?
To help you get started, here is a list of over 150 common VA services that are in high demand. Depending on your skills and interests, I'm sure you'll find something that will appeal to you. Here are a few popular examples:
Website design
WordPress maintenance
Graphic design
Keyword Research
Data entry
Bookkeeping
Social media management
Creating landing pages and sales pages
Email management
Travel planner
Transcription
Content research
Project management
Editing videos
Proofreading
And the list can go on and on! Depending on the business, the more services you can offer, the better!
What skills do you need to become a virtual assistant?
The good news is that you don't have to have a college degree to make money as a virtual assistant. Having a degree can be helpful, but it's not always necessary.
Gina Horkey, the mastermind behind HorkeyHandbook.com recommends having these skills if you want to be a successful virtual assistant.
General understanding of all-things-internet. This can certainly be learned, however if you're planning to work online, having a general understanding of the internet is a good place to start.
Good communication skills. Because you'll be working remotely, it's important to be good at communicating through email or by phone.
You must have a high degree of motivation. If you're not sure what skills or experience you have right now, don't worry. This should NOT be a deterrent. Having a high degree of motivation and a desire to learn are equally, if not more important. Gina offers a course on how to find work as a VA and says her students love how she walks them step-by-step through the entire process.
Can you really make money as a virtual assistant?
The average North American virtual assistant earns $35 to $50 per hour. Some earn as high as $100 per hour and others as low as $20 per hour. The amount of money you make will depend on your experience, skills, education, and so on.
In 2014, Gina didn't even know that working online as a virtual assistant was possible. She was desperate for a career change and was excited to learn more about getting started as a virtual assistant.
Within 6 months of working as a VA, Gina was earning $4,000 per month on the side of her full-time job. Did I mention she was taking care of a new baby and toddler too?
It wasn't long before Gina was able to quit her 9-5 job and find success with her online business.
Imagine bringing in extra money each month as a side hustle.
Or maybe you're interested in becoming a full-time VA?
As a virtual assistant, you can make enough money to help pay off debt faster or add more freedom to your life. Plus, as you begin to gain more experience, you can quickly increase your rates.
Benefits of becoming a virtual asssitant at home
Working as a VA can have a number of life-changing benefits. Many people are looking to become a stay-at-home mom or dad, but still want to find a way to make money for their family too. Working from home as a virtual assistant might be the perfect opportunity for you.
Gina started her VA career when she had a young family of four. She was a little leery of this new venture in the beginning, because she didn't know what to expect. But within a few months, she knew she made the right choice to become a VA and never looked back!
If you learn how to become a virtual assistant, you'll get to have:
MORE FREEDOM – Escape your 9-5 job, work with who you want, work when you want, work where you want.
MORE FINANCIAL SECURITY – You can earn enough money to stop living paycheck to paycheck, pay off debt faster, afford to travel more, save more money.
MORE FLEXIBILITY – Create your own schedule, work when it's best for you.
Do you want to start living a more financially free life? Check out this FREE guide to kick off your VA career.
How to become a successful virtual assistant
One of the exciting aspects about becoming a virtual assistant is that there's been a 95% increase in demand for VAs in the last three years. That's pretty amazing!
And a recent survey by Upwork shows that 69% are happier freelancing than working in a regular office-based position.
Sounds good right? Here's how you can get started!
While formal training isn't necessary to get started as a VA, brushing up on your skills can definitely help you stand out from the crowd.
My friend Gina at Horkey Handbook is one of the most successful virtual assistants out there. As a former VA, she has complied all her knowledge into a comprehensive course: 30 Days or Less to Virtual Assistance Success.
She'll teach you how to build your VA foundation to make sure you establish the right online presence. After you've mastered these skills, Gina will show you how to turn this newfound knowledge into a thriving and profitable business.
You'll walk away from this course knowing exactly how to find and pitch to clients, build effective relationships, and run a successful VA business. Sounds like high-value stuff right?
Nearly all of her course graduates have inspiring success stories. This can be the perfect opportunity for someone with online skills who's looking to start working for themselves.
But don't just take my word for it, you can check out her student's success stories here.
Still not sure if 30 Days or Less to VA Success if right for you?
I can appreciate if you're not quite ready to jump headfirst into this. I mean, this course can certainly help you excel as a VA, but perhaps you still have some questions.
For example, maybe you're thinking, "This is something I would love…but since I have no experience, how can I just become a virtual assistant?"
How do you go from knowing nothing about working as a VA to winning over clients and making money?
It's funny because Gina had the same thought as you!
Most online courses don't teach the part where you actually go out into the real world and apply what you've learn. This is what makes Gina's VA course so valuable – because a major part of the course is dedicated to helping you find virtual assistant jobs for beginners or managing your own freelance business.
That's why many of Gina's course graduates have been so successful. When you enroll in her course, you'll gain the skills needed to succeed as a virtual assistant, PLUS you'll learn how to make money from your skills and create a profitable business. Who wouldn't want that?
Think becoming a VA sounds like a good fit for you? I recommend checking out Gina's FREE step-by-step guide. (Details below)
Virtual Assistant Training – Free Guide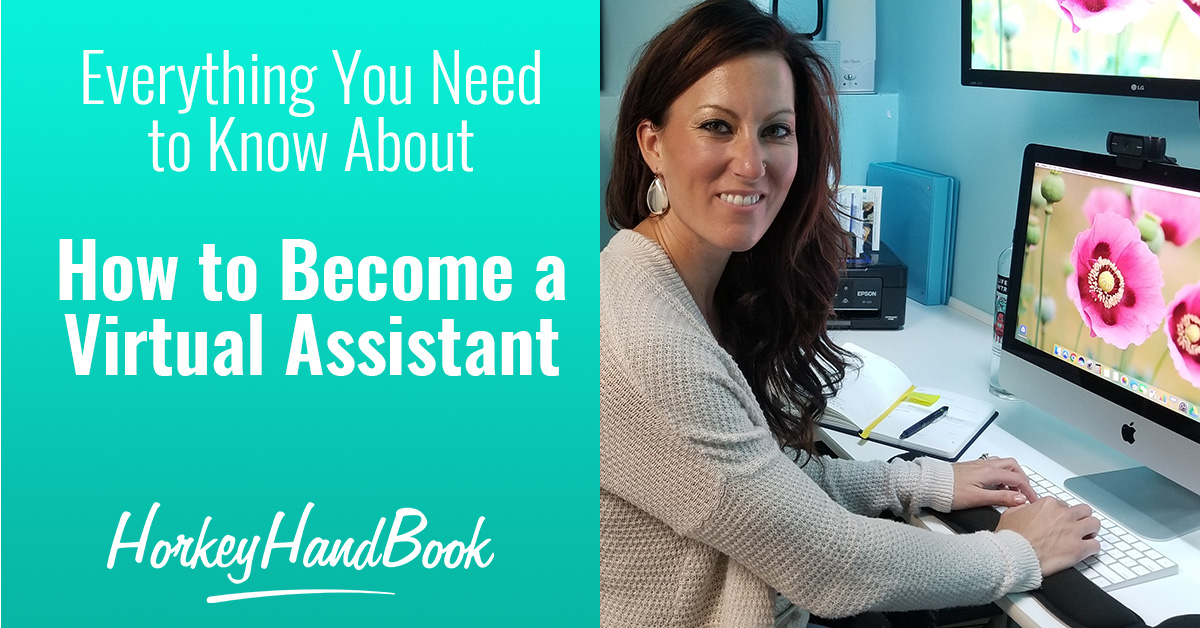 Gina has put together a free guide where she will share:
Information about herself, so you can get to know your teacher.
Information about virtual assistants as a profession – including how to find virtual assistant jobs by pitching and networking. She'll also share what you need to become a virtual assistant.
How to elevate your skills to become a SUCCESSFUL virtual assistant.
Her guide is completely free. Plus, you can check out this list of 150 in-demend services you can start offering as a VA today.
VA Success Story
I was impressed by Erika's story, who was hired by her first client three weeks after starting Gina's course. She was able to earn a return on the course investment just 48 days after enrolling.
Now she currently makes and average of $2,500 per month as a virtual assistant. She pulled her love of graphic design and writing together to build a thriving VA business.
What does Erika love most about being a VA? She says the best part is having the flexibility to structure her work hours. She loves that she can take her work with her while traveling or being able to take Friday morning off to volunteer. Before becoming a VA, this wasn't possible at her 9-5 job.
With the right training and hard work, you too can make some good money with just a few clients. Being a VA is not for everyone, but if you have good communication skills, this can be a great fit for you.
Ready to begin your virtual assistant career? Start with Gina's free step-by-step guide here.