Spring is just around the corner, which makes now the perfect time to start getting fit and making extra money for summer. There are lots of great ways to bring in extra cash each month to help you reach your financial goals.
Not sure what your goal is right now? I can think of many reasons why you would want to make extra money, such as:
Saving for a down payment on a home
Saving for your summer vacation
Extra money for retirement savings
Paying off credit card debt
Extra money to pay your monthly bills on time
Saving for a rainy day
Many people choose to settle for their salary and try to make the best of what they have, which is absolutely fine. However, in today's tough economy, there can certainly be a better way!
Imagine being able to bring in extra money each month without having to change your career or continue waiting patiently for that pay raise at work.
Instead of waiting for your boss to solve your financial problems, why not take control of your money and give yourself your own raise during your spare time?
More income means more options. More money can mean the difference between struggling to make ends meet or having money to go on a vacation.
This is why I am a big fan of side hustling. You don't need to be entrepreneurial, have an MBA, or know how to code in order to benefit from a side hustle. You just need to find an opportunity that matches your skill level.
Lately, I've been going out for daily walks to get more exercise, clear my mind, and explore my new neighborhood. Every day I see people on bikes delivering with Uber in the city. This can be a popular side hustle to earn good money and it can be an excellent way to stay active too (if you choose to deliver with your bike and biking options are available in your area).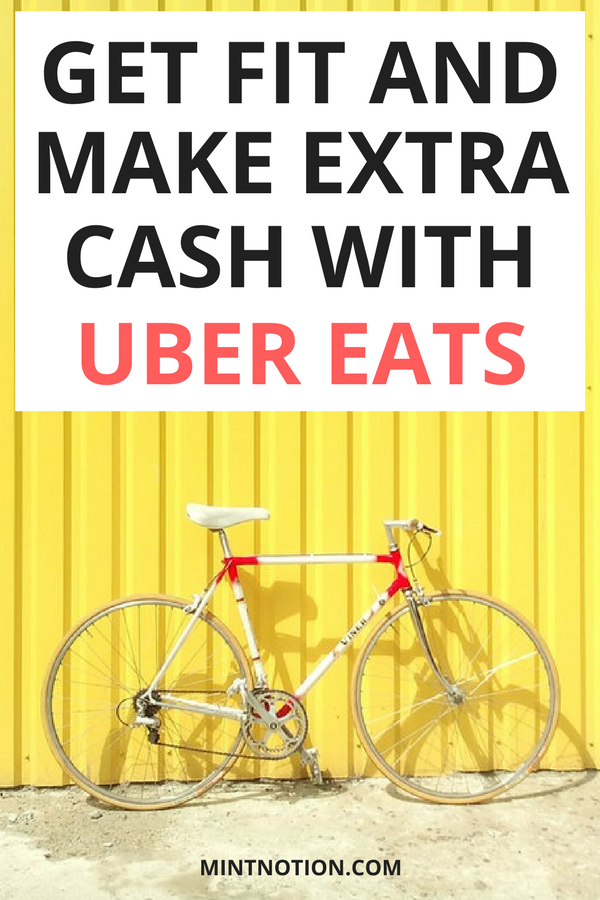 What is Uber Eats?
Uber Eats is a food delivery app​ that allows customers to get food from their favorite local restaurants at the tap of a button. As an Uber Eats delivery partner, you'll bring the local food people love right to their door. Delivery partners don't handle payments, just deliveries.
The money you earn can be paid out instantly with Instant Pay. Plus it's super flexible, which means you can deliver day or night, whenever it is convenient for you. Simply turn on the app, and you can start receiving delivery requests in your area.
You get to choose when you are available to make deliveries which makes Uber Eats a good option to earn money on your schedule. You can also get 24/7 phone support, in-person support, and more from Uber.
Depending on your city, Uber Eats lets you get to choose your wheels. You may be able to deliver food with your car, bike, or scooter. The bike is a great option to get extra exercise, especially in the warmer months.
PRO TIP: If you want to make the most money delivering with Uber, then I recommend using your bike. After talking to several Uber Eats delivery partners, they found biking was the quickest way to make deliveries and earn the most money.
For my Canadian friends: ​Toronto and Edmonton are some of the top cities to deliver with Uber here in Canada, which means you'll have the potential to make some decent income if you work in these cities.
For my American friends:​ Washington DC, Boston, and San Francisco are some of the top cities to deliver with Uber in the USA. Uber is available in 130+ North American cities and growing, which means there are lots of opportunities to make extra money!
For my friends across the globe:​ Uber is available around the globe, so it's worth checking to see if you can get started in becoming a delivery partner with Uber today.

Perks of delivering with Uber Eats:
Flexible earnings
Delivery partners can be 19+ years old (this could be a great opportunity for students)
In select cities, bikes and scooters are acceptable as well
At the end of each delivery, you'll be eligible to receive a tip
Cash out with Instant Pay up to five times per day
How to get started with Uber Eats
To get started, visit Uber.com to complete the sign-up process in minutes. If your account gets activated, download the app and you're ready to go.
Step 1: Sign up to deliver with Uber
Fill out any necessary information and upload the required documents for the background check.
If you're notified that you are active, you can begin to accept deliveries.
Step 2: Go online and accept deliveries
When deliveries become available, the app will ding your phone to notify you and show you the location of where you need to go.
Choose to accept the request for a food delivery. Once accepted, you'll get directions to your destination
Step 3: Pick up the food
Grab your car, bike, or scooter and head to the restaurant. Pick up the order and deliver it to the customer.
Step 4: Drop off
Use the Uber app as your guide and deliver the food to the customer. The Uber app gives you turn-by-turn navigation to every destination, so you never have to guess where you're headed.
Step 5: Make money

30-Day Money Challenge
Save $465 with this fun money challenge. Get your free printable worksheet now!