UPDATE: Grab the 2019 Budget Binder Printables package here.
Hey friends, exciting things are happening here at Mint Notion – the 2018 Financial Freedom Binder is here! I have been receiving a lot of emails lately about creating a better budget, and I am so excited to share my budget binder with you!
I created the Financial Freedom Binder to help you track your income and expenses and encourage you to spend less, save money, and pay off those debts. Let's make 2018 the year of a better financial future.
With the start of the New Year, right now is the perfect time to take back control of your finances.  This budget binder will help you see the bigger picture so you can understand your financial situation and increase your savings.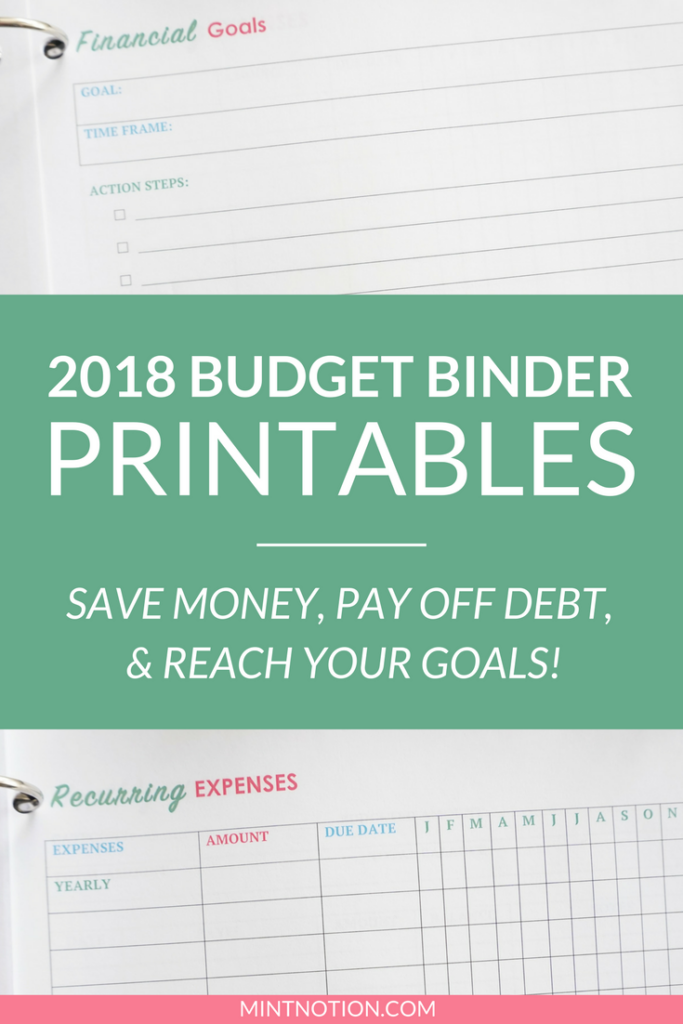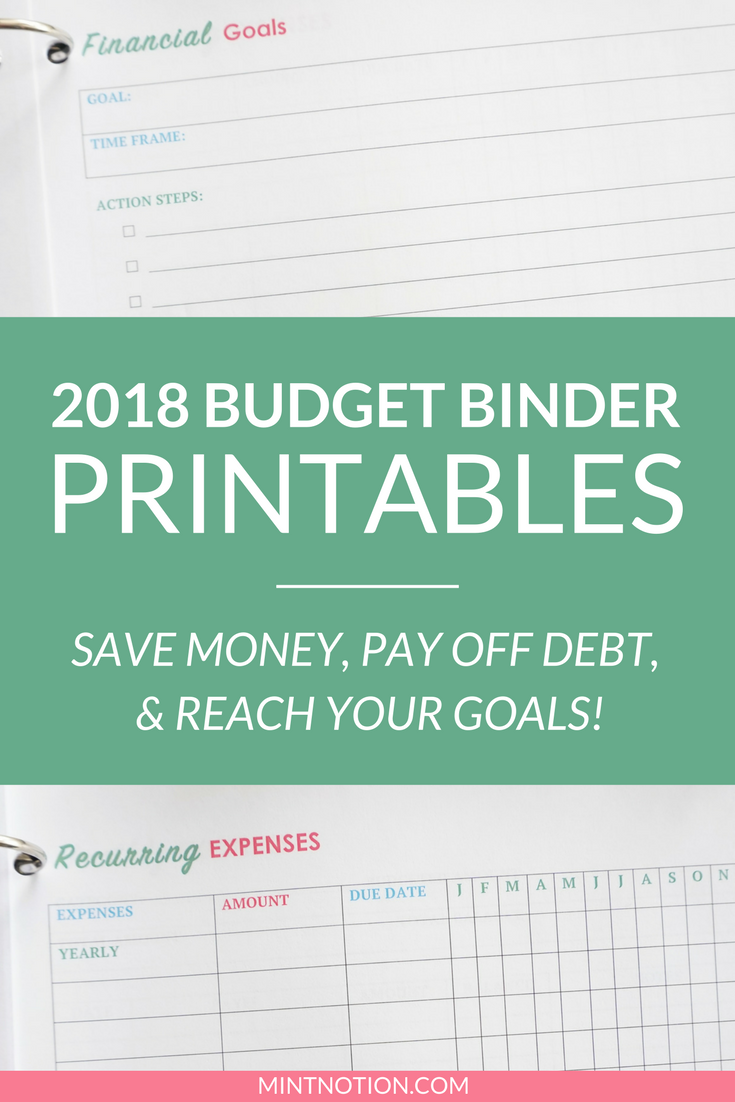 Ready to dive into the contents of the 2018 Financial Freedom Binder?
Let's do this!
Cover Page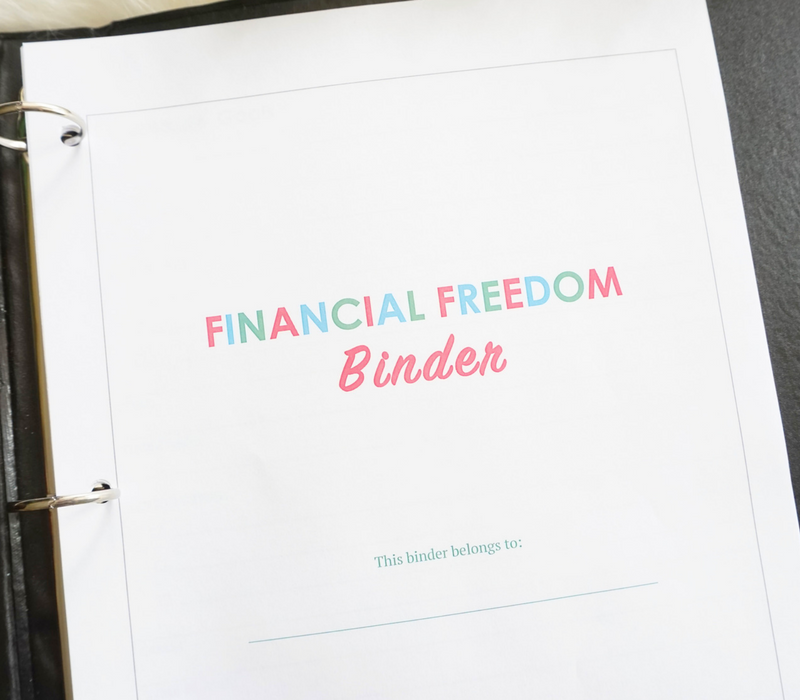 I created a simple cover page using fun colors. There is also a space for you to write your name. You can add this page to the front of your binder or insert it into the plastic slip on the cover of your binder.
Financial Goal Setting Sheet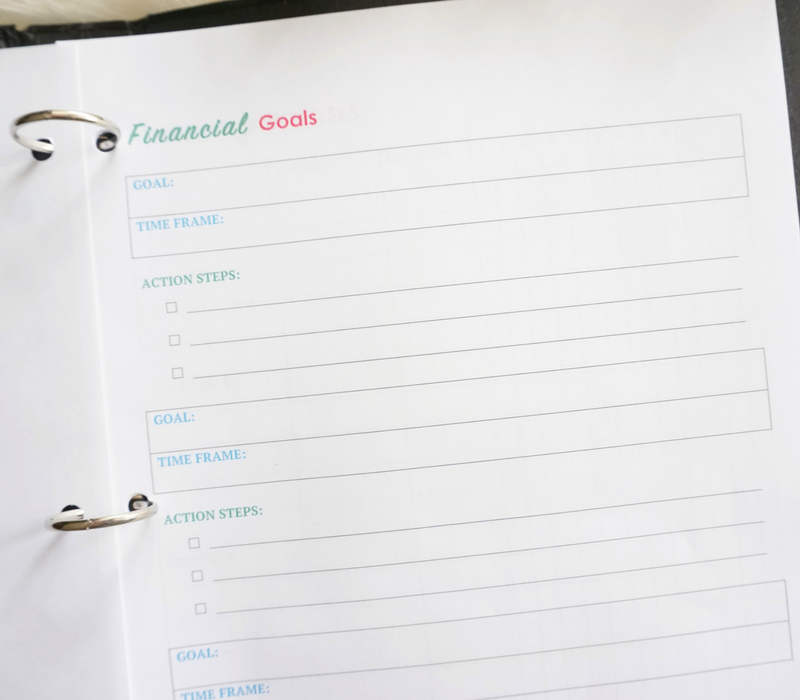 Setting your financial goals is so important and writing down your goals is the first step towards achieving them.
That's why I suggest putting this page near the front of your binder. This will serve as a constant reminder of what you're working towards. Reviewing your goals on a daily or weekly basis can make you more likely to stay on track and achieve them.
Let's say my goal is to save money for a down payment on a home by the end of next year. I'll write my goal down on this page, then set a time frame to complete this goal (by the end of December 2018). Then I'll list the top 3 action steps necessary to achieve this goal. This may include: eating out less, increasing my income, finding affordable entertainment options, and so on.
These actions steps are the plan of HOW you're going to reach your goal. Think of saving money for a down payment on a home as the BIG, long-term goal and the action steps as the small, short-term goals. You also want to make sure that your goals are challenging but attainable, and they are highly specific and practical.
Recurring Expenses Tracking Sheet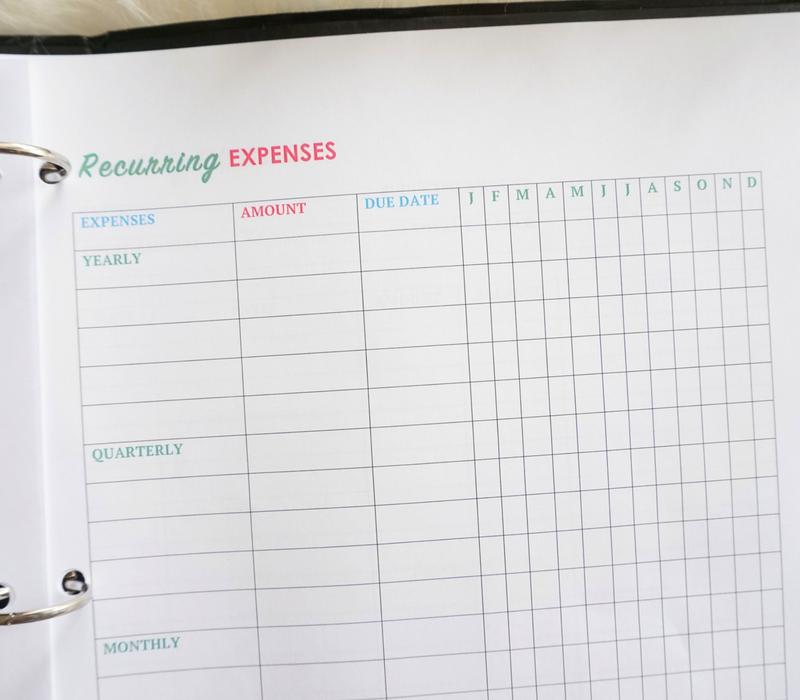 I like using a sheet to track all my recurring expenses. This includes anything I pay on a yearly, quarterly, or monthly basis. This sheet will help you keep organized and stay on top of your bills. Late fees can add up, so this printable will help you remember to pay your bills on time.
Some examples include:
Utility bills
Insurance payments
Subscription fees
Schooling and tuition fees
The small boxes on the right half of the page list the initials of each calendar month at the top. You can put a check mark or "x" to remind yourself when bills are due. Then as you pay them off, you can circle the check mark or "x" to keep track and know that you're up to date with your bill payments. You are welcome to fill out this space any way you like.
Monthly Expenses Tracking Sheet
Now that we covered our recurring expenses, it's important to also track your monthly variable expenses. I like to break down my purchases into separate categories. This helps me to create a realistic budget for each category and keep everything organized.
In order to get a better understanding of where your money is being spent, I highly recommend recording each and every expense you make during the month. This is especially important if you're not used to creating a budget for yourself.
You also want to make sure that everything you buy during the month fits into one of your categories. Here are some categories that I like to use:
Groceries
Entertainment
Eating out
Clothing
Transportation costs
Gifts
Household expenses
Healthcare
Fun money (I like to budget for a little fun money to spend each month. This helps me to not feel like I'm depriving myself on a strict budget.)
Print a separate sheet for each category and each month so it's easy to keep everything organized. Then you record each expense as you spend money during the month and your remaining balance so you can see how much you have left in your budget for the month.
Monthly Reflection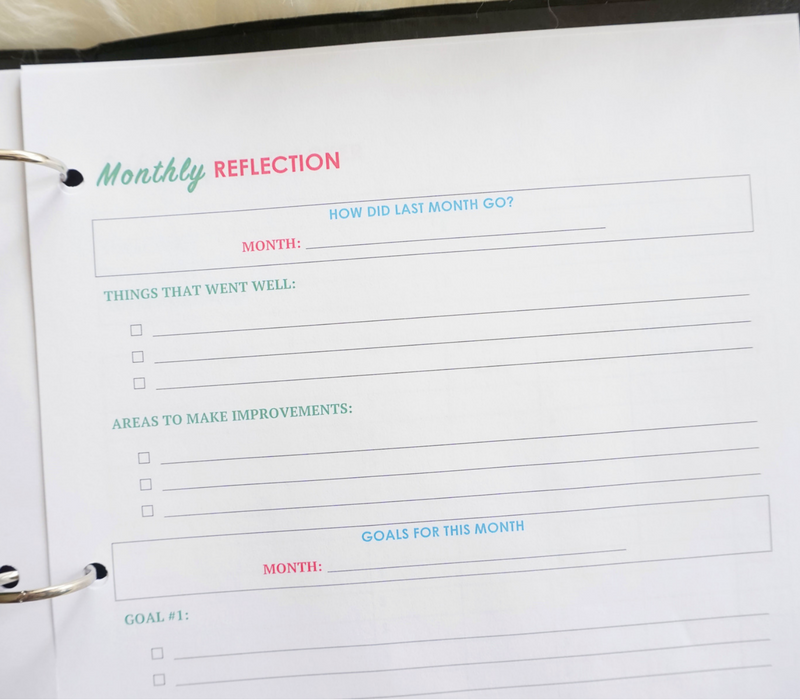 At the end of each month, it's important to check in and do a monthly reflection. I like to use this page to evaluate how well things went last month and which areas could use improvement. This also helps to highlight my strengths and weaknesses and monitor if I'm on target for reaching my financial goals.
Reviewing your goals and monthly progress can be really empowering and help motivate you to keep pushing forward. It definitely gets me motivated, even if I have an off month.
There is also room on the sheet to set goals for the next month and the key action steps you are going to take to reach those goals. These monthly goals should reflect your bigger financial goals for the year.
For example, if my big goal is to save money for a down payment on a home by the end of 2018, my goal for one month could be to not eat out so I can put that money towards my savings. To achieve this goal, my action steps would be to meal plan, bring homemade lunches to work, and drink tea from home instead of going to the café.
Debt Payoff Tracker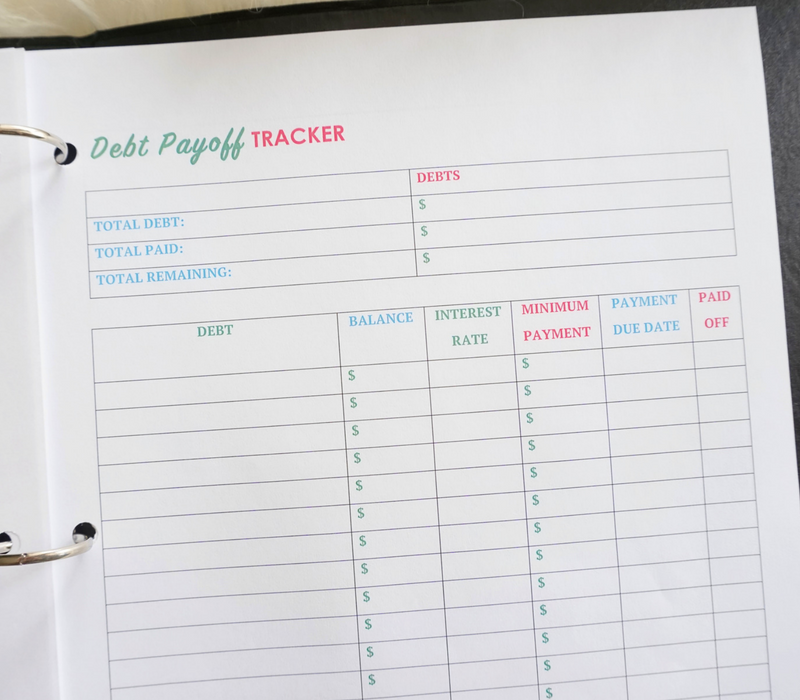 Paying down debt can be tough, however it's extremely important for building a better financial future. Use this sheet to help keep track of each creditor you have. You can print out a copy for each loan or credit card if you want. For example, you can print a separate copy for your student loans and one for a credit card you have.
This will help keep everything organized as you track the debt, interest rate, balances, and all payment that you make.
A page to keep all your notes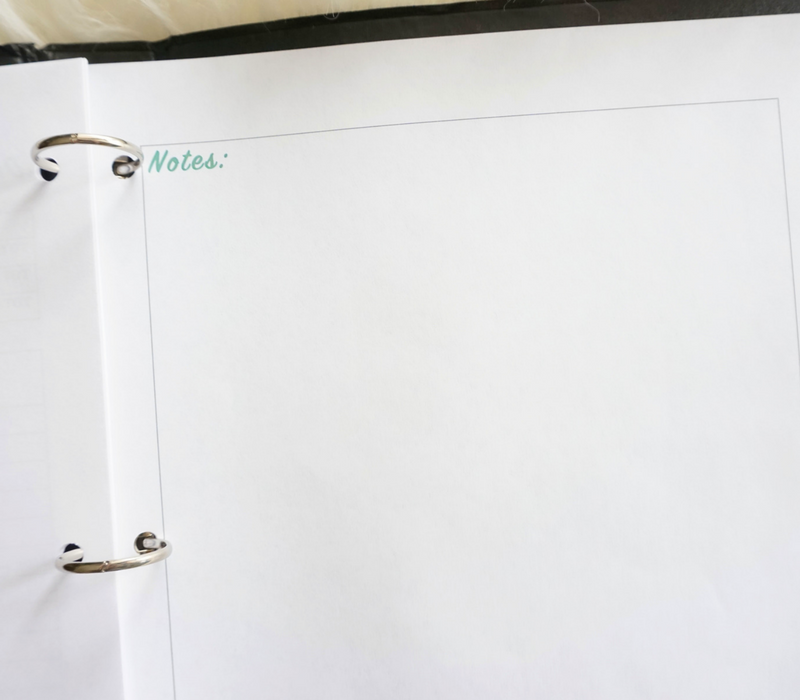 I like having a designated space to write down notes. This helps to keep everything neat and tidy.
Ready to get started on your journey to financial freedom? Take control of your finances with my 2018 Budget Binder. Enter your information in the form below to get these free worksheets delivered straight to your inbox!
*I am not a financial advisor. I'm just sharing tips that have helped me. I truly hope that you will find them helpful too in saving and managing your money. Thanks for grabbing a copy of my Budget Binder!
Budget Binder Printables
Use these simple and effective printables to organize your finances and save money. Get your FREE Budget Binder today!