Many of us want to learn how to finally stop impulse spending. But first, raise your hand if…
You've ever walked into Target to get something small, such as shampoo or a greeting card and you ended up leaving with a bunch of items that weren't on your shopping list?
You went to browse the mall with your friends and left with a handful of shopping bags that you didn't plan for.
You went to a bar or restaurant with friends and thought to yourself "This is my night out and I'm going to live a little" and you ended up spending a lot more than you had planned.
We tend to tell ourselves things like…
"I wish I was more financially secure with the way I handle my money"
"I really need to pay off my credit card debt because I hate looking at those numbers"
"I make great money but I spend recklessly"
"I need to start saving money and lose my 'If I want it, I'll just go buy it mentality'"
However, there's often a disconnect between what we desire for ourselves and how we actually behave.
Why does this happen?
Impulse buying is a big reason for this and studies have shown that it's related to anxiety and unhappiness. By understanding your spending triggers and learning how to control your emotions, it can help improve both your financial and psychological well-being.
Impulse purchases are unplanned decisions to buy a product (or service) right before the purchase is made.
Have you ever noticed why stores like to put products up by the cash for you to look at while waiting in line?
Or online stores suggest products that other customers bought based on the item in your shopping cart?
Marketers are really good at encouraging consumers to make impulse purchases. These impulse buying habits are based on your spending triggers or emotions. We usually rationalize such purchases by saying things like:
"This is such a good deal, I'll never find this price again"
"I'll just put it on my credit card"
"A few dollars here and there is okay, I can afford it"
While it might seem like an impulse buy here and there is harmless, it can sabotage your goals such as paying off debt, building your emergency fund, or saving for a large purchase.
Fortunately there are ways to help break this poor financial habit and better manage your money. By practicing these tips, you can learn how to be in control of your finances and stick to your budget.
Related Posts: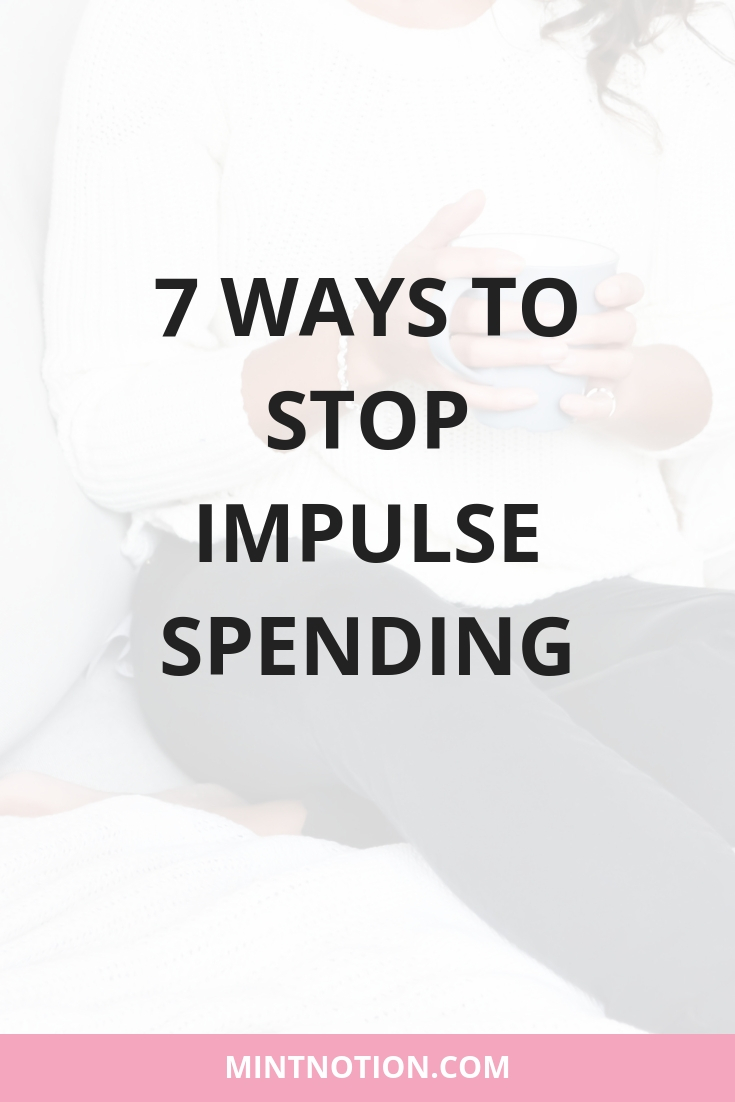 1. Avoid going to the mall / online retailers
If you know that you have trouble controlling your impulse urges, avoid going to places that encourage you to spend. Browsing the mall or online retail websites will only tempt you to make purchases that you may later regret.
You'll also want to unsubscribe from store emails. Retail emails tend to pop up every day in our inbox and seeing these emails on a daily basis can encourage us to click on the link and browse the store's website — especially if there is a sale happening.
If you're having trouble kicking the habit of impulse spending, do yourself a huge favor and unsubscribe from these email lists. At least it's one way to prevent the temptation of unnecessary spending.
2. Create a six-month list
When you see something you want (these are impulse wants), put it on the list with today's date and make yourself wait a certain amount of time before purchasing it.
After six months has passed and you still want that particular item, then consider looking for a sale and buying it. Many times the urge to buy this item will pass and you can just cross it off the list.
Not only does this tip help me save money, but I also feel more intentional about the purchases I make. It works great to help you stop impulse spending if you stick to your rule. Of course, there are exceptions such as groceries and other related necessities.
This is the power of delaying gratification: being able to save your money now to buy a more desirable product in the future.
3. Formulate a monthly budget
One of the best ways to stop impulse spending is to make a monthly budget for yourself. Write down your expected income and list your fixed and variable expenses. You can use my Budget Binder printables here to create and organize your own budget.
This will help give you a better perspective of how your current financial situation and determine if there's room in your budget for extra spending. If your budget has some wiggle room, I recommend setting aside some "guilt-free spending money" each month.
This fun money will keep you sane without feeling like you have to deprive yourself when trying to reach your financial goals. This also helps you to create a more realistic budget since you've factored in your fun money.
4. Make a list of impulse-purchase regrets
We have all made those "What was I thinking?!" purchases that we later regret. Make a list of all the impulse items that you've made in the past year and regretted.
This can help curve your future impulse spending because you'll realize while some purchases seem like a good idea at the time, it wasn't a good buy after all. I also recommend noting what may have triggered this impulse buy.
Sometimes it can be a little or big thing that influences our spending habits. Most of the time we are not even aware of this influence, so it's a good idea to get in tune with how your impulse spending is triggered.
5. Don't shop when you're feeling down
Many people enjoy going to the mall or shopping online when they're upset to get some "retail therapy". However, when our emotions are sad or angry, we sometimes make decisions we later regret, especially if it adds to your financial debt.
Buying something to cheer you up is a quick and temporary fix to boosting your mood, but material things don't buy you eternal happiness. It's important to look for healthier ways to lift your mood and help reduce stress.
6. Focus on your financial goals
Before making any potential purchase, it's important to have your financial goals in mind. Perhaps you're trying to save money for a down payment on a house right now or to pay off student loans.
Make a list of your short-term and long-term financial goals, then ask yourself how this potential purchase aligns with your money goals. You can use my Financial Goal worksheet printable to help clarify your goals.
Before making a purchase, ask yourself the following questions:
Does this purchase fit into my monthly budget?
Will this purchase improve my quality of life?
Do I already have this item or something similar to this at home?
Why do I really want this item?
Answering these questions can help you save money and stop impulse spending.
7. Choose your shopping buddies wisely
Before heading out to the mall, choose to go with friends that have frugal spending habits. These habits might rub off on you too and can help you stop impulse spending.
Remember, you are the average of the five people you spend the most time with. Your close relationships can influence your way of thinking, your self-esteem, and decisions.
If you choose to go with other impulse-shopping friends, they can encourage you to overspend and make purchases you don't need or can't afford.