It's no surprise that many people get caught up in the Christmas season and overspend. Last year, Americans spent an average of $965 on gifts for friends and loved ones. That's a lot of money!
In fact, 24% of millennials admit that they still haven't paid off their credit card debt from last Christmas. This is exactly why it's so important to create a savings and spending plan for Christmas.
Take a moment and decide how you want to feel next January. Finish the following sentence:
Instead of feeling like I spent too much money on Christmas (and went into debt), I want to feel ______________
With proper planning and budgeting, you can avoid getting into the debt this Christmas and feel good about the New Year. This year, let's choose to have a debt-free holiday.
To help create my own budget for the holidays, I'm starting this fun 12-week savings challenge that will allow me to save up to $1,000 by Christmas. Even though I never spend this amount during the holidays, I like to put that extra money towards my New Year's savings goals. This way, I feel good about my finances going into January.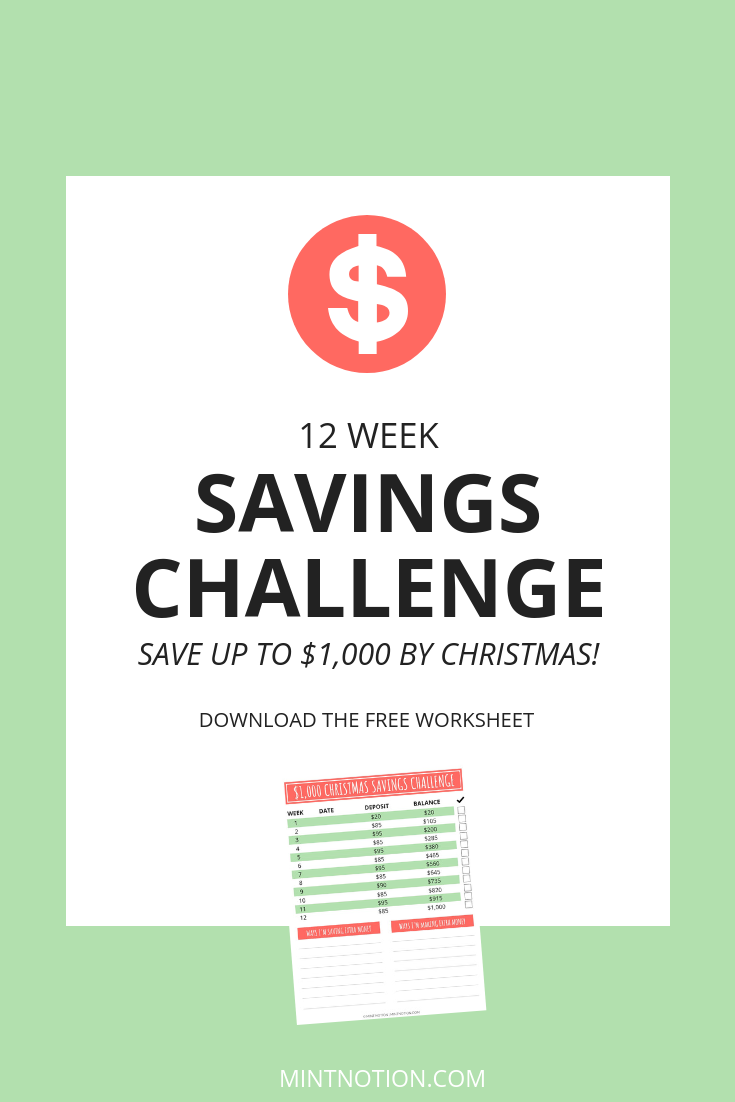 Depending on your current goal, you can follow the $600 money-saving challenge or the $1,000 money-saving challenge. Both worksheets are included in the download below.
This savings plan was created specifically for Christmas, however you can use it for anything you want. For example, it would be perfect to use when you're saving money for a vacation or building an emergency fund.
You can download my free printables below to get started on saving $600-$1,000 in the next 12 weeks. Click the button below to get the 12-Week Christmas Savings Challenge PDF worksheets!
To help give you a head start, here are a few money-saving tips I recommend implementing.
1. Set your spending goals and start saving now
Figure out exactly how much money you spent last Christmas. Did you overspend? Did you stay within your holiday budget?
Knowing how much you spent last Christmas can help you determine how much to set your spending and savings budget for this year. It can also help you identify areas where you may want to cut back your spending.
Once you've determined how much money you need to save, divide that amount by the number of months left until Christmas. For example, if you want to save $1,000 and there are 4 months left until Christmas, that means you'll need to save at least $250 per month for 4 months.
I like to put any leftover money in my budget towards my Christmas savings. For example, I use a minimal budget when it comes to my variable expenses. This means I try to spend the least amount (as possible) on my monthly variable expenses (entertainment, eating out, beauty, clothing, and so on). With this mindset, I often stay under budget so I can put any leftover money towards my goals.
2. Create a separate holiday savings account
One of the best ways to save money is to hide it from yourself. Open a separate holiday savings account so you won't be tempted to spend the money on other things.
I know it sounds silly, but you'll become extra disciplined about putting aside money for Christmas when you know it's in a separate account. Talk to your bank about opening a new savings account specifically for your Christmas spending.
3. Start looking for deals now
To get the best price, I highly recommend starting your search early. Make a list of items you would like to buy and keep an eye out for sales. There are lots of sales happening in the months leading up until Christmas. For example, Labour Day, Black Friday, and Cyber Monday.
4. Earn cash back when shopping online
One of my favorite ways to save money when buying Christmas presents is to do all my shopping through Ebates. This site allows me to earn cash back on all my purchases. Plus, you can earn $50+ several times per year just by telling your friends about it. Click here to get a $10 bonus with you sign up. It's free!
As you might have noticed in the printable worksheets, I included a section for you to list ways you plan to save and make extra money. Many people have trouble sticking to their savings goals because they don't have a plan. Here is your opportunity to determine which steps you need to take in order to successfully complete this savings challenge.
Here are a few of my favorite ideas to help you get the ball rolling:
Saving Extra Money

Start a coin jar
Do not underestimate the savings power of starting a coin jar. Whenever you have spare change, put it into the coin jar. Let's say you put $5 every day in your coin jar. That means you'll be $1,825 richer in one year! Pretty awesome, right? 
Save money with Trim
Trim is a free virtual assistant that constantly helps you to save money. Trim has saved folks more than $8,000,000 and can help you save money quickly too. Click here to start saving money with Trim!
Save thousands of dollars on your student loans
To get the best deal possible on your student loan, I recommend using LendKey. LendKey can help you save money by refinancing and consolidating your student loans into one manageable loan with a lower interest rate. Learn more about how LendKey can save you money.
Read Next: How To Pay Off Your Student Loans Faster
Cut out unnecessary expenses
If you're serious about saving money for the holidays, you may need to temporarily cut out unnecessary expenses. This may include painting your nails at home (instead of getting them professionally done), switching to a cheaper cell phone plan, ditching cable (try Amazon Prime as a cheaper alternative), bringing a homemade lunch to work, and so on. Click here to try Amazon Prime 30-Day Free Trial.
Cook more meals at home 
I used to eat out ALL the time, but it was costing me hundreds of dollars each month! Now I save money and eat healthier by cooking most of my meals at home. If you want to start making more homemade meals, but don't like the idea of meal planning, I recommend using the $5 Meal Plan. This is a weekly meal plan service that can make your meal planning super simple.
Read Next: How to Eat Healthy On A Budget
Shop on Ebates
Whenever I shop online, I try to always use cash back websites such as Ebates so I can earn up to 20% cash back on all my purchases. Ebates is free to use and it's a great way to earn extra money just for shopping online. Sign up for Ebates here and get a $10 welcome bonus.
Earn cash back on your grocery purchases
Checkout 51 allows me to earn cash back whenever I buy groceries. Simply download the app, select your grocery offers, and purchase them at any store. Earn cash back by uploading your receipt to the app. This is an easy to way to save money!
Making Extra Money

Blogging
Blogging is my favorite way to make money because the start-up costs are low and it can be a fun side hustle. Blogging even has the potential to turn into a full-time job (like it did for me). You can use my easy step-by-step guide here to start your own money-making blog in minutes.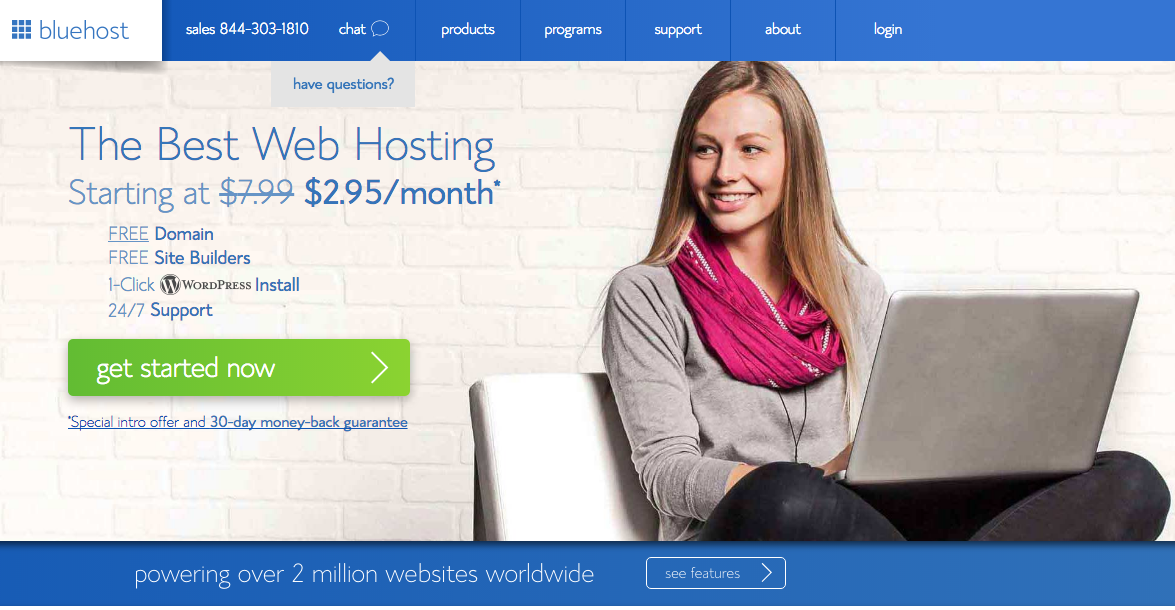 Sell your stuff
Many of us can easily find a few hundred dollars worth of stuff we don't use anymore. You can sell these items by having a garage sale or posting these items on Craigslist, eBay, Amazon, Kijiji, or local Facebook groups.
Sell other people's stuff
Stella & Dot is looking for aspiring fashionistas just like you to join their team. As an independent stylist, you can make money by selling Stella & Dot jewelry and accessories through in-home Trunk Shows or online. Trunk Shows can bring in a few hundred dollars in sales and some bring in thousands of dollars! You can learn more about becoming a stylist here.
Be your own boss with Uber
Got a car? Uber is looking for partners like you! As an independent contractor, you've got the freedom and flexibility to drive whenever you have time. It's a great way to make good money in your spare time. Click here to learn more about making money with Uber.
Got a bike or car? You can make extra money with Uber Eats! Take a few trips in the morning, evenings or just on the weekends — it's up to you. Click here to learn more about making money with Uber Eats.
Earn free gift cards through Swagbucks
I love Swagbucks because it's a simple way to earn gift cards for things you already do online. There are many ways to earn points on Swagbucks including filling out surveys, playing games and watching videos. You can sign up for Swagbucks here.
Make money from your hobbies
Did you know that you could be earning hundreds of dollars from your hobby? Check out this great post here: 15 Hobbies That Make You Money
Become a virtual assistant
If you're good with social media, graphic design, websites, email marketing, and other related tasks, you can find virtual assistant opportunities to make money in your spare time. Learn more about making money as a VA here: Everything You Need To Know About How To Become A Virtual Assistant
Freelance writing
Do you love writing and wish that you could get paid to write? Well, I'm here to tell you that you can! Freelance writing is a popular way to make money from home and it's perfect for those who enjoy writing (obviously)! Learn more about making money with freelance writing here: 7 Steps To Become A Paid Freelance Writer
Make money by renting out your space
You can earn up to $2,000 per month by becoming an Airbnb host. If you have a cabin, cottage or extra room in your home, consider renting it out to make extra money. Learn more about how to become an Airbnb host here.
Don't have any extra space? You can choose to become a host for your neighborhood or make money by hosting a unique experience (hiking, cooking classes, and more).
Read Next: How To Become An Airbnb Host
I hope this list has given you some helpful ideas for you to complete the 12-Week Savings Challenge. Imagine having an extra $600-$1,000 by Christmas! Stay focused on your goals, create an action plan, and make it happen!
Let's do this!