Throughout the year I am usually a very savvy shopper. However, when the holiday season starts, you can usually find me sipping a Starbucks holiday beverage while hitting up the Black Friday sales.
I used to struggle with my spending during the holidays and it's easy for this time of year to take a dent out of anyone's wallet. Fortunately though, I have developed better spending habits to help me enjoy the holiday season while staying on a budget.
Of course each person's budget may look different, and what might work for me may not work for you. Either way, here are several tips to help you survive the holidays without blowing your budget.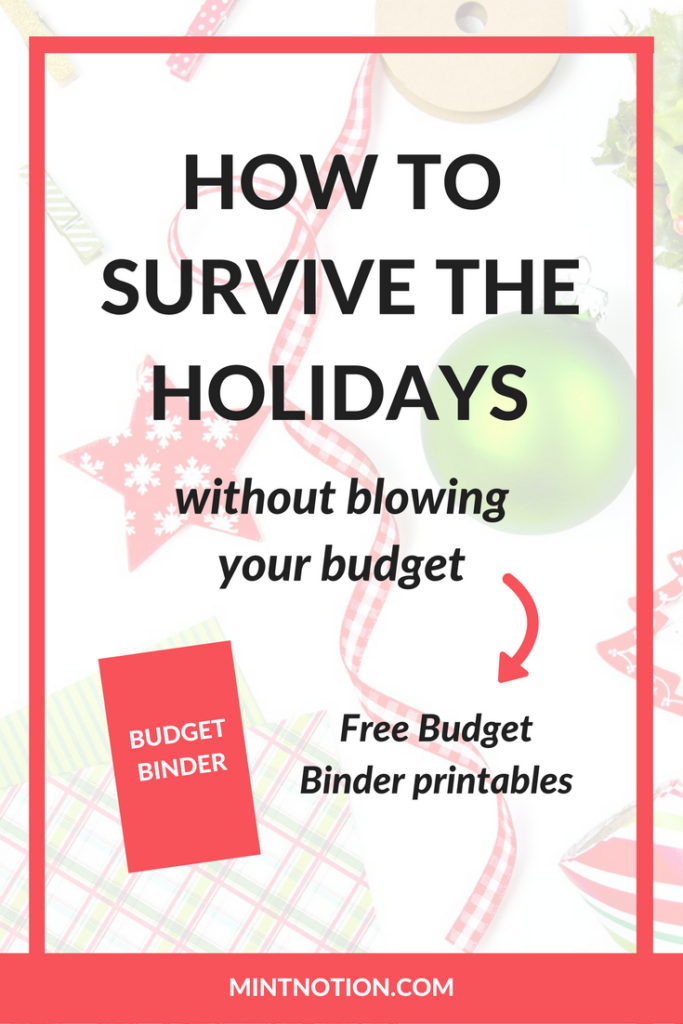 1. Create a realistic holiday budget
No matter how much you plan to spend during the holidays, it's always necessary to create a realistic budget for yourself. Record and add up all the costs of your holiday events, gifts, decorations, travel and anything else you can think of.
Then you want to compare the cash you'll have available for the holiday season. Since you don't want to go into debt or blow you budget, you want to make sure that you'll have enough money for all your holiday expenses. Otherwise, you will have to determine where you can cut back.
It's not easy to admit, but people will understand if you have to give up getting gifts for everyone. Especially if you want to use that money to travel so you can be with your family for the holidays. The idea is to trim your holiday expenses until you have a budget that is easy to manage and will prevent you from getting into debt.
2. Shop early
Planning your gift list in advance will give you the chance to watch and see when these items go on sale (in store or online). Shopping early also ensures that you have the best selection, since items can sell out closer to Christmas.
3. Use cashback websites like Ebates
Sometimes the best shopping deals can be found online. Another great way to save even more money is to use cashback websites like Ebates. I started shopping on Ebates earlier this year and love it.
With over 2,000 online stores, including Amazon, it's easy to save money and get cashback on my online purchases. You can join Ebates for free and get a $10 welcome bonus when you sign up through this link.
4. Compare prices in store and online
I always like to compare prices for items in store and online to ensure that I get the best deal. Sometimes you can find special promotions happening online only. You also want to make sure that you get free shipping to keep the costs down.
5. Give the gift of time or experience
If your holiday budget is tight or you want to buy a gift for the person who already has everything, consider giving the gift of time or experience this year. Life is about relationships and giving the gift of time allows you to invest and nurture those relationships.
Related: 25 experiences to give as gifts this holiday season
6. Have a gift exchange or secret Santa
If you have a large group of friends or family, it can get very expensive buying gifts for everyone, especially if money is tight. I recommend doing a gift exchange or secret Santa where you draw names. This way everyone can receive a nice gift, which is probably more thoughtful, and saves everyone a lot of money.
7. Boycott gifts
I know many people who are starting to boycott gifts during the holidays in order to help them stick to their budget. There's no shame in letting others know that you won't be participating in gift exchanges this year because you're saving up for a down payment or one of your other financial goals.
In fact, people are probably experiencing a similar financial situation and will be thankful that you started the conservation. It's important to set expectations though for family and friends if you choose to boycott gifts this year. And remember that the true meaning of Christmas is not about gifts.
8. Avoid buying new clothing or items for holiday events
In the past, I used to buy a new outfit for each holiday event or party I attended. Buying a new outfit felt good (in my mind) and I didn't want to be seen wearing the same thing as last year. Now I realize that it was silly to buy a new outfit for each event.
Instead, I like to shop my closet and choose an outfit that can be worn throughout the year, but still looks nice at a holiday event. Not only does this save me money, but it fits in with my minimal wardrobe.
Related: What I learned from not buying new clothing for a year
9. Make a plan for each holiday event wish to attend
It's important to make a list of all the holiday events you plan on attending. Whether it's a family gathering or a fancy work party, each event has the potential to cost you money.
Do you need to travel far to get to this event? Do you need to bring food or drinks? Do you need to bring gifts? Think of anything that might cost you if you plan on attending each event.
This will allow you to determine how much money you need to set aside to attend each event so you can stay on budget.
10. Don't wait until the last minute to make travel plans
The holidays are a hectic time, but if you know that you'll be traveling to visit family or friends, it's important to plan your transportation and accommodations in advance. This is especially true if you're flying.
In order to prevent paying through the roof for flights, always plan ahead. I like to keep an eye on flight prices a couple of months before my departure date to see if there are any seat sales. I also recommend creating a budget for other travel expenses including accommodations, food, gas, travel insurance and anything else related to your trip.
[clickToTweet tweet="10 ways to survive the holidays without blowing your budget" quote="10 ways to survive the holidays without blowing your budget"]
Over to you — what are your tips for surviving the holidays on a budget?
Budget Binder Printables
Use these simple and effective printables to organize your finances and save money. Get your FREE Budget Binder today!