Planning a trip – either to an international or domestic destination – can often become a stressful experience for many.
It seems odd that a leisurely trip, which should be a fun activity, can create unnecessary anxiety before we even step foot on the plane.
Of course a trip may not always meet the expectations that you had initially set, however doing our best to plan ahead can certainly help.
Assuming you've already chosen your vacation destination, the next step is to plan your itinerary. With all the information and resources available though, it's easy to get overwhelmed before the planning process has even begun.
There are a couple of things to keep in mind when it comes to good trip planning:
Start planning early, this is especially important for getting the best price and choice on flights, hotel and car rentals.
In addition to these steps, which I have talked about already in previous posts, there are few things I've learned that help make planning a vacation enjoyable and run as smoothly as possible.
Here are 10 travel planning secrets to use for your next vacation.
1. Start with Pinterest
One of the first things I usually do when planning a trip, is to create a Pinterest board and fill it with images of my chosen travel destination. This is more of a general search and it gives you an idea of what to see and do at the place you're visiting.
I am going to Quebec City tomorrow, so in this case, I added a number of pins to my Canada board to help plan my trip.
Follow Eden | Mint Notion's board Canada on Pinterest.
Make a note of common images that pop up when you search your chosen travel destination: architecture, religious buildings, particular streets, iconic landmarks, etc. Make sure to add any of these sights to your itinerary if they interest you.
Related: How I increased my Pinterest audience by over 1,200% in just 3 months
2. Head to your local library or bookstore
Yes, I do recommend travel guide books. Even though there is a wide variety of information readily available on the internet, a guide book has everything nicely compiled into one place.
A guide book however should only be used as a starting point when planning your trip. In order to get the full experience of your chosen destination, you should not solely rely on the suggestions recommend in your guide book.
Everyone has their favourite guide book preference and mine are Lonely Planet Guidebooks. They are lightweight, provide good budget recommendations, and are easy to read and navigate.
Related: 70 genius ways to save money on travel
3. Read TripAdvisor reviews
TripAdvisor is my favorite website for reading travel reviews. I always consult with TripAdvisor before booking a hotel or visiting travel sights and attractions.
Of course you should be cautious when reading reviews since each traveler has different tastes, and their bad experience could be an exception and not the norm.
Nonetheless, I always check ahead on TripAdvisor to read hints or tips so I can be aware and hopefully know what to expect.
Related: How to create a foolproof budget for any trip
4. Read blogs and connect with other bloggers
I enjoy reading posts from other bloggers who share their two cents about the destination I plan on visiting.
Not only do they provide valuable information about transportation, accommodations, dining and sightseeing—they usually share hidden gems or insider tips if they're a local.
Also if you have any questions, you can send them an email and most bloggers are really nice and genuinely want you to have the best travel experience.
Related: 20 things we forget to do before going on vacation
5. Reach out to friends or family who have been there
Chances are if you have a friend or family member who has already been there, they'll be able to recommend a fun sight they saw or a great restaurant they went to while in town.
Also with family and friends, you can trust their opinion since they would probably only recommend things that they know you would love as well.
6. Check out tour companies in the area
Take note on which sights and attractions are offered on these tours. Sometimes restaurants or accommodations are also included, which can give you an idea of intriguing spots you might want to visit.
I usually like to be my own tour guide, but sometimes it's more convenient and you learn new information when you go with a tour company.
7. Check for deals and discounts
Whenever I plan a trip, I always like to check for the best possible deals and discounts. Not only does this help me save money, but sometimes it allows me to explore more city attractions which I initially thought were too expensive.
For example, when I went to London, I wanted to see and do as much as I could during the 5 days I was in town. However, with our weak Canadian dollar, I thought that I would have to skip on seeing a few top attractions since it was going to eat up most of my budget.
After doing a little research though, I was able to find the Days Out Guide, which offers 2 for 1 vouchers to many of London's attractions. This allowed me see and do everything that I wanted to do in London for a great price.
Another good option is to purchase a CityPASS if your chosen destination offers it. This is a great way to see the main attractions at a discount price. I used the CityPASS for my trip to Chicago and it made sightseeing so much easier since I could skip the long line ups.
Depending on the destination, I also like using coupons in the Entertainment Book to save money on shopping, attractions, food and more. The book usually pays for itself by using just one or two of the coupons inside.
You may also want to check for local deals on Groupon. I like using Groupon to save money on hotels, city attractions and restaurants whenever I travel.
8. Set a goal for your trip
Now that you've gathered a bunch of information about your destination: what to see and do, where to eat and shop, etc. – it's time to set a collective goal for your trip. This is especially important when traveling with a group.
Is this going to be a party weekend?
An outdoor hiking trip?
A shopping trip with the girls?
A sightseeing and history trip?
A relaxation weekend at the spa?
Whatever trip you decide to take, it's important to discuss it with the rest of your travel companions, so you can set a collective goal for your upcoming trip. This will prevent awkward conversations from arising during your holiday if everyone is not on the same page from the start.
Related: 10 ways to save big on your next road trip
9. Keep your itinerary flexible (if possible)
Some people like to plan their itinerary down to the hour, however it's important to remember that unplanned events can and do happen while on vacation.
While I do have set times for certain events, I try to keep my itinerary loose and flexible with at least one full day open. This also prevents you from trying to rush your destination by trying to complete everything written on your itinerary.
Everyone has their own way of planning their itinerary and I like to use Excel. It's an easy way to organize everything by day and time. I create and customize my own Excel spreadsheets for all my trips.
Related: 25 free things you can get at hotels
10. Get familiar with your destination's climate, culture and customs.
This is something that many travelers forget to do before going away, and they might be in for a culture shock depending on their vacation destination.
While this is not an exhaustive list, here are a few things I recommend researching:
Climate: What will the weather be like when you are visiting? Is the altitude high?
Food: Be prepared to try new foods and dishes that you might not be accustomed to back home.
Safety: Are there certain areas in the city that are not considered safe after dark?
Etiquette: What is the proper etiquette to greet someone there?
Language: What is the official language of the destination you will be visiting? Sometimes learning a few key travel phrases might come in handy.
Related: 20 things to do before traveling internationally
[clickToTweet tweet="The best travel planning secrets to use for your next trip" quote="The best travel planning secrets to use for your next trip"]
Over to you — what are your travel planning secrets? 
Related Posts:
1. 10 ways to travel abroad with your smart phone for cheap
2. 12 ways to save money on car rentals
3. 18 ways to save money on hotel accommodation
4. 23 secrets to booking cheap flights
5. 30 airport hacks every traveler should know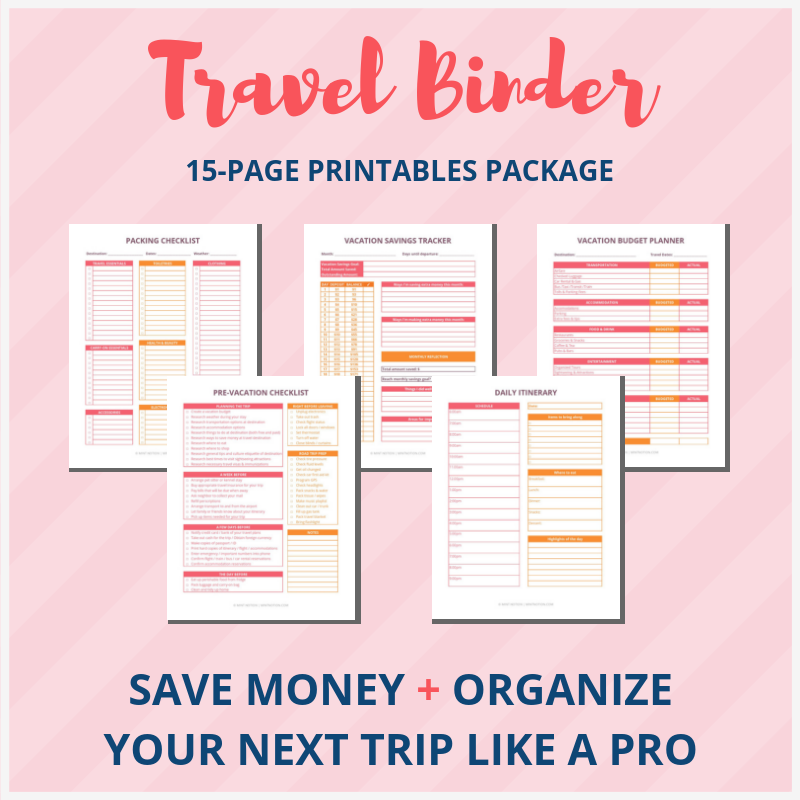 FREE Vacation Packing Checklist
Use this blank packing checklist printable when planning your next vacation. Enjoy it!