Just a few years ago, I rarely cooked meals at home. I loved eating out, trying new restaurants, and exploring different cuisines. Eating out was convenient with my busy schedule of full-time work and school.
I used to have the mindset that cooking at home was too expensive, too time consuming, and too much work (mainly because I didn't know how to cook).
I now realize that the above statements are false, but this used to be my previous mentality.
For example, buying a bunch of ingredients just to make one meal didn't sound budget-conscious to me. I also didn't feel like spending two hours in the kitchen prepping dinner when I got home from work. Plus, it was stressful cooking because I didn't have any culinary skills.
Let's debunk those previous statements right now: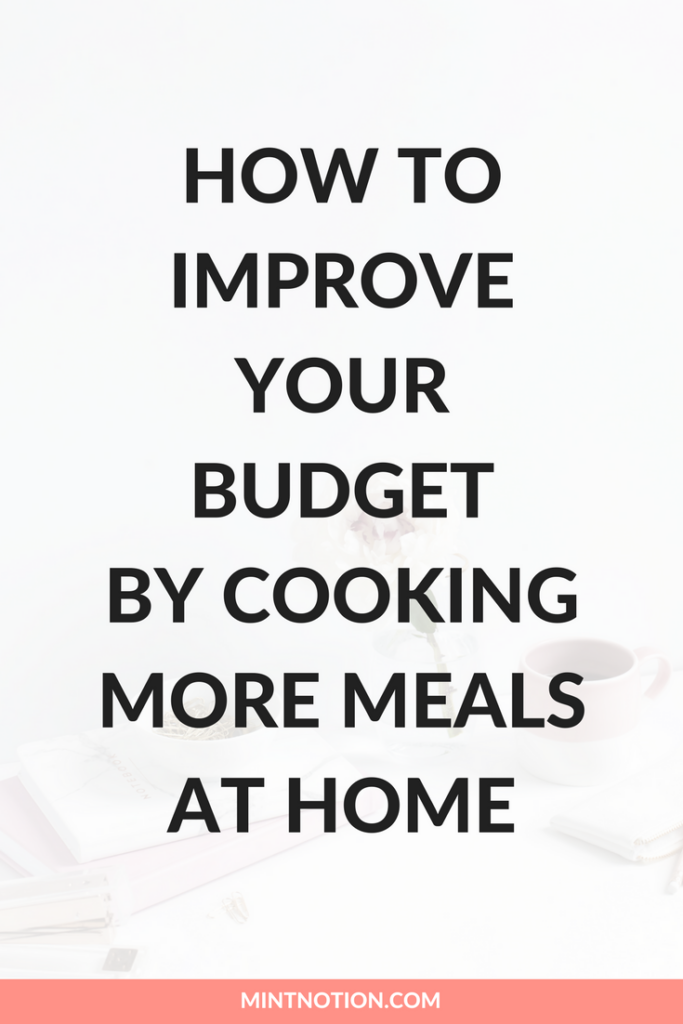 Cooking at home is MORE affordable than takeout
I used to eat out for lunch everyday at work, which was costing me around $3,000 per year. (This includes my morning coffee shop run and lunch). Even though I was ordering healthier options at lunch (soups, salads, or sandwiches), eating out everyday also caused me to gain weight.
Once I started getting serious about improving my budget and saving money, I brought my own lunch to work. Not only did I end up losing weight (because I could control the ingredients), but my wallet thanked me too!
PRO TIP: When cooking dinner at home, make enough so you can bring leftovers to work the next day. This is an easy way to start packing a homemade lunch. THIS tool will also help make packing your lunch easier.
Cooking at home DOESN'T have to take all evening
I taught myself how to cook by watching cooking shows on TV and YouTube. I discovered that there are all sorts of different ways to make a meal. For example, you can spend all day slow-roasting tomatoes for tomato soup, or you can whip up homemade tomato soup in under 30 minutes.
Time is extremely valuable. Instead of spending hours in the kitchen each night, I specifically looked for easy recipes that were simple to make. This allowed me to develop my culinary skills without having to spend too much time in the kitchen.
Plus, many of my favorite food blogs use only 10 ingredients (or less) in their recipes, so it makes it easy to save money while still eating a healthy and delicious meal.
Cooking is easier when you have the RIGHT tools
You don't need to own a bunch of expensive kitchen gadgets in order to cook a proper meal at home. However, it's important to stock your kitchen with a few essentials.
If you get stressed out when cooking (like I used to), then owning the right tools will be a game changer for you (like it was for me). I know it might sound silly to invest in kitchen tools when you're trying to save money, but these items will actually SAVE you money in the long run!
You'll be able to recreate your favorite takeout meals at home when you have the right tools
You'll save money when you buy quality items since you won't have to spend money replacing them each year. (I learned this lesson when buying a cheap can opener)
You'll get better use out of your ingredients when you have the right tools, which means less food waste and money saved
Here are several of my favorite accessories that every kitchen should have:
So with those previous cooking-beliefs debunked, here are my top ten personal tips which allowed me to break the habit of eating out and cook more meals at home!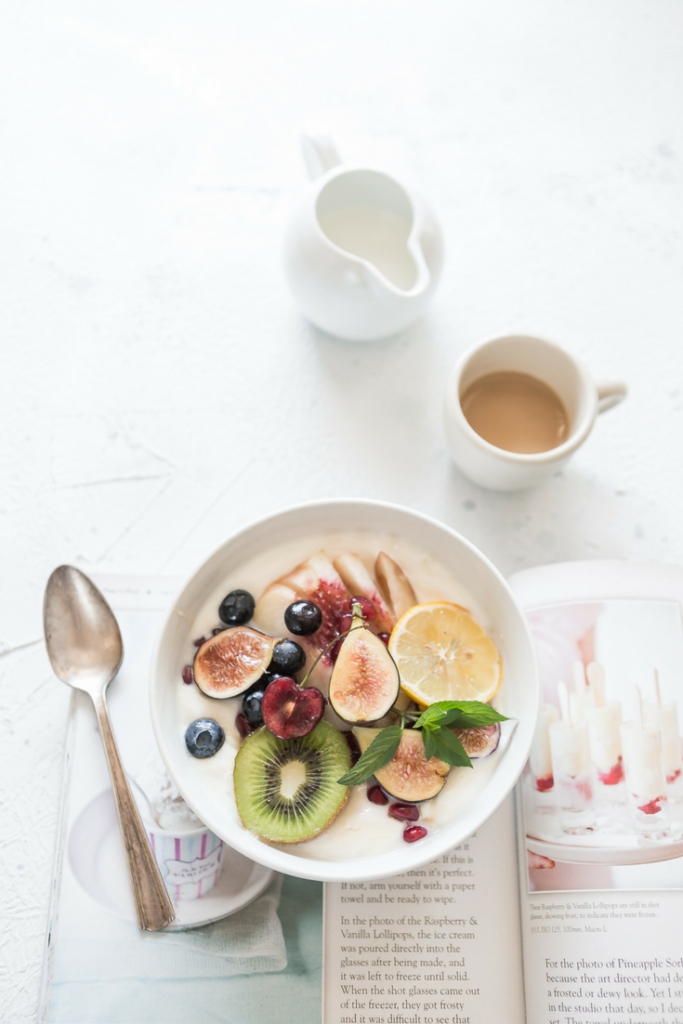 1. Meal Plan
Meal planning is my #1 tip when it comes to saving money and eating more meals at home.
When I first started cooking more meals at home, I used to make multiple trips to the grocery store during the week to buy ingredients. This was costing me both time and money.
Now I shop by the flyers and visit one grocery store each week that offers the best price for the items I need. This saves me time so I can focus on other activities that make me happy or increase my income.
If you're new to meal planning, I recommend trying the $5 Meal Plan. Many of my readers have told me great things about how this service makes planning meals each week simple and easy.
For just $5 per month, you will receive a delicious meal plan, where every meal will cost about $2 per person (or less). It's a great way to save time and money, plus they offer specialty plans, including gluten-free and vegetarian meals. Click here to try it free for 14 days.
If you are short on time and prefer someone else to do your grocery shopping AND meal planning, then I recommend trying Hello Fresh. I've personally tried Hello Fresh before and enjoyed my experience with them. They are perfect for those busy school or work nights.
With Hello Fresh, you'll get weekly easy-to-follow recipes and fresh ingredients delivered right to your doorstep. In less than 30 minutes, you can cook delicious, quick, and healthy meals at home! Click here to get $30 off your first Hello Fresh box!
2. Buy frozen fruits and veggies
Frozen fruits and vegetables are usually picked at their peak ripeness when they are the most nutritious. They're nearly half the price of fresh fruit and vegetables and will last for a long time in your freezer. Plus, they are usually pre-cut so it helps you save time in the kitchen. It's a win-win!
3. Buy whole foods (avoid processed items)
As a general rule, I try to avoid boxed or process items as much as possible. Unprocessed food is cheaper and A LOT more nutritious than processed items. Your health and wallet will thank you.
4. Invest in an Instant Pot
If you want to cook faster, easier, and healthier, then buying an Instant Pot is a game changer. It's the #1 selling multi-cooker which has become a must-have in many homes.
You can even cook frozen food directly in the Instant Pot which saves you time. This 7-in-1 kitchen tool will save you a lot of money in the long run. It's a pressure cooker, slow cooker, rice cooker, steamer, saute, yogurt maker, and warmer — all in one tool! You can learn more about an Instant Pot here.
5. Try the generic or store brand
Sometimes the generic or store brand tastes just as good as the brand name product (sometimes it tastes even better). For cases like this, I like to buy the generic or store brand to help cut down my grocery expenses.
6. Grow your own food (if possible)
During the summer months (which are pretty short here in Canada), I am a BIG fan of growing my own food. It's cheaper than buying frozen and it tastes amazing!
Some of my favorite items to grow are herbs (basil, mint, rosemary, parsley) and vegetables. You don't even need a backyard to grow your own food either. THIS book will show you how to grow nutrient dense food indoors.
7. Take advantage of cash back apps
One of the easiest ways to save money on groceries is to earn cash back on your purchases. The Ibotta app allows you to earn cash back on your groceries, which is a great way to reduce your monthly expenses.
To get started, simply download the app or browse the available offers online. Then buy these offers at any store and upload your receipt using the app.
8. Keep your fridge and pantry organized
I can't stress how important it is to organize your fridge and pantry. It'll help you keep on top of your inventory so you can easily create meals without stress. Also, it will prevent you from buying items you already have at home, which can save you money and prevent food waste.
Leftover food will stop getting lost in the back of the fridge or at the bottom of the freezer when you keep things organized.
9. Embrace cooking different cuisines
I grew up eating meat and potato dinners, however meat can be quite expensive. This is especially true when it's the main part of an entrée.
A good way to save money when cooking at home is to embrace different cuisines. I personally find that Mexican, Indian, and Italian meals are very affordable. Plus, these cuisines are easy to make meat-free, which helps me save even more money on my grocery bill.
Some of my go-to meals include burrito bowls, tex-mex casserole, chana masala, cauliflower and potato curry, and pasta with marinara sauce.
10. Stock up on affordable sources of protein
Since transitioning to a mostly plant-based diet, I have saved SO much money by consuming cheaper sources of protein. Not only is plant-based protein cheaper, but it's also lower in calories, cholesterol-free, and it helps save the environment.
Some of my favorite sources of protein include beans, lentils, tofu, oatmeal, nuts & seeds, tempeh, vegetables (1 cup of green peas = 8 grams of protein), non-dairy milk, sprouted-grain bread.
Over to you — what are your tips for cooking more meals at home?