There are lots of different ways to make extra money this year. Earning more income can help you pay off debt, go on more vacations, build an emergency fund, help you to stop living paycheck to paycheck, and more.
Imagine being able to pay your bills each month with ease or being able to purchase your dream home? Making extra money can help!
Back when I was in graduate school, I thought the only way to really make money was through a conventional job (either part-time or full-time). It wasn't until I started this blog, that I realized it was possible to earn an extra income outside of a 9 to 5 job. I knew nothing about blogs or WordPress or websites when I first started and learned everything from scratch. If I could do it, you can too!
Learning about the different ways to make extra money has the potential to change your life. When you find ways to increase or expand your income, you can accomplish a number of things, including:
Pay down debt faster….and eventually become debt free!
Save money for retirement
Save money for a large purchase (such as a house or a new car)
Go on more vacations
Have more freedom. Increasing your income can give you more choices.
You can spend either a free hour each day or 40+ hours per week on top of your full-time job. In either case, there are several different ways to make extra money to suit your situation. Check out this list of ways to make extra income, ranging from a few extra dollars to thousands of dollars.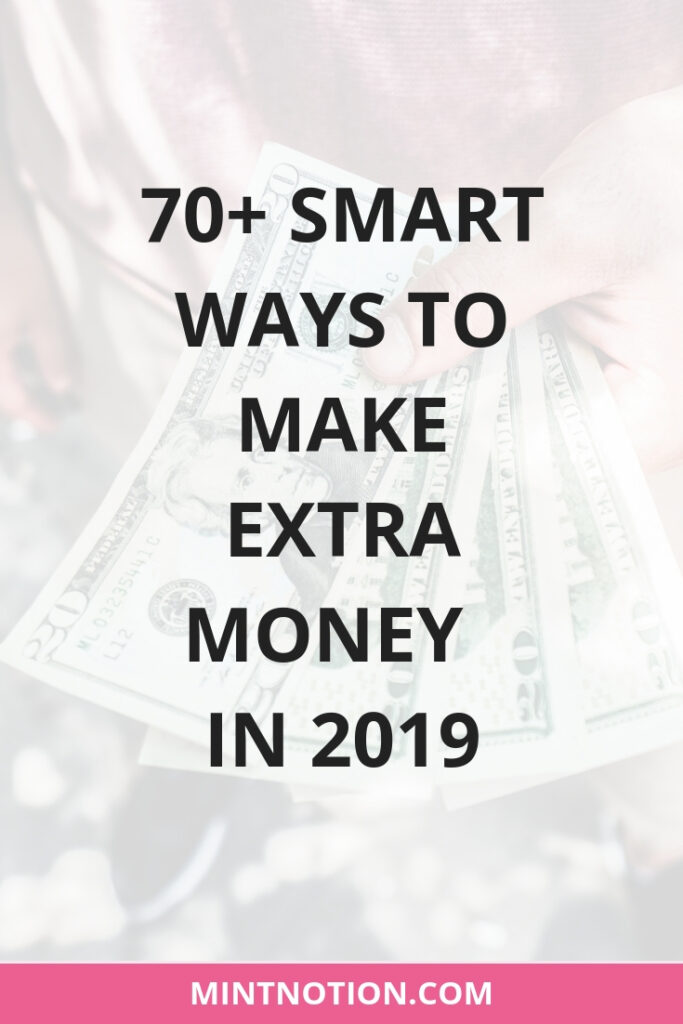 MAKE MONEY ONLINE
Start a Blog
Blogging is how I like to make extra money and it's a great way to make a part-time or full-time income. I earn around $6,000 – $8,000 per month from blogging.
It's super affordable to start a blog of your own. You can use my free step-by-step guide here to create your blog. For only $2.95 per month, you can start your own blog and get a free domain name if you sign up through my tutorial. This special price is exclusive for Mint Notion readers!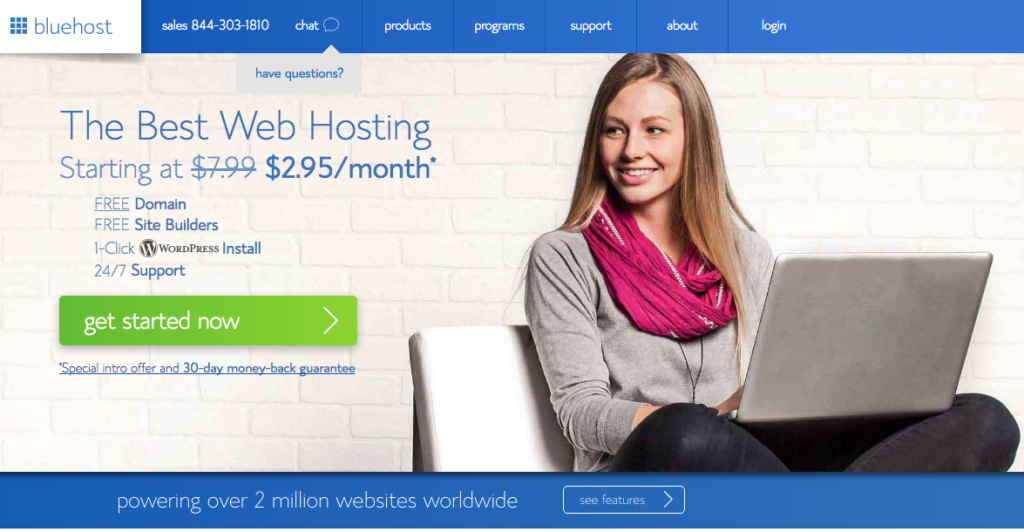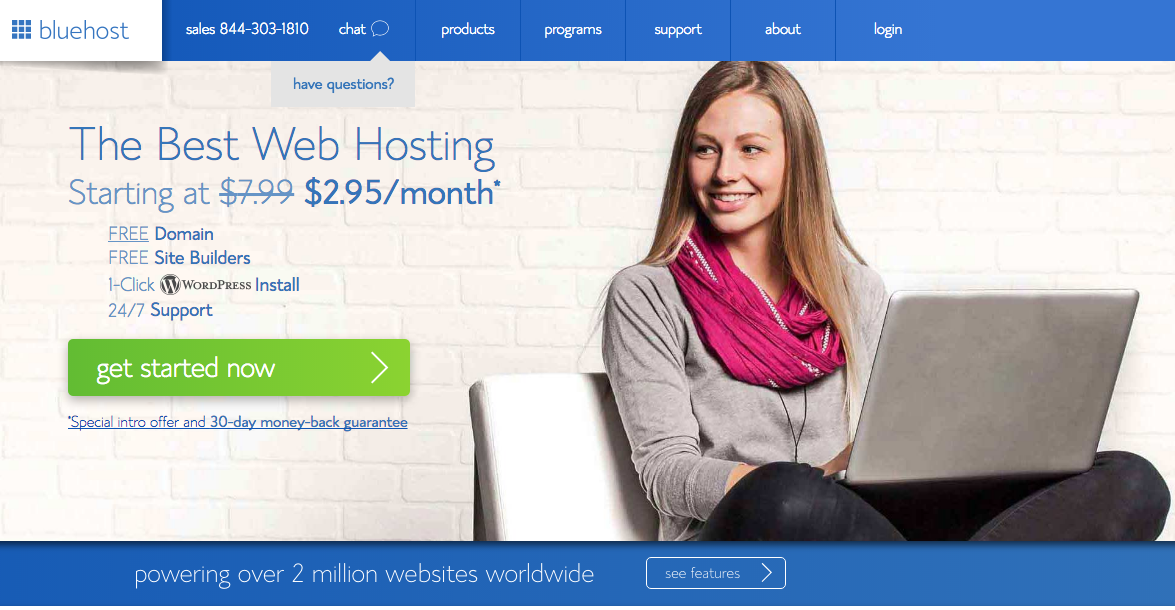 I also have a FREE blogging course which I recommend joining. It will teach you everything about starting a blog and how to make it successful. You can sign up in the form below!
Join my free 5-day blogging course here!
Online Surveys
There are many online survey websites that will pay you to complete surveys, play games, do online searches and more. They are free to sign up for and free to use. Survey websites I recommend include:
Get paid to lose weight with HealthyWage
HealthyWage pays you to win weight loss challenges. You can make a personal weight loss bet, get your friends together for a team weight loss challenge, or compete in a corporate wellness program. You can even win up to $10,000 when you join a team challenge, which makes getting healthy fun.
If you stick to your goal and lose the weight you say you're going to, HealthyWage will pay you. It's that simple!
Many people who have used HealthyWage say betting money they don't want to lose keeps them motivated to get fit. If you've struggled to lose weight in the past, HealthyWage may offer the encouragement you need to reach your weight loss goal.
With up to $10,000 in prize money, you can use this cash to pay off debt faster or put toward a down payment on a new home. It's up to you!
How to get started with HealtyWage
Use the HealthyWage Prize Calculator to enter how much weight you want to lose, how long you'll take, and how much you'd like to bet. Then the calculator will determine your winnings amount, up to $10,000. Who wouldn't want to win up to $10,000?
Sign up and make your bet. You can increase your prize amount by adjusting your goal weight, how much you contribute, or how long you'll take.
Lose the weight. Achieve your weight loss goal and get paid! You can stay on track throughout the contest with weekly weigh-ins. You can also get support from other contestants.
Win money! If you reach your weight loss goal, you'll win your prize. It's that simple! If you don't hit your goal, your money goes to support HealthyWage, including prizes for other contestants who achieve their goals.
Ready to get started? Start at the HealthyWage Prize Calculator and find how how much you can win!
Virtual Assistant
I never heard of a virtual assistant until I read The 4-Hour Workweek. Then I did a little more research and saw that being a virtual assistant is a popular way to make money online and is an excellent work-at-home opportunity. Read next: How to become a virtual assistant
Affiliate Marketing Commissions
Affiliate marketing is a great way to make money online. It's the process of earning a commission by promoting other people's (or company's) products. If you have an engaged social media following, website, or blog — you can benefit from affiliate marketing.
A good place to start is to join affiliate networks and apply to different companies or services that are relevant to your niche. Once you're signed up, you can put a link or banner on your blog and earn a commission if someone clicks on the link and makes a purchase.
Some of my favorite affiliate networks are:
To learn more about how to make money from affiliates, I recommend signing up for THIS e-course. The course creator makes $100,000 per month from her blog, so I knew that I would be learning from the best. She even made more than $300,000 from ONE blog post. She shares her exact strategies so YOU can do it too. Thanks to the teachings in her course, I have been able to turn my blog into a full-time job!
Open an Online Store
Do you have a product or service to sell? Consider opening an online store. I know many people who sell their crafts, baked goods, books, clothing and more online. You can use a platform such as Etsy, Amazon, eBay or Shopify to open your online store.
Swagbucks
I have been a member of Swagbucks for a while now, however I don't use them as much as I used to, but it's a simple way to earn gift cards for things you do online. There are many ways to earn points on Swagbucks including: filling out surveys, playing games and watching videos. You can sign up for Swagbucks
 here.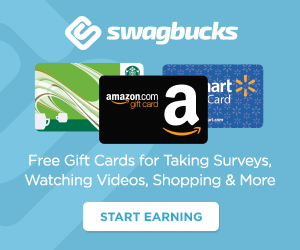 Flip stuff on eBay or Amazon
Do you have brand new items in your home that are still in the original package? Check to see how much those items are selling for on eBay or Amazon. Chances are you can make a profit by selling these items online. You can also shop at thrift stores or garage sales to find unopened items in the original package to sell on eBay or Amazon. This can be a great way to make extra money.
Read Next: How to flip items for profit
Teach an Online Course
Are you knowledgeable about a certain topic or niche? Chances are there's an audience of people online who are willing to pay to learn how to become an expert too. You can sell your online course through platforms such as Udemy or Teachable.
Graphic Designer
Are you good at graphic design? You can sell premade or custom logos, templates and more online to make extra money.
Web Designer
Are you good at web design? There are always new websites popping up every day that need professional web designers. Many small businesses, bloggers, and online entrepreneurs are looking for someone to professionally design their website.
Social Media Manager
If you enjoy using social media platforms such as Facebook, Instagram, Twitter or Pinterest, why not get paid for your expertise? Many small businesses, bloggers, and online entrepreneurs are looking for someone to handle their social media accounts so they can build their brand online.
Start a Podcast
Starting a podcast can be a great way to make money, especially if you can create a regular audience for your podcast on a specific topic. This will draw attention to relevant sponsors and advertisers who would be interested in working with you.
Start a Drop Shipping Store
There has never been a better time to start a drop shipping business and some people have turned it into a full-time job. (Click the "Success Stories" tab in the link to read more). One guy went from zero to $1 million in just 8 months!
Drop shipping is a way to run an online store (on Shopify for example), however your online store doesn't keep any inventory in stock and you don't have to ship product. Instead when your online store sells a product, it purchases the item from a third party (at a wholesale price) and it's shipped directly to the customer.
THIS website makes it easy to get started since you can run a successful drop shipping business with very little money. While drop shipping isn't perfect and it involves a lot of hard work, if you sell products that you love, it can be a rewarding side hustle, or full-time job.
Remote English Teacher or Tutor
Teaching English as a second language can be a great way to make extra money. Some of my friends have traveled to work abroad teaching English, however you can also be a remote English teacher or tutor online.
Launch an eBook
Whether you are a fiction or non-fiction writer, you can make money by self-publishing an ebook. Amazon is the most popular platform to sell your ebook. Another great option is to sell and promote your ebook on your website or blog.
Online Coaching
If you have a skill and are passionate about a certain topic or niche, you can offer your services with one-on-one online coaching. This can be a great way to earn extra income.
Fiverr Gigs
This is a great place for new freelancers to make money. There are many services you can get paid to do, such as logo design, video creation, creating animations and more.
Build and Sell Websites
I know a few people who buy and sell websites in the hope of making future earnings based on website traffic, current revenue intake and other factors. There is a risk, just like buying stocks and real estate, but some people have had good success in flipping websites.
Help Others with their Resume
Helping others put together a resume can be a great way to make extra money. In today's economy, many people are looking to find a better job and would be willing to pay for resume writing services.
START A SIDE BUSINESS
Stella & Dot
Do you have a passion for fashion and accessories? Stella & Dot is looking for aspiring fashionistas just like you to join their team as an independent stylist — no experience required!
As an independent stylist, you can make money by selling Stella & Dot jewelry and accessories through in-home Trunk Shows or online. You have the flexibility to set your own schedule so you can create a thriving business you love. Trunk Shows can bring in a few hundred dollars in sales and some bring in thousands of dollars!
Whether you're looking for an opportunity to earn "fun money" or a six-figure full-time income, becoming a stylist at Stella & Dot may be a good side hustle for you. To join, you'll initially have to invest $199 which will give you all the tools and training you'll need to become profitable. Plus, you'll get $350 worth of Stella & Dot jewelry and accessories — you get to choose! You can learn more about becoming a stylist here.
Become an Uber Driver
Got a car? Uber is looking for partners like you! As an independent contractor, you've got the freedom and flexibility to drive whenever you have time. It's a great way to make good money in your spare time. When I was taking driving lessons, my instructor was also an Uber Driver in the evening. He said the money he earned was a great way to support his family. Click here to learn more about making money with Uber.
Make money with Uber Eats
Got a bike or car? You can make extra money with Uber Eats! Take a few trips in the morning, evenings or just on the weekends — it's up to you. I love that you can be your own boss with Uber Eats by bringing people things they love while cruising around your city. It's an excellent way to make money! Click here to learn more about making money with Uber Eats.
House Sit
This may not be the best way to earn extra money, but it's a great way to travel the world for free. In some cases, you can get paid to watch the house, water plants, etc.
Get Paid to Play with Dogs
If you're an animal lover, Rover allows you to earn extra money by walking dogs.  This is a great way to get fit while making extra money. Click here to receive a $25 credit towards your first stay or walk with Rover!
Babysit or Nanny Children
If you enjoy working with and being around children, this could be a great option for you. You can even be an Au Pair and travel abroad. Of course, you'll want to make sure that any contract you sign allows you to enjoy some free days each week so you can explore the surrounding area.
Freelance Writing
Many successful freelance writers can earn thousands of dollars each month, but of course it doesn't start off like that in the beginning. The first step to becoming a freelance writer is to launch a blog or website so you can build a portfolio and establish a web presence.
You can start one for as little as $2.95/ month, which is a very small investment to make at the beginning. Use my easy step-by-step guide on how to launch your website in minutes.
Become a Landscaper
Are you good at gardening or creating a beautiful landscape? There are many ways to make extra money by offering landscape services, gardening and more.
Mow lawns, rake leaves or shovel snow
This may not be the best job, but many people are willing to pay to get their lawn mowed, leaves raked or snow shoveled.
Freelance Proofreading and Editing
This is a great way to make extra money or even a full-time income. Many bloggers need people to edit their articles and this job allows you to work from anywhere.
Clean Homes
Many people are limited on time or don't enjoy cleaning. If you are good at cleaning, there are lots of people who are willing to pay for you to clean their home. This can be a great way to make extra money.
Become a Photographer
Are you good with a camera? There are many opportunities to make money with photography. You can photograph weddings, engagements, special events, portraits and more.
Tutor
Are you knowledgeable about a particular subject? When I was in high school, I needed some extra help with my math homework and hired a tutor. You can help someone learn a language, prepare for an exam, etc.
Consulting
If you have valuable skills or certifications, you can offer your consulting services to local businesses or clients. This can be management consulting, travel consulting, financial consultant and more. Chances are there is a business owner or client willing to pay for your expert services.
Start a Pop-Up Shop
If you are interested in opening a retail shop, art gallery or restaurant, but want to keep costs down, consider opening a pop-up shop instead. This can be an evening or weekend pop-up shop which allows you to work around your full-time job.
Paint Homes or Decks
Many people are looking for people to paint their homes, porches or decks. This can be a great way to earn extra income in the spring or summer months.
Wash and Detail Cars
Washing and detailing cars is a great way to make extra money, especially in the warmer months.
Personal Fitness Trainer/ Yoga Instructor
If you're into fitness or yoga and enjoy helping others reach their fitness goals, consider being a part-time fitness or yoga instructor. Once you build up a client base and good reputation, it could possibly turn into a full-time job for you.
Start a Catering Business
Do you enjoy cooking or baking delicious food? Consider selling your tasty creations to others or offering to cater for business functions, special events or parties. I know some people who started a part-time catering company who now have their own restaurant.
Event and Party Planning
Do you enjoy planning parties and special events? There are lots of opportunities to plan corporate events, birthdays, holiday parties, religious events, and more.
MAKE EXTRA MONEY AT WORK
Ask for a Pay Raise
If you'd prefer to stay at your current job, working for your present employer, you can ask for a pay raise to increase your income. Remember that it's always important to plan and prepare before asking for a pay raise.
Negotiate your Work Benefits / Perks
If getting a pay raise is not an option, consider negotiating your work benefits or perks. This will be dependent on the industry your work in. For example, my sister is in the hotel industry and is able to receive free meals (while working), a free work uniform, free dry-cleaning and benefits, which helps her save money each month.
Look for Promotion Opportunities
Many companies like to look for internal hires before turning to the general public when positions are available. Check to see if there is room for advancement at your company or any new promotion opportunities.
Work Overtime
One way to make extra money at a job you already have is to work overtime. Some jobs will pay you a decent amount of money to work some overtime hours, so it's worth checking to see if this is an available option.
Get a New Job
If you tried any of the above options and still find that you need extra income, I recommend looking for a new job that offers a higher salary. Sometimes a current job can only offer so much and it's time to find a higher-paying job.
PART-TIME JOB IDEAS
Lifeguard
One of my friends used to be a lifeguard each summer at the local pool while he was in college. This can be a great way to make extra money if you have the pre-requisite skills and certification.
Work at a Restaurant
Whether you're a hostess, server, cook or dishwasher, there are lots of different opportunities available at restaurants. You can work in the evening or weekends, which can be a great way to make extra money.
Work in the Hotel and Hospitality Industry
Many part-time jobs in the hotel and hospitality industry are needed for evening and weekend shifts. If you're interested in working in this industry, I highly recommend it.
Guide Tours in your city with Airbnb
There is a lot more to Airbnb than just finding affordable travel accommodations. You can also get paid to host your own unique experiences.
Some real examples from Airbnb include getting paid to teach others how to surf, getting paid to host a walking tour of your city, getting paid to take visitors on a bike tour, getting paid to teach a fun yoga class, getting paid to take visitors on a kayaking adventure, getting paid to take visitors trail running, getting paid to teach others martial arts, and more!
There are endless possibilities to host your own experience though Airbnb and make money while getting fit. Click here to get learn more and get a $45 CAD coupon toward your first Airbnb stay or experience.
Make Deliveries for Businesses
Many businesses may require deliveries. For example, when I was working as a Pharmacy Technician, the pharmacy offered free deliveries to patients. Our delivery driver worked only a few hours a day and was able to earn extra money by doing this.
Uber Eats is also a great option to make deliveries for restaurants. You can make good money with Uber Eats! 
Find a Part-Time Seasonal Job
There are lots of seasonal jobs available, and they usually offer a decent amount of hours so you can earn extra money during this time. If you make a good impression, the company may hire you on as full-time or next season (depending on the type of work).
Senior Caregiver
With the aging population, there are many opportunities to be a senior caregiver. You might require a certification or vaccinations, but this can be a great way to make extra money. Plus, you might make a friend.
Personal Assistant
Personal assistants can offer a variety of different services, depending on who they are assisting. This can include running errands, organizing files, cleaning, making calls, and more.
Call Center Representative
While this might not be a fun job, being a call center representative can be a great way to make extra money. You can find shifts on evenings or weekends.
SELL / RENT ITEMS FOR EXTRA MONEY
Become an Airbnb Host
If you have a cabin, cottage or extra room in your home, consider becoming an Airbnb host to make extra money. Don't have any extra space? You can choose to become a host for your neighbourhood or make money by hosting a unique experience (hiking, cooking classes, and more).
Sell your School Textbooks
When I was in college, I would sell my textbooks at the end of the semester. This would allow me to gain back the majority of the value that I paid for the textbook. A great website to sell your textbooks on is eCampus.com. When you sell your textbooks on eCampus shipping is always free and you can get paid by check, direct deposit or in-store credit.
Sell / Flip Items on eBay
eBay is a popular platform to sell all sorts of things, such as electronics, clothing and more.
Sell Items on Craigslist or Kijiji
Listing your items on Craigslist or Kijiji can be a great way to sell your items for a higher price (compared to eBay). The only downside is that you might have to meet up with the person who wants to buy your stuff. Always meet in a public and safe place.
Sell Items at a Garage Sale
While you might not be able to charge as much for your items (like you can on Craigslist, Kijiji or eBay), having a garage sale is still a great way to sell your stuff.
Sell your Gift Cards
Instead of holding on to gift cards that you know you won't use, consider selling them online. There are lots of different places to sell your gift cards.
Sell Items on Etsy
Etsy is a great place to sell handmade items, clothing, craft supplies, jewelry, vintage pieces and more. If any of those things sound like your jam, then definitely check out Etsy!
Sell Items to Second-Hand Stores
While some stores rely on the free donation of items, there are lots of second-hand stores that will pay for your gently used clothing, shoes, handbags, etc. There are even second-hand stores that will pay for your designer goods too.
Sell your Photos
Are you good at taking photos? There are lots of opportunities to sell stock photos online. Many small businesses, bloggers, and online entrepreneurs are looking for good quality stock photos. Shutterstock is a good place to sell your photos for cash.
Rent your Parking Space
If you have a parking spot that you don't regularly use, consider renting it out. I know many people who are on long waitlists to secure a parking spot, so you might be able to make some good money by renting out yours.
Rent a Room in your House
Many students and young adults are looking for affordable accommodation options today. If you have a spare room in your home, consider renting it out for extra money each month. Airbnb is a good option to list your spare room for rent.
Rent Out your Car
Provided you have insurance coverage, renting your car out on an hourly, daily, weekly or monthly rate can be a popular way to make extra money.
Rent your Clothing
If you have designer or brand name items in your closet, consider renting them out to others. There are lots of websites where you can rent your clothing out and earn extra money.
MISCELLANEOUS WAYS TO MAKE MONEY
Earn Cashback Using Ebates
Whenever I shop online, I try to always use cashback websites like Ebates so I can earn free cashback on all my purchases. Ebates is a legit company and I use them all the time when shopping online. It's free to use and can be a great way to earn extra money just for shopping online.
For USA shoppers, you can click here to sign up for Ebates (free $10 welcome bonus).
For Canadian shoppers, you can click here to sign up for Ebates (free $5 welcome bonus).
Focus Groups
A few of my friends earn extra money by participating in paid focus groups. When companies are about to launch a new or improved product, they like to gather consumer feedback about their product prior to launch. You can get paid (up to $100 per hour) for your opinion.
Participate in a Clinical Trial
One way to earn extra money is to volunteer for a medical research study. You may need to meet certain qualifications in order to participate, but it can be a good way to make extra money.
Enter Contests or Giveaways
While there is no guarantee that you will win anything, it doesn't hurt to enter contests or giveaways. You can get the chance to win vacations, cash prizes, gift cards and more.
Use Credit Cards with Rewards
If you're good with using credit cards and make sure to pay off the full amount due each month, then I recommend taking advantage of credit cards with rewards. There are many credit cards that offer cashback rewards, travel points, restaurant or movie points, and more.
Invest your Money
It can be a little daunting to invest your money if you're not sure where to start, which is why I suggest reading a book (or two) about investing for beginners or talking to a financial planner about your long-term goals. The key is to start sooner rather than later.
Become a Brand Ambassador
If you're good at building an online presence and networking with companies, becoming a brand ambassador might be a fun option for you. I have seen bloggers partner with companies and became a brand ambassador for their product or services.
Checkout 51
Checkout 51 helps you get cashback on your purchases.  You can download the app or browse the available offers online. Then buy these offers at any store and upload your receipt using Checkout 51. Once your purchases have been confirmed, you will receive a credit to your account. When your account reaches $20, you can cash out and Checkout 51 will mail you a check! Click here to sign up for Checkout 51.
Over to you — what are some ways you like to make extra money?