Struggling to stick to your budget? You're not alone.
Saving money isn't easy, especially when you're in college or just starting out in your career. You've probably tried a million different ways to save money and told yourself "next month will be different and I'll actually stick to my budget".
But then, life happens and you're left wondering why can't I stick to a budget?!
If you need some budget motivation, then this post is for you! Today I'm sharing budgeting tips and tricks to help you learn about getting on a budget and sticking to it.
No matter what your financial dream looks like, a budget is the first step in helping you meet your goals. It lets you design the blueprint for your money to make sure your spending is aligned with your goals and priorities.
This doesn't mean you need to deprive yourself or live on a bare bones budget. If you enjoy going out for dinner with friends on the weekend, that's great! Just make sure it's included in your budget and it doesn't interfere with paying your monthly bills or hitting your savings goals.
Having a budget gives you permission to spend money without feeling guilty. Of course, as long as it's included in your monthly budget plan.
But sometimes sticking to your budget is easier said than done.
I've tried different budgeting apps in the past, but find the best way for me to stick to my budget is to keep it old school. I use my Budget Planner each month to write down my budget with a pen and paper. This makes it easy for me to keep my finances organized.
Here are 8 easy rules to follow to help you stick to your budget and save money.
Related Posts:

1. Know your why
Managing your finances isn't always easy. Whether it's an unexpected bill that came in the mail or the feeling like there's never enough money to last until the end of the month, there's plenty to deal with every day.
But knowing your WHY can help you implement change and get on track to improving your finances. This can also help you stick to your budget.
If you want to improve your finances, you need to define your WHY. And the sooner you define it, the clearer everything else will become. You'll feel more fulfilled and better understand what drives your behavior when you're at your natural best.
You'll also be able to make more intentional choices about how you spend and save money.
What's the difference between your WHY and your goals?
A goal is an idea of your desired end result. It's something you want to get done, achieve or receive. For example, your goal might be to get out of debt.
According the Simon Sinek, the WHY is the purpose, cause or belief that drives every one of us. Discovering your WHY can inject passion into your work, especially when times get tough. For example, your WHY might be your family.
How to find your WHY
Begin by asking yourself, "What's most important to me?". To answer this question, you need to step away from society's expectations and start focusing on your own expectations instead.
Your WHY is what excites you. It's what gets you going and motivates you to keep going. Reminding yourself of your "why" can help you stick to your budget.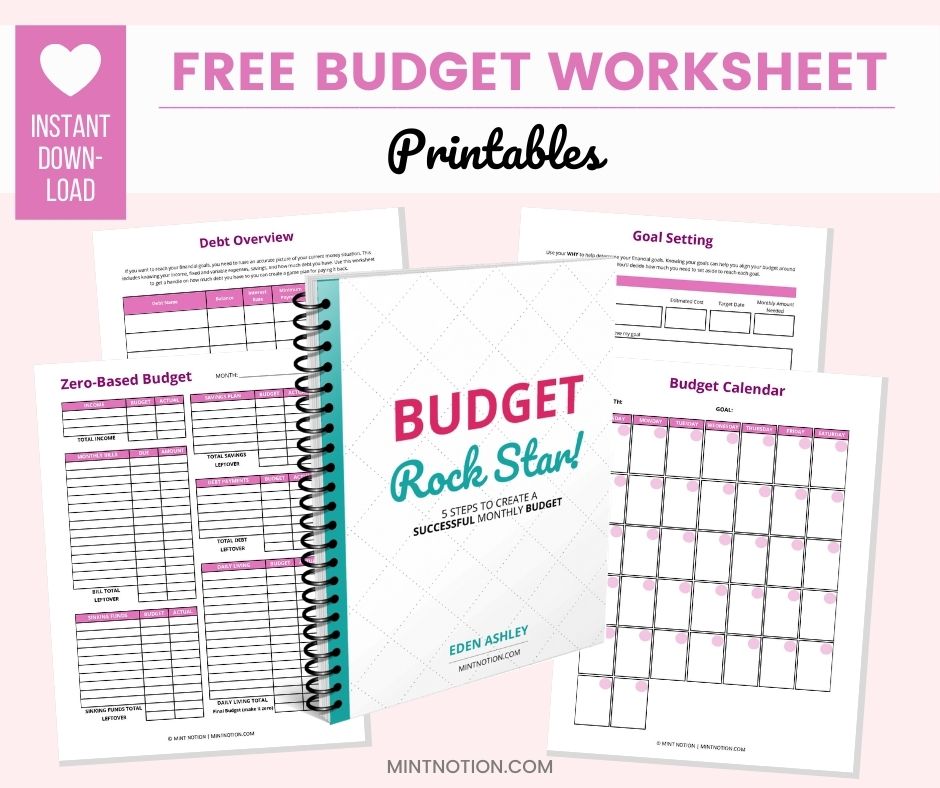 2. Plan ahead each month
Your budget is essentially just a plan for money. Creating a budget means you're making a plan for how you want to spend your money BEFORE the month begins.
If you don't plan your budget before the month starts, you'll end up just tracking your spending instead. If you're just tracking instead of planning ahead, this can be surefire way to overspend or feel stagnant with your financial situation. This can make it tough to stick to your budget.
To help meet my goals and avoid surprise expenses, I like to map out my bill payments, events, birthdays, and vacations on a calendar. I highly recommend doing this at least one week before the month starts. For example, when creating my monthly budget for May, I'll start planning during last week of April.
This lets me know when those seasonal or one-time expenses are coming up, so I can include them in my budget. I have a printable calendar for each month of the year and keep it organized in my Budget Binder. You can download my printable calendar here or create your own.
For annual, semi-annual, quarterly and monthly bills, I like to write down everything in my Budget Binder. This helps me keep track of when bills are due, so I never miss another payment. You can download my Recurring Bills worksheet here or create your own.
PRO TIP: To budget for large annual expenses, you can divide the amount you need to pay by 12 and set aside this money each month.
3. Keep your budget realistic
The number one reason why people have trouble sticking to their budget is because they don't make it realistic. If you want to reach your financial goals, you need to make sure your plan is tailored to your lifestyle.
This means you need to have an accurate picture of your current financial situation, which includes:
How to keep your budget real
Understand your spending – If you budget only $100 each month to dine out, but usually spend closer to $300, you need to reevaluate your budget plan. Either cut back on other expenses so you can afford to continue dining out, or increase your grocery budget and make a meal plan to cook more at home. I like using my Meal Plan Binder to easily organize and plan my weekly meals.
Prioritize your goals – What does your current monthly budget plan look like? Is your spending plan aligned with goals? If not, I recommend creating a new plan for how you want to spend your money. It doesn't have to be a huge budget overhaul. Just make tweaks here and there, as needed. Learning how to say "no" to yourself or your friends when you're trying to save money isn't easy. But you'll feel less stress when you break the cycle of living paycheck to paycheck or you finally get to take your dream vacation.
Switch to a cash diet – The facts don't lie. Research has shown that people are willing to spend more (up to 83%) when paying with credit card instead of cash. This is because credit card payments may not be as noticeable as paying with cash. We don't realize the pain of our payment until the bill comes in weeks later. So if you're having trouble sticking to your budget, leave the credit cards at home and switch to a cash diet instead.
4. Track your savings
I know many personal finance gurus always say that you must "track your spending" if you want to improve it. BUT, I'm going to give you another suggestion.
(Please note, this is NOT giving you permission to be financially irresponsible. I'm just letting you know what worked for me).
While tracking your spending can initially help you identify where your money is going and how you can make appropriate adjustments, this is not the only way to improve your finances.
For example, just a few years ago I was living paycheck to paycheck. I was tracking ever single penny coming in and going out, because that's what all the "money experts" suggested.
Tracking my spending made me feel worse and worse about my situation. Every time I spent money, I felt guilty. Even if it was just a small purchase like buying a cup of coffee. I didn't want to feel bad about spending money, especially because I was a spender at heart.
So, to put a stop to my constant pity party, I started tracking my savings instead. And that's when my financial situation finally started to improve. I became obsessed with tracking my savings and it made me feel good! You can use my Savings Tracker worksheet to do this or create your own.
I still continued to track my spending, but not on a daily basis anymore. Instead, every day I focused on tracking my savings. Whether it was putting all my spare change into a jar or making an effort to save money by bringing my lunch to work, every little bit of savings added up. And I loved watching my savings grow!
Why tracking my savings works for me
When I saw my savings grow, it encouraged me to find ways to keep it up. I automated my savings every month. I also used "money challenges" to help boost my savings even more. For example, I did the no new clothing challenge and the 30-day money challenge. I felt more gratitude and it helped me build a healthier relationship with money.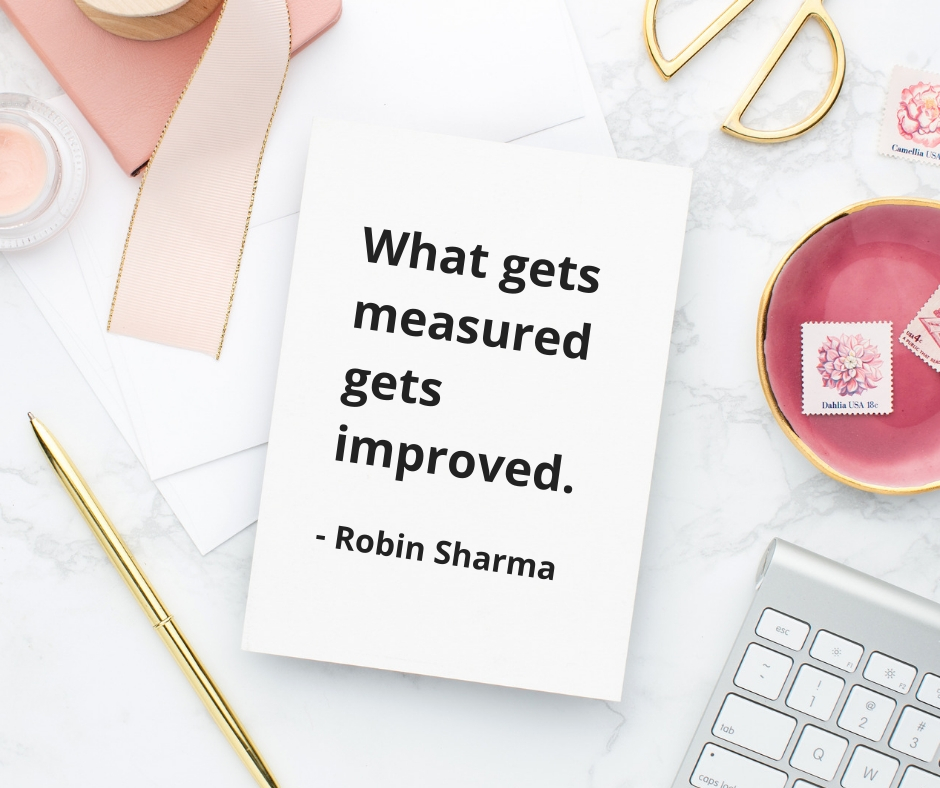 5. Meal Plan
We all know cooking food at home can be a great way to save money. But many of us think cooking at home is time-consuming.
Here's an easy solution: Plan out all your breakfasts, lunches, snacks, and dinners for the week. This is called meal planning and it's basically just a budget for your food. You get to decide upfront what you'll be eating during the week.
I started meal planning last year and it's been a total game-changer. It can help you to easily stick to your budget too. Here are some benefits of meal planning:
Save money
I'm eating out less and also spending less money on groceries. This is because I only buy fresh produce I need for the week and almost nothing goes to waste.
Save time
I know exactly what I'll be having for dinner each night. I can prep items ahead of time and no longer have to run out to the grocery store mid-week or brainstorm last minute ideas for dinner.
Save your sanity
Cooking has now become an enjoyable experience. I feel totally prepared and put on my favorite music as I quickly whip up a healthy meal.
I use my Meal Plan Binder to easily plan and organize my weekly meals. Each week, I spend about 20-30 minutes going through my local grocery store flyer and making a list.
I plan my meals based on what ingredients are on sale that week. This helps me save money and time. If you're interested, you can check out my Meal Plan Binder printables here.
6. Give up one costly habit (or hobby)
Sometimes it's hard to see how much our daily or weekly routine is costing us until it's all written down.
For example, do you go out for coffee every morning before work? That $2 daily coffee is costing you over $500 a year.
Do you have a gym membership that you rarely use? That $30 per month gym membership is costing you $360 a year.
Do you go out for brunch every weekend with friends? That $20 brunch is costing you over $1,000 a year.
I'm not suggesting you need to give up all your fun and feel deprived. If you want to stick to your budget though, I do recommend giving up (or cutting back) on at least one costly habit or hobby.
Which habit or hobby can you live without?
For me, I can live without buying new books. I used to dream of having my own private library someday (like Belle from Beauty and the Beast). But this dream was costing me so much money and I rarely re-read any of the books I bought.
So I decided to sell all my books for cash. Now I go to the public library to read books and the best part is – everything's free! I also live in a tiny apartment, which means I have more room without all those books.
Giving up at least one costly habit is a smart way to help you stick to your budget. Less stuff = more freedom!
7. Audit your monthly subscriptions / bills
Once you've written down all your monthly subscriptions, bills, and recurring expenses, it's time to audit them.
How many subscriptions do you really need? Can you eliminate any of these subscriptions?
For example, if you're not using your gym membership, cancel it.
Do you need to have Hulu, Netflix, and cable TV? If not, ditch what you can live without. We got rid of cable TV over a year ago and never looked back.
Do you listen to Spotify every day, but rarely use Apple Music? Then cancel Apple Music.
Do you have an expensive mobile phone plan, but don't use all your features? Then get a phone plan that fits better for your needs. Try checking out Mint Mobile for cheap plans.
To help you clean up your subscriptions without much effort, consider using Trim. Trim is a digital personal assistant that makes it easy to save money on your monthly bills. All you have to do is sign up here and Trim will do the heavy lifting for you.
Trim will also negotiate your monthly bills, such as your cable, cell phone, and internet bill. Trim works behind the scenes and automates ways to save you money.
Now you can have more money in your pocket to help grow your savings, pay off debt faster, and so on. To get started, you can sign up for free here.
8. Make yourself wait
The only thing worse than making an impulse purchase that doesn't fit into my budget, is buying something that ends up sitting in my closet collecting dust.
Not only did that purchase cost me money that wasn't budgeted for, but I end up feeling guilty every time I see that item in my closet.
Can you relate?
Here's a simple solution: Make yourself wait before making a purchase. Especially for those big-ticket items.
This is my #1 tip for preventing impulse spending and it's helped me save SO much money over the past few years. Plus it can help you easily stick to your budget.
Every time I see something I want to buy (these are impulse wants), I put it on a list with today's date and force myself to wait a certain amount of time before purchasing it. Usually I make myself wait at least six months.
Many times the urge to buy this item will pass and you can just cross it off the list.
After six months has passed and I still want that particular item, then I consider finding the most cost-effective way to buy it.
Not only does this tip help me save money, but I also feel more intentional about the purchases I make. It works great if you stick to your rule.
Six months seems too long to wait? Then make yourself wait at least two weeks. The reason why I use a "six-month list" is because I'm really good at delaying gratification and two weeks isn't long enough for me. You know yourself best, so I recommend making yourself wait an appropriate time for you.
---
Live the life you've always imagined with the right tool at your fingertips. The Budget Planner can help you get there.
These printables were hand-crafted to help you save time when organizing your finances, stop living paycheck to paycheck, save more money, pay off debt fast, and more! Use these functional sheets to create a realistic budget tailored to your specific needs and goals.
You can learn more about the Budget Binder here.