No matter what anyone says, saving money is no easy feat. But one of the best ways I found to save money is to make it fun by doing a challenge. That's why I put together this free challenge to help you save $500 in 30 days.
Whether you want to save money to go on a vacation or you're trying to pay down debt, saving an extra $500 per month can help get the ball rolling so you can get closer to achieving your financial goals.
I created a free printable for you to help making saving fun, called the 30 Day Money Challenge. This challenge is a great way to save $500 in 30 days. You don't have to wait to start saving on the first of the month, you can start today and continue for the next thirty days.
Related Posts: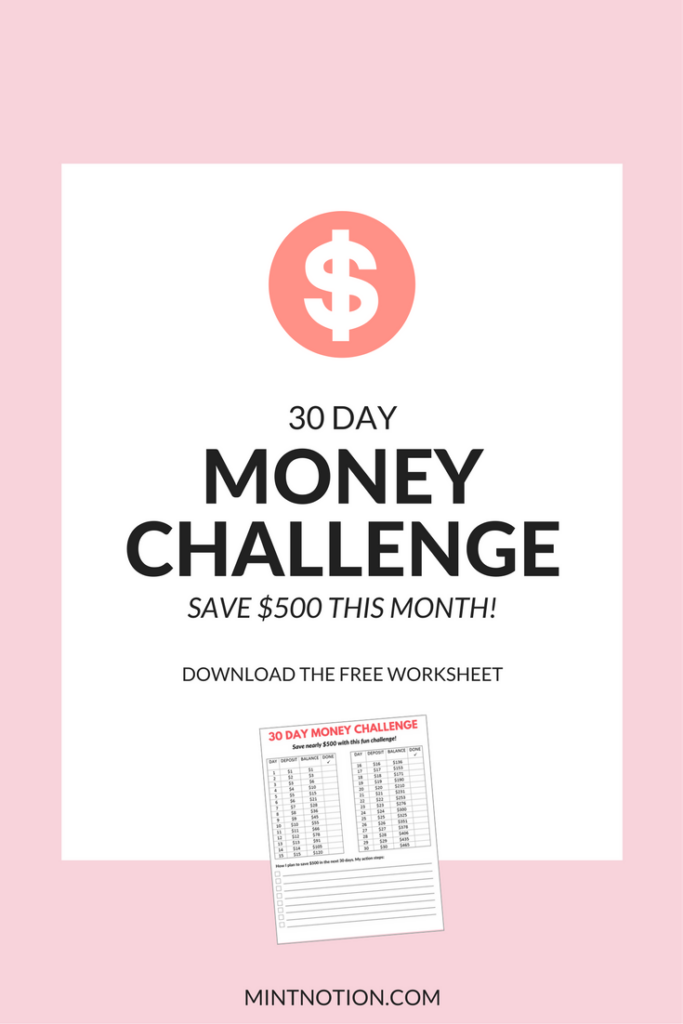 One of the biggest reasons why people have trouble saving money is because they don't have a clear goal in mind. Not having an end goal in sight is a surefire way to lose the motivation you need to save money or pay off debt.
Writing down your goal and challenging yourself, such as using the 30 Day Money Challenge, is a smart way to save more money and stay motivated to reach your financial goal.
To help you get started, here are several ways to save $500+ each month that actually work!
Get paid to share your opinion
An easy way to make money is to take paid surveys. Depending on how many surveys websites you sign up for, you can earn around $100 – $600+ per month by filling out surveys in your spare time. This can be an easy way to save $500 in 30 days.
Most surveys take around 5-15 minutes to complete. This means you can earn money while doing a survey during breakfast or get paid to share your opinion while watching Netflix — it's really that easy.
PRO TIP: Earn the most money when you sign up for several survey websites. Then you'll get to choose the surveys which pay the most money. Save time and earn more cash!
Here are some survey websites I recommend joining. They are all free to use and sign up for:
Branded Surveys – This is a popular survey site that will pay you cash. When companies want to launch a new product or collect market research, they turn to the Branded Surveys Community for feedback. You'll collect points for each survey you complete. Points can be redeemed for cash or gift cards.
Plus, you'll get a $1 welcome bonus when you sign up today!
---
Survey Junkie – This is the largest survey site in the world that actually pays you cash. It's available in the United States and Canada. They are an online community with over 10 million members dedicated to making their voice heard.
This site is similar to Swagbucks, where you'll earn points for each survey you complete. Then you can exchange your points for cash paid directly to a PayPal account, or you can redeem your points for a gift card. It's super easy.

---
Toluna Influencers – Toluna Influencers are everyday people (just like you) who help transform the products and services that matter most to you. Most of the time, their surveys last between 15 and 20 minutes. For each survey you complete, you'll be rewarded points that can be exchanged for cash or rewards.

---
Swagbucks – This is one of the most popular survey websites. I've been using Swagbucks for years to earn free gift cards. For each survey you complete, you'll earn "Swagbucks" which can be redeemed for free gift cards, or you can get cash paid to a PayPal account.
Plus, you'll get a free $5 welcome bonus just for signing up today.

Start a blog
I quit my job to start a blog. Now it's turned into a full-time career for me!
It's easy to get started and the start-up costs are low. Blogging can be a simple side hustle, or it can turn into a full-time job (like it did for me). It's up to you!
If you're interested in starting your own blog, here's an in-depth tutorial that will walk you through the entire process. Don't worry, there's no tech experience or coding required. It takes just a few minutes to get your blog up and running. Anyone can do it!
I didn't know anything about blogs when I first started this website. I learned everything from scratch. Now I love connecting with people all over the world.
Need some extra guidance?
Check out my FREE blogging course for beginners. It will show you how to choose a profitable niche, write enganging blog posts, and even earn your first dollar blogging. You can sign up by entering your info below.
Get paid to lose weight with HealthyWage
HealthyWage pays you to win weight loss challenges. You can make a personal weight loss bet, get your friends together for a team weight loss challenge, or compete in a corporate wellness program. You can even win up to $10,000 when you join a team challenge, which makes getting healthy fun.
If you stick to your goal and lose the weight you say you're going to, HealthyWage will pay you. It's that simple!
With up to $10,000 in prize money, you can use this cash to pay off debt faster or put toward a down payment on a new home. It's up to you!
How to get started with HealtyWage
Use the HealthyWage Prize Calculator to enter how much weight you want to lose, how long you'll take, and how much you'd like to bet. Then the calculator will determine your winnings amount, up to $10,000. Who wouldn't want to win up to $10,000?
Sign up and make your bet. You can increase your prize amount by adjusting your goal weight, how much you contribute, or how long you'll take.
Lose the weight. Achieve your weight loss goal and get paid! You can stay on track throughout the contest with weekly weigh-ins. You can also get support from other contestants.
Win money! If you reach your weight loss goal, you'll win your prize. It's that simple! If you don't hit your goal, your money goes to support HealthyWage, including prizes for other contestants who achieve their goals.
Ready to get started? Start at the HealthyWage Prize Calculator and find how how much you can win!
Turn your extra space into cash
Do you have an extra room in your home? You can make money by listing your spare room (or home) on Airbnb. In Toronto for example, you have the potential to earn up to $980 per month by renting out your spare room to a couple. You can learn more about how to turn your extra space into cash with Airbnb here.
Don't have any extra space but you still want to make money? You can choose to become a host for your neighborhood or make money by hosting a unique experience (hiking, cooking classes, and more). You can learn more about Airbnb here.
How to get started: You can click here to create your free listing with Airbnb.
Earn up to 20% cash back when you shop
Whenever I shop online, I try to always use cashback websites like Rakuten so I can earn free cashback on all my purchases. Rakuten is legit company and I use them all the time when shopping online. It's free to use and can be a great way to earn extra money just for shopping online.
For USA shoppers, you can click here to sign up for Rakuten (free $10 welcome bonus).
For Canadian shoppers, you can click here to sign up for Rakuten (free $5 welcome bonus).
Automate your savings with Trim
Trim believes that saving money should be easy. That's why they created their free app to help you automate your savings. It analyzes your accounts to find recurring subscriptions and determine where you can save money.
Here are some ways you can save money with Trim:
Trim can negotiate your cable or internet bill
Trim can find and cancel unwanted subscriptions
Trim can automate your savings
Trim can help you say goodbye to debt
Trim has saved their users over $1,000,000 in the last month. Simply sign up here to see how much you can save and get your results in less than a minute.
Earn free gift cards with Swagbucks
Swagbucks is a loyalty rewards program that allows you to earn free gift cards when you play games, shop online, watch videos, take surveys, surf the web, and more. This can be a fun way to save $500 in 30 days.
They even have a mobile app so you can earn free gift cards on the go. This is an easy way to save money and it can be fun too. You can click here to get a $5 bonus sign-up bonus with Swagbucks.
How to get started with Swagbucks:
Step 1 – Join For Free. You can click here to sign up for Swagbucks.
Step 2 – Earn Points. Shop online, watch cool videos, search the web, or answer surveys to earn points.
Step 3 – Get Free Gift Cards. Redeem your points for free gift cards to your favorite retailers such as Amazon, Target, and Starbucks. Or you can choose to get cash back from PayPal.
Cut back spending on food
The best advice I can give anyone is to learn how to make at least three delicious meals at home. That way you'll be able to whip up something nice if you have a friend coming over, a date, or you want to have a relaxing evening at home.
If you want to start making more homemade meals, but don't like the idea of meal planning, I recommend using the $5 Meal Plan. This is a weekly meal plan service that can make your meal planning super simple.
For just $5 per month, you will receive a delicious meal plan, where every meal will cost about $2 per person (or less). It's a great way to save time and money, plus they offer specialty plans, including gluten-free and vegetarian meals. Click here to try it free for 14 days.
If you're short on time and prefer someone else to meal plan AND do your grocery shopping, then I recommend trying Hello Fresh. I just recently tried Hello Fresh for the first time and loved them.
I was having a hectic week, so it was nice to get fresh groceries and meal plans delivered straight to my doorstep. Each meal was delicious and took less than 30 minutes to prepare.
Sell things you no longer need
Selling your stuff is one of the easiest ways you can make extra money to help you get closer to achieving your financial goal. It also plays double duty in helping you to declutter and get organized. My sister and I recently went through our closets and sold some of our clothing and accessories. This was a great way to earn some extra cash.
Many of us can easily find at least $100 worth of items we don't use. You can choose to sell these items by having a garage sale, or posting these items on Gazelle, Craigslist, eBay, Amazon, Kijiji, or local Facebook groups. Just make sure to take good photos, provide detailed descriptions of the items you're selling, and use discretion before giving anyone your address or meeting them in person.
Take on extra work
Making extra money each month can be a great way to help boost your savings and reach your financial goal. For some people, earning more money might mean working overtime or taking on extra shifts. If you have a salaried position, I recommend doing a side hustle, such as freelance gigs, or starting your own side business.
If you need some inspiration for side gig ideas, you may want to check out these helpful posts. This can help you save $500 in 30 days:
Other ways to earn extra money include doing odd jobs such as babysitting, pet sitting, house sitting, becoming an Lyft driver, tutoring, consulting, mowing the lawn, or event planning. Click here to read my post: 12 ways to make an extra $500 this month!
I hope this list has given you some helpful ideas for you to complete the 30 Day Money Challenge so you can save $500 in 30 days. Imagine having an extra $500 in your savings account! Stay focused on your goals, create an action plan, and make it happen!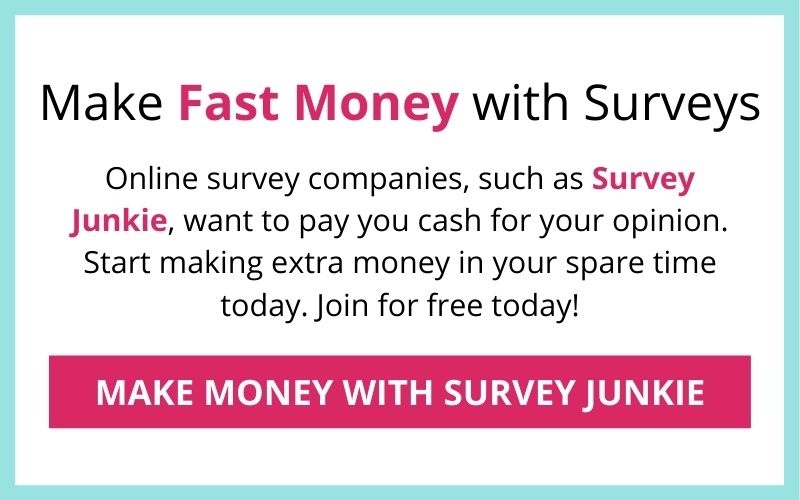 30-Day Money Challenge
Save $465 with this fun money challenge. Get your free printable worksheet now!