If you're interested in starting a printable business on Etsy, this list of the best-selling printables on Etsy will help inspire your creativity. Keep reading to learn how you can make extra money by selling printables online.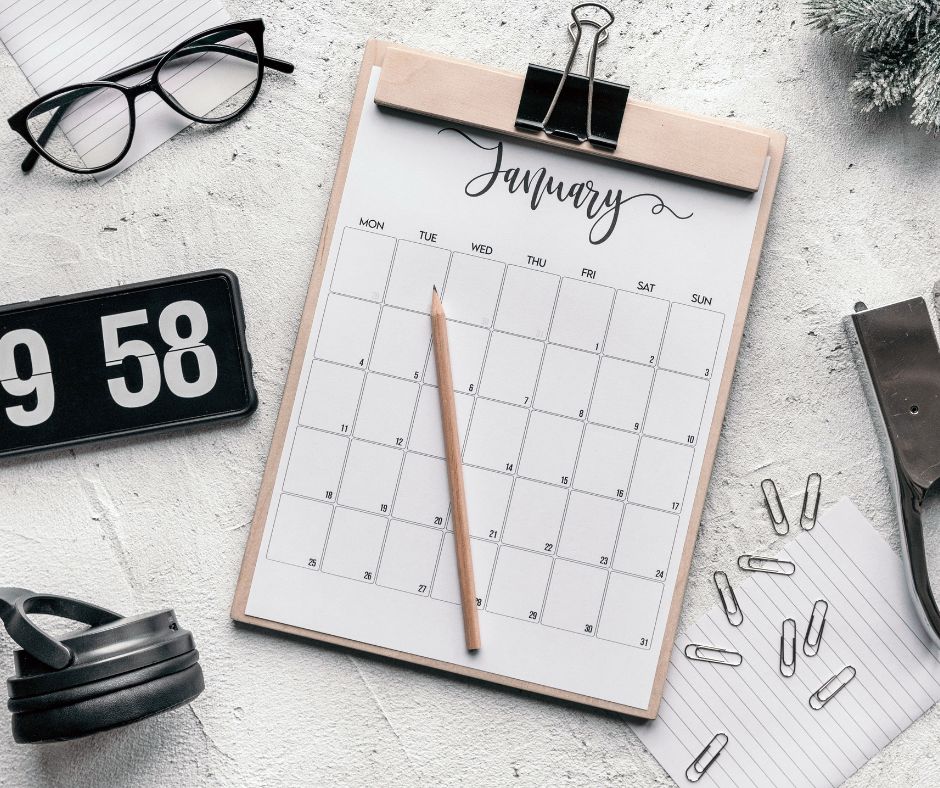 Etsy is one of the most popular sites to sell printables because it has a well-established customer base. Many people look on Etsy to buy handmade items such as printables.
Creating digital products that people are already searching for can be a great way to make passive income.
Plus, there are no upfront costs on Etsy, making it an affordable side hustle. You can create printables for free using a program like Excel or Canva, or you can put together fancy designs with Adobe Illustrator or InDesign.
I know starting a side hustle and creating your first digital product can be a little scary. Everything is new and you may have no idea where to start.
That's why I put together this list of printables that sell well on Etsy to get you inspired and help kickstart your online business.
You can also check out this free e-book that'll teach you exactly what type of printables sell best for each month of the year.
Read Next: How to sell printables on Etsy – Step-by-step guide
1. Chore and reward charts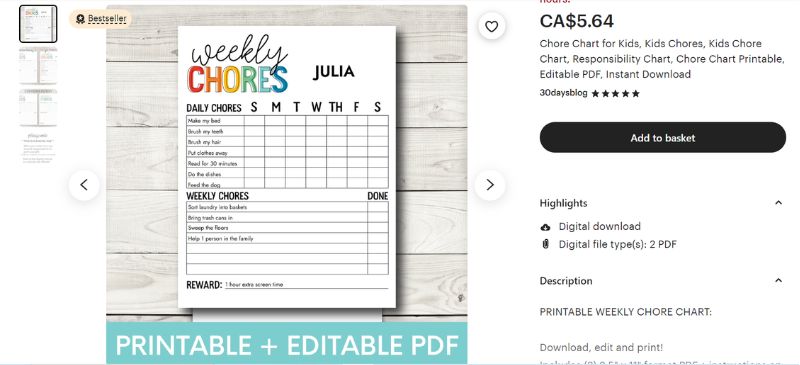 Many parents are looking to buy chore and reward charts to help teach their kids how to be more responsible. Having everything laid out on a chart can make it easier for children to follow.
2. Invitations
Buying custom invitations can be expensive. Instead, many people are looking to buy invitations that they can print from home.
You can create a variety of designs to sell on Etsy or offer editable versions. Below are some popular invitations that sell well on Etsy.
Wedding
Birthday
Baby shower
Bridal shower
Bachelorette / bachelor party
Save-the-dates
3. Christmas and holiday printables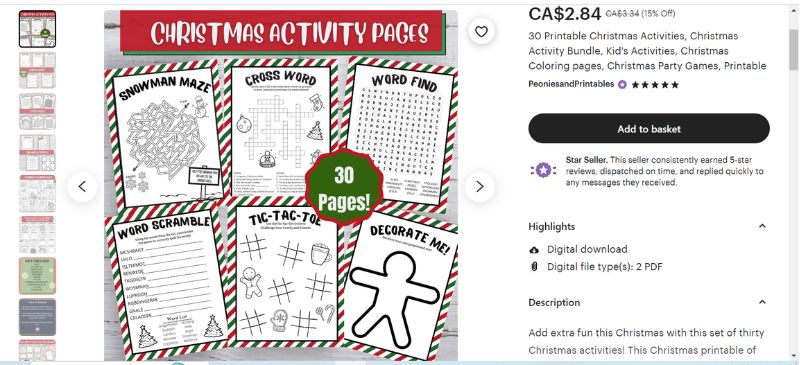 Printables that are created specifically for Christmas and other major holidays can be a great way to make passive income. There's tons of different Christmas printables that you can create and sell on Etsy. Below are some popular ideas:
Holiday games
Coloring pages
Shopping list
Recipe cards
Greeting cards
Gift tags
Budget and savings trackers
Gift or wish list
Wine bottle labels
4. Party printables
Party printables are a popular item to sell on Etsy. Many people love planning and throwing parties, but buying supplies from retail party stores can be limited and expensive.
That's why a lot of people look online for decorations they can print themselves to save money. Below are some popular ideas:
Bridal shower games
Baby shower games
Kids birthday party games
Banners
Food labels
Gift tags
Favor bag labels
Photo booth props
Table numbers
Thank you cards
5. Meal planner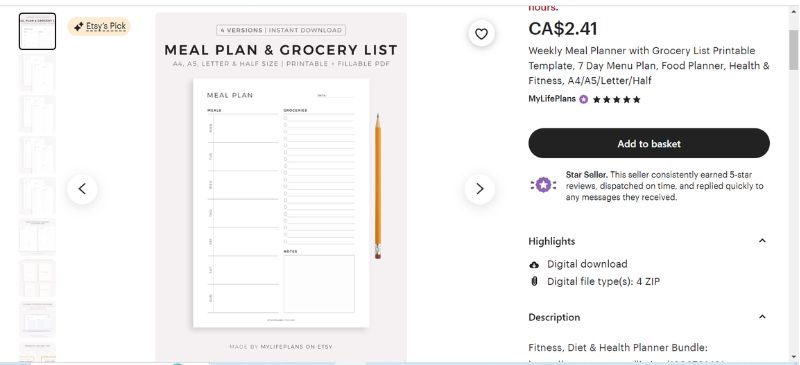 With the cost of living rising, many people are choosing to cook more meals at home.
A meal planner can get an excellent way for people to organize meals ideas and their grocery shopping for the week.
You can create meal planners that are catered towards specific diets, such as keto, gluten-free or vegan. You can also create meal planners designed for families or those cooking for just one person.
6. Teaching materials and flash cards
Teachers and parents are always looking for new teaching material to help them in the classroom or at home.
You can create a variety of different teaching resources to help students, such as flash cards or worksheets.
The most popular items are materials that can be laminated and used right away. Below are some ideas:
Toddler activities
Mazes and word puzzles
Homeschool worksheets
Study materials
7. Calendar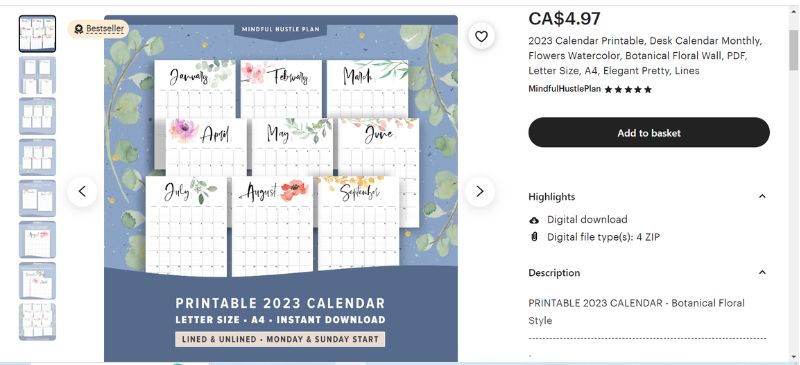 Many people still use and prefer the ease of having a physical calendar. This is a popular item to sell on Etsy and you can get creative with the layout.
For example, you create a minimalistic or themed design. You can also create a calendar that includes a meal plan, habit tracker, bill tracker, weekly planner, and so on.
8. Coloring pages
Both kids and adults love to use coloring pages. This is a popular item that sells on Etsy for all ages.
For younger kids, they might like animals, cartoon characters, trucks, and princess illustrations. Older kids might prefer movies, tv shows, and other pop culture designs.
Adults that are looking to relax and relieve stress might like intricate illustrations that show peaceful settings or inspiring quotes.
Another popular coloring page is paper houses. You can sell the templates for parents to print out at home. Kids can color, cut and fold together the template to make a paper house.
9. Daily or weekly planner and to-do lists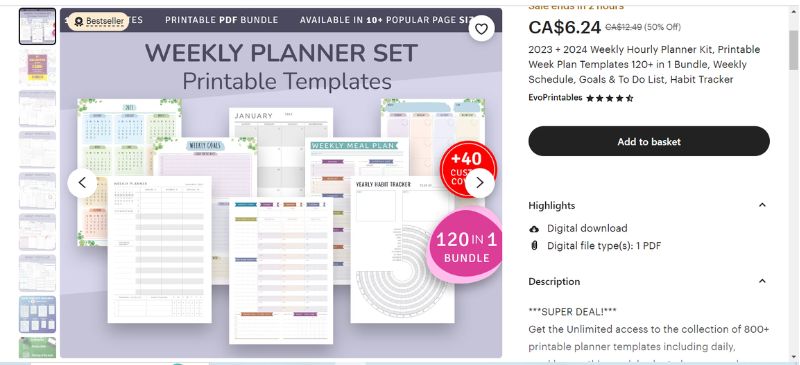 You can help someone organize their daily or weekly routine by creating handy checklists and to-do lists. People love using checklists to stay on top of tasks and accomplish more in their life.
10. Cleaning checklists
Whether you live in an apartment or house, staying on top of cleaning can be a lot of work. Many people like using cleaning checklists to keep track of daily, weekly, monthly, and annual cleaning tasks.
11. Budget planner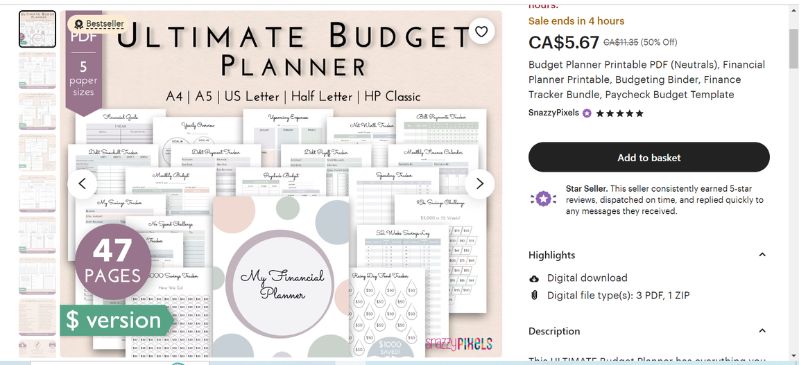 Another printable that sells well on Etsy are Budget Planners. This can help people organize and keep track of their finances.
Due to inflation and the rising cost of living, more people are focusing on how they can save and spend their money wisely.
A budget planner can give someone peace of mind when it comes to staying motivated to reach their money goals.
12. Cash envelopes
In addition to a budget planner, many people like using cash envelopes to keep track of their spending. They use cash envelopes for categories in their budget where they tend to overspend, such as groceries and restaurants.
You can create minimalistic or themed designs for your envelopes. People using different envelopes each week, so this is something that sells well on Etsy.
13. Art and décor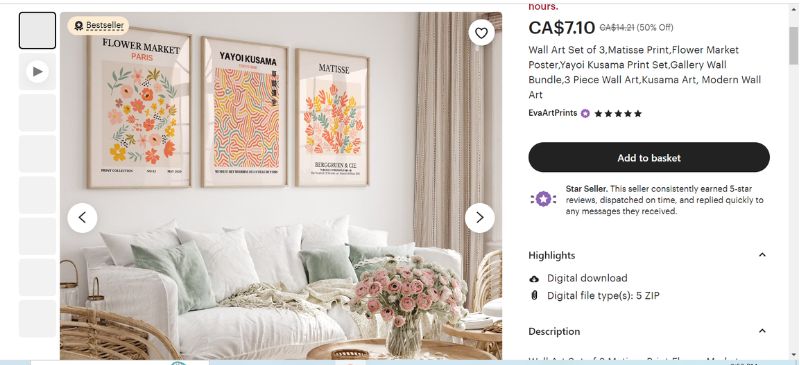 One of the most popular items to sell on Etsy is art and décor items. If you're artistic, you can sell digital versions of your artwork and designs.
For example, this can be inspirational quotes, artwork for baby nurseries, bathrooms, bedrooms, laundry rooms, kitchens, and more. You can even create graphics that people can reuse in their own designs.
14. Stickers
Stickers are fun to use for all ages. This is an easy printable product that you can sell on Etsy.
Younger kids love using stickers to play and learn. Older kids like to use stickers to decorate their school agendas, skateboards, or musical instruments. Adults like using stickers in their journals or for scrapbooking.
15. Sewing patterns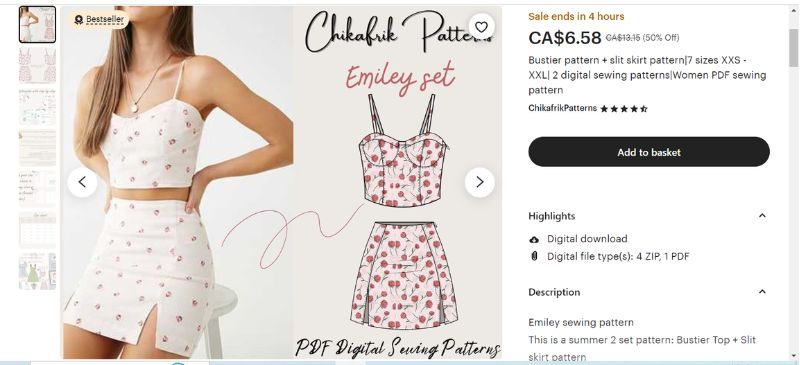 Sewing, knitting, and crocheting may seem like a hobby from the past, but it's becoming popular again with today's generation.
If you have a creative eye and some knowledge of pattern making, you can sell printable sewing patterns and instructions. This saves people time from having to sort through patterns at the craft store.
You can create patterns for stuffed animals, pillows, hats, women's clothing, men's clothing, kids clothing, tote bags, potholders and oven mitts, scrunchies, headbands, or face masks.
16. Goal planner
Many people are looking for self-care tools to help them relieve stress and organize their life. Goal planners and help accomplish this.
You can create a goal planner that focuses on a variety of goals, such as professional goals, relationship goals, physical goals, habits, or emotional goals.
17. Scavenger hunts
Scavenger hunts are a popular choice for parties, holidays, and adults at work. There are tons of different scavenger hunt ideas you can create printables for either indoor or outdoor themes.
18. SVG graphics
SVG (scalable vector graphics) are graphics in a web-friendly vector file format. These are commonly used with a cutting machine like the Cricut.
You can create and sell SVG designs on Etsy which people can use for craft projects or to put on items like t-shirts, mugs, and other swag.
19. Self-care printables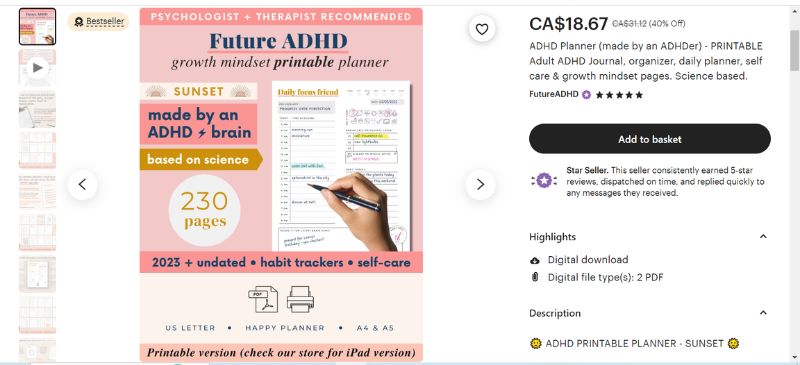 More and more people are prioritizing their mental health and well-being. There are a variety of self-care printables that you can create and sell on Etsy. Below are some popular ideas:
Journal prompts
ADHD planner
Self-care activity cards
Affirmations
Therapy worksheets
Vision board
Soft challenge
Productivity planner
Fitness and weight loss planner
20. Toddler activities
Many parents are looking for easy ways to keep their toddlers busy. You can create printables that are designed to help toddlers improve their motor skills, cognitive skills, basic literacy, memorization, hand-eye coordination, identification, and more.
How profitable is selling printables on Etsy?
Selling the right printables on Etsy can be extremely profitable.
If you want to be successful on Etsy, it's important to research and create items that people are actually searching for and willing to buy.
That's why I put together this list of the best-selling printables on Etsy. You can also capitalize on seasonal trends. This is another excellent way to make money on Etsy.
Check out this free e-book that gives you this secret list of best-selling products by month so you can make more sales!
My friend Julie from Gold City Ventures started selling printables on Etsy as a side hustle. In the beginning, she focused on creating items for bachelorette parties because there was a huge market for this type of niche.
It didn't take long before she made her first $1,000 on Etsy. Since then, she's expanded her printable content and is in the top 10% of Etsy sellers worldwide.
Now, Julie and her friend Cody teach others how to start a printable side hustle on Etsy. They show you step-by-step how to create and sell printables online in their program: E-Printables Course.
You don't need to be an artist or graphic designer to be successful on Etsy. They'll teach you exactly how to create printables using easy and free programs such as Canva.
And if you're starting completely from scratch, they'll also provide 30+ done-for-you templates for Canva that you can tweak and sell on Etsy.
Their students have earned over $500,000 from selling printables. This can be a great opportunity to make money from home.
You can check out their free workshop that covers all the basics of starting a printable shop on Etsy. Just enter your name and email address to secure your spot!
In this free workshop you'll learn…
Ideas for printables – What should you sell to make money?
Getting started on Etsy – How much does it cost to start an Etsy shop?
How to actually make sales – Everything you need to help you be successful on Etsy.
How to create printables to sell on Etsy
You'll need to use a software to create your printables. There are tons of different platforms available. I recommend choosing Canva because it's free and easy to use.
Step 1 – Choose your document size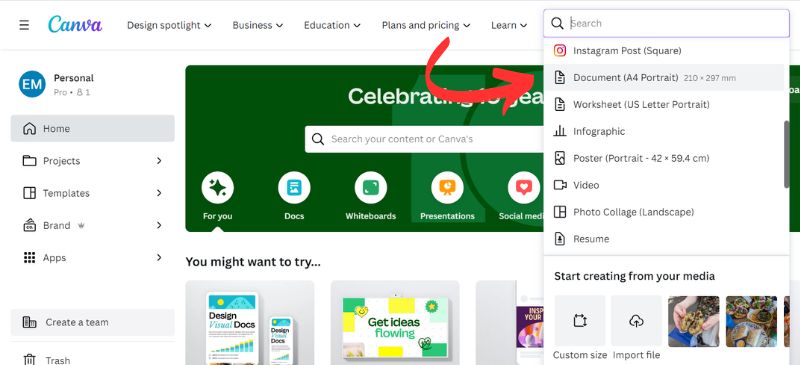 The first step is to choose what document size will work best for the printable you're making. For example, when creating a planner, the most popular document sizes are A5, A4, and US Letter Size (8.5 x 11 inches).
Step 2 – Create your design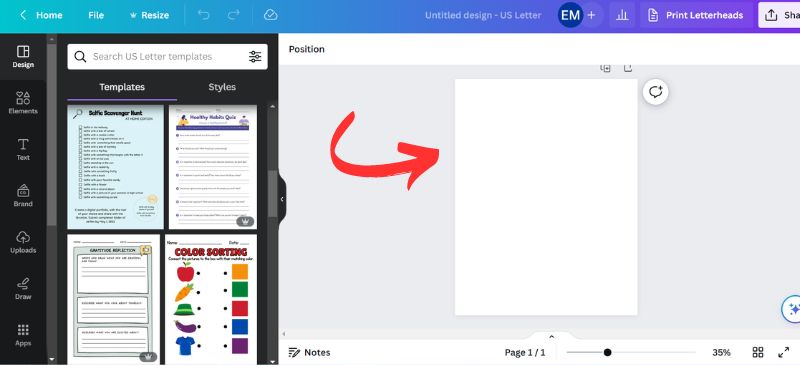 Once you've selected your document size, you can start creating your design. You'll be shown a blank page that you can work with.
There are pre-made templates available to get you inspired and you can use any of the free elements in your printables.
But keep in mind that you can't resell Canva templates or stock elements as-is.
Step 3 – Download and list your design on Etsy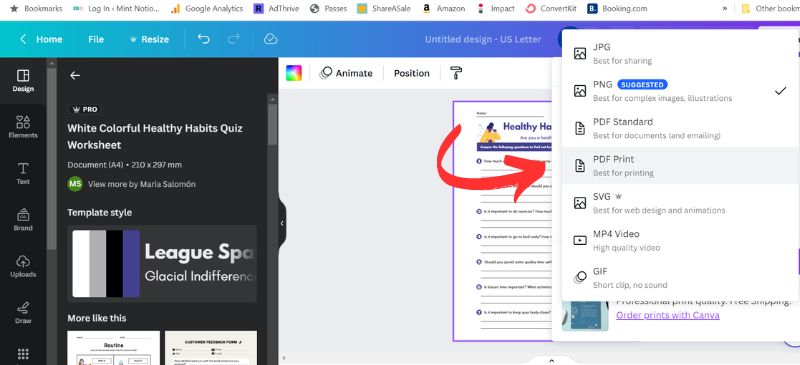 On Canva, download your design as a PDF standard or PDF as print. Then you can create a listing to sell your printable on Etsy.
When someone buys your digital product, the file will automatically be sent to them. You don't have to worry about manually sending them anything, which makes this a great way to make passive income.
In your listing on Etsy, I recommend including detailed instructions on how to download your product. Basically, you want to include everything that a potential customer will need to know.
For example, you want to make sure that your listing says that "this is not a physical item" and details on the file type and size.
Including helpful photos is also a good way to increase your sales. Your product will look best when displayed on a mockup.