It's no accident that many people spend more than they planned when shopping. Retailers know how to lure customers into their stores by using a number of different techniques engineered to get you to part with your money.
These sophisticated marketing tools are used to target your deepest desires and emotions. From the background music to the scents and sounds you encounter, each aspect of design serves a specific purpose.
Being aware of these retail tricks can help you become a savvy shopper, which means more money in your wallet. Here is a list of sneaky ways retailers get you to spend more.
Related Posts: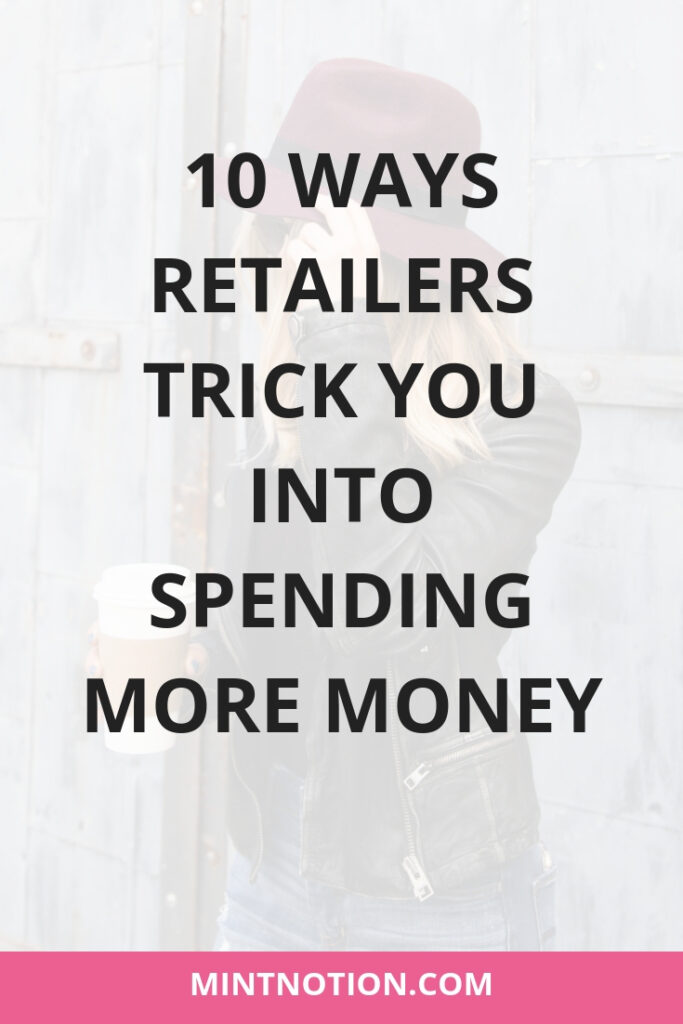 1. They make you buy more to get free shipping
Many online retailers require customers to spend a minimum amount in order to qualify for free shipping.
This makes it super easy to overspend and buy things you didn't plan for just to avoid paying $5-$10 on shipping fees.
If your purchase doesn't qualify for free shipping, see if you can ship that item in-store for free. Many online retailers allow customers to ship items for free to any store location. (In some cases, this can be faster than shipping the item to your home).
You can also check to see if anyone in your household wants to purchase something so you can qualify for free shipping – that way you'll only have to pay for the item you want instead of spending extra on things you don't need.
2. They make you overspend to get a discount (or freebie)
Sometimes stores run special promotions where if you spend a certain amount, you'll get a discount or freebie (gift with purchase). For example, spend $75 and get $25 worth of points on the store's loyalty card or spend $75 and get a free gift with purchase. It's "the more you buy, the more you save" trick.
While this might seem like a great deal, it's only worth buying if you actually need it. These "limited-time-offers" are used to increase your sense of urgency to make a purchase. Don't feel obligated to overspend just so can get the discount or free gift.
3. They entice you to shop with their big sale signs
It's easy to feel tempted to walk into store or open a promotional email when you see the words "sale". I understand. You're curious to see what's on sale and may even go inside to check it out.
Once inside, you might buy something on sale or you might buy something at full price. Either way, this encourages you to spend money.
Many people buy items just because they're on sale and convince themselves that the deal is too good to pass up. But in reality, it's not a good deal if you don't need it.
Shopping for the sake of getting a deal isn't wise. Instead, ask yourself if you really need that item. You can even put it in your shopping cart and walk around the store for a bit to see if still want that item.
Another idea is to leave the store and think about whether you want that item or not. Chances are, your opinion might change and it could prevent you from impulse spending.
4. They encourage you to get distracted
Many stores have nice layouts which showcase stylish outfits to catch your eye. This can easily encourage you to overspend and purchase items that you don't really need.
Music can also create a distraction for customers while shopping. Some stores like to play slower and softer music, which can make shopping a more leisurely experience and lead to increased spending.
Pleasant scents in stores can make you feel more relaxed and comfortable, which can also cause you to spend more money. Studies have shown that certain scents used in stores can increase consumer spending — so next time you're shopping, pay attention to the smell in stores.
A better choice is to make a shopping list to prevent you from getting distracted while in the store.
5. You receive promotional emails in your main inbox
While I recommend signing up to receive emails from your favorite stores so you can be the first to know about upcoming promotions, don't sign up with your main email address.
If you're receiving these emails in your main inbox, you'll constantly be exposed to these "limited time offers". This can encourage you to check out the sale and purchase items that you didn't really need.
A better choice is to create a separate email address for promotional emails only. This way you can avoid being tempted by sales and only sign-in if you actually need to purchase an item.
6. They display pricier items at eye level
Stores want to make it super easy for you to purchase their more profitable items. That's why they place them at eye level so it increases your chances of buying it.
Instead, pay attention to how many times you need to bend down or stretch to reach for something you need. Look above or below for items with lower price points.
7. They put essential items at the back of the store
Supermarkets usually place dairy products and meat along the back wall. This forces you to walk through the entire store to get them and increase your chances of buying other products along the way.
This is why I always recommend shopping with a list to prevent getting distracted, which can lead you to throw products in your cart you don't really need.
8. They encourage you to buy gift sets
Department stores and shops like Bath & Body Works offer lots of beautiful-looking gift sets. You might visit the store initially for one item but end up leaving with a gift set since it seems like a better value.
They appear like a great deal since the value of these items together are priced lower than if you were to buy each item separately. However, if these items are on sale separately, you might get a better deal than purchasing the gift set.
9. They want you to have a good customer experience
It's a no-brainer that we want to have a good customer experience while shopping, but sometimes this good experience can cause us to spend more money.
You may walk into a clothing store just to browse, but having a friendly sales associate around that suggests items and lets you know about special promotions can encourage extra spending.
These staff are trained to make you feel at ease and compliment how fabulous you look when you come out of the dressing room. Sometimes this friendliness can make you feel obligated to make an unplanned purchase.
10. They manipulate the price
People love to feel like they're getting the best value and stores know this. That's why they'll place similar products at different price points near each other.
For example, you might find a sweater you like but it costs $200, so you put it back. Then you see a similar sweater next to it that's only $50. This instantly makes the less expensive sweater look like a deal.
Anchor pricing allows you to compare when valuing an item and makes you feel like you're getting a deal when you buy their target product (the less expense sweater).
Even labeling a product as "most popular" can help steer people's decision to make them more likely to buy that product. Since humans can be indecisive, this "most popular" suggestion combined with anchor pricing can push people to say yes to buying that product.
Over to you — what are some sneaky ways retailers trick customers into spending more?

Learn exactly how to stop impulse spending and build a healthy relationship with shopping.
If you've been wanting to finally take back control of your spending and overcome a shopping addiction, now is the chance. In this e-book, you'll learn:
Exactly how to shift your beliefs so you can transform your shopping mindset.
How to stop feeling stressed and overwhelmed and find healthy ways to improve your self-esteem.
How to build a beautiful wardrobe full of clothes you LOVE without having to spend any money!
How to understand and manage your spending triggers so you can prevent impulse buys.
Easy strategies you can implement to do a successful shopping ban.
How to shop with intention so you can create a happy balance with your wardrobe and lifestyle.
When you follow the strategies outlined in this e-book, you'll be able to stop the mindless cycle of buy-buy-buy, you'll have control over your shopping triggers, and make getting dressed feel good again. This will help you develop a healthy relationship with shopping.
Learn more about Freedom From Shopping here!
Let's do this!