Of course none of us want to admit that our laziness might be costing us money. However, recognizing these habits is the first step in understanding how our behavior could have a negative impact on our finances.
Many of these habits can be easily avoided with a little effort and planning on your part. In terms of convenience costs, you have the power to break these habits.
We can't always be perfect, and I've noticed some of my frugal habits slipping over the past month. I know that I can't be alone when it comes to wasting money, so now is the time to stop being lazy.
Here are 24 ways being lazy is costing you money.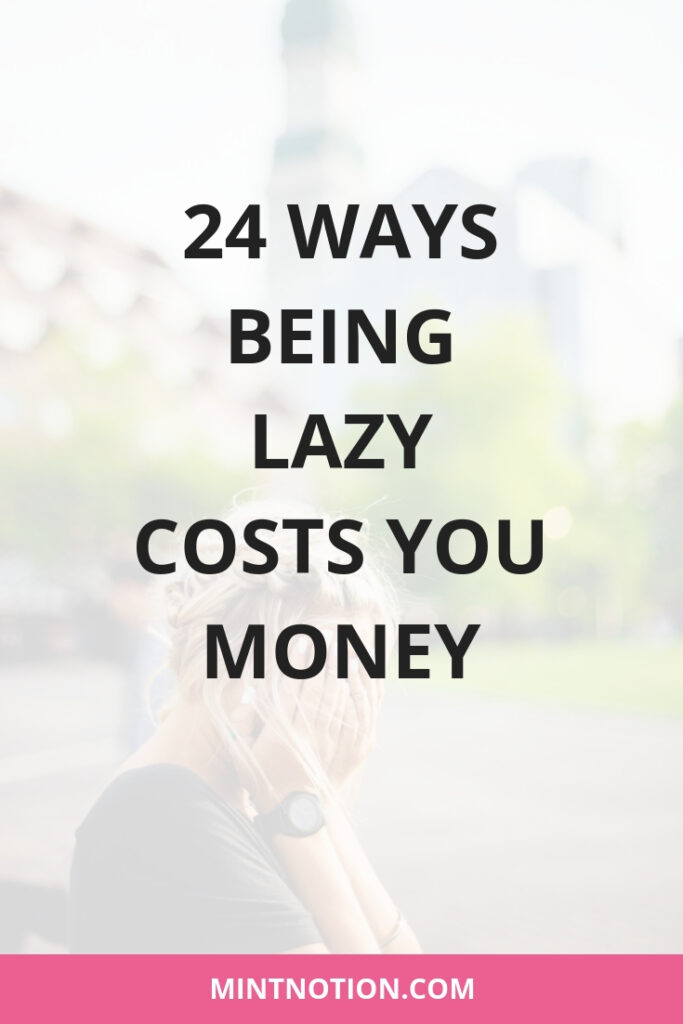 1. Not clipping coupons or searching for online coupons
By not clipping coupons or searching for online deals, you are essentially giving up free money.
All you need is 10-20 minutes each week to clip coupons, and you can save up to $1,000 dollars on everyday purchases. With great savings like that, there is no need to be lazy or too proud to clip coupons.
2. Not automating your monthly bills
It's easy to forget to pay our monthly bills, especially when we're busy juggling other things during the month.
To prevent missing a payment and avoiding interest or late fees, a good idea is to automate your regular monthly bills. You can set this up easily online or by calling for assistance.
3. Not setting reminders to pay off your credit card bill each month
Not paying off your credit card on time can lead to late fees, higher interest rates and a bad mark on your credit report – all of which could have been avoided.
It's as simple as setting a monthly reminder in your phone so you never miss a payment.
If you have a bad habit of not paying off your credit card bill on time (or in full), consider switching to a cash-only diet until you can get your spending under control.
4. Ignoring your cable, internet or cell phone bill
While I suggest automating your regular monthly bills, it doesn't mean you shouldn't take time to review each statement to make sure you are charged accordingly – watch out for errors or hidden fees.
Another good idea is to spend a few minutes reviewing your cable, internet or cell phone bill to make sure that you are getting the best value for your money.
Are you paying for a bunch of channels that you rarely watch? There are SO many great options today to replace cable TV. I highly recommend signing up for Amazon Prime. With Amazon Prime, you get instant access to watch thousands of movies and TV shows. You can also borrow Kindle books, get unlimited FREE two-day shipping, and get special savings exclusively for Prime members. Click here to try Amazon Prime 30-Day Free Trial.
Are you paying extra each month for data or roaming charges? Maybe you need to switch to be a better plan.
Check online to see what's available or call the number on your billing statement to discuss an appropriate package (or plan) for your needs.
5. You're buying pre-made meals instead of cooking something homemade
I understand we are all tired after coming home from work, and the last thing on our mind is cooking a homemade meal. It's much easier to grab take-out from a local restaurant or pick up a pre-made meal from the grocery store.
While this might save you time, which is a valuable thing, it's hurting your wallet and health. Many restaurant dishes and pre-made meals are full of fat and high amounts of sodium – they're also expensive and you're paying for that convenience.
As you go through the weekly grocery flyers and clip coupons, create a meal plan for the following week using ingredients that you either already have or are on sale.
Then spend a weekend morning or afternoon preparing these meals in advance, so all you need to do when you get home after work is to pop one of these meals in the oven and voilà!
Some of my favorite cookbooks include:
If you want to start making more homemade meals, but don't like the idea of meal planning, I recommend using the $5 Meal Plan. This is a weekly meal plan service that can make your meal planning super simple.
For just $5 per month, you will receive a delicious meal plan, where every meal will cost about $2 per person (or less). It's a great way to save time and money, plus they offer specialty plans, including gluten-free and vegetarian meals. Click here to try it free for 14 days.
6. Throwing away money on avoidable fees
You'd be surprised how many people throw money away on fees that could have been easily avoided. These include ATM fees, late fees, bank fees, credit card fees, foreign transaction fees, etc.
These small fees may not seem like much, but they can quickly add up if you're not mindful.
The secret to avoiding said fees is to do a little planning. For example, if you need cash, consider selecting the "cash back" option when checking out at a grocery store to avoid paying ATM fees.
Related: 15 ways you throw away money (and how to save instead)
7. Accepting the first offer and not shopping around
Thanks to the internet, it's easier than ever to shop around for a bargain. You can find promo codes, coupons, special discounts through email sign-up and many stores even offer price matching. Take advantage of all these free tools available at your fingertips.
Related: 10 sneaky ways retailers trick you into spending more
8. Not insulating your home
Unless your home was specially constructed for energy efficiency, a smart way to reduce your energy bills is to add more insulation. This can also lead to less heat loss during the colder months.
9. Not selling the stuff you don't use anymore
If you have clothing, furniture, artwork or electronics that you don't need anymore, why not sell them?
This is a good way to declutter and make some extra cash. Have a garage sale, post your items in a Facebook group, or sell them on Craigslist.
Related: 30 ways to instantly declutter your home
10. Not making your own coffee or tea
A $2-$5 coffee or tea each morning might not seem like a big expense, but it can quickly add up over the year and could have bought you a nice vacation instead.
Some workplaces have a kitchen or facilities for employees to make coffee or tea. Alternatively you can bring a tumbler with your choice of beverage to work if you don't have time to enjoy your morning brew at home.
If you can't go without a cup of tea or coffee from your favourite shop, join their reward program that could earn you a free drink or special discounts. Also try to limit your visit to only once or twice per week to avoid making it a daily habit.
Related: 17 easy ways to save money at Starbucks
11. Eating out for lunch instead of bringing something from home
Just like your morning beverage, eating out for lunch every day can quickly add up and could have paid for a nice beach or European holiday.
Plan ahead the night before or prepare lunches on the weekend so you won't feel tempted to eat out during the week. Your wallet and waistline will thank you.
12. Not taking proper care of the things you own
It doesn't matter how much you paid for something, always take proper care of everything you own. This will help to prolong the life of things and prevent you from having to replace items so much.
For example, I love my pair of riding boots, but the heels got worn down with wear. I paid a small fee to get them repaired and they now look brand new.
I am also still using the coffee maker and waffle iron that my parents got for their wedding and it works like a charm.
13. Not choosing the best bank account or credit card for your needs
You worked hard for your money and it's important that you choose the right chequing and savings account, and credit card for your banking needs.
For example, you want to make sure that you are earning a good interest on your savings or if you travel a lot, consider getting a credit card that offers travel rewards.
Check account and credit card offers online, or make an appointment with someone at your bank who can help you make the right choice for your needs.
14. Not starting to save for your retirement until you're older
The early bird gets the worm when it comes to saving for retirement. Talk to the Human Resources department at your workplace to see what they offer.
For example, they may offer a RRSP matching contribution plan which you should take advantage of, along with other investment opportunities. Now is the time to make a long-term plan for your financial future.
Related: How to be rich in your 20s
15. Not mailing in those rebate offers
Many people don't make the effort to mail in those rebate offers, and companies know this. It's worth your time though to get your money back, just make sure to read and follow all the instructions.
I also recommend taking advantage of cashback websites like Ebates. With over 2,000 online stores, you can get cashback on your purchases when shopping with Ebates. Click here to sign up and receive a $10 welcome bonus.
16. Not taking advantage of your workplace benefits (or perks)
Chances are a portion of your pay cheque is taken out to pay for these benefits or perks, so why not take advantage of them? This could include gym memberships, massages, dental cleaning, prescription glasses, orthopedic shoes, etc.
Depending on which industry you work in, you may be able to score discounts or free perks – check with your workplace to find out what's available.
17. Not bothering to negotiate a better deal
It doesn't hurt to ask for a discount when making big purchase items such as a car or house. This also includes negotiating to get a better deal on your mobile phone, cable, internet, etc.
Sometimes you can even ask for an upgrade on your hotel room or flight – the worst they could say is no – but at least you asked.
18. Not making a list when shopping
Entering the grocery store on a full stomach with no shopping list is just asking for trouble. You're more likely to spend on items that you don't need and forget to purchase the products that you originally wanted.
Shopping lists should also be made when going to the mall, since it's easy to get off track and spend more than you planned.
19. Not canceling memberships you don't use
Do you have a magazine subscription that you rarely read? Or a gym membership, but you only go once a month? Don't keep paying for subscriptions or memberships that you barely use.
For example, if you want to read a magazine, many are available for free at the library. Or perhaps it would be better to work out at a free community center.
Consider which options are best for you and cancel any memberships that aren't being used.
20. Letting gift cards or gift certificates expire
Sometimes we receive gift cards or gift certificates as presents and forget that we even have them. Instead of letting them sit around, get lost or expire – use them up or sell them. That's free money waiting to be spent or gained.
21. Not sending cold or spoiled food back to the kitchen when dining out
Even if it makes you feel uncomfortable, don't be afraid to send back cold or spoiled food to the kitchen. You are paying a premium to eat out at a restaurant and no one wants to pay for cold meals or food that has spoiled.
Depending on the condition of your meal (such as receiving a rare hamburger when you asked for it to be cooked well-done) the server might take this item off your bill so you won't have to pay for it.
22. Waiting last minute to mail a card or gift
The post office profits off people who wait until the last minute to send a birthday card or gift. The key is to plan ahead so you don't have to pay an arm and leg for express overnight shipping.
23. Tipping more than necessary
In North America many people in the service industry rely on tips to make a living. However, if you receive bad service, don't feel obligated to leave a big tip.
Sometimes it's easy to say "keep the change" if your bill was $15 and you only have a $20. It's OK to feel generous every now and then, but remember that's YOUR money and YOU worked hard for it.
24. Taking taxis instead of using public transit
If you live in a city with a decent public transportation system, take advantage of it! It's cheaper, greener and sometimes quicker than hailing a cab.
I've seen people making minimum wage who insist on taking Uber instead of using our city's public transit. Sure it might be more comfortable, but you are also paying a premium for that comfort and convenience.
Over to you — what are some habits that you want to break in order to save money?
PRODUCTS THAT MAY BENEFIT YOU
EBATES: Want to earn cash back when you shop online? Ebates acts as a shopping portal offering coupons and cashback from over 2,000 online stores. I always check on Ebates first whenever I shop online! You can join Ebates for free and get a $10 welcome bonus when you sign up through this link.
SWAGBUCKS: I have been a member of Swagbucks for a while now, however I don't use them as much as I used to, but it's a simple way to earn gift cards for things you do online. There are many ways to earn points on Swagbucks including filling out surveys, playing games and watching videos. You can sign up for Swagbucks here.
START A BLOG: Are you interested in starting a profitable blog? Blogging is one of my favorite ways to earn extra income. You can start a profitable blog for as a low as $3.95 per month. If you enjoy writing and are passionate about a certain topic or niche, then I recommend starting a blog. You can use my free step-by-step tutorial on how to launch a blog, which includes a discount for my readers and a FREE domain.
For more awesome products, please check out my resource page.