Frugal living begins with the right mindset. It's the little habits we do each day that lead to big changes in our life.
Not only do these frugal habits get us out of debt and prevent us from getting back into debt — but they create opportunities for us to reach our savings goal more quickly and invest for those big plans we have in the future.
Here are 15 frugal habits to live by so you can save money!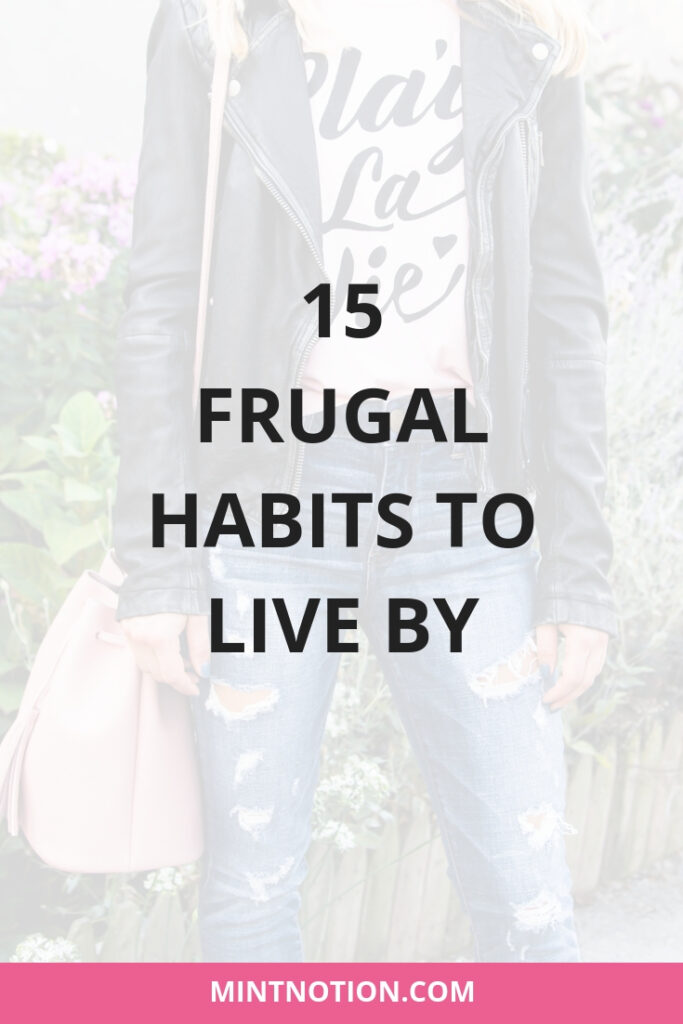 1. Think long-term when making decisions
One of the main differences between people who are frugal and people who are "cheap", is that cheap people think short term, while frugal people think long term.
Before spending money on anything non-essential, it's important to access the short-term vs. long-term benefits of your potential purchase. After the short-term benefits fade, that money spent is gone.
However, if you are willing to sacrifice some of those short-term benefits for long-term gains, the reward will almost always be bigger and better.
2. Pay your future-self first
We've all heard the saying before that we should pay ourselves first, which means to put money into your savings account before spending on anything else.
However, it's equally important (if not more important) to pay your future-self as well by making long-term investments.
I just finished reading One Up On Wall Street by Peter Lynch and while his advice may not work for everyone, he recommends making long-term investments, which means 5, 10 or 20 years.
He says that if you're looking to make money for an upcoming wedding or a down payment on a home in the next year, that the stock market is not the place to be.
Instead, if you're in the market for the long haul, then time is on your side and the market will be up, which is generally the long-term trend.
However past performance does not guarantee future results, but making a responsible long-term plan for your investments is a good idea, especially when you're in your 20s when you have lots of time.
3. Have an emergency fund
Unfortunately today, there really is no job security. We hear about it in the news that companies are trimming down their employees or restructuring which could mean layoffs or pay cuts.
No matter what your income level is, it's essential to put aside an emergency fund. This means living below your means, saving money and making smart investments.
Here are a few ideas to help you save and make money:
Start a blog
Blogging is my favorite side hustle because the start-up costs are low and it can be a great way to make extra money in your spare time. Blogging even has the potential to turn into a full-time job (like it did for me). You can use my free step-by-step guide here to create your blog.
Freelance writing
This is a popular way to make money online and it's great if you enjoy writing. To learn more about earning an income from freelance writing, I recommend checking out this great article here: How to become a paid freelance writer
Earn Cashback
I like shopping on Rakuten so I can earn cashback on all my purchases. I also recommend using Ibotta app to earn cashback when grocery shopping.
Online surveys
There are many online survey websites that will pay you to complete surveys, play games, do online searches and more. They are free to sign up for and free to use. Survey websites I recommend include Swagbucks, American Consumer Opinion, Panel Place and QuickRewards.
Become an Airbnb host
If you have a cabin, cottage or extra room in your home, consider becoming an Airbnb host to make extra money. Don't have any extra space? You can choose to become a host for your neighborhood or make money by hosting a unique experience (hiking, cooking classes, and more). You can learn more about Airbnb here.
4. Use everything up to the last drop
I'm not ashamed to admit that I am one of those people that cut open my bottle of body lotion in order to scoop out the last bit of moisturizer.
It's not that I am cheap, I just don't like to see anything go to waste. Also, you'd be surprised at how much product is left in the bottle when most people think it's done.
Using up everything to the last drop prevents unnecessary waste and saves you money as it all adds up in the long run.
5. Look for deals and clip coupons
Whenever possible, avoid paying full price for anything. Instead make a little effort to find deals, clip coupons and get the best value for your money.
Even celebrities like Carrie Underwood, Kristen Bell and Hilary Swank have been reported to clip coupons as part of their routine. Despite your income level, looking for deals just makes sense.
6. Buy quality instead of quantity
Instead of buying cheap fashion that is often trendy and likely to fall apart after one season, invest in well-made pieces that are timeless and will last for years to come.
I have found this tip important, especially for shoes. I remember buying a pair of sandals at ALDO and the strap broke the first time I wore them.
Needless to say that was the last time I bought shoes from ALDO and now prefer to invest in quality shoes that are comfortable and built to last. Instead of having a closet full of cheaper shoes, I rather own less shoes but make sure they are quality pairs.
Apply the same rule when making any big purchase. Don't necessarily gravitate towards the cheapest item on the shelf. Sometimes for food products or toiletries I opt for the store brands, but when it comes to technology or appliances, it's important to do your research first and go with the brand that is well-made and reliable.
7. Enjoy staying at home
Going out usually costs money. I'm not suggesting that you spend your evenings and weekends like a hermit where you never go outside, but a better suggestion is to plan ahead if you do decide to go out.
Have dinner before meeting friends or invite them over for drinks and light snacks instead of spending money at a bar. If you do go out, check to see if any dinner deals or coupons are available.
If you have a day off though, why not spend the day at home relaxing with your family, friend or spouse instead of paying a fortune for admission and popcorn at the theatres.
8. Cook food at home
The best advice I can give anyone is to learn how to make at least three delicious meals at home. That way you'll be able to whip up something nice if you have a friend coming over, a date, or you want to have a relaxing evening at home.
This is much more affordable than getting take out or eating in a restaurant where you have to leave a tip.
If possible, try to make food from scratch, it's almost always cheaper and healthier than processed or pre-packaged food. I know that many of us are short on time, which is why I recommend spending an afternoon or morning on the weekend preparing meals for the following week.
I love using Pinterest to find recipes that my family and I would enjoy.
If you want to start making more homemade meals, but don't like the idea of meal planning, I recommend using the $5 Meal Plan. This is a weekly meal plan service that can make your meal planning super simple.

For just $5 per month, you will receive a delicious meal plan, where every meal will cost about $2 per person (or less). It's a great way to save time and money, plus they offer specialty plans, including gluten-free and vegetarian meals. Click here to try it free for 14 days.
9. Live in a modest home
Just because the bank says you can afford a given mortgage doesn't mean you should listen to their advice. Opt for a house that fits your needs and comfort level instead of buying a bigger and nicer one than you actually need.
Since housing costs are usually a huge percentage of one's household budget, be realistic when choosing where to live.
Maybe renting is a better option than buying, that's why it's important to factor in all the costs and weigh the pros and cons to decide which choice is right for your budget.
10. Repair and reuse what you can
We live in a society where we are made to feel the need to have the latest phone, the latest fashion, or the latest car even though last year's model is still in working condition.
Frugal people don't fall for these marketing tactics. Instead they make the most of what they already have. They mend their clothes, fix their appliances and maintain their car instead of jumping to get a replacement.
Frugal people don't compare themselves to the Joneses – they don't even think about them.
11. Don't shop as a form of entertainment
I admit, when I was in high school and university, I used to hang out with my friends at the mall. It was something to do, especially during the winter when it was too cold to go outside.
But hanging out at the mall usually leads to unnecessary spending – whether you buy clothes, shoes, makeup or a snack at the food court – this impulsive spending can hurt your budget.
Instead of viewing shopping as a form of entertainment, only shop when you actually need something. It's OK to browse the stores once in a while, but avoid this if you have trouble with impulse spending.
12. Use a credit card with good rewards
If you are good at paying off your total credit card bill each month, then I highly recommend getting one that offers rewards. There are many different ones available today with no annual fee that offer great rewards.
Whether it's cash-back, movie points, restaurants points or travel points, there is sure to be one available that suits your interests.
Some people feel that they are likely to spend more money when using plastic, but I tend to spend less this way and avoid high interest fees because I always pay off my bill in full each month.
13. Carry just enough cash with you
If carrying a credit card is too tempting for you, or you have trouble paying your bill each month – switch to a cash budget instead.
When visiting the grocery store, make a detailed list and carry only enough cash to cover what you need to buy. This forces you to plan your purchases in advance and avoid unnecessary spending.
14. Drive a safe and reliable car
A luxury car might sound nice and even if you could afford it, it's not a very practical or budget-savvy choice. A luxury car usually comes with paying extra for premium gas and luxury-priced repairs.
This isn't necessarily a bad thing, but it could eat up a large portion of your budget. Frugal people tend to drive safe and reliable cars, not only because they are more affordable up front, but they cost less money in the long run.
15. Don't buy lotto tickets
Lotto tickets are not a good investment. You're more likely to be struck by lightning than to win the lotto, yet many people continue to spend money buying weekly lotto tickets.
Also, if you do manage to beat the odds, studies show that your happiness only spikes briefly after winning the lotto but returns to pre-winning levels within just a few months. Happiness levels of lotto winners are not significantly higher than non-winners.
Instead of thinking that the only way to become rich is to win the lotto — become a person of action, take the appropriate risks and plan your financial future.
Over to you — what are your tips for living more frugally?