Do you enjoy going out for coffee or tea at Starbucks?
Me too.
While I don't go every morning, I enjoy going to Starbucks at least once per week. For me, it's a special treat and I love it.
One of the first things most budgeting gurus will preach is that in order to save money, you need to trim the fat from your spending. Unfortunately, this means giving up your morning visit to the coffee shop.
But where is the fun in that?
The whole point of creating a budget is to help you afford to live the life you want. That's why I put together this list of tips to help you save more money without having to give up your daily Starbucks habit.
Related Posts: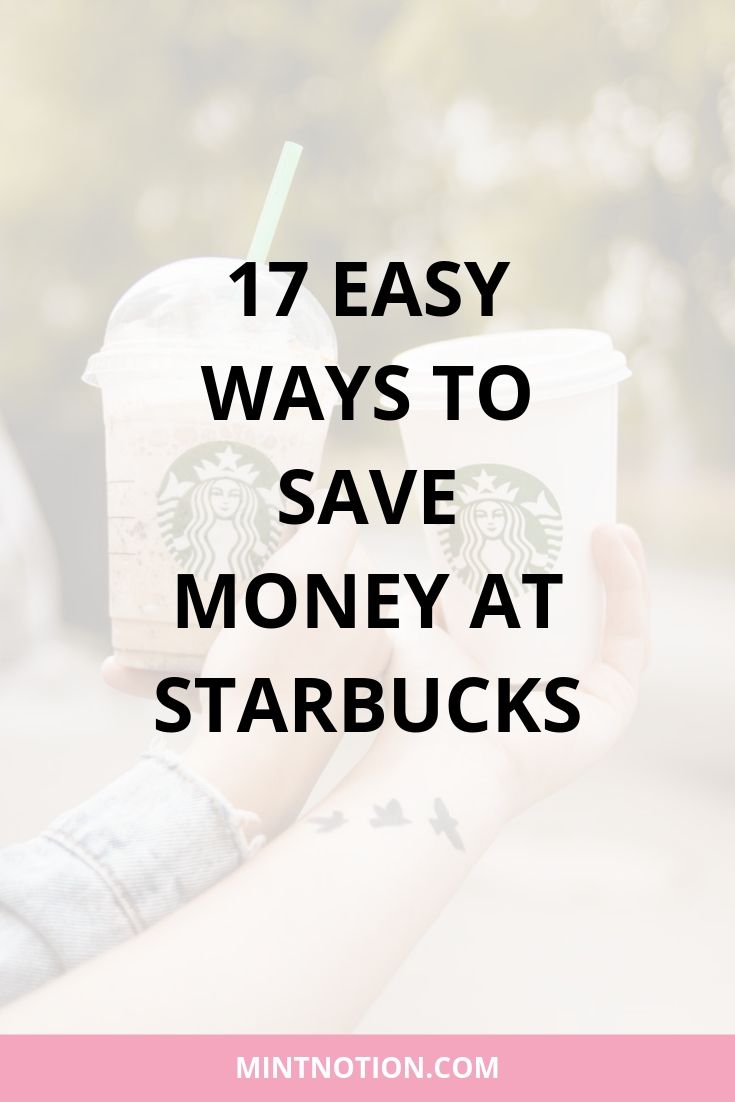 1. Join Starbucks Rewards to enjoy free drinks and food
One of the easiest ways to save money at Starbucks is to join their free rewards program. This can let you get free drinks, free refills, free food, discounts, and more.
To get started, you'll need to get a gift card and register it through their website or the Starbucks app. Then you can load money onto your card and use it to pay for any Starbucks order.
As a member, you'll collect stars on almost anything you buy at Starbucks. Then you can use the app to redeem your stars for rewards, such as free drinks or food.
2. Earn free Starbucks gift cards
Did you know that you can get free Starbucks gift cards? It's actually pretty easy!
Survey websites, like Swagbucks, will reward you with points each time you complete a survey. Then you can redeem your points for free gift cards to your favorite stores, such as Starbucks, Target, or Amazon.
It's free to sign up for Swagbucks and free to use. You can complete surveys in the morning during breakfast or in your spare time. This can be a great way to save money without having to give up your Starbucks habit.
Sign up for Swagbucks and claim your free $5 here
If you want to earn even more free Starbucks gift cards, consider signing up for Survey Junkie too. This is my favorite legit survey company and it's a great way get free gift cards. It's one of the largest survey companies in the world.
Survey Junkie is similar to Swagbucks, where you'll earn points for each survey you complete. Then you can exchange your points for cash paid directly to a PayPal account, or you can redeem your points for a gift card. It's super easy.
Sign up to start making money with Survey Junkie today
3. Bring your own cup
Starbucks offers a $0.10 discount to guests who bring their own cup. The savings might seem small, but over the period of a month, it adds up to a free cup of coffee (or 12 free coffees per year).
I have a couple of reusable coffee cups: one for cold drinks and one for hot beverages. This is also a great way to be more environmentally friendly and cut down on unnecessary waste.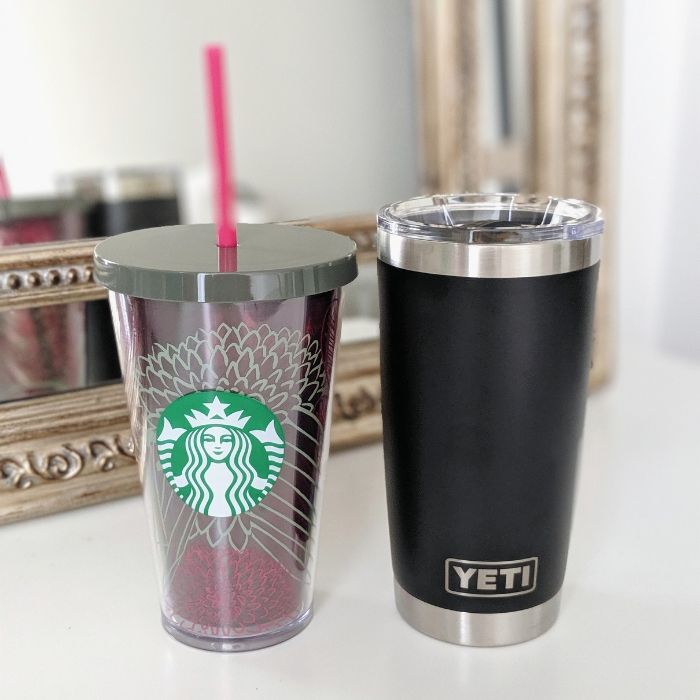 Did you know that paper coffee cups are not recyclable?
This is because they are coated in plastic. That's why they can hold hot liquid without it leaking all over the place. Disposable cups are becoming a major pollution hazard, which is why it's even more important to bring your own cup. Save money while helping the planet!
4. Enjoy a free drink or treat on your birthday
Starbucks wants to help you celebrate your special day by offering you a free drink or food item. When you join their rewards program, you'll automatically earn a free birthday treat on your card, which you can redeem with the Starbucks app.
The only catch is that this free offer is only available for use on the date of your birthday. But it's a great way to get any handcrafted beverage or food item for free.
5. Take advantage of Starbucks promotions
Another smart way to save money at Starbucks is to keep an eye out for their promotions. Some of these promotions are only available for members of the Starbucks Reward program, so here's another reason to join for free today.
In the past, I have seen Happy Hours specials (50 perfect off or BOGO), Double Star day (earn extra rewards), treat receipts (visit Starbucks in the morning and bring your receipt in the afternoon for a discount), holiday promotions, and other great discounts.
Download the Starbucks app on your phone to stay up to date with all their latest deals.
6. Enjoy free coffee or tea refills
Starbucks lets you get free refills on hot or iced brewed coffee and tea.
To be eligible for free refill(s), you have to use your registered Starbucks Rewards card to purchase a hot or iced brewed coffee or tea, then present that same Starbucks card for refills of such hot or iced brewed coffee or tea during the same store visit.
This can be a great money-saving option for those who want to linger during a coffee date or those who are working or studying at Starbucks.
7. Ask for a cup of water…for free
If you're thirsty you can buy a bottle of water, or you can ask for a free cup of water with ice.
I try to bring a reusable water bottle with me when traveling, but if I forget, I always know that I can get a free cup of water from Starbucks. No purchase required.
8. Make your own latte at the condiment bar
If a latte is your go-to Starbucks drink, you can save money by ordering a triple espresso (hot or iced) in a Venti cup. Then head over to the condiment bar to fill up the rest of your cup with their complimentary milk.
9. Make your own Chai Latte at the condiment bar
My mom loves the Chai tea latte at Starbucks, but it can be heavy on the sugar and calories. To help save money and stay healthy, order a cup of hot water and a Tazo Chai tea bag instead. Then you can brew your own tea and add complimentary sugar and milk at the condiment bar.
10. Split a Venti Frappuccino with a friend
A cold Venti beverage at Starbucks is 24 ounces. It's cheaper to order a Venti drink than two Tall beverages (which are 12 ounces each).
To get the savings, order a Venti Frappuccino (or any cold Venti beverage) and ask for two Tall cups. Then you can split the drink yourself.
11. Ask for less ice in your beverage
Starbucks usually adds a lot of ice to their cold drinks, which can water down your coffee or tea. Ask the barista to use less ice or ask for the ice on the side. Then you can add as much or as little ice as you want, while still enjoying your drink.
12. Get your Tall drink in a Grande cup
When ordering your coffee or tea, the barista will ask if you want to leave room for dairy. This can mean less coffee or tea in your cup.
To make sure that you get the full amount of coffee or tea that you paid for, ask for your Tall beverage in a Grande cup. Then you'll have more than enough room to add any milk or non-dairy products you want.
13. Order your iced tea with no water
Starbucks brews their iced tea strong, then waters it down when they pour it for you.
If you're with a friend, consider ordering 1 iced tea with no water and ask for a second cup. Then you can split it into two drinks. This can help you save money while still enjoying your favorite Starbucks drink.
14. Order a Short drink
This option isn't available on the regular menu, but you can order an 8-ounce Short beverage. This is cheaper than ordering a Tall or larger drink and it can save you some extra calories too.
15. Skip the Venti hot beverage
A Tall hot Starbucks drinks has one shot of espresso and both a Grande and Venti drink contains two. So if you're paying extra for a Venti hot beverage thinking that you'll get an extra boost of caffeine, think again.
If you want that extra boost of caffeine, the best value is to order an iced Venti drink. This is because an iced Venti beverage contains three shots of espresso.
16. Buy a bag of Starbucks coffee to brew at home
If you love Starbucks coffee, you can save a lot of money by buying a bag in-store and brewing it at home.
I used to do this when I worked in an office. I would buy a bag of coffee from Starbucks and ask them to grind the beans for me. Then my office was able to enjoy their favorite Starbucks coffee without having to pay the high price tag in store.
PRO TIP: My favorite way to brew coffee at home is to use a Pour Over Coffee Maker. It's cheap and easy to use. This is a good one and I love it!
You can even choose to grind your own beans at home. It only takes an extra minute to do and it will make your coffee taste amazing!
17. Buy coffee roasted by Starbucks to brew at home
Starbucks brand coffee can be expensive, regardless if you purchase it from a grocery store or any Starbucks location.
A good way to save money while still enjoying Starbucks-style coffee is to find a company that uses Starbucks to roast their beans.
We purchase the Kirkland brand coffee from Costco, which is roasted by Starbucks. It's cheaper than buying Starbucks brand coffee and I think it tastes just as good, if not better.