Lately I have been inspired to declutter and get rid of items I no longer need. I'm tired of feeling overwhelmed every time I open a cupboard door or step into another room and discover more clutter!
While your home may require a deep clean, you can easily begin by throwing away these 30 items. By throwing away I mean recycling, donating or selling — only trash them as a last resort.
I know the thought of cleaning up your home may seem daunting and you may be wondering where to start decluttering.
I recommend setting a timer for 15 minutes. Then tell yourself you're going to clean up and declutter for the next 15 minutes. You'll be surprised at how much you can accomplish within this short time frame. This can help you declutter your house in one day.
You don't even have to give these items a second thought since there is no excuse to keep them laying around the house.
It's time to stop letting your stuff own you and restore sanity to your work and life. Here's a list to get started and help you instantly declutter your home today!
Related Posts: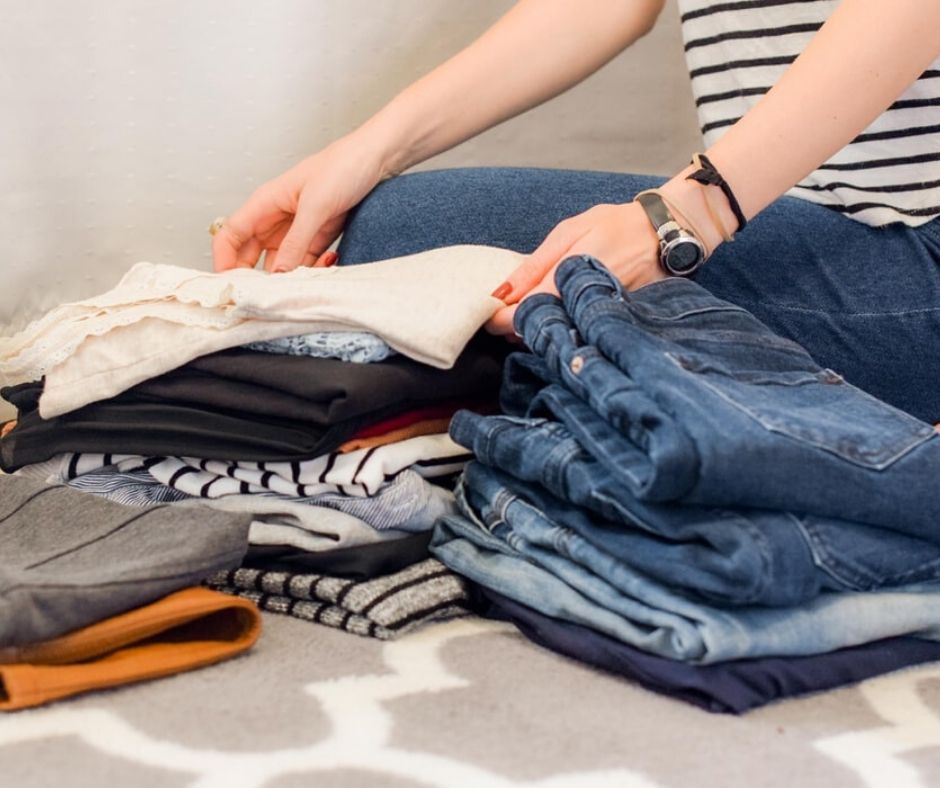 1. DVDs or Blu-Rays you never watch
Donate them to your local charity or thrift store.
2. Socks without a match
Find creative ways to use old socks or toss them out. If you find that you're losing socks in the laundry, I highly recommend getting a laundry bag like this. Whenever I wash my socks, I put them all in this laundry bag so they stay together. Throw it in the washing machine, then you can throw it directly in the dryer. Problem solved!
3. Take-out ketchup and soy sauce packets
You really don't need this in your house.
Ready to get clutter free for 2020? Use this 30-day Declutter Challenge checklist to help you organize your home. Get your FREE PRINTABLE below!
4. Food-storage containers without a lid
I recently bought this device to help organize all my food container lids. This helps keep everything clean and tidy in my kitchen.
5. Dried-out markers and pens
This self-explanatory.
6. Clothing that is too big, too small, or damaged
Donate lightly worn clothing to a local charity or thrift store. Alternatively, you can sell them at a garage sale or through a local clothing group. I belong to a local Facebook group that sells clothing and accessories.
Read Next: How to declutter your wardrobe
7. Chipped plates, mugs or cups
No explanation needed.
8. Expired coupons
Most stores don't accept expired coupons.
9. Old receipts for items that can no longer be exchanged or returned
Most stores don't accept returns or exchanges outside of their policy period.
10. Baking supplies that you'll never use
Those three cupcake holders left over from Halloween or that Thai seasoning that has been sitting in your cupboard forever has got to go.
11. Books that you'll never re-read
Donate them to a local charity or thrift store. Alternatively, you can sell them to a used book store.
12. Magazines
If you need some fashion or home decor inspiration, check Pinterest and Instagram.
13. Old papers and documents
Recycle papers that you no longer need. If something is important, scan and save an electronic copy.
14. Old paint
If it's been a few years since you last painted, chances are the paint on your walls have dulled slightly and the paint in the can is no longer an exact match.
15. Expired medication
Medication becomes less potent after its expiration date. While it's generally OK to take expired medication, you may not be getting the required dose for certain illnesses, so it's best to dispose of these drugs at your local pharmacy.
16. Power cords
Chances are you may be keeping power cords for devices you no longer use. Dispose of any duplicate power cords you don't use and keep only the ones for the current gadgets in your house.
17. Greeting cards
I know these are sentimental, but generally speaking they are not meant to be kept, framed on a wall or cherished for years to come. They are a fleeting message from a loved one that is enjoyed for that specific occasion. You are not throwing their love away by throwing out a greeting card they picked out for you.
18. Expired makeup
Throw out makeup that you never use or makeup that has gone bad. I love using this tool to keep my makeup organized and clean.
19. Extra coat hangers
If you have unused coat hangers taking up space in your closet, it's time to throw them out. Save the best ones for clothing you already have and get rid of the ones that aren't being used. Wire hangers, I'm talking to you!
20. Unfinished projects
That fabric sitting in the closet waiting to reupholster a chair, or that scrap piece of furniture you bought two years ago which you wanted to fix up like new someday. If you really want to finish these projects, set a date that week to complete them – otherwise throw it out.
21. Perfumes and colognes
Maybe a family member or an ex bought you a scent that you don't care for and it's sitting in your room 99% full. It's time to throw those fragrances out or give them to someone who wants them.
22. Jewelry
Time to get rid of any jewelry that you no longer wear or is broken. Chances are these pieces are dated and you might be able to exchange them for cash. I really love this jewelry box to keep everything organized and in good condition.
23. Expired food
The "best before date" is more of a guideline than a rule. But if you have food sitting in your fridge or cupboard that smells off or is beginning to rot, that's a good indication to throw it out. I really like using this tool to keep my cupboards organized.
24. Memorabilia
I admit that I am sucker for keeping old memorabilia. However, I keep a small shoebox to hold items that are important to me, such as my first concert ticket, or travel keepsakes. My rule is simple: if it doesn't fit inside the box, throw it away.
25. Notebooks
If you have notebooks filled with notes from classes or meetings that you no longer refer to, it's time to recycle them.
26. Old or unused electronics
Do you have old cell phones, appliances, or dated technology that you no longer use? Try selling them online or find a trade-in program for old electronics. Gazelle is a great website to get cash for your old cell phone.
27. Junk drawer
We all have a drawer where we keep odds and ends like extra buttons or old batteries. Chances are we never open this drawer and the items end up collecting dust. Take 10 seconds to glance it over and throw out any unnecessary items. I absolutely love using this tool to keep my junk drawer organized!
28. Sad, worn out bras and underwear
You know which ones I'm talking about. Don't ask questions. It's time to throw them away.
29. Worn out shoes or shoes you never wear
Donate shoes that are still in decent condition to a local charity or thrift store. Alternatively, you can sell them.
30. Old wallets, belts, and accessories
We all have old wallets, coin purses, belts, or accessories sitting around that we no longer use. Instead of letting them take up space, donate them to a local charity or thrift store.