Organizing a small bedroom with a lot of stuff can be a challenge, especially if you want to keep it clutter-free. With more people living in condos today, it's important to find small-space solutions that are both stylish and budget-friendly.
I recently moved from a house (my family home) to a small apartment, which forced me to look for design-savvy ways to organize my bedroom. While I admit it wasn't easy in the beginning, I'm now a big advocate in learning how to do more with less stuff.
Unfortunately none of my furniture from the house was able to fit into my small bedroom because it was too big. This meant I had to save enough money to buy new furniture, and carefully plan to make sure everything would fit.
A tape measure became my best friend when selecting new furniture and I discovered that some stores sold small furniture specifically for condos. Who knew, right?
Related Posts: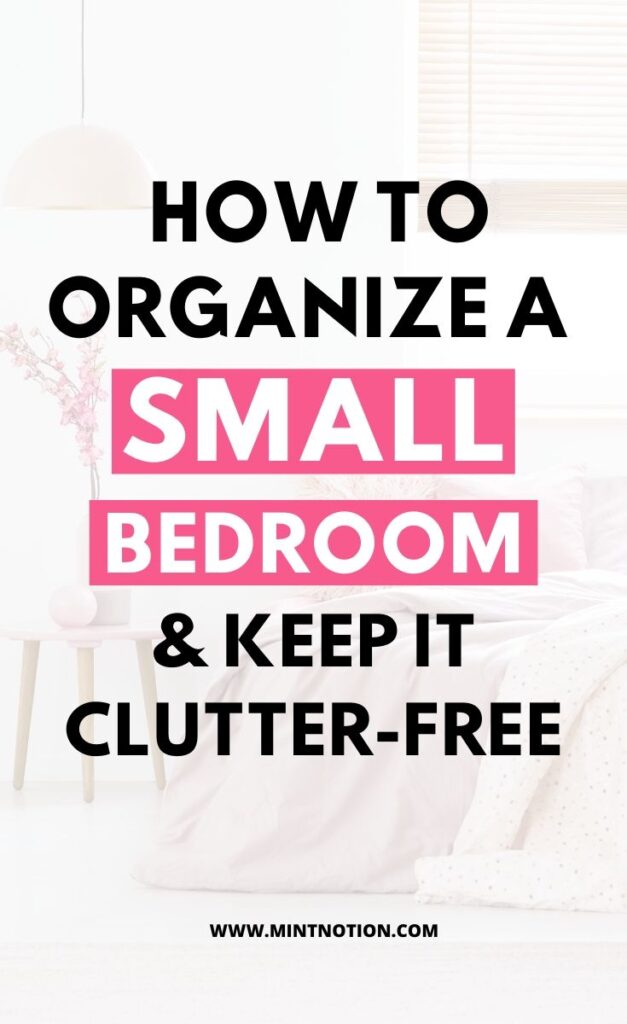 Even though I needed to buy new furniture for my small bedroom, it taught me a lot about my previous spending habits. I realized that you don't need to decorate a small bedroom with all that extra furniture shown in a magazine.
Of course a bench at the foot of the bed looks nice, but it's just not practical for a small bedroom. (Unless you get something like this where you can store necessary items). Instead, I wanted to make the most of my small bedroom.
Organizing my room made me think, "what do you really need in a bedroom"? I discovered that you only need a few things:
a comfortable place to sleep (we have a queen bed)
a place to store your clothes (a dresser drawer works perfect for us)
a place to put your night-time essentials (book for reading, a glass of water)
The key is to think about what you really need for your bedroom, not what's expected. With this mindset, I've been able to create a space that feels cozy, clutter-free, and organized.
If you're interested in doing a quick spring clean of your home, I have a free checklist you can grab below! This is part of my Declutter and Cleaning Binder, which many Mint Notion readers love using to organize their home.
Here are 10 ways to organize and keep your small bedroom clutter-free!
1. Choose the right bed frame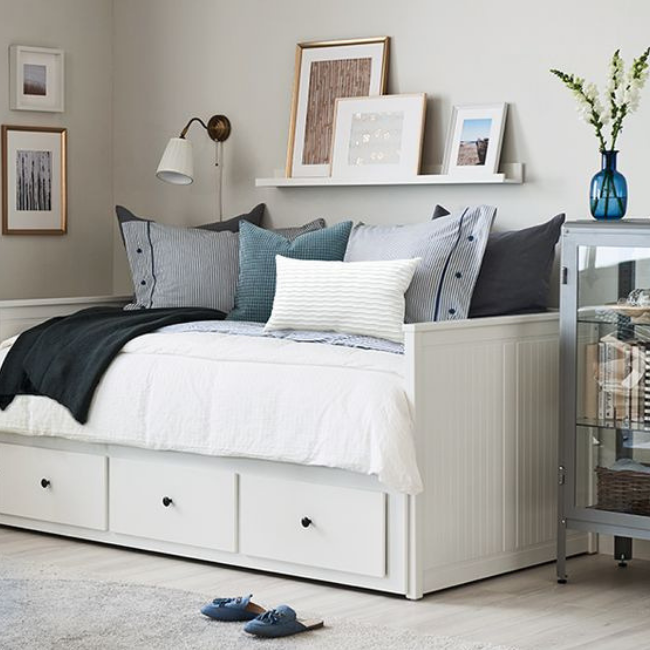 Choosing the right bed frame can allow you to maximize your storage space and keep your room clutter-free. I recommend buying a bed frame that allows for under-the-bed storage space. This is an easy way to hide items and keep your bedroom floors clean.
My condo has two bedrooms. For the guest bedroom, we have daybed with 3 drawers underneath for extra storage space. This is where I like to store extra towels, blankets, bedding, board games, and so on. Here is another great option for under-the-bed storage space.
For the master bedroom, we have a basic metal bed frame with storage boxes under the bed. This is a great place to store seasonal items, including shoes, sweaters, and so on. You can easily hide these storage boxes with a simple bed skirt like this one.
Another great bed frame to keep your small room organized is to choose one with a bookcase headboard. If your bedroom does not have space for a nightstand, this is a popular way to store books, an alarm clock, and other bedside essentials.
2. Choose the right nightstand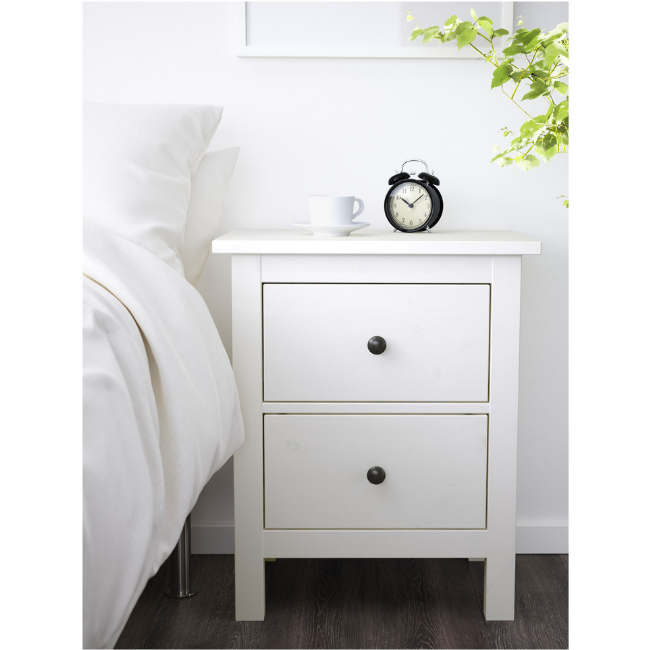 I know it's tempting to buy a cute minimal nightstand, but unfortunately they don't allow for much storage space. I recommend thinking about what you want to use your nightstand for and choosing one that has at least 2 drawers.
Because space is limited in my bathroom and bedroom, I like to use the top drawer to store my skincare products and lotions. In the bottom drawer, I like to store my socks, stockings, and slippers.
If possible, try to keep the top of your nightstand clear. This will help keep your small bedroom clutter-free and organized. Right now, the only thing I keep on my nightstand is a lamp for reading.
Another great option for your nightstand is to let it play double-duty as a desk. This is a good if you need a workspace in your bedroom. I recommend pairing it with a clear ghost chair to make it look clean.
PRO TIP: Want even more space on your nightstand? Consider mounting your bedside lamps on the wall next to your bed.
3. Organize your dresser with intention
After reading the popular book, The Life-Changing Magic of Tidying Up, I started folding my clothing using Marie Kondo's tips. After years of laying things flat in my dresser and folding my socks into a ball (please tell me you do this too), her tips were a welcomed change. Now it's easy to organize and quickly see everything in my dresser.
Another great way to organize your dresser with intention is to use a drawer organizer. This is especially helpful for organizing underwear, bras, tops, sweaters, and so on.
I have been working on building a capsule wardrobe and paired down my wardrobe significantly after moving into our condo. This allows me to do less with more and have enough space to organize my clothing.
Right now, my boyfriend and I share a dresser with 4 drawers (we get 2 drawers each). Just a few years ago, I had clothing in my closet, in my dresser, and in storage boxes under my bed. Now, 90% of my wardrobe can fit within two dresser drawers. It's amazing how much I've simplified my life by quitting my shopping addiction.
Read More: 8 tips that helped me quit my shopping addiction
4. Be strategic with mirrors
There are many opinions about where the best spots are to hang mirrors in your bedroom. In my opinion, when mirrors are strategically placed, it can make your small bedroom feel huge and add extra lighting.
For our master bedroom, we have a mirror above our nightstands, behind the lamp. I absolutely love how much extra light this adds to the room without taking up space.
You may also want to add an over-the-door mirror on your bedroom or closet door. This is a smart way to all a full-length mirror without taking up precious floor space.
For our guest room, we put a small desk in one of the unused corners. We also added a mirror over the desk to create a simple DIY vanity table. This desk can play double-duty as a workstation for my sister when she stays with us, and a vanity table for myself.
5. Add floating shelves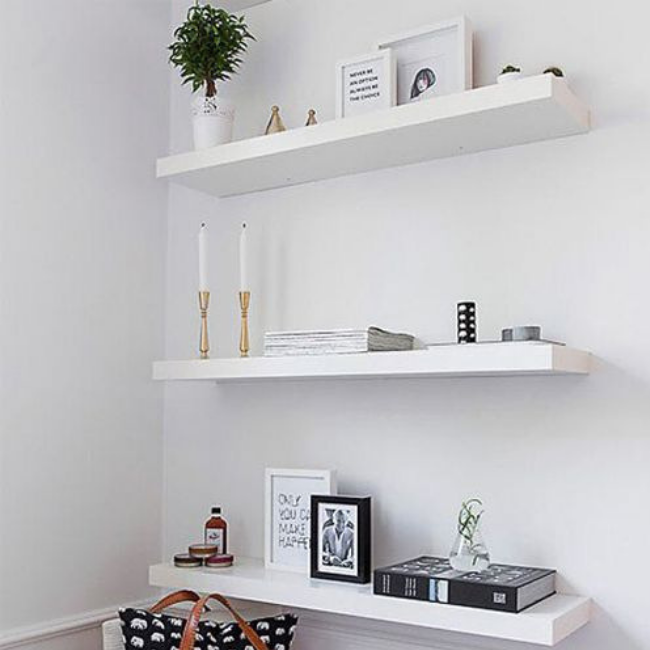 There's no such thing as wasted space in a small bedroom. Floating shelves are a great option for above the bed, above the dresser, or in an unused corner. If you have enough space, you can even add a floating shelf above your bedroom door. Here is a good spot to store hats, books, or accessories.
6. Get a bedside pocket organizer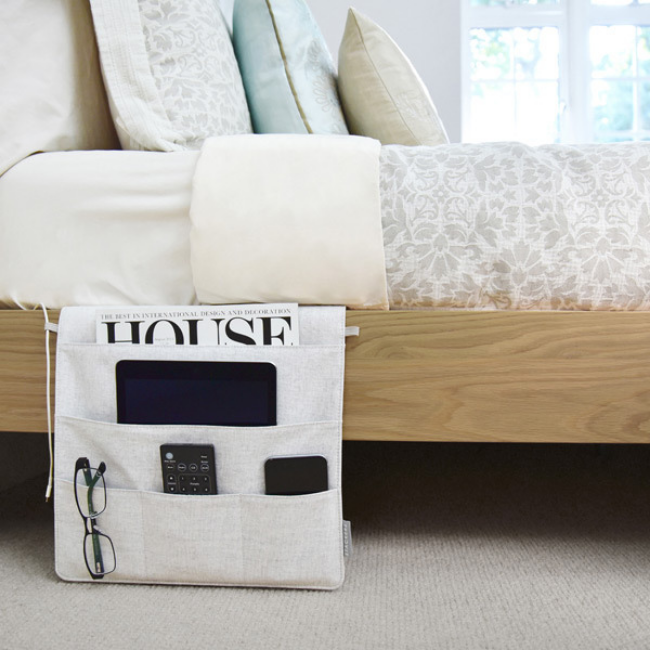 If you don't have space for a nightstand, consider getting a bedside pocket organizer instead. This is a great place to store your slippers, a book, earplugs, body lotion, and so on.
7. Use a coat rack to store handbags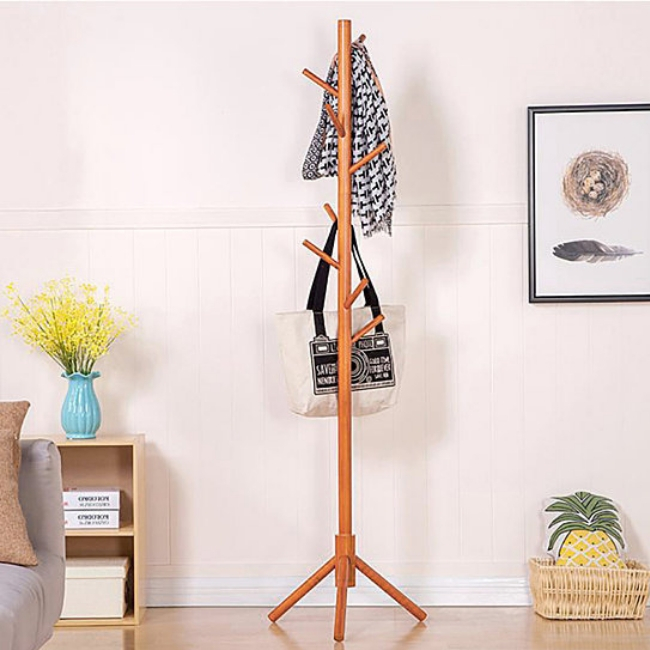 At my previous home, I used to display my handbags in my closet. However, my condo has a tiny closet with little to no room to store my handbags. After getting rid of nearly half of my purses, I now use a coat rack to hang and store my handbags and backpacks.
I found this cute coat rack and it fits perfectly in the corner of my room. This is a great way to keep my floor clutter-free and I can easily grab whichever handbag I need for the day.
8. Hang your laundry hamper on the back of your closet door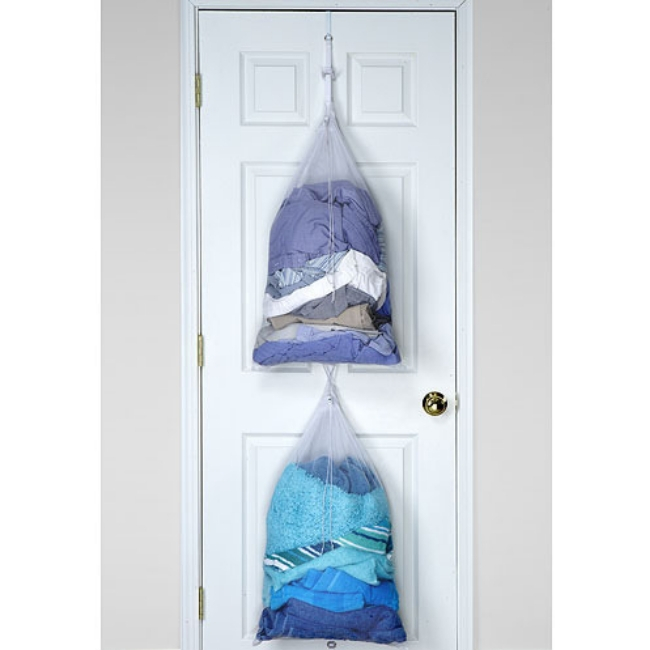 If you have a small bedroom closet like me, you might have no space to store your laundry hamper. A good way to save space is to buy a hanging hamper and put it up on the back of your closet door.
9. Embrace minimalism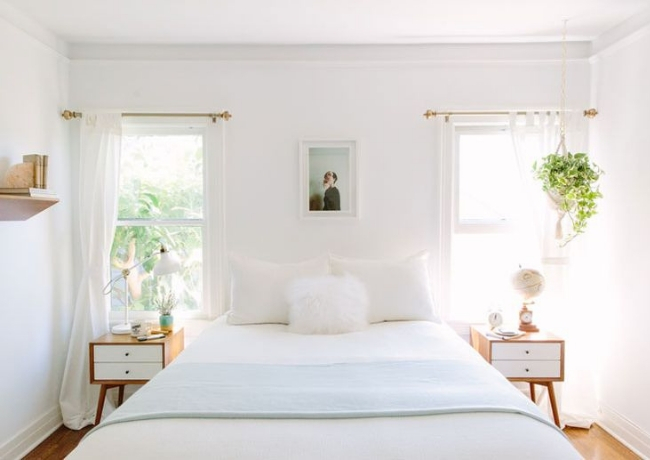 One way to keep your room organized and clutter-free is to embrace minimalism. There's no point in buying a bunch of extra storage systems and wasting time trying to organize when the obvious solution is to own less stuff.
Just a few years ago, I struggled with a shopping addition. I had dozen of storage boxes in my room full of things that I don't even remember buying. The problem was, I was shopping without thinking and I had trouble letting go of things. It was an expensive habit that left my bank account drained.
Since then, I've been working towards simplifying my life and living more with intention. Space in a small bedroom is precious and it's important to use it wisely. The last thing you want to do is spend time organizing items that you can discard. What do you think?
10. Declutter often
I am a huge advocate for decluttering on a regular basis. Even if you keep everything organized, you'll be surprised at how much stuff you can accumulate within a few months. That's why it's important to declutter and get rid of any items you don't love (or use anymore).
Plus, when you declutter regularly, you'll be less likely to spend money on frivolous things because you'll be happier with less. I can't tell enough about you how much money this has saved me!
An easy place to start is to take a bin and clear everything off any flat surface (nightstand, dresser, and so on). Then ask yourself the following questions:
Is this garbage? Throw it out!
Do you use this item everyday? If not, store it away or get rid of it.
Would I keep this item if I moved to a new home? If not, donate it or recycle it.
If I were shopping right now, would I buy this item? If you don't love something, why are you holding onto it? Clear up space and get rid of it.
Why do I have this? If an item is not adding value to your life, why do you still have it? For example, decorations and knick-knacks are nice, but if they aren't creating the mood you want to feel in your bedroom, it's time to let them go.
Final Word
It's funny that I love decluttering and organizing now. You probably wouldn't believe that I used to have a serious clutter-problem around 10 years ago. I actually can vividly remember the day when I was watching the TV show, Hoarding: Buried Alive on TLC, and thinking to myself "OMG, this is becoming my life".
It was actually a big wake up call that I needed to change my life, improve my spending habits, and stop placing so much value on material things.
Of course I didn't know where to start at the time. But once I read the Life-Changing Magic of Tidying Up, I felt inspired to improve my life and live more with intention. Something that stood out for me in this book was when she said to focus on ease of cleaning, not ease of use.
This made me realize that in the past, I was always taking the path of least resistance and focusing on ease of use. Now when I'm decluttering and organizing my home, I always try to focus on creating a space that's easy to clean. This helps me feel more in control and positive about my life.
The key to organizing a small bedroom and keeping it clutter-free is understand what you really need for the room, owning less stuff, and creating a space that's easy to clean. I hope you found these tips helpful.