Managing your finances can be tough for many people. You have a job and it might pay you well, but you don't know why you're broke and living paycheck to paycheck.
When I was in completing my undergraduate degree in University, I had a part-time job to help with my expenses. I didn't own a credit card at the time, so I paid for everything in cash (using my debit card). I had just started my second year of studies and my debit card was declined when I went to pay for my textbooks.
I immediately went to the bank and discovered that I only had $5 in my checking account. It was a HUGE wake-up call because not only was I broke, but I had no idea where my money was going since I didn't track my spending.
Needless to say, I never wanted to be in a situation like that again, so I got honest with myself and took control of my finances.
Many people like to use apps or software tools to help them manage their money, which can be a great way to handle your finances, but I never recommend automating something that you don't understand yourself.
The first step to stop living paycheck to paycheck is to understand why you're in this situation. Instead of coming up with excuses, it's time to be honest with yourself about your money.
Here are 8 reasons why you're broke and how to fix it!
Related Posts: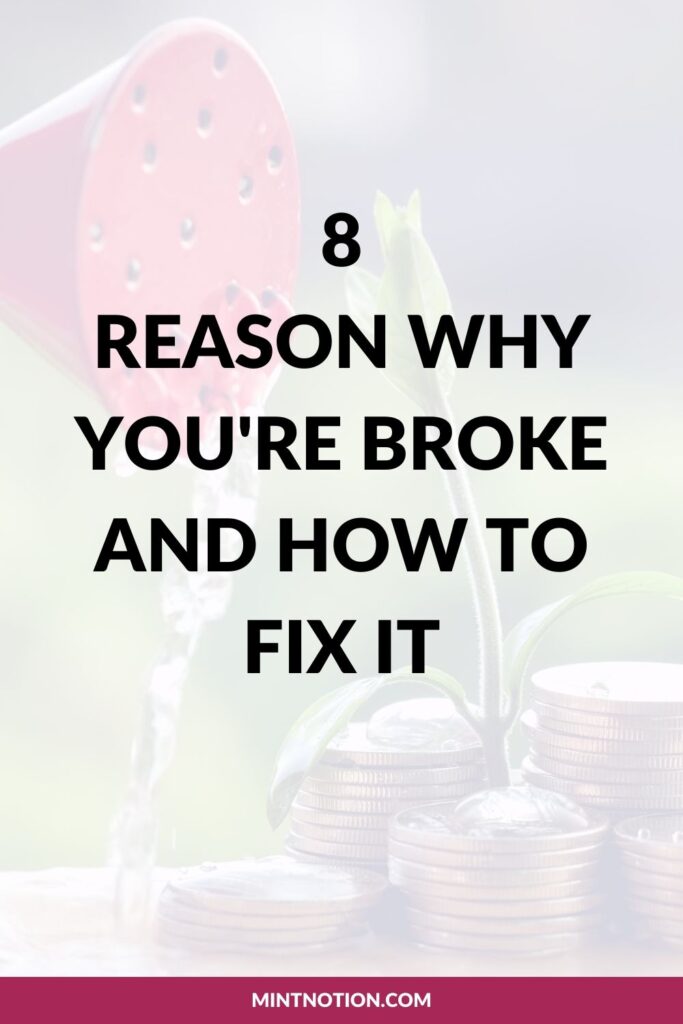 1. You don't understand personal finance
Having a basic understanding of personal finance can go a long way toward managing your money. However, many people seem to get confused on everyday financial matters. This may be one of the reasons why you're broke. Here are some common confusions I see from others:
Not understanding the difference between an asset and a liability.
To explain it simply, assets put cash in your pockets and liabilities take cash away.
Assets are things that you own, such as your checking accounts, that can be sold or turned into cash. Your home, car and furniture are also assets, but even when these are paid for, they are not assets unless you sell them.
If you've read the book Rich Dad, Poor Dad, you'll probably know that Robert Kiyosaki says that your home is actually a liability:
"If you have a house, paid for or not, that you live in, then it can't be an asset. Instead of putting money in your pocket, it takes money out of your pocket. That is the simple definition of a liability. This is doubly true if you don't own your home yet."
Liabilities are what you owe. This can include your current bills, credit card balances, loans, and other payments that you still owe on your car, home, etc.
You're only thinking about how you can spend money to make you happy now.
This is the type of thinking that limits your ability to create an emergency fund or gets you into debt. Instead of compound interest working for you, as it does with investments, you have it working against you when you're in debt.
For example, if you invest $1,000 today at 7%, you will have $1,070 in one year ($1,000 x 1.07). Instead of withdrawing that $70 which you gained from interest, you can keep it there for another year as it continues to earn at the same interest rate of 7%. At the end of the second year, your investment will grow to $1,144.90 ($1,070 x 1.07).
It's important to understand how compound interest can work for you and against you when it comes to investments or debt. Instead of thinking, "How I can spend money to make myself happy right this second?", shift your mindset to thinking, "How can I invest/use this money to buy me financial freedom later?"
You're investing in material things instead of yourself.
Many people find themselves investing in depreciating assets, such as expensive cars, instead of things that have long-term value, such as education or a career. There is nothing wrong with buying an expensive car, but it's a mistake to treat it like an investment.
As I mentioned above, focus on how you can use your money to make it work for you. Buy appreciating assets, such as creating a portfolio, and investing in your future.
2. You're not being resourceful
People tend to make choices based on convenience, because let's face it, we all have busy lives. Convenience costs are helpful sometimes, but it could be a reason why you're broke.
There is almost always a cheaper option out there or a cheaper way of doing things, it just involves some effort to develop an active (rather than passive) mindset.
Tony Robbins said, "It's not the lack of resources that cause failure, it's the lack of resourcefulness that causes failure." These words stuck with me and it has helped me to develop an active mindset that challenges the way I go about things.
For example, many people think that traveling is expensive, and yes it can be when you splurge on a luxury vacation. However, in some cases, traveling can actually be cheaper than the 9-5 life. It really comes down to being resourceful.
3. You're not paying yourself first
I've talked about paying yourself first a lot on Mint Notion and you've probably seen this advice before in many personal finance books. However, it's always worth repeating.
One of the main reasons why you're broke is because they you may not be paying yourself first. Paying yourself first means putting a portion of your paycheck into a savings account each time you get paid. This portion (10% is recommended) is put into your savings account before you allocate the rest of your money towards paying any expenses.
The best way to ensure that you pay yourself first is to automate your banking. Talk to your bank or ask the HR department to automatically deposit a certain amount of your paycheck into your savings account.
Read Next: Savings Challenge – How to save $500 in 31 days
4. You have no idea where your money is going
Honestly, I used dislike budgeting. There, I said it.
The only time I set a strict budget for myself was when I was paying for graduate school. But as much as I disliked budgeting — tracking my expenses and creating a budget for myself actually worked. It made sure that my money was going to where it needed to go and stayed on track towards achieving my financial goals.
The easiest way to know where your money is going is to track your expenses for an entire month. It's going to be tedious, but you'll discover which areas you need to adjust your spending.
5. You're trying to keep up with your friends and family's lifestyle
It's easy to fall into the trap of wanting to keep up appearances, especially when you compare yourself to your friends and family's lifestyle. This could be a reason why you're broke. The truth is that your friends could be driving a leased car, bought a home that they couldn't afford and took a vacation that put them in debt.
If you want to keep up with their lifestyle, take heed, as this could be the reasons why you're broke. No matter what your income is, always live below your means.
As The Millionaire Next Door says:
"Many people who live in expensive homes and drive luxury cars do not actually have much wealth. Then, we discovered something even odder: Many people who have a great deal of wealth do not even live in upscale neighborhoods."
I know that many of us simply refuse to give up things in our life, like going to Starbucks each morning, and I'm not suggesting that you have to. It all comes down to your priorities. If going to Starbucks each day is a priority for you, make it more affordable by cutting back on other things, like buying clothing and shoes.
Trying to have too much too soon is a sure way to go broke. This is especially true for new college graduates who try to have create the same lifestyle as their parents on a starting salary in today's economy. It's not always realistic.
6. You don't plan for unexpected expenses
If you're not creating an emergency fund, you could find yourself in deep waters when unexpected expenses arise. These unexpected expenses can include car repairs, home maintenance and even fun stuff like birthdays or gifts.
It's important to pay yourself first on a regular basis so you don't have to sabotage your budget when these unexpected expenses occur.
7. You're only paying the minimum on your debts
It's easy to think that debt is just a part of life in today's economy and instead of paying it off quickly, you decide to only pay the minimum amount each month. But as I mentioned in point #1, you have compound interest working against you when you have consumer debt, especially if you're only paying the minimum amount.
You are better off creating a debt repayment plan to pay it off quicker. Of course this might mean that you'll need to adjust your current lifestyle and make some sacrifices, but you'll save money in interest payments. Your future self will thank you.
8. Your income is too low
None of us want to admit that our income is too low. But if you're treating your credit card as extra income and using it to pay for basic necessities (like food and gas) because you don't have the cash, this could be a reason why you're broke.
If you're in a situation like this and you've already created a strict budget for yourself, the next step is to increase your income. This could mean getting a pay raise at your current job, taking on a second job, looking for a better paying job to replace your current job, or finding ways to side hustle.
There are lots of ways to earn extra income from home while still working a 9-5 job. This could include freelance work, creating a drop ship store or selling your products or services online.
Do you have a spare room that you can rent out? Many people rent out their basement or a spare room in their home to earn extra cash. You can even become an Airbnb host. In Toronto for example, you can earn an average of $356 CAD for hosting 1 week on Airbnb.
Are you passionate about something and enjoy writing? You can start a blog for as low as $2.95 per month and earn extra income from ads, sponsored posts or affiliate marketing. A blog is also a great way to advertise your products or services, which can bring in extra cash as well. If you're interested in learning more about starting a blog or website, you can use my free step-by-step tutorial to help you get started.
Are you good at taking photos? You can offer your photography services to take photos of pets, babies, couples, weddings, events, etc. Your photography skills can be turned into a side business.
Do you like taking surveys? Online survey websites, such as American Consumer Opinion and Swagbucks, can be an easy way to earn an extra $100 each month.
I also recommend taking advantage of cashback websites, such as Rakuten. I just started shopping on Rakuten recently and it's been great so far. There are many online retailers to choose from on Rakuten, such as Amazon, where you can find coupons and earn cashback when you make a purchase. I wish I started using Rakuten sooner. It's free to sign up at Rakuten and you can receive a $10 welcome bonus when you sign up through this link.
There are lots of ways to earn extra cash each month and these ideas have only scratched the surface.