Let's be honest, saving money is not easy. But you work hard for your money and it should work hard for you. If you want to learn how to save $500 a month, the key is to start small. Start where you are right now. To make it fun and help keep you motivated, I recommend doing a savings challenge.
Whether you want to get out of debt, build an emergency fund, or save for your dream vacation, a savings challenge can help kick-start your savings so you can achieve your financial goals faster!
I created this free save $500 a month chart for you to follow along and make saving money fun. It's called the 31-Day Savings Challenge and it's a great way to save $500 a month!
The best part is, you don't have to wait to start saving on the first of the month. You can start this savings challenge today and continue watching your savings grow over the next 31 days. Use this save $500 a month challenge to help you save more money.
Ready to get started? You can download your free save $500 a month chart here.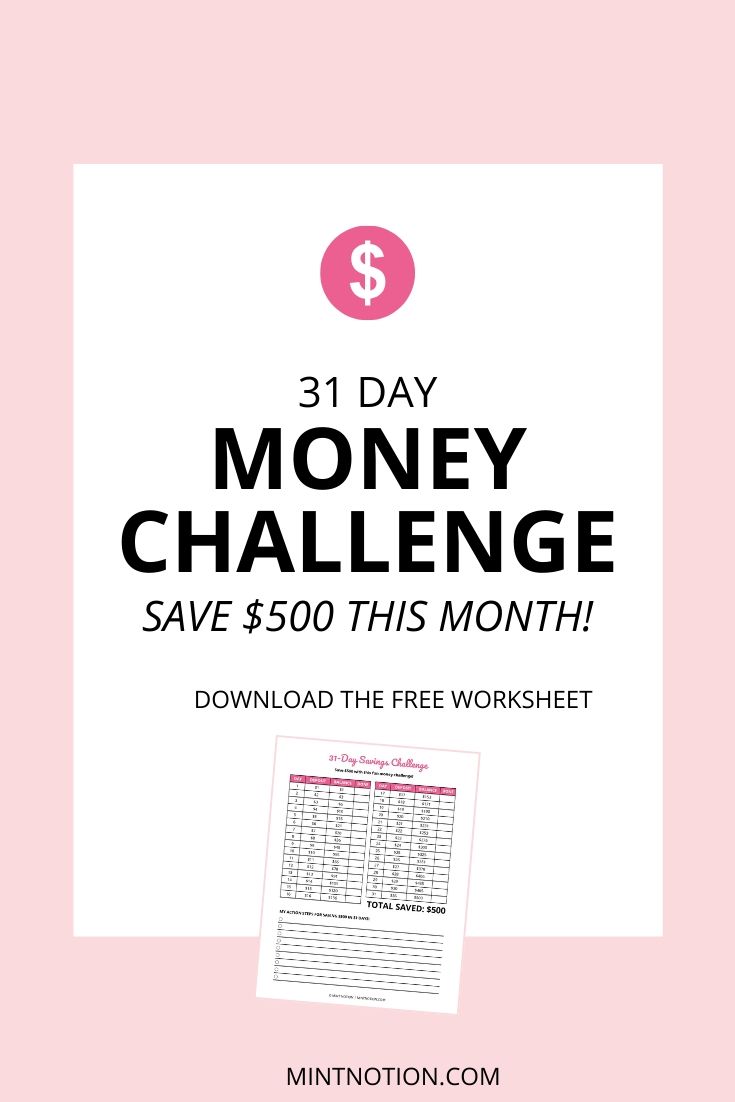 One of the biggest mistakes people make when saving money is they forget to create an action plan. They say to themselves, "I wish I could save $500 a month", but they don't follow through with an action plan.
A dream without a plan is just a wish.
That's why I included a section on this savings challenge worksheet for you to write down which steps you're planning to take to save money. If you want to learn how to save money each month, this can help you stay motivated be successful with this savings challenge.
You can even try saving $500 a month for a year if you're feeling extra ambitious. Just use this printable chart over and over to keep track of your progress.
You can download my free printable below to get started and help you save $500 a month. Enter your information below to get your free worksheet!
Need some inspiration to help you save $500 a month? Here's a list of my favorite ways to save and make extra money!
Related Posts:
1. Get paid to share your opinion
Yes, companies are willing to pay you to get your opinion. If you're looking for an easy way to make money in your spare time, this can be a great option. I started doing online surveys when I was in college to help me make fast money. This won't make you rich, but it can be a good way to help boost your savings.
PRO TIP: Sign up for several survey websites to earn more money. Then you'll get to choose the surveys which pay the most money. Save time and earn more cash!
What's the best survey website that pays cash?
Start out with Branded Surveys. When companies want to launch a new product or collect market research, they turn to the Branded Surveys Community for feedback. Branded Surveys currently has a TrustScore rating of 4.4/5 on Trust Pilot, which makes them one of the highest rated survey sites.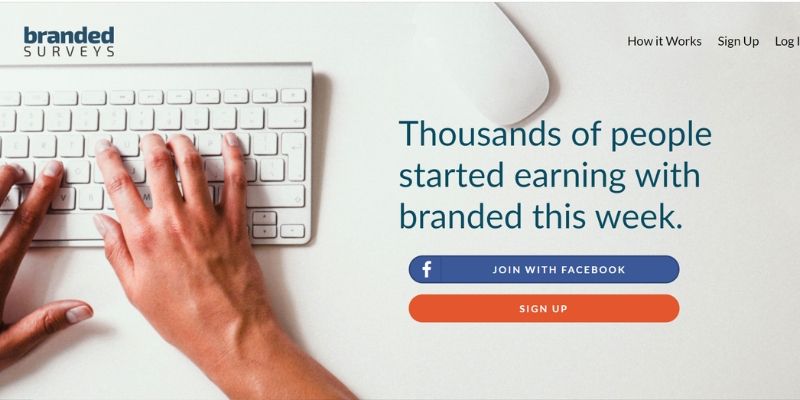 How to get started with Branded Surveys:
Other legit survey websites I recommend signing up for include Survey Junkie, Swagbucks, American Consumer Opinion, and Quick Rewards.
2. Get paid to watch entertaining videos online
Swagbucks can be a great way to passively earn free gift cards to popular retailers such as Amazon, Walmart and Starbucks. All you have to do is earn "SB" (Swagbucks) for things you already do online, such as watching short videos. Then you can redeem your "SB" for rewards.
They currently have a TrustScore rating of 8.3/10 on Trust Pilot, which is up there with some of the best survey sites. If you want to put money aside each month, Swagbucks can be a great way to boost your savings.
How to make money with Swagbucks:
3. Slash your monthly bills with Trim
No matter how closely you pay attention to your monthly bills, I'm sure if you take another look, you'd find at least one subscription that you're not using. You may even discover a late fee you've forgotten about. Oops!
To help you get organized and pay less on your monthly bills, consider using this free tool by Trim. Trim is a digital personal assistant that makes it easy to save money on your monthly bills. All you have to do is sign up here and Trim will do the heavy lifting for you.
Trim will also negotiate your monthly bills, such as your cable, cell phone, and internet bill. Trim works behind the scenes and automates ways to save you money.
Now you can have more money in your pocket to help grow your savings, pay off debt faster, and successfully save $500 a month! Sign up here to get started.
4. Sell your old cell phone for cash
Companies want to pay you cash for your cell phone. A service such as Gazelle will give you cash or an Amazon gift card for your mobile device. This can help offset the cost of a new phone or put more money back in your pocket to complete this savings challenge.
Not only can you sell your cell phone, but Gazelle will also pay you for your iPad, MacBook, or iPod.
How to make money on Gazelle:
5. Rent out your extra space on Airbnb
Do you have a spare room in your home? You can make money by renting it out through Airbnb. No matter what kind of home or room you have to share, Airbnb makes is safe and easy to host travelers.
How to become an Airbnb Host:
For more details, you can check out my complete guide on how to make money as an Airbnb Host.
6. Get paid to lose weight with Healthy Wage
The New Year is just around the corner, which means many people are making resolutions to lose weight and get healthy.
Introducing Healthy Wage, the company that will actually pay you to reach your fitness goals. They will help you lose weight by offering a cash prize. Simply make a personalized bet on your own weight loss. If you're successful with the challenge, you can win up to $10,000.
Head to Healthy Wage's Prize Calculator to see how much money you could win. You can also check out this post to learn more about getting started with Healthy Wage.
How to get fit and make money with Healthy Wage:
Calculate your prize.
Make your bet.
Lose the weight.
Win money!
7. Get a free $10 bonus when you join Rakuten
Rakuten is free to join and it's my favorite way to earn cash back when shopping online. Rakuten will even apply coupons automatically at checkout, so you'll always know you're getting the best deal.
Plus, you'll get a free $10 welcome bonus just for signing up.
I use Rakuten all the time when shopping online and have been able to earn over a thousand dollars through them. Pretty awesome right?

How to claim your free $10:
Start here to sign up for Rakuten. (It's free to join)
Find your store on Rakuten next time you need to buy something. It's connected to over 2,000 stores, including Amazon, Target, and Walmart. You'll need to spend at least $25 on your first purchase within 90 days.
Your Rakuten account will be credited with reward points. Get this cash sent to a PayPal account or choose to receive a Big Fat Check from Rakuten. It's up to you!
For Canadian shoppers, you can click here to sign up for Rakuten (free $5 welcome bonus).
8. Cut back on your monthly food costs
A good way to avoid eating out and reduce your monthly grocery bill is to meal plan. With a meal plan, you get to decide upfront what you'll be eating during the week. So whether you want to eat tacos every night (great choice) or you want to focus on easy healthy meals, a meal plan can help you.
I like using my Meal Plan Binder (included in my Budget Planner Bundle) to help me keep track and organize healthy meals for my family. You can download your copy of my free weekly meal plan printable below!
If you're new to meal planning, I recommend trying the $5 Meal Plan. Many of my readers have told me great things about how this service makes planning meals each week simple and easy.
For just $5 per month, you will receive a delicious meal plan, where every meal will cost about $2 per person (or less).  It's a great way to save time and money, plus they offer specialty plans, including gluten-free and vegetarian meals. Click here to try it free for 14 days.
9. Flip stuff for profit
Do you have stuff laying around at home that's still in good condition? You can could make extra money by flipping this unused stuff for cash. This can be a great way to put money towards this savings challenge.
"Flipping" is the art of finding things for free (or at a discount) and selling them for a profit. With today's technology, there has never been an easier time to resell and flip items to make extra money.
I know some people who are earning a full-time income by flipping stuff. That's exactly what Rob and Melissa do. They make over $100,000 a year by flipping items for profit. Rob and Melissa love flipping SO much, they started teaching others how to turn it into a profitable side hustle.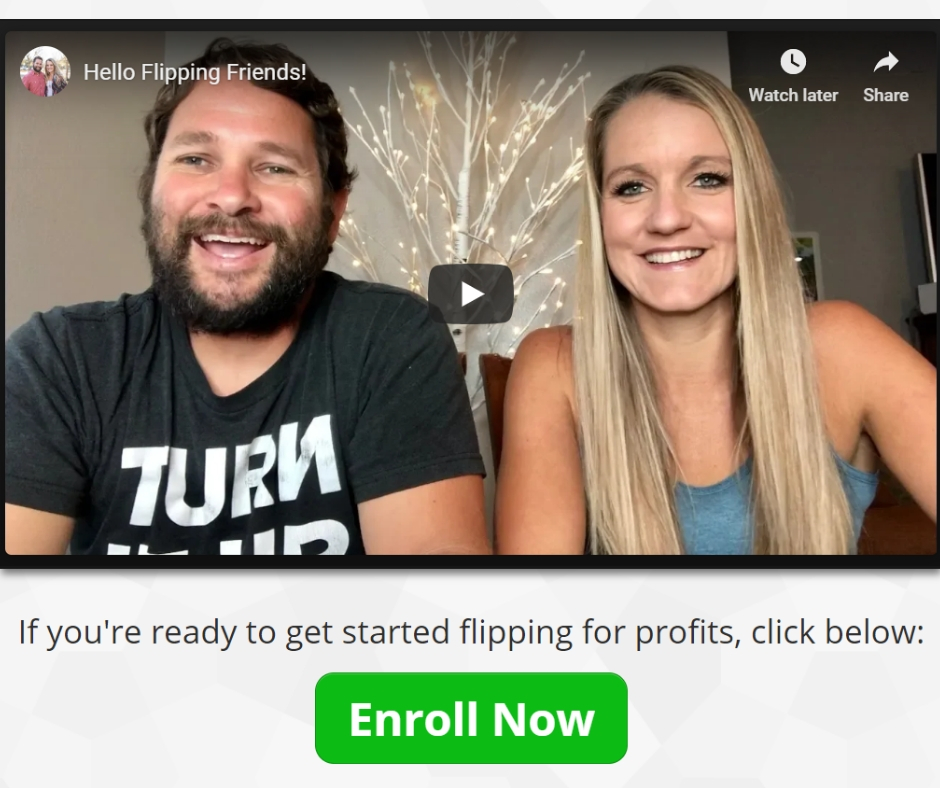 If you're interested in learning more, you'll want to check out Rob's free 75-minute workshop. You'll learn how to find hidden treasures at flea markets, thrift stores, yard sales, and auctions, and how to turn them into maximum profit. This workshop is completely free to join. You can sign up here.
10. Start a profitable blog
Starting your own profitable blog is one of the best ways to make extra money in your spare time. The best part is, you can blog about any topic you wish and you can work from anywhere there's an internet connection. What's not to love?
If you're interested in starting your own blog, check out my free step-by-step guide. It'll show you how to easily get started. It takes just a few minutes to get your blog up and running.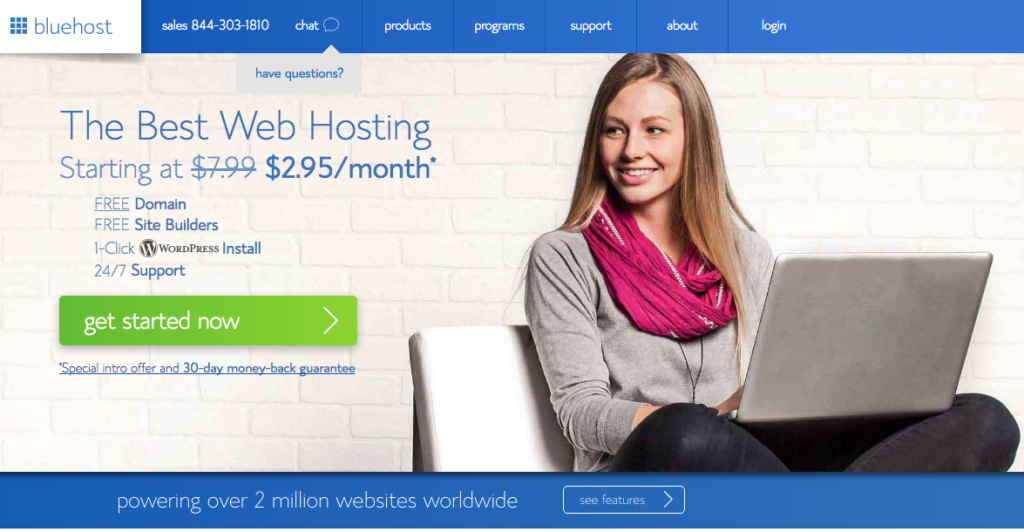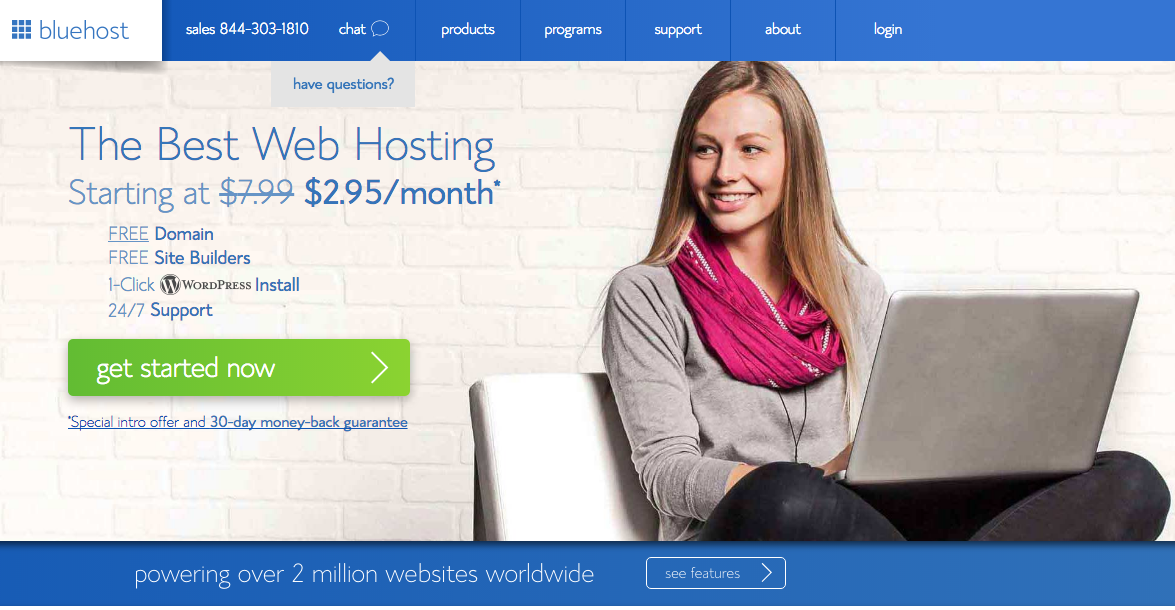 Blue Host is offering a great deal right now for getting your blog up and running. They make it quick and easy to get started. It's the web hosting company I used to start this blog, which is why I like recommending them. No tech knowledge required!
Save over 60% off the price of your blog with this special offer (expiring soon)!
11. Unsubscribe to retailer emails and delete shopping apps
This is by far one of the easiest and best ways to save money. Simply hit the unsubscribe button from all retailer emails.
I did this a few years ago when my previous shopping addiction was getting out of hand. I could never resist the sales that popped up in my inbox each day. I felt like it was constantly giving me another excuse to spend money on things I didn't need.
Once I unsubscribed from all retailer emails, I felt relief. I was no longer tempted to spend frivolously and it was an easy way for me to save money. Try it yourself!
12. Learn how to say "no" to peer-pressured spending
Sometimes we feel pressured to spend money and make financial decisions based on what others think. I know it's never nice to feel like we're being the cheap or boring person in the group, but spending money that could have gone towards funding our long-term goals is a surefire way to derail our budget.
I love spending time with my friends and family and I don't want to feel excluded. However, if you want to keep your budget in check, it's important to learn how to say "no" to peer-pressured spending sometimes.
Read next: Saying "no" to family and friends when you're trying to save money 
I hope this list has given you some helpful ideas for you to save $500 a month. Imagine having an extra $500 in your savings account in just 31 days! How could that extra money help you? Stay focused on your goals, create an action plan, and make it happen! You've got this!