If you think you might have a shopping addiction or you have trouble resisting those online impulse purchases, you're not alone.
A whopping 89 percent of Americans have given into impulse shopping, spending an average of $81.75 per session.
The #1 reason why we impulse buy is because of our emotions. Buying stuff makes us feel good in the moment.
Stress, sadness, FOMO (fear of missing out), and even a cause for celebration can trigger us to impulse buy.
But when we continue to succumb to the temptation of impulse buying, that's when our spending can start to spiral out of control.
This can lead to compulsive shopping, which is the frequent preoccupation with buying things we don't need.
Learning how to identify and manage your spending triggers can help you get to the root cause of your shopping problem.
This is the first step in shopping more intentionally – a topic that we dive into in my new e-book, The Intentional Spender.
As much as I love spending money, a shopping addiction can be expensive and time-consuming. It's a hobby that drains your bank account, eats up countless hours of your time, and never leaves you feeling truly satisfied.
In fact, many compulsive buyers often feel much worse after shopping. This can be explained by the hedonic treadmill, which is a metaphor that says humans have the tendency to purse pleasure after pleasure.
Everyone has their own personal baseline level of happiness. So when we experience a positive event, such as buying something shiny and new, that surge of happiness is likely to return to our steady personal baseline over time.
I used to tell myself all the time…. "When I buy those fancy designer shoes, then I'll feel a sense of accomplishment". Or maybe you've told yourself, "When I buy 'X', then I'll be happy".
But that surge of happiness I felt after buying the shoes eventually returned back to my original baseline level. This made me feel like I was stuck on a treadmill chasing a "high" that never lasted.
If you want to learn more about how to overcome a shopping problem, check out my free audio training.
What's the difference between impulsive and compulsive shopping?
Impulsive and compulsive buying are terms that often get confused for each other. On the surface, they may seem similar, but they are very different in their cause, outcome and frequency.
Impulsive shopping is defined as the sudden urge to make an unplanned purchase. It's very common and nearly everyone has made an impulse purchase at some point in their life.
For example: You're in the grocery store to pick up a few items for dinner. You see that your favorite ice cream is on sale. Even though it's not on your shopping list, you suddenly get the urge to buy it.
Buying the ice cream was unplanned. As soon as you saw it in the store, you've succumbed to an urge in the moment, then purchased the ice cream.
Compulsive shopping is planning to shop in order to relieve (at least temporarily) an uncomfortable tension.
For these individuals, shopping can also be used as a way to escape negative feelings, such as anxiety, depression, anger, self-critical thoughts or boredom.
Compulsive shoppers continue this repetition of behavior despite its adverse consequences, such as accumulating credit card debt, rocky relationships due to shopping too much, or feelings of guilt due to overspending.
Many compulsive shoppers also find themselves excessively preoccupied with shopping (or just thinking about going shopping) and their poor impulse control when it comes to shopping.
While compulsive spending and impulsive shopping are separate problems, today I'm sharing some tips from my new e-book, The Intentional Spender, that you can use to help overcome both.
A shopping addiction might sound harmless, but it can take a toll on your finances and mental wellbeing. It can also lead to debt and potentially hurt your personal relationships or career.
It's important to recognize the symptoms of a shopping addiction early so you can learn how to shopping shopping online and develop better spending habits going forward.
Related Posts: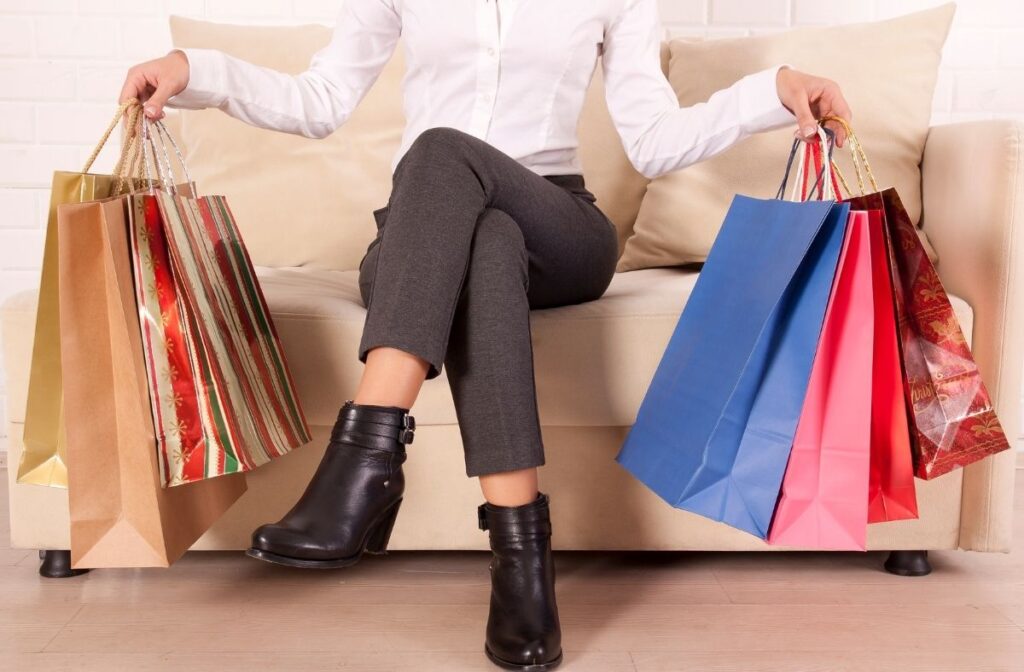 My Shopping Addiction Story: How it Started
It started out innocently enough (like all addictions tend to do, right?) I got my first office job after graduating from college, which meant I needed to transition from wearing leggings to class into a more appropriate outfit for the office.
My wardrobe needed a huge overhaul, which involved me spending money (I didn't yet have) in order to have enough new clothes to wear for my first week of work.
Because "office clothing" tends to be more expensive than leggings and sneakers, including extra fees like dry cleaning, I would shop the sales to save money.
Finding a good deal was like a "high" for me. That's why I signed up to receive email alerts from all my favorite retailers so I would never miss a sale.
While this might have sounded like a good idea, this FOMO (fear of missing out) started my shopping addiction.
It was the thrill of the hunt (looking for sales) and buying items just because they were on sale.
I justified my purchases by telling myself things like:
• "I worked hard – I deserve to treat myself!"
• "I need to dress for the job I want so my boss will take me seriously."
• "This is such a good deal – I could always use more clothes for work."
The daily deal sites were my biggest weakness. Every morning when the new flash sales would begin, I was online ready to buy. This was great for my luxury taste on a budget.
I bought so much stuff that many of the items sat in my closet with the price tag still attached. These unnecessary purchases were a big waste of money!
Every single week I was going on shopping sprees. I bought new shoes, clothing, or accessories. I was caught up in the mindless cycle of buy, buy, buy.
I would justify my purcahses as an "investment" in my wardrobe. But this mindless spending was getting me further and further away from reaching my financial goals.
Deciding to quit my job and go back to school ultimately was forced me to confront my online shopping addiction. It made me want to break my addiction to shopping online so I could save enough money to pay for graduate school.
I'll be honest with you, my journey towards saving money was tough. It felt like a constant battle trying to stick to my budget while learning how to manage my spending triggers.
But over time, I found creative ways to curb impulse buys without having to rely on my willpower alone.
It's been over five years since I quit my job. I graduated University with no debt. I started this site and turned it into a six-figure business, and I've built over six-figures in savings by learning how to shop intentionally.
There was no overnight change or "aha" moment on my journey to overcoming my shopping addiction.
It took me years to understand my "shopping triggers" and what my true values and priorities were in life.
Sometimes I still feel the urge to make impulse purchases, especially when I'm stressed. I don't know if those feelings will completely disappear (at least for me), but I've learned how to respond to these urges instead of reacting to them.
Creating a budget changed my life. Below are the same worksheets I used to help me stop living paycheck to paycheck, shop more with intention, and save my first $100,000 in my twenties. If you're interested, you can learn more about my Budget Planner here.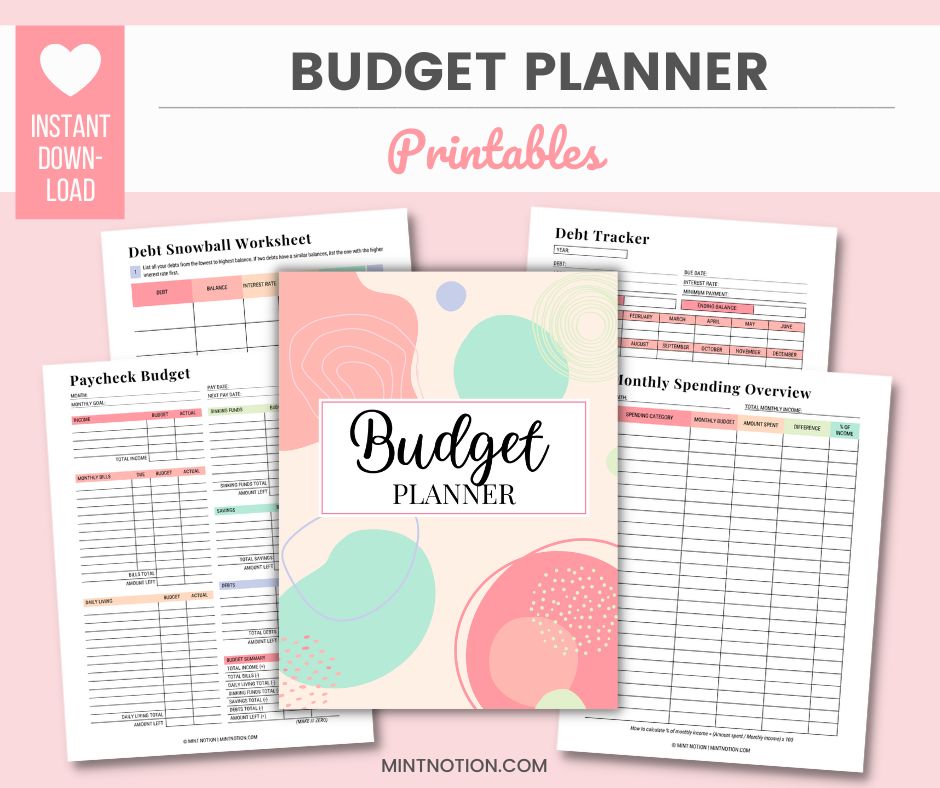 Below are 8 ways on how to overcome a shopping addiction!
1. Unsubscribe from all retailer emails
If you find yourself being tempted to spend money every time a sales email pops up in your inbox, then it's time to click "unsubscribe".
I recommend unsubscribing from ALL retailer emails to avoid the urge to impulse spend. This also means delelting shopping apps off your phone.
Initially when I started unsubscribing to retailer emails, I stayed on the mailing list for a few select stores.
This was a big mistake though, because I still felt tempted to spend money whenever I received an email. If you're serious about controling shopping addiction, then you need to unsubscribe from all retailers.
Have FOMO that you'll miss shopping online?
If you find yourself shopping online just to pass the time, then consider finding other activities to do instead. Ideally ones that don't involve spending money.
Check out this post for alternative activies you might enjoy: 45 things to do instead of online shopping. This can help you find new hobbies to do instead of spending money.
Another great way to distract yourself from shopping is to start a side hustle in your spare time.
I started this blog as a creative outlet when I was doing the no new clothing challenge. Now I earn a full-time income from this site! It's pretty amazing how special blogging can be.
2. Try my 30-day Shop Your Closet challenge
If you want to stop buying clothes, a great place to start is by getting better mileage from what you already have. This is also the best way to practice sustainable fashion.
If you have an overflowing wardrobe, there's a good chance that you have lots of stuff that hasn't seen the light of day in months (or even years).
Now is your chance to wear these items. You never know if your least worn clothing will become your new staple items.
To help you wear everything in your closet, I've created this free 30-Day Shop Your Closet Challenge.
Each day (for 30 days) you can follow the different prompts to help you put together new and exciting outfit combinations. The best part is, this challenge is completely free to do. You'll be using items you already have!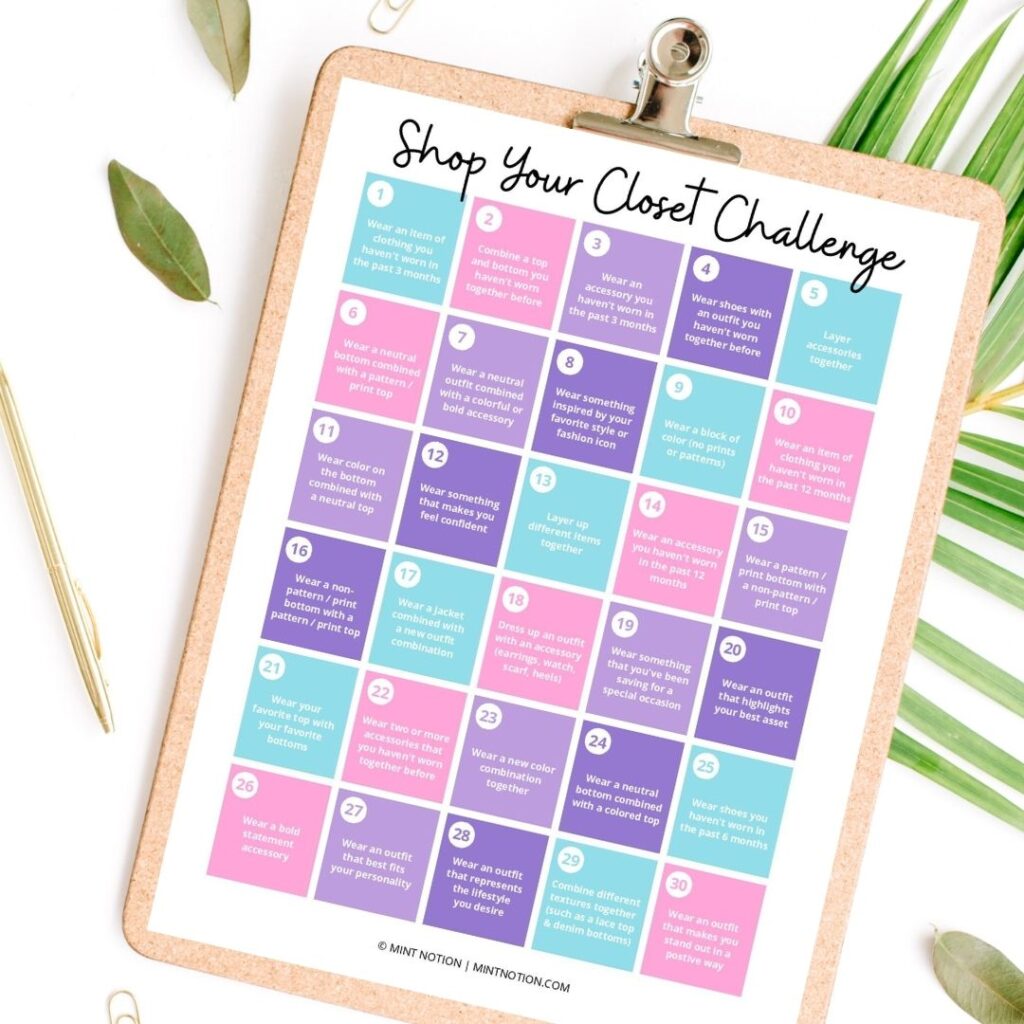 3. Take inventory of your wardrobe
If you love buying clothes, chances are your wardrobe is full of items you no longer wear or things that you've forgotten you even own.
Feelings of overwhelm, guilt, shame, embarrasment, and regret are all too familiar for those with over-buying habits. It's hard to pick out an outfit that makes us feel our best when we're bombarded by these negative emotions.
Instead, we tend to feel that our wardrobe is never good enough because our clothing doesn't align with our values.
Before I took inventory of my wardrobe and started decluttering my clothes, I had the misconception that I would need to buy new things to replace everything that I donated or sold.
This is simply NOT true! Decluttering forces you to decide what's actually important to you.
By getting rid of items you no longer wear, need, or love, it gives you a chance to feel good about the items you choose to keep.
Decluttering teaches you how to be more decisive when choosing what to wear each day, and in other areas of your life too. You'll no longer want to waste time watching movies that don't interest you or talking to people who bring you down.
Decluttering can be a great way to make extra money by selling your gently used items online or at consignment shops. Decluttering also gives you more space.
This doesn't mean more space to buy new items, but instead it provides you space to breathe, think clearly, and eliminate mental clutter.
Below is a simple step-by-step guide on how to declutter your closet.
Read Next: 6 steps to declutter your wardrobe
4. Set new rules for your wardrobe
Now that you've decluttered your closet, it's time to set new rules for your wardrobe. For example, when I was trying to overcome my shopping addiction, I made a rule to only buy items in neutral colors (black, gray, white, navy, an so on).
This didn't mean I went out to buy a whole new wardrobe in neutral colors. Instead, if I needed something, such as a new winter coat, I would buy it in a neutral color.
By having a closet that focused on neutral colors, it was easier to mix and match items.
By spending less time trying to decide what to wear each day, I was able to be more productive and focus on big picture things, such as school and building my online business.
Having a capsule wardrobe means I feel good about everything I own. It also cuts down the number of little decisions I need to make each day. Now I shop less often and more intentionally.
Below is a simple step-by-step guide on how to build a capsule wardrobe for beginners.
Read Next: How to build a capsule wardrobe without spending any money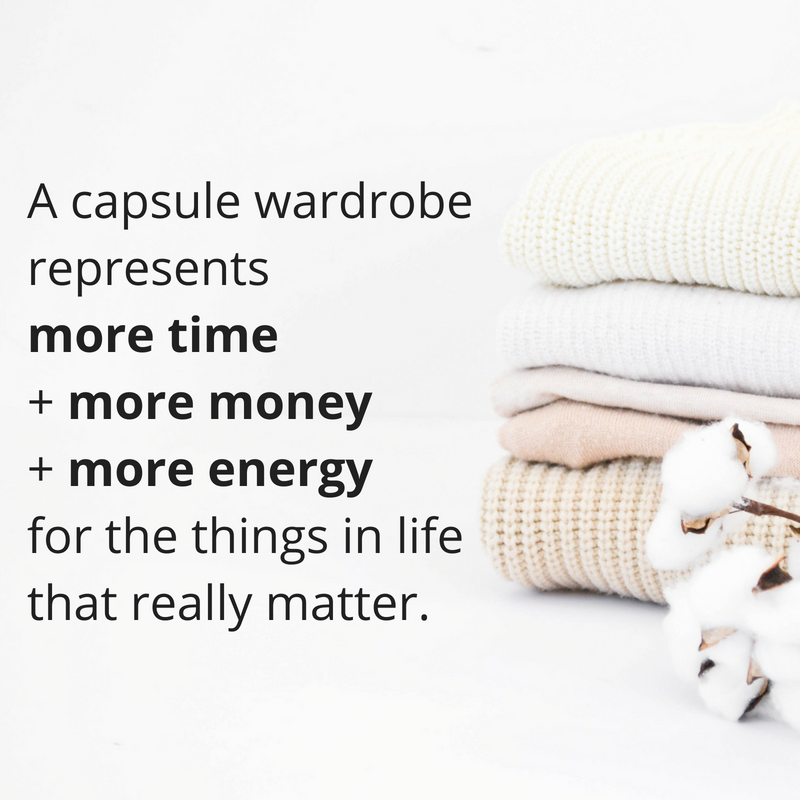 5. Change your environment
I am a firm believer that environment can play a huge role in our lives. Whether it's our friends, our co-workers, our workplace, or the neighborhood we live in, our environment can influence our behavior.
If you want to stop shopping, pay attention to your current environment.
While we can't always choose our ideal environment, we do have the power to control some aspects of our surroundings.
For example, it doesn't make sense for someone with a gambling addiction to visit a casino, right? This is why you might want to take a break from settings that tempt you to shop, such as social media, shopping apps, the mall, and so on.
Determine the root cause of your shopping habit. What drives you to shop? Even though a shopaholic's habits may appear irrational to an outsider, it's not.
Those with an addiction to shopping believe that they are entirely rational and they are shopping for a reason – usually to fulfill a void.
It's not easy to self-analyze ourselves, and sometimes we do require professional assistance, such as seeing a therapist.
However, understanding the psychological need that's driving the urge to shop can help you overcome your addiction.
For me, I found that my work environment and life stress was driving my buying behavior. I was constantly shopping to fulfill a void, but was never really satisfied. I was using shopping as a coping mechanism for stress.
Fortunately, I had the opportunity to completely change my environment: I quit my job, went back to school, and went for nature walks in my spare time.
Spending more time outdoors humbled me. This helped me to stop thinking about buying clothes and focus on transitioning to a minimalist lifestyle.
Read Next: 20 things I stopped buying as a minimalist
6. Do a no-buy clothing challenge
If you've been trying to slowly break your shopping addiction, but are still struggling with your triggers, then you might need to ditch shopping completely.
Going cold turkey isn't easy, but sometimes it's absolutely necessary if you want to quit your poor spending habits. In this case, I recommend doing the no new clothing challenge for 30 days.
The rules are simple: don't buy any clothing, shoes, or accessories for an entire 30 days (or longer).
The no new clothing challenge is an excellent way to save money, even for non-shopaholics. It forces you to breathe new life into the items you already have, by mixing and matching outfits.
I did the no new clothing challenge for a full year. It was tough, especially in the beginning, but I truly believe it's the reason I'm no longer addicted to shopping.
You can read more about my experience doing the no new clothing challenge here.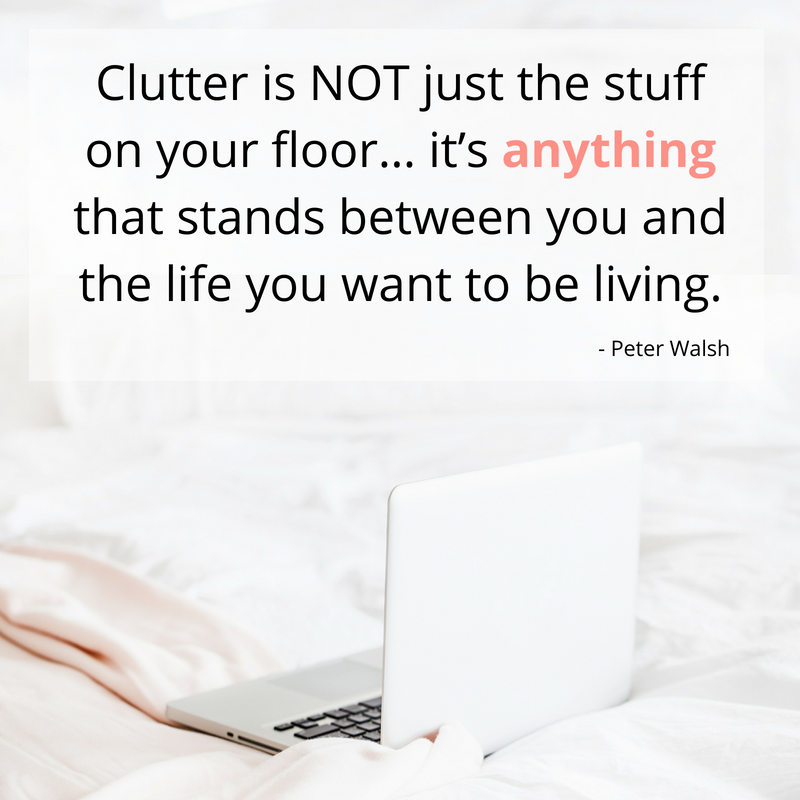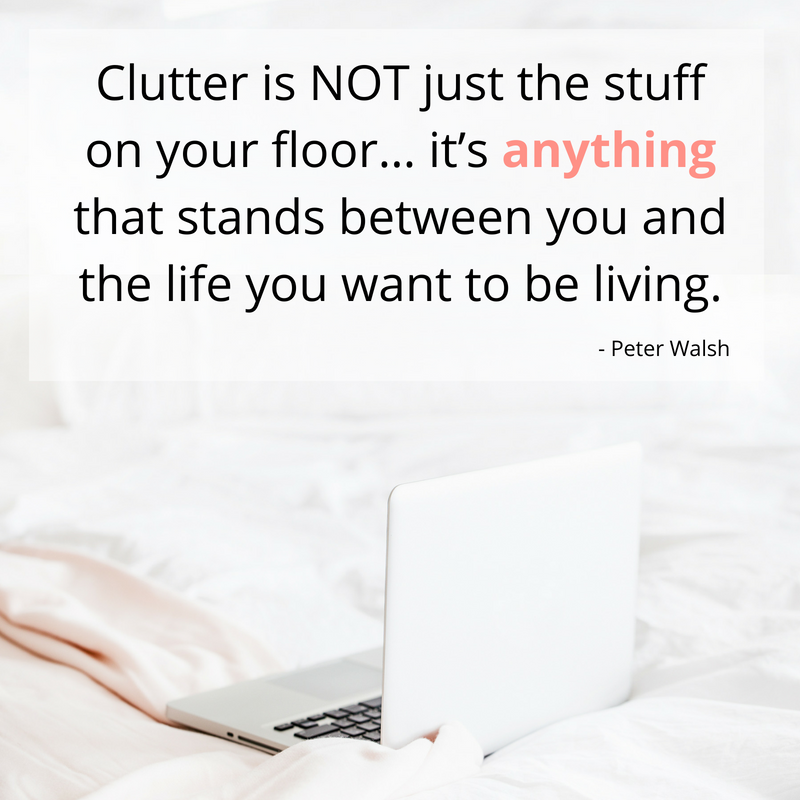 7. Learn how to manage your spending triggers
As I already mentioned, your environment can impact your behavior. That's why it's important to recognize and learn how to manage your "triggers" which drive you to shop.
I recommend keeping a journal and documenting when you feel compelled to shop.
Is it due to boredom, sadness, or anger?
Do you feel the urge to shop after you've watched a particular television show?
Do you want to shop after hanging out with a certain friend or family member?
Recognizing which triggers cause you to shop can help you learn how to manage these triggers.
Below is a helpful way I use to prevent impulse shopping. I ask myself these questions before buying something.
This helps me to shop with intention and become a more conscious spender. You can download my free Shop With Intention flowchart below!
8. Determine what you value in life
You'd be surprised to learn that most of us don't know our values, or understand what's important to us. Instead, we usually focus on what our society and media values. Sounds pretty silly, right?
Doing the no new clothing challenge forced me to replace shopping with something more productive and better for my wallet.
That's when I decided to start this blog. It was the perfect way for me to focus on something positive while I was doing the no new clothing challenge.
It's important to identify your values, because when our actions and values are aligned, that's when we feel most content.
Not sure what your personal values are? To get started brainstorming ideas, look back on your life and determine which times you felt really happy and proud of yourself. Choose examples from both your personal life and career.
Then, ask yourself why each experience was memorable? Make a list of values from these peak moments and define what these values mean to you.
When your spending habits align with your priorities in life, you'll begin to feel more satisfied and live with intention.
9. Fuel your fantasy self with action instead of material stuff
Do you know who your fantasy self is? This can influence you to buy things you love but aren't practical for your current lifestlye. I believe we all have a fantasy self.
For example, I love designer high heel shoes. I used to think that if I bought high heels, it would make me feel more empowered, beautiful, and feminine.
But I work from home and rarely do activities where it would be appropriate to wear high heels.
Now when I want to shop for something, I ask myself "WHY do I really want this item?" Most of the time, I want to buy the item because it's related to my fantasy self and how I want to portray myself.
To shop more with intention, focus on finding an action step you can take to build your fantasy self instead of buying more stuff. Below are some examples:
Want to buy a cute workout outfit to feel more motivated? Start by actually going to the gym or pressing play on your favorite fitness streaming service.
Want to buy a pair of high heels to feel more sexy? Give yourself an at-home spa mask and try a new makeup routine using products you already have.
Want to buy a leather jacket to feel more edgy and adventurous? Cook something new or check out live music in your city. Some places offer free concerts or events.
---
Shopping Addiction FAQs
What's the psychology of a shopaholic?
✓ Euphoria – This is the initial feeling many compulsive buyers experience while shopping. It's like they are in the "zone" and sometimes exhibit manic-like behavior. They move with purpose and feel a "high" when shopping.
✓ Regret – Shopaholics initially feel happy while they're shopping, but this positive emotion is short-lived. After they've returned home with bags full of things they didn't need, many compulsive buyers feel regret for spending too much money.
✓ Anxiety – Many shopaholics feel anxious about having to tell their partner, friends, or family member that they've overspent again. Sometimes compulsive buyers hide their purchases from their partner because they worry how their partner will react.
✓ Overwhelm / Guilt – Many shopaholics feel overwhelmed when they open their closet. Their wardrobe is constantly growing, yet they feel like they have nothing to wear. They feel guilty about previous purchases, which may cause them to buy more items.
How do you know if you have a shopping addiction?
Below are the symptions and signs of a shopping problem.
✓ You have many items in your closet with the tags still attached
✓ You try to hide your shopping purchases from family or friends
✓ You're spending more than you can afford
✓ You're harming relationships due to shopping too much
✓ You shop as a reaction to feeling depressed or angry
✓ You're shopping as a way to feel less guilty about a previous purchase
✓ You're constantly buying and returning things
✓ You buy items you don't need just because it's on sale
Read Next: 10 common signs of a shopping addiction
What causes a shopping addiction?
There are many psychological factors that can lead to a shopping addiction. For example, if someone is experiencing negative emotions (loneliness, depression, low self-esteem), this can trigger them to indulge in retail therapy as a way to boost their mood, relieve stress or distract themselves.
Some people can get addicted to how their brain feels while shopping. When shopping, our brain releases endorphins and dopamine which makes us feel good. Over time, these feelings can become addictive.
That's why many people love "retail therapy" because it can be a quick way to boost your mood. But these good feelings are usually short-lived and can lead to feelings of regret, anxiety, or guilt due to overspending.
Is being a shopaholic truly an addiction?
For me, I started to notice that I felt "out of sorts" on days when I didn't shop online. It's like I missed my shopping fix, and it didn't feel quite right.
Then there was a time when the Canadian dollar was on par with the US dollar, and that's when my shopping addiction got out of control. I would make multiple trips to the USA exclusively to shop.
I was spending thousands of dollars on designer shoes and handbags because I was able to get them on sale in the US (and the Canadian dollar was doing great).
Many of the items I purchased were on impulse and without thinking. While I initially felt a rush of excitement when buying something, it quickly turned into feelings of guilt afterwards.
I wasn't able to control my emotions. This is when I knew I had a shopping problem.
How much should you spend on clothes?
According to most finanical planners, you should spend around 5% of your monthly take-home pay on your wardrobe.
For example, if your monthly after-tax pay is $3,000, then you should spend $150 per month or less on your wardrobe.
When I was making an entry-level salary in my early twenties, I was spending up to $1,000 a month on my wardrobe. That was well over the recommended 5% monthly budget. That's because I was addicted to buying clothes.
How much does the average person spend on clothes?
Most women spend between $150 to $400 per month on clothes. This can add up to $1,800 to $4,800 per year.
How do you stop a shopping addiction?
To stop a shopping addiction, it's important to recognize if shopping is having a negative impact on your finances, personal life, work life or relationships. Here's a few tips that can help you overcome a shopping addiction:
1. Why do you like to shop?
Ask yourself – why do I love to shop? Is it the thrill of the hunt? The excitement of finding a good deal? The appeal of wearing or owning a certain item, such as clothes, shoes or electronics?
Answering "yes" to any of these questions doesn't necessarily mean you have a shopping addiction. But it can help you get in tune with yourself and understand the root cause for your shopping behavior.
For example, sometimes shopping can help fill a void in one's life or bring a sense of control or comfort.
If you think that you're spending is starting to or has already spiraled out of control, then it's important to figure out what's driving you to shop.
2. How do you feel when you're shopping?
Do you feel a rush of excitement when you're shopping? Do certain emotions trigger you to shop?
For example, feeling depressed and treating yourself to "retail therapy" or feeling bored and shopping to pass the time?
For me, I used to mindlessly shop online when I was bored and tired after a long day of work. That's why I created a list of fun things to do when you're bored.
Other common emotions that can trigger emotional spending include fear, guilt, to feel a sense of belonging, to show our values, competition, trusting a particular brand, and instant gratification.
It's okay to feel emotions, that's what makes us human. But sometimes these emotions can trigger us to shop and spend money.
When you understand which emotions trigger you, you can find different ways to cope with them instead of shopping.
3. What tempts you to shop?
The first step to taking control of the situation is to avoid the temptation to shop.
Unsubscribe from retailer emails, delete shopping apps off your phone, stop watching the shopping channel on TV, unfollow people on social media that encourage you to shop, avoid malls and shopping centers, block websites that tempt you to shop, and so on.
If you can't avoid them entirely, set boundaries for yourself. Make a shopping list and stick to it. Set a savings goal that keeps you motivated to stop spending money on unnecessary things.
Create a budget to take control of your finances. Set aside "fun money" in your budget so you don't feel like you're depriving yourself. Find alternative things to do instead of shopping.
What can I do instead of shopping?
There are many different reasons why some people love to shop, such as they consider it a hobby, they are bored or sad and shop to boost their mood, they are trying to fill a void in their life through shopping, they shop for their fantasy self, or they use shopping as a coping mechaism to escape from life.
It's important to find healthier activites to distract yourself that don't involve spending money. Below are some of my favorite things to do instead of shopping:
Go for a nature walk
Exercise
Declutter, organize and clean
Cook a healthy meal with Chef's Plate
Host a clothing swap with friends
Think of a new side hustle idea
Create a budget that's aligned with your money goals
Meet a friend for coffee
Read a book or watch a good movie
Learn a new skill or take a Masterclass
Sell your old stuff on Facebook Marketplace, Poshmark or Mecari
Read Next: 45 things to do instead of online shopping
---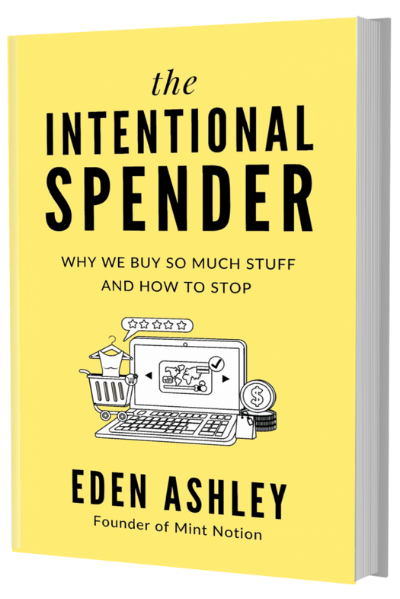 In The Intentional Spender, you'll learn insider secrets on how to conquer your impulse spending for good. As a former shopaholic, I know all too well how emotions can easily influence your spending.
Studies show that is takes 21 days to form a habit. That's why I've put together this 21-day program to help you form and implement healthy spending habits. This includes shopping with intention, living within your means while still having fun, and feeling comfortable and confident with your personal style.
I don't believe in depriving yourself or living on a bare bones budget! I believe that you are 100% capable of transforming your mindset by discovering the root cause behind your spending habit and developing a game-plan that actually works