Summer road trips are a lot of fun and a great way to enjoy a vacation without breaking the bank. There's nothing better than getting in the car and putting on your favourite tunes as you're about to venture off and explore a new destination.
However, when money is tight, even a budget-friendly vacation such as a road trip might sound out of reach. Fear not my friend, as I've rounded up the best tips to help you save money and make your next road trip even more frugal.
I grew up going on road trips with my family each summer, and they were some of my best childhood memories. My parents have instilled frugal habits in me, and now as an adult, I naturally look for ways to save money whenever I can.
Here are 10 ways I plan to save big on my next road trip: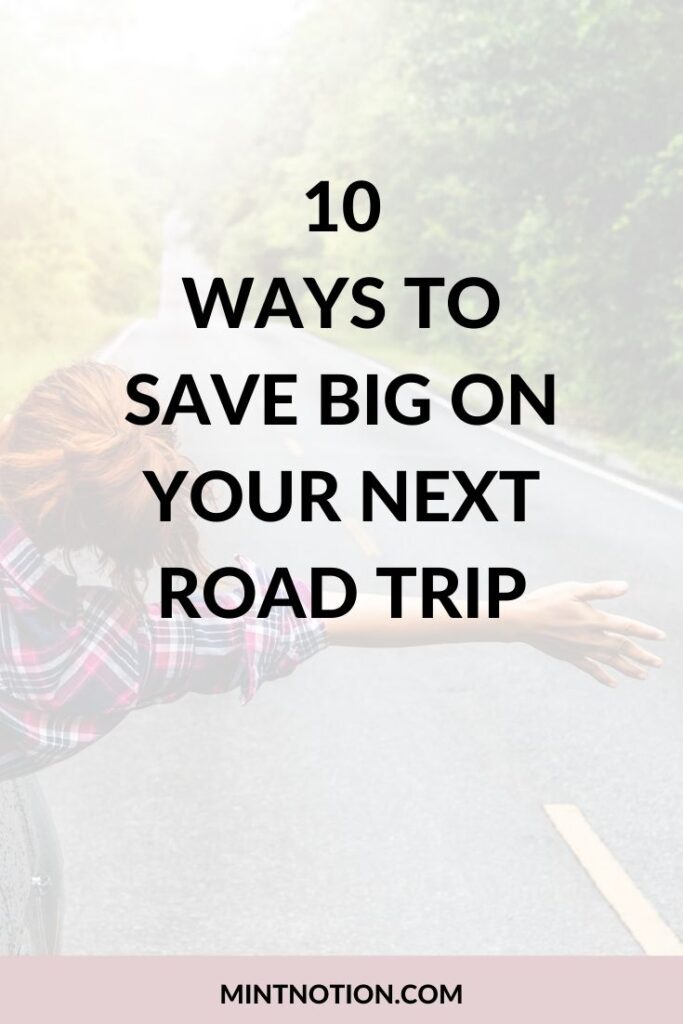 1. Set a budget for your trip and stick to it
Creating a budget is the first step in making sure that you stay on track with your vacation spending. I like to use a spreadsheet to create my budget and track my expenses. Allocate how much you're able to spend on food, gas, car rental (if you're not using your own vehicle), entertainment and accommodations.
The key to staying on track with your budget is to determine which type of trip you plan to take. For example, if your trip is going to be a foodie experience, you'll want to allocate a higher portion of your budget towards food and cut back on your other expenses.
2. Plan ahead
To make the most of your road trip, it's important to plan ahead. Map out your routes, places you wish to visit and where you want to eat.
Planning ahead will help you when creating your budget. You'll be able to figure out how much time it will take to reach your points of interests, how much money you need to allocate for gas, and any popular eateries you wish to visit.
I know that sometimes road trips are best when there are no definitive plans or you don't pre-book your accommodations, but this can lead to over spending if you're not careful.
3. Save on gas
Many people shy away from road trips because they're worried about the cost of gas. If you've ever filled up your gas tank and discovered a cheaper station just down the road, then I highly recommend getting an app like GasBuddy to help you find the cheapest gas station near you.
Other great ways to save money on gas are:
Stick to your planned route and avoid venturing out from it too much
Avoid driving during rush hour (7:00 am to 9:00am and 4:00pm to 6:00pm)
Pay for your gas using a credit card that offers travel points or cash back
Obey the speed limit and try to drive at a constant speed. Not only will this help you save money on gas, but it will prevent you from getting an expensive speeding ticket.
4. Book your hotel in advance
I understand that some people don't like to pre-book their accommodations and prefer to find a hotel along the way. While this can be fun and spontaneous, you might get stuck with hotel options that are out of your price range, or worse – a no-vacancy nightmare.
If you do a little planning and book your accommodations in advance, you'll be able to find more hotel options that fit your budget.
Another way to save money on accommodations is to camp. Just bring your tent and supplies, or choose to rent one at your campsite. Airbnb is also a great option for saving money.
5. Find accommodation with complimentary breakfast
One way to save money on food during your road trip is to book an accommodation that offers free breakfast. Fill up on food at the complimentary breakfast bar and don't forget to grab some extra muffins or fruit for the road before checking out. You will be thankful to have some extra snacks handy later that day, especially during a long car journey.
6. Save money on your car rental
If you're flying to your destination, or you prefer not to take your own vehicle, you'll have to rent a car. Renting a car though doesn't have to be expensive, since there are plenty of ways to score a deal.
One way I saved big on my most recent car rental is by using the coupon provided in my hotel confirmation email. I booked my hotel through Expedia and when I received my confirmation email, there was a car rental coupon at the bottom. This allowed me to save $100 off the regular car rental rate, just because I booked my hotel through Expedia.
Another way I like to save money when renting a car is to compare prices on Rentalcars.com. You can compare 800 companies at over 49,000 locations, making it quick and easy to find the best price for your trip.
I wrote a whole post on savvy ways to save money on your next car rental, you can check it out here!
7. Go on a road trip with a group
The more friends or family you bring along for the trip, the more you can divide up the costs of travel expenses such as gas and accommodations. Plus a road trip is better when you go with a group of friends, in my opinion.
8. Pack your own snacks
Bringing your own snacks is a great way to save money instead of loading up on convenience store fare. Aim to bring items that don't require refrigeration such as granola bars, nuts or trail mix so they can stay fresh longer.
Here are my top tips for packing your own snacks:
Bring a variety of snacks. If you only bring sweet snacks, you'll end up craving something salty every time you pass by a fast food restaurant. Bringing a variety of snacks (salty, sweet, etc.) will help you avoid getting tired of the snacks you brought.
Make your own snacks. Instead of buying individually wrapped snacks, which tend to cost more, consider making your own. Use small Ziploc baggies to keep this organized and easy to grab. Ideas can include homemade trail mix, cookies, or peanut butter sandwiches.
Bring frozen water bottles. If you have a small cooler, consider filling it with frozen water bottles. This can help keep both your drinks and food cold (if you're bringing items that require refrigeration). I did this recently when I went camping and it was a great way to maximize space since we didn't require bulky ice packs.
Consider getting food at the grocery store. If you're with a group and craving something sweet, head to the nearest grocery store and grab a box of ice cream sandwiches. This is cheaper than ordering something sweet at a fast food restaurant and still tastes great too.
9. Save money on eating out
I admit that I look forward to trying popular eateries when I'm traveling. However, eating out for every meal can take a huge chunk out of your travel budget.
One way I like to save money is to plan ahead for at least one meal each day. For example, in the morning I'll enjoy the hotel's complimentary breakfast, for lunch I'll split a sandwich with my travel partner and for dinner I'll go out to a popular restaurant that we picked out.
10. Make a packing checklist and check it twice
Do not underestimate the importance of packing wisely. If you're heading to a beach destination for example, you'll want to make sure that you bring all the essentials: beach towel, sunscreen, sunglasses, beach umbrella, swim suit, etc.)
Forgetting to bring one of these items can cost a premium to buy at your destination. Planning ahead can help you avoid paying a hefty fee for something that you have sitting at home.
I also recommend checking with your hotel to see what is available for guests. Sometimes beach hotels offer free umbrellas or beach toys for guests to use.
I wrote a whole post on things you can get for free at hotels, check it out here!