Finding a great deal on car rentals is a whole different game than seeking cheap airfares or low hotel rates. Renting a car however should never cost you an arm and a leg.
Over the years, I've picked up several tips and tricks on how to get the best price at rental agencies. Here's a round up of 12 ways to save money on car rentals.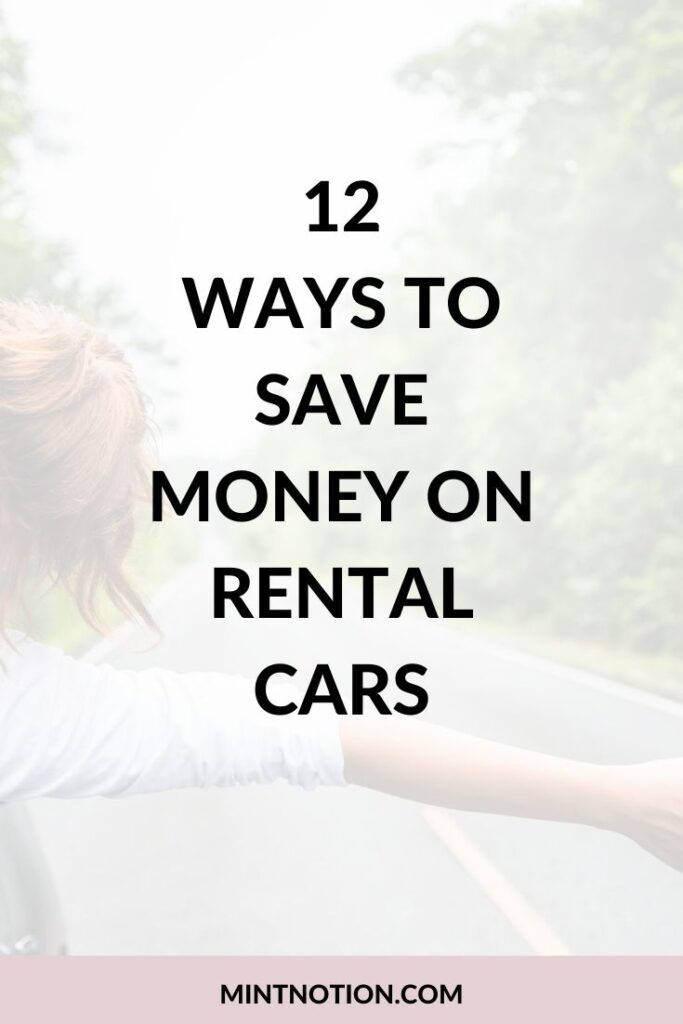 1. Start comparing prices early and shop around
Car rental prices can fluctuate a lot and checking prices on Rentalcars.com is a good place to start.
Enter your pick-up location, travel dates, and pick-up and drop-off times. Their search results will show you a current list of prices, car types and companies available at your pick-up location.
Once you see a car and price you like, book the reservation. Your credit card will not be charged, it's just used to hold the reservation at the quoted price.
If you see the price go down, you can cancel your previous reservation and rebook at the new lower price with no penalty.
Sometimes they may offer the option to "Pay Now and Save", however given the fluctuation of car rates, I don't always recommend this in case plans change. I usually wait until I see a good price and reserve it, then pay later.
By doing a little online research and price comparisons, this can save you some serious cash.
2. Check the rate directly on the car rental agency site
While third-party travel websites can offer great rates, sometimes the best price is found directly on the car company site.
You may even find a coupon or exclusive online discount when you book directly on the car company site, so it's worth your while to look.
3. Know what discounts you may be entitled to
Check with the car rental agency if they offer AAA or CAA related discounts.
Your credit card or bank may offer car rental discounts with specific agencies, which could save you 20% (or more) off their listed price.
Now is the time to check your credit cards, frequent flier clubs and memberships to see what discounts you may already been entitled to on car rentals.
You may even receive coupons in via email after you booked your flight or hotel reservations – so pay attention!
When I went to California, we rented a SUV for the week to drive along Highway 1. After I made one of our hotel reservations, my email confirmation included a coupon for 30% off car rentals at Alamo.
I ended up getting a Jeep from the Alamo at LAX airport for the week for only $250 (including taxes and fees).
That's roughly $35 per day. The regular rate was nearly $400 weekly for the same vehicle at other agencies.
4. Compare daily vs. weekly rental rates
You usually get the best value for your money when you rent a vehicle on a weekly basis. This is because they'll charge a weekly rate, which is often a better bargain than their daily rate.
Sometimes car rental agencies also offer rock bottom rates on the weekends, so if you're dates are flexible, this could work in your favour.
It also helps to pick-up and drop off your car rental around the same time of day to avoid any extra fees.
5. Rent at a non-airport facility (if possible)
Airport car rentals can be twice the price of a rental agency just a few miles outside of the airport.
Convenience comes at a price, and even if you factor in the cost of taking a taxi to a non-airport agency, this could still save you quite a bit on your car rental.
6. Pick-up and drop off your car at the same facility
A quick search will show that picking up your car from one facility and dropping it off at another will cost you a hefty amount.
You can avoid these extra drop off fees by picking up and dropping off your car at the same facility location.
7. Decline the rental insurance
Car rental agencies like to make money off the insurance packages they try to sell their customers, but chances are your personal car insurance, bank or credit card already provides you coverage for car rentals.
Most savvy travelers already know this piece of advice, but there is a lot of pressure to change your mind once you arrive at the rental agency.
Get to know what coverage you already have and check to see if your insurance offers coverage for international trips.
8. Just say no to the GPS
Instead of paying extra for the GPS the rental agency offers, bring your own or simply use the map function available on your smart phone.
I bring my own portable GPS with me whenever I rent a car. It was an excellent investment and saves me money from using the GPS that the rental agency tries to sell.
9. Reserve the smallest car possible
While driving a compact car is not what most travelers wish to do while on vacation, you may get lucky and score a free upgrade if your destination is a smaller facility.
Chances are these smaller facilities or non-airport agencies carry only a few compact cars, or none if you arrive during peak hours. The rental car agency is then obligated to give you a free upgrade to the next size vehicle.
This strategy has worked in my favour many times over the years, however I don't recommend trying this if you absolutely do not want to drive a compact car.
Sometimes a facility will have lots of small cars on the lot, which is rare. In this case you might be able to upgrade to the next size for a cheaper rate than the listed price. Always be polite and ask to see what upgrades are available.
Note: This strategy is not likely to work outside of North America where small cars are usually preferred.
10. Know what's included in your rental fee
Taxes and hidden fees can add up fast, so understand what you're paying for in your rental agreement.
Some car agencies will include a charge to fill up your vehicle once you return it, assuming that you will return the car on an empty tank.
Avoid this fee by filling up the gas tank yourself before returning the car to the agency. Small savings like this can go a long way.
11. Always inspect for damages
Most people are in a rush to leave once they receive their car, however if you take a minute to inspect for damages, this may protect you against false claims later.
In addition to noting any damages on the car rental slip, I like to use the video feature on my phone or camera and take a quick walk around the car.
12. Ask yourself if you really need to rent a car
Lastly, think about if renting a car is really the best option for your trip.
Will you have to pay for parking at your hotel? Is taxi or public transit a more affordable option for your trip needs?
Most major cities have well-equipped and easy to navigate public transit options, so getting around town is a breeze.
Related Posts:
23 secrets to booking cheap flights
18 ways to save money on hotel accommodation
70 genius ways to save money on travel