Planning a trip to the capital city of Spain? Here's everything you need to know before visiting Madrid for the first time!
Initially when I was deciding on where to visit in Spain for 9 days, many itineraries suggested to skip Madrid because it's boring and unappealing.
Sure, the city doesn't offer as many tourist attractions as Barcelona, but I'm so glad I didn't listen to those suggestions!
I absolutely loved Madrid! It's a beautiful metropolitan city with stunning architecture, and it's surprisingly clean considering how big Madrid is.
We spent 4 nights in Madrid and there was never a dull moment for us. What I enjoyed most about this city was that I felt like a local.
It's not overly touristy like other major European cities, so you'll love the "authentic" Spanish experience.
It's perfect for those who love art and culture, shopping, and nightlife. Plus, it's affordable so you won't break the bank.
Here are 20 things you need to know before visiting Madrid for the first time!
Related Posts:
What do I need to know about traveling to Madrid?
Best time to go: September to November is the best time to visit Madrid or during the spring (March to May) when the weather is pleasant, and the city is alive with activities.
Best area to stay: The main landmarks and attractions are close to each other, so staying in a central location is ideal.
The best neighborhoods to book your accommodations are Centro, Sol, La Latina, Huertas, Barrio de las Letras, Malasaña, and Salamanca.
I've stayed in the Sol and Malasaña neighborhood and loved both spots. Sol is perfect for first-timers and Malasaña is great for restaurants and bars.
Best way to get around: Public transport such as the metro and bus is the fastest and easiest way to get around Madrid. If you're staying in a central location like Centro or Sol, you can visit most of the city's top attractions and landmarks on foot.
If you prefer to be comfortable and relax, you can ride the Hop-On Hop-Off Bus Tour, which is a great way to get familiar with Madrid for first-timers.
Top 5 things to do in Madrid: Prado National Museum (the main art museum in Madrid), Santiago Bernabéu Stadium (football stadium in Madrid), The Palacio Real (Royal Palace of Madrid), Museo Nacional Thyssen-Bornemisza (a popular art museum in Madrid), and see a Flamenco show.
Best ways to save money on attractions: Buy the Madrid Pass, which will save you up to 50% off the city's most popular attractions.
You can choose the All-Inclusive Pass, which will allow you to visit unlimited attractions for each day of your pass.
Or you can choose the Explorer Pass, which will allow you to select how many attractions you want to visit (3, 4, 5, 6, or 7).
FLASH SALE! Save up to 10% off the Madrid Pass. Offer ends September 30th. You have 2 years to activate the pass.
What's Madrid known for? Madrid is the capital of Spain and it's known for its stunning historical buildings, the royals, tasty food markets, unique neighborhoods, lively nightlife, and art museums.
Don't rent a car in Madrid (use public transportation instead)
When visiting Madrid for the first time, there's really no need to rent a car while you're sightseeing since it's a very walkable city.
Taxis are also relatively cheap, and they have an excellent bus and metro system. It's fast, safe, clean, and very reliable.
During our trip, we were able to walk to all the major landmarks and attractions. We only needed a taxi twice (to and from the airport), which is a flat rate of €30. (Keep in mind that most taxi drivers don't speak English).
To travel on the Madrid metro, you'll need a Public Transport Card (TTP) loaded with a valid ticket for the journey you wish to make.
You can purchase your transport card at any machine at the entry of any metro station.
You can load a single journey on your transport card, but I recommend buying a 10-trip ticket if you plan on using the metro several times during your vacation.
This can be used on the metro and bus systems within zone A.
If you plan on using the metro a lot during your trip, consider getting the Madrid Tourist Travel Pass, which gives you unlimited usage of zone A and T between 1-7 days.
More fun ways to get around Madrid:
Research and book in advance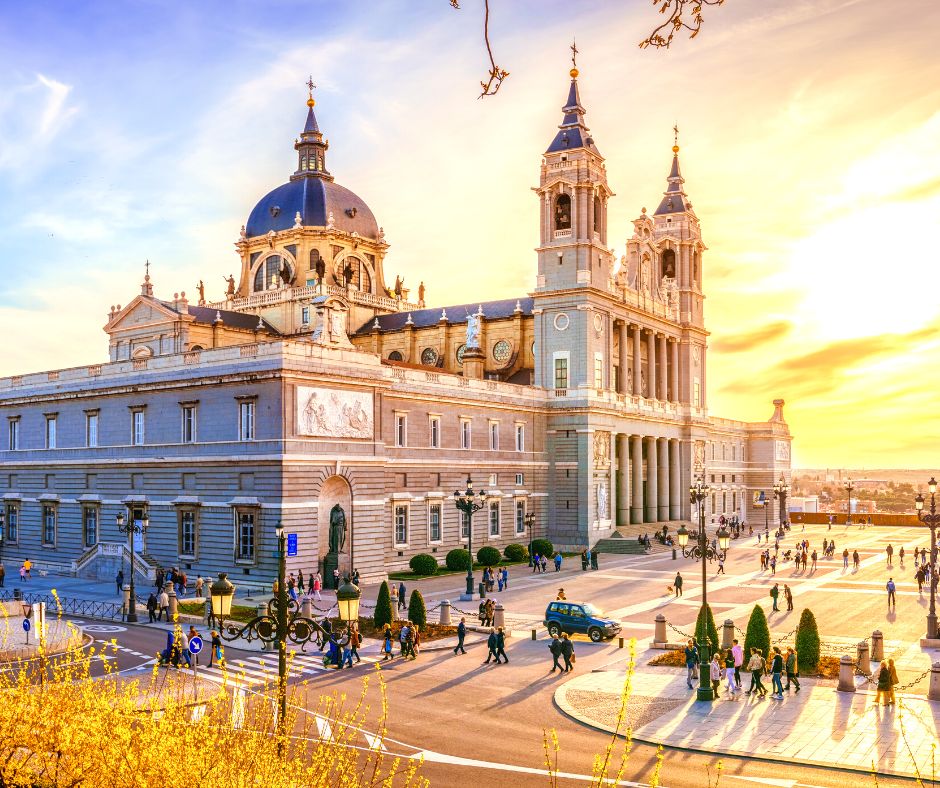 Over 6 million tourists visit Madrid each year, making it one of the most visited cities in Spain.
One of the biggest mistakes people make when visiting Madrid for the first time is NOT doing their research and booking in advance. But since you're reading this, you're already ahead of other visitors, so congratulations!
Good to know: When you book your accommodations, flights, train tickets, attractions in advance, this means you'll have more choices and cheaper prices.
It also means you can relax and enjoy more sightseeing time in Madrid.
With crazy inflation, traveling is already getting more expensive, so the last thing you want to do is waste time waiting in long ticket lines or missing the chance to visit your must-see attraction because tickets have sold out.
NOTE: If you're using the Madrid Pass (either the All-Inclusive or Explorer Pass), you can use their online booking system to make reservations in advance.
FLASH SALE! Save up to 10% off the Madrid Pass. Offer ends September 30th. You have 2 years to activate the pass.
Read Next: 2 days in Madrid – Ultimate weekend in Madrid itinerary
Book your accommodations in the city center
Madrid is actually one of Europe's cheapest capital cities, so you can splurge on a fancy hotel without breaking the bank or stay in a budget-friendly hostel.
While most of the main landmarks and attractions are within walking distance from one another, you'll have a more enjoyable trip to Madrid when staying in the city center.
After a long day of sightseeing, it feels so good to enjoy a nice dinner just around the corner from your hotel.
Or you can cover more ground during the day since you won't have to worry about communicating across town when all the attractions are close to your hotel.
Good to know: The best way to save money on hotels in Madrid is to start checking prices well in advance. This will give you more choice as popular hotels get booked up quickly or increase their prices due to increased demand.
Best neighborhoods to stay in Madrid:
Best budget hotels in Madrid:
Best mid-range hotels in Madrid:
Best luxury hotels in Madrid:
Buy tickets for your must-see attractions in advance
Even though we visited Madrid in September, when there are usually fewer crowds, the city was super busy with locals and tourists. Restaurants, museums, and popular landmarks were all lively with visitors.
Fortunately, I did my research before arriving in Madrid and bought skip-the-line tickets to our must-see attractions in advance.
Some of the popular attractions in Madrid, such as the famous The Palacio Real (Royal Palace of Madrid) require a time-ticket. This means you must buy your tickets in advance to reserve your visit date and time.
Good to know: Tickets for The Palacio Real usually sell out 1-2 weeks in advance, especially during the high season (May – September).
When you book your tickets in advance, this allows you to compare prices, read reviews, and decide which attractions to include in your itinerary.
Below are the top attractions and landmarks in Madrid that I recommend buying tickets in advance for, according to Trip Advisor.
The Palacio Real (Royal Palace of Madrid)
Museo Arqueológico Nacional (National Archaeological Museum)
Gran Via and Plaza Mayor
Mercado de San Miguel (San Miguel Market)
I like buying tickets through GetYourGuide for attractions and tours. They offer free cancellation just in case your travel plans change, which can give you peace of mind.
Madrid has the world's best Flamenco dancers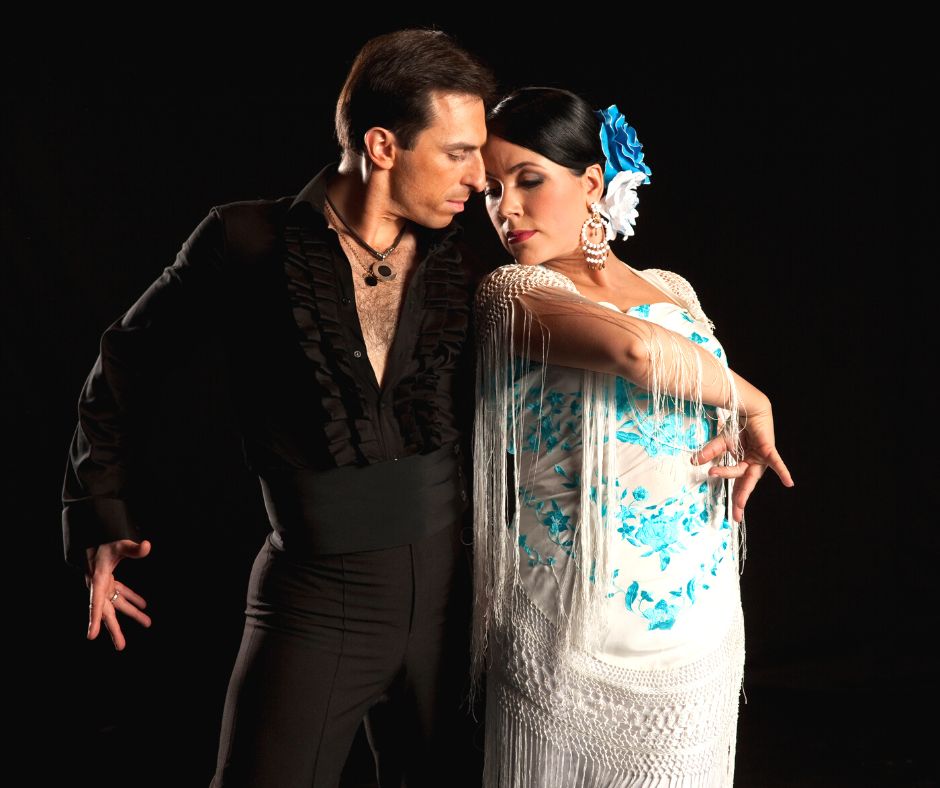 Did you know that Madrid is the capital of Flamenco? If you're visiting here for the first-time, you don't want to miss your chance to see the world's best Flamenco dancers. And the best part is, Madrid has flamenco shows at all times during the day and night.
What is Flamenco dancing? It's a Spanish art form which is highly expressive and based on the various folklore music traditions of southern Spain. It's made up of three elements: song (cante), dance (baile) and music (toque).
If you want to experience flamenco, these are the tops spots to do so in Madrid: Corral de la Morería (one of the most famous flamenco tablaos in Spain), Café de Chinitas, Torres Bermejas, Casa Patas, Cardamomo, and Las Tablaos.
If you're using the Madrid Pass, you can check out an authentic Flamenco Show with a complimentary drink in Torres Bermejas. Plus, you'll get 20% off food and drinks when you show your pass.
More Flamenco shows in Madrid:
Save money by visiting free museums and attractions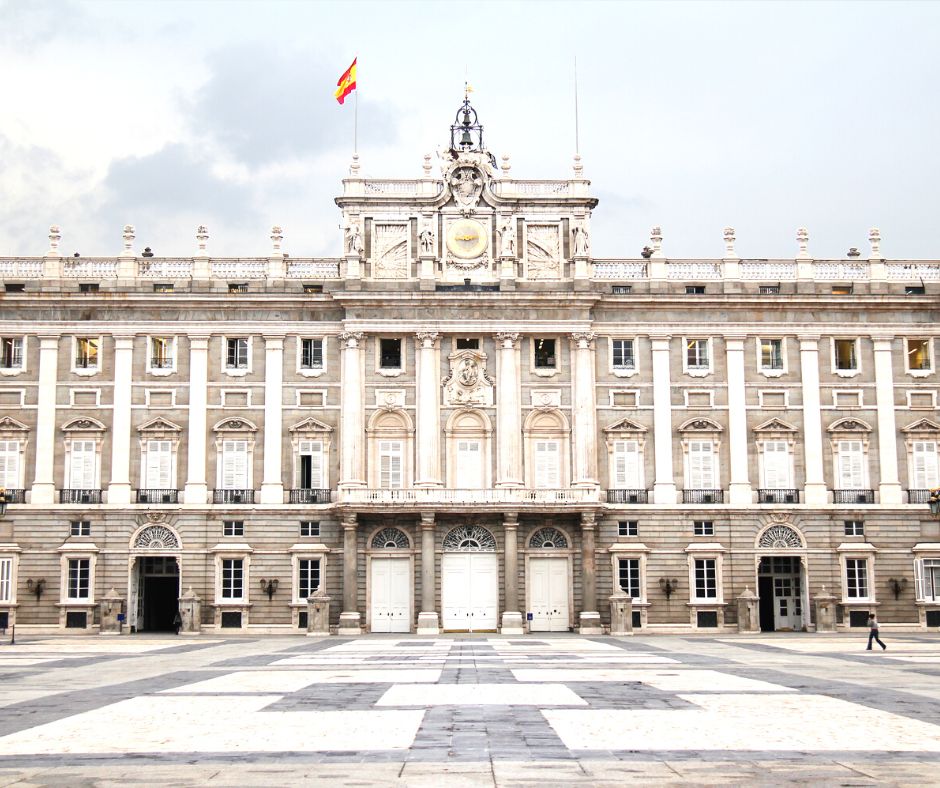 Many Madrid museums offer certain hours or days when you can visit them for free.
For my trip to Madrid, the free museum days didn't work for our schedule, so we bought our tickets in advance through GetYourGuide to visit when we wanted.
Good to know: While free museum days are nice, they're always the busiest time to visit! Due to this, make sure to arrive early so you don't miss out.
Definitely make sure to do your research to see which places and attractions you want to visit so you can plan your itinerary accordingly.
Be prepared to adjust your mealtimes
In Spain, the main (and biggest meal) of the day is at lunch time, which is between 2:00pm and 3:30pm.
Breakfast usually occurs between the hours of 8:00am to 11:00am. Most people start off the day with a cup of coffee, then at around 10:00am, they'll eat breakfast.
The typical breakfast in Madrid consists of toast (with a variety of toppings), a pastry, a small baguette sandwich, or a slice of Spanish omelette (often served cold).
If you're the type of person who usually eats dinner at 5:00pm, then brace yourself because most places will be closed after lunch time and won't reopen until 8:00pm for dinner.
In the late afternoon, between 5:00pm to 6:30pm, they'll have a 'merienda' (mid-afternoon snack). This is the perfect time to enjoy dessert, such as churros dipped in hot chocolate or something savory, such as empanadas.
In Spain, dinner tends to be between 8:00pm and 11:00pm. And because it's so late, most people enjoy a light dinner, such as tapas. Tapas are small plates of food, which are usually served alongside beer or wine.
Drinks might start at 11:00pm or midnight. And if you're going clubbing, most places don't open until 1:00am.
Mercado San Miguel is a tourist spot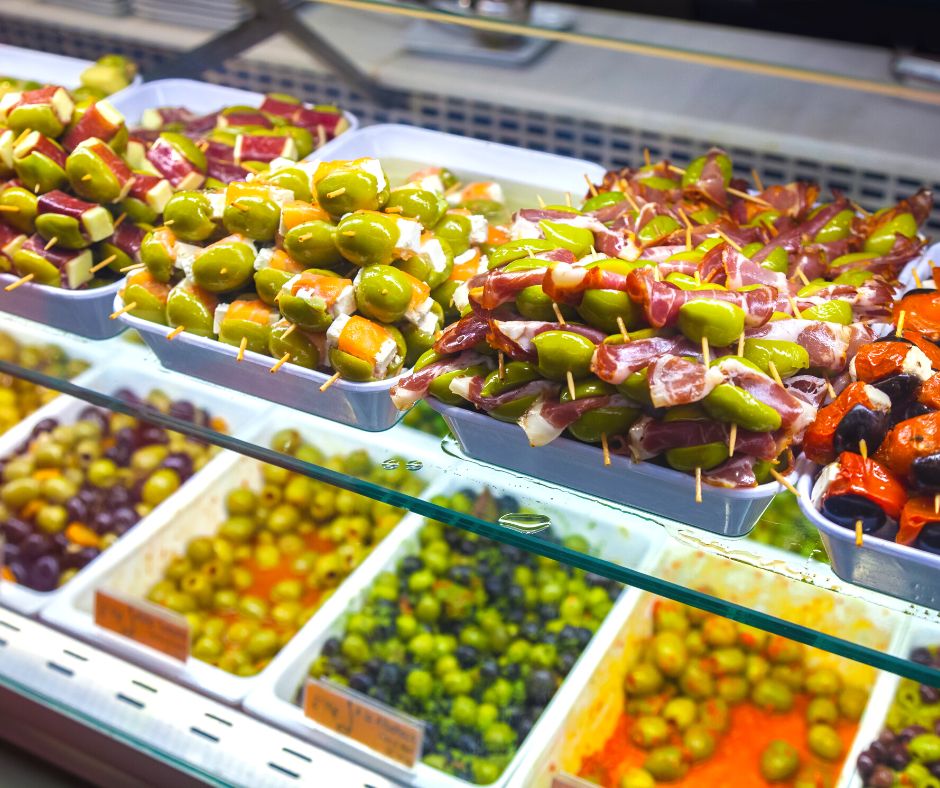 Mercado San Miguel (San Miguel Market) is a beautiful 100-year old market and one of the most popular spots to visit in Madrid. It's just a 2-minute walk from Plaza Mayor and welcomes over 10 million visitors per year.
Inside this market, you'll find a variety of different food stalls selling prepared items like tapas, cheese, ice cream, baked goods, meat, and more.
This market is always busy and full of tourists, which means you'll be paying a premium to eat or drink here.
If you want to check out a market that offers a more local experience, consider going to Mercado Anton Martin. Located in the Lavapiés neighborhood of Madrid, this market is spread over three floors and has a fun mix of street food and international cuisine.
Bring your comfortable walking shoes
One thing you'll love about Madrid is that many of its top attractions are within walking distance from each other. Bring a pair of comfortable walking shoes for your trip, like these or these.
There are many narrow cobblestone streets in Madrid (especially in the center of the city), so you don't want to ruin your vacation by bringing the wrong shoes.
Good to know: If you don't like walking, consider using public transportation or ride the Hop-On Hop-Off Bus Tour.
If you're using the Madrid Pass, you can ride the Hop-On Hop-Off bus for free. Plus, you can take a a Segway tour, electric bike, or walking tour of the city.
More fun walking tours in Madrid:
Avoid visiting Madrid in the high season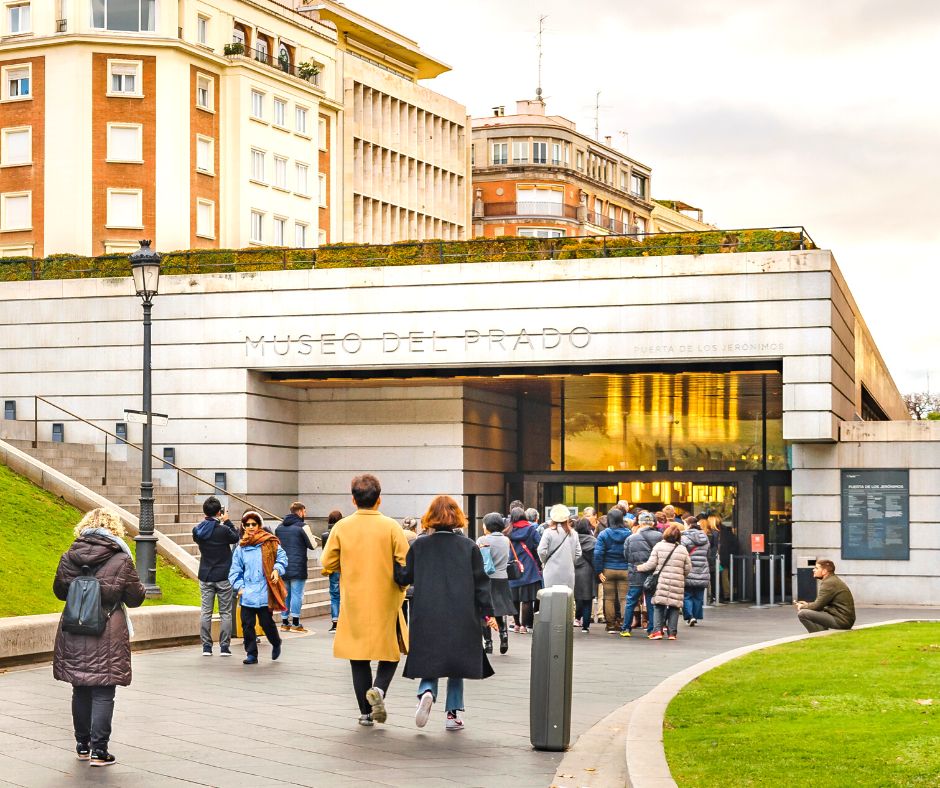 Visiting Madrid in the high season (summer months) isn't recommended unless you're coming for a specific event. This is because it's the hottest time of year and when the city is busy with tourists.
High season: June – August
Shoulder season: April – May and September – October, and New Year's Eve.
Low season: January – March and November – December (except Christmas and New Year)
The shoulder season is the best time to visit with fewer crowds and mild weather.
I know many people prefer to visit during the high season since this is when school is out, but if you can, try to visit during the shoulder or low season. You'll have a much more enjoyable time.
Do you need to tip in Madrid?
Tipping in Europe is not common, so in Madrid (and the rest of Spain), you do not have to tip.
If you had great service in a restaurant, then leaving 5% to 10% is always welcomed. But leaving more than 10% is considered unheard of in Spain.
So how much should you tip in Madrid? Below are some suggestions:
Taxi – Most people don't tip or just round up their total. For example, if it costs €10.55, you can round up to €11.00. It's usually never more than €.50.
Restaurant – No matter how expensive the meal was, most people never leave more than €10.00. Sometimes a service charge of 10% is already included in the bill. If you want to leave something, a couple of euros on top of the bill is always welcomed if service was good.
Bars & Cafes – Most people just round up the bill and never leave more than €1.
Hotels – For porters, you can tip €1 per bag. For housekeeping, you can leave between 2 to 5 euros per day in the room.
Tour Guides – If you're taking a private guide tour and the tour guide provided excellent service, then most people would tip between 10 and 20 euros. If you're taking a free tour, tipping 5 euros per person is fine.
Don't forget to bring your travel adapter
Spain uses European plugs (Type F & C) and the standard voltage is 230 V and the frequency is 50 Hz. The difference between them is that Type F also has two grounding clips.
Both can take any plug type with two round prongs, as long as there's not a third grounding prong.
It's important to note that sockets in Spain usually sit inside a round indentation in the wall. This means that plugs with a head that aren't round will need an adapter to fit the outlet.
I recommend getting a universal travel adapter so you can easily use all your equipment when traveling to Madrid.
Order the Menú del Día for lunch
This is the 'menu of the day', which is offered at restaurants in Spain during lunch time. If you're on a budget, ordering the menú del día is the most economical way to eat in Madrid.
Essentially, it's a pre-fix menu where you can enjoy a generously sized meal all for one price. It's usually broken down into three sections:
El primer plato: Choose between 2-3 dishes. Bread may be included and will be served with this course.
El segundo plato: Choose between 2-3 dishes. Sometimes sides will be served with this.
El postre: The dessert, with a few selections.
You'll also get your choice of water, beer, wine, coffee, or tea with your meal.
You'll usually see the menu posted outside of restaurants for the midday meal (la comida), or you can ask the waiter for the menú del día by saying, "Hay un menú del día?".
Of course, you don't have to order the menú del día. If you don't feel like a big lunch, you can order from the full menu as well.
Don't order Paella for dinner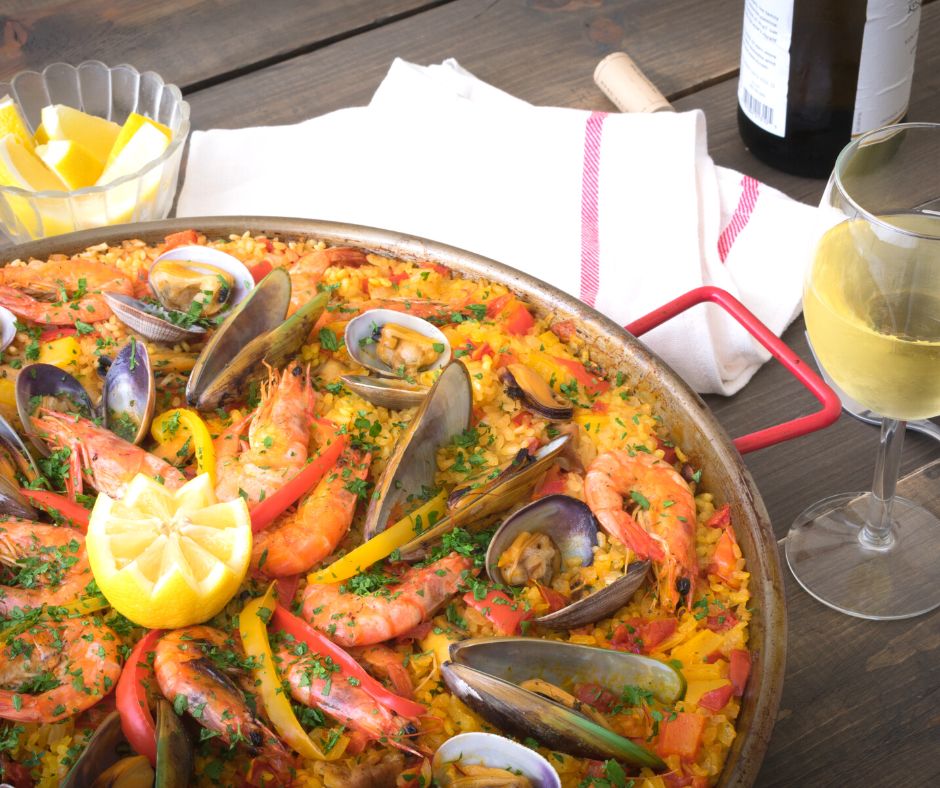 Of course, you can order whatever you feel like while you're in Madrid. But if you want to enjoy Paella, it's best to do this at lunch time.
This is because dinner is served so late in Spain, so heavy rice dishes like paella aren't typical evening meals. Instead, most Spaniards prefer to enjoy paella for lunch, which allows plenty of time to digest it over the rest of the day.
It's also important to keep in mind that paella is a regional dish and comes from Valencia.
So when you're visiting Madrid and order paella, this would be like someone visiting Miami and ordering Chicago deep-dish pizza. It's the right country, but wrong region.
You can still find places in Madrid that serve up traditional paella outside of Valencia, but you'll mostly see paella being served at restaurants geared towards tourists. That's not to say it won't be good, but it'll definitely be overpriced.
Where to eat authentic paella in Madrid? Try these three restaurants: Saam, Socarratt, or Casa Benigna.
Order tapas or raciones for dinner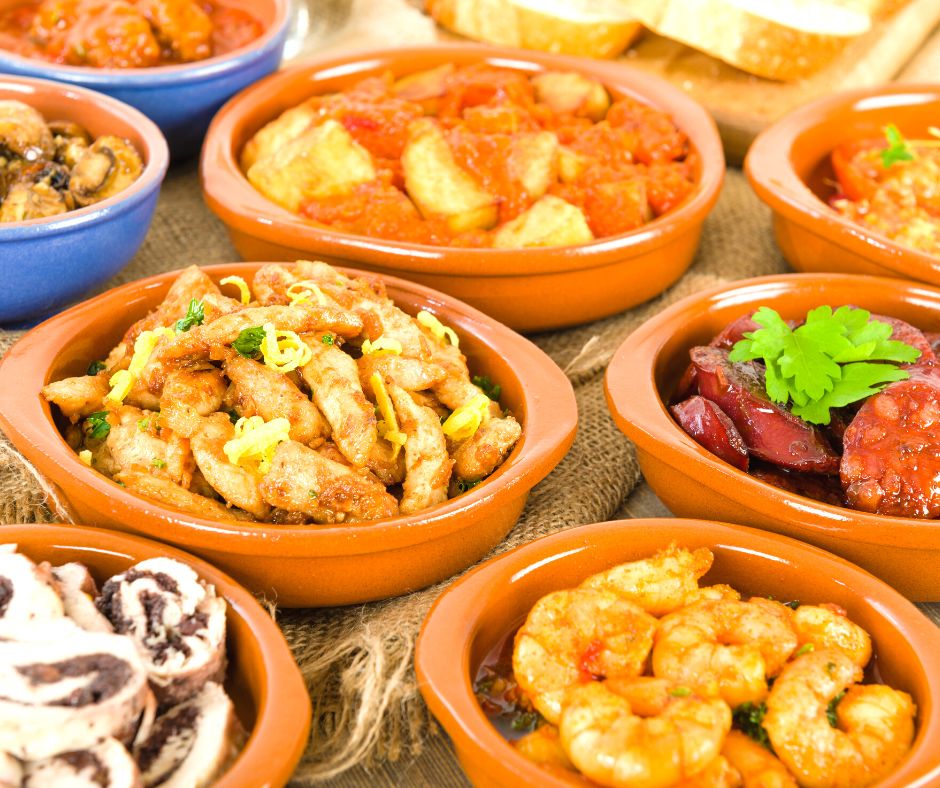 When you're in Madrid, one of the best things to do is order tapas for dinner. Again, you can order whatever you want in Spain, but it's worth sampling different dishes at least once.
Tapas are small plates of food, which are usually served alongside beer or wine. This might be a salad, an omelette, cured meats, cheese, fish, or grilled vegetables. You'll see signs for tapas at bars and restaurants all over Madrid.
Below are some tips on how to order tapas the right way:
Pincho – These are slices of bread with various toppings. You'll even see bars that are dedicated to pinchos. Simply grab a plate and help yourself to the different ones.
Each pincho has a toothpick/cocktail stick in it. When you're finished eating, the bartender will count how many sticks you have to charge you accordingly.
This can also be a small plate of olives or a slice of tortilla (Spanish omelette), and it's usually ordered with an 'aperitivo', which is an alcoholic beverage before lunch or dinner.
Tapas – Similar to what's included under 'pincho', most tapas bars will offer cheese and charcuterie platters, cold tapas (such as cold seafood), or hot tapas (such as patatas bravas and croquettes).
Raciones – These are larger plates of food which is meant to be shared with a group.
They usually provide enough food for three or four people. If you want a smaller portion, you can order a media ración (half portion) which is the perfect size for two.
If you want to eat tapas like a local, most people move from place to place. Grab a seat or stand at the bar, order a snack and a glass of wine or beer, consume, then move on to the next place.
Enjoy free snacks when ordering an alcoholic drink
When you order a drink at a bar in Madrid, most places will offer you some food to go with your drink. The type of 'tapas' you'll receive will vary from place to place.
It's usually a small plate of olives, potato chips, mixed nuts, a little bit of ham, cheese, or anchovies.
Sangria isn't very popular in Madrid
Even though you might see sangria offered on the menu at some restaurants, you'll notice that most of the locals don't order it.
Instead of ordering sangria, locals tend to order Cava (a type of sparkling wine), Vino Tinto (red wine), Tinto de Verano (red wine mixed with lemonade or lemon-lime soda), Gin & Tonic, beer (cerveza), or Vermouth.
Order drinks like a local
Now that you know how to order dinner like a local in Madrid, here's how to drink like a local.
Beer – You'll often see locals order una caña (200ml), which is a small glass of draft beer. It's slightly smaller than a British half pint. The smaller size is popular because it helps the beer stay colder, especially during the hot summer.
You can also order 'un doble' (350ml), which is around double the size of a caña. This is a helpful Madrid insider tip I learned from the locals.
A 'tubo' (330ml) is beer that's served in a straight glass. A 'jarra' is usually the largest serving in a bar which is around the same size as a pint.
If you want a true pint, you can order a 'pinta' (500ml) that's served in a standard pint glass, which you'll typically find at an Irish bar. For bottled beers, you can order a 'botella' (standard 300ml bottle).
Wine – To order wine, you can ask for a glass of 'vino tinto' (red wine) or 'vino blanco' (white wine). When ordering a bottle of wine, it's usually based on the region.
The best-known wine region in Spain is Rioja, and you'll usually find Rioja wines on most wine lists in Madrid.
Other wine regions you might see on the list include Ribera del Duero, Priorat, Jumilla, Somontano, La Mancha, and Valdepenas.
For white wine, the most popular wine regions in Spain are Rueda, Rias Baixas, and Penedès.
Instead of sangria (which the locals don't typically order), opt for tinto de verano (red wine mixed with lemon-lime soda) or Cava (Spain's most popular sparkling wine).
Order coffee like a local
If you're looking for American style coffee, the best option is to go to Starbucks, where you'll find drip coffee and more sugary types of drinks.
Otherwise, most cafes in Madrid serve espresso. Below are some commons ways to order coffee in Spain:
Café solo – This is a single shot of espresso.
Americano – This is a long espresso with more water. It's the closest thing to American-style drip coffee you'll find at Madrid cafes.
Café con leche – This is espresso coffee with milk, similar to a latte.
Cortado – This is espresso with a small amount of warm milk to cut the acidity.
Cafe con hielo – This is coffee served with ice, like an iced coffee.
Carajillo – This is hot coffee mixed with whiskey or brandy.
Descafeinado de máquina – This is decaffeinated coffee.
Café Bombon – This is espresso mixed with sweetened condensed milk.
If you get milk in your coffee, some cafes will ask if you want your milk 'caliente' (hot), 'templada' (warm), or 'fria' (cold).
It's easy to find vegetarian and vegan food in Madrid
If you don't eat meat and it's your first time to Madrid, then don't worry because there are TONS of vegetarian and vegan food available.
While most Spanish tapas contain meat, you'll find many restaurants that serve meat-free dishes.
Our favorite place to eat in Madrid is Honest Greens. They do have meat items on their menu, but they also offer plenty of vegetarian meals that are organic, unprocessed and free of artificial preservatives, additives or refined sugars. (Plus everything was super affordable).
If you need to clarify at a restaurant that something has no meat, make sure to say 'sin carne', which means 'no meat'.
You can also ask the waiter:
¿Tiene comida vegetariana? – Do you have vegetarian food?
¿Tiene opciones veganas? – Do you have vegan options?
Me gustaría algo sin carne. – I would like something without meat
Don't eat in Plaza Mayor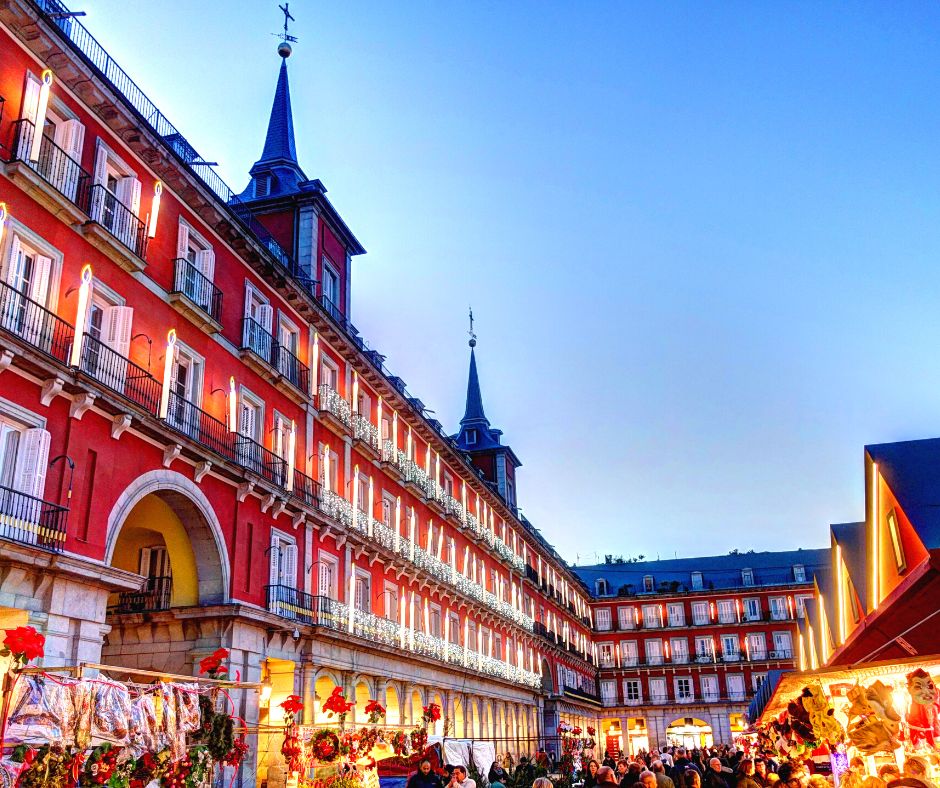 Plaza Mayor is a historic public square in Madrid's city centre. It's a beautiful spot to visit, walk around, and take photos, but I don't recommend eating here.
This is because the restaurants in the square are geared toward tourists, which means they're expensive and don't offer the best quality food. Instead, walk a couple of blocks away from the square where you'll find better places to eat at a more reasonable price.
Learn a few words in Spanish
One of the things you'll love about Madrid is that it's an authentic Spanish city and doesn't feel very touristy. This also means though that not everyone speaks English.
While you can easily get by in Madrid without knowing any Spanish, it's helpful to learn a few words, especially if you decided to go outside of the main tourist areas.
We found that learning a few words in Spanish was a way of showing respect to the locals and they really appreciated our effort.
Good to know: If you have any strict dietary restrictions, such as eating gluten-free, write it down on a piece of paper in Spanish to show the waiter so they can help you find appropriate options.
Below are the most useful phrases and words to know before traveling to Madrid:
Hello – Hola
Thank you – Gracias
Please – Por favor
You're welcome – De nada
Excuse me – Perdon
Good morning – Buenos dias
Good afternoon – Buenas tardes
Good evening – Buenas noches
Goodbye – Adios (or 'Hasta luego')
Okay – Vale (You'll hear this a lot in Spain)
Do you speak English? – ¿Habla inglés?
The bill, please – La cuenta, por favor (When asking for the check in a restaurant)
Pack appropriate clothes and walking shoes
Madrid is a very walkable city and it's easy to get around to all the main landmarks and tourist attractions on foot.
Due to this, you'll want to bring your most comfortable pair of walking shoes and be prepared to walk on narrow cobblestone streets in some areas of Madrid. My favorite walking shoes are these and these.
Good to know: If you don't like walking, consider using public transportation or ride the Hop-On Hop-Off Bus Tour.
Based on the time of year you're traveling to Madrid, it's important to pack appropriate clothes for the weather.
Winter in Madrid is usually cold and dry, but you might see snow in late December or early January.
If you're visiting during Christmas and New Year, you'll want to bring a winter coat as temperatures can be as low as 6ºC (43ºF) on average.
Spring in Madrid is one of the best times to visit. March and April tend to bring some rain, with an average temperature of 12ºC (54ºF).
In May, you'll start to see the city's outdoor café terraces and patios being laid out, with an average temperature of 21ºC (70ºF).
It's best to dress in layers for spring, since you'll experience warm sunny days and cool nights. Bring a light rain jacket, an umbrella, and waterproof shoes.
Summer in Madrid is usually dry, sunny, and can get very hot. June is the best month to visit during the summer with an average temperature of 28°C (82°F) during the day.
July and August are Madrid's warmest months with daytime temperatures staying at 31°C (88°F) or above.
If you're visiting Madrid in early June or late August, it may get cooler at night, so bring a light jacket or a cardigan.
But during July and August, you'll want to pack light summer clothing that's breathable. This may include t-shirts, shorts, skirts, light summer dresses, sandals, or your favorite comfortable summer shoes.
Fall in Madrid is usually very mild and a nice time to visit. September and October are the most comfortable months with an average daytime temperature of 19°C to26.4°C (66°F to 79.5°F).
November is when you'll see the temperature drop down to an average high of 13°C (55°F during the day.
Just like spring, it's best to dress in layers for autumn, since it'll be warm during the day and cool at night. If you're visiting during November, I would pack a fall coat, warm socks, and boots, just in case winter comes early.
Plan for siesta
A siesta is a short nap that is taken in the afternoon, usually after lunch. This is also when most places shut down in Spain for a brief period.
If you're visiting during the summer, this is the perfect opportunity to take a break from sightseeing and avoid the mid-day heat.
You can rest at a café (which is usually open all day), relax and refresh back at your hotel room, or spend the afternoon touring a museum.
While the siesta tradition is slowly disappearing and most Spaniards rarely take one, most shops still close in the mid-afternoon (around 1:30pm) and don't reopen until the early evening (5:00pm) during weekdays.
During the summer months though, many shops will stay open later in the evening. And on Sundays, lots of shops are closed for a day of rest.
Larger stores, such as department stores, will stay open all day. If you're staying in the city centre of Madrid, by the popular tourist attractions, smaller food and souvenir shops are open all day too.
Take a day trip from Madrid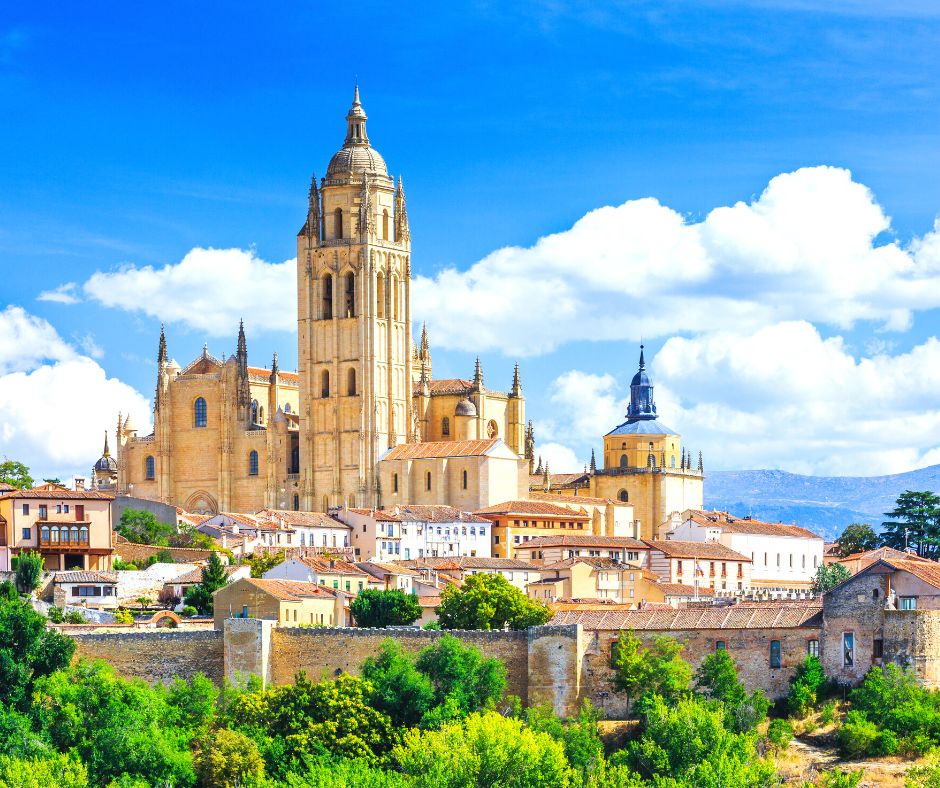 While you could spend your entire life exploring Madrid and never see it all, there are some wonderful places to check out beyond the city limits.
If you want to take a break from sightseeing in Madrid, below are some of the most popular day trips:
Segovia (Travel time: 28 minutes)
Chinchón (Travel time: 50 minutes)
Ávila (Travel time: 1 hour)
Toledo (Travel time: 30 minutes)
San Lorenzo de El Escorial (travel time: 1 hour)
Aranjuez (Travel time: 45 minutes)
If you're using the Madrid Pass, you can take a few daytrips that are included for free. This includes a Toledo and Segovia full-day tour or El Escorial and Valley of the Fallen tour.
You can easily visit Madrid on a budget
Madrid is one of the cheapest capital cities in Europe to visit, making it a great vacation destination for budget-conscious travelers.
When visiting Madrid, you should plan to spend an average of €107 ($104) per day. Below are some more tips on how to visit Madrid on a budget:
Have dinner in Madrid's Chinatown (You'll find tons of delicious Chinese restaurants here).
Order the menú del día for lunch (Enjoy a 3-course meal for under €16 which usually includes a glass of wine or beer).
Explore El Retiro Park
Visit museums in the afternoon (some museums in Madrid are free to enter in the last couple of hours before closing)
Participate in a food tour (This is an excellent way to sample a variety of tasty food and learn about the local culture).
Popular food tours in Madrid:
Madrid is a great destination for solo travelers
Madrid is a very friendly city and it's safe for female solo travelers. Like any other major city though, you'll want to beware of pickpockets (especially in the busiest tourist areas).
There are so many cute neighborhoods to explore and things to do that you won't feel like you're alone.
Beware of pickpockets
While Madrid is a very safe city, unfortunately it has lots of pickpockets (like any large city). The prime spots for pickpockets include the metro system, Puerta del Sol, Gran Via, Plaza Mayor, and El Rastro market.
Avoid wearing a backpack and use a crossbody bag instead (like this one).
If you must wear a backpack, make sure it is closed at all times, and wear them on your front (especially when going through crowded areas and riding the metro). Or get an anti theft backpack like this one.
Carry only the amount of cash you'll need. Leave extra cash in the hotel room safe.
Leave original documents in the hotel room and only carry photocopies (for your passport).
Don't leave your phone on the table when eating in a restaurant or on a patio. Keep it in your pocket or bag.
Try to avoid using your phone or taking out money when in a crowded area. Pickpockets are always looking to see where tourists are storing their phone/wallet.
If someone bumps into you, check to make sure you still have your phone/wallet/bag. They may be trying to pickpocket you.
Don't start your day too early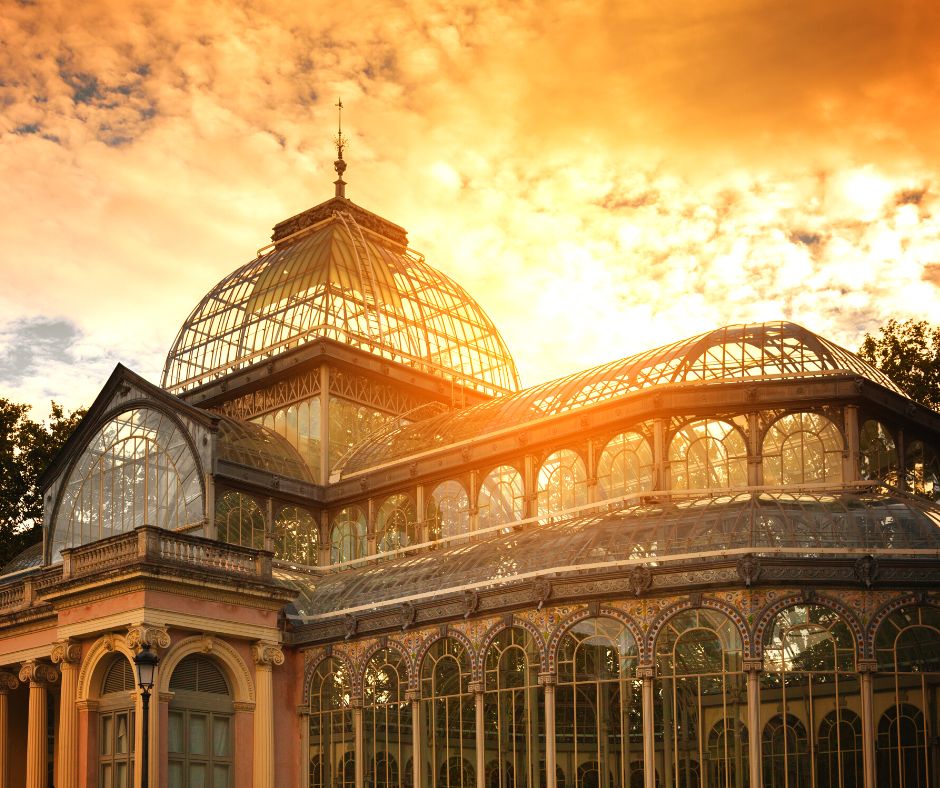 One of the first things you'll notice about Madrid is that most of its cafes, shops, and attractions open after 9:00am or 10:00am.
Unless you're just planning to go to Starbucks first thing in the morning and take a stroll in the park, getting an early start to your day isn't necessary in Madrid.
In fact, the coffee station in our hotel lobby didn't open until noon! So don't be afraid to sleep in a little longer, especially if you're a morning person like me.
Don't go to a night club before 1:00am
One thing you'll notice in Madrid is that the locals like to party hard. Since some people in Madrid don't eat dinner until 8:00pm or 9:00pm, it's not unusual for nightlife to start around 2:00am and go until 6:00am.
The best areas to go out for nightlife in Madrid is Huertas (popular with tourists and foreign students), Malasaña (a hipster and trendy area), Chueca (known as Madrid's 'Soho'), Avenida de Brasil (near Bernabéu Stadium), and Argüelles-Moncloa (popular with university students).
Don't compare Barcelona and Madrid
While Barcelona is the most visited city in Spain, you really can't compare it to Madrid. Both cities are so different in many ways.
For example, Madrid is the capital of Spain and Barcelona is the capital of the autonomous region of Catalonia. Barcelona has its own language (Catalan), regional independence movement, and quirky architecture.
Madrid is less touristy than Barcelona and has a more cosmopolitan feel to the city. This is one of the reasons why I enjoyed my time more in Madrid than Barcelona.
In Madrid, I felt like a local experiencing authentic Spanish culture, while in Barcelona, I felt like a tourist.
That's what I love about traveling though, because you can visit each city and appreciate how it's unique and special.
Read Next: 21 Things You Need to Know Before Visiting Barcelona
---
Visiting Madrid for the First Time FAQs
What are the do's and don't's in Madrid, Spain?
DO buy your tickets to attractions in advance
DON'T expect everyone to speak English
DO take day trips and explore beyond Madrid
DON'T eat lunch before 1:00pm
DO see a Flamenco show in Madrid
DON'T eat in the Plaza Mayor
DO go to a football game
DON'T wear flip flops around the city
DO try different tapas in Madrid
DON'T start your day too early
Is 7 days in Madrid too long?
You could easily spend 7 days exploring the unique neighborhoods, stunning architecture, and sightseeing in Madrid. But depending on your interests, 7 days can be either too much or too little time. If you can, consider taking a day trip to see beyond Madrid.
Is 3 days enough for Madrid?
3 days gives you enough time to see the main highlights and tourist attractions in Madrid. You may also get a chance to explore off the beaten path to get a feel for the city.
Visiting Madrid vs. Barcelona – Which city is best for you?
Barcelona receives the most tourists in Spain and it's great if you want to see both the city and the beach. Due to this, it's always busy and some parts of Barcelona can feel too touristy.
Madrid on the other hand is less expensive than Barcelona and it's much easier to find authentic Spanish food for a good price in Madrid.
Madrid is known for its art museums and the royals, while Barcelona is known for its quirky and unique architecture and Catalonian culture.
I personally enjoyed my time in Madrid more than Barcelona, but both cities are beautiful and worth visiting.
Is Madrid worth visiting?
Yes, Madrid is a beautiful European capital city that's perfect for those who love art and culture. It had a good mix between residents and tourists, so it doesn't feel too touristy. It's also the best city in the world to see Flamenco and experience "authentic" Spanish food at a great price.
What's the best way to tour Madrid?
While walking around is the best way to see and get to know Madrid, if you need to give your feet a rest, take the metro, or ride the Hop-On Hop-Off Bus Tour.