Edinburgh is the capital city of Scotland and a must-visit for anyone traveling to the United Kingdom. This 4-day itinerary features the best of Edinburgh for first-time visitors and a few off the beaten path spots.
Here you can visit all the top tourist attractions and landmarks during your first time visit to Edinburgh.
Where is the best place to stay in Edinburgh?
There are plenty of ways to have an incredible trip to Edinburgh without breaking the bank. One of my favorite ways to save money on accommodations is to find deals on Booking.com
When visiting Edinburgh for the first time, the best neighborhoods to stay are:
If you're traveling on a budget, these are the best affordable hotels in Edinburgh:
If you have more wiggle room in your budget, these are the best mid-range hotels in Edinburgh:
If you want to splurge on a nice place, consider these luxury hotels in Edinburgh:
Check out the best hotel deals in Edinburgh
Getting Around the City
Edinburgh is a walk-able city, which makes it easy to get around. If you're looking to do something touristy (but super fun), I'm a big fan of the Hop-On Hop-Off Bus Tour in Edinburgh.
It can be an excellent way to see the city's highlights. Plus, you'll get 24 unlimited hop-on hop-off with the bus tour. The guides can be quite humorous and provide you with a lot of interesting information about Edinburgh.
Other great ways to get around the city include:
Biking – Most of the major roads in Edinburgh have marked bike lanes and the traffic lights have stopping boxes to let cyclists get around safely.
Bus – Edinburgh offers a good bus system that covers the entire city and its outskirts. For more information about buying tickets, check out their official website.
Tram – Edinburgh Trams has one route and 15 stops that link the airport to its terminus at York Place in the east end of the city center.
Taxi – You'll find black cabs and other taxi services throughout the city. A taxi ride across the city center can cost between £5 to £15. For shorter distances, it's usually faster to walk.
Car – I don't recommend renting. The city is quite small and it's easy to get around on foot. If you do rent a car, you'll have to be aware of parking restrictions throughout the city. Most street parking is reserved for drivers with area-specific permits only.
Getting to and from Edinburgh Airport
The easiest way to get from Edinburgh Airport to the city center is to take a private transfer. It's only a 20 minute drive and after a long flight, this is a good option to sit back and relax in a comfortable car.
If you're traveling on a budget, consider taking the Edinburgh Airport Bus Transfer. You can pre-book your transfers between Edinburgh Airport and the city center and take the stress out of your journey.
Other options to get to and from Edinburgh Airport include taking the tram, train, or taxi.
Top 10 things to do in Edinburgh
Below are the best attractions and daytrips from Edinburgh according to GetYourGuide.
Saving Money on Edinburgh Attractions
If you want to save money when visiting the city's popular attractions, consider purchasing the Royal Edinburgh Ticket.
This is a pre-paid attraction pass which includes FREE entry to royal sites including, Edinburgh Castle, Royal Yacht Britannia, and the Palace of Holyroodhouse.
Plus with your Royal Edinburgh ticket, you can enjoy 48-hour unlimited access to the Edinburgh Hop On Hop Off bus tour.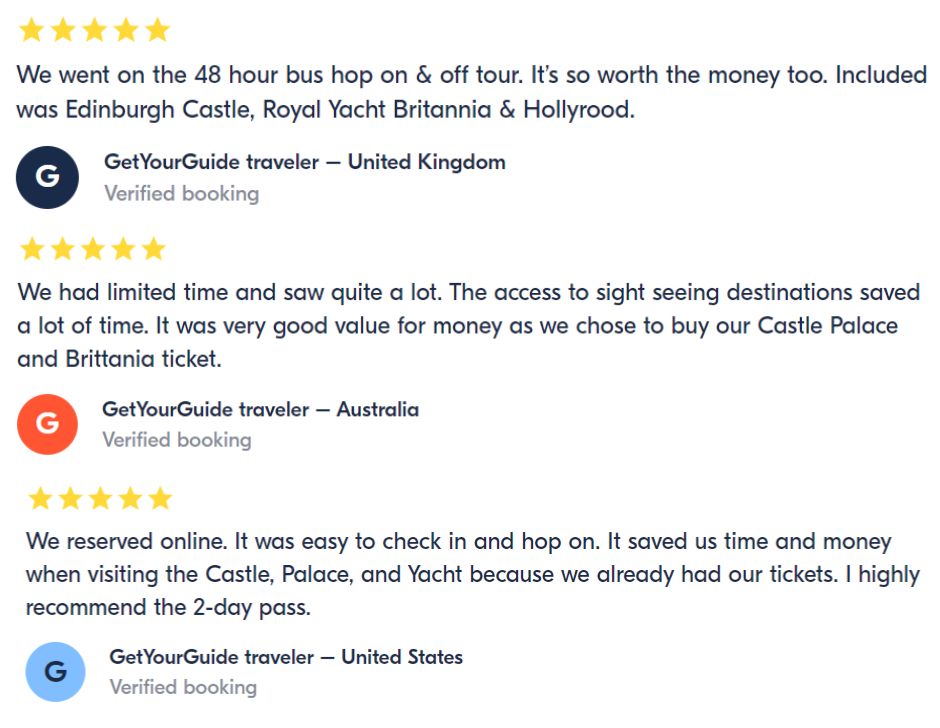 The Royal Edinburgh Ticket is an excellent way to discover the city while saving money and time. You can click here to learn more.
Whether you're visiting during the summer for the Fringe Festival or during the winter to see the Christmas decor – you won't run out of fun things to see and do! As the writer, Robert Louis Stevenson once said, "Edinburgh is what Paris ought to be".
Related Posts:
Edinburgh Itinerary: Day 1
Arrive in the morning and drop off your luggage at your hotel. The check-in time for most hotels is after 2:00 PM or 3:00 PM. If a room is available early, you may have to pay a fee to check-in early.
Grab a coffee or tea at the Elephant House Café, the birthplace of Harry Potter.
Snap a photo of Greyfriars Bobby. This dog became known in the 19th century for spending 14 years guarding the grave of his owner until he passed away himself in 1872.
Crowds would gather at the entrance of Kirkyard waiting for the one o'clock gun where Bobby would leave his owner's grave for his midday meal.
Head to the National Museum of Scotland. Plan to spend at least an hour here (or more, depending on your interests).
Tips for visiting the National Museum of Scotland:
The best time to visit is during the week – Ideally on Wednesday, Thursday, or Friday. Saturday is the busiest day of the week.
Admission to the museum if FREE, so queques are rare, unless there is a special exhibition taking place.
If you're short on time, the most popular things to see and do at the National Museum of Scotland are Dolly the Sheep, Arthur's Seat Coffins, The Cramond Lioness, Lewis Chessman, Moby the Whale, Mammal Collection, Schmidt Telescope, Fashion and Style Gallery, World Cultures, Muonionalusta Meteorite,
More fun things to do in Edinburgh:
Explore the Scottish National Gallery. Plan to spend about an hour here.
If you're short on time, the best things to see at the Scottish National Gallery are:
Woman Drying Herself by Edgar Degas
Olive Trees by Vincent van Gogh
Haystacks (Snow) by Claude Monet
Lady Agnew of Lochnaw by John Singer Sargent
An Allegory of Virture by Antonio Allegri
The Bridgewater Madonna by Raphael (Raffaello Sanzio)
The Madonna of Yarnwinder by Leonardo da Vinci
A Woman in Bed by Rembrandt van Rijn
The Virgin Adoring the Sleeping Christ Child by Sandro Botticell
Shop along Princes Street.
Grab a cookie and hot beverage at Ben's Cookies. I went to Ben's Cookies every day while I was in Edinburgh. It's the best!
Enjoy a gourmet burger (or veggie burger) at the Red Squirrel.
More fun things to do in Edinburgh:
Old Town and Underground Ghost Tour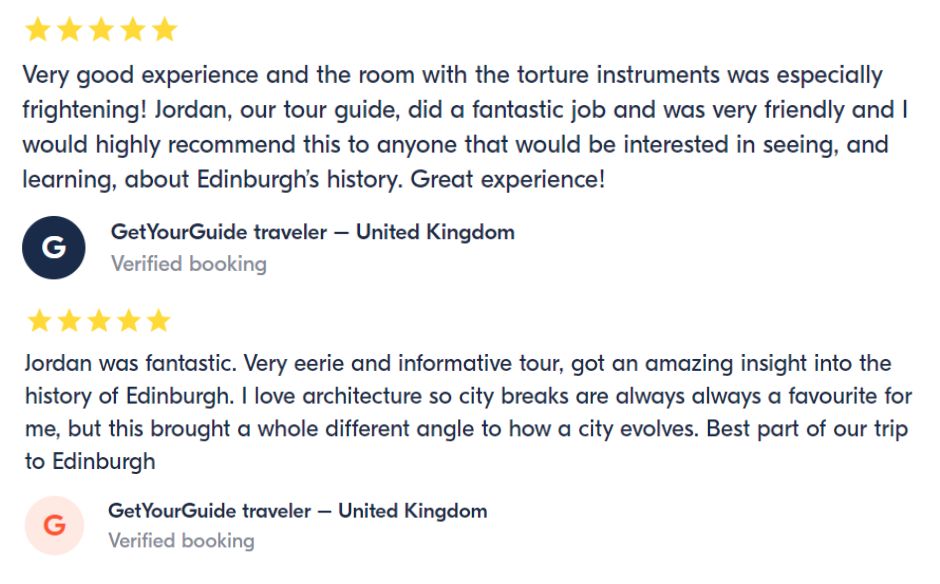 Loch Ness & Highlands Full-Day Trip
Extreme Paranormal Underground Ghost Tour
Edinburgh Itinerary:
DAY 2
Head to Edinburgh Castle first thing in the morning. Aim to be there when it opens as it gets quite busy with tour groups by the lunch hour. FREE entry to Edinburgh Castle included in the Royal Edinburgh Ticket.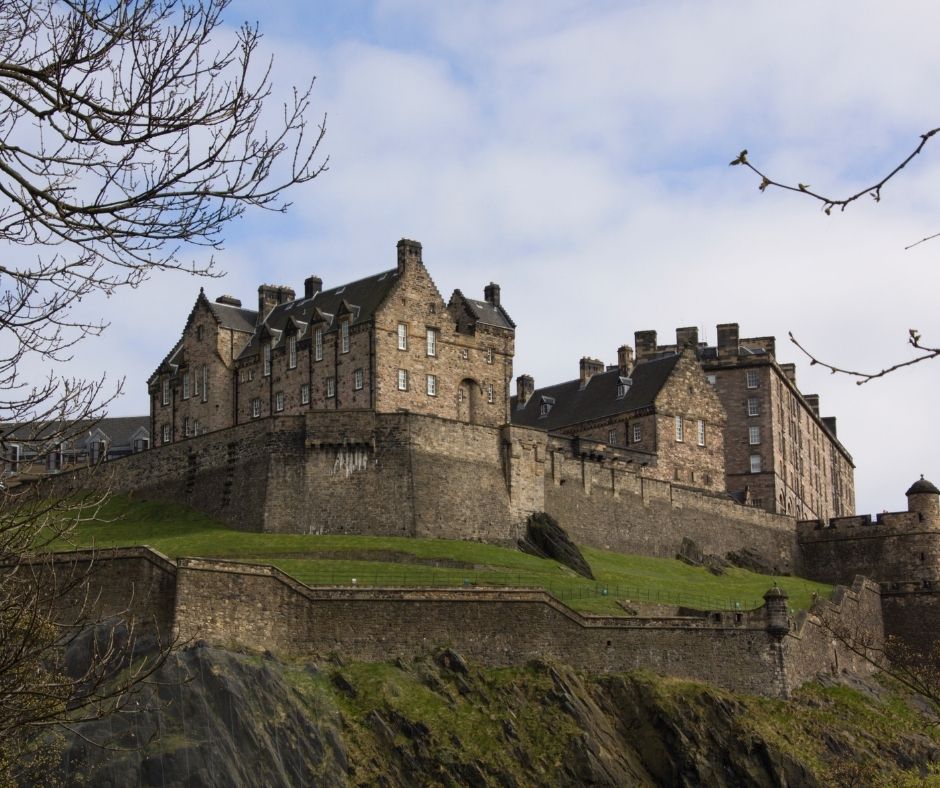 If you want to get the full experience, consider getting a Skip-the-Line Guided Tour ticket. This engaging castle tour allows you to skip the line and enjoy a 90-minute tour that covers the 3,000-year history oof Edinburgh Castle.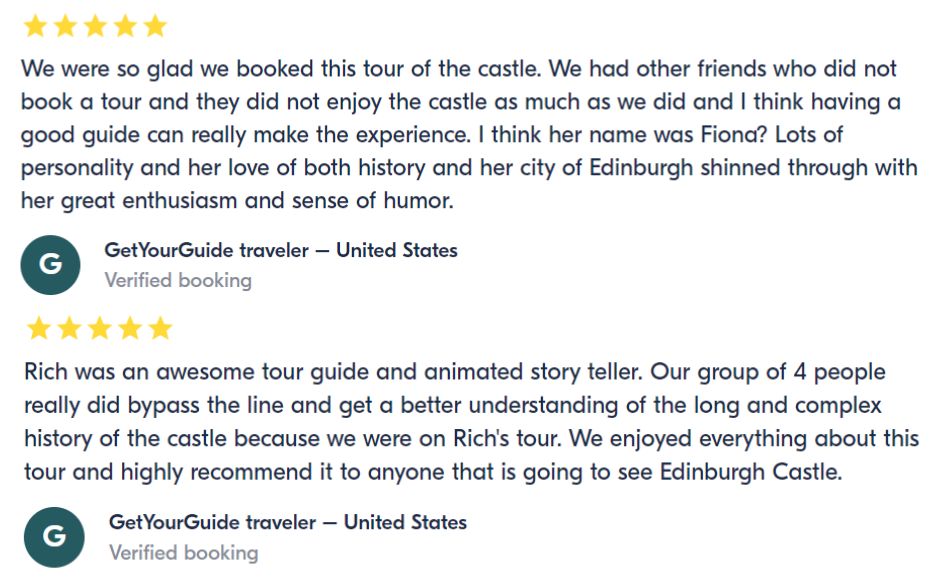 Tips for visiting Edinburgh Castle:
The best time to visit Edinburgh Castle is during the week, right when it opens in the morning. You can spend a couple of hours exploring the castle, take a break for lunch, then be at the Castle for the famous 1 o'clock gun.
If morning doesn't work for you, the next best time to visit is at the end of the day. Saturday is the busiest day of the week to visit. Sunday is a less crowded because the 1 o'clock gun isn't fired that day.
Try to avoid visiting in August, as this is when the Edinburgh Fringe Festival happens. Crowds will be higher than normal during this time.
The best time to take photos of the Castle and the city's skyline are in the early morning or late afternoon. Avoid midday as this is when the light is at its brightest.
To beat the crowds, head straight to the Honours of Scotland exhibition after entering the Castle. This is one of the most popular attractions at Edinburgh Castle.
If you want to skip the long queques, consider buying your tickets in advance. You'll save both time and money by purchasing your tickets online. Below you can check availability for the castle.
Plan to spend at least 2 hours exploring the Castle.
More fun things to do in Edinburgh:
Check out Camera Obscura & World of Illusions. Don't miss the Camera Obscura show on the top floor.
PRO TIP: The presentation also gives you a nice overview of Edinburgh and its history, which is great if you're unfamiliar with the area. Plan to spend about an hour here (or more, depending on your interests).
Tips for visiting Camera Obscura:
The best time to visit is during the week in the morning (before 11:00AM) of after 5:00PM.
Most visitors spend around 1 hour and 45 minutes to check out all the attractions at Camera Obscura.
Camera Obscura is popular with all ages. There's something for everyone here and it was one of the highlights of my trip to Edinburgh.
When visiting, start at the top of the attraction to check out the Camera Obscura Show and enjoy the incredible views of Edinburgh.
Visit Victoria Street, which JK Rowling used as inspiration for Diagon Alley in Harry Potter.
For Harry Potter fans, consider taking this magical Harry Potter walking tour. It's one of my favorites!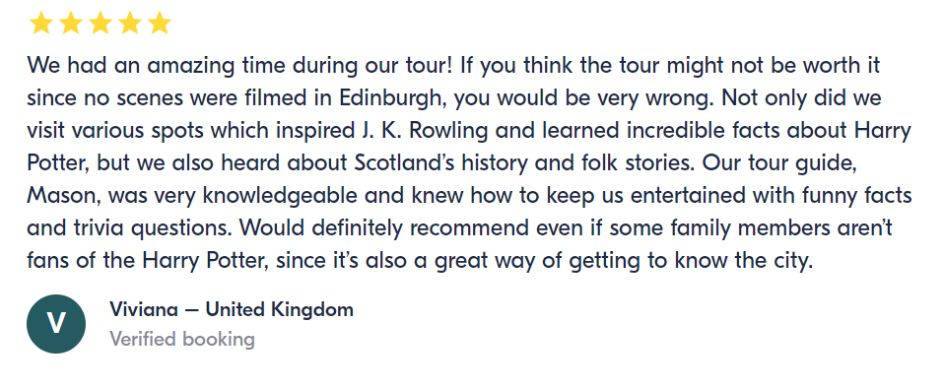 More popular tours in Edinburgh:
Walk along the Royal Mile.
Visit St Giles' Cathedral. It's free to enter and beautiful inside!
PRO TIP: If you want to get an in-depth look at Old Town Edinburgh, I recommend going on a walking tour. This is a great way for first time-visitors to explore Edinburgh with a local and knowledgable guide.

Here you'll get the chance to visit three of Old Town's former execution spots, enjoy the cobbled streets of the UNESCO-listed Old Town, and see the notorious Tolbooth Prison.
Explore free museums such as The Museum on the Mound, the Writer's Museum and the Museum of Edinburgh. These museums are smaller in size and will not take long to explore.
Go on a ghost tour of the underground vaults. Edinburgh is one of the most haunted places in the UK, making it a prime destination for ghost tours. Enjoy this fun and historic tour of the Blair Street Underground Vaults.
PRO TIP: I normally don't do ghost tours because I scare easily. But I am SO glad I went on a ghost tour of the underground vaults. Learning about the history of the vaults was one of this highlights of my trip to Edinburgh. Definitely worth it!
More fun things to do in Edinburgh:
Edinburgh Itinerary: DAY 3
Grab a light breakfast and head to Holyrood Park to hike up Arthur's Seat. This is one of the best spots to enjoy panoramic views of Edinburgh.
Tips for visiting Arthur's Seat:
Arthur's Seat is located in Holyrood Park at the end of Royal Mile. This hill is the remains of an extinct volcano that erupted 350 million years ago.
There are several options for reaching the summit of Arthur's Seat. Take the Salisbury Crags route for an easy walk with beautiful views of Edinburgh
Wear comfortable shoes and make sure to check out the ruins of St. Anthony's Chapel. Hiking shoes are not necessary. Just make sure you have a comfortable pair of walking shoes.
Allow 2-3 hours for your trip to Arthur's Seat. Make sure to check the weather before you go so you don't get caught in the rain. It is very windy at the top! Pack a light jacket (even in the summer months).
Consider bringing water and snacks with you.
Enjoy lunch at Clarinda's Tea Room. Don't forget to save room for cake and scones!
Explore the Palace of Holyroodhouse. This palace is the official residence of Her Majesty the Queen in Scotland. Plan to spend around 2 hours here.
Don't forget to check out the gardens and Holyrood Abbey. FREE entry included with the Royal Edinburgh Ticket.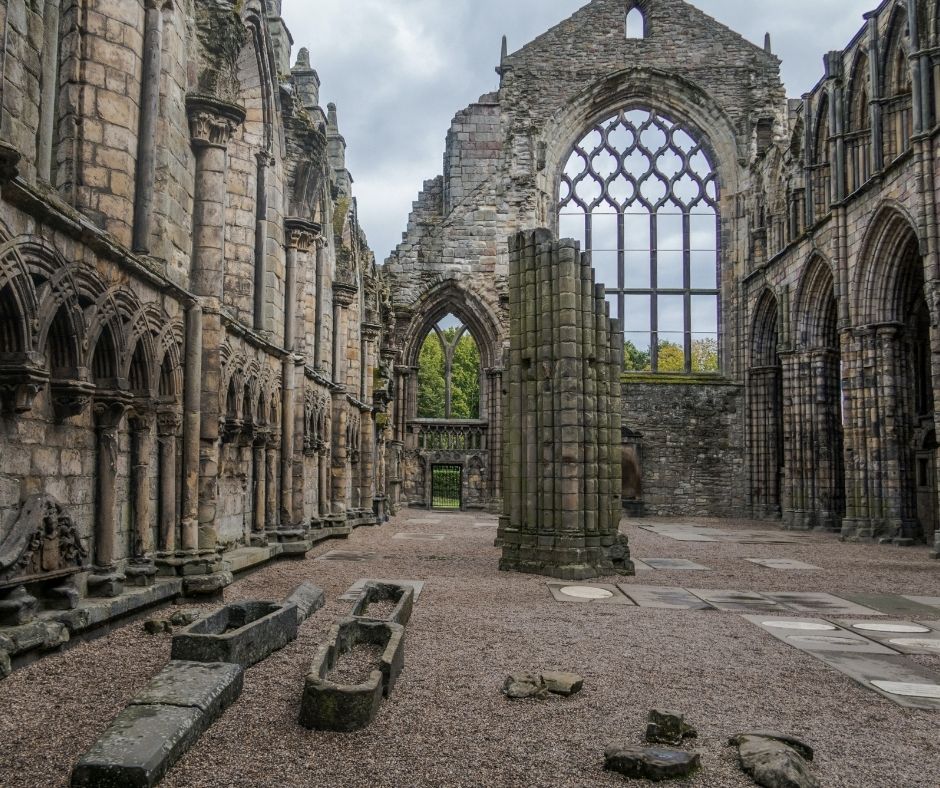 Tips for visiting Palace of Holyroodhouse:
The Palace of Holyroodhouse is located at the bottom of the Royal Mile in Edinburgh. The palace was built in the 12th-century next to Holyrood Abbey.
The best time to visit the Palace of Holyroodhouse is in the morning when the crowds tend to be less quiet.
The most famous area in the palace is The Great Gallery. Here you'll find 89 of the original 110 Jacob de Wet portraits of the legendary kings of Scotland.
Other areas worth checking out at The Palace of Holyroodhouse include: State Apartments (which are famous for their plasterwork ceilings and collection of French and Flemish tapestries), Mary Queen of Scots Chamber (who is the most famous and oldest monarch in the palace), Bonnie Prince Chamber, Throne Room, Holyrood Abbey (which was once the grandest medieval abbey in Scotland), and the Palace Gardens.
To skip the long queques, I strongly recommend buying your tickets online. This can save you time and money.

Head to Calton Hill to get another beautiful view of the city and see the National Monument of Scotland. If you have time, consider taking this popular Old Town History and Tales Walking Tour.
Have dinner at a local pub or check out a Scotch Whiskey Experience.
More fun things to do in Edinburgh:
Edinburgh Itinerary: DAY 4
Take a walk through Dean Village. This is a beautiful green oasis on the Water of Leith (just a 5-minute walk from Princes Street).
Climb to the top of Scott Monument. This is a monument to the Scottish author Sir Walter Scott and is the largest monument to a writer in the world.
More fun things to do in Edinburgh:
Have lunch in Leith.
Visit the Royal Botanical Gardens or spend the afternoon exploring Rosslyn Chapel.
This is a 15th-century chapel located in the village of Roslin, Midlothian, Scotland. It's become a popular place to visit after making an appearance in Dan Brown's novel, The Da Vinci Code.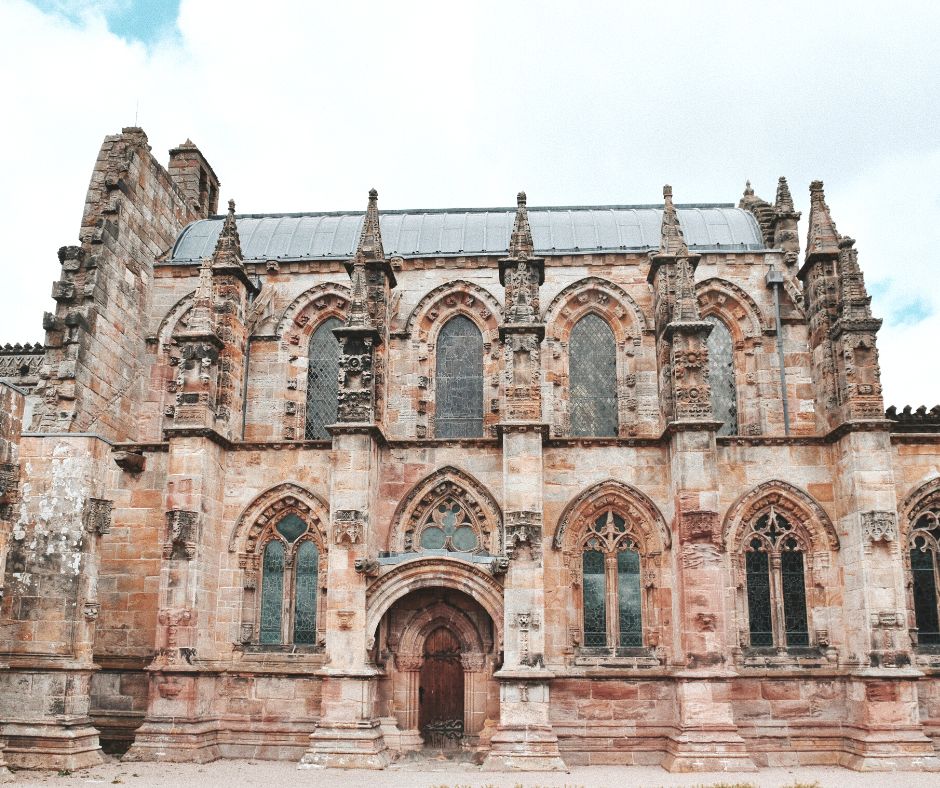 How to get to Rosslyn Chapel: It's just 7 miles south of Edinburgh's city centre and you can easily get to this chapel by car, taxi, bus, train, bicycle, or on foot.
By bus: From Edinburgh city centre, take the Lothian Service 37 bus and check that it says 'Penicuik/ Deanburn' at the front of the bus. The journey from the city centre will take around 45 to 60 minutes.
If you have time, I recommend taking this Rosslyn Chapel & Scottish Borders Tour from Edinburgh. In this small-group tour, you'll learn about the myths of the Holy Grail and Rosslyn Chapel, and travel to Melrose to see its impressive abbey.
Spend your last evening in the city at the cinema, theater, listening to live music at a lounge or attending a comedy show.
More fun things to do in Edinburgh:
---
Daytrip ideas from Edinburgh
There are lots of fun day trips that are worth taking from Edinburgh. If you're spending 5 days in Scotland without a car, consider spending 3-4 days in Edinburgh and taking a day trip or two. Here are a few of my favorites:
This is one of the best Loch Ness tour from Edinburgh. Enjoy this small-group tour from Edinburgh where you get your chance explore the spectacular scenery of the Scottish Highlands and Cairngorms National Park. You can also enjoy an optional boat tour in search of the Loch Ness Monster!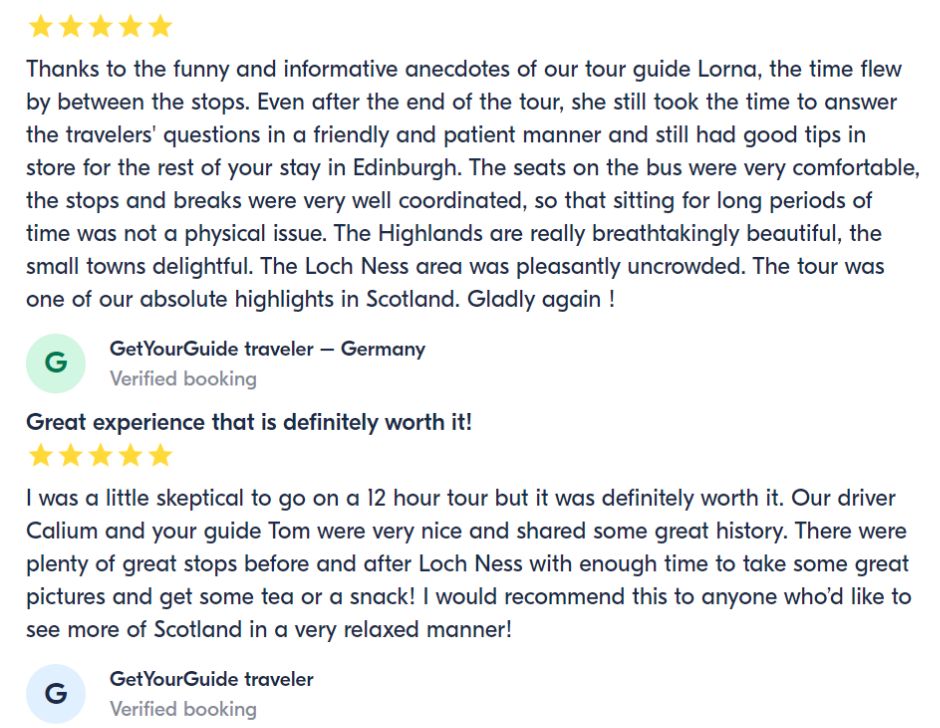 Enjoy a small-group day trip from Edinburgh to the town of St. Andrews, home to Scotland's oldest university and Old Course where golf is played.
Your local tour guide will take you over the Forth Road Bridge into the kingdom of Fife. This is a fun way to learn more about Scotland's rich history.

This Scottish Highlands day trip from Edinburgh will give you the opportunity to marvel at majestic castles and stunning landscapes. Enjoy visits to Doune Castle, Kilchurn Castle, Inveraray Castle, and stop for photos at Stirling Castle.

---
Edinburgh Itinerary FAQs
How many days are enough for Edinburgh?
For first-timer visitors, you should plan to spend at least two or three days in Edinburgh. This will give you enough time to explore the city and the main attractions, such as Edinburgh Castle and Holyrood Palace.
If you want to don't want to feel rushed during your trip, consider staying four days, as suggested in this Edinburgh itinerary.
Is one day enough for Edinburgh?
While you won't be able to hit all the attractions in Edinburgh, you can certainly see a few popular spots in 24 hours, such as Edinburgh Castle, the National Museum of Scotland, and Arthur's Seat. Ideally, you'll want to spend 3 days in Edinburgh so you won't feel rushed during your holiday.
Can you do Edinburgh in 3 days?
Yes, three days is enough time to visit the most popular attractions in Edinburgh and explore the city center. If you're planning to climb Arthur's Seat or take a tour, such as a ghost tour or whiskey tour, then you may want to consider spending four days in Edinburgh.
How much spending money will I need for a week in Edinburgh?
Your daily budget should be around £115 per person for your vacation. Based on the expenses of other visitors, this is the average daily price. (Price are in Euros).
Average Daily Cost
(Per Person)
One Week
(Per Person)
One Week
(Per Couple)
£115
£803
£1,606
As you can see, a vacation to Edinburgh for one week will cost an average of £803 per person. (Source)
How long does it take to see Edinburgh Castle?
Plan to spend at least 2 hours exploring the main attractions at Edinburgh Castle. If you want to see the One o'clock Gun, the gun fires at 1:00pm everyday, except on Sundays, Good Friday and Christmas Day.
Can you see Edinburgh Castle from the outside? No, the castle is built on a rocky hill, which means you can't walk around the outside.
What should I not miss in Edinburgh?
Below are the top 10 things to do in Edinburgh:
Calton Hill
How far is Loch Ness from Edinburgh by train?
Loch Ness is 105 miles from Edinburgh. The best way to get to Loch Ness without a car is to take the train, which takes 5 hours and 15 minutes.
Is Edinburgh worth visiting?
Yes, Edinburgh is definitely worth visiting! It's one of the most beautiful destinations in Scotland and has something to offer everyone. This is the perfect place to visit if you want to experience medieval history and the country's most popular tourist attractions.
Can you do a day trip from London to Edinburgh?
The fast train take 4 hours and 20 minutes to get from London to Edinburgh. If you take an early train, you'll have around 6 hours to explore Edinburgh before returning back to London.
While you won't be able to see everything in such a short time, it can be a fun day trip with the right planning.