Visiting Vancouver for the first time? Follow these insider travel tips to help you plan your Vancouver itinerary, know where to stay in the city, where to find the best eats, and experience the best things to do in Vancouver.
My parents grew up in Vancouver and I've been visiting there every couple of years over the past 30+ years to visit my relatives and enjoy the city.
It's one of my favorite cities in the world because you can be in an urban environment one minute, then just a few minutes later you can be exploring the wilderness.
It's not a cheap city to visit, but after visiting many times over the years, I've learned how to discover the best of what Vancouver has to offer without breaking the bank.
Follow these Vancouver travel tips to help you plan your trip, save money, and make the most of your visit.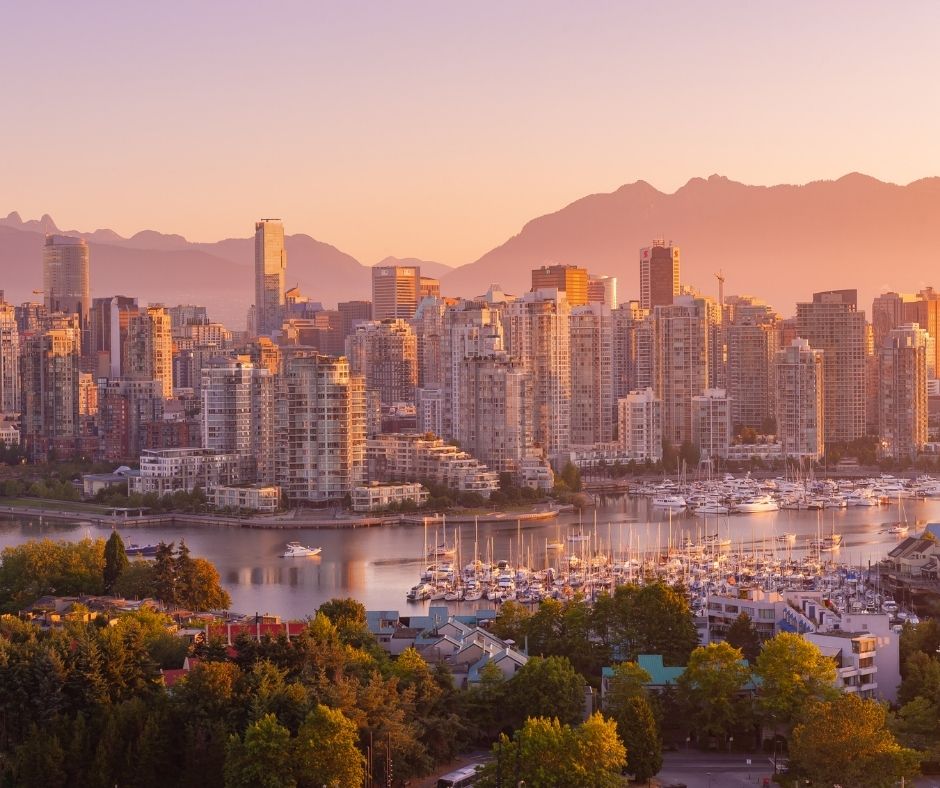 What do I need to know before traveling to Vancouver?
Best time to go: The best time to visit Vancouver is between April and October. This is when there is less chance of rain and the weather is warm.
Best area to stay: Downtown, West End, Gastown, Yaletown, or Coal Harbour & Waterfront.
Best way to get around: The best way to get around Vancouver is to ride the SkyTrain or bus. While the city's public transportation is not perfect, it's a great way to get around to all the popular neighborhoods and attractions.
Top 5 things to do in Vancouver: Stanley Park, Granville Island, Vancouver Aquarium, Museum of Anthropology, and Capilano Suspension Bridge.
What's Vancouver known for? Vancouver is known for is scenic views of the mountains and ocean, mild climate, and friendly people. It also has the largest Chinatown in Canada and tons of outdoor activities for nature enthusiasts.
Top 10 things to do in Vancouver
I like to book my attraction tickets and tours through GetYourGuide. Sometimes they offer discounts to save money on sightseeing.
But most importantly, they offer FREE cancellation. If your plans change, you can cancel up to 24 hours before your activity starts for a full refund. This can give you peace of mind when traveling.
Which part of Vancouver is best to stay?
After visiting Vancouver over a dozen times, these are the best 5 neighborhoods to stay in for tourists:
Besides using Booking.com to find affordable hotels, I've also had good luck using Hotwire to score 4 or 5-Star hotels for cheap.
Best hotels in Vancouver for every budget
If you're traveling on a budget, these are the best affordable hotels in Vancouver:
If you have some more wiggle room in your budget, below are some of the best mid-range hotels in Vancouver:
If you want to splurge on your accommodations, below are some popular luxury hotels in Vancouver:
Where should I avoid staying in Vancouver?
Vancouver is a very safe city to visit, but you should avoid staying in the Downtown East Side (DTES).
Avoid walking through Hastings Street between Abbott and Main as this area can be a dangerous place for pedestrians. Here you'll see the homeless, mentally ill, and drug addicted population of Vancouver.
Is it safe to stay in downtown Vancouver?
Yes, Vancouver is one of the safest large cities in Canada.
Stick to the popular tourist areas which include Gastown, Yaletown, Davie Village, Stanley Park, Kitsilano, West End, Mount Pleasant, Chinatown, and Coal Harbor.
Avoid going to the Downtown East Side (DTES) where the homeless, mentally ill, and drug addicted hang out.
Getting around Vancouver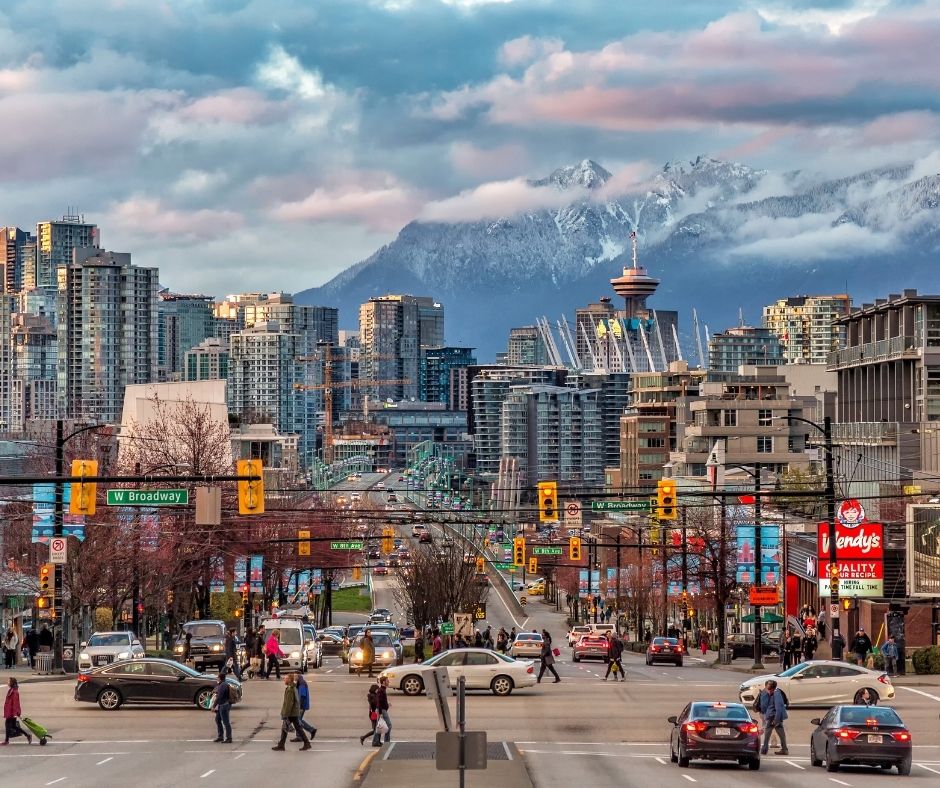 Vancouver's downtown is geographically the smallest of Canada's five largest urban regions. For example, downtown Toronto is 16.6 sq km whereas downtown Vancouver is about 5.7 sq km.
This means the downtown area is very walkable and it's easy to get around on foot. It will take around 35 minutes to walk from Gastown to the beginning of the Vancouver Seawall at Stanley Park.
Should you rent a car for your Vancouver trip?
If you're planning on spending most of your time in or near downtown Vancouver, then there's really no reason to rent a car. You can easily walk, ride a bike, or hop on Vancouver's public transit.
If you're planning on visiting attractions outside of the downtown area or taking daytrips to explore other Vancouver neighborhoods and nearby cities, then I highly recommend renting a car.
While Vancouver offers good public transportation, it can take twice as long to reach some areas of the city than it would be if you were driving.
How to use Vancouver's public transit:
TransLink is Metro Vancouver's regional transport authority, and its public transit system is made up of buses, the SkyTrain, and the SeaBus.
There are 3 fare zones across Metro Vancouver and the number of SkyTrain or SeaBus boundaries you cross during your trip will determine your fare.
All bus and HandyDART trips are a 1-Zone fare, regardless of zones crossed, time of day, or day of the week.
A single fare is valid for 90 minutes on bus, SkyTrain, SeaBus, and HandyDART.
Kids under 12 years of age can ride TransLink services free of charge, which can make it more affordable for families traveling around Metro Vancouver.
Paying your fare on the bus and HandyDART – You can use a Compass Card, Compass Ticket, contactless credit card, or pay cash (no change will be given).
Paying your fare on SkyTrain, SeaBus, and West Coast Express – You can use a Compass Card, Compass Ticket, or contactless credit card.
You must tap your card at the fare gates as you enter and exit a station to validate your fare.
Make sure to tap out after you complete your trip so the system will calculate the fare zones you've travelled and charges you the correct fare.
What's a Compass Card? A Compass Card is a reloadable fare card that you can use to pay your fare when taking public transit around Metro Vancouver.
The Compass Card can be loaded with Store Value or with prepaid passes (such as a Day or Monthly Pass).
If you're planning to ride public transportation a lot during your trip, then I highly recommend getting a Compass Card to save time and money.
Other ways to get around Vancouver:
Hop-On Hop-Off Bus Tour – This is a great way to see the sights of Vancouver at your own pace with a 24 or 48-hour pass. You'll discover neighborhoods such as Gastown, Yaletown, and Chinatown.
Bike – Vancouver has lots of dedicated bike lines throughout the city. You can choose to rent a bike or go on a bike tour of Vancouver.
Walk – Make sure to pack your comfortable walking shoes. This is the best way to get around downtown Vancouver.
Taxi – Taxis can get expensive, but they are convient if you're traveling with multiple people. Otherwise, I recommend just riding the SkyTrain.
Below are some useful things to know before traveling to Vancouver.
1. It rains a lot in Vancouver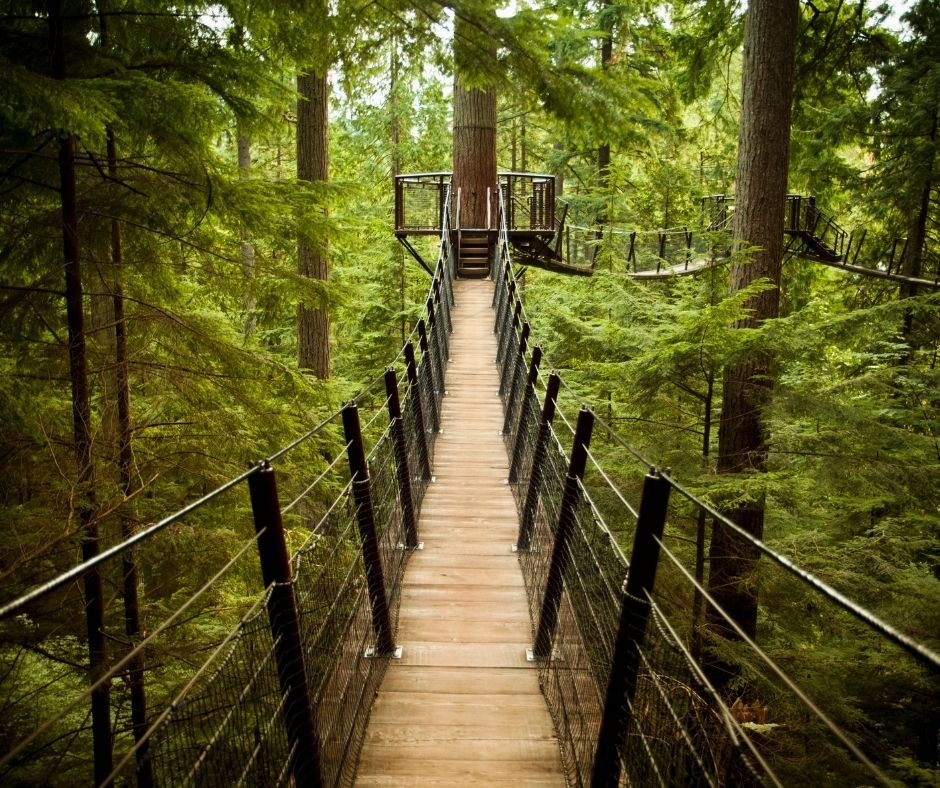 Yes, it rains a lot in Vancouver, but never too hard that it makes it difficult to enjoy the outdoors.
You may notice that on rainy days in Vancouver, you won't see many people using umbrellas. Most of the locals are used to the rain and prefer to just wear rain jackets and waterproof shoes when walking outside.
We even went hiking in Lynn Canyon during the rain, which gave the park a rainforest ambiance.
If you are worried about the rain though, consider visiting Vancouver in July and August, which are the driest months of the year.
And if it does rain during your trip, below are some of the best rainy day activities to do in Vancouver:
Visit the Museum of Anthropology
Check out a craft brewery in East Vancouver or North Vancouver
Head to Granville Island
Visit the Vancouver Aquarium
Check out Capilano Suspension Bridge Park – This is a great spot to visit on a rainy day because it usually keeps the crowds away. You might even be able to take a photo with no one in it!
Check out the cafes or bars on Commercial Drive
Eat authentic Chinese food in Richmond – Chinatown is great, but the best Chinese food is in Richmond.
Tour the Fraser Valley wineries
Visit the Vancouver Art Gallery
Tour a museum
Check out a local food tour
2. Vancouver is a tiny city
Vancouver is the third largest city in Canada, based on population (Toronto is #1 and Montreal is #2). However, many people who visit Vancouver are surprised how tiny the city actually is.
For example, you can walk from Gastown (Central Vancouver) to English Bay (the West End of Vancouver) in under 45 minutes.
And for attractions outside of the downtown core, you can take the Metro Vancouver bus, SkyTrain, or SeaBus.
3. There is free WiFi available in downtown Vancouver
There's no need to pay for WiFi at your hotel because residents and visitors to Vancouver can enjoy free public WiFi access on their smartphone, tablet or laptop at a variety of locations.
There are 590+ free public WiFi locations in Vancouver. Just look for the network name (#VanWiFi, COV-Public, or VPL) from your device's WiFi settings menu to connect.
4. Splurge on at least one Vancouver tourist attraction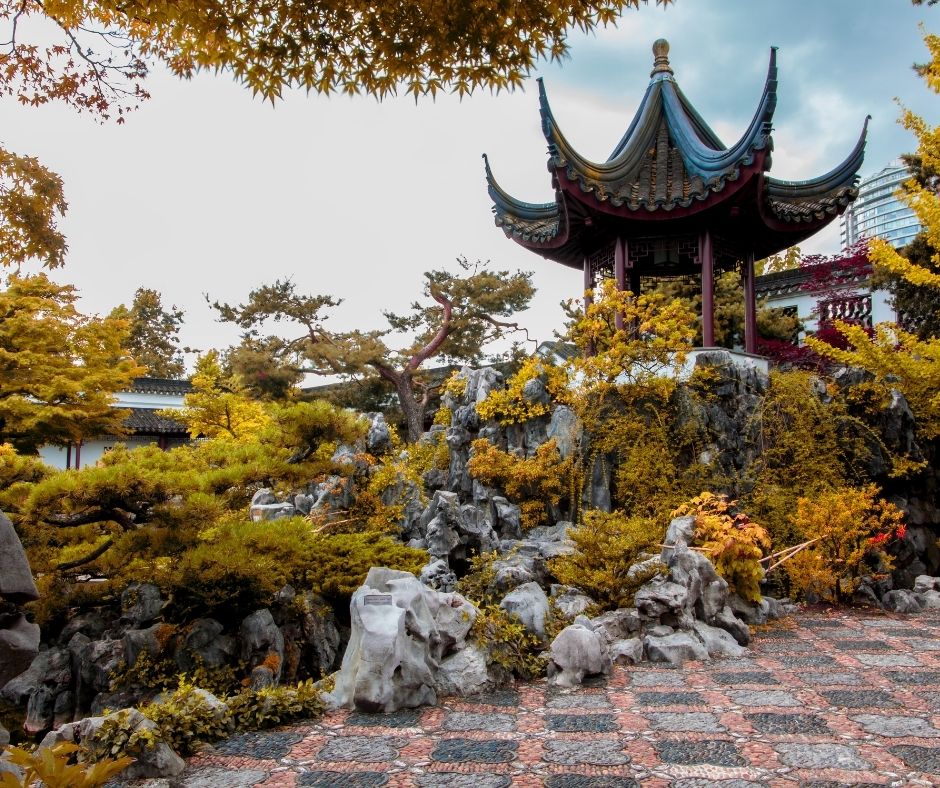 In 2020, Insider ranked Vancouver as the second most expensive city in the world to live (Hong Kong is #1).
It's also one of the most livable cities in the world and a top tourist destination in Canada. All the best cities are expensive, right?
While Vancouver has several paid attractions that are worth the money, if you're traveling on a budget, I recommend picking just one or two attractions to splurge on.
If you're like most people, this means going on a whale watching tour. It's an incredible experience to see whales in their natural environment.
You can get the chance to spot orcas, humpback, minke, gray whales, porpoises, and seals on this popular whale watching tour.
Then you can fill the rest of your itinerary with free things to do in Vancouver. Below are some other great attractions you may want to consider checking out:
5. Take advantage of free things to do in Vancouver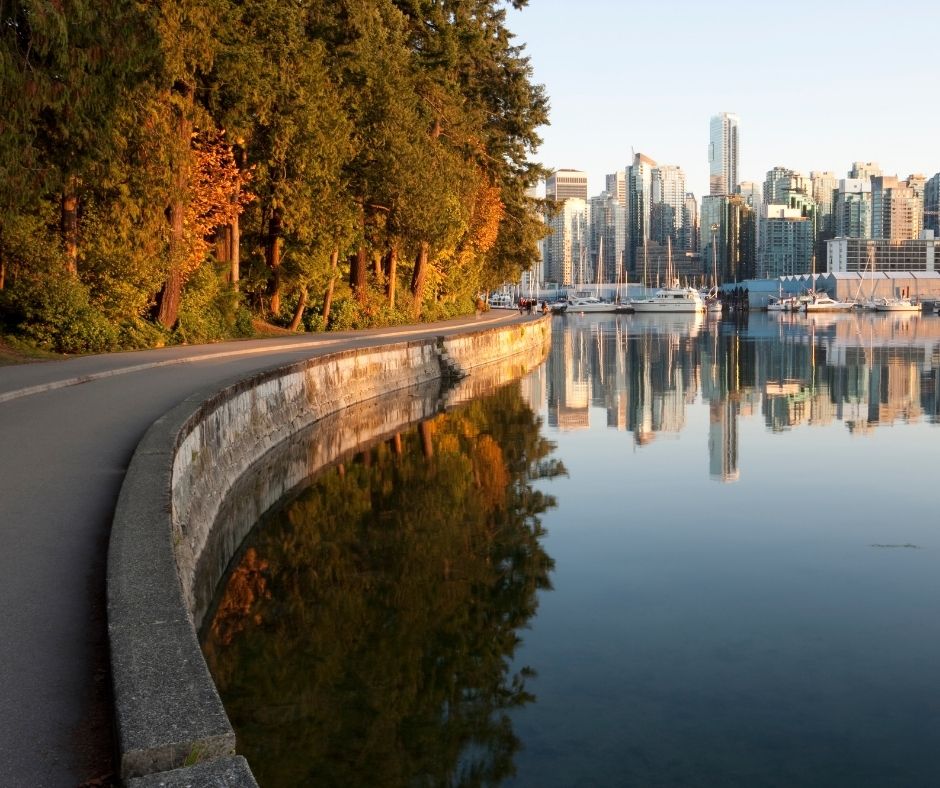 A trip to Vancouver doesn't have to break the bank. Below are some of my favorite free things to do in the city:
Visit Granville Island – Explore the public market and shops. Here you'll find delicious food and unique stores.
Check out Stanley Park – Get here early to walk along the Seawall and visit the Totem Poles.
Hike the Grouse Grind – If you really want to feel like a local, this is one of the most popular things to do. Remember to wear comfortable shoes!
Window shop – The best shopping districts in Vancouver include Robson Street, Yaletown, and Commercial Drive. If it's raining, head indoors to Pacific Centre or Metrotown mall.
Check out Lonsdale Quay – This is another great public market to explore and enjoy a beautiful view of downtown Vancouver.
Hear the Gastown Steam Clock whistle – While Gastown was around since the 1870s, the Steam Clocks was built in 1977 to help bring tourists to the area. It whistles every 15 minutes.
Take a stroll in Queen Elizabeth Park – This is one of the best things to do on a sunny afternoon. You can marvel at the panoramic views of Vancouver.
Lynn Canyon – The Capilano Suspension bridge is worth every penny, but if you're looking for a free option, check out the Lynn Canyon Suspension bridge. It's not as big as the Capilano suspension bridge, but it's a favorite among locals.
To compare, Lynn Canyon Suspension bridge is 48 meters and Capilano Suspension Bridge is 140 meters!
6. Take a daytrip from Vancouver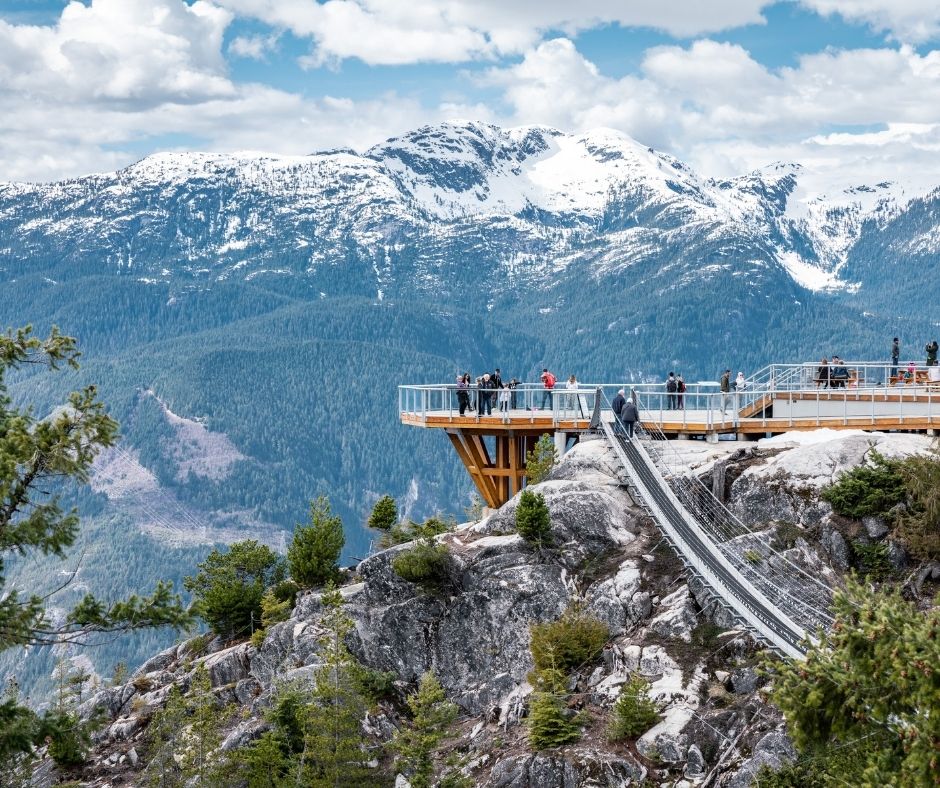 Many people who visit Vancouver seem to think that it's easy to take a daytrip to Vancouver Island. While it is possible to do a daytrip to Vancouver Island, you'll feel very rushed trying to see everything that Victoria, BC has to offer in just a few hours day.
My dad used to the live in Victoria for a few years, so I've gotten used to getting up early to take the first ferry over to the mainland (from Vancouver Island) to visit my relatives in Vancouver for the day. But let me tell you, it makes for an extremely LONG day.
I highly recommend spending at least two nights in Victoria to give yourself enough time to truly enjoy the sights and everything that Victoria has to offer. You'll definitely want to check out Butchart Gardens.
If you're driving, allow yourself at least 3.5 hours each way, including the 90-minute BC Ferry crossing between the mainland and Vancouver Island.
If you're not driving, allow yourself at least 4.5 hours each way, assuming you'll be taking public transportation from downtown Vancouver to the Tsawwassen Ferry Terminal. For more information, check out my weekend in Victoria, BC guide.
Below are some more popular daytrip ideas from Vancouver:
Squamish – Don't miss the Sea-to-Sky Gondola.
Steveston Village – This is a quaint fishing village that's full of history and charm.
7. Vancouver is an outdoorsy city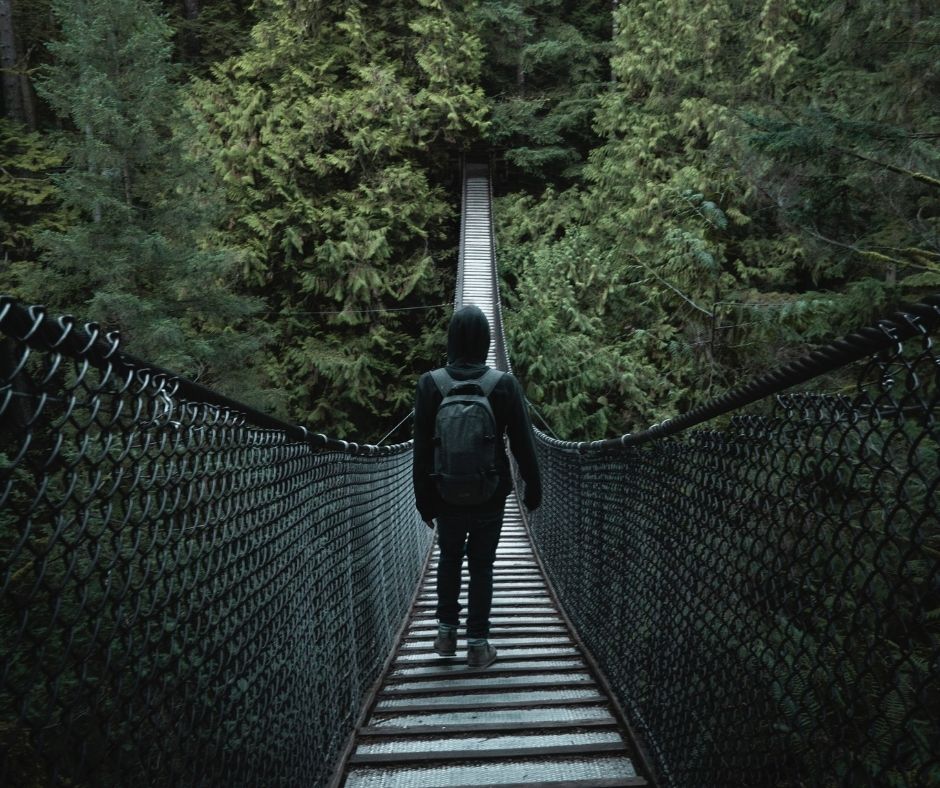 Vancouver is often described as a place where urban life and the great outdoors intersect.
There's a good chance you'll see people wearing hiking shoes or outdoorsy attire. In fact, Lululemon the popular athletic apparel company was started in Vancouver.
The region offers some of the best hiking, skiing, mountain biking, and other outdoor activities in the world.
Here you'll find mountains, beaches, plenty of nature, and top-rated parks. It's one of the best cities in Canada for outdoor enthusiasts.
Below are some of the best parks and nature tours to check out in Vancouver:
Stanley Park
Pacific Spirit Regional Park
Everett Crowley Park
Renfrew Ravine Park
Capilano Regional Park
Lighthouse Park
Lynn Canyon Park
8. Take a food tour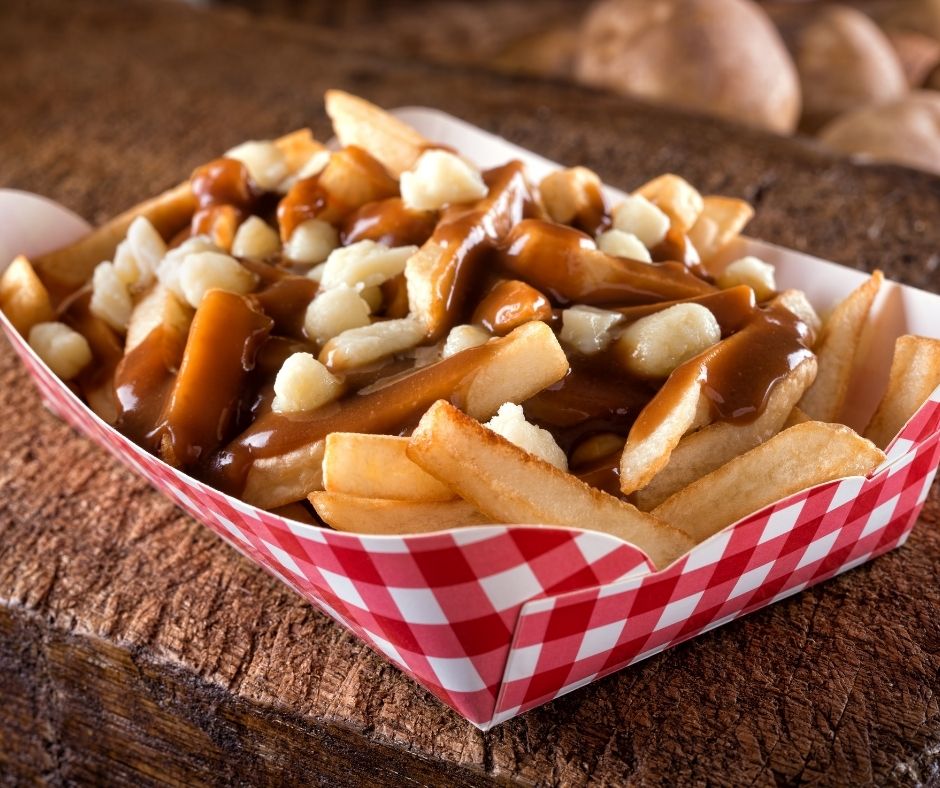 Vancouver is a foodie city and has some of the best seafood and ethnic food in the world.
If you have time, consider taking one of these popular food tours in Vancouver. This can be a great way to learn about the history of the area and enjoy some local food and drinks.
It's also said to be the most Asian city outside of Asia. So whether you're craving Chinese, Japanese, Vietnamese, or Korean food, you'll find some of the best restaurants here.
Vancouver is also known for their craft beers with over 50 breweries in the city and surrounding areas.
If this is your first time visiting Canada (or British Columbia), then I recommend trying poutine. This is a classic Canadian dish which is fries topped with warm gravy and cheese curds. You usually eat it with a fork.
The best places to get poutine in Vancouver are Mean Poutine, Belgian Fries, Wallflower, La Belle Patate, and Fritz European Fry House.
White Spot is also a popular restaruant chain in British Columbia. They are famous for their hamburgers served with their Triple 'O' sauce. I always get this when I'm in Vancouver.
When choosing where you want to stay in the city, it's also important to consider what you want to eat. Below are some of Vancouver's best foodie neighborhoods:
Chinatown – Excellent Chinese food and classic bakeries.
Gastown – Modern cuisine and fusion foods with great nightlife.
Granville Island – Great public market where you can find everything you need to have a picnic.
The West End – Great for ramen and Korean food.
Kitsilano – Offers contemporary cuisine.
Richmond – Considered to have the best Chinese food outside of China.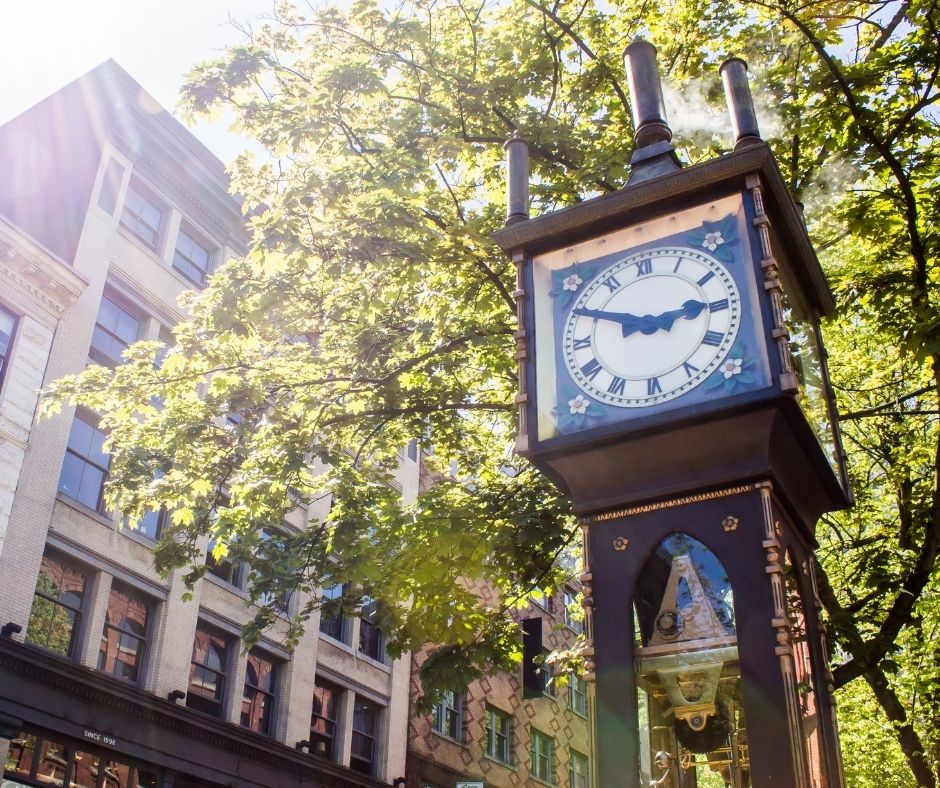 9. Make time to visit Chinatown
Vancouver's Chinatown is the third-largest Chinatown after New York and San Francisco. You can easily spend half a day here exploring the different streets and sampling all the delicious food.
Best things to do in Chinatown:
Dr Sun Yat-Sen Classical Chinese Garden
Jimi Hendrix Shrine
Vancouver Police Museum
Check out the Millennium Gate as you enter Chinatown
Best places to eat in Chinatown:
Goldstone Bakery & Restaurant – Great for Hong-Kong style diner food.
DD Mau Chinatown – Great place for tasty Vietnamese eats.
Kokomo – Delicious plant-based eatery in Chinatown
Bao Bei Chinese Brasserie – Chinese sharing plates and upscale cocktails.
Phnom Penh – Cambodian and Vietnamese eats.
Chinatown BBQ – A great place to get the best bang for your buck.
10. Check out Commercial Drive
Located in East Vancouver and also known as "The Drive", this is one of the most culturally diverse shopping, dining, and nightlife districts you'll find in Vancouver. It's also home to the city's Little Italy, which represents more than 60 years of Italian heritage.
Best cafes on Commercial Drive:
Uprising Breads Bakery – Just a block away from Commercial Drive, this is one of my favorite bakeries in the area.
Joe's Café Bar
Prado Café
Café Calabria
Moja Coffee
Turk's Coffee Bar
Best restaurants on Commercial Drive:
Havana – Inspired by the colors and culture of Old Havana, Cuba. They have great margaritas.
Lombardo's Pizzeria & Ristorante
Sopra Sotto Pizzeria
Lunch Lady – One of the best places for Vietnamese noodle soup.
La Mezcaleria – Great for elevated Mexican fare.
Fets Whiskey Kitchen – Whiskey bar serving up Southern favorites like fried chicken.
Kishimoto Japanese Restaurant
The Cannibal Café – Punk-rock themed burger joint.
SULA Indian Restaurant – Offering chicken korma and other popular Indian fare.
Tangent Café – Malaysian fusion dishes.
11. Check out the food markets in Vancouver
If taking a food tour is not on your Vancouver bucket list, another good way to experience the city's food and culture is to explore one of its food markets. Below are the most popular markets to visit.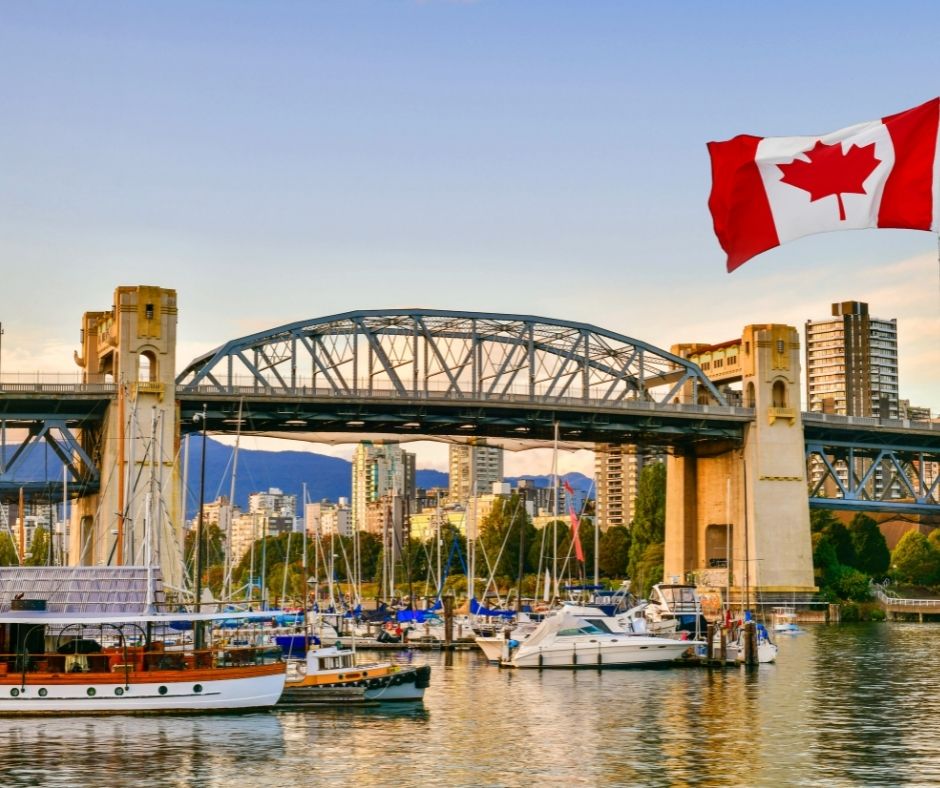 Lonsdale Quay Market
Located in North Vancouver, this iconic market is home to 60+ locally-owned businesses. You'll find fresh produce and artisan products here.
Grab something to eat and enjoy a beautiful view of Vancouver's waterfront. Then if you have time, make sure to check out the Capilano Suspension Bridge Park and Grouse Mountain.
Granville Island Market
This Vancouver's most popular public market. Paid parking is available, but it fills up quickly so make sure to arrive early or take public transit to get here. You could easily spend half a day here exploring the market and local shops on the island.
Best things to eat at Granville Island Market:
Petit Ami – A local coffee chain.
Lee's Donuts – You'll definitely want to grab a donut to go with your cup of coffee.
The Stock Market – Great for warm soups on a cold day.
Terra Breads – Offering creative bread selections and loaves.
A La Mode – Offering sweet and savory pies.
Tony's Fish & Oyster Café – Great spot for fish and chips.
Richmond Night Market
This is the largest night market in North America. With over 70 food and 100 retail stalls, you can enjoy some of the best Asian food in the country. It's open from the end of April to October.
12. Recreational marijuana is legal in Vancouver
Adults 19+ can smoke or vape cannabis in public spaces where tobacco smoking is allowed. You can purchase cannabis and cannabis accessories from licensed private retailers in the city.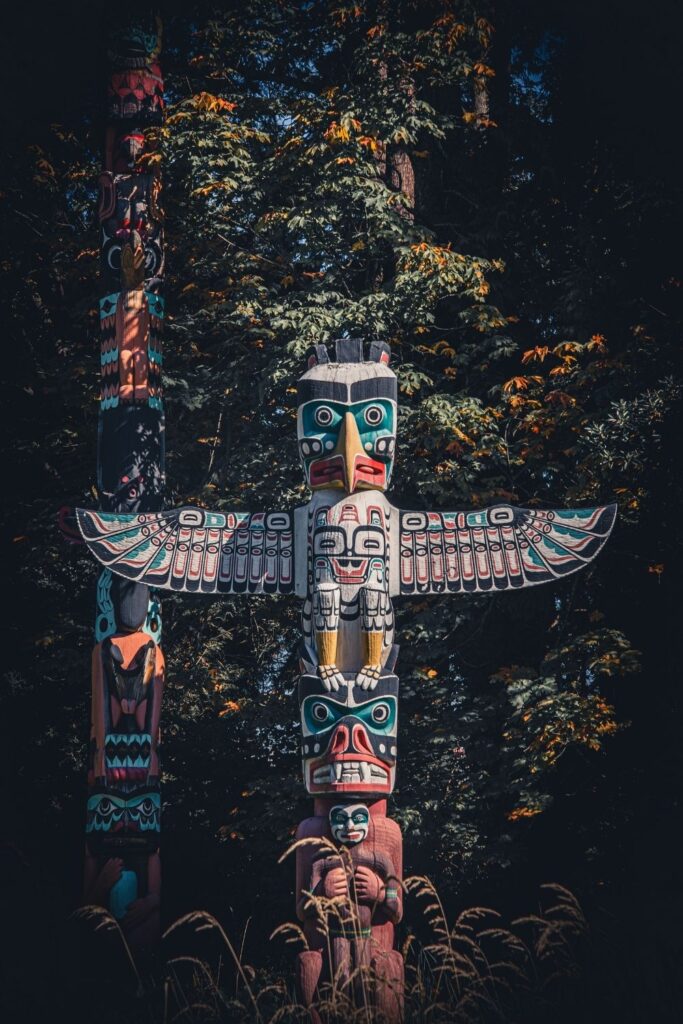 What to pack for your Vancouver trip
Waterproof jacket – It rains approximately 192 days throughout the year in Vancouver. Even if you're traveling during the summer months, it's still a good idea to bring a waterproof jacket just in case the weather changes.
Waterproof shoes – If it does rain during your trip, it's no fun to walk around in soaking wet shoes. I always make sure to bring a pair of waterproof shoes when traveling to Vancouver just in case.
Comfortable shoes / Hiking boots – Whether you're walking downtown or through Stanley Park, it's important to wear comfortable shoes. If you plan on doing any hiking, then hiking boots are a must!
Travel umbrella – No matter where I'm going, I always like to bring a travel umbrella with me. You never know when it'll rain in Vancouver.
Vancouver travel guidebook – A smartphone is great for looking up restaurant reviews, but I like using travel guidebooks to discover less-touristed attractions and insider tips. Plus there's no charging required.
Camera – I like to travel with my Sony mirrorless camera. While my smartphone can take decent photos, there's no comparison when it comes to photos taken with my Sony camera.
Small backpack – I always travel with a small backpack. It's perfect for carrying all my day-to-day travel essentials. Plus you'll fit in with the Vancouver crowd as most people wear outdoorsy attire.
Bug spray – If you're planning to go hiking, bug spray is a must.
How to get from Vancouver International Airport to downtown
There are a few different options to get from Vancouver International Airport (YVR) to downtown.
Public Transit
You can take the SkyTrain from YVR to downtown Vancouver and parts of Richmond. The ride from the airport to downtown takes around 26 minutes.
Trains leave from the airport around every seven minutes and there are 16 stops along the line.
Taxi
If you're traveling with multiple people, then taxi a taking might be cheaper than riding the SkyTrain. You can use one of the taxi stands located on Level 2 of the airport.
---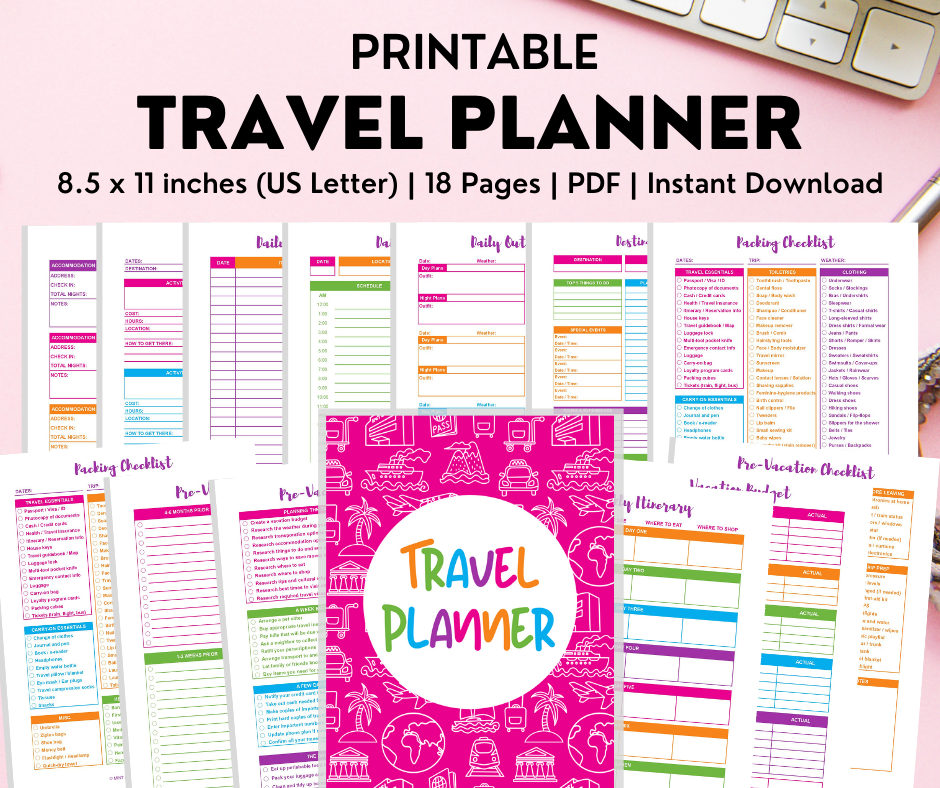 Vancouver Travel Guide FAQs
Is Vancouver worth visiting?
Yes, Vancouver is one of the most beautiful cities in the world because it's surrounded by the ocean and mountains. The people are friendly and it's a foodie's paradise.
How many days is enough in Vancouver?
3-4 days is ideal for first-time visitors. This will give you enough time to see the main attractions in Vancouver, explore the different neighborhoods, and experience the city's nature.
What is the best month to visit Vancouver?
June, July, August are the best months to visit Vancouver. These are also the driest and warmest months of the year. Other good times to visit Vancouver are from March to May and September to November when the climate is mild and hotel rates are more affordable.
Is 3 days enough for Vancouver?
3 days is plenty of time for first-timers to see Vancouver's most popular attractions and explore the city's neighborhoods.
Is 5 days enough for Vancouver?
5 days is enough time to explore the main attractions in Vancouver and combine it with a second destination like Vancouver Island or Whistler.
Is Vancouver expensive to visit?
Vancouver is one of the most expensive cities in Canada and the world. However, with some careful planning, you can visit this amazing city without breaking the bank.
You should plan to spend $154 CAD ($119 USD) per day on your vacation in Vancouver. The average visitor spends around $34 CAD ($27 USD) on meals per day and $13 CAD ($10 USD) on transportation.
Hotel rates per couple are an average of $188 CAD ($146 USD) per night. This means a trip to Vancouver for one week will cost an average of $2,160 CAD ($1,672 USD) for two people. (Source)
Do you need a car in Vancouver?
If you're staying in downtown Vancouver and just plan on visiting the main attractions within the city, then there's no need to rent a car. However, if you plan to explore outside of Vancouver, such as North Vancouver, East Vancouver, or do daytrips, then renting a car is more convenient than taking public transit.
Do they have Uber in Vancouver?
Yes, both Uber and Lyft operate in Vancouver.
Does Vancouver have good public transportation?
Yes. Vancouver's public transit system is made up of buses, the SkyTrain, and the SeaBus. This will easily take you to most of the main attractions in Vancouver.