Many people dream about making money while they sleep. Today I'm going to let you in on a little secret — you don't need to dream about it anymore. You can make it happen with these fun passive income ideas.
When I started at my first full-time office job, I was so excited about my earning potential. I thought to myself, this is it!
I've graduated from college and now I'm ready to kick-start my career. I thought for sure I would get a promotion within a year and slowly work my way up to a higher-paying position.
But that didn't happen.
I worked at this company for three years. I didn't get a promotion. And I only received the minimum pay raise each year.
I knew it was time to leave and move on to bigger and better things.
I was going to school for my MBA part-time while I was working at this company. I decided to quit my job and finish my studies on a full-time basis. I thought going to Business School was the answer to getting a higher-paying position.
But I was wrong.
After my graduation, I applied to over 100 jobs, but I didn't get any interviews.
I went to a few recruiting agencies to help me find a job. But one of the recruiting agencies told me I was asking for too much money. Instead, they offered me a part-time job making LESS than I was making at my previous job.
I said NO WAY. And I left the agency.
Later that day, I picked up a book I had on hold at the library. It was called Rich Dad, Poor Dad by Robert Kiyosaki. This book completely changed my entire money mindset.
That's when I learned about the benefits of making passive income. I read this quote from Warren Buffett and it stuck with me.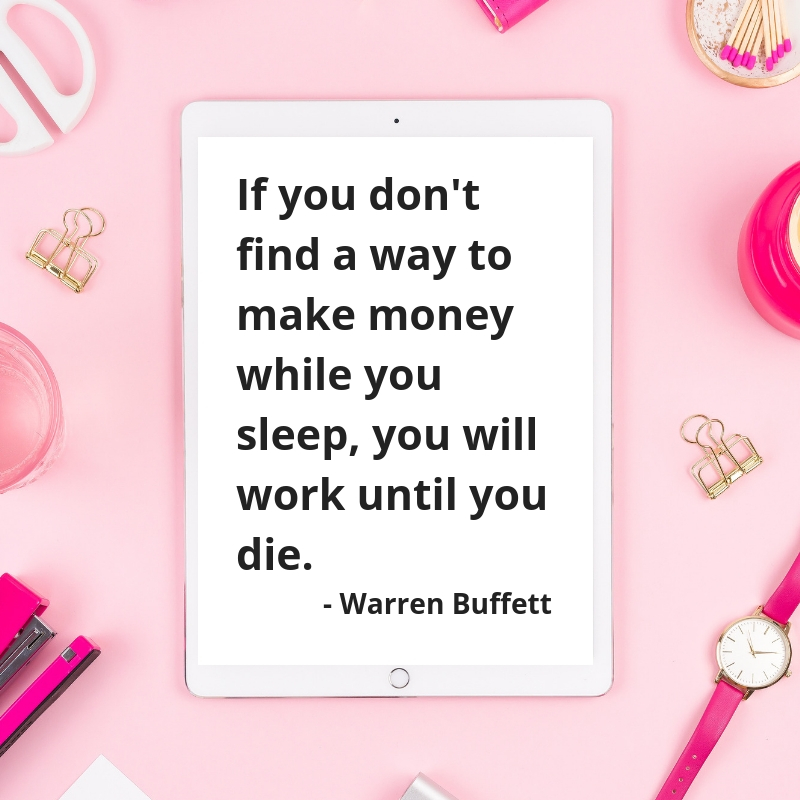 I was intrigued and wanted to learn more about how to generate passive income. For example, how could I make $1,000 a month in passive income?
Time is finite, and when you trade time for money, you're putting a cap on your income. Whether you're making $20 an hour or $150 an hour, your income is limited by the number of hours you work. And if you're a salaried employee, you might not be getting paid for all those extra hours you're working each week.
Learning how to make passive income has literally changed my life. Now, I'm earning six-figures AND working less. Anyone can make extra money with these passive income opportunities. You just have to find an income source that works best for you.
Today I'm sharing 10 beginner passive income ideas to get you inspired. This isn't some hocus pocus. These passive income streams really work!
Related Posts: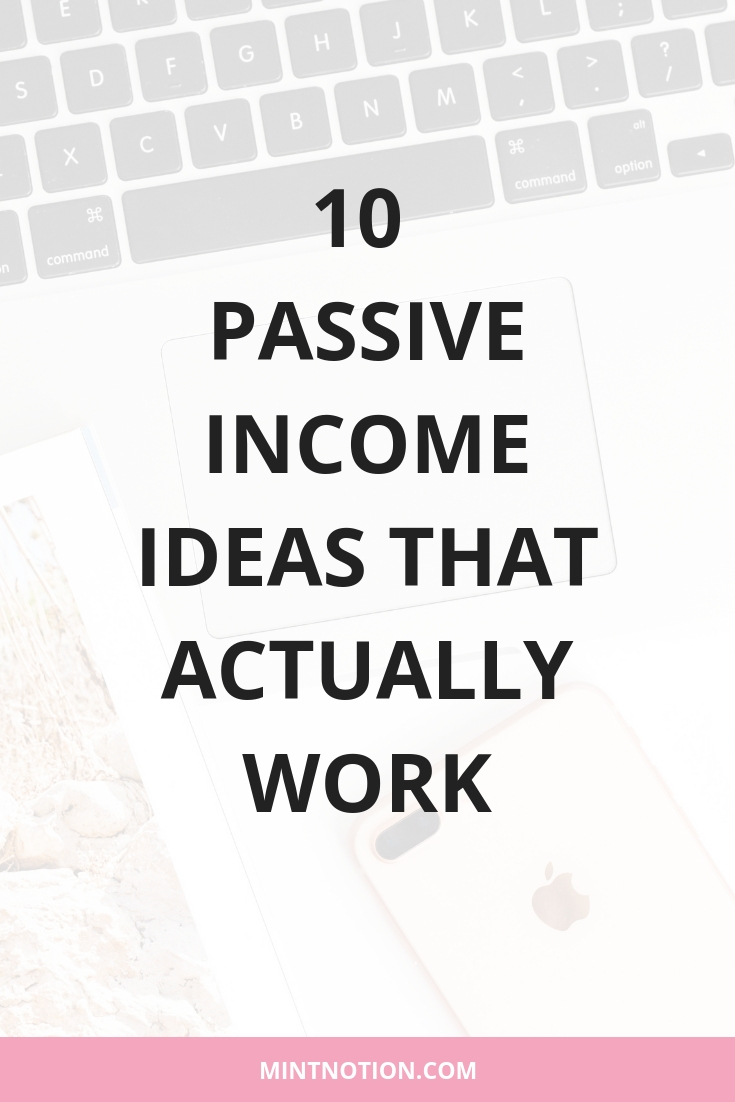 1. Blogging
Out of all these passive income ideas, blogging is my favorite way to make money from home. It's easy to get started and the start-up costs are low. Blogging can be a simple side hustle, or it can turn into a full-time job (like it did for me). It's up to you!
If you're interested in starting your own blog, check out my free step-by-step guide. It'll show you how to easily get started. It takes just a few minutes to get your blog up and running. Anyone can do it!
I didn't know anything about blogs when I first started this website. I learned everything from scratch. Now I love connecting with people all over the world. It's pretty amazing how special blogging can be. Need some inspiration? Check out the best ways to make money as a new blogger here.
Blue Host is offering a great deal right now for getting your blog up and running. They make it quick and easy to get started. It's the web hosting company I used to start this blog, which is why I like recommending them. No tech knowledge required!
Save over 60% off the price of your blog with this special offer (expiring soon)!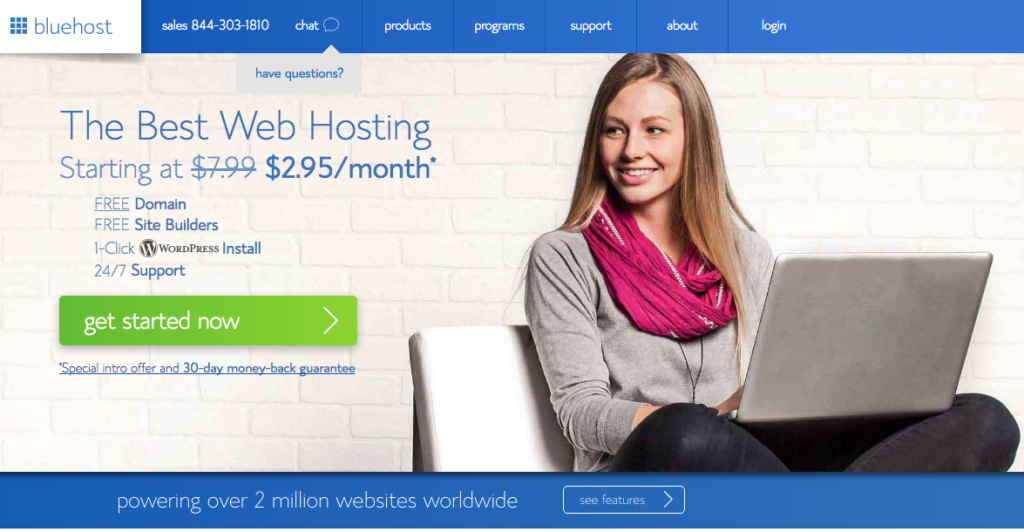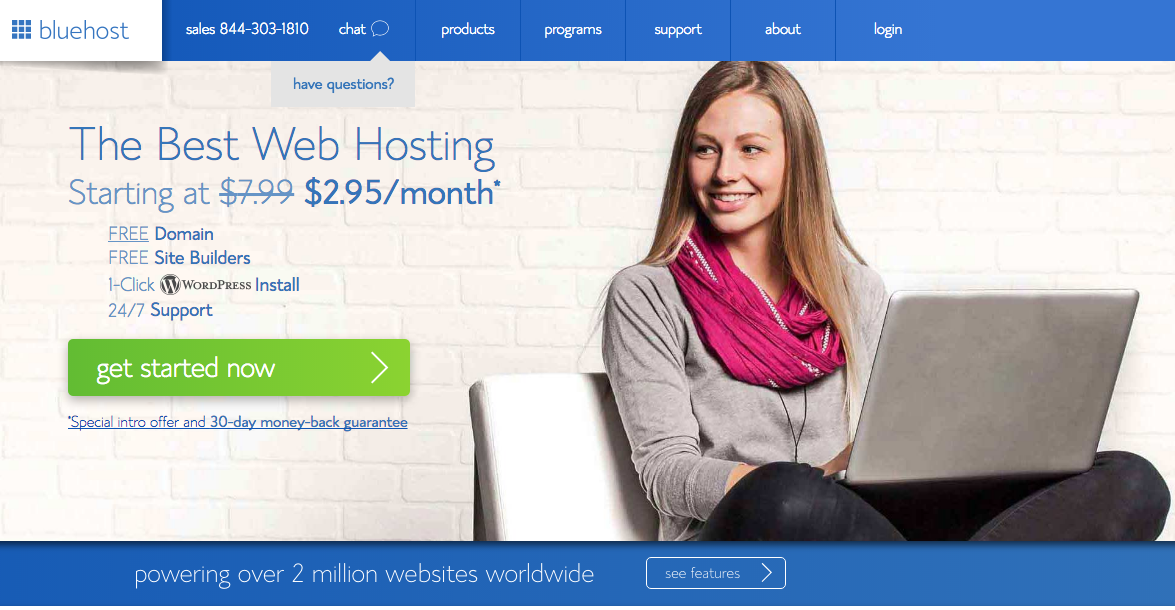 2. Make money dropshipping
There has never been a better time to start a drop shipping business and it's surprisingly easy to get started. This is one of the best online passive income ideas. Some people have started drop shipping as a simple side hustle, which later turned into a full-time gig. It's pretty cool!
What is drop shipping? Drop shipping is a way to run an online store, such as on Shopify. Here's the great part — your online store doesn't keep any inventory in stock and you don't have to ship any products. Instead when your online store sells a product, it purchases the item from a third party (such as Oberlo) and it's shipped directly to the customer.
You can get a free 14-day trial of Shopify here and start your own online shop.
While drop shipping isn't perfect, if you sell products that you love, it can be a rewarding side hustle, or full-time job.
3. Affiliate Marketing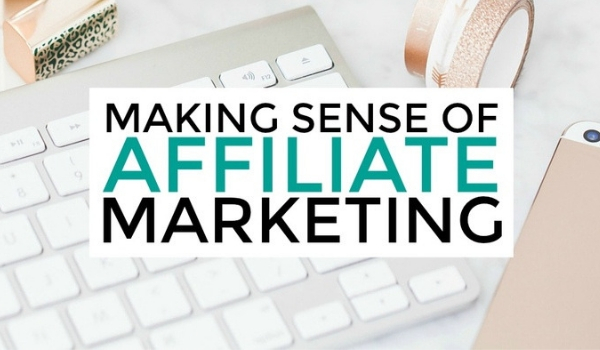 This is how I earn thousands of dollars a month from blogging without selling anything. It's easy to get started making extra money with affiliate marketing. But, it's not a get rich-quick thing.
It will take time to generate enough traffic before you start making decent money. This passive income idea is great for bloggers and online influencers.
If you're interested in learning more about making money from affiliate marketing, I recommend checking out this course. This course has helped me grow my blog from $0 to $10K per month.
4. Invest
One of the most popular passive income ideas is to invest your money. However, many people are unsure how to get started. Here are a couple of trusted and popular ways to start investing money for beginners.
Acorns – Acorns is one of the easiest ways to make money money. Every time you make a purchase, Acorns will automatically round it up to the nearest dollar and invest that change towards your future. Your spare change can quickly add up and every nickle and dime counts. With Acorns, you can also earn cash back on your everyday shopping or set up recurring investments. You'll even get a $5 welcome bonus just for signing up.
Sign up with Acorns today and claim your free $5 bonus
---
Lending Club – This investing platform is straightforward and easy to use. Lending Club is the largest online lender of personal loans in the United States. This means investors, such as yourself, provide loans to borrowers. You can choose which loans you wish to invest in and earn monthly returns from the payments that borrowers pay. This is a great platform to start investing and has the potential for you, as an investor, to earn a steady cashflow.
You can learn more about Lending Club here
5. Earn cash back with Rakuten

Rakuten is free to join and it's my favorite way to earn cash back when shopping online. Rakuten will even apply coupons automatically at checkout, so you'll always know you're getting the best deal.
Plus, you'll get a free $10 welcome bonus just for signing up.
I use Rakuten all the time when shopping online and have been able to earn over a thousand dollars through them. Pretty awesome right?
How to claim your free $10:
Start here to sign up for Rakuten. (It's free to join)
Find your store on Rakuten next time you need to buy something. It's connected to over 2,000 stores, including Amazon, Target, and Walmart. You'll need to spend at least $25 on your first purchase within 90 days.
Your Rakuten account will be credited with reward points. Get this cash sent to a PayPal account or choose to receive a Big Fat Check from Rakuten. It's up to you!
For Canadian shoppers, you can click here to sign up for Rakuten (free $5 welcome bonus).
6. Become a host on Airbnb
Do you have a spare room in your home that you're not using? Make extra money by listing your extra space on Airbnb. In Toronto for example, you have the potential to earn up to $980 per month by renting out your spare room to a couple.
To get started, head to Airbnb's calculator to see how much money you could be making.
7. Write and sell your e-book
There's never been an easier time to write and publish your own e-book. Whether you're a fiction or non-fiction writer, you can make money by selling your e-book. You can use Blurb to create and publish your e-book. This website makes it quick and easy to get your e-book published and ready to sell. You can even choose to sell your book through Blurb.
Amazon is another good platform to sell your e-book. Some authors earn up to six-figures selling e-books on Amazon.
You can also sell and promote your e-book through your own blog. When you sell an e-book on Amazon, you're expected to charge around the same price as other authors (between $0.99-$9.99). However, when selling e-books on your own website, you can charge as much as you want.
8. Create an e-course
Just like starting a blog or writing e-books, an online course is another great way to sell what you know. It's one the best passive income ideas if you create the right sales funnel.
Plus, you don't have to be an expert to make money selling an e-course. You just have to be slightly better than your potential student.
For example, if you enjoy doing yoga, you can create an e-course that teaches others how to do yoga too. An idea for your e-course could be: 30 day yoga series for a specific result.
Teachable, Udemy, and Thinkific are popular platforms to create and sell your online course. This can be a great source of passive income.
9. Rent out your stuff
Whether it's your film gear, road bike, campervan, or furniture, there are LOTS of opportunities to make extra money by lending out items. Depending on how popular your listings are, this can be a great way to earn passive income.
I recently discovered the website Fat Lama, which lets people rent out their belongs to others nearby (full-insured) for cash. It's available throughout the US and the UK right now and it can be a great way to earn a few hundred to an extra few thousands dollars per month.
Click here to get $25 your first rental today!
10. YouTube
YouTube is becoming a popular way to make extra money online. If you prefer to create videos instead of writing a blog, YouTube may be the answer to earning passive income.
You can build an audience and earn passive income through advertising, sharing product recommendations, selling your own e-book or other digital products, and so on.
Make
Fast Money

with Surveys

Online survey companies, such as Survey Junkie want to pay you cash for your opinion. Start making extra money in your spare time. Join for free today!