Raise your hand if traveling more is your ultimate dream, but money stops your dream from coming true.
Back in the day, I used to pinch pennies and save up as much money as I could over an entire year, just so I could afford to take a two-week vacation.
I discovered SO many travel hacks that my friends and family were always asking me for money-saving advice. This is one of the reasons why I started my blog, Mint Notion. It became a place where I could easily share my money-saving tips with family and friends.
Eventually I got tired of having to scrimp and save each year just to be able to take a short vacation. Once I quit my job to go back to school, I realized that there were many ways to make money outside of a 9-5 job.
If making money while traveling is one of your dreams, there are plenty of opportunities for you to travel more without having to dip into your savings. Whether you want to be your own boss or work at a job abroad, there is something for everyone on this list!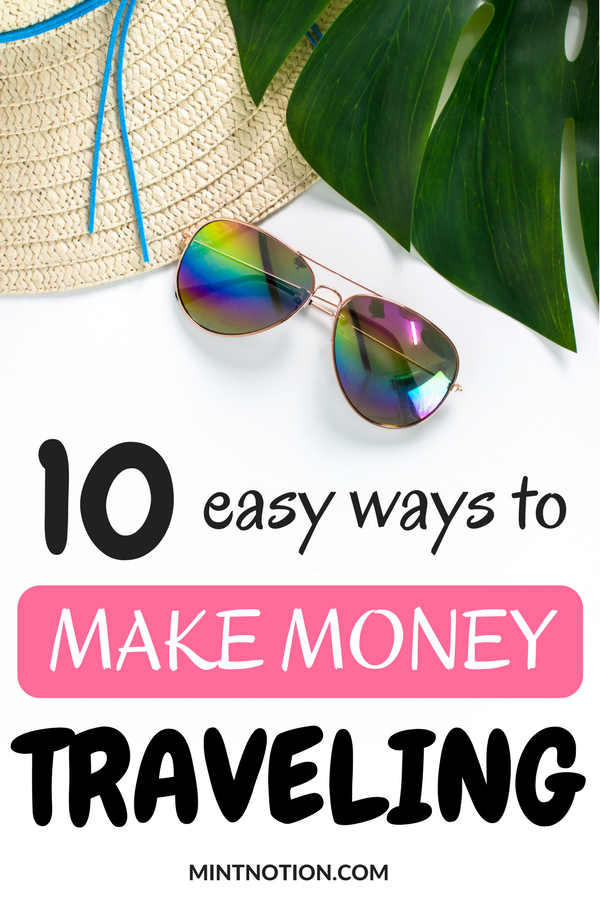 1. Start your own blog
Blogging is my favorite way to make a living online because the start-up costs are low and it has the potential for you to earn passive income. Starting your own travel blog can be an excellent way to make money while traveling the world!
Just a few years ago, I had no idea that blogs could make money. In fact, I knew NOTHING about blogs or WordPress or websites when I first started and learned everything from scratch.
When I started this blog, it was just a hobby for me while I was in college. I wasn't special and I didn't have any previous social media experience – I was just looking for a creative outlet.
Now, I earn a full-time living from this blog and have a great work-life balance. It's allowed me to re-build my savings after finishing college and live my dream life. How amazing is that?!
If I could do it, YOU can do it too!!
How the heck do blogs even make money? Don't worry, when I first started this blog I didn't understand how blogs made money either. That's why I wrote this juicy post to share the best ways you can make money blogging.
I'll be honest, blogging is a not a "get rich quick" thing, but if you choose a profitable blog niche and understand your target audience – you can definitely make an income with your blog.
PRO TIP: If you want to start a profitable blog, my #1 tip is to take your blog seriously from day one. This means deciding what you would like to get out of blogging, creating blog posts for your target audience, and planning how you'll monetize your blog.
If you're interested in starting your own blog, you can use my free step-by-step guide here to set up your blog. For only $2.95 per month, you can start your own blog and get a FREE domain name when you sign up through my link. This special price is exclusive for Mint Notion readers!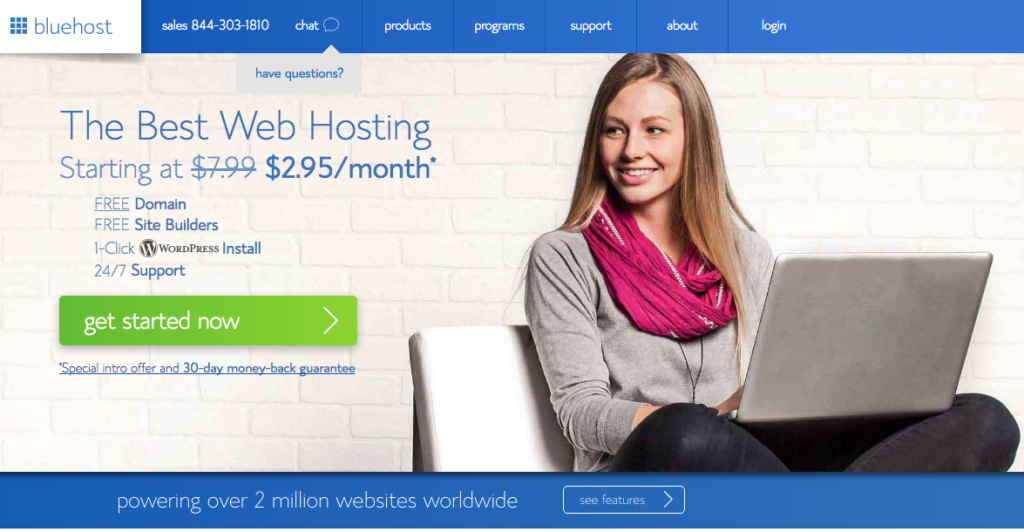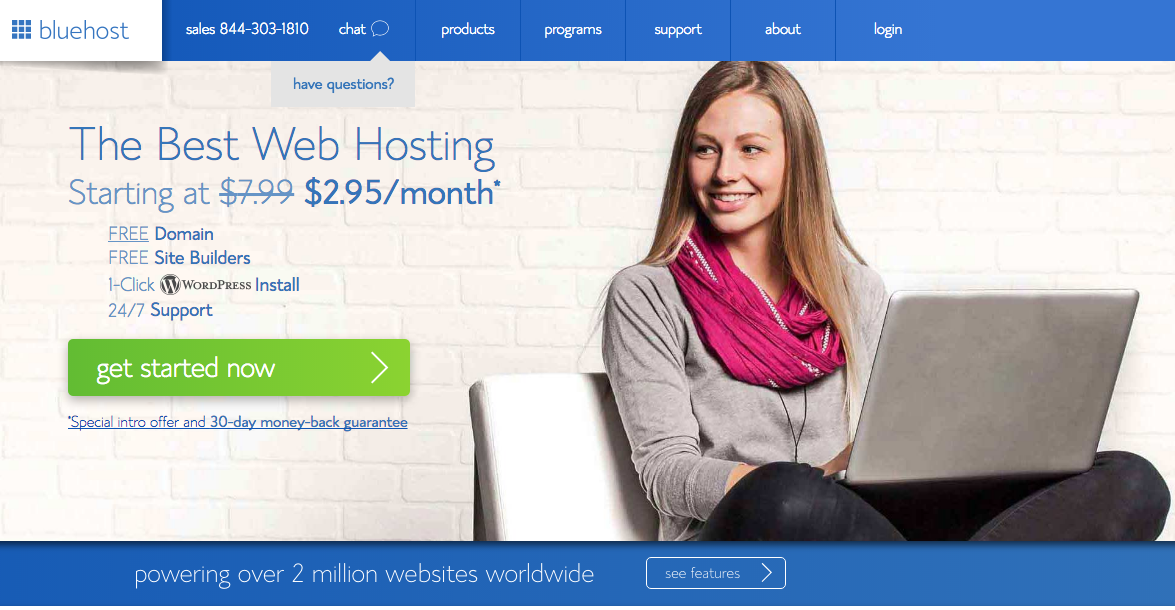 Want a free crash course on how to start a profitable blog? I recommend signing up for my free 7-day email course. It'll teach you everything you need to know about starting a blog, growing your readership, and even making your first dollar! You can learn more about the course and sign up here.
2. Freelance Writing
Do you love writing and wish that you could get paid to write? If you enjoy writing, freelancing can be an excellent way to make money while traveling.
As a successful freelance writer, you have the opportunity to earn thousands of dollars per month. While it takes time and dedication to get started, if writing is something you love, you can certainly turn it into a highly profitable side hustle or even into a full-time job.
If you're interested in becoming a paid freelance writer, the first step is to start your own blog. This is important for building your portfolio and establishing a web presence. Once you've set up your writing portfolio online, you can start making money by reaching out to freelance writing companies. Use my easy step-by-step guide here to start your blog: How to start your own blog in minutes
Interested in freelance writing, but not sure what to write about? Check out this FREE list of 200+ niches to choose from! This list will give you some great ideas to help you land a paid freelance writing job.
3. Virtual Assistant
A virtual assistant is becoming a popular way to make money online, which means you can travel and earn a living as you go. Instead of working at an office, you'll get to work online at home (or wherever you wish). Plus, it's a surprisingly effective way to make money.
As a virtual assistant, you'll provide services to organizations, companies or individuals such as travel research, bookkeeping, database entries, and so on.
If you're interested in becoming a virtual assistant (VA for short), I recommend starting your own blog. Having your own blog is not mandatory, but it gives you a chance to highlight your skills and helps others to find you. Building a presence on the web is crucial for helping you land VA work.
Not sure which VA services to offer? Check out this FREE list of 150+ virtual assistant services that you can offer today! This list will give you some great ideas to help you land a paid virtual assistant job.
4. Affiliate Marketing
Affiliate marketing can be an excellent way to make money while traveling because the income can be passive. This means you can literally make money while you sleep.
What is affiliate marketing? Affiliate marketing is the process of being rewarded with a commission when you promote other people's (or company's) products.
This means if you have an engaged following through a blog or social media platform, affiliate marketing can be a great opportunity for you to earn a living.
PRO TIP: The key to being successful with affiliate marketing is to promote products that you genuinely love and are relevant to your target audience.
If you're interested in learning how you can make a living through affiliate marketing, I recommend taking THIS e-course. I recently finished this self-paced course and it was a game changer for my blog. Thanks to this course, I've been able to turn my hobby-blog into a profitable blog!
The course creator shares her exact strategies for how she makes $50,000+ per month from affiliate marketing. She is so helpful and genuinely cares about her student's success. After implementing a couple of her strategies, I doubled my affiliate earnings in just ONE month. You can click here to learn more about this e-course.
5. Open an online store
Starting your own online store can be an excellent way to make money traveling and it can be a lot of fun too! Some online shop owners earn anywhere from a few hundred dollars to thousands of dollars per month. Ideas for your store include:
Build a dropshipping store
Sell your art online
Flip items for profit
Start your own clothing line
Publish your own e-book, and so on!
If you're interested in starting your own online shop, I recommend using Shopify for your store. Shopify gives you everything you need to start your online store, including a domain name, web hosting, payment gateways, and so on. Plus, it's the most reputable e-commerce platform and it powers more than 500,000 businesses in 175 countries. You can click here to try Shopify FREE for 14 days! 
6. Rent your home while you're traveling
Airbnb is not just place where you can find great travel accommodations. You can also make good money by hosting on Airbnb. In Toronto for example, you have the potential to earn up to $1,300 per month by renting out your home.
With Airbnb, you're in full control of your house rules, availability, and prices. You can set the check-in time and handle the hosting however you like. For example, you can greet guests with a key or send them a door code. This can be a great way to make money while you're traveling.
How to be an Airbnb Host:
1. Create your listing. It's free to create your listing on Airbnb. They make it easy to set everything up and determine a competitive rate for your listing. Of course, it's up to you how much you want to charge.
2. Welcome guests. You can get to know your guests by messaging them through the Airbnb platform. Whether you meet them in person or send them a door code, it's up to you.
3. Get paid. With Airbnb's secure payment system, you never have to worry about dealing with money directly. You will get paid automatically after check-in, minus a 3% service fee.
Don't have any extra space but you still want to make money? You can choose to become a host for your neighborhood or make money by hosting a unique experience (hiking, cooking classes, and more). You can click here to learn more about making money with Airbnb.
7. Teach English as a foreign language
Teaching English as a foreign language is a popular way to make money while traveling. You can expect to make up to $22/hour teaching English online.
VIPKID is currently looking for part-time online ESL teachers for young children who are based in China. All classes are one-on-one and taught online through the VIPKID portal.
You need a degree and at least 1 year of teaching or tutoring experience. If this sounds like something you would enjoy, I highly recommend applying for an opportunity with VIPKID. You can click here to learn more.
8. Be an Au Pair
If you enjoy working with children, this could be a great option for you. Of course you'll want to make sure that any contract you sign allows you to enjoy some free days each week so you can explore the surrounding area.
If this sounds like your cup of tea, it's a fun way to experience a foreign culture and make a connection with your host family.
9. Become a brand ambassador
If you enjoy networking with companies and want to build an online presence, becoming a brand ambassador might be a fun option for you. Many bloggers partner with companies and became a brand ambassador for their product or services as a way to make money.
For example, as a travel blogger you can get paid to promote a company's brand or stay at a cool hotel. This can be a great way to make money while traveling the world.
You don't need a blog to become a brand ambassador though. You can build your social media presence on Instagram, YouTube, or write articles for other blogs and online magazines.
10. Work in the hotel & hospitality industry
Whether you decided to take a seasonal or full-time position, there are many opportunities to work in the hotel and hospitality industry in a new city or country. Examples of jobs include working at:
a Restaurant
a Resort
Cruise ship
a Hotel
a Bar
My sister took a seasonal position at a luxury resort in the Canadian Rockies one summer. Even though she was working during her stay, she used her days off to explore the surrounding area. Her accommodations were provided for her on the hotel property, which made it easy since she didn't need to look for off-property living space.
Over to you — what is your dream travel job?
Start A Successful Blog - The RIGHT Way!
This 7-day FREE email course will show you how to start your own successful blog. Join today!

Please view our privacy policy.


Have a question or comment? Please send me an email at