Raise your hand if traveling more is your ultimate dream, but money stops your dream from coming true.
Back in the day, I used to pinch pennies and save up as much money as I could over an entire year, just so I could afford to take a two-week vacation.
I discovered SO many travel hacks that my friends and family were always asking me for money-saving advice. This is one of the reasons why I started my blog, Mint Notion. It became a place where I could easily share my money-saving tips with family and friends.
Eventually I got tired of having to scrimp and save each year just to be able to take a short vacation. Once I quit my job to go back to school, I realized that there were many ways to make money outside of a 9-5 job.
If you dream about making money while traveling, there are plenty of opportunities for you to travel more without having to dip into your savings. Whether you want to be your own boss or work at a job abroad, there is something for everyone on this list! Here's 10 great ways to make money while traveling.
Related Posts: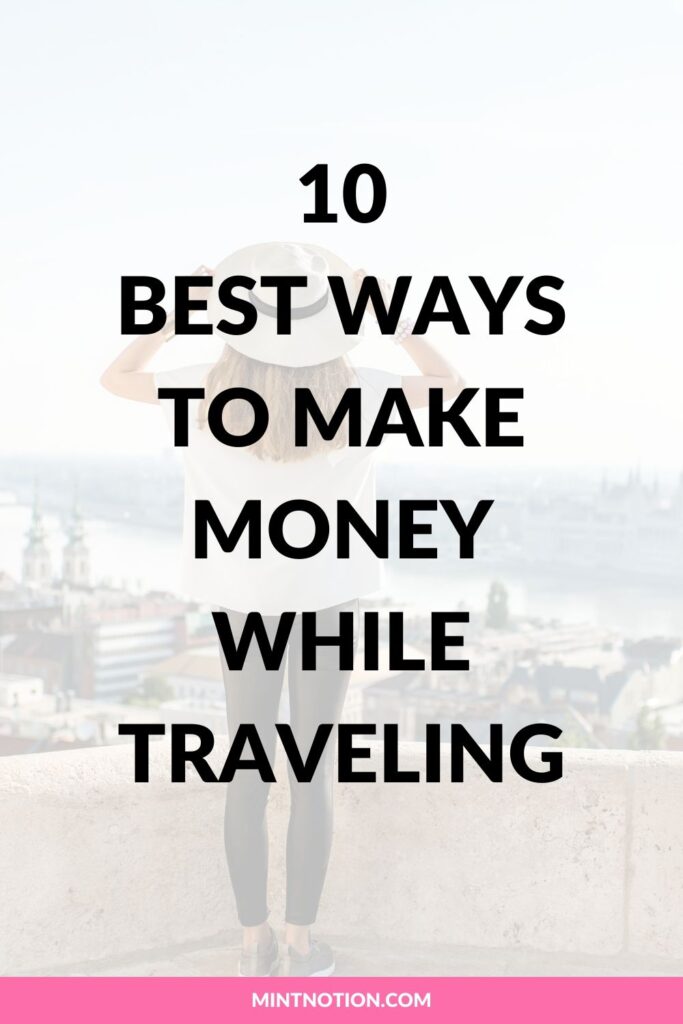 1. Start a money-making blog
Blogging is my favorite way to make a living online because the start-up costs are low and it has the potential for you to earn passive income. Starting your own travel blog can be an excellent way to make money while traveling the world!
If you're interested in starting your own blog, check out my free step-by-step guide. It'll show you how to easily get started. It takes just a few minutes to get your blog up and running. Anyone can do it!
I didn't know anything about blogs when I first started this website. I learned everything from scratch. Now I love connecting with people all over the world. It's pretty amazing how special blogging can be. Need some inspiration? Check out the best ways to make money as a new blogger here.
Blue Host is offering a great deal right now for getting your blog up and running. They make it quick and easy to get started. It's the web hosting company I used to start this blog, which is why I like recommending them. No tech knowledge required!
Save over 60% off the price of your blog with this special offer (expiring soon)!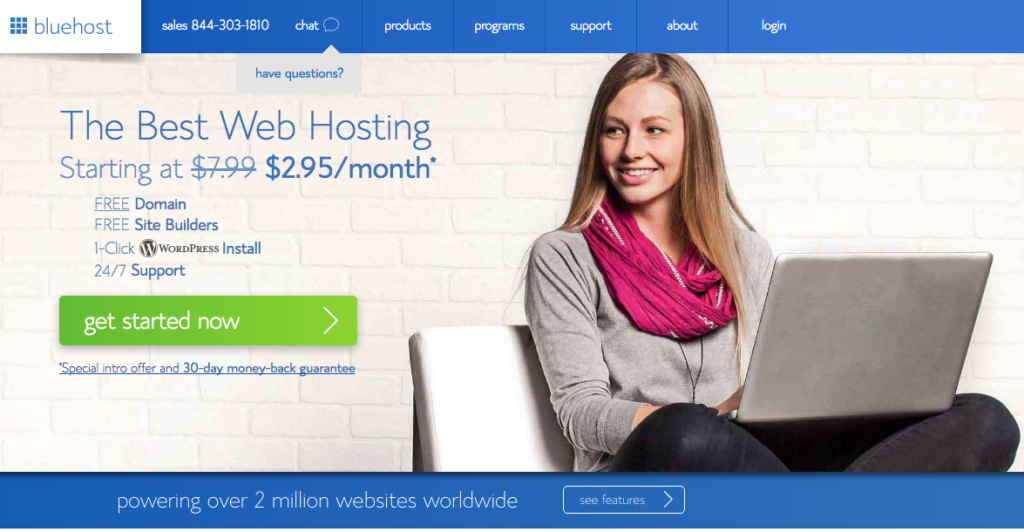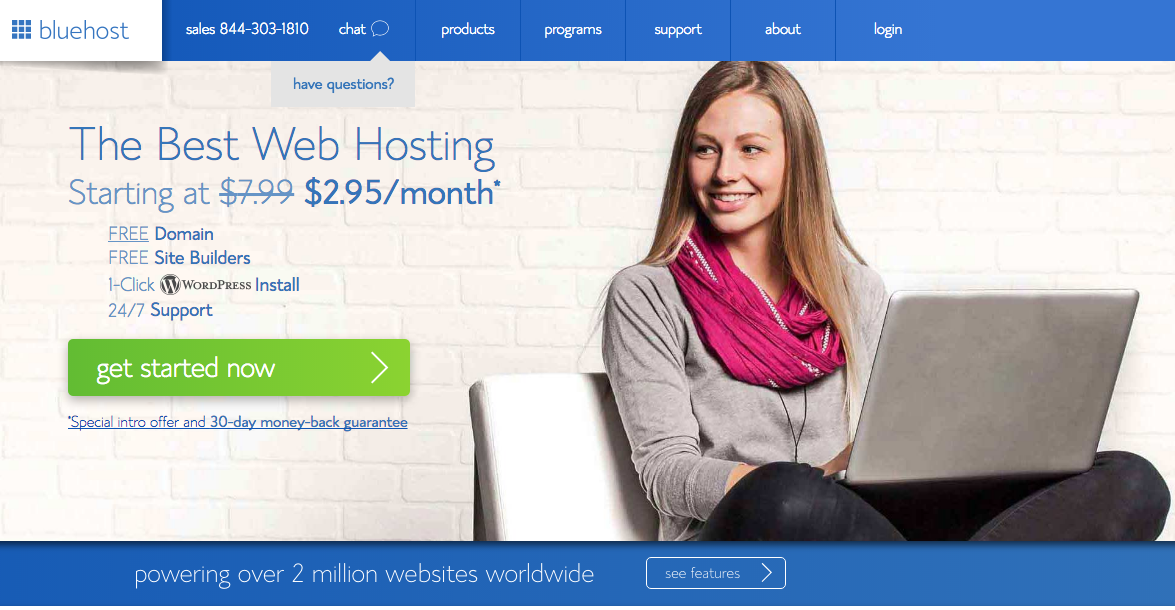 2. Freelance Writing
Content is king and websites are always looking for new content to share with their readers. This is a good option if you're not ready yet to launch your own blog, but want to dip your toes into writing.
As of May 2011, freelance writers earned a mean of $97,300 per year (or $46.78 per hour), according to the U.S. Bureau of Labor Statistics. To help you stand out from the crowd and jumpstart your success, I recommend checking out Earn More Writing.
3. Virtual Assistant
A virtual assistant provides services to organizations, companies or individuals. It can be a great way to make extra money online. Whether it's responding to emails, graphic design, or proofreading, there's a wide range of tasks a VA can offer.
Check out this FREE WORKSHOP on how to become a successful virtual assistant.
Read Next: How to become a virtual assistant
4. Affiliate Marketing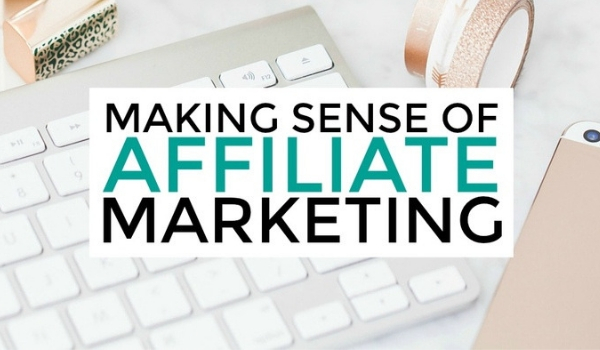 This is how I earn thousands of dollars a month from blogging without selling anything. It's easy to get started making extra money with affiliate marketing. But, it's not a get rich-quick thing. It will take time to generate enough traffic before you start making a decent income.
PRO TIP: The key to being successful with affiliate marketing is to share products that you genuinely love and are relevant to your target audience.
If you're interested in learning more about making money from affiliate marketing, I recommend checking out this course. This course has helped me grow my blog from $0 to $10K per month.
5. Make money with dropshipping
There has never been a better time to start a drop shipping business and it's surprisingly easy to get started. Some people have started drop shipping as a simple side hustle, which later turned into a full-time gig. It's pretty cool!
What is drop shipping? Drop shipping is a way to run an online store, such as on Shopify. Here's the great part — your online store doesn't keep any inventory in stock and you don't have to ship any products. Instead when your online store sells a product, it purchases the item from a third party (such as Oberlo) and it's shipped directly to the customer.
You can get a free 14-day trial of Shopify here and start your own online shop.
While drop shipping isn't perfect, if you sell products that you love, it can be a rewarding side hustle, or full-time job.
6. Rent your home while you're traveling
Airbnb is not just place where you can find great travel accommodations. You can also make good money by hosting on Airbnb. In Toronto for example, you have the potential to earn up to $1,300 per month by renting out your home.
With Airbnb, you're in full control of your house rules, availability, and prices. You can set the check-in time and handle the hosting however you like. For example, you can greet guests with a key or send them a door code. This can be a great way to make money while traveling.
How to be an Airbnb Host:
1. Create your listing. It's free to create your listing on Airbnb. They make it easy to set everything up and determine a competitive rate for your listing. Of course, it's up to you how much you want to charge.
2. Welcome guests. You can get to know your guests by messaging them through the Airbnb platform. Whether you meet them in person or send them a door code, it's up to you.
3. Get paid. With Airbnb's secure payment system, you never have to worry about dealing with money directly. You will get paid automatically after check-in, minus a 3% service fee.
Don't have any extra space but you still want to make money? You can choose to become a host for your neighborhood or make money by hosting a unique experience (hiking, cooking classes, and more). You can click here to learn more about making money with Airbnb.
7. Teach English as a foreign language
Teaching English as a foreign language is a popular way to make money while traveling. You can expect to make up to $22/hour teaching English online.
VIPKID is currently looking for part-time online ESL teachers for young children who are based in China. All classes are one-on-one and taught online through the VIPKID portal.
You need a degree and at least 1 year of teaching or tutoring experience. If this sounds like something you would enjoy, I highly recommend applying for an opportunity with VIPKID.
---
If you want to get paid to travel abroad teaching English, I recommend applying to one of these paid internships. This can be a fun way to explore the world while making extra money.
8. Get paid to do tours
You can make money by taking tourists to your favorite spots. Travel websites, such as Viator, offer a place to promote your tour to millions of people around the world. Viator is a TripAdvisor company and one of the leading online platforms for tour research and booking.
9. Be an Au Pair
If you enjoy working with children, this could be a great option for you. Of course you'll want to make sure that any contract you sign allows you to enjoy some free days each week so you can explore the surrounding area.
If this sounds like your cup of tea, it's a fun way to experience a foreign culture and make a connection with your host family.
10. Work in the hotel & hospitality industry
Whether you decided to take a seasonal or full-time position, there are many opportunities to work in the hotel and hospitality industry in a new city or country. Examples of jobs include working at:
a Restaurant
a Resort
Cruise ship
a Hotel
a Bar
My sister took a seasonal position at a luxury resort in the Canadian Rockies one summer. Even though she was working during her stay, she used her days off to explore the surrounding area. Her accommodations were provided for her on the hotel property, which made it easy since she didn't need to look for off-property living space.