Amazon FBA allows people like you to sell and outsource shipping to Amazon. Since Amazon picks, packs, ships, and delivers your product to customers, this can be a great way to make money from home. Learn how to earn up to $5,000 a month by selling on Amazon.
Are you interested in working from home and getting a new side hustle? You may want to consider learning how to make money selling on Amazon FBA.
Today more consumers are choosing to do the majority of their shopping online. It's no surprise that selling on Amazon can be an excellent way to make money in your spare time.
If you're good at shopping and finding deals, then buying and reselling items on Amazon can be a great opportunity for you.
Imagine earning an extra $100, $500, or even $5,000 per month selling on Amazon. How could that extra money help you and your family? Could you finally get out of debt, save for a home, or quit your 9-5 job?
One of the best parts about making money by selling on Amazon is that you can set your own hours and work from anywhere that has an internet connection. All you need is your computer or laptop to get started.
Does selling on Amazon sound like a good fit for you?
I can appreciate how it can be intimidating to start something new and learning how to earn money from Amazon at home.
The good news is that you don't have to go through the process alone. Today I'm sharing some helpful tips to help you get started in making money selling on Amazon FBA.
We'll cover if it's profitable to sell on Amazon, how much the average Amazon seller makes, and how beginners sell on Amazon.
Related Posts: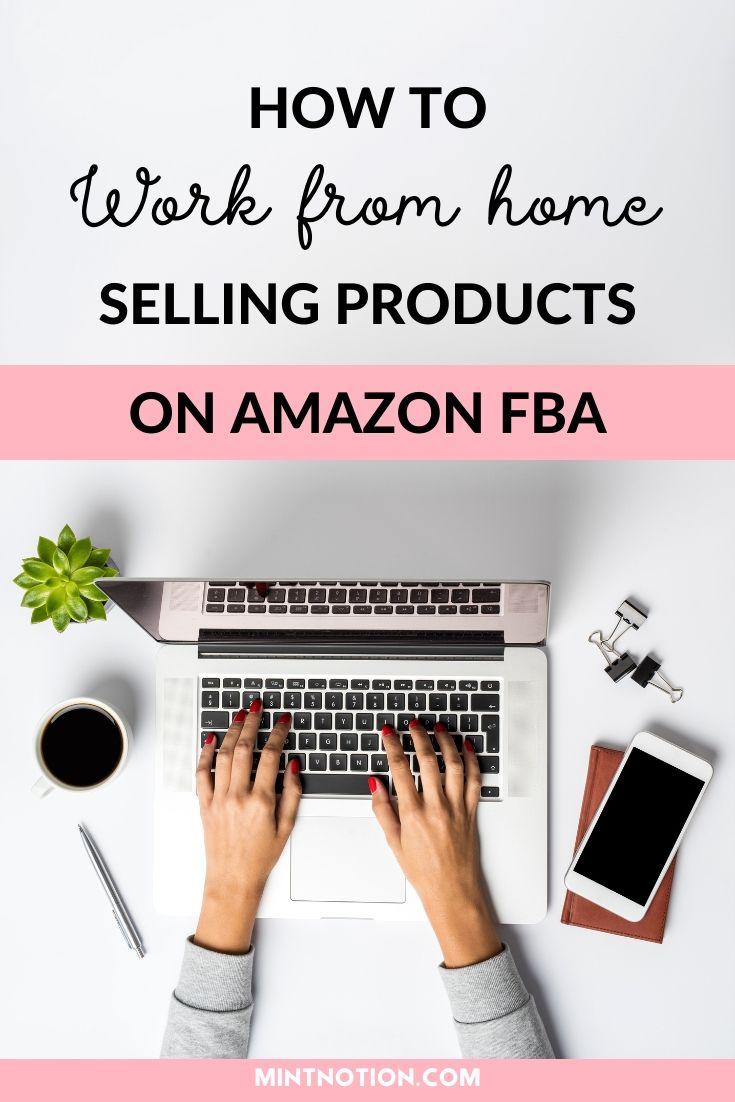 What is Amazon FBA?
FBA stands for Fulfillment By Amazon. This is a great way for aspiring entrepreneurs and go-getters (just like you) to get started selling items online because you don't have to worry about storing your inventory.
How it works: You store your products in Amazon's fulfillment centers. Amazon will pick, pack, ship, and provide customer service for these products.
It's pretty awesome, which is why you've probably seen the news articles and case studies of how people are making thousands of dollars by selling products on Amazon.
How to figure out which product to sell on Amazon?
When it comes to figuring out what product to sell, you can find or create that's in high demand. Then target the audience that needs this product.
Start by doing research on the Amazon platform to see which categories and products are best sellers. You can use Amazon's best-seller ranking to do this.
Is it profitable to sell on Amazon?
YES! While there are many platforms to sell items online, Amazon is one of the easiest and best sites to make money.
Most people think that in order to succeed as an online reseller, you have to create your own website. But this isn't true!
When you sell on Amazon, you're the owner of an online retail store, except your store is actually part of the Amazon.com site.
Why this works – Amazon allows third-party sellers to sell on their site. This means you can list items on Amazon and run your very own Amazon business.
Have you ever noticed when shopping on Amazon that not everything sold on Amazon is sold by Amazon?
If you're like most people, you probably haven't realized that Amazon has third-party sellers (people other than Amazon itself) who sell on their website.
This is what Fulfillment by Amazon (FBA) is all about. You sell the items on Amazon.com, and then they are fulfilled by Amazon.
They store your inventory and ship the products for you. This allows your products to become Prime eligible, which can build trust and increase your sales!
Read Next: 21 hobbies that make money
What skills do you need to be successful selling on Amazon?
The great news is that you don't need a college degree to get started selling on Amazon. You also don't need to have deep pockets to flip stuff on Amazon.
For example, most "flipping" businesses such as real estate, require you to spend a hefty initial investment.
This is what makes Amazon FBA and retail arbitrage so appealing, because it's cost-friendly and great for beginners. Yep, this means that anyone can learn how to get started with making money on Amazon.
Jessica, the mastermind behind TheSellingFamily.com loves making money by selling on Amazon FBA. Here's a few reasons why:
It's easy to get started (no tech experience required).
Flexible hours (you can do it in 5 hours a week or 40, it's up to you).
Piggyback on Amazon's web presence (There's no need to worry about driving traffic to your website, Amazon does that hard work for you).
Which items should you sell on Amazon?
According the Jessica, the worst thing you can do is stand in a store and guess about which products you'd like to sell on Amazon. While you might get lucky in the beginning, this can be surefire way to lose money in the long run.
Instead, Jessica and Cliff like to follow the 3x rule. This means you'll want to look for items that are selling on Amazon for 3x the amount you'll pay in stores.
PRO TIP: The 3x rule works best for items at the $15-$20 range and higher on Amazon.
To help you get started, Jessica recommends using the free Amazon seller app. This can help show you everything you need to know to make a smart buying decision.
Simply open the app when you see something interesting at the store, then use your phone's camera to scan the barcode on the product. The Amazon seller app will show you how much the item is selling for on Amazon and what the FBA fees are.
How much money can you make selling on Amazon?
Many people ask – Can you really make money selling on Amazon or with Amazon Prime? Yes you can! However, the amount you make can depend on a lot of factors.
Jessica from The Selling Family started her business on eBay making $1,000 per month. When she switched to fulfillment by Amazon, she was up to scale her business to over $5,000 per month while working part-time.
Since then, she was able to earn 6-figures in profit in her first year from selling on Amazon. Jessica used her experience of buying and reselling items to master her "buy low, sell high" model and turn it into a full-time gig.
Within just a couple of years, Jessica's husband Cliff was able to quit his job. Now both Jessica and Cliff work together full-time selling on Amazon. They believe this is something anyone can learn how to do.
Whether you're looking for some extra spending money or to build a full-time business, you can make enough money to help pay off debt faster or add more freedom to your life.
Imagine what you would do with an extra $500, $1,000, or even $5,000 a month?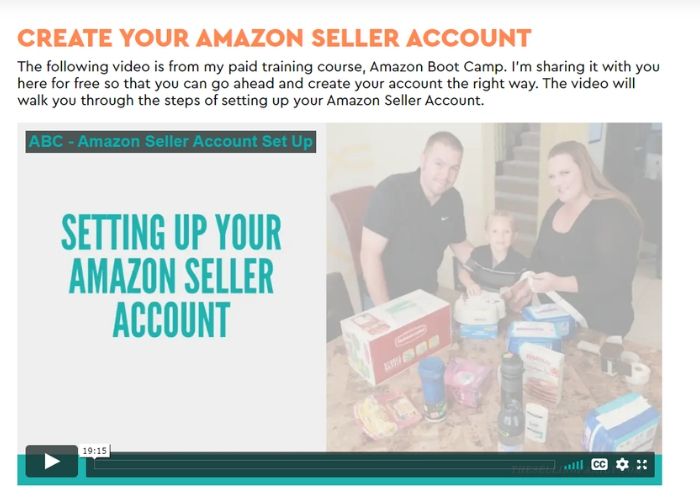 Benefits of selling on Amazon FBA
Selling on Amazon can have a number of life-changing benefits. Many people are looking to become a stay-at-home mom or dad, but still want to find a way to make money for their family too. Working from home selling items for profit might be the perfect opportunity for you.
When you learn how to sell on Amazon FBA, you'll get to enjoy:
MORE FREEDOM – Be able to work when you want, where you want, and escape the 9-5 lifestyle. You'll learn how to earn money from Amazon at home.
MORE FLEXIBILITY – Be able to create your own schedule. Work alone or choose to work with your family and friends.
FINANCIAL SECURITY – You have the potential to earn enough money to stop living paycheck to paycheck, save money for your future, pay off debt faster, and afford to travel more.
Do you want to start living a more financially free life? Learn how to get started selling on Amazon here.
How to get started with Amazon FBA
Step 1: Set Up FBA – You can click here to create your Amazon selling account, then login to Seller Central to set up FBA.
Step 2: Create Your Product Listings – Once you have finished adding your products to the Amazon catalog, you can specify FBA inventory.
Step 3: Prepare Your Products – It's time to prepare your products to send to a fulfilment center. Make sure to follow Amazon's packing guidelines and shipping and routing requirements.
Step 4: Ship Your Products to Amazon – Print the Amazon shipment ID labels and send your shipments to Amazon fulfilment centers. Once Amazon receives your products at their fulfilment center, they're available for customers to buy. YAY!
Is there any class that can help me fast-track my Amazon FBA success?
Yes! While anyone can get started buying and reselling stuff online, learning from someone who has over 10 years of experience can certainly give you a HUGE advantage.
Especially if you want to avoid wasting time with the trial and error approach and earn a decent income, faster.
Jessica and Cliff, over at The Selling Family are some of the most savvy and experienced Amazon sellers I know. They've turned their hobby of re-selling items into a profitable six-figure operation. Now they've complied all their knowledge into a comprehensive course: Amazon Boot Camp.
They'll teach you the basics of how to buy and resell items to make sure you're a skilled re-seller superstar! After you've mastered these skills, Jessica and Cliff will show you how to turn this newfound knowledge into and thriving and profitable business.
You'll walk away from this course knowing exactly how to find items (locally and online) that will sell for high profit on Amazon, using the FBA program.
You'll also learn how strategically price your products  and get your listings on Amazon in front of eager buyers. Sounds like high-value stuff, right?
Nearly all of their course graduates have amazing success stories. This can be the perfect opportunity for someone who's motivated to find hidden treasures and make extra money on the side (or even work for themselves full-time).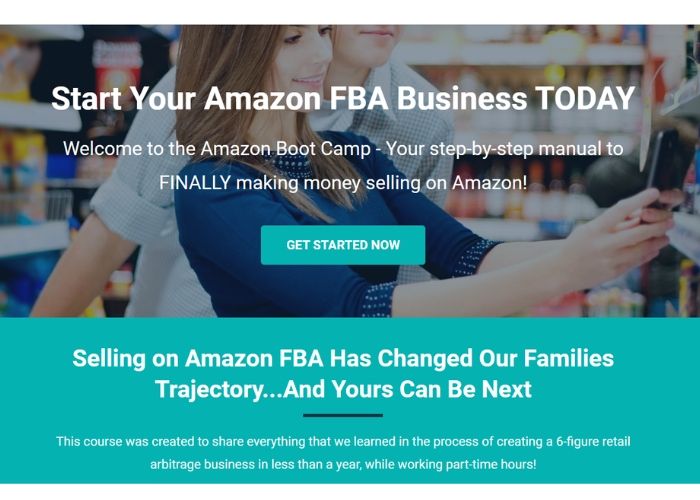 Still not sure if Amazon Boot Camp is right for you?
I can understand if you're not ready to jump headfirst into this. There's no doubt this course can help accelerate your success on Amazon, but maybe you still have some questions.
For example, perhaps you're thinking, "This is something I would love…but I have no experience, what if I can't find anything worth money to resell?"
How do you go from knowing nothing about flipping stuff to reselling items for profit and making money?
Most online courses don't teach you the part where you actually go out into the real world and apply what you've learn.
This is what makes Jessica and Cliff's course so valuable – because a big portion of the course is dedicated to helping you find the best items to flip and how to sell for high profit online.
That's why many of Jessica and Cliff's course graduates have been so successful. When you enroll in their course, you'll gain the skills needed to succeed on Amazon, PLUS you'll get support from Jessica in their private mastermind group on Facebook.
With over 5,000 students in this group, you'll get access to a great team that goes above and beyond so you can create a profitable business.
Don't just take my word for it, though. I recommend checking out their free guide (details below).
How to Sell on Amazon – The Ultimate Guide
Jessica and Cliff have put together a free guide for beginners where they'll share:
Information about themselves, so you can get to know your teachers.
Why Amazon FBA is the best way to sell online + How to make money on Amazon FBA
How flipping can be your ticket to lifestyle freedom and financial security.
5 insider secrets that will help you find the right products to sell online.
Their guide is completely free. You can check it out here.
Amazon Boot Camp Success Story
I was inspired by Susan's story, who made over $1,000 worth of profit in less than three weeks after taking Jessica and Cliff's course. Her story shows that it's possible for a beginner seller to make money on Amazon using the FBA program.
The inspiring part is that she found a product she wanted to sell in the arts & craft niche. She ordered the products online (instead of searching around in retail stores) and was able to start selling them on Amazon.
She had her first sale within 48 hours of listing her product, without using ads or email. That's amazing!
Before Susan started reselling on Amazon, she naturally had fears, especially about how the business model would work for her. But once she joined the course, she felt more confident. And after selling a couple of items, she couldn't believe how easy it was to do!
With the right training and tools, you too can make some good money with just a few flips. Flipping things for profit isn't for everyone, but if you enjoy hunting for hidden gems locally or online, this can be a great opportunity for you.
Ready to kick-start your reselling business? Start by checking out Jessica and Cliff's online training here.
---
Make Money on Amazon FAQs
What is an Amazon FBA?
Amazon FBA is Fulfillment by Amazon. This means you can setup a store on Amazon and store your products in one of Amazon's fulfillment centers. Amazon will pick, pack, ship and deliver your product to customers. They will also provide customer service support for these products. This can be a great way to scale your business and reach more customers.
Can you make money on Amazon without selling?
Yes, it's possible to make money on Amazon without selling. The best way to do this is to sign up for the Amazon Associates Program, which is their affiliate program.
Once you're a member, you can monetize your blog or social media traffic with millions of products and programs available on Amazon. This is how to make money recommending Amazon products to your audience.
If you're interested in starting a blog and making money with Amazon's affiliate program, you can check out this in-depth guide here.