Many people ask — how can I make money if I don't have a job? If you want to learn how you can make money without getting a traditional 9-5 job, then this post is for you!
Whether you're a stay-at-home parent, unemployed, disabled, a teenager in highschool, or your just want to make extra money, today I'm sharing real ways on how to make a living without a job.
Yes, it's possible to make $100 a day without getting a real job. If you're looking for ways on how to make money without a job, then you're in the right place. Today I'm sharing some of my favorite ways to make money on the side (with no investment required). And the best part is, many of these ideas can be done from home!
There has never been a better time to make extra money in your spare time. With the internet at your fingertips, there are opportunities for people of various skill levels to make a living without a job. And who wouldn't want additional income coming in each month?
For instance, an extra $100 a day can help you:
Pay off credit card debt
Pay off student loans faster
Save money for your dream vacation
Save money for a down payment on a home
Save money for retirement, and more!
What would you do with an extra $100 a day?
Doing just a few of these ideas can easily add up to an extra few thousand dollars in cash each year. Are you ready to get started?
Here are 23 legitimate ways on how to make money without a job — as a teenager, in high school, as a kid, in college, or as an adult! There is something for everyone on this list.
Note: I'll be updating this list as I discover more ways to make money without a job. Please go ahead and bookmark this page so you can reference it.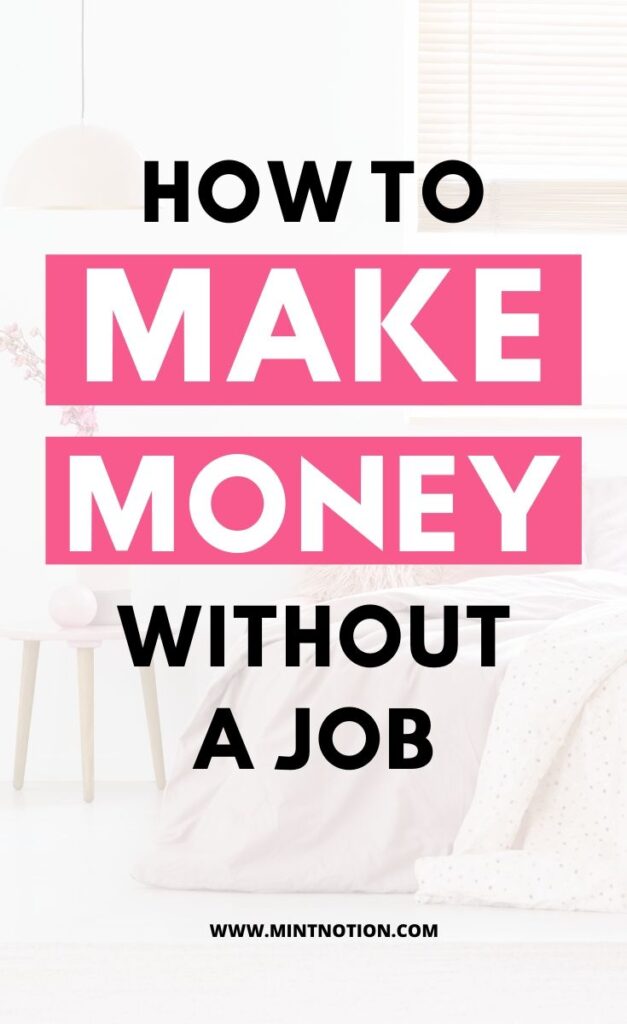 Related Posts:
1. Take part in market research
Companies like to conduct market research to gain feedback from consumers about their products or services. And they're always looking for new survey participants. The best part is, companies are willing to pay to get your opinion.
If you're looking for an easy way to make money without a job, signing up for online surveys can be a great option. I recommend joining several survey websites to help you earn the most money. They are free to join so you have nothing to lose.
Start out with Survey Junkie. This is one of the best paid survey websites available in the United States and Canada. They currently have a TrustScore rating of 8.7/10 on Trust Pilot, which makes them one of the highest rated survey sites.
How to get started with Survey Junkie:
Take Surveys: Sign up here to create your free account. This process takes only a few minutes to complete. Then you'll be matched with surveys.
Earn Rewards: Complete surveys and you'll earn virtual points.
Get Paid: You can redeem virtual points for PayPal cash payments or e-gift cards.
Other survey websites I recommend include Swagbucks (free $5 signup bonus) Branded Surveys and American Consumer Opinion.
2. Earn cash back when you shop from this site
You can make a quick $10 when you join cash back websites, such as Rakuten (formerly Ebates).
Is Rakuten legit? Yup! I've been using Rakuten for the past couple of years to earn cash back when shopping online. In fact, I've earned over a thousand dollars from using Rakuten. You could say I'm a little obsessed with them!
How does Rakuten work? Rakuten has relationships with over 2,000 stores and offers discounts or cash back when you shop at these stores through Rakuten.com. When you make a purchase through the Rakuten shopping portal, they will earn a commission and share part of this commission with you (as a form of cash back). You can get paid by check or by PayPal cash deposits every quarter.

How to claim your free $10:
Join For Free: Click here to sign up for Rakuten.
Shop Through Rakuten.com: Find the store on Rakuten next time you need to buy something. Click "Shop Now" and shop like normal on the store website. You'll need to spend at least $25 on your first purchase within 90 days.
Get Paid: Your Rakuten account will be credited with reward points. Get this cash sent to a PayPal account or choose to receive a Big Fat Check from Rakuten. It's up to you!
For Canadian shoppers, you can click here to sign up for Rakuten (free $5 welcome bonus).
3. Get paid to watch entertaining videos online
Swagbucks can be a great way to passively earn free gift cards to popular retailers such as Amazon, Walmart and Starbucks. All you have to do is earn "SB" (Swagbucks) for things you already do online, such as watching short videos. Then you can redeem your "SB" for rewards.
They currently have a TrustScore rating of 8.3/10 on Trust Pilot, which is up there with some of the best survey sites.
How to get started with Swagbucks:
Join Swagbucks: Get a free $5 bonus when you sign up here.
Earn Points: Choose from a variety of different videos to watch on your phone, tablet or computer. Earn points for each video you watch.
Get Free Gift Cards: Redeem your points for free gift cards or get cash deposited in your PayPal account.
4. Start investing the easy way
Studies have shown that people who practice investing early are less likely to overspend or be careless with their money in the long run. But no matter your age, it's never too late to start investing.
If you're new to investing, a good place to start is with Acorns. This app is great for beginners who want to dip their toes into investing.
How Acorns works:
Every time you make a purchase, Acorns will automatically round it up to the nearest dollar and invest that change towards your future. Your spare change can quickly add up and every nickle and dime counts.
With Acorns, you can also earn cash back on your everyday shopping or set up recurring investments. You'll even get a $5 welcome bonus just for signing up.
Join Acorns today and claim your free $5 bonus
(Limited time offer!)
5. Earn rewards (the easy way) with the Drop App
Drop is a free app which lets you earn reward points for your everyday spending. Each time you make a purchase at one of your favorite retailers, you'll earn points. This means you can earn points for going grocery shopping, taking an Uber, grabbing a snack, and more. A pretty simple way to make money without a job!
One of the big reasons why I love using the Drop App is that it's an effortless way to earn rewards. Simply link your debit and credit cards to the Drop App (this is completely safe). Then you'll earn Drop points for purchases you make using any of your linked cards, in addition to debit / credit card rewards points.
Every 1,000 points is worth $1. You can redeem your points for gift cards to your favorite retailers, such as Amazon, Starbucks, Walmart, and more.
How to get started with the Drop App:
Download the App: After you download the app, link your debit and credit cards. You'll automatically earn points whenever you spend with any of your linked cards.
Shop at Your Favorite Places: Whether it's grocery shopping or taking an Uber, you'll easily earn points.
Get Cash Rewards: Redeem your Drop points for gift cards to where ever you want. Simple.
6. Bake homemade dog treats
Do you like dogs and enjoy baking?
Many pet treats are really bad for dogs and are often filled with unhealthy fillers. This is why the demand for healthy and delicious dog treats is high and continues to grow.
You can make and extra $500-$1,000+ per month selling homemade dog treats! 
My friend Kristin from Diva Dog Bakery, was tired of the boring treats she saw at big-box stores and wanted to create a gourmet dog treat that would be fun to bake at home.
She started recipe testing in her kitchen using quality ingredients that she felt good about feeding her dog and came up with an all-natural treat that looked great and her dogs loved. That's when her dog bakery business, Diva Dog Bakery was born!
Below are some of the healthy dog treats she created and sold in her Etsy shop!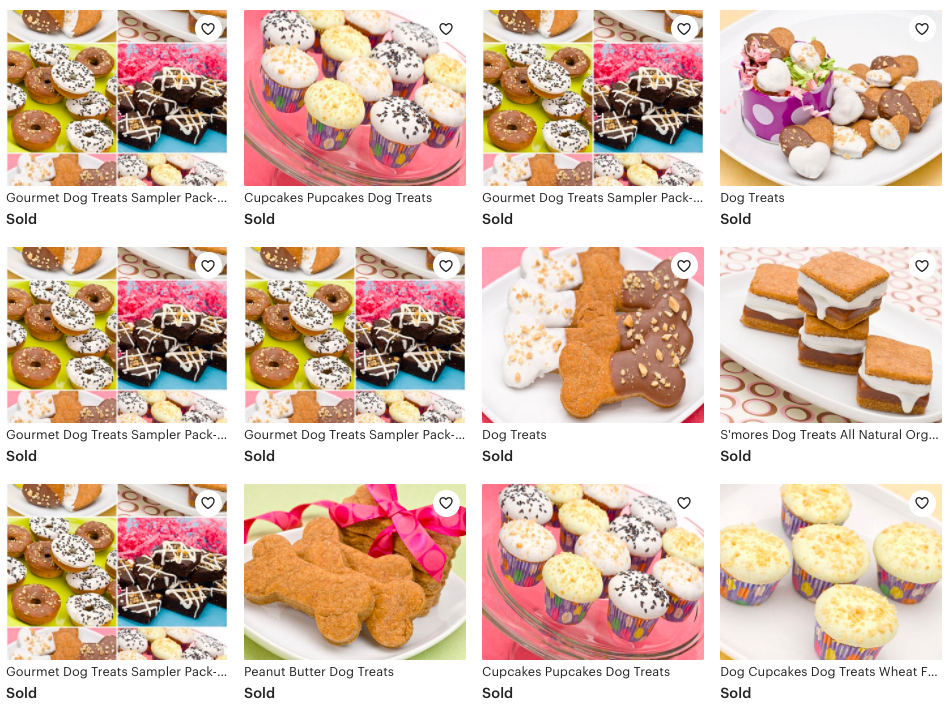 It didn't take long before her dog treat bakery project turned into a booming side hustle business. Kristin's bakery was picked up by print magazines and online press. She was even invited to participate for the Emmy Awards to gift her dog treats in the swag bags. It was a dream come true!
FREE workshop for beginners: If this sounds like a fun opportunity for you, consider checking out Kristin's FREE workshop here. She'll teach you how to start your own dog bakery business from home. And don't worry — there's no baking experience required! This can be a great way to make $500 a month as a kid.
Read Next: How to start a dog treat business from home
7. Pay less on your monthly bills
We've all heard this financial advice over and over again: automate your savings. Automation has been shown to improve your finances and save time too.
But chances are, if you were to scan all your credit and debit card statements, I'm sure you'd find at least one subscription you're not using. You may even find a late fee you've forgotten about. Oops! 
To help you clean up some bad habits without much effort, consider using Trim. Trim is a digital personal assistant that makes it easy to save money on your monthly bills. All you have to do is sign up here and Trim will do the heavy lifting for you.
Trim will also negotiate your monthly bills, such as your cable, cell phone, and internet bill. Trim works behind the scenes and automates ways to save you money.
This can be a great way to make money without a job and help grow your savings, pay off debt faster, and so on. To get started, you can sign up for free here.
8. Teach English online
VIPKID is currently looking for part-time online ESL teachers for young children who are based in China. All classes are one-on-one and taught online through the VIPKID portal.
You can make up to $22 /hour teaching English online!
You need a degree and at least 1 year of teaching or tutoring experience. If this sounds like something you would enjoy, I highly recommend applying for an opportunity with VIPKID. Learn more about how to get started here.
9. Make money from a blog
If you haven't started a blog yet, but are interested in making money online, blogging can be a good option. You can check out my easy step-by-step tutorial here to start your own blog in minutes.
For my fellow Canadians, you can follow this in-depth guide on how to start a blog in Canada.
I also recommend signing up for my free 5-day blogging course that will teach you how to start a successful blog. You can join this free course below:
Some popular ways to make money from blogging include display advertising, affiliate marketing, writing sponsored blog posts, and selling your own products or services. This can be a great way to make money without a job.
The best way for new bloggers to make money? I recommend affiliate marketing. This is how I earn thousands of dollars a month from blogging without selling anything. If you're interested in learning more about making money from affiliate marketing, you'll want to check out this course. This course has helped me grow my blog from $0 to $10K per month.
10. Flip stuff for profit
If you want to make money without a job, consider flipping stuff for profit. You can do this on Facebook Marketplace, eBay or Amazon. Rob and Melissa, the masterminds behind FleamarketFlipping.com, they make a full-time income from flipping stuff for profit. This can be a great way to make extra money fast.
In their first year full-time, they made $133,000 in sales!
I recommend checking out Rob's FREE 75-minute workshop. You'll learn how to find hidden treasures at flea markets, thrift stores, yard sales, and auctions, and how to turn them into maximum profit. His workshop is completely free to join. You can sign up here.
11. Sell stuff on Amazon
With more consumers choosing to do the majority of their shopping online, it's no surprise that selling on Amazon can be an excellent way to make money in your spare time.
If you're good at shopping and finding deals, then buying and reselling items on Amazon can be a great opportunity for you. The amount you can make will depend on a variety of factors. It can be fun way to make money without a job.
Jessica from The Selling Family started her business on eBay making $1,000 per month. When she switched to fulfillment by Amazon, she was up to scale her business to over $5,000 per month while working part-time.
If selling on Amazon FBA sounds like a fun opportunity for you, consider checking out Jessica's course, Amazon Boot Camp. You'll walk away from this course knowing exactly how to find items (locally and online) that will sell for high profit on Amazon, using the FBA program. You'll also learn how strategically price your products and get your listings on Amazon in front of eager buyers.
12. Get paid to play on Pinterest
Did you know that you can get paid to play on Pinterest? With over a million blogs and online businesses, it's no surprise that Pinterest virtual assistants are in high demand. This can be a great way to earn money from home.
As a Pinterest Virtual Assistant, you'll create pins to share on your client's Pinterest account to help drive traffic to their website or sales page. This can be a fun way to make extra money if you already love using Pinterest.
An an absolute beginner can earn around $15-$20 per hour. Some Pinterest VAs can earn up to $100 per hour. The amount of money you make will depend on your experience, skills, education, and so on.
FREE WORKSHOP: If you think that becoming a Pinterest virtual assistant sounds like a good fit for you, I recommend signing up for Kristin's free workshop. Her workshop is completely free to join and it'll provide you with detailed information on how to elevate your skills to become a successful Pinterest VA.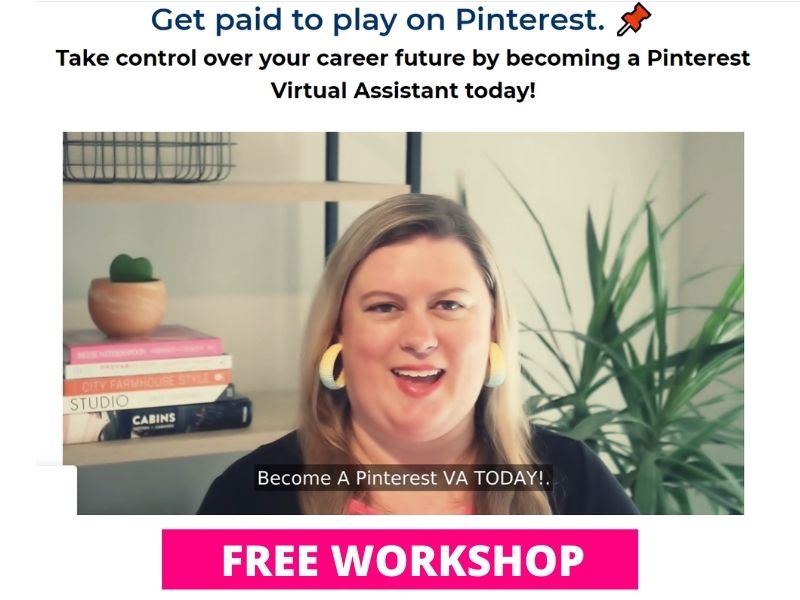 13. Make money as a freelance writer
Are you creative and enjoy writing? Do you wish you could turn those writing skills into a successful career?
Freelance writing is one of the best ways to make money online. And the best part is, you don't need to have a background in English or writing to get started. This can be a great way to make money without a job.
How much can you make freelance writing? As of May 2011, freelance writers earned a mean of $97,300 per year (or $46.78 per hour), according to the U.S. Bureau of Labor Statistics.
To help you stand out from the crowd and jump-start your success, I recommend checking out Holly's e-coure: Earn More Writing. In her course, Holly will teach you the exact strategies she used to go from making $0 to over $225,000 from freelance writing.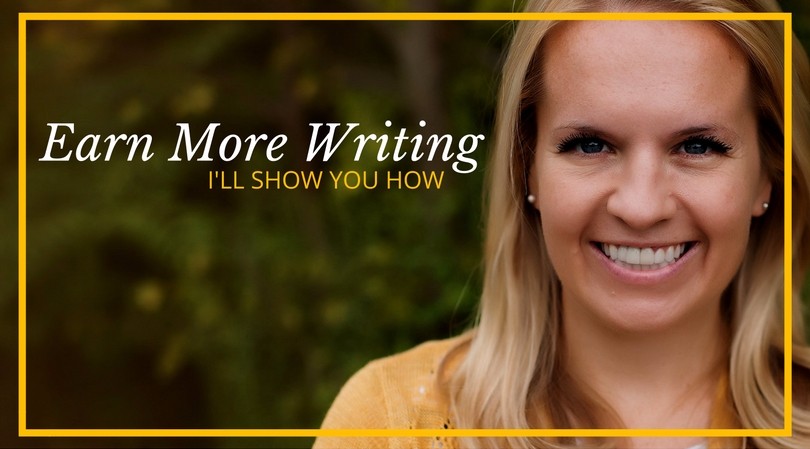 Holly Johnson is a professional blogger and columist. Her course is different from other freelance writing programs because she actually teaches you how to find and land the type of work you want.
She also earns a living from freelance writing, not just selling courses. You'll learn from someone who knows the business and writes for a living. If you're serious about getting into freelance writing, you can learn more about her program and sign up here.
14. Offer virtual assistant services
If you're not interested in writing or blogging, that's okay. It's not for everyone. For those who prefer to handle more administrative or bookkeeping tasks, consider becoming a virtual assistant.
Businesses are always looking to hire VAs to help them with things like answering emails, booking travel, data entry, social media management, and more.
As a virtual assistant, you have the power to set your own rate. This typically falls between $30 and $55 per hour, depending on your level of experience. Many VAs love the high degree of autonomy and their flexible work schedule.
Virtual Assistant Resources:
15. Get paid to lose weight
Are you interested in getting in shape or even dropping a few pounds? Becoming healthier might seem like motivation enough, but sometimes we need an extra incentive to stay on track.
Enter Healthy Wage. This company will help you meet your weight loss goals by offering a cash prize. Simply make a personalized bet on your own weight loss. If you're successful with the challenge, you can win up to $10,000.
Head to Healthy Wage's Prize Calculator to see how much money you could win. You can also check out this post to learn more about getting started with Healthy Wage.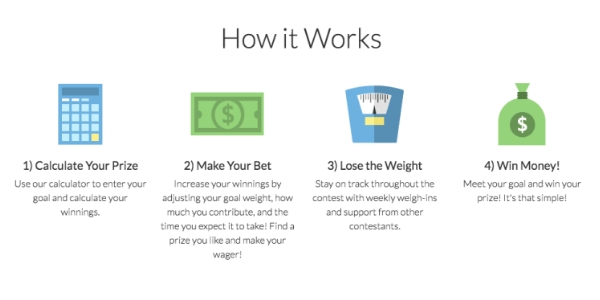 16. Get cash for your mobile phone
Companies want to pay you cash for your mobile phone. A service such as Gazelle will give you cash or an Amazon gift card for your mobile device. This can help offset the cost of a new phone or put more money back in your pocket.
Not only can you sell your mobile phone, but Gazelle will also pay you for your iPad, MacBook, or iPod. This can be a smart way to make money without a job.
How to get started with Gazelle:
Get an Offer: Find your item on Gazelle.com. It takes less than a minute to get an offer.
Ship it Free: It's free to ship items worth $1 or more.
Get Paid Fast: You can get paid by check, PayPal, or choose an Amazon gift card.
17. Sell your photos online
If you enjoy taking photos, you can easily make extra money by selling your photos online. Businesses, small and large, are always looking to buy and use photos regularly.
What photos are in high demand? Bloggers and online business owners are looking for photos of people working, food, travel, cities, nature, and tools.
How to get started selling photos:
Sell photos on your own website. This is the most popular way to sell photos online. You can set your own prices and have 100% control over how you display your photos. Check out this simple guide on how to create your own photography website.
Shutterstock. This is a great option for those who are not ready to start their own website. Shutterstock has been around for over 15 years and has paid out more than $500 million worldwide to their contributors. To get started, simply upload your content to their easy-to-use platform. Then get paid every time your content is downloaded by a customer.
Deposit Photos. I love this website because it's easy to start selling your photos through the platform. Simply click here to create your free account and upload your best content. After your account has been approved, you can start selling and making cash for your photos.
iStock. This is another popular stock photo website where you can sell your photos online. Simply head to iStock.com and scroll to the bottom of the page and click "Sell Stock" to create your free account.
18. Make money selling your graphic designs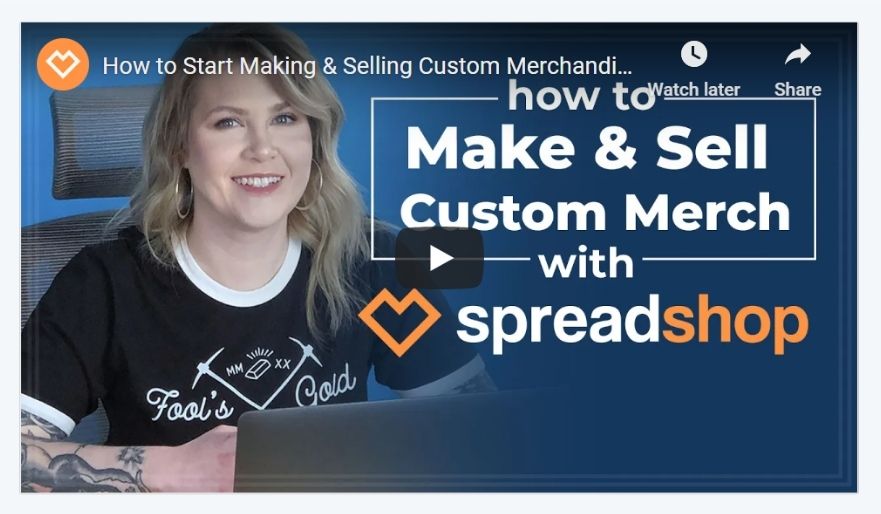 If you enjoy making graphic designs and working on the computer, you can make money by selling your designs online.
If you're not quite ready to start your own website, consider using Spreadshirt. This is an online marketplace that allows you to customize and design products and sell them through free user-created shops. This is one of the best jobs for introverts.
How to get started selling on Spreadshirt:
Create and Upload a Design: Upload any image to Spreadshirt. It's free and easy.
Spreadshirt Sells Your Design on Products: Spreadshirt will instantly create a collection from your image and their catalog of awesome products. There's no shop management necessary – they will market your products for you.
Get Paid: You can get paid by check or PayPal.
19. Sell your textbooks online
Textbooks can be expensive. And there's no point in keeping them around if they're just going to sit on a bookshelf collecting dust.
Instead, sell your textbooks online. This can be a great way to make money without a job. Plus, it's easy and free. A popular place to sell your textbooks online is TextBooks.com.
How to get started with TextBooks.com:
Lock in Your Quote: Check here to get a buyback quote for your book. Your quote is good for 30 days.
Print the Free UPS Label: Ship your book for free.
Collect Your Cash: You can get paid by check or PayPal.
I always recommend comparing buyback quotes to make sure you're getting the most money for your book. You can also use Book Scouter and eCampus.com to find out how much your book is worth.
20. Make money as an Airbnb host
If your home has an extra room, you can make money by renting it out through Airbnb. No matter what kind of home or room you have to share, Airbnb makes is safe and easy to host travelers. This can be a fun way to make money without a job.
How to get started as an Airbnb Host:
List Your Space For Free: Describe your space, how many guests you can accommodate, and share photos.
Decide How You Want To Host: Set your price and choose your own schedule. It's up to you.
Welcome Your First Guest: Qualified guests can book your space and you'll make money. Get paid via PayPal, direct deposit, or wire.
For more details, you can check out my complete guide on how to make money as an Airbnb Host.
21. Make money doing Fiverr gigs
Fiverr is an online marketplace where anyone can sign up for free and sell services. This can be content writing, photo editing, logo design and so on. All you need to do is create a free account and set up your gig. You'll get notified when you get an order. Then you deliver great work and get paid.
22. Playing with dogs
If you love hanging out with dogs, pet sitting through Rover might be your perfect side hustle. This online network connects dog walkers and sitters to dog owners in your area. The best part is, you get to set your own rates, so you can make sure you're charging a fair price. You can click here to learn more and sign up today.
23. Get paid to grocery shop
Instacart is looking for people to become a personal grocery shopper. This can be an easy way to make extra money in your spare time. Plus, it's free to sign up as an Instacart Shopper.
It's similar to Door Dash. Simply choose the hours that work best for you. To maximize your earnings, Instacart recommends working peak days.
As a shopper, you'll be grocery shopping for people. You can choose to be an in-store shopper (shopping only) or a full-service shopper (shop and deliver orders to customers). During busy shifts, you can earn $20 or more an hour depending on tips.
24. Rent out your car with Turo
Make a dent in your monthly car payments by listing your car on Turo. Hosts can cover their payments by sharing their car just 9 days per month (on average).
Turo is a car sharing marketplace that allows private car owners (such as yourself) to rent out their vehicles via an online or mobile interface. This can be a great way to make money without a job.
How to get started with Turo:
List Your Car: It's free and takes only 10 minutes to create a listing for your car.
Determine Price: Turo will determine your car's price based on market value, location, time of year, and other data to help you maximize your income. If you prefer, you can also manually set your own daily price.
Get paid: Turo will pay you via PayPal within 5 days. You'll earn 65% to 85% of the trip price.
For more ideas on how to make extra money, here's a great roundup of how to find the best side hustles.