Did you know that you can make homemade dog treats and sell them? This is what my friend Kristin does from Diva Dog Bakery. She is one of my favorite dog treat business success stories! If you're interested in finding ways to make extra money, today I'm sharing tips on how to start a dog treat business at home.
Many people are choosing to put off having kids and they are treating their pet dogs as children. Also, as people are becoming more health-conscious, they're also paying attention to the ingredients in the dog food they buy.
Many pet treats are really bad for dogs and are often filled with unhealthy fillers. This is why the demand for healthy and delicious dog treats is high and continues to grow. Plus, some dogs follow specific diets and may require custom-made treats.
Are dog bakeries profitable? Yes! Starting a dog bakery business at home can be a profitable side hustle for the right clientele. You can sell dog treats on Etsy, at your local farmer's market, or run it entirely as a home-based business.
Does a dog bakery side hustle sound like a fun opportunity for you? Today I'm sharing practical tips to help you get started in making money from selling homemade dog treats.
Related Posts: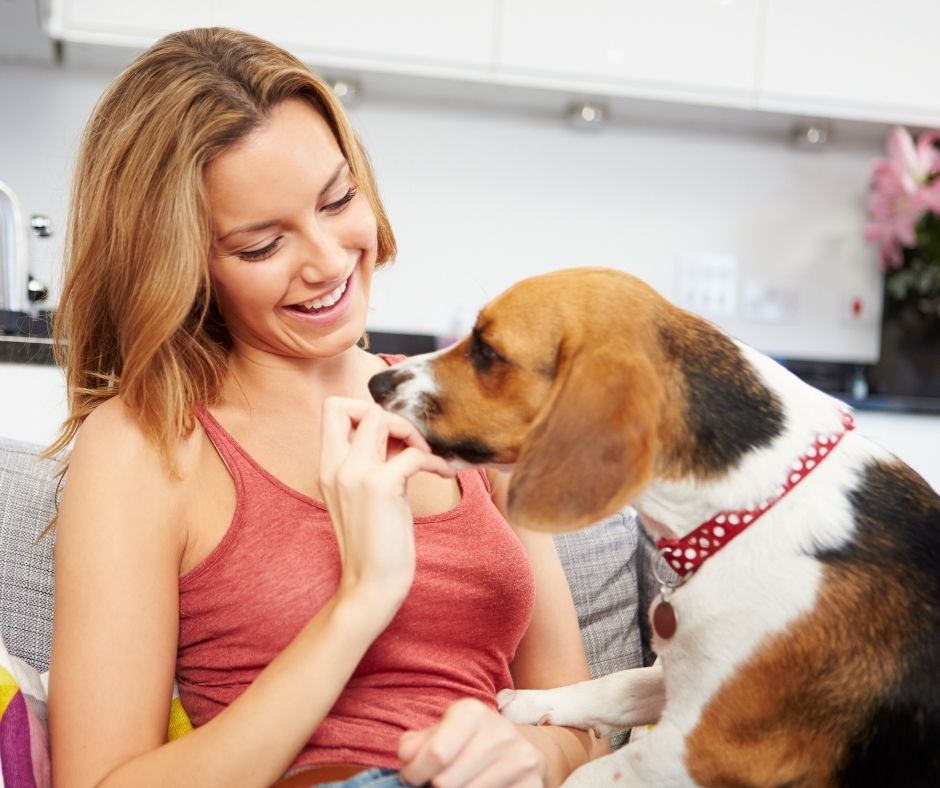 Reasons to start a dog bakery business at home
There are many great reasons to start your own dog bakery business at home. If you love dogs and like the idea of making healthy treats for them, then this could be the perfect combination to help you build a thriving and profitable business.
If you're wondering if you can make money selling dog treats, then answer is yes! There's a HUGE market for this type of business. This is because many people love to spoil their dogs and treat them like members of their family.
Tasty treats can come in handy to help pet owners celebrate their dog's birthday, a special milestone, an afternoon snack, or even a reward for good behavior.
My neighborhood is full of people who have dogs. They love socializing with other dog owners at the local dog park or taking them to the pet store to pick out a special treat. Many dog walkers also like to have dog treats handy to give away to their canine clients.
Starting your own dog bakery can be a great opportunity to get creative in the kitchen by developing tasty new flavor combinations. Making homemade treats that dogs love and using quality ingredients may help you attract customers are who willing to pay more for natural ingredients.
You can even choose to focus on making treats that help dogs with skin allergies, joint pain or improving other specific issues. Every dog deserves a special treat! This can be a profitable business when you find the right customers.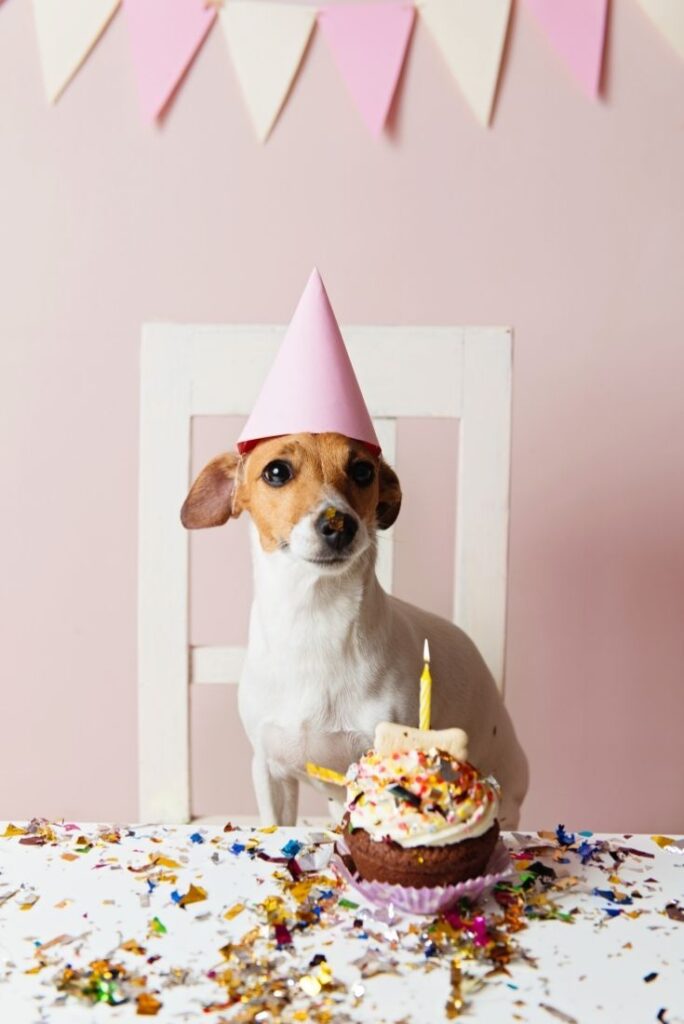 How much money can you make selling dog treats?
The amount you make will depend on a variety of factors such as:
✓ How tasty your dog treats are and if dogs enjoy them
✓ The quality of your ingredients and making sure they are pet-friendly
✓ Making sure that you're optimizing your best-selling products
✓ How much your dog treats cost
✓ Where your dog treats are sold and where you ship them
✓ Your marketing and promotion strategy
Having a good product and the right customer can make this business extremely profitable. As a beginner, you can make around $500-$1,000 a month selling homemade dog treats.
Many dog bakery business owners make around five or six-figures per month. Like any business idea, if you want to be successful, you need to be willing to put in the work.
Kristin from Diva Dog Bakery says the key to success is to set an income goal for yourself and decide whether you want to sell your dog treats online or in-person — or both!
There are many channels you can choose to sell your dog treats, such as online shops like Etsy, vet offices, pet boutiques, doggie daycares, local dog walkers, grooming facilities, and pet stores.
How much does it cost to start a dog treat business?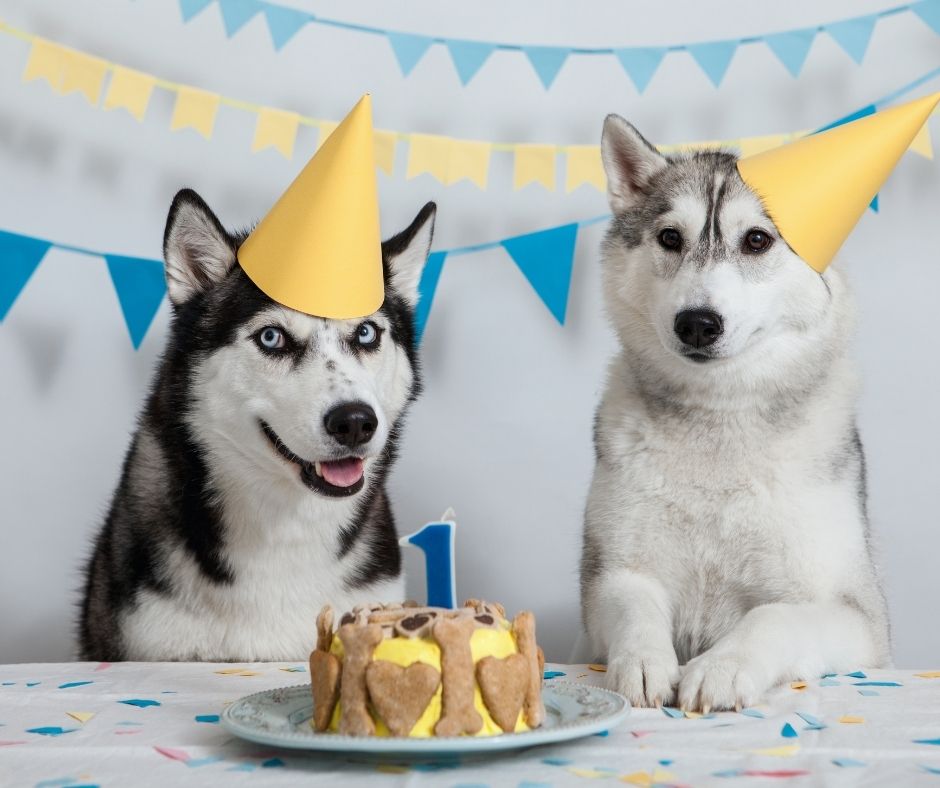 One of the best parts about starting a dog treat business at home is that the start-up costs are low. This makes starting a pet bakery business at home very appealing. The initial costs for starting your own dog bakery will depend on what baking equipment you already own.
To keep costs low, you can start with ingredients and tools you already have by creating tasty samples in your kitchen. Then decide how you'll package them and see how long they last.
If you are brand new to baking, then here's a few bakery tools you'll need for your dog bakery business:
• Mixing bowls
• Rolling pin
• Stand mixer
• Cookie sheets
• Measuring spoons and cups
• Oven to bake your dog treats
• Ingredients to make your dog treats, such as flour, eggs and so on.
Here's a few more things you may want to consider when starting your dog bakery business at home!
Start by promoting your dog treats to family and friends
It's always important to start small with your business. Family and friends can be a great support system since they'll give you honest feedback and reviews. You can give them samples to try and if they enjoy them, word of mouth can spread, and this can help you attract new customers.
Set up a website or online store
Once you're ready to get serious about your dog bakery business, you may want to consider using a professional website or online store like Shopify or Etsy to sell your homemade treats.
If you decide to ship your dog treats, you'll want to factor in this cost when pricing your items. Using a trusted online platform like Shopify or Etsy can also make your customers feel safe since their personal information will be secure when buying from you.
If you want to start a blog to help promote your tasty dog treats, you can check out this easy step-by-step guide to get your blog up and running in minutes.
Sell your dog treats at a farmer's market or craft fairs
If you prefer to sell your dog treats in person, local farmer's markets or craft fairs can be excellent options. Depending on how many farmer's markets you sign up for, you can earn $1,000 or more a week.
Check which farmer's markets or craft fairs are happening near you. Remember that you might need to pay to set up a booth or table, but these costs can often be negotiated. You may also want to offer free samples or special discounts in the beginning to help attract more customers.
Register your business
Once you're ready to take your dog treat business to the next level, you'll want to consider legitimizing your business. This includes thinking of a name for your business and getting licensed. If you need name ideas, you can brainstorm possible ideas with friends or family.
You'll also want to find out how to register your dog bakery business in your state or province. Contacting your local Chamber of Commerce can help you figure out if you need to obtain a dog treat business license or permit. They can also let you know the regulations for making and selling dog treats.
What supplies do I need to start a dog bakery business?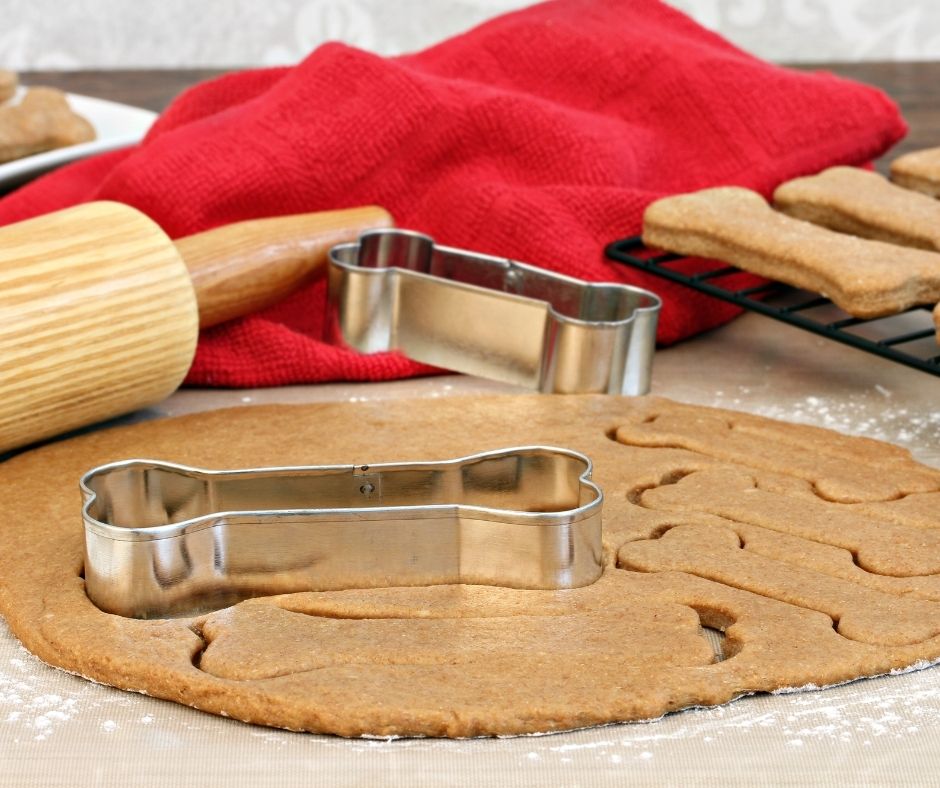 Fortunately the start-up costs are low when starting a dog bakery business, especially if you'll be making the treats from home. The supplies you'll need will depend on what you already have in your kitchen. Here are a few dog bakery supplies and expenses you may want to consider:
Quality ingredients
Do a quick scan to see what's in your kitchen or pantry. Chances are you can start baking dog treats with ingredients you already have at home, such as flour, eggs, and so on. Start brainstorming possible flavor combinations and ideas for sweet or savory treats.
You'll also want to do some research on pet-friendly ingredients that are safe for dogs and which ingredients you should completely avoid. For example, if you're choosing to use peanut butter in your dog treats, you probably want to choose natural peanut butter that doesn't include any filler or junk ingredients.
Baking tools and supplies
You can use basic baking tools such as mixing bowls and cookie sheets, which I mentioned earlier in this post. If you want to get creative with your dog treats, you may want to consider adding a few extra tools to your kitchen.
For example, a mini muffin tin to make cute pup cakes, a mini donut pan to make delicious pup donuts, and a variety of cookie cutters to create unique treats.
Remember, start with what you already have at home, you can also add more tools if you decide to grow and expand your business.
How to promote your dog treat business
Promoting your dog bakery business is one of the most important steps. You could have the best-tasting dog treats ever, but if no one knows about your business, they won't be able to buy from you.
My friend Kristin from Diva Dog Bakery, started her own profitable dog treat business and knows everything there is to know about how to successfully promote a dog bakery. She was tired of the boring treats she saw at big-box stores and wanted to create a gourmet dog treat that would be fun to bake at home.
Kristin started recipe testing in her kitchen using quality ingredients that she felt good about feeding her dog and came up with an all-natural treat that looked amazing and her dogs loved too. That's when her dog bakery business, Diva Dog Bakery, was born!
Below are some of the homemade dog treats she bakes and sells in her side business. Kristin can teach you how to make these beautiful dog treats too in her course, Diva Dog Bakery™.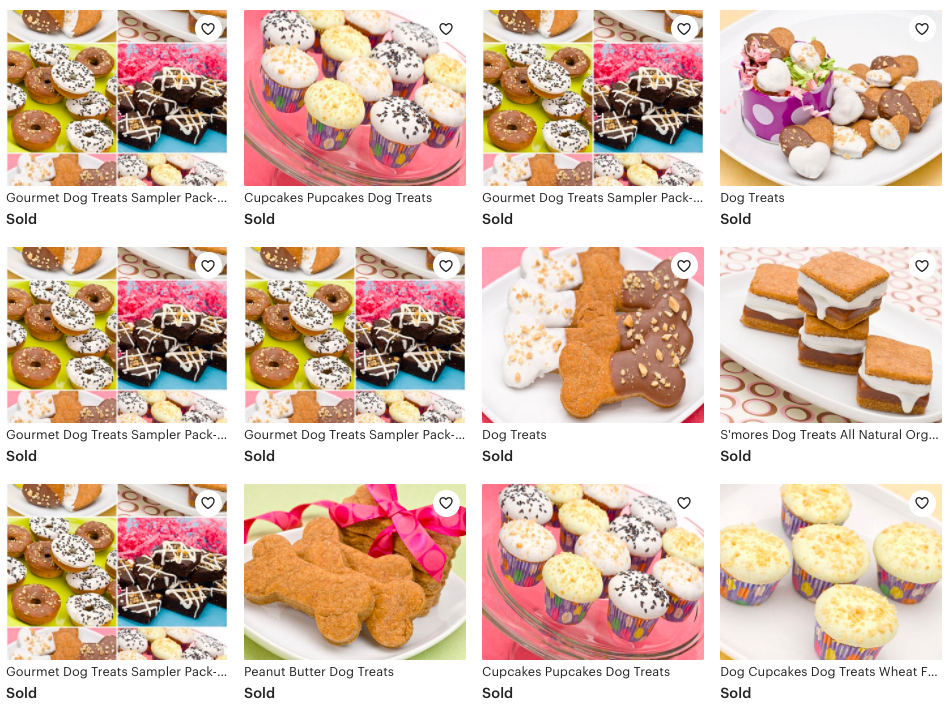 She set up an Etsy Shop to promote and sell her dog treats. On the weekends, she also started selling at a nearby farmer's market. Any leftover treats were dropped off at her local animal shelter, so it was a win-win for everyone.
It didn't take long before her dog treat bakery project turned into a booming side hustle business. Kristin's bakery was picked up by print magazines and online press. She was even invited to participate for the Emmy Awards to gift her dog treats in the swag bags. It was a dream come true!
Kristin recommends these three key strategies to promote and make your dog bakery business successful:
Create a social media presence
Having a solid social media presence can be an excellent way to promote your dog treat business. She recommends setting up a Facebook page or Instagram profile. Here you can share pictures of your dog treats and behind the scenes of your baking process.
Ask to leave business cards at pet groomers and vets
See if you can leave your business cards or a flyer at local pet groomers or vet offices. Since potential customers may be visiting these establishments, it can be a great way to create brand awareness about your dog treats.
Volunteer to help at events
Check to see if there are any pet-themed events or expos happening in your area. This can be a great opportunity to provide free samples of your dog treats or you can bring some packaged ones to sell.
Are there classes I can take to help me start my dog bakery business?
If you love dogs and you want to make extra money from home, starting a dog bakery business can be a great side hustle. While starting a side business will require some work, it can be a lot of fun and rewarding in the long run.
If you're ready to get a head start on your dog treat bakery, you may want to consider checking out Kristin's course, Diva Dog Bakery™. She'll walk you through the entire process of starting and growing your very own dog treat business, including a developing a dog bakery business plan.
Below you can click the image to watch a video and learn more about Diva Dog Bakery™.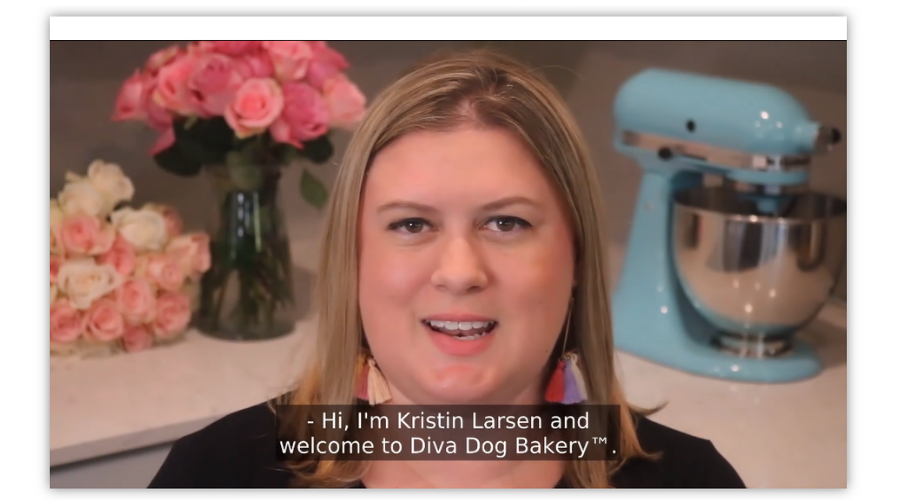 Don't worry – there's no previous baking experience needed. Kristin will teach you how to bake and package healthy and tasty dog treats. She will even provide you with a recipe book sharing the exact same recipes that became best-sellers in her own business.
By using her personal experience of owning a successful dog bakery for several years and the current trends, Kristin can help you start a thriving and profitable dog treat bakery from home.
Don't just take my word for it though. I recommend checking out Kristin's free workshop (details below).
Free Dog Treat Bakery Training
Kristin has put together a free workshop where she'll share:
• Information about herself, so you can get to know your teacher.
• How to make $500-$1,000+ per month from your dog treat business
• How to price and sell your dog treats. Don't guess — Kristin will help you figure out how much you should charge for homemade dog treats.
• Learn about the best places to start a home-based dog treat bakery – online or in-person (or both)!
Her workshop is completely free to join. You can sign up here.