Why do my clothes wear out so quickly? Learning how to make your clothes last longer can be a great way to save money and help the planet too. Today I'm sharing tips on how to take care of your clothes and make them last as long as possible.
If you want to build an ethical and sustainable wardrobe or you're just trying to buy less clothes right now, extending the lifespan your garments can help you stick to your goal.
While I was doing the no new clothing challenge for a year, getting my clothes really clean and keeping them crisp was essential to making sure my wardrobe held up during the challenge.
Here's 20 ways to make your clothes last longer. Follow these tips to save money so you can keep your most cherished pieces looking their best and perserve your clothes.
Related Posts: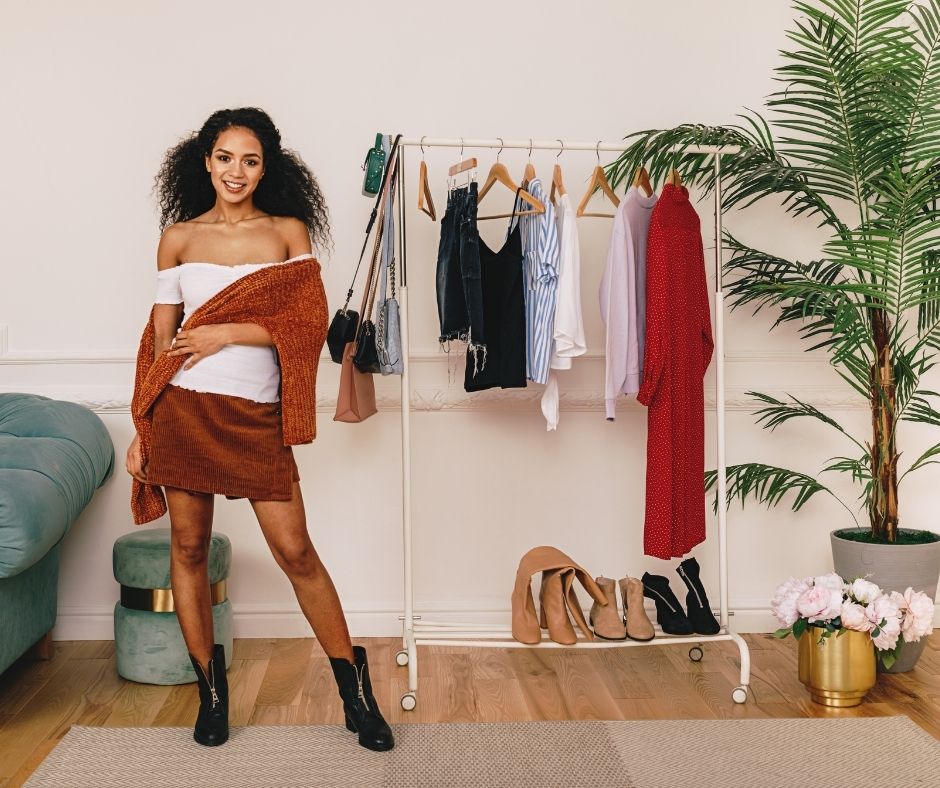 1. Use a mesh bag for delicates
A mesh laundry bag is one of the best ways to make your clothes last longer. It's main use is for protecting delicate garments like lingerie, but there are so many more great ways to use a mesh laundry bag.
Socks – Throw all your socks into the mesh laundry bag before washing. You'll never lose another sock again.
Baby items – Throw baby clothes into the mesh laundry bag before washing to keep everything together.
Hand-washed items – Sometimes you can place items that need to be hand-washed into your mesh laundry bag. I do this with some of my sweaters and put it on the "Delicate" cycle using cold water. Be sure though to check the clothing label before attempting.
PRO TIP: Avoid getting mesh bags with drawstrings because the strings can get easily tangled in the wash. Instead, you'll want to choose bags with zippers, like THIS. I also recommend getting a few different sized bags. You don't want to throw a small item in a large bag or try to cram a bunch of stuff in a small bag.
2. Carry a stain removal pen
When I was working in an office, I used to keep a stain removal pen in my desk drawer. Now that I work from home, I keep one in my handbag when I'm on-the-go.
This allows you to treat stains immediately when they happen so you don't have to let coffee or red wine ruin your favorite garment.
3. Reduce the amount of detergent
It's easy to think that using more laundry detergent will make our clothes cleaner, but it can actually create more problems.
Using too much detergent can leave stains or residue on clothes, it can leave odors in your washing machine, your laundry may not get a chance to drain properly during its cycle, and it can leave your clothes feeling dull or stiff.
I like using this laundry detergent because it has a built-in fabric softener and it's made for sensitive skin. It also lasts a long time so it saves me money.
4. Use a drying rack
The dryer can be fast and easy way to dry your clothes, but there's a few items that you'll want to avoid putting in your dryer. This includes delicate garments, sweaters, denim, and wool. Always check the label to see what is recommended.
Using a drying rack like this one can be a great way to make your clothes last longer. Some materials will last longer when you hang-dry them instead of putting them in the dryer.
For example, a drying rack works well to make cheap clothes or fast fashion items last longer.
5. Use better hangers
When I decided to build a capsule wardrobe, I got rid of all my plastic and wire hangers. Most plastic and wire hangers can stretch out the fabric of your clothes and ruin your favorite garments.
Instead, the best way to hang clothes is to use wooden hangers. I use these for my heavier items, such as jackets.
For lighter items, I use slim velvet hangers to save on closet space. Using the same hangers in your closet looks better and makes it easier to find your clothes, because everything is hung evenly.
6. Don't dry clean too often
Dry cleaning involves the use of harsh chemicals which are not good for the environment. Frequent dry cleaning can also deteriorate the fabric of your clothes.
Many people believe that it's a gentle way to clean clothes, but dry cleaning does not extend the life of your garments.
If you're looking to have a suit pressed so it looks nice and crisp, consider investing in a steamer like this one to use at home instead. It only takes a minute to use and your suit will look like new.
7. Fold heavy sweaters and store them on the self
Putting heavy sweaters on a hanger can stretch the fabric and leave you with a sad-looking sweater.
That's why you see heavy sweaters folded up in the store and not hanging on the racks. I use a hanging closet organizer like this one to store my sweaters and heavier items.
8. Sort your laundry correctly
While this might seem like a no-brainer for most people, there are still plenty of people who throw everything into their washing machine at once – delicates, whites, dark clothing, bright colors, and so on.
I learned this lesson the hard way when a bright-colored top ruined my white blouse. Oops!
I like using a laundry hamper like this one. It makes it easy to sort everything the first time. When you properly sort your laundry, this can make even cheap clothes last longer.
Here's a simple way to sort your laundry to avoid any future laundry accidents.
Read the label – First, read the fabric label to see what material the garment is made from and its washing instructions.
Sort by color – Put whites and pastels into one pile and dark-colored clothing (red, navy, black) into a second pile.
Sort by fabric – Then sort your two piles one more time by fabric type. For example, separate towels and bed sheets from your blouses and lingerie. You'll also want to separate jeans from lighter weight items like t-shirts and button-down shirts.
Items that are stained or heavily soiled – These items should be washed separately to prevent stains or bad odors from redepositing on other clothing.
New items – Most new items, such as dark-colored clothing, should be washed separately the first time in case the colors bleed. Turn these items inside out when washing.
9. Use white vinegar
White vinegar can be a cheap and effective fabric softener. Don't worry, it won't make your clothes smells and it leaves no residue on your laundry. Just at one ½ cup to your final rinse cycle.
I stopped buying fabric softener and dryer sheets years ago because of they often contain harsh chemicals. Instead, I use white vinegar and dryer balls to keep my laundry soft and fresh.
PRO TIP: If you do use regular fabric softener, keep in mind that it shouldn't be used when washing towels. Liquid fabric softener and dryer sheets can actually reduce the absorbency of fluffy fabrics, such as terry cloth.
10. Use vodka to remove odors from clothes
If your clothes have musty odor, but aren't visibly dirty, consider using vodka to freshen them up. Pour some undiluted vodka into a spray bottle, then spritz it on your clothes. When the alcohol evaporates, it will lift the odors away.
11. Wash your washer
Over time, all the dirt that disappears from your clothes can lead to a build-up of grime in your washing machine. To prevent this grime from redepositing onto your clothes, it's important to clean your washing machine regularly.
Try using Affresh washer cleaner, which helps remove odor-causing residue. Just drop a tablet in the washer drum and press the "Clean Washer" cycle. If you don't have this cycle on your washer, select the longest cycle and use hot water.
Here's another simple way to clean your washing machine so it can make your clothes last longer and keep them fresh. This works for both front-loading and top-loading washing machines, but there's a few considerations for both.
Step 1: Wipe out and clean the soap tray. If you can remove the soap tray, take it to the sink and scrub the crevices with white vinegar or dish soap.
If you can't remove the soap tray, fill it with white vinegar and allow it to soak for several minutes.
Step 2: Pour two cups of white vinegar into the soap tray (detergent dispenser). Then run a wash cycle at the highest temperature setting in the empty washing machine.
Step 3: Once the cycle has finished, add one ½ cup baking soda to the drum. Then run a wash cycle at the highest temperature setting.
Step 4: When the cycle has finished, use a microfiber cloth to wipe inside the drum of the washer.
For front-loading washers, you'll want to leave the door open after every wash cycle to air dry. It's also a good idea to use a microfiber towel to wipe out the rubber seal of your washing machine regularly.
12. Rotate your wardrobe
If you wear the same pants multiple times per week, they will naturally get worn out faster than your other clothes. To make your clothes last longer, it's a good idea to get into the habit of rotating your closet.
This means when you do laundry, put your freshly washed clothes at the back or bottom of your closet. This can help push your other clothes to the front and center of your closet, where you're more likely to see them.
How long should clothes last?
Depending on the material of the clothing and how you take care of the item, clothing could last for several years. Clothing made from natural fibres usually last longer than synthetics.
When buying clothes, I always ask myself "Can I wear this at least 30 times?". This helps to ensure that I choose good quality clothes that would fit well into my capsule wadrobe.
13. Take off your outdoors clothes when you get home
Why wear jeans or a dress suit in the house when you change into more comfortable clothes? Taking off your outdoor clothes and wearing indoor clothes can make your clothes last longer, especially when it's your best attire.
I also like to change into indoor clothes when I get home because my outdoor clothes have been sitting in the car, on public transit, on a bench in the park, and so on. I don't want to transfer those outdoor germs to my couch or bed.
14. Zip up your zippers
Zip up the zippers on your jackets and jeans so they don't snag and ruin other clothing in the washing machine.
15. Read fabric labels carefully
Even if you think you're a laundry expert, it's always a good idea to read the fabric care labels in clothing. I always follow the care instructions when washing them item for the first time.
Then over time, you can use your best judgement for taking care of the item. For example, some items that say "hand-wash only", I put it inside a mesh laundry bag and wash it on the delicate cycle in cold water. Following the instructions in the care label can make your clothes last longer.
16. Teach yourself basic mending
Learning basic mending, such as fixing a missing button, can help make your clothes last longer. If you're not good at sewing or prefer someone else to mend it, take your garment to a local seamstress. This can make your clothes look like new again.
This is also a good option for fixing shoes. The heels of my boots were starting to wear down, so I took them to my local cobbler to have them replaced. I was able to wear them for another year and they looked great!
17. Wash your clothes less often
This doesn't mean that you should wear clothing that has a noticeable odor. Think about what your clothing goes through each time you wash it. Its color can start to fade, it can stretch out, or it can shrink in the dryer. By washing items less often, this can help your clothes last longer.
PRO TIP: Unless your clothing is visibly dirty or has an odor, try to wear it at least three times before washing it. Tops will need to be washed more often than pants. Sometimes you can wear pants more than three times, depending on the occasion. Use your best judgement.
18. Wash your clothes properly
Packing everything into the washing machine may seem like a good idea to get your laundry done quickly, but it can damage your clothing. When there's too many items in the washing machine, your clothes won't get as clean and the constant friction of items rubbing against each other can ruin the finish of your clothes.
Does hand washing clothes make them last longer?
Handwashing your clothes can help perserve the items you're caring for and prevents them from getting damaged in washing machines. This is ideal for delicate fabrics, swimwear, sportswear, knitwear, and raw denim. Handwashing is also an inexpensive alternative to dry cleaning and better for the environment.
19. Wash dark clothing inside out
An easy way to prevent your dark clothing from fading is to wash items inside out. I also recommend doing this for t-shirts, jeans, sports jerseys, and items that are prone to pilling. This can make your clothes last longer.
20. Buy quality pieces
I used to buy a lot of fashion fast because it was cheap and trendy. But I noticed that most of my fast fashion clothing didn't last very long due to poor quality craftmanship.
Now I try to buy better quality items that will last longer. I may own less clothes, but I feel good about investing in timeless pieces that will last multiple seasons instead of buying something that will last only one season. It's also better for the planet, people, and animals.
---
How to take care of your clothes FAQs
How long do clothes last on average?
Assuming normal wear, clothes last an average of 2 to 3 years. Extending the lifespan of your clothes is both good for the environment and your wallet.
Why do my clothes wear out so quickly?
You might be making these common laundry mistakes, such as over using the dryer. Try to skip the dryer as much as possible. This is because using the dryer can cause clothing to shrink or makes the colors appear faded.
Does hang drying clothes make them last longer?
Yes, even though it takes more effort and time than using a traditional dryer, hang drying your clothes can help make them last longer and keep their original shape.