Are you thinking of doing the no shopping for a year challenge?
When I quit my job to go back to school, I had NO idea my spending habits would change so much. I saved up enough money to cover my tuition and travels. I needed this money to last for the next year and a half, until my schooling would finish.
To stay on track with my new budget, I challenged myself to buy no new clothing for a year.
In the past, I usually lived within my means and tried to make mindful purchases. However, it seemed like every week there was another excuse to shop online and buy new stuff for my wardrobe.
It was the sale section that made me weak.
Half-off those designer shoes? –Sold.
Zara is having a sale? –Don't mind if I do.
Free shipping on every order, plus receive an additional discount off sale merchandise? –You don't have to tell me twice!
It was an addiction and I couldn't control myself.
I absolutely loved the feeling of buying something new. Having a new work outfit or a new dress to wear out with friends gave me such a high. It was a temporary source of happiness and I felt richer than I actually was.
But that's exactly what it was – I was creating a false sense of wealth that came through cheap and easy consumption.
I didn't even wear all the new clothing and accessories I was buying. I wore something once, then tossed it in my closet and never looked at it again. It was such a waste of my hard-earned money and time. Can you relate?
I didn't have an income when I quit my job, which forced me to track every single expense. I could no longer deny or hide from my previous spending habits.
I immediately unsubscribed from every shopping website so I wouldn't be tempted to buy anything. I still went to the mall, but not every weekend. Instead I would browse the stores and touch the clothing because I missed the feeling of shopping. But, I never bought anything.
I was sticking to good spending habits, for once.
Whenever I was tempted to buy something, I always asked myself, "Do I need this or is there a better way I can use my money?"
Whenever it came to clothing and accessories, the answer was always the same: I don't need to buy this.
I'll be honest with you, it was hard to quit buying new clothes in the beginning. But, saying "no" gave me a sense of empowerment. I stopped caring about trying to keep up with the latest trends. Eventually, it started to become easier and easier to resist the temptation to shop.
One thing I kept reminding myself was "this money has a job and it's not to be spent frivolously". I realized that I had lots of perfectly good clothes and I didn't need new stuff right now.
This was a HUGE change from my previous shopaholic mindset. For example, when planning a vacation in the past, I would always drop money on a new wardrobe for my trip. This meant if I was going to a beach destination, I would buy new sandals, swim suits, dresses, tank tops, shorts, and so on.
I made the choice to make this year different though. I didn't buy any new clothing. Instead, I shopped my closet. I even discovered items which I didn't remember owning.
To be honest, I was fortunate to have a large wardrobe prior to quitting my job, so this made it easier to find ways to get creative and put together outfits.
So, what did I learn from not buying any new clothing for a year?
Related Posts: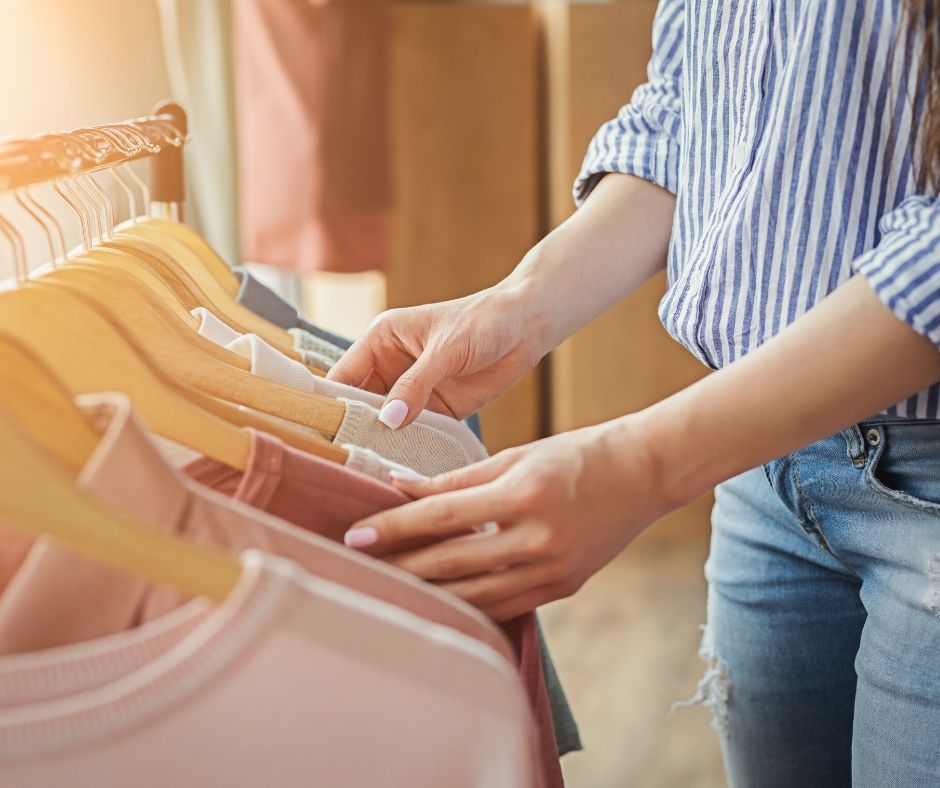 What I learned from not buying new clothes for a year
1. Buying experiences brought me more happiness than buying things
Buying a new outfit or pair of shoes always made me feel good initially. But that feeling of happiness wore off pretty quickly.
Spending money on experiences though, such as a weekend getaway, brought me happiness during the planning stages, happiness during the vacation, and happiness when I looked back and reminisced about the trip (even a year or more after the experience had happened).
That's pretty incredible! Plus studies have shown buying experiences brings us more happiness than buying things. I learned to let go and not base my self-worth on material things.
2. When items are out of sight, they're out of mind
What you see is what you'll wear. If something is tucked away in the back of your closet, it probably won't see the light of day.
When I used to gravitate towards the same old favorites, it felt like I had nothing to wear. However, once I spent time decluttering and organizing my closet, I discovered lots of items that I forgot I owned.
If you would like some extra guidance in getting started with the no new clothing challenge, consider checking out my e-book, Freedom From Shopping. Here, I'll walk you through the entire journey of your shopping hiatus. From helping you set your goals to decluttering your wardrobe to building better shopping habits going forward.
3. Buying trendy pieces are fun, but not a wise investment
Those trendy pieces I bought last season are no longer in style now. While it was fun to buy and wear those items in the moment, they quickly became yesterday's news.
Did I like the trend or was I just a victim of savvy marketing tactics?
I've changed my shopping mindset. Instead of getting sucked into buying trends, I invest in items that are timeless and won't go out of fashion.
I also like to wear neutral colors (black, grey, white). This makes it SO much easier to mix and match items. It's funny because I can wear the same black dress several times and nobody knows! I'll just jazz it up with a different accessory.
4. I became more productive
Because I wasn't spending my weekends at the mall anymore or shopping online, I became more productive during my spare time.
I focused on my studies, traveled more, read more books, and started this blog – all of which brought me more happiness than shopping.
5. I have enough. I'm not missing out on new stuff
When I started the no new clothing challenge, I struggled with FOMO (fear of missing out). However, once I got involved with more productive activities, such as starting this blog, my FOMO disappeared.
Seeing friends, family or fashion bloggers buying new things didn't make me jealous anymore. I recognized that buying new clothing wouldn't make me a better person, or more likeable. It was just a means to create a false sense of wealth.
On days when I felt like shopping, I reminded myself of everything I already owned. I was grateful and felt lucky to have the wardrobe that I did.
Stuff will always be there, it's not going away. But I have the power to make a choice and be mindful with my purchases.
How to get started with the No New Clothing Challenge
1. Declutter
Yes, that's right, I said declutter. It sounds crazy to even think about decluttering your wardrobe if you're doing the no new clothing challenge.
But that's the funny part. We often convince ourselves that decluttering means getting rid of old clothes AND buying new pieces. However, there is NO reason to buy new clothes. Decluttering is just the act of removing unnecessary items from an untidy or overcrowded place.
Decluttering forces you to sort through your clothing so you can actually see what you already own. I resisted decluttering my wardrobe when I started the no new clothing challenge, but once I decluttered, it was like a light bulb went off in my head. I realized how much clothing I actually owned.
Step One of Decluttering:
I created my e-book, Freedm From Shopping, to help simplify the decluttering process. It includes a step-by-step guide (with worksheets) to help you declutter your entire wardrobe so you can get better mileage from your clothes.
I recommend taking out ALL of your clothing and sorting it as follows:
Trash
Donate
Sell
Keep it
Because you're doing the no new clothing challenge, I recommend ONLY getting rid of items which belong in the trash. This includes items that are stained, ripped, damaged, and so on.
Step Two of Decluttering:
For items you wish to donate or sell, I recommend putting them aside in your closet. Over the next month (or however long you plan on doing the no new clothing challenge for), your goal is to try and wear each of the items in your Donate or Sell pile at least once.
PRO TIP: Any easy way to identify if you wore an article of clothing is to follow this hanger trick. Turn all the hangers backwards in your closet (so the open part of the hanger faces you). If you wear an item, hang it back the RIGHT way (the opening part of the hangers faces away from you). At the end of the no new clothing challenge, you'll easily identify which items you didn't wear.
After you complete the no new clothing challenge, if you didn't wear an item in your Donate or Sell pile, then you can get rid of it. If you wore an item from this pile, then you can consider if you'd like to keep it or not.
2. Challenge yourself to wear everything from your wardrobe
After getting rid of your Trash pile from the Step One of Decluttering, you'll want to try and wear everything remaining in your wardrobe at least once.
If you have an overflowing wardrobe, there's a good chance that you'll have lots of items that haven't seen the light of day in months (or even years). Now is your chance to make use out of these items. You never know if your least worn clothing will become your new staple items.
To help you wear everything in your closet, I've created this free 30-Day Shop Your Wardrobe Challenge. I share this same challenge in my e-book, Freedom From Shopping, and many of my readers LOVE it! For each day, you can follow the different prompts to help you put together new and exciting outfit combinations. The best part is, this challenge is completely free to do. You'll be using items you already have!
You can download this worksheet below!
3. Get creative
Before doing the no new clothing challenge, I used to open my closet every morning and feel like I had NOTHING to wear. This is because I would ONLY see my staples items and ignore the rest.
My mind was always coming up with reasons not to wear items in my closet. I would say things such as:
"Those jeans are too small, but instead of getting rid of them right now, I am going to try and lose weight so I can fit into them someday. Holding onto these jeans will keep me motivated".
"I love this dress, but I already wore it to an event, so I can't be seen wearing the same thing again. I'll hold onto it though, because I might wear it again someday".
"I only wore this top once. I thought I would wear it more, but it doesn't match with anything in my closet. I can't get rid of it because I feel guilty about the money I spent".
Can you relate?
Stop imaging things and start getting creative with your wardrobe! Mix and match items to create new outfits. Challenge yourself to wear something you wouldn't normally wear. If a jacket is missing a button, get a new button for it. Now is your time to rotate pieces and make use out of your closet.
To be honest, it feels more empowering to say "no" to purchases than to say "yes". It feels so satisfying to finally mend that missing button on my jacket, instead of being tempted to buy a new one. Doing the no new clothing made me feel like I was in control of my money and I wasn't trying to stay on the fashion hamster wheel anymore.
4. Borrow clothes from family or friends
If you're attending a wedding, I know it's very tempting to buy a new outfit and accessories for the event. Of course you want to feel confident, but you don't need to buy a new dress in order to look fabulous. Borrow clothes from your family or friends instead!
This past summer, I was a bridesmaid in my friend's wedding. She said that we could get any dress we wanted, as long as it was knee-length and navy blue. I searched high and low for a beautiful dress to wear, but got frustrated that I couldn't find anything in stores. I also didn't feel like paying $200+ for a dress that I would probably only wear once.
Instead, I decided to borrow a dress from my mom. My mom had this gorgeous lace dress that was absolutely perfect for the wedding. It made sense for me to borrow her dress than to buy a brand new outfit. (I even borrowed a pair of shoes from her to wear)!
And you know what? I received SO many compliments on my outfit. Everyone loved it!
5. Find healthy ways to distract yourself
I'll be honest. There were some days I felt like completely giving up and ending the no new clothing challenge. I would see people around me shopping and I missed shopping too. I missed that euphoric rush when buying a new outfit or scoring a great deal.
Instead, I needed to find healthy ways to distract myself so I could continue and stick to my goal. I started a new exercise routine, which made me feel stronger and more confident.
I started exploring the outdoors more, which made me feel humble and happier.
I started this blog, which helped me share my no new clothing journey and inspire others. Now this blog is my full-time job and I LOVE what I do! If you're interested in starting your own blog, you can follow this easy step-by-step guide.
I also started to declutter the rest of my home. It helped me to appreciate the things I owned and make better use out of everything. It taught me that living with less actually made me happier. It taught me what I truly valued in life and how to live with intention.

This e-book will show you exactly how to get better mileage from your wardrobe so you can feel good about your shopping habits, your clothing, your finances, and most importantly — how to feel good about yourself!
I know what it's like to…
Feel like you're always buying new clothes but have nothing to wear.
Have 50+ tabs open on your browser in search of that next item to buy.
Get excited about a new purchase, but it ends up sitting in your closet unworn with the price tags still attached.
And I also know what it's like to…
Stop the mindless cycle of buy-buy-buy.
Build a wardrobe that reflects your lifestyle and makes you happy.
Wake up in the morning feeling excited to get dressed.
Resist the temptation to make another impulse purchase.
Live a life free from credit card debt.
It's all possible with Freedom From Shopping!