If you want to stop buying clothes you don't need, follow these tips to help you shop more with intention so you can buy clothes that you'll acutally wear.
Do you want to learn how to stop buying clothes online? Perhaps you want to try it for a month or maybe you want to stop buying clothes for a year? If so, then I've got some tips that I hope you will find helpful for kicking your shopping habit.
Just a few years ago, I used to struggle with impulse buying clothes. When something caught my eye, I just couldn't seem to resist the urge to buy it. I admit, I used to love buying new clothes!
But I often bought clothes I didn't need. I've wasted thousands of dollars on clothes that I rarely wore or still have the price tag attached. Definitely not something that I'm proud to admit.
But after I shared my story about struggling with a shopping addiction and doing the no new clothes challenge, I received many emails from readers telling me they could relate.
This encouraged me to open up more share my journey to recovery and how to follow the no-buy movement. It's been a long road, but I'm grateful for this no shopping for a year challenge teaching me about my spending habits and what I really want in life.
Since then, I've become far more intentional about what I choose to buy and transitioned to a more minimalist lifestyle. If you're interested in learning how to shop with intention, I recommend checking out my new e-book, The Intentional Spender: Why We Buy So Much Stuff and How to Stop.
In the meantime, I'm sharing tips to help you stop buying clothes for a year and transform your shopping habits for good!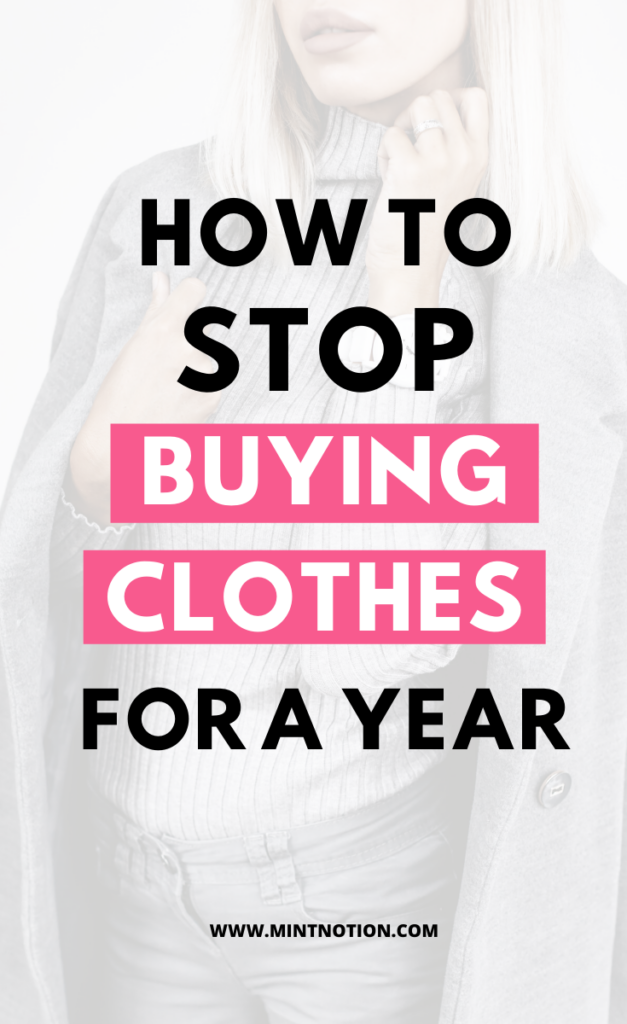 Related Posts:
1. Unsubscribe from retailer emails
The first step to stop buying clothes online is to remove the temptation. I used to love being subscribed to all my favorite retailers because I wanted to be the first to know about new products and sales. But this was causing me to spend and spontaneously buy more stuff.
I used to wonder – why do I keep wanting to buy clothes? Then I realized that I would often buy stuff on days when promotional emails would pop up in my inbox.
I recommend unsubscribing from ALL retailer emails to avoid the urge to impulse spend. This also includes deleting any shopping apps you have on your phone.
This step is one of the easiest ways to help you stop spending money on clothes. And you'd be surprise how effective it can be! If you want to buy less clothes, then start by removing the temptation to spend money.
2. Unfollow people who influence you to buy stuff
Just like retailer emails can encourage you to shop and spend money spontaneously, I recommend unfollowing anyone on social media that influences you to buy more stuff.
I enjoy following fashion bloggers for inspiration to put together outfits using items I already have. But sometimes bloggers like to promote buying new clothes all the time.
If you find yourself spending more money when following a particular "influencer", consider unfollowing them. This can be a helpful way to stop buying clothes.
Ready to get your money under control? Making a plan for your money is the first step in taking responsibility for your finances. Below are the same budgeting worksheets I used to help me stop buying unnecessary things and save my first $100,000 in my mid twenties. If you're interested, you can grab them here.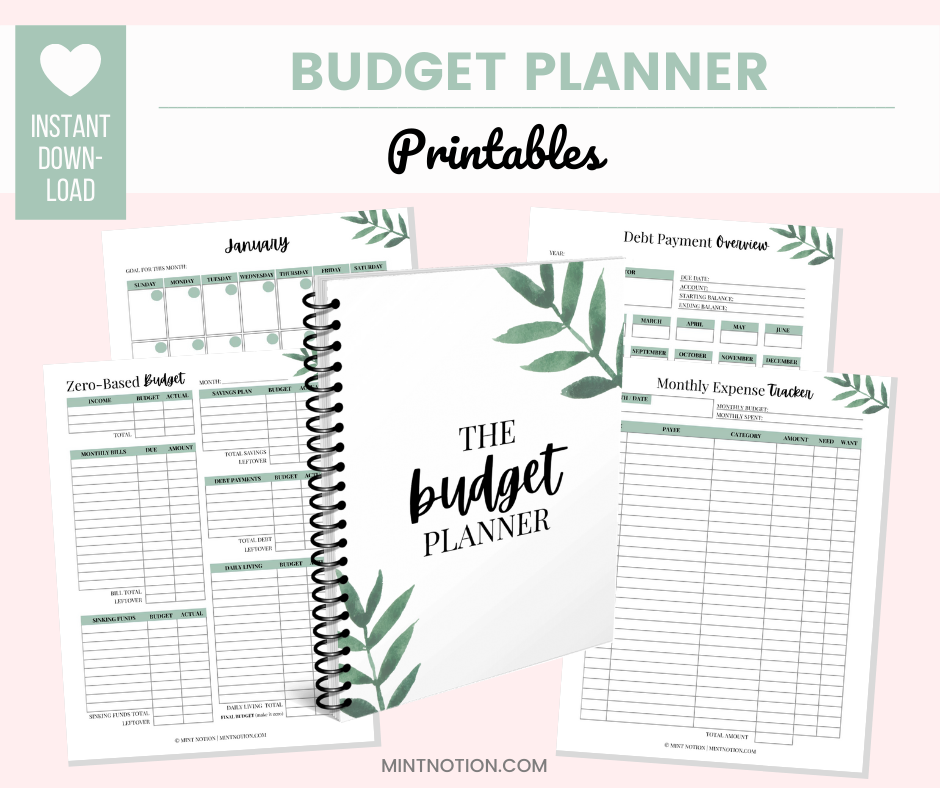 3. Try the 30-day Shop Your Closet Challenge
If you want to stop buying clothes, a great place to start is by getting better mileage from what you already have. This can also help you stop shopping a shopping addiction.
If you have an overflowing wardrobe, there's a good chance that you have lots of stuff that hasn't seen the light of day in months (or even years). Now is your chance to wear these items. You never know if your least worn clothing will become your new staple items.
To help you wear everything in your closet, I've created this free 30-Day Shop Your Closet Challenge. I share this same challenge in my e-book, The Intentional Spender, and many of my readers LOVE it!
Each day (for 30 days) you can follow the different prompts to help you put together new and exciting outfit combinations. The best part is, this challenge is completely free to do. You'll be using items you already have!
An easy way to identify if you wore an article of clothing is to follow the hanger trick. Here's how it works:
Turn all the hangers backwards in your closet (so the open part of the hanger faces you).
If you wear an item, hang it back the RIGHT way (the opening part of the hangers faces away from you).
At the end of the challenge, you'll easily identify which items you didn't wear.
4. Understand what clothes you need for your lifestyle
Sometimes it feels like we have nothing to wear because our current wardrobe doesn't match our lifestyle.
For example, when I made the transition from college to an office job, I needed to update my wardrobe to reflect this new lifestyle.
It's also important to note that there is a BIG difference between clothing you love and clothing that you actually enjoy wearing.
For example, I used to love vintage and Lolita fashion. I would spend hours searching online and in stores for cute dresses and accessories. I thought this style of fashion was so pretty and my dresses looked beautiful hanging up in my closet.
But the truth is, I never wore them. I never understood why because I actually loved these dresses. But I always found myself reaching for more basic clothes, like jeans and a t-shirt or a simple black dress. Below are some tips on why we buy clothes and never wear them.
Read Next: How to stop buying clothes that you never wear
My wardrobe at the time didn't reflect my lifestyle. I was buying clothes for both my "fantasy lifestyle" and my actual lifestyle, which was costing me a lot of money.
To get better mileage from your closet, you'll want to think about how often you engage in certain activities vs. what items you have in your wardrobe.
For example, do you have a lot of activewear in your closet, but you rarely exercise or participate in sports? Then you may want to consider donating or selling these items.
Clothing companies are also really good at convincing us that we need certain items in our wardrobe. I stopped reading those posts from influencers that tell me what I "must have" in my wardrobe. Most of them are not realistic and are written with the goal to make sales.
Now I only buy items that represent my lifestyle. This helps me avoid getting distracted by things that don't fit my current life.
5. Take inventory of your wardrobe
If you have a closet full of clothes but often feel like you have nothing to wear, you're not alone. I recently decluttered my fantasy self, which was a game-changer for me.
Having a cluttered or disorganized wardrobe (like I used to have) can actually cost you money. I would often buy new clothes, not realizing that I already owned something similar. This is because my closet used to be a mess and when items are out of sight, they're out of mind.
Taking inventory of your closet is the best way to discover what you already own, and to clear out items you don't wear or love anymore. This can help you stop buying clothes.
To help you get started, you can grab my printable Wardrobe Declutter checklist here. Or you can create your own.
If you need some extra guidance, you may want to consider checking out my post: 6 steps to decluttering clothes
Step 1 – Take everything out
Yes, this means you need to take everything out of your closet (including clothing in your drawers, under your bed, and any other spots you're hiding clothes).
Step 2 – Try everything on
Depending on the size of your wardrobe, this can take a couple of hours. As you try each item on, ask yourself the following questions:
How do I feel when I wear this?
If I were shopping right now, would I buy this?
Do I love it?
After trying on each item, you'll want to sort everything into 4 separate piles:
Trash (items that are stained, damaged or worn out)
Donate (gently used items that you no longer wear)
Sell (gently used items that you no longer wear and could potentially sell for cash)
Keep it (items that you love wearing)
By getting rid of items you no longer wear, need, or love, it gives you a chance to feel good about the items you choose to keep. Decluttering teaches you how to be more decisive when choosing what to wear each day, and in other areas of your life too.
6. Get creative and rethink how you see your clothes
Before doing the no new clothing challenge, I used to open my closet every morning and feel like I had NOTHING to wear. This is because I would ONLY see my staples items and ignore the rest.
My mind was always coming up with reasons not to wear items in my closet. I would say things such as:
"Those jeans are too small, but instead of getting rid of them right now, I am going to try and lose weight so I can fit into them someday. Holding onto these jeans will keep me motivated".
"I love this dress, but I already wore it to an event, so I can't be seen wearing the same thing again. I'll hold onto it though, because I might wear it again someday".
"I only wore this top once. I thought I would wear it more, but it doesn't match with anything in my closet. I can't get rid of it because I feel guilty about the money I spent".
Can you relate?
Stop imaging things and start getting creative with your wardrobe! Mix and match items to create new outfits. Challenge yourself to wear something you wouldn't normally wear. If a jacket is missing a button, get a new button for it. Now is your time to rotate pieces and make use out of your closet.
It feels more empowering to say "no" to purchases than to say "yes". It feels so satisfying to finally mend that missing button on my jacket, instead of being tempted to buy a new one. Doing the no new clothing made me feel like I was in control of my money and I wasn't trying to stay on the fashion hamster wheel anymore.
Read Next: How to stop a shopping addiction
7. Borrow clothes from family or friends
If you're attending a wedding, I know it's very tempting to buy a new outfit and accessories for the event. Of course you want to feel confident, but you don't need to buy a new dress in order to look fabulous. Borrow clothes from your family or friends instead!
This past summer, I was a bridesmaid in my friend's wedding. She said that we could get any dress we wanted, as long as it was knee-length and navy blue.
I searched high and low for a beautiful dress to wear, but got frustrated that I couldn't find anything in stores. I also didn't feel like paying $200+ for a dress that I would probably only wear once.
Instead, I decided to borrow a dress from my mom. My mom had this gorgeous lace dress that was absolutely perfect for the wedding. It made sense for me to borrow her dress than to buy a brand new outfit. (I even borrowed a pair of shoes from her to wear)!
And you know what? I received SO many compliments on my outfit. Everyone loved it!
8. Find healthy ways to distract yourself from shopping
I'll be honest. There were some days I felt like completely giving up and ending the no new clothing challenge. I would see people around me shopping and I missed shopping too. I missed that euphoric rush when buying a new outfit or scoring a great deal.
Instead, I needed to find healthy ways to distract myself so I could continue and stick to my goal. I started a new exercise routine, which made me feel stronger and more confident.
I started exploring the outdoors more, which made me feel humble and happier.
I started this blog, which helped me share my no new clothing journey and inspire others. Now this blog is my full-time job and I LOVE what I do! If you're interested in starting your own blog, you can follow this easy step-by-step guide.
I also started to declutter the rest of my home. It helped me to appreciate the things I owned and make better use out of everything. It taught me that living with less actually made me happier. It taught me what I truly value in life and how to live with intention.
9. Make a shopping wish list
One of the best ways to curb impulse spending and stop buying clothes is to create a shopping wishlist.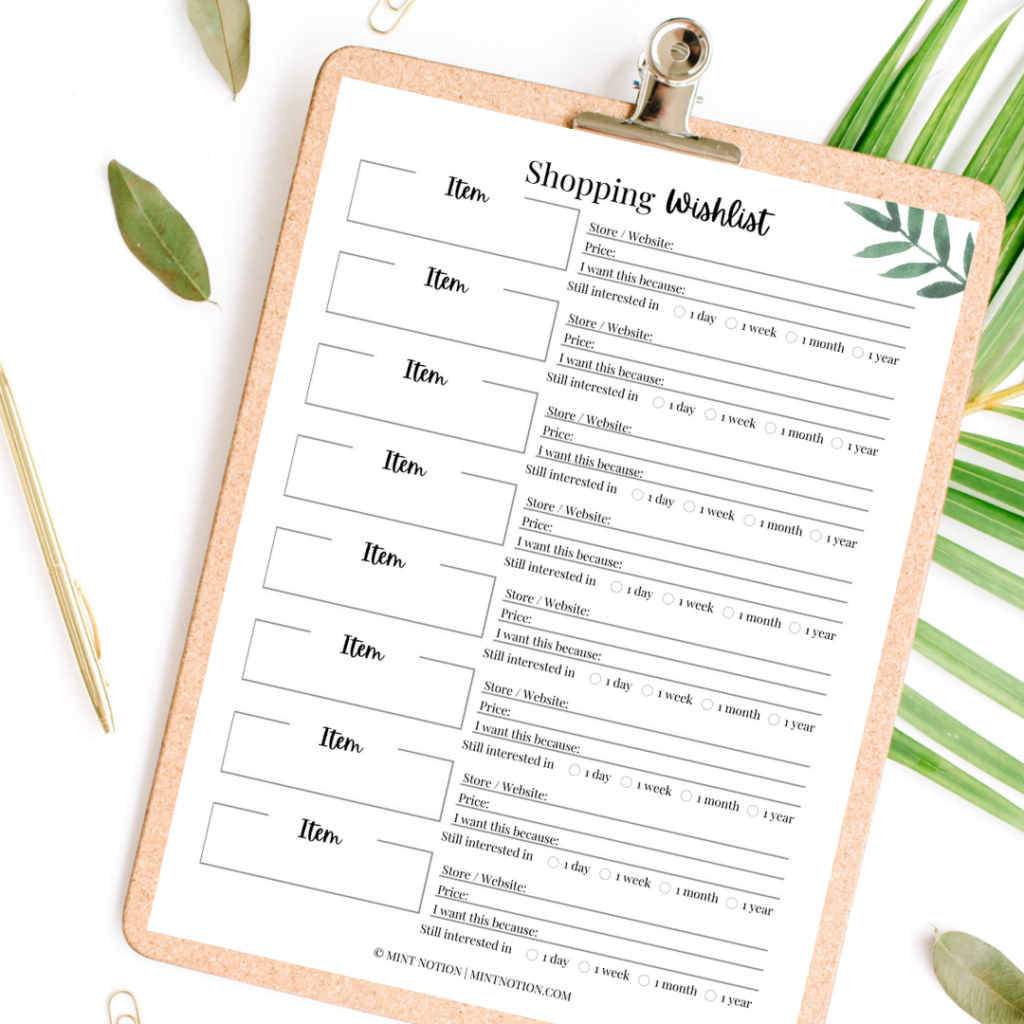 How it works:
Each time you see something you want to buy (such as an impulse clothing purchase), write it down on your shopping wish list with today's date. Then make yourself wait a certain amount of time before purchasing it.
For example, I usually make myself wait at least six months. If six months seems too long, then make yourself wait at least two weeks. You know yourself best, so choose an appropriate waiting period for you.
You'll often find that the longer you wait, the less desire you'll have to buy the item. If you don't want to buy the item anymore, simply cross it off the list.
After your "waiting period" has passed and you still want that particular item, then consider finding the most cost-effective way to buy it.
Using a shopping wish list can help you stop spending money on clothes and make you more intentional about the purchases you choose to make.
10. Understand your shopping triggers
Our emotions and environment can impact our behavior. That's why it's important to understand and manage your triggers which drive you to shop.
I recommend keeping a journal and documenting when you feel the urge to shop. What happens in the moments immediately before you feel the desire to shop?
Is it due to boredom, sadness, or anger?
Do you feel the urge to shop after you've watched a particular television show?
Do you want to shop after hanging out with a certain friend or family member?
Are you comparing yourself to someone on social media?
Recognizing which triggers drive you to shop can help you learn how to better manage these triggers and stop buying clothes. If you need more guidance, I have a very detailed chapter in my e-book, The Intenitonal Spender, which helps you learn how to identify, understand, and manage your shopping triggers.
---
One of my favorite ways to prevent impulse buys is to use a Shopping Wishlist. This helps me to pause and think before making a purchase instead of letting my emotions hijack my wallet. I normally sell this in the Mint Notion Shop, but today you can grab your FREE printable below! Cheers!