Today I'm sharing 9 easy ways you can live in the moment. First, ask yourself – what does your dream life look like?
Back when I got my first job after college, I really didn't know what I wanted to do. It was a small corporate office, so I tried to act like a sponge and learn as much about each business department as possible. At the time, I thought climbing the corporate ladder was the right path to follow.
Then one day as I was commuting to work, I looked around at the people on the metro. Everyone had the same blank stare on their face, looking down at their phones like a zombie or with their head buried in the free morning newspaper. No one was living in the present moment and neither was I.
I thought to myself – is this really what I want to do for the next 40+ years of my life? I understand that many people have a 9-5 job which they love, and enjoy the structure of an office setting. However, I quickly realized that this lifestyle was simply not for me. Our lives are too precious to live without purpose.
So I made a plan to save enough money to quit my job, go back to school, and started this blog. It's my personal mission to live in the moment each day.
I know sometimes it can feel like we have little control over our lives, but I am a firm believer that we can choose to be happy. My dream life is being able to mindfully choose how I spend each day. From choosing which thoughts to fill my mind, to what I eat, to my environment, and how I spend my money. I want to live in the present moment because I know our intention creates our reality.
My late twenties looks very different than when I was in my early twenties. I no longer dream about climbing the corporate ladder because I'm clear on what I truly value. I created my dream job and love what I do. I know how choosing to live in the moment can improve your life. Here's some easy ways to help you live in the moment.
Related Posts: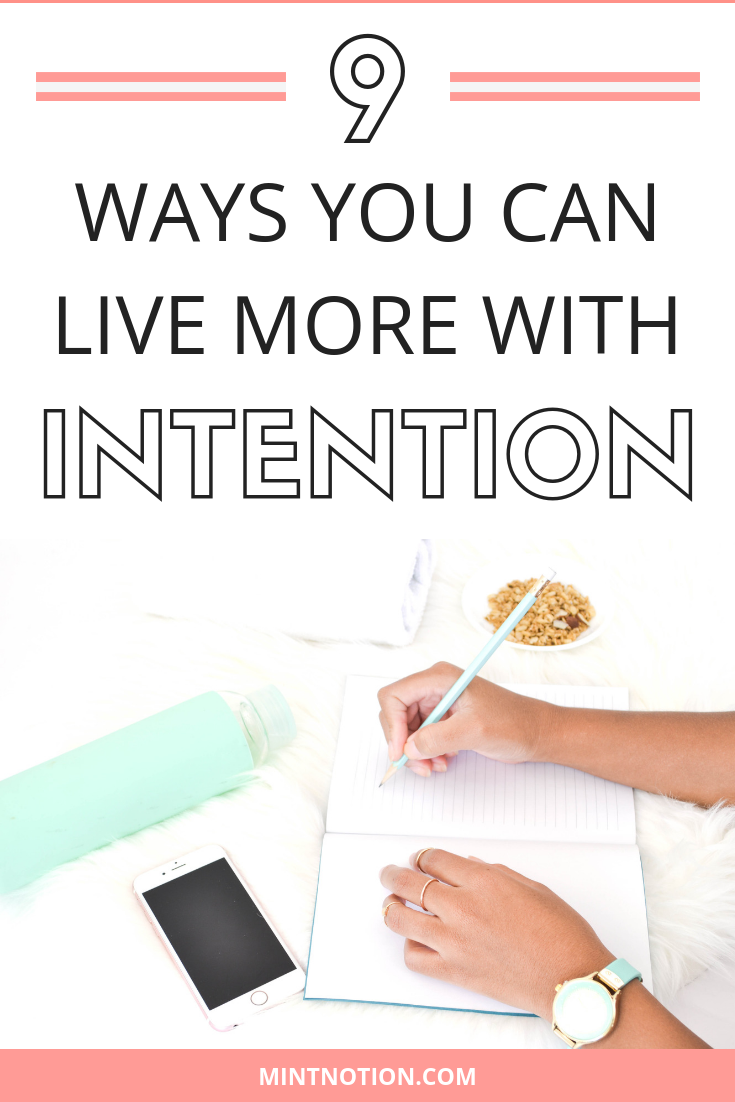 1. Waking up earlier
I don't consider myself a morning person or a "night owl". I thrive during mid-morning and the early afternoon. However, there are a number of great benefits of waking up early, including:
waking up earlier can help you sustain a healthier diet
waking up earlier can increase your productivity
waking up earlier can improve your mental health
waking up earlier can improve your quality of sleep
waking up earlier can give you more time to exercise
waking up earlier can give you more peace and quiet in the morning
Due to these benefits, I've been going to bed earlier and waking up an hour earlier each day. So instead of getting up at 7:30am, I've been waking up at 6:30am.
It's amazing how much more productive I've become in the morning simply by waking up earlier. I've also noticed that I don't feel as tired either because I'm going to bed earlier. Eventually, I'd like to start waking up at 5:30am every morning so I can get even more tasks done during these quiet hours.
How to get started
I know it's tough to change your current sleeping schedule. That's why I recommend making small and consistent changes. Here is a simple schedule you can follow. Of course you can change it up as you wish, depending on your ideal lifestyle.
Week One: Go to bed 15 minutes earlier. You can wake up at your normal time (if you are not getting enough sleep) or choose to wake up 15 minutes earlier.
Week Two: Go to bed 30 minutes earlier. Try to wake up 30 minutes earlier.
Week Three: Go to bed 45 minutes earlier. Try to wake up 45 minutes earlier.
Week Four: Go to bed 1 hour earlier. Try to wake up 1 hour earlier.
2. Meal planning
Every Sunday afternoon, I plan my meals for the week. I like to spend 10-15 minutes going through the grocery flyers and planning meals using items on sale that week.
Meal planning has been life-changing for me. Just a few years ago, I didn't know how to cook anything beyond Kraft's macaroni and cheese. Due to this, I ate out A LOT because it was quick and easy for me.
Eating out on a daily basis was destroying my budget. I was spending hundreds of dollars each week on take-out when I could have been eating healthy meals at home.
When I quit my job to go back to school, this forced me to buckle down and teach myself how to cook budget-friendly meals at home. It wasn't easy in the beginning, but now I enjoy cooking and eating at home. Plus with the Ibotta app, I can save lots of money on my groceries.
Meal planning has allowed me to stay on budget, eat healthy, and lose weight too. It's been a win-win all around!
To make meal planning more fun, I like writing everything down in my meal planner notebook. I've also been challenging myself to try every recipe from THIS cookbook. So far, everything has tasted delicious and was quick to make. Other cookbooks I use on a weekly basis include:
Oh She Glows by Angela Liddon
Oh She Glows Every Day by Angela Liddon
Chloe's Vegan Italian Kitchen by Chloe Coscarelli
3. Setting weekly goals instead of weekly to-do lists
People like creating to-do lists because it makes them feel productive, especially when they get to check off items on their list. However, to-do lists don't really make us very productive at all. Instead, we often feel stressed when seeing each of the tasks we need to complete.
If your weekly to-do list always looks the same, but you never seem to make any progress towards reaching your goals, then you need to change it up. It's like going to the gym regularly, but not seeing results. If you want to change your life, you need to change your choices.
To increase my productivity, I started setting goals for the week instead of to-do lists. I also like to write everything down in a pretty schedule planner, like THIS one. Having a schedule planner makes it easy to write down goals, list the necessary action steps, and record my progress.
Setting S.M.A.R.T. (specific, measurable, action-oriented, realistic, and time-based) goals forces you to specify exactly what you want to achieve by a specific date. Goals also help increase motivation and effectiveness. For example, studies have shown that students who set goals achieve better academic results than those who don't.
To live in the moment, you want to be intentional about how your day is set up. This means you'll want to ensure that what you're doing today is going to help you get closer to reaching your goals.
When are to-do lists helpful?
When creating your daily to-do list, make sure that your tasks are in alignment with your goals. Cut out items that are preventing you from reaching your goals and prioritize the remaining items on your list. For example, which items need immediate action? Which items can be delegated or completed tomorrow?
As you can see, you want to make sure that the actions and choices you take each day align with who you want to become.
4. Exercising regularly
According to a recent survey, 86% of American workers sit all day at work. If you add that to the amount of time you spend sitting in your car (or bus) commuting to work and sitting on your couch after work watching TV, reading, or playing video games, you could spend over 11 hours a day sitting down.
Those who sit more than 11 hours per day have a 40% increased risk of death in the next three years, compared with people who sit four hours or less. Even for those who exercise regularly, the longer people sit, the shorter their lifespan.
These statistics were quite alarming when I first read them, and motivated me to add more regular activity to my day. To get on track to living in the moment, I started a new workout routine. I also try to get up at least twice every hour from my desk to walk around and be more activate.
Exercising regularly can provide you with a number of great benefits, including:
it can make you happier
it can help you lose weight (if that's your goal)
it can reduce your risk of chronic disease
exercise is good for your muscles and bones
it can give you more energy
exercise and sweating regularly is great for your skin
it can help improve your sleep quality
I understand it's tough to develop a regular exercise routine, especially if you're new to working out. A good way to start being more active is to simply walk more. This can help you live in the moment.
Aim to walk 10,000 steps a day. This means taking the stairs when you can, parking further away from work, walking to work if you can, going for a walk during your lunch hour, going for a walk after dinner, and so on.
There are many ways to start adding more physical activity to your daily routine. If you need extra motivation and accountability, consider getting a tool such as a Fitbit to help you track your progress. You can even make fitness goals with a friend so you can hold each other accountable.
5. Be whoever you want to be
There seems to be this immense amount of pressure today for people to conform to society's standards. Whether it's pressure from your parents to follow a particular career path, or pressure from your friends to spend frivolously, or pressure from social media to fit within a specific beauty standard, we are creating a toxic environment to live in.
I understand that pressure from society can be intense. However, it's important to not let it change you. Trust me, you'll regret it. Instead, focus on accepting who you are and recognize that it's actually a good thing to be different.
People who judge you or make you feel inferior are actually insecure about themselves. No matter what people say, know that you are amazing and worth so much more than you give yourself credit for.
If you know that what you're doing is the right thing for you, then do it. Don't hesitate, and please stop asking for permission. Be whoever you want to be. Become the best version of yourself and no one else. This can help you live in the moment.
6. Aligning my spending with my goals
Just a few years ago, I used to spend my money on frivolous things. I didn't have a budget and my finances were a mess. Needless to say, my spending was not aligned with my goals. You can read about my shopping addiction story here.
To help me live in the moment, I've created a monthly budget which aligns with my current financial goals. This means that I am spending my money wisely to ensure that I can reach my goals.
For example, if my goal is to save money for a vacation, I remind myself that instead of spending $20 going out for dinner tonight with friends, I can invite them over for a potluck and save that $20 for sightseeing on my trip.
Another area of my spending that I was neglecting was my automatic spending. For example, when we moved into our new condo earlier this year, we discussed cutting down some of our recurring expenses. This included ditching cable, cancelling our gym memberships (since there was a free gym available in our condo), and choosing a more affordable cell phone plan.
Practicing living in the moment and being more intentional with my spending has allowed me to overcome my shopping addiction, save more money each month, and focus on value.
7. Organizing myself
Over the past few years, I've worked on organizing different areas of my life. I'll admit that I'm not great at multi-tasking and I find that I make much more progress by focusing on one area at time.
This is why I started with the area of my life which was causing the most anxiety and stress on my finances. Doing the no new clothing challenge and overcoming my shopping addiction has taught me so much about myself. Now, my spending is aligned with my goals and I have a healthier relationship with my money.
Another area of my life that I started focusing on this year was creating a living space that's easy to clean. After reading Marie Kondo's book, The Life-Changing Magic of Tidying, I really liked what she said about keeping things minimal. In her book she says, "My number 1 tip for tidying up the kitchen: focus not on ease of use, but on ease of cleaning". This tip has changed my life and I've been trying to apply it to all areas of the home.
By creating a space that's easy to clean, instead of focusing on "ease of use", it's allowed me to cut down on clutter and time spent cleaning each week. Now I have more time to focus on my business and spend quality time with family and friends.
Other areas you may want to organize include:
Scheduling more time for self-care and reflection
Eliminating clutter in general. For example, if a task can be completed in 2 minutes or less, do it right away. Stop procrastinating.
Cleaning up your finances. Use my Budget Binder to help you get started.
Creating a schedule that provides a better work-life balance
Declutter your closet. Create a capsule wardrobe that makes it easy to get dressed in the morning.
Meal plan and make your lunch the night before work. Try the $5 Meal Plan if you need ideas.
I recommend starting with the area of your life that is causing you the most stress or anxiety. Simplifying your life is a great way to live in the moment.
8. Practice listening to understand
One of the best books I have ever read was The 7 Habits of Highly Effective People, by Stephen Covey. I highly recommend checking it out if you're interested in maximizing your productivity.
In the book Covey says, "Most people do not listen with the intent to understand; they listen with the intent to reply". In fact, most people are either speaking or preparing to speak. They often wait for breaks in conversation and then interrupt with "Oh, I know exactly how you feel" or "I had the same thing happen to me. Let me tell you about my experience".
While many of us think we've understood what was said, we actually spent the entire time preparing a reply and forgot to listen.
Have you ever experienced this? I know I have.
That's why I'm practicing empathetic listening. This means seeking to understand, before being understood. Of course we are not going to agree with everything everybody says, but that's life. By listening to understand, this can increase the satisfaction in your relationships, help you manage conflict better, and feel less stressed. Try it today!
9. Taking a break from my phone
Studies have shown that checking your phone before going to bed can trick your brain into staying awake, instead of going to sleep. Having a poor night's sleep can lead to health problems, such as sleep deprivation, having trouble paying attention, impaired memory, and more.
To prevent this from happening, it's important to avoid checking your phone at least 30 minutes before going to bed. Use this half hour to relax and unwind as you prepare for sleep.
I've been following this advice for the past month and noticed an improvement in the quality of my sleep. I also fall asleep much faster since I stopped checking my phone before bed.
Need more reasons to take a break from your phone? Here are a few good reasons to spend less time on social media:
You'll promote a better work-life balance
You'll be happier
You'll sleep better
You'll feel better about yourself
You'll drive safer
You'll be less materialistic
You'll improve your relationships
You'll live in the moment
My boyfriend and I also have a personal rule not to be on our phones while eating. This allows us to enjoy each other's company and live in the moment.
Join the Mint Notion family!
Sign up for my free newsletter to receive weekly tips to help you save money, make money, & live with intention!