Traveling is fun and exciting, but getting through the airport can be a hectic experience. Savvy travelers know how to handle the stress of passing through busy airports.
With a little planning and proper preparation, there are many ways to get through the airport fast. I've rounded up the best airport tips and tricks to help ensure a smooth journey.
Use these 30 airport hacks to save money and time on your next trip!
Related Post: 23 secrets to booking cheap flights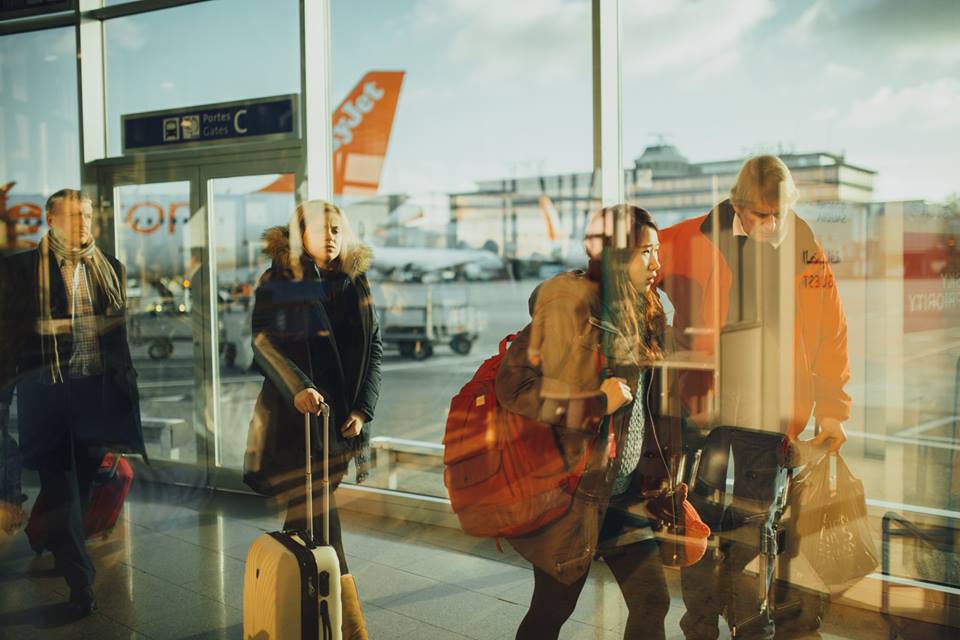 1. Bring an empty water bottle
Since you can only bring 3.4 oz (100 ml) of liquid through airport security, I highly recommend packing an empty water bottle in your carry-on luggage. I love this collapsible water bottle. It's super convenient to store when traveling. Then you can fill it up once you get through security instead of paying the hefty price for bottled water at the airport.
2. Don't forget to bring a portable charger
Having a portable charger can be a serious lifesaver when you're on-the-go or unable to find an open outlet at the airport. You can also use your portable charger to charge your phone while on the plane so it will be ready to use when you land. I really like this portable charger from Amazon and keep it in my purse to use when traveling.
3. Keep your laptop in an easy to access place
When going through airport security, you'll have to take out your laptop. Store it in an easy to access place so you won't have to scramble through your carry-on luggage to find it in the security line.
Lately, I've been loving this bag from Matt & Nat. It has a padded laptop compartment in the center with a top zipper closure. This is perfect for having easy access to my Macbook when traveling.
4. Tie a bright-colored ribbon on your luggage
Use a bright-colored ribbon or luggage tag so it'll be easy to identify. Your luggage will stand out among all the black suitcases at baggage claim.
I also recommend using a hard shell luggage case since they can be sturdier than soft-sided luggage and are a breeze to clean.
My must-have carry-on accessories:
Click the product to shop
5. Bring your own healthy snacks
Airplane food leaves a lot to be desired, which is why I always recommend bringing your own healthy snacks instead. Just make sure to check the TSA rules ahead of time so you know what you can and cannot bring through airport security.
6. When entering the security check, head to the left checkpoint
Research shows that people naturally gravitate toward the right lane, so do the opposite and go left. Chances are the left lane will be slightly quieter and less hectic, although this may not always be the case.
7. Always wear warm socks and bring a scarf or sweater
It can get a little chilly when sitting on the plane, which is why I always pack of pair of warm socks and a light scarf. Staying warm can go a long way to making your flight more comfortable.
8. Don't be afraid to ask for a free upgrade
Traveling alone or letting the airline staff know that you're celebrating a special event, such as a honeymoon, can make it easier to get a free flight upgrade. Be polite and ask quietly, the worst they can say is no.
Related: 25 free things you can get at hotels
9. Keep a collection of hotel toiletries
Instead of paying for travel-sized toiletries, bring hotel toiletries with you on your next trip. This works great for frequent travelers and saves you money too.
10. Skip your contacts and wear glasses
Whether you wear contacts or not, you'll notice that your eyes and skin will feel dry during the flight. Wear glasses instead of contacts and bring a small bottle of hand lotion and eye drops with you to keep moisturized.
11. Wear your extra luggage
If you're worried about your luggage being over the weight limit, consider wearing your heavier clothing through airport security. Once you pass through security, then you can make a quick outfit change.
12. Fly red-eye
Evening flights are often cheaper than earlier flights, and the airport is usually less busy at this time too. Get some sleep on the plane and wake up in the morning at your destination to make the most of your trip.
13. Check in 24-hours before your flight
Unless you require a particular seat, I recommend waiting until you can select a free seat 24 hours before your flight. This allows you to avoid waiting in the check-in line at the airport, which is great if you're traveling with just carry-on luggage.
For those who need to check their luggage, head to the airline kiosk to print your baggage tag (and boarding pass if you don't already have an electronic copy). This can save you time and you might be allowed to head straight to the baggage line after, instead of waiting in the check-in line.
14. Find the best seat on the plane when you check in
Check SeatGuru to find out which seats receive the best reviews on your flight. This is helpful if you want extra legroom and comfort.
15. Take a photo of your parking space so you won't forget where you parked
If you're parking and flying, make sure to snap a photo of where you parked your car (for example: Level 3, section D). You don't want to come back from a fun vacation only to forget where you parked your car.
16. Store all loose items in your carry-on luggage before entering security
Airport security can be stressful, which is why it's a good idea to store all your loose items (coins, keys, etc.) in your carry-on luggage. You don't want to wait until you reach the conveyor belt at airport security to remove these items, as it takes up time and could cause delays.
For help determining the right dimensions for your carry-on bag, my friend Ali from Travel Made Simple, put together this awesome carry-on size chart, which includes luggage restrictions for over 150 airports worldwide.
17. Bring wet wipes and hand sanitizer
We don't want to believe it, but the airplane tray tables are some of the dirtiest items on the plane. Always keep wet wipes or hand sanitizer in your carry-on luggage to use at the airport and during your flight.
18. Always check your flight's status before heading to the airport
Checking your flight's status before leaving home can give you a quick heads up of what to expect. If your flight has been delayed, you won't need to rush to the airport and if it has been canceled, you can get on the phone to re-book another flight.
19. Bring extra Ziploc bags
You never know when a Ziploc bag might come in handy while traveling. Store your liquids in a Ziploc bag so they're easy to access when going through airport security. I also like to store my electronics (cords, chargers, etc.) in a Ziploc bag so they don't get tangled up in my luggage.
20. Check ahead to see which restaurants and shops are at the airport
Airplane food is full of sodium and fat, which isn't great to eat while flying. Instead check to see which restaurants and shops are available at the airport. You might be able to grab a healthy meal and do some last minute shopping before your flight.
21. Have a go-to travel outfit
Having a designated travel outfit can help make life easier when flying. While some people like to dress up for their flight, I prefer to wear something that is comfortable, yet chic. Airplanes can be quite dirty and I don't want to ruin a nice outfit on the plane.
My go-to outfit is leggings, an over-sized sweater, a light jacket with lots of pockets to store things and a pair of comfortable shoes. I never have to think about what I'm going to wear when flying since I already have my go-to travel outfit.
22. Take a photo of your checked luggage
Even if you make your luggage stand out with a bright-colored ribbon, it's helpful to have a picture of your checked baggage on your phone. That way if you need airline staff to locate it, it could help make their job easier than just having a luggage receipt alone.
23. Get familiar with the rules
To avoid any problems at airport security, spend a few minutes getting familiar with all the rules. Know what you can bring on board the plane and which items are restricted.
I've seen so many people throw out drinks, makeup, toothpaste and other liquids because they were over the allotted 3.4 oz (100 ml) limit.
24. Avoid rushing the gate
It never fails, as soon as boarding begins, everyone seems to rush to the gate.
Wait until your zone or section is called to avoid crowding around the gate. The plane won't leave without you and you'll have plenty of time to get on board.
25. If you don't like turbulence, book an early morning flight
Thunder storms and wind usually happen during the afternoon, so try to book an early morning flight if you don't like turbulence. Alternatively, seats in the middle of the plane (near the wing) tend to experience the least amount of movement.
26. Avoid waiting in line to get your flight re-booked
If your flight has been canceled, never wait in the long line up to re-book. Instead find an airport phone (free when calling the airline) and call to re-book your flight instead.
The representative on the phone can do the same thing as the representative at the check-in counter, and it's usually faster too.
27. Know where you should pick up your checked luggage (if you don't have a nonstop flight)
After a frustrating incident I experienced last year, I always make sure to ask the airline staff if my checked luggage will be going direct to my final destination (only if my flight has a layover).
When I was flying home to Toronto from Paris, I had a one-hour layover in Montreal. I missed my connecting flight home because I didn't know that I was supposed to pick up my luggage in Montreal – I thought it was going direct to Toronto. I definitely learned my lesson that day.
28. Bring your own headphones
Instead of paying extra for the headphones they sell on the plane, always make sure to bring your own pair. I also recommend having a charged smart phone or tablet so you can connect to their in-flight entertainment.
I noticed that some planes are getting rid of individual screens on the back of the seats and switching to a free app, which you can download at the airport. If you forget to download the app, tablets are available to rent on the airplane for a fee.
29. Find a quiet gate to relax at before your flight
If you have time before boarding your flight and want to unwind, find a quiet gate where you can sit and relax.
The gate by your flight will usually be busy as it gets closer to boarding time. Just make sure to set a reminder on your phone so you have plenty of time to reach your gate.
30. Have all your information in order for immigration
To avoid any unnecessary delays and have a smooth arrival, be sure to make a good impression at immigration. I like to have a hard copy of my flights, hotel reservations, a credit card (or some of the local currency) on hand to show just in case.
Also, make sure to fill out your travel declaration card correctly to avoid any problems, and check to see if you require a visa before entering the country you plan on visiting.
Ready to book your next adventure? Check out hotel deals below thanks to Booking.com.