While some may argue that best views in Manhattan are found at the Top of the Rock or the Empire State Building's observation deck, these views come at a price. That's why I've rounded up the best skyline views in New York City for free.
If you're visiting New York for the first time, you may want to consider checking out the view from either of these two spots because it's pretty amazing.
Fortunately, there are a few ways you can save money if you decide to check out the Top of the Rock or the Empire State Building. New York offers a few different tourism passes that you may want to consider:
The New York Pass – The most popular tourism pass for New York. It includes FREE entry to 100+ NYC attractions, museums, tours, and more. Save up to 70% off vs. paying for individual tickets at the gate.
The New York CityPASS – Perfect for first-timers who want to visit the city's top 5 attractions. Save 44% off vs. paying for individual tickets at the gate.
The New York Explorer Pass – A great option for those who only want to visit a few attractions. Save up to 50% off vs. paying for individual tickets at the gate.
Where can I watch the New York Skyline for free? If you're on a tight budget, there are several places that offer spectacular views for free. Here are seven of the best views in NYC for free!
Related Posts:
1. Brooklyn Bridge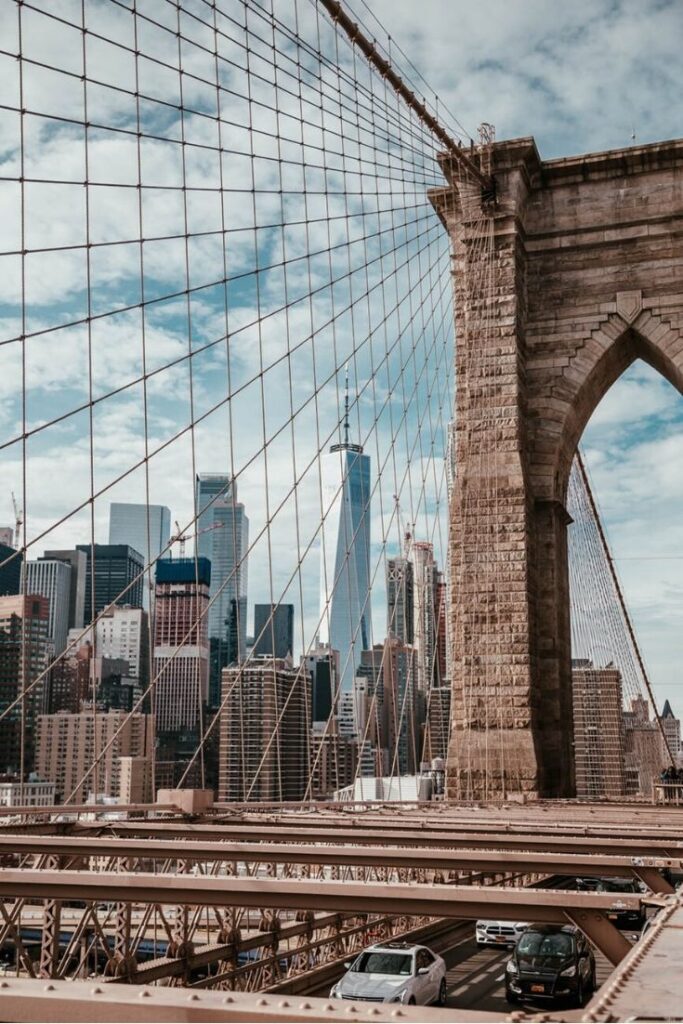 One of my favourite things to do when visiting New York City is to walk across the Brooklyn Bridge. To get the best view, start on the Brooklyn side and walk towards Manhattan to see the whole city.
Try to plan your trip during sunset when the city looks the most beautiful. You can choose to walk or bike across the bridge.
More fun things to do in Brooklyn:
2. Brooklyn Bridge Park and Brooklyn Heights Promenade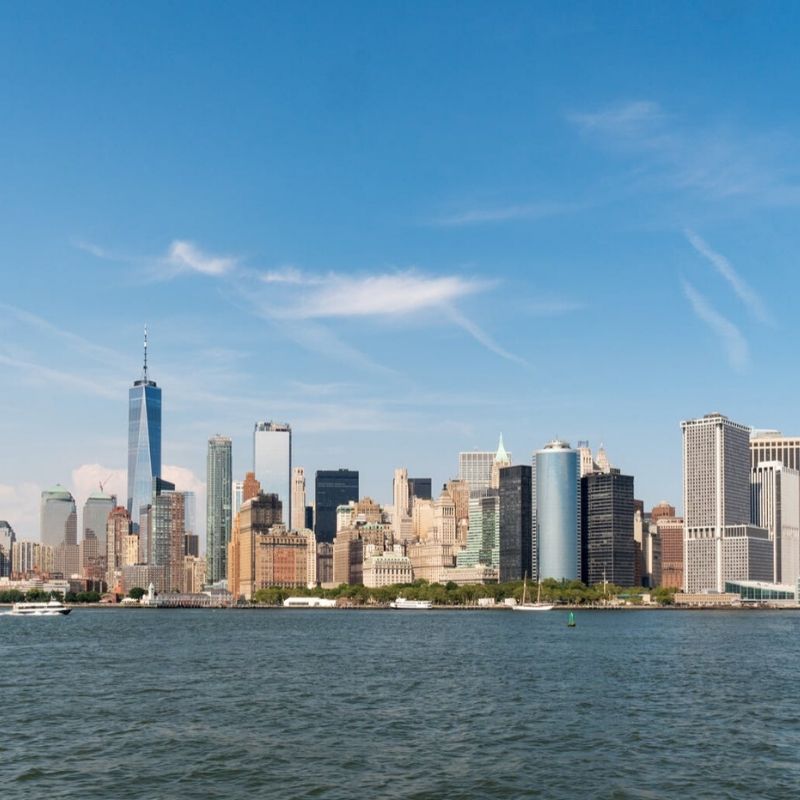 Just across from the Brooklyn Bridge lies beautiful skyline views of Manhattan from Brooklyn Bridge Park and Brooklyn Heights Promenade.
Here you'll see nice views of the Brooklyn and Manhattan Bridge and the city.
Where is the best neighborhood to stay in NYC?
After visiting New York City several times and staying in different neighborhoods, I recommend staying in one of these 5 areas:
Best hotels in New York City for every budget
If you're traveling on a budget, these are the best affordable hotels in NYC:
If you have some more wiggle room in your budget, below are some of the best mid-range hotels in New York:
If you want to splurge on your accommodations, below are some popular luxury hotels:
3. Staten Island Ferry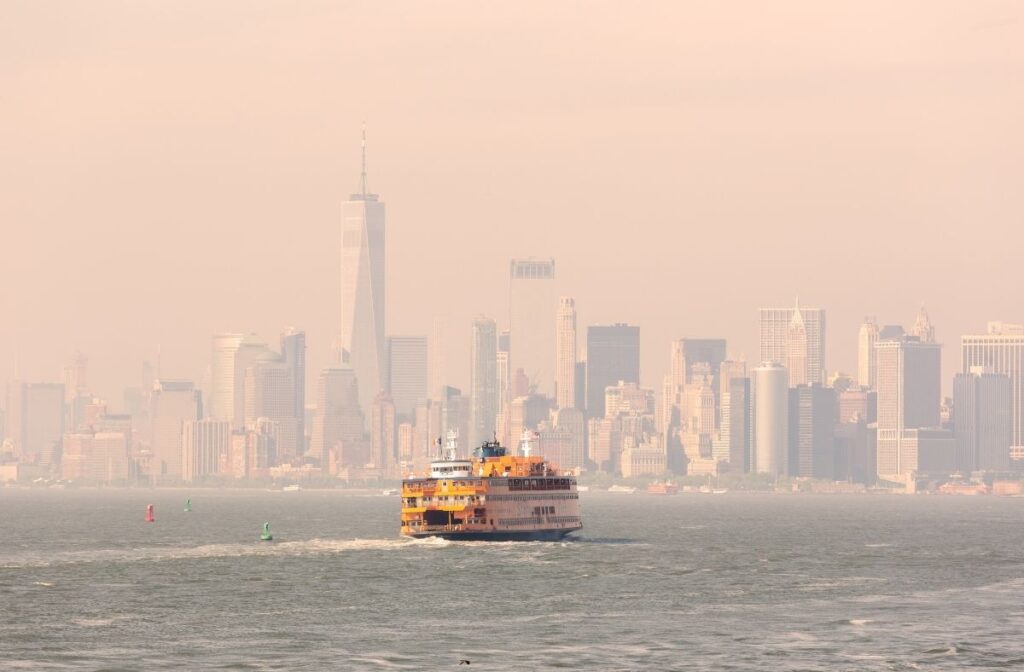 The Staten Island ferry provides free transportation for 22 million people a year between Staten Island and Manhattan. The deck of the ferry not only offers a beautiful view of the city, but also the Statue of Liberty and Ellis Island.
Read Next: My honest review of the New York Pass
4. Gantry Plaza State Park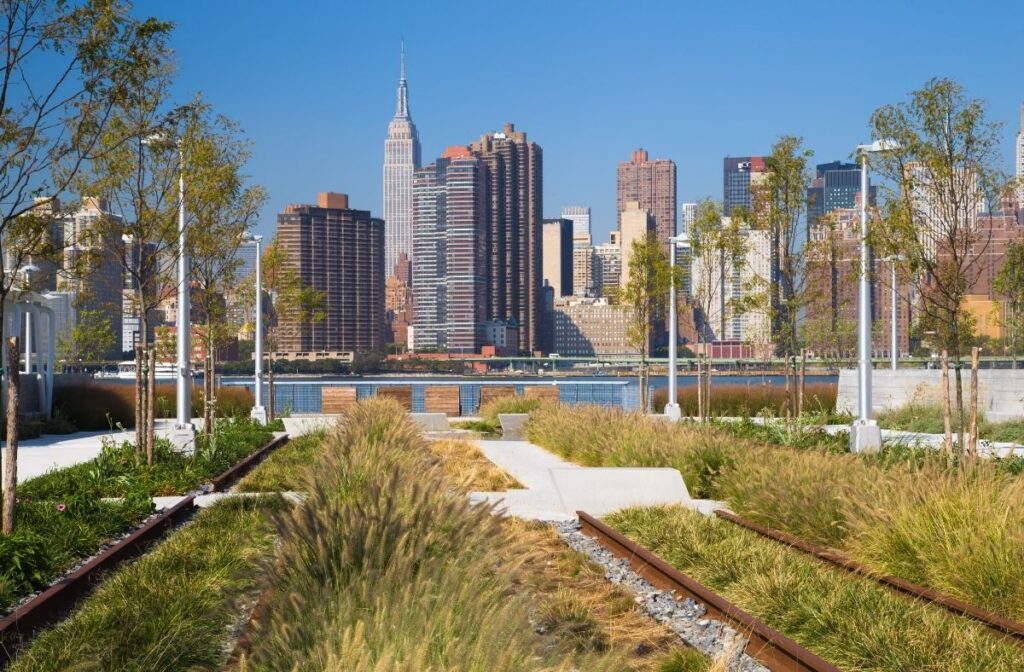 This 12-acre oasis includes four piers and beautiful gardens which offer incredible views of midtown Manhattan's skyline, the Empire State Building and the United Nations. Enjoy a concert here with the city as its backdrop during the summer months.
5. Hoboken Park
To get some of the best free views of Manhattan, head to Pier A Park in Hoboken, New Jersey. If you enjoy laying on the grass under the stars, this is also a great place to catch outdoor movies while overlooking the Manhattan skyline.
6. Governor's Island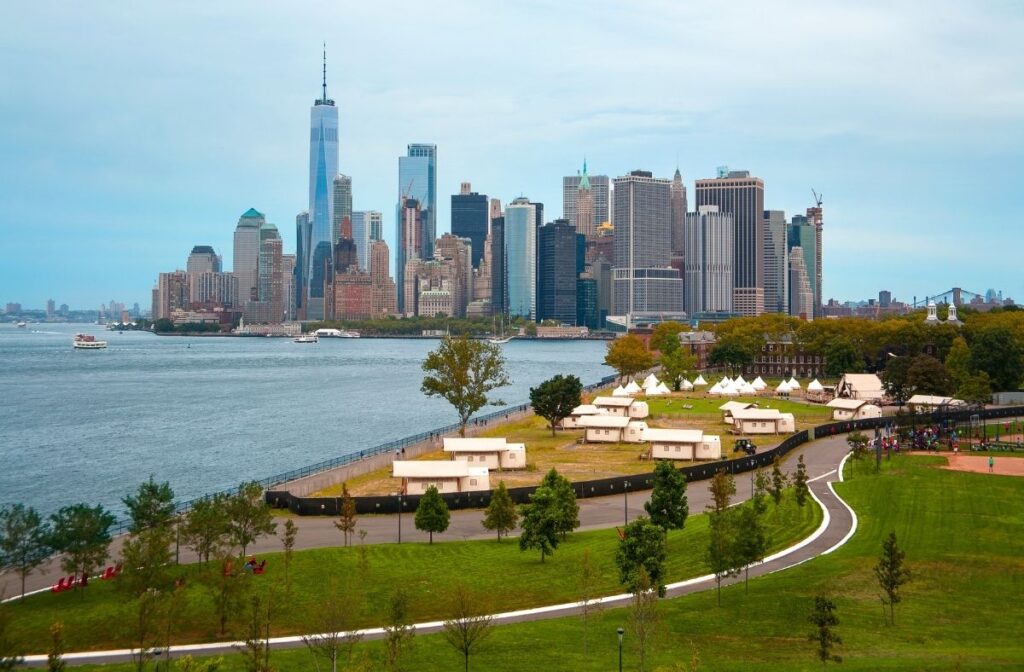 Open only to the public during the warmer months of the year, Governor's Island is a short (free) ferry ride away from Lower Manhattan. Here you can enjoy a picnic or a bike ride while taking in spectacular views of the city.
Governor's Island was once a U.S. Army military base and U.S. Coast Guard station. Visitors can explore the historic military village and see the forts and military homes.
Prep for your New York City trip
7. Roosevelt Island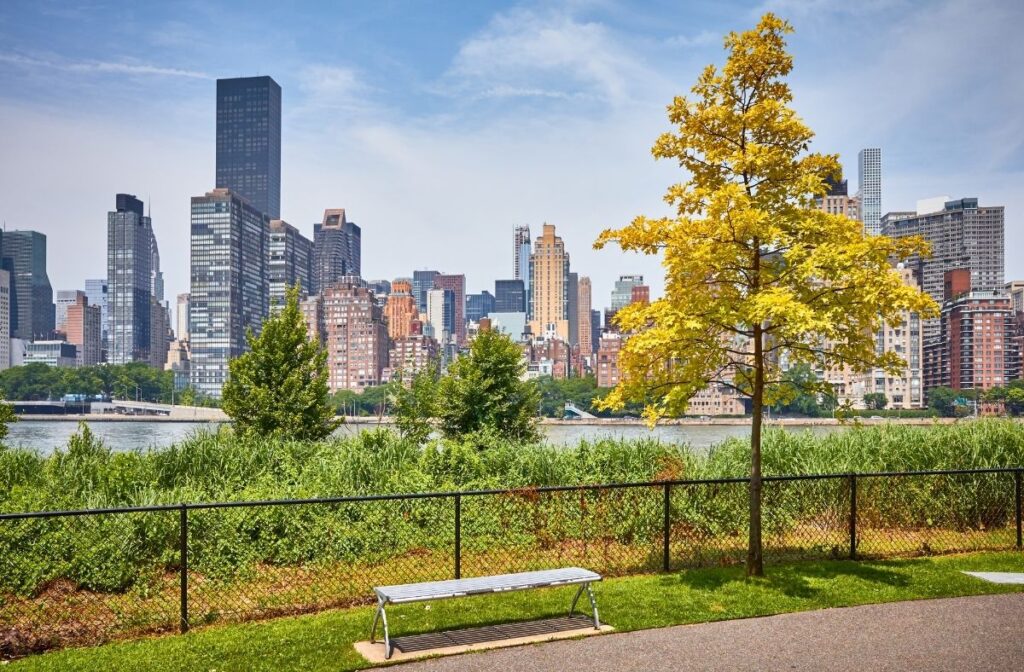 While you can reach Roosevelt Island on the F train or by car, the most scenic route is to ride the aerial tram over the East River from Manhattan.
The tram is not free, but costs only $2.50 with your Metro card. This is a small price to pay for such incredible views of the city.
Although the island itself is small, it offers visitors a look at some architecturally significant buildings, including The Octagon which was built in 1834.
Ready to book your New York adventure? Below you can find local hotels deals in NYC thanks to Booking.com.
---
Best Views in NYC for Free FAQs
Are there any free observation decks in NYC?
Some of the best views in NYC for free include:
Belvedere Castle – Located in Central Park, you can enjoy a beautiful view here of the park and city.
High Line – This park was created on an elevated road, which offers a nice view of the Meatpacking district and Chelsea neighborhoods.
Burlington Union Square – Head to the top floor of this store to see a nice view of the Empire State Building.