Updated October 2018.
FLASH SALE! Save 30% off the New York Pass today!
Sale ends Sunday, October 21st, 2018.
Learn how the New York Pass can save you money.

Visiting New York City on a budget might sound a bit far-fetched for some travelers, but with a little careful planning, you can have a successful trip to NYC on any budget.
While New York City is known to be one of the world's most expensive cities, there are plenty of ways to have an incredible trip without breaking the bank. One of my favorite ways to save money on accommodations is to book through Airbnb. I have used Airbnb throughout North America and have always had a good experience. It's great for groups, friends, or couples since prices are often cheaper than hotels.
CLICK HERE to get a coupon to use towards your next stay with Airbnb!
By using these tips, you may find yourself having the best New York City vacation ever. Avoid making these 10 costly mistakes when visiting the city.
Related Post: 10 Ways To Visit NYC On A Budget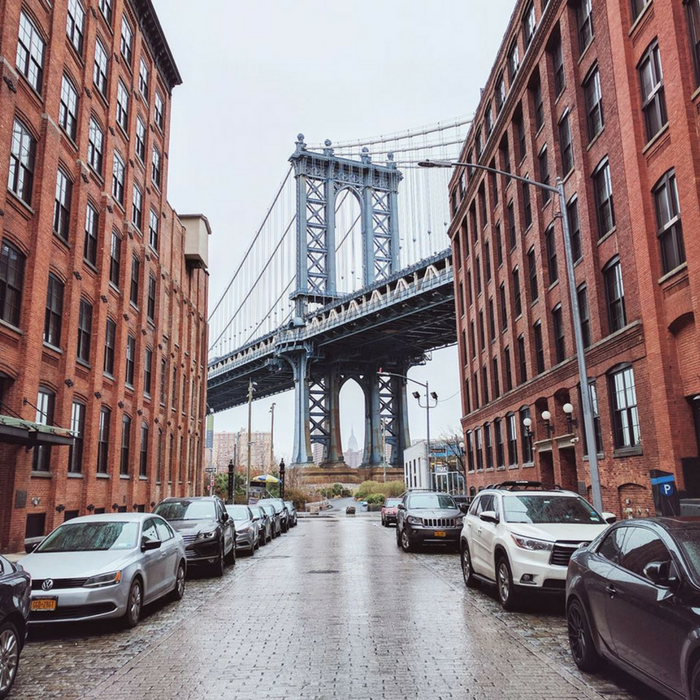 Even though New York offers "pay-what-you-wish" to a couple of museums, it'll cost you money to visit the city's most popular attractions (Top of the Rock, Empire State Building, 9/11 Memorial Museum, and so on).
Paying for individual tickets at each attraction can get very expensive. I found the best way to save on New York's paid attractions was to use the New York Pass. It takes the stress out of sightseeing while maximizing your time in NYC.
Wondering if pass is right for your New York trip?
SAVE TIME + MONEY
Good option for first-time visitors who want to stretch and manage their budget in a very expensive city.
FAST-TRACK ENTRY
The New York Pass allows you to skip the long line-ups so you can spend more time sightseeing and less time waiting in New York's busy crowds.
STRESS-FREE SIGHTSEEING
If you're looking to hit all the major attractions in New York, then using the New York Pass is a no-brainer.
How the New York Pass works:
The New York Pass is a prepaid sightseeing card that can be used to get FREE entry to the city's top tourist attractions, including Hop-On Hop-Off Bus Tour, Empire State Building, and the Top of the Rock Observatory.
Empire State Building
Standard Entry Price
Adult $39.00
FREE with the New York Pass
Top of the Rock Observatory
Standard Entry Price
Adult $34.00
FREE with the New York Pass

Hop on Hop off Bus Tour
Standard Entry Price
Adult $60.00+
FREE with the New York Pass

Plus, you can use the New York Pass to get free entry to over 90 other attractions, museums, and tours in the city. Once you've bought the New York Pass, you can visit as many attractions as you want. The more sights you visit, the more money you save!
PRO TIP: Buy the pass online and save an extra 30% off the retail price. You can instantly download the New York Pass mobile ticket to your smartphone. The attraction pass is good for one year, so you can buy it now and validate it anytime in the next 12 months. To buy the New York Pass, CLICK HERE to go to the official website.
FLASH SALE! Save 30% off the New York Pass today!
Sale ends Sunday, October 21st, 2018.
Learn how the New York Pass can save you money.
If you only have a few days in New York City and want to get a lot done, the pass can be a great deal. Plus, you'll get a free detailed guidebook to help you plan your trip when you purchase the pass online! The pass has a 30-day money back guarantee.
2. Not using NYC's public transit
Taking taxis to get around the city is not only expensive, but it'll eat up a lot of your sightseeing time too.
Hopping on the subway is usually a quicker and more cost-effective option. Despite looking like a giant spider web, the subway system is easy to navigate.
I recommend getting an unlimited ride metro card if you're staying in town for several days. My fiancé and I bought a 7-day unlimited ride metro card when we were visiting for 6 nights. It was the perfect choice for us and we felt like we had SO much freedom with the metro card to quickly get around town.
Even if you're staying in a central location, New York is a BIG city and you'll save a lot of time by using the city's transit to get around to each attraction. To save money and experience the NYC like a local, I recommend booking through Airbnb.
CLICK HERE to get a coupon to use towards your next stay with Airbnb!
3. Not making time to visit Brooklyn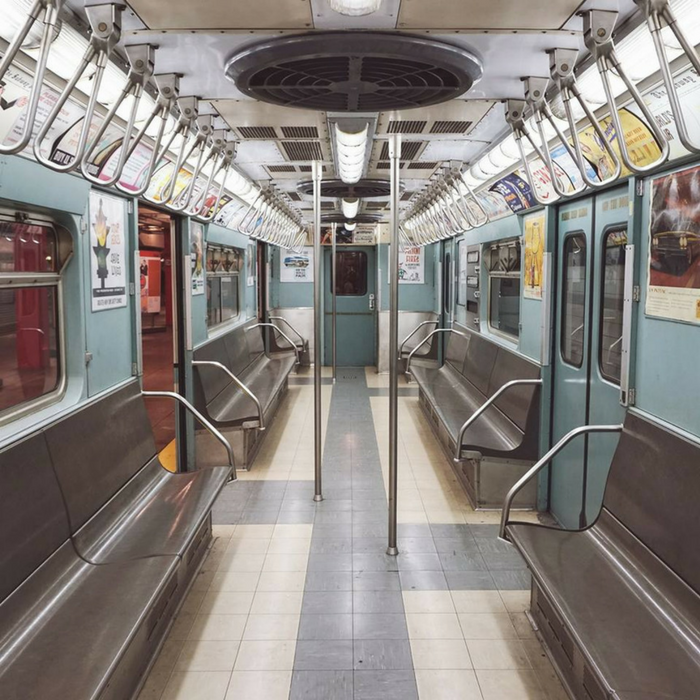 During my first trip to NYC, I only stayed in Manhattan. I had no idea that there were so many other great places to visit in the boroughs. Now whenever I'm in New York City, I always head over to Brooklyn too.
Some of my favorite things to do in Brooklyn include walking across the Brooklyn Bridge (the view of the NYC skyline is incredible), eating pizza at Roberta's, enjoying the best hot chocolate from Jacques Torres Chocolate, and exploring the NY Transit Museum.
My favorite NYC travel guide books:
Click the product to shop
4. Paying full admission price at NYC museums
A smart way to avoid paying full admission price at NYC's most popular attractions is to use the New York Pass.
Take advantage of free museum days
You can visit many of New York City's museums on free days, which makes this a great option to save money. The only negative is that free museum days are often quite busy — especially on rainy days. This is why I recommend arriving before the museum opens to avoid waiting in a long line.
I also recommend searching for deals on Viator. This website offers up to 40% off Broadway shows, tours, NYC attractions, and more!
5. Spending all your time in Midtown and Times Square
Midtown is great, don't get me wrong, but there is really so much more to New York City and it would be a shame if you spent it all in Midtown.
Some of my favorite neighborhoods to explore are The Village, Upper East Side, Union Square, and Lower East Side. For more tips, you can read my NYC neighborhood guide here.
6. Eating at familiar restaurants
Please don't tell me that you came all the way to New York City to eat at the Olive Garden or [insert chain restaurant]. You're in one of the best cities in the country that offers a wide selection of diverse restaurants and ethnic eats – take advantage of it!
Whether you're craving an authentic slice of New York-style pizza or a gourmet meal prepared by some of the top chefs in the world, you'll find everything your taste buds desire here.
7. Going to the Empire State Building without using the New York Pass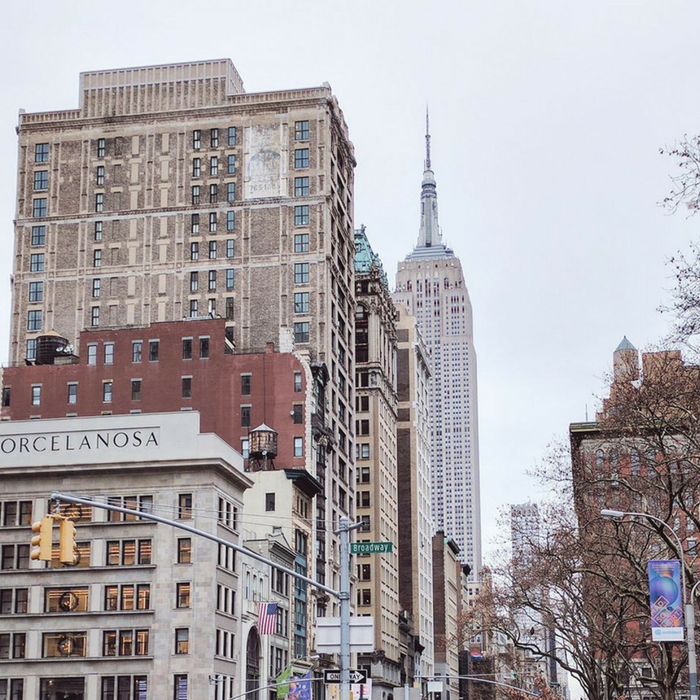 The view from the top of the Empire State Building is incredible, but the lines are usually crazy and cost a small fortune to skip them.
The best way to visit the observation deck at the Empire State Building is to use the New York Pass. With the pass, you can visit for FREE, skip the main ticket line, and present your card at the second-floor access point. This is a smart way to save time and money.
8. Supporting horse carriage rides in Central Park
While riding a horse-drawn carriage may sound like a fairy tale, the reality is that carriage horses often live and work in inhumane conditions.
Horse-drawn carriages should not share the same roadways as honking cars and cyclists as it puts both the animal and the public at risk. These horses work long hours, rain or shine and even when the weather is unbearably hot or freezing cold.
Paying for a horse-drawn carriage ride continues to support the industry. So while it might sound like a nice way to experience Central Park, it's best to pass on this idea.
9. Spending too much money on food in NYC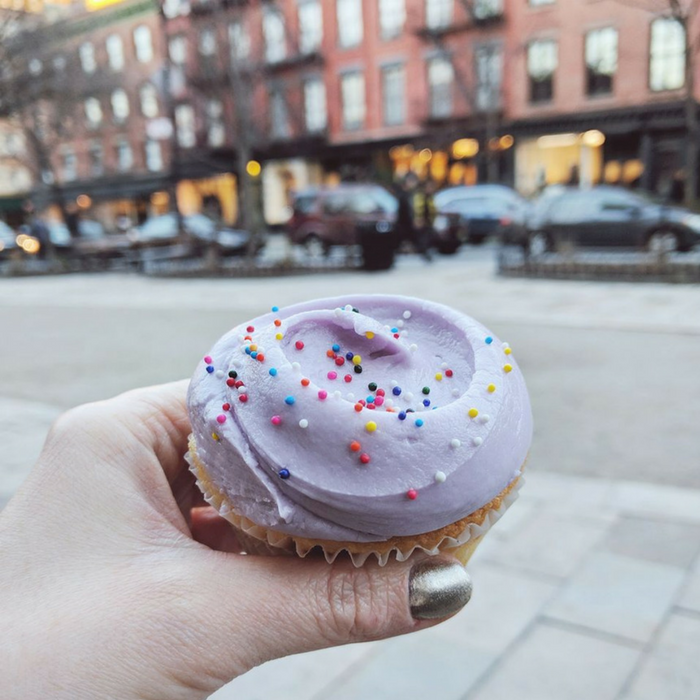 I'm going to be honest, NYC is an expensive city and the price point at its restaurants is higher than other large cities, such as Toronto for example. However, with some careful planning, there are plenty of great ways to save money when eating out in New York City.
Get the lunch special
Many of New York's popular restaurants offer affordable lunch specials. This can be a great way to enjoy a tasty meal for a budget price.
Get deals on Groupon
Want to eat a top-tier restaurant for half the price? Check for daily deals on Groupon. I've saved so much money over the years by finding restaurant vouchers through Groupon.
Use coupons in the Entertainment Book
The best deals in the Entertainment Book are the 2 for 1 coupons at restaurants. The book essentially pays for itself when using one or two coupons found inside. You can also save money on entertainment, shopping, travel, and more with the Entertainment Book.
Eat and drink during Happy Hour
If you don't mind eating a little early (or late at night), I highly recommend taking advantage of New York City's happy hour specials. Enjoy discounted menu prices on a selection of both food and drinks.
Dollar pizza slices
OK, we can't be healthy all the time. Grabbing a slice of New York pizza is one of my favorite meals when I'm on-the-go sightseeing in the city.
Find cheap eats in The Village, Lower East Side, and Chinatown
Think everything in NYC is expensive? Think again. There are plenty of delicious restaurants with affordable eats in these neighborhoods. My favorite spot to grab a bite is at By CHLOE. The salads and burgers are amazing there!
Hit the streets
From ethnic food trucks to familiar hot dog carts, there's lots of street food options to choose from in New York.
10. Driving around in NYC
There is no need for you to rent a car when visiting New York City. Parking is extremely expensive and traffic can be horrendous.
While you might choose to arrive to the city by car, I recommend staying at a hotel with free (or affordable parking) or parking at one of NYC's car garages for the duration of your trip. You won't need your car during your visit since the New York bus and subway system is easy to navigate and one of the quickest ways to get around town.
10 tourist mistakes to avoid making in New York City
Click To Tweet
Over to you — what are your tips for visiting New York City?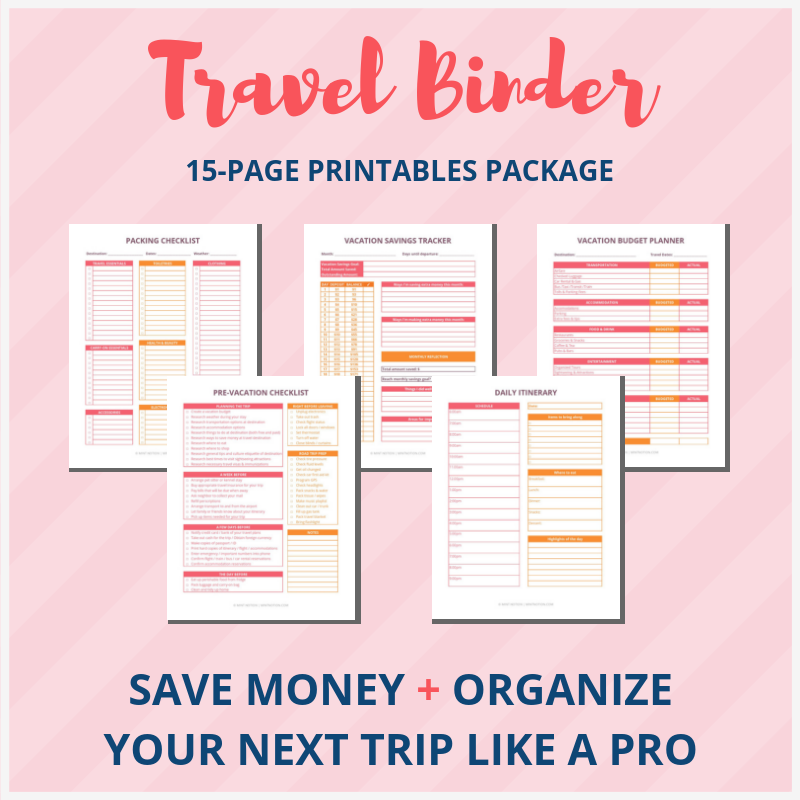 FREE Travel Budget Printable
Enjoy your next vacation while staying on budget with my Travel Budget Printable!
Please view our privacy policy.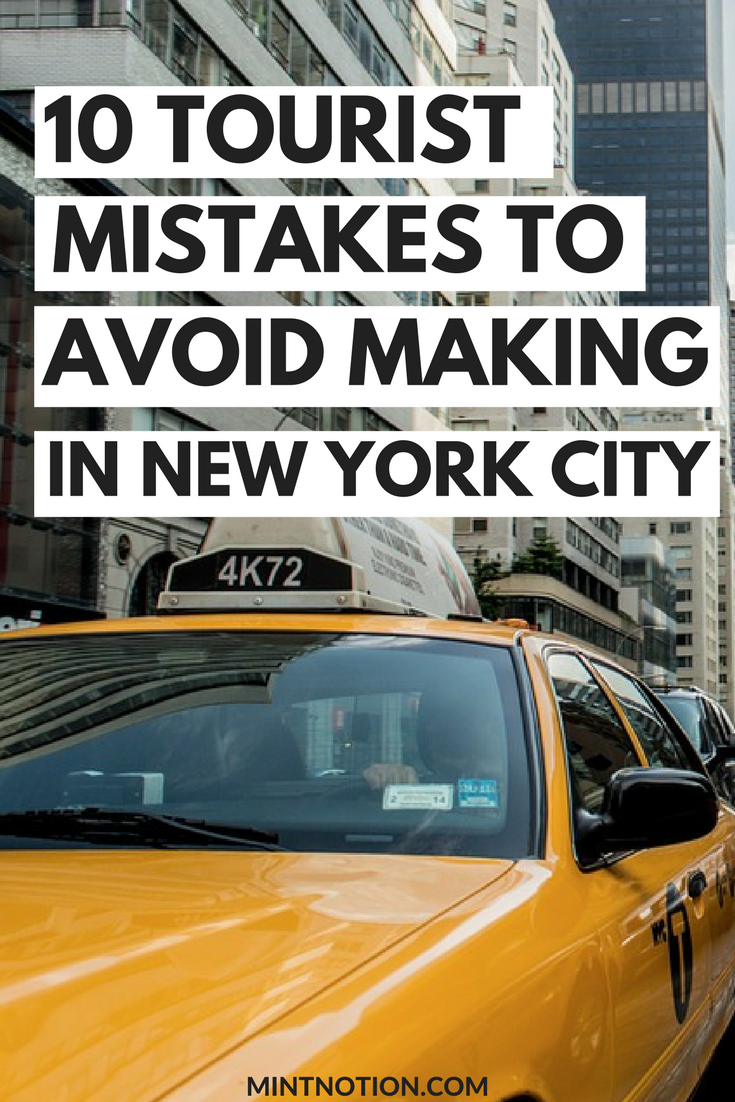 Have a question or comment? Please send me an email at