Before my first trip to New York City, I spent the night before my arrival reading tips on how to "not look like a tourist in NYC".
My goal was to look like a local while I was in town. But it was only natural that I stood out like a tourist – because I was a tourist! Eventually I just accepted this fact and embraced being a tourist in NYC.
It's OK to be a tourist. I noticed all the other visitors around me in NYC. There will always be people that look a lot more touristy than you, so go ahead and enjoy your vacation!
If you're looking for tips to look less like a tourist and act more like a local, here are ten things I learned during my trip to NYC.
Related Posts: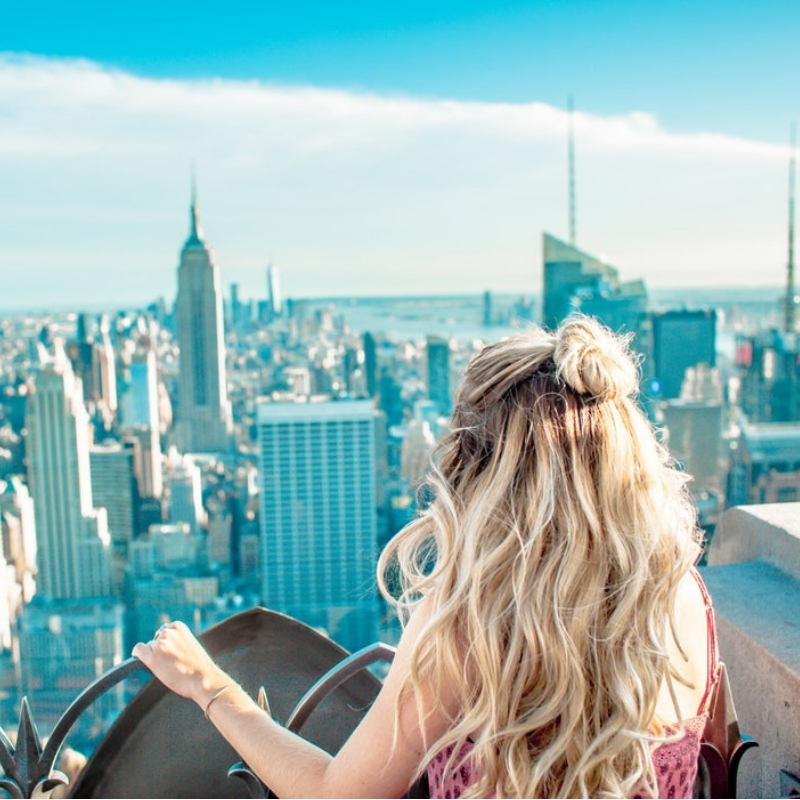 1. Walk with a purpose
Like many major metropolitan cities, New Yorkers walk with a purpose. They know where they're going and they walk at a brisk pace, rather than stroll around like it's a Sunday afternoon.
If you want to walk slower, that's okay. Make sure to stay to one side of the street so you can allow faster walkers to easily pass you.
To make sure the sidewalks are a pleasant experience for everyone:
Avoid stopping in the middle of the sidewalk. Step to the side if you need to take a photo, check your phone, or need to stop and get your bearings.
Avoid taking up the entire sidewalk. If you're traveling with a group, walk single file. This allows faster walkers to pass you.
2. Cross the street like locals do
You'll notice most of the streets in they city are one-way. Locals usually cross on a red light if there are no cars coming, while tourists wait at the curb for the light to turn green.
If you're waiting for the crosswalk sign to turn green and there are no cars around, then you'll immediately stand out like a tourist. Instead, locals will stand as far out in the street as they can, until they can safely dart across the road without getting hit by a car.
If you want to wait for the light to turn green, that's fine. Please be careful and only walk across the street when it's safe to do so.
My must-have NYC accessories:
Click the product to shop
3. Keep to the right on the sidewalk
New Yorkers treat the sidewalk like a street, so keep to the right, otherwise you'll break the flow. If you need to slow down or stop, step to the side to ensure you're not in anyone's way.
There's nothing worse than walking at a steady pace and having the person in front of you randomly stop. Especially for a New Yorker.
4. Don't complain about the price
New York City can be expensive, from tourist attraction tickets to restaurant menus, it's certainly not the most affordable city to visit. But saving money can easily be done.
Instead of complaining about the prices, just accept it and enjoy your vacation. If a restaurant is too expensive, they are many other budget-friendly places to choose from.
Read Next: 10 tips to help you visit NYC on a budget
5. Be assertive
New Yorkers are confident and assertive. This means having your metro card ready to swipe instead of fumbling for it in your pocket when you get to the turnstile.
When waiting in line at a coffee shop, know what you'd like to order before you get called next in line. This saves everyone time since most people are in a rush to get somewhere.
6. Avoid tourists spots like Times Square
Don't get the impression that Times Square is the "real" New York City. Most locals avoid this area because they know it's full of tourists and people trying to sell you something.
You can take my word for it, or you can check out Times Square and decide for yourself.
7. Don't look up
New Yorkers look straight ahead or at the ground when walking. It's easy to spot a tourist because they will usually be walking slow and looking up in awe of all the skyscrapers and buildings.
New York has some of the best architecture, so it's natural to want to check it out!
While you should keep a steady pace, life is too short to look at the ground while walking – just make sure you don't bump into anyone!
8. It's OK to ask for directions
Before leaving your hotel, it's a good idea to have the directions for where you want to go.
Check Google maps and take a screen shot of the directions so you can refer to them as needed. Or download offline maps if you're not using data.
It's a lot easier to take out your phone to check directions rather than pull out a physical map of NYC, which will make you look like a tourist.
If you need to ask for directions, head to the closest convenience store and ask one of the employees there.
Alternatively, if you see someone walking their dog or pushing a stroller, ask them since they probably live nearby.
Read Next: Tourist mistakes every first-timer makes in NYC
9. Don't get star struck
When visiting NYC, there's a chance you may see a celebrity. Lucky you!
Act natural, play it cool and don't stalk them (too much). Go ahead and give them a friendly (but brief) smile, but leave it at that.
Do not ask them for a photo or their autograph, instead feel free to brag about seeing them on social media later.
10. Don't stare at others
There are many different fashion trends taking place all over the city. Nothing seems to phase New Yorkers anymore because they've seen it all before.
When riding the subway, try not to stare at the woman wearing all magenta or the guy who thinks he's the next Spiderman.
11. Don't wear anything with "I 'heart' NYC" on it
There are more valuable things to buy than something with an "I 'heart' NYC" sign, but that's just my opinion.
If you do own or want to purchase something like this, wait until you get home to wear it; otherwise you might as well have a flashing sign over your head that says "I'm a tourist".
12. Don't get into an empty subway car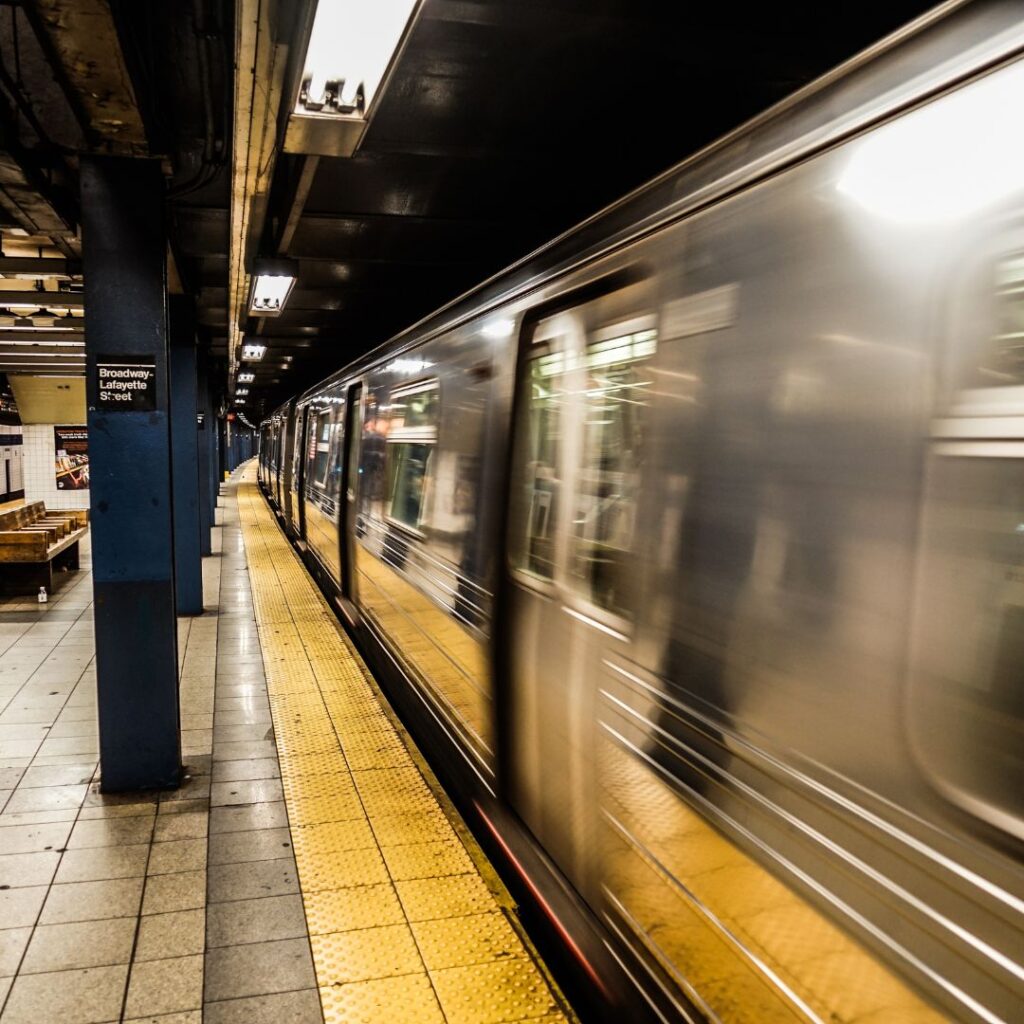 This is especially true during rush hour. There is almost always a reason why the subway car it empty, such as the air conditioner isn't working or that subway train is out of service.
13. Don't eat in Little Italy
Little Italy is a beautiful neighborhood to check out, but you won't find authentic Italian food here. This area is a tourist trap and serves medicore food. I made this mistaken during my first trip to NYC.
14. Fold your pizza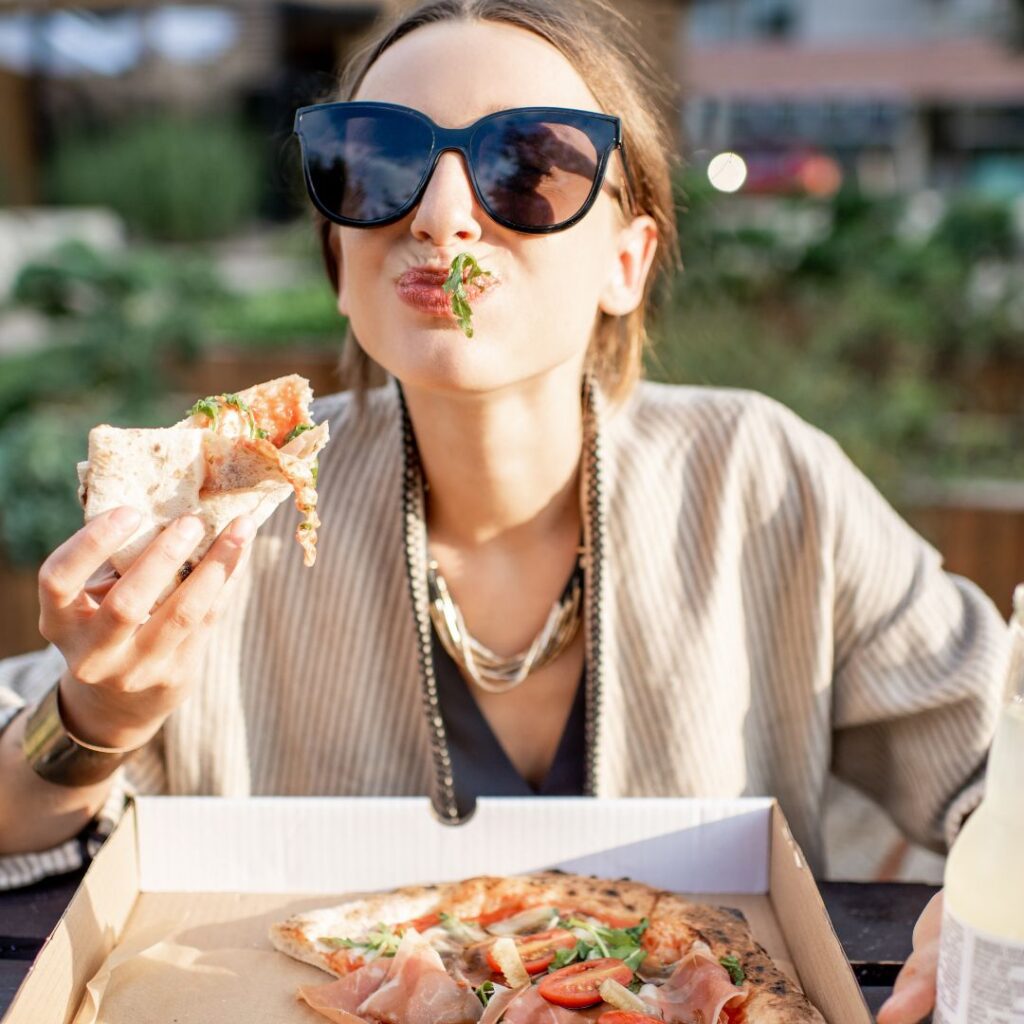 The typical slice of pizza in New York is quite large, so you'll often see locals folding their pizza. This makes it easier to eat, otherwise your slice of pizza will just flop over.
Don't put too much pressure on yourself when trying to fold your pizza. Just find a method that works well for you.
But you definitely don't want to eat a traditional New York slice with a fork and knife. Trying to use the plastic cutlery found at most pizzerias in New York to cut your pizza isn't worth it.
15. New Yorkers refer to NYC as "The City"
Many tourists love to refer to New York as "The Big Apple", "The city that never sleeps", or "The city so nice, they named it twice".
But you'll find that locals almost never refer to New York City by name and just call it "The City".
16. Locals don't wait for the crosswalk sign to turn green to walk
This is one of the first things I noticed when I went to New York City. The only people who wait for the crosswalk sign to turn green are tourists.
New Yorkers are busy and don't have time to wait for the light to turn green. As soon as there is a clear path (with no incoming car coming), you can safely cross the street.
But if you need to wait for the light, do it. Your safety is most important.
---
Where is the best place to stay in New York City?
Now that you know how to not look like a tourist in the city, it's time to book your hotel. I recommend staying in one of these 6 areas:
Avoid staying at Airbnbs in New York as they are illegal. You're better off booking a hotel for the ease and comfort of your trip.
Besides using Booking.com to find affordable hotels, I've also had good luck using Hotwire to score 4 or 5-Star hotels for cheap.
Best affordable hotels in NYC:
Best mid-range hotels in New York:
Best luxury hotels in New York:
Ready to plan your NYC vacation? See what hotel deals are available in the area thanks to Booking.com