Planning a trip to Lisbon on a budget IS possible. Lisbon is the capital of Portugal and it's surprisingly affordable compared to other capital cities in Western Europe.
Here you'll find things to do in Lisbon on a budget and how to save money on the price of Lisbon attractions.
If you're planning on backpacking through Europe and staying at hostels, then this post is probably not for you.
Although you may these tips helpful, this post is written for those who want to travel comfortably, see all the sights, and eat all the food while getting the most bang for their buck.
My husband, sister and I traveled to Portugal together in December for 7 nights (5 nights in Lisbon and 2 nights in Porto). This also included a daytrip to Sintra, which is a 40-minute train ride from Lisbon.
We spent a grand total of $1,272. 35 Canadian dollars per person. This is approximately $969.66 USD per person.
Here's a quick breakdown of our Portugal spending:
(All prices are listed in Canadian dollars).
Flights – $678.88 per person
We flew direct from Toronto to Lisbon with Airtransat. I used some of my credit card points to save money on flights.
Side Note: I use my credit card to pay for groceries, entertainment, dining out, transportation and so on.
I set a reminder to pay it off in full each week so I can track my spending and make sure I am staying within my monthly budget. I have never paid interest on my credit card because I always pay it off in full.
Airbnb – $0 per person
We used Airbnb for our travel accommodations in both Lisbon and Porto. We booked a 2-bedroom apartment which gave us plenty of room as a group of 3 people.
I used my Airbnb credits to cover the cost. Without the credit, the total cost of our 7 nights in Portugal would have been $340 per person.
Transportation – $130.43 per person
This included public transportation, uber rides, and train rides. Lisbon public transport is the cheapest way to get around to each attraction.
Food & Drinks – $285.26 per person
There are many cheap eats in Lisbon! We saved money by only eating at one sit-down restaurant per day.
We also ate at local mom and pop restaurants which are cheaper than touristy restaurants. Lisbon aclohol prices are pretty affordable too.
Sightseeing – $125.78 per person
We visited all the major paid attractions in Lisbon, Sintra and Porto. Using the Lisboa Card helped us save a lot of money.
Gifts – $52 per person
We didn't do much shopping because we prioritized sightseeing and dining out for this trip.
To help you plan the best trip ever to Lisbon, I've put together these money-saving tips so you can travel to Lisbon on a budget. It includes things to do in Lisbon, a review of the Lisbon travel card, and what you can do in Lisbon for free!
Related Posts:
What do I need to know about traveling to Lisbon, Portugal?
Best time to go: The spring (March to May) and fall (September to October) are the best months to visit Lisbon. This is when the weather is warm and hotel rates are slighlty cheaper.
Best area to stay: The city center is the best area to stay since that's where most of the main landmarks and attractions are located. However, there are tons of different neighborhoods in Lisbon where tourists can easily explore the city on foot.
Chiado and Avenida da Liberdade are the best neighorhoods to stay for first-timers. If you're traveling on a budget, then check out accommodations in Baixa and Barrio Alto.
Best way to get around: The best way to get around Lisbon is on foot or by public transport. Keep in mind that there are tons of hills in Lisbon, so if you want to catch your breath, hop on the tram, bus or metro.
If you prefer to be comfortable and relax, you can ride the Hop-On Hop-Off Bus Tour, which is a great way to get familiar with Lisbon for first-timers.
Top 5 things to do in Lisbon: Oceanário de Lisboa, Jerónimos Monastery (Mosteiro dos Jerónimos), Castelo de S. Jorge, Museu Calouste Gulbenkian, and Torre de Belém (Belém Tower).
What's Lisbon known for? Lisbon is famous for its beautiful and ornate architecture and traditional fado music. It's also well known for its nightlife and spectacular hilltop vistas in Alfama and at St. George's Castle.
1. Save money on attractions with the Lisboa Card
Just because you're visiting Lisbon on a budget doesn't mean that you need to skip its paid attractions.
That would be a shame because Lisbon has some of the most unique attractions in Europe, including two UNESCO World Heritage Sites (the Jerónimos Monastery and the Tower of Belém).
The best way to save money on Lisbon's paid attractions is to use the Lisboa Card (Lisbon Card).
We used the Lisboa Card, which helped us easily plan our itinerary and visit all the top attractions in the city for cheap. With the Lisboa Card, we saved time, money, and enjoyed stress-free sightseeing.
PRO TIP: Buy the pass online to save time and hassle. Plus, you can take advantage of online discounts. To purchase your Libsoa Card, click here to go to the official website.
What's included in the Lisboa Card?
✓ Pick from 26 Lisbon attractions
✓ Valid for up to 72 hours
✓ Free unlimited travel by public transport
✓ Exclusive discounts on visits, tours, shopping and nightlife
This Lisboa Card is a pre-paid sightseeing card that can be used to get FREE entry to the city's top attractions, including Jerónimos Monastery, Belém Tower, Santa Justa Elevator.
Plus, you can use the Lisboa Card to get free entry to 26 other attractions, museums, monuments and UNESCO World Heritage Sites.
Once you've bought the Lisboa Card, you can visit as many attractions as you want. The more sights you visit, the more money you'll save!
The card also includes FREE unlimited travel by public transport (bus, tram, metro, elevators and funiculars).
It also includes free travel on CP train lines to Sintra and Cascais, which are popular daytrip destinations.
Simply choose which pass duration you want to buy (24 hours, 48 hours or 72 hours). You can click here to purchase your Lisboa Card from their official website.
2. Take advantage of free things to do in Lisbon
If you're on a really tight budget, you're in luck because Lisbon has plenty of fun things to do for free. This makes it easy to visit Lisbon on a budget!
The city is spread out over seven hills, which means there are lots of spots to enjoy stunning views of Lisbon. Just look for a sign that says "miradouro" to find viewpoints all over the city.
I recommend checking out Miradouro da Graça, Miradouro das Portas do Sol, Miradouro de São Pedro de Alcântara, Miradouro da Senhora do Monte, and Miradouro de Santa Catarina. These viewpoints are all FREE to visit.
If you're using the Lisboa Card, you can find incredible viewpoints at Elevador de Santa Justa, Rua Augusta Arch and Monument of the Discoveries.
Another popular area to check out is Rua Nova do Carvalho (commonly known as the Pink Street). This is a trendy spot in the city for nightlife.
3. Explore the different neighborhoods in the city
Lisbon is home to many vibrant and exciting neighborhoods. You can easily explore them on foot or take a ride on the tram. The most popular neighborhoods to check out are Chaido, Baixa, Alfama, Bairro Alto and Belém.
Here you'll find markets, shops, gardens, monuments, street art, beautiful architecture, and more! This is a fun activity for those who want to visit Lisbon on a budget.
4. Ride the famous 28 tram
Riding the 28 tram in Lisbon is one of the most popular things to do. And it only costs a few euros to hop on board.
Just make sure to avoid riding the tram during peak hours when the locals rely on it for their daily commute.
This tram is popular because it passes through some of Lisbon's most popular neighborhoods such as Alfama and Baixa.
It provides one of the best tours of the capital since you can check out popular tourist attractions along the route.
PRO TIP: If you're using the Lisboa Card, you can ride the 28 tram for FREE.
5. Check out Museu Berardo on Saturdays
The Berardo Collection Museum is a museum of modern and contemporary art in Belém, a popular neighborhood in Lisbon.
Here you'll find works from artists like Picasso, Duchamp, Andy Warhol, among others. This is definitely a must-visit museum for art lovers.
On Saturdays, you can visit this art museum for free. If you're using the Lisboa Card, you can save 30% off admission any day of the week.
6. Visit the oldest bookstore in the world
Did you know that the oldest bookstore in the world can be found in Lisbon's Chiado neighborhood? Bertrand Chiado was recognized in 2011 by the Guinness Book as the oldest bookstore in the world still in operation.
The bookstore was founded in 1732 by two brothers from France. Its original location was destroyed in the 1755 earthquake, so they had to rebuild it elsewhere.
You can find the latest bestsellers here along with some classics (both in English and Portuguese).
7. Take a day trip to Sintra
Sintra is a popular day trip from Lisbon and worth checking out. Yes, it does involve spending a little money to take the train there (a quick 40-minute ride), but it can be very affordable.
PRO TRIP: If you're using the Lisboa Card, you can take the train for FREE to Sintra.
Once you arrive in Sintra, you'll see many tuk tuks and tour guides waiting to take tourists to the popular attractions. This can be a good option if you're looking for a more intimate experience.
However, a cheaper option is to get a Hop-On Hop-Off ticket for the 434 Bus. This bus will take you around the entire loop between the historic center of Sintra and Pena Palace. It's cheaper than paying for two single tickets.
PRO TIP: During the summer months (high-season travel time), the 434 Bus can get quite busy. I recommend catching the bus from the train station and going straight to Pena Palace to get a head start. Then you can return to the historic center of Sintra in the afternoon to have lunch.
If you do decide to visit Sintra, you can get a slight discount by purchasing your attraction tickets together. For example, if you combine two attractions you can save 5% off admission.
My favorite attraction in Sintra is Quinta da Regaleira. This was one of the most unique places I have ever seen with wells, caves, hidden tunnels and more. I enjoyed it more than Pena Palace and the Moorish Castle.
8. Listen to fado for free
Fado is a type of Portuguese singing that is popular in pubs and cafes. It's a symbol of Portuguese culture and tradition, which makes this a must-do activity while you're visiting Lisbon.
While popular fado shows can be epensive, you can actually listen to free fado shows in Lisbon. If you're on a budget, look for tascas with Fado Vadio, which is fado sang by amateur singers.
Below are some popular places to check out free fado in Lisbon:
Tasca do Chico – Fado shows start every night at around 8:00pm. If you don't have a reservation, arrive early as it gets quite busy.
Tasca do Jaime – Every weekend in the afternoon (usually after lunch), you can listen to locals and amateur singers.
Solidó – During dinner, you can enjoy a free fado show that starts at around 8:00pm.
If you want to see a professional fado show, below are the best ones in Lisbon:
9. Compare hotel prices and book early
If you decide to stay in a hotel, I recommend checking prices early to compare costs. This will also help you get the hotel you want for your selected travel dates, especially if you're traveling during the high season.
Below are the best affordable hotels in Lisbon:
Ready to plan your adventure to Lisbon? See what hotel deals are available in the area thanks to Booking.com
10. Visit in the off-season
We traveled to Lisbon in the middle of December. The temperature was mild, we only experienced one day of rain during our week-long trip.
This time of year was quiet, which was perfect for visiting popular tourist attractions in Lisbon on a budget.
It was also exciting because we got to see Lisbon decorated for Christmas. Plus, travel accommodations were affordable.
Visiting in the off-season can help you save money and provide a nicer experience than dealing with busy summer crowds.
May, June and September are the best times of year to visit Lisbon.
July and August are the high season. While you can still enjoy a trip to Lisbon in the summer months, the temperatures can get quite hot which can make for a sweaty and overpriced vacation.
11. Bring your walking shoes
Lisbon is a very walkable city. It's easy to walk to all the main tourist attractions. Just make sure to wear comfortable shoes with a good grip.
There are lots of hills and cobblestone roads in Lisbon, which can get quite slippery in the rain.
If you enjoy exploring the city on foot, consider checking out of one Lisbon's free walking tours. This is an affordable way to get familiar with your surroundings and travel around Lisbon on a budget.
12. Use Lisbon's public transportation
Lisbon has a decent public transportation system that can easily take you to all the major tourist attractions.
If you're using the Lisboa Card, you'll get FREE unlimited travel by public transport (bus, tram, metro, elevators and funiculars). It also includes free travel on CP train lines to Sintra and Cascais, which are popular daytrip destinations.
If you're not using the Lisboa Card, considering getting a 1 Day Ticket (24 hours). This is valid for unlimited journeys on Carris, Metro and CP (Sintra, Cascais, Azambuja and Sado lines), during 24 hours following the first validation.
You also have the option of getting a Zapping card, which is a prepaid travel credit that can be used on various operators. The cost of each journey will be deducted from your card balance.
13. Check taxi and Uber costs
Taxi and Uber are reasonably priced in Lisbon compared to other capital cities. Just keep in mind though, you'll be charged extra for luggage when taking a taxi. In this case, riding an Uber may be cheaper.
14. Eat pastéis de nata for breakfast or a snack
One of the best foods available in Lisbon is pastéis de nata (pastel de nata). This is a popular Portuguese custard tart that you'll find available all over the city.
Dust it with cinnamon and powdered sugar for a delicious breakfast or afternoon snack.
This is an affordable treat, which pairs well with an espresso. We ate pastéis de nata every morning before starting our sightseeing adventure.
15. Eat where the locals go
This is a helpful tip that can be applied for nearly every travel destination. Avoid the touristy restaurants and eat where the locals go.
There are many mom and pop style restaurants all over Lisbon that serve affordable meals. This means you'll want to avoid going to restaurants that have menus written in multiple languages.
Restaurants frequented by locals usually offer better food and are cheaper than touristy establishments. I like checking Google for reviews.
NOTE: Lisbon is well-known for its seafood and Portuguese chicken. I'm a vegetarian and found it difficult to find good food options during my trip. And the vegetarian food that I did try didn't taste good.
We ended up eating at Italian restaurants (which were not popular in Lisbon) because they offered the best options for vegetarians.
16. Choose one meal per day at a sit-down restaurant
Going to a sit-down restaurant for breakfast, lunch and dinner can quickly add up. Instead, I recommend making one meal per day as a sit-down meal.
For example, you can have a quick breakfast at a café, grab a sandwich for lunch, and enjoy a nice dinner at a sit-down restaurant. This can help cut down on food costs during your trip.
Some mornings we just ate a granola bar for breakfast. This was a cheap, on-the-go option for busy mornings.
17. Bread at your table is not free
When dining at restaurants in Lisbon, the waiter will usually put some things on your table.
This may include bread, butter, olives, or other snacks. Many tourists from the USA or Canada would expect these items to be free, but that's not the case in Portugal.
If you eat the items brought to your table, you will see a charge for these items on your bill.
If you're interested in eating these items, you can check the menu for prices or ask the waiter how much it will cost. Otherwise, it's perfectly acceptable to just say "no thank you" when the waiter tries to put them on your table.
18. Eat at restaurants at least one block away from touristy areas
If you don't have time to check restaurant reviews, I understand. When you're hungry, all you can think about is finding a place to eat fast!
Just make sure to walk at least one block away from popular tourist areas to find food options.
This is because many restaurants located in the main touristy areas are often over-priced and serve mediocre food at best. If you walk a few blocks away, you're more likely to find tasty food at a reasonable price.
19. Drink the local wine and beer
If you're not interested in drinking alcoholic beverages, then skip this point. But if you do happen to order a drink while visiting Lisbon, I highly recommend trying the local wine or beer.
Lisbon alcohol prices are very affordable. A glass of wine will usually cost around €2-€5 per glass.
Before going to Portugal, I didn't know anything about Portuguese wine. That's why we decided to take a wine tour when we visited Porto (which is worth checking out). The Douro Valley is the most popular region for wine.
This is also where Port wine is made. What's impressive is this entire region was made a UNESCO World Heritage Site.
Beer is also affordable in Lisbon. Super Bock is the oldest beer company in Portugal and you can get a pint for around €2-€3.
20. Try Ginjinha
Ginjinha (or Ginja) is a popular liqueur in Portugal made from sour cherries and blended with sugar and cinnamon.
You'll see shops all over Lisbon selling shots or bottles of Ginjinha. Each place offers their own take on this liqueur.
You can enjoy it a few different ways: with the fruit, without the fruit, or served in a chocolate cup.
I tried it without the fruit, but my sister said it tasted better with the chocolate cup. It's only €1-€2 per shot.
A Ginjinha Rossio is the most popular spot in Lisbon to try Ginjinha. It's a small open-fronted bar that can only fit up to three people inside. It can get busy, but it's worth going to try this sweet liqueur.
21. Drink espresso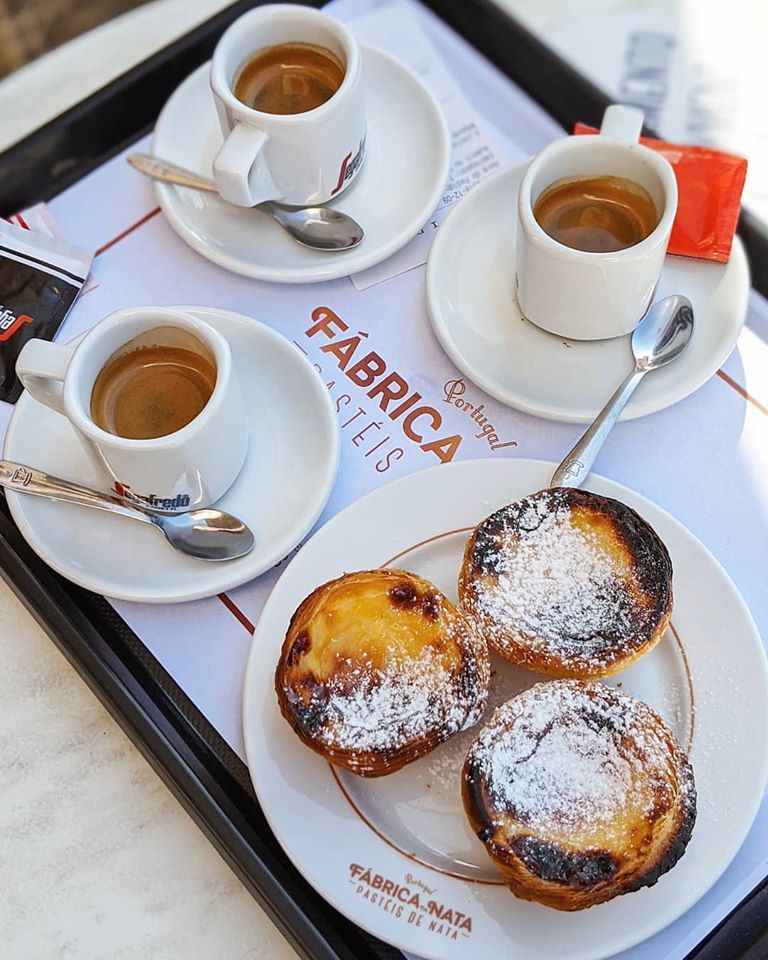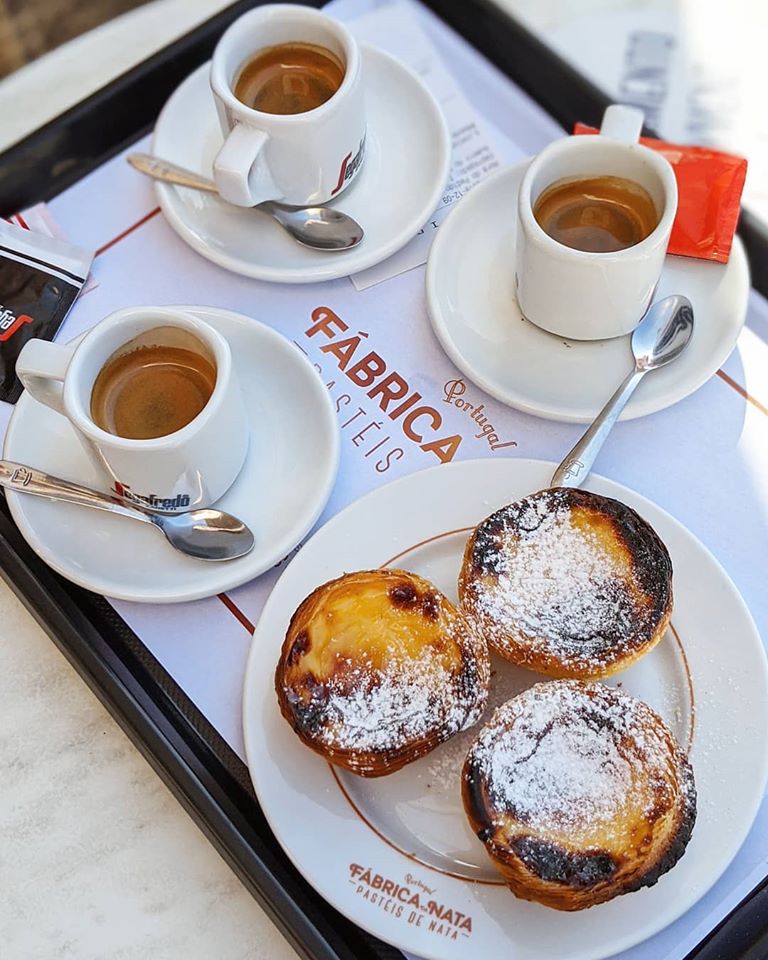 If you need to get your caffeine fix, the cheapest way is to drink a shot of espresso. It's around €1 (or less) for espresso at most cafes. This was cheaper than getting a cup of drip coffee or tea.
I noticed that some establishments charged extra for milk instead of offering it for free.
If you're on a tight budget, you may want to skip the milk in your morning beverage. This can be a great way to save money and dine well in Lisbon on a budget.
22. Buy snacks and drinks at the local grocery stores
Something I like to do whenever I visit a new country is to check out the local grocery store. I love seeing what types of snacks and ingredients they have available.
We went to the grocery store a few times in Lisbon to pick up water, wine, and snacks to carry in our daypacks.
Wine was very affordable and tasty in Portugal. Most grocery stores offered wine starting at €3 per bottle. Needless to say, we brought a few bottles back home to Canada with us in our suitcase.
Practical tips for visiting Lisbon
Wear comfortable walking shoes
I already mentioned that there are cobblestone streets in Lisbon and lots of hills. It's important to wear comfortable shoes with a good grip because you'll be doing a fair amount of walking. I wore these sneakers and found them to be great for my trip.
Pack an umbrella
We visited Lisbon during the winter, which is when they experience the most rain.
While it only rained once while we were in Lisbon, it's important to pack an umbrella with you just in case. I like using this travel umbrella because it's compact and light weight.
Beware of pickpockets
Like with any popular travel destination, pickpockets are present in both Lisbon and Porto. They like to target unsuspecting tourists on trams and busy crowds.
I recommend not taking too much cash with you, avoid putting your wallet in your back pocket, and never leave your bag unsupervised.
I normally wear a backpack when traveling. I like to put a safety pin on the closure to keep it secure.
I also take my backpack off and wear it on my front when riding public transportation or walking through busy crowds.
Skip visiting São Jorge Castle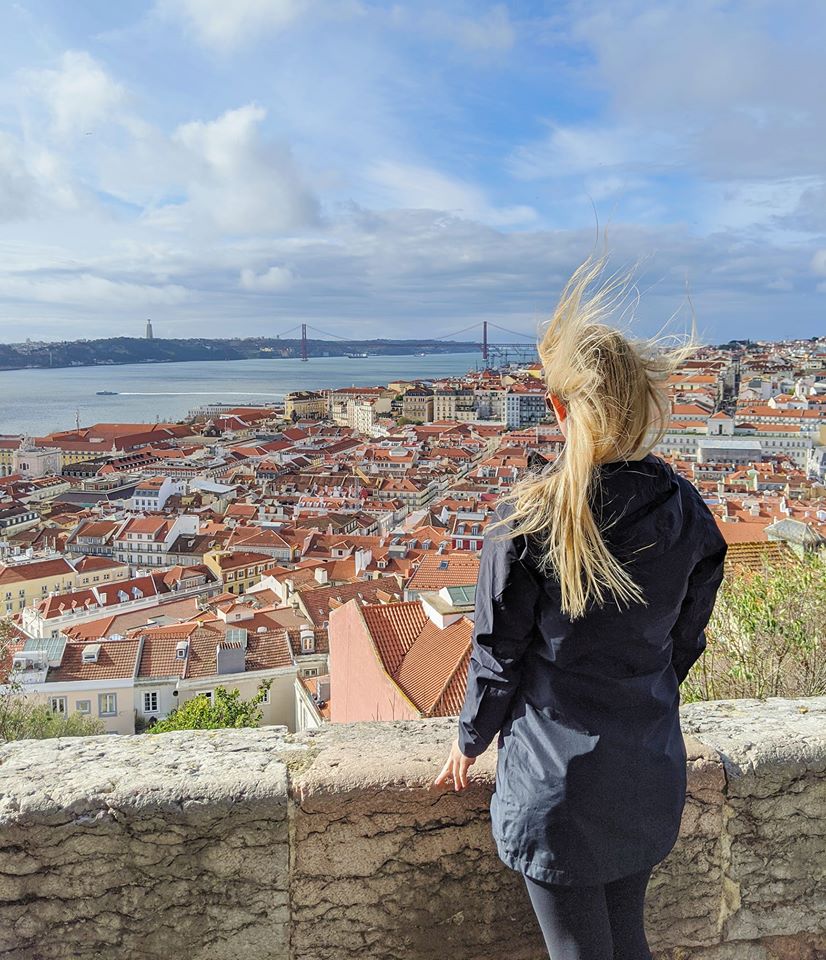 São Jorge Castle is located on the peak of São Jorge Hill, which is the highest hill in Lisbon. It's one of the Lisbon's most iconic landmarks and stands out both during the day and when it's illuminated at night.
Yes, you can see an incredible view of the city from the castle, however I think the castle looks better from the outside.
The castle is not included on the Lisboa Card, so you'll have to pay if you want to visit here. We found the entrance fee a bit steep and not worth the cost.
One interesting thing about the castle is that is has a camera obscura, although this was built solely for tourists.
I've seen the camera obscura in Edinburgh before, but this was my boyfriend's first time seeing one. He enjoyed it very much and it was nice to learn a little bit more about Lisbon.
It costs €10.90 per adult. Since there was three of us, we spent €32.70 to visit the castle.
We all agreed that we would have rather spent that €32.70 on something else, like a nice dinner in Lisbon.
This is just our opinion though. I recommend reading other reviews online before making a decision about whether or not to skip a visit to this castle.