Lisbon is one of the sunniest cities in Europe and known for its spectacular hilltop vistas and delicious custard tarts (pastéis de nata).
Lisbon is also one of the most affordable tourist destinations in Europe, making it an excellent choice for those visiting on any budget. There is so much to see and do in Lisbon. Whatever your travel plans are, these helpful tips are perfect for first-time visitors.
We recently visited Portugal for one week and enjoyed our time in Lisbon. To make our trip more comfortable, we chose to book our travel accommodations through Airbnb.
To help make your trip to Lisbon more enjoyable, here what you need to know before visiting.
Related Posts:
1. Be mindful of where you book your accommodations
The good news is that Lisbon is a very walkable city and one of the best ways to explore the city is on foot.
But it's also important to book your accommodations in an area that you plan to spend the most time in.
You don't want to spend too much time traveling on transport or tiring your feet out uneccessarily.
There are lots of hills and cobblestoned roads in Lisbon, which can get quite slippery in the rain. I recommend wearing comfortable walking shoes no matter where you choose to stay.
Book your accommodations in a neighborhood that makes sense for your needs. Below are the two most popular options.
Baixa & Chiado District is the most popular neighborhood for tourist. Here you'll find most of the major landmarks and attractions.
Barrio Alto is the best neighborhood if you want to party and enjoy Lisbon's nightlight.
2. Save money with the Lisboa Card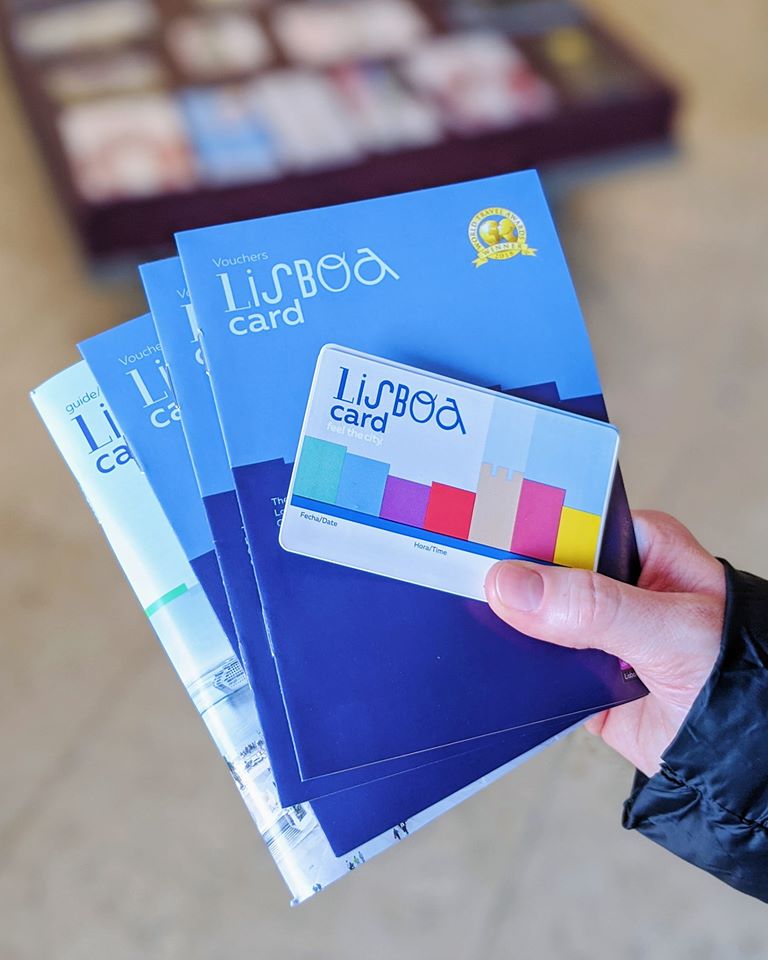 There are lots of great things to see and do in Lisbon, which can make it challenging to plan your itinerary and determine which attractions are worth spending your money on.
The good news is that you don't need to worry about planning your itinerary alone!
After doing a lot of research for my trip to Portugal, I discovered the Lisboa Card. This tourism pass can be an excellent tool for planning your holiday.
We used the Lisboa Card, which helped us easily plan our itinerary and visit all the top attractions in the city for cheap. With the Lisboa Card, we saved time, money, and enjoyed stress-free sightseeing.
PRO TIP: Buy the pass online to save time and hassle. Plus, you can take advantage of online discounts. To purchase your Libsoa Card, click here to go to the official website.
Here's what's included in the Lisboa Card:
✓ Pick from 26 Lisbon attractions
✓ Valid for up to 72 hours
✓ Free unlimited travel by public transport
✓ Exclusive discounts on visits, tours, shopping and nightlife
This Lisboa Card is a pre-paid sightseeing card that can be used to get FREE entry to the city's top attractions, including Jerónimos Monastery, Belém Tower, Santa Justa Elevator.
Plus, you can use the Lisboa Card to get free entry to 26 other attractions, museums, monuments and UNESCO World Heritage Sites.
Once you've bought the Lisboa Card, you can visit as many attractions as you want. The more sights you visit, the more money you'll save!
The card also includes FREE unlimited travel by public transport (bus, tram, metro, elevators and funiculars).
It also includes free travel on CP train lines to Sintra and Cascais, which are popular daytrip destinations.
How to get your Lisboa Card:
Step 1: Choose which pass duration you want to buy (24 hours, 48 hours or 72 hours).
You can click here to purchase your Lisboa Card from their official website. When you buy the pass online, you can take advantage of online discounts.
Step 2: Once you arrive in Lisbon, you can pick up your Lisboa Card at one of the tourism offices located at Lisbon Airport, Lisbon Welcome Center, Stª Apolónia International Railway Station or at Rua Augusta and Belém Kiosks.
Simply show the voucher you received via email and a valid ID.
Step 3: You now have access to any of the 26 attractions included for the duration of your pass. You can activate your pass anytime within 12 months from the date of purchase.
3. Eat all the pastéis de nata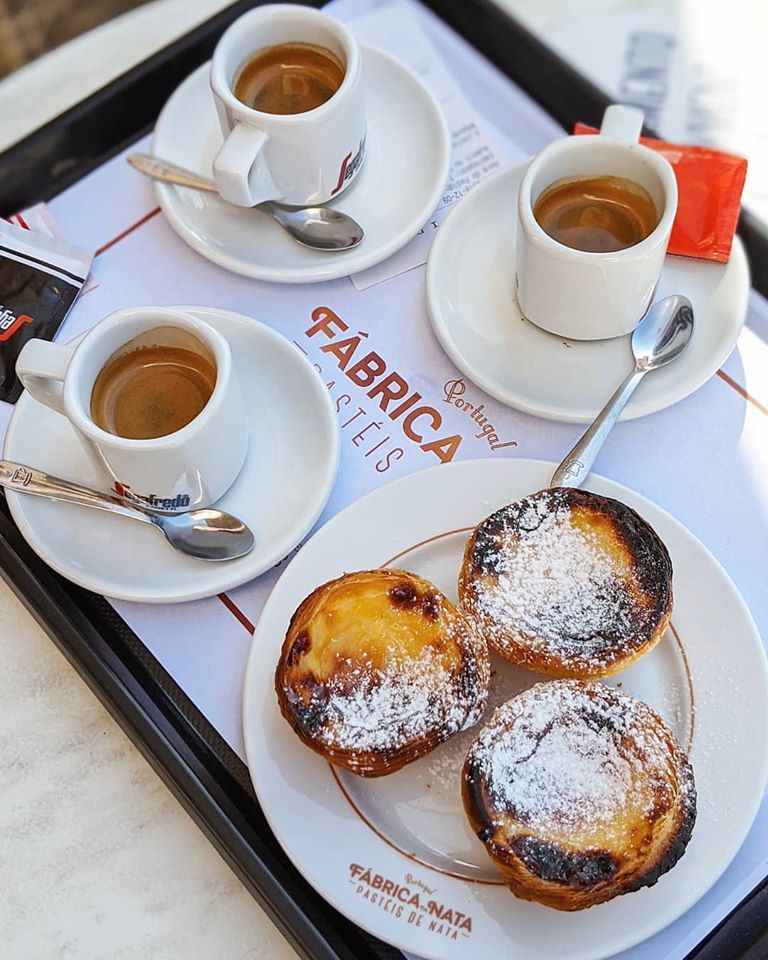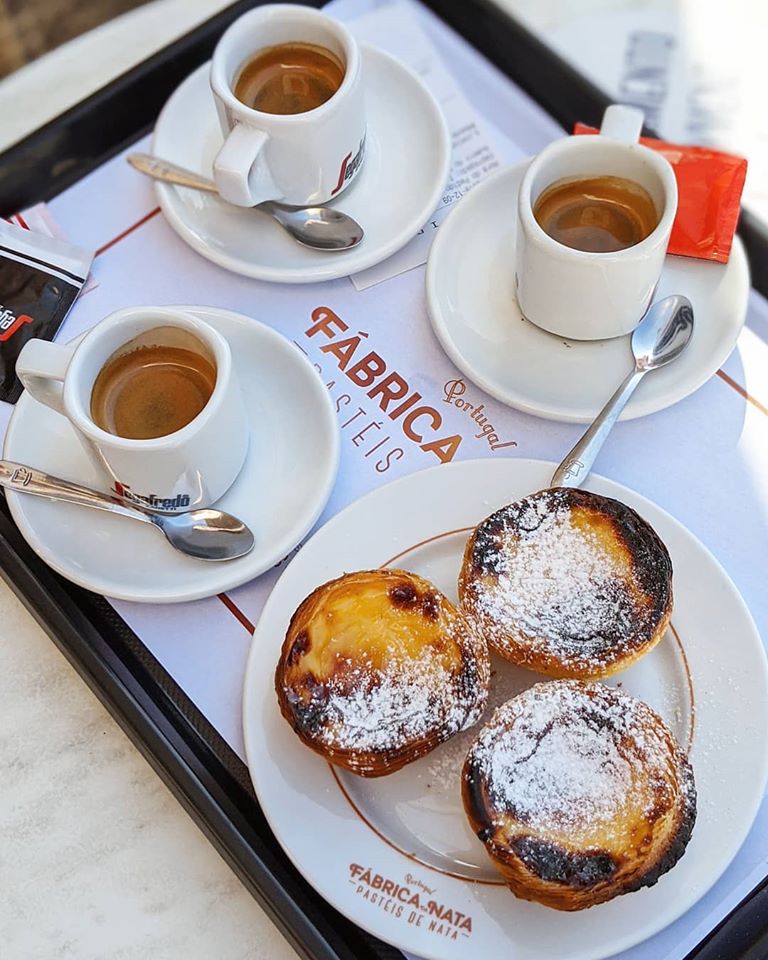 One of the best foods to eat in Lisbon is pastéis de nata. This is a popular Portuguese custard tart that you'll find available all over the city.
Dust it with cinnamon and powdered sugar for a delicious breakfast or afternoon snack.
You don't have to worry about sticking to your diet in Lisbon, because you'll be walking so much that everyday will fill like leg day. So take a break and treat yourself to one of these delicious and creamy custard tarts.
Where's the best spot for pastéis de nata? While it's going to be tough to find bad pastéis de nata in Lisbon, these are the top three spots in the city you should go:
Manteigaria – This is the top-rated place to enjoy pastéis de nata in Lisbon.
Pastéis de Belém – Since 1837, this spot has been serving pastéis de nata following an ancient recipe from the Mosteiro dos Jerónimos.
Fábrica da Nata – This is one of my favorite spots to enjoy pastéis de nata in Lisbon. Their cappuccinos are also excellent.
4. Don't wait for the Santa Justa Elevator
No matter which time of year you decide to visit Lisbon, you can expect to see people waiting to ride the Santa Justa Elevator. This is one of the most unique tourist attractions in Lisbon.
Within its first year of opening in 1902, more than half of million passengers had ridden the lift, making it almost as popular as the Eiffel's Tower.
In fact, the elevator was completed by Raoul Mesnier du Ponsard, who was a student of Gustav Eiffel (the architect behind the Eiffel Tower).
If you're using the Lisboa Card, the good news is that you can ride the elevator for free.
Just make sure to arrive in the early morning or late in the day. Avoid the peak hours of 10:00am to 3:00pm for a more pleasurable experience.
For those not using the Lisboa Card or you want to skip the long wait, there is an access bridge behind the elevator that you can use instead.
Just purchase a ticket for €1.50 so you can climb to the top and enjoy an incredible 360 panoramic view of the city.
The entrance to the viewpoint is next to the Bellalisa Elevavdor restaurant. You will have to walk up a small hill to access this point.
PRO TIP: If you don't feel like walking up the hill, you can take a secret elevator to Terraços do Carmo (TOPO Chiado). The elevator is inside a small gift shop located on Rua do Carmo. The elevator is free to ride. Then it's just a short walk to the viewpoint from the top.
5. Don't rent a car in Lisbon
If you're staying in Lisbon, there's no reason to drive a rental car. It's not easy to get around in a rental car in Lisbon because of the hills, narrow streets and having to share them with the public trams.
Instead the best way to get around is on foot. The second best way to get around is on Lisbon's public transportation. The buses, tram, funiculars, metro and trains will take you to all the popular attractions.
And if you need to drive anywhere, I highly recommend taking an Uber. It's affordable and this can help you get to all the hard to reach spots in the city.
I also recommend to avoid taxis as they have a bad reputation of overcharing customers or taking them on longer routes than necessary.
6. Be aware of the tourist scams in Lisbon
Like with any popular travel destination, pickpockets are present in both Lisbon and Porto. They like to target unsuspecting tourists on trams and busy crowds.
I recommend not taking too much cash with you, avoid putting your wallet in your back pocket, and never leave your bag unsupervised.
I normally wear a backpack when traveling. I like to put a safety pin on the closure to keep it secure. I also take my backpack off and wear it on my front when riding public transportation or walking through busy crowds.
Another popular scam in Lisbon and Porto is men trying to offer drugs to tourists. In touristy areas, you'll see men walk by and say "hashish, marijuana, cocaine".
They never approached me, but they came up to my boyfriend at least 20 times during our trip. The best thing to do is just say "no thanks" and keep walking.
7. Don't expect to have an early dinner
Many restaurants in Lisbon close in the afternoon and re-open again at dinner time. Most restaurants open for dinner at 8:00 PM, which can make it difficult for visitors who want to have an early dinner.
Only the very touristy restaurants will be open for dinner in the late afternoon or early evening. I recommend heading back to your accommodations in the afternoon to rest up before dinner or go to a café for a snack to tie you over.
8. The bread in restaurants isn't free
When dining at restaurants in Lisbon, the waiter will usually put some things on your table.
This may include bread, butter, olives, or other snacks. Many tourists from the USA or Canada would expect these items to be free, but that's not the case in Portugal.
If you eat the items brought to your table, you will see a charge for these items on your bill.
If you're interested in eating these items, you can check the menu for prices or ask the waiter how much it will cost.
Otherwise, it's perfectly acceptable to just say "no thank you" when the waiter tries to put them on your table.
When we were in Portugal, most waiters tried to put the items on our table without saying anything. Only one restaurant was upfront about the cost of the bread and asked us if we wanted it.
It's always a good idea to pay attention to the bill to make sure that it includes all the items you've ordered. You want to make sure that you're only charged for what you consume.
9. Try Ginjinha in Lisbon
Ginjinha (or Ginja) is a popular liqueur in Portugal made from sour cherries and blended with sugar and cinnamon. You'll see shops all over Lisbon selling shots or bottles of Ginjinha. Each place offers their own take on this liqueur.
You can enjoy it a few different ways: with the fruit, without the fruit, or served in a chocolate cup. I tried it without the fruit, but my sister said it tasted better with the chocolate cup.
A Ginjinha Rossio is the most popular spot in Lisbon to try Ginjinha. It's a small open-fronted bar that can only fit up to three people inside. It can get busy, but it's worth going to try this sweet liqueur.
10. Don't think that Spanish and Portuguese are the same
You probably already know that Portuguese is the national language of Portugal. English is the second most widely spoken language in Portugal. The French language used to be popular in Portugal but has declined over the years.
You'd be surprised though at the amount of visitors who come to Portugal and speak Spanish, thinking it's similar to Portuguese. It's not the same!
Most locals have a basic understanding of English because most of the television channels are in English with Portuguese subtitles.
Although it's always helpful and polite to learn a few words in Portuguese. Below are some key phrases I recommend learning:
Hello – Olá
Good morning – Bom dia
Good afternoon – Boa tarde
Good night – Boa noite
Thank you – Obrigado (if said by a man) Obrigada (if said by a woman)
Yes – Sim
No – Não
Please – Por Favor
How much? – Quanto custa?
11. Avoid riding the 28 Tram during rush hour
Taking a ride on this cute yellow tram is recommended in nearly every Lisbon travel guide.
However, it can get extremely busy during the morning and afternoon rush. This is because the tram is small and many locals rely on it for their daily commute.
Instead, if you really want to hop a ride on the famous 28 tram, I recommend going during non-peak hours.
This will provide a more pleasure experience. We rode it in the evening when it was quiet and had a lot of fun. It reminded me of the old streetcars in New Orleans.
PRO TIP: If you're using the Lisboa Card, you can ride the 28 tram for free.
12. Bring cash with you
We found that cash is preferred at most places in Lisbon, as opposed to paying with a card. We only brought enough cash with us that we needed for each day, as this was the most convenient option for us.
I would bring cash and card. There are ATMs everywhere in Lisbon in case you need to take out extra cash.
13. Take advantage of the views in Lisbon
One of the best things to do in Lisbon is to check out the stunning viewpoints where you can admire the city from above. Just look for a sign that says "miradouro" to find viewpoints all over the city.
Here are some of the most popular viewpoints you'll want to check out in Lisbon:
Elevador de Santa Justa
At the top of the Santa Justa lift, you'll find a spectacular view of the city. From here you can get a great view of Carmo Church, the ruins left by the 1755 earthquake.
You can also see Rossio Square from above, which is the liveliest square in Lisbon. You can ride to the top for FREE with your Lisboa Card.
São Jorge Castle
This is one of the most popular tourist attractions in Lisbon and it offers an incredible view of the city. The castle dates back to 200 BC and went through a major restoration during the 1940s.
From the top of the castle, you can see a beautiful view of Lisbon, including its famous Ponte 25 de Abril suspension bridge. The castle also has a camera obscura which is worth checking out.
Rua Augusta Arch
This is a popular tourist attraction in Lisbon and worth a visit. We went at sunset and enjoyed stunning 360-views of city.
This was my favorite viewpoint in the city and highly recommend a visit. You can visit Rua Augusta Arch for FREE with your Lisboa Card.
Monument of the Discoveries
This monument celebrates the achievements of the explorers during the building of Portugal's empire.
You can visit the top to enjoy panoramic views of Belém and the Tagus River. It's especially beautiful on a clear sunny day. You can save 20% off entry with your Lisboa Card.
Lisbon also has a TON of incredible viewpoints that you can visit for free. I recommend checking out Miradouro da Graça, Miradouro das Portas do Sol, Miradouro de São Pedro de Alcântara, Miradouro da Senhora do Monte, and Miradouro de Santa Catarina.
14. Don't overpay for a Fado show
Fado is a genre of music that officially originated in Portugal around the 1820s. Most of the lyrics are about broken hearts or lost sailors in the sea, often written in a minor key.
I didn't know about Fado music before arriving in Lisbon, but you'll see signs all over the city advertising Fado shows at pubs, cafes and restaurants. Many of these shows are quite expensive and have become a popular tourist-trap.
Fortunately, if you're interested in seeing a Fado show, there are a few places in Lisbon that are affordable and offer a more local experience. I recommend heading to Tasca do Chico in Bairro Alto.
It's known for its weekly sessions of Fado Vadio (Fado that is sang by non-professionals). Just make sure to arrive early to grab a seat as this is a popular spot among locals and tourists alike.
More popular Fado shows in Lisbon:
NOTE: If you're interested in learning more about Fado music, consider checking out the Fado Museum in Lisbon. You can save 20% off entry by showing your Lisboa Card.
15. Don't spend all your time in Lisbon
Lisbon is the capital and the largest city of Portugal. You need at least four days to fully explore the city, although you could easily spend a week visiting all the different neighborhoods.
However, if you spend all your time in Lisbon, you'll miss out on everything that Portugal has to offer. For those who are interested in exploring beyond Lisbon, I highly recommend a day trip to Sintra and a visit to Porto.
We spent 7 days in Portugal – 5 nights in Lisbon (including a day trip to Sintra) and 2 nights in Porto. We thought Lisbon was nice, but we enjoyed our time in Porto much more.
PRO TIP: You can use your Lisboa Card to take the train for free to Sintra, which is about a 40-minute ride.
Some of the top things to do in Sintra include Park and National Palace of Pena, Castelo dos Mouros, and Qunita da Regaleira. We enjoyed visiting Quinta da Regaleira the best and definitely recommend it!
16. Wear comfortable walking shoes
Lisbon is known as the city of the seven hills. This means that you can get incredible views of the ocean and terrain, but it involves climbing stairs, wandering down cobblestone streets, or venturing up steep hills.
Since the city is compact, walking is the best way to get around and explore its vibrant neighborhoods. Wearing comfortable shoes is a must if you want to take care of your feet.
These are my go-to shoes for traveling. They are super comfy and go with most outfits.
17. Portuguese is the official language in Portugal
Even though Portugal is next to Spain, the official language in the country is Portuguese.
Spanish has some similiarities, but don't assume that everyone in Portugal can understand it.
Instead, it's helpful to learn a few words in Portuguese as this will be appreciated by the locals.
Ola (Hello)
Obrigado (Thank you – Male speaker)
Obrigada (Thank you – Female speaker)
De nada (You're welcome)
Por favor (Please)
Desculpa (Sorry – If you accidently bump into someone)
Adeus (Goodbye)
Is it OK to speak English in Lisbon? Yes. Even though the language spoken in Lisbon is Portuguese, most people know how to speak English, especially in the tourism industry.
Ready to plan your adventure to Lisbon? See what hotel deals are available in the area thanks to Booking.com