Visiting Chicago on a budget? Just like any other major city, Chicago can put a huge dent in your wallet if you don't monitor your spending.
This city is a hot tourist destination for many people around the world and it's easy to see why with its wealth of luxury hotels, fine dining, and culture.
There are plenty of ways to have an incredible trip to Chicago without breaking the bank.
So whether you want to do a family trip to Chicago on a budget or have a fun weekend with your friends, there are many ways to visit Chicago for cheap! Here's a quick guide on how to travel to Chicago on a budget.
Related Posts:
Chicago attractions on a budget
Visiting Chicago for the first time can be stressful. Chicago is a big city and there's lots of fun things to do and see. It can be challenging to plan an itinerary and determine which attractions to spend your money on.
Getting the most bang for your buck is my #1 factor when planning a vacation and the Chicago CityPASS was rated the #1 Chicago tourism pass by TripAdvisor.
They're also recommended by Expedia and CityPASS currently has a TrustScore rating of 4.8/5 on Trust Pilot. Many people have already used the Chicago CityPASS (including me) for their Chicago trip and posted happy reviews.
With the Chicago CityPASS, you can save time, money, and enjoy stress-free sightseeing. But don't just take my word for it. Check out these TripAdvisor reviews.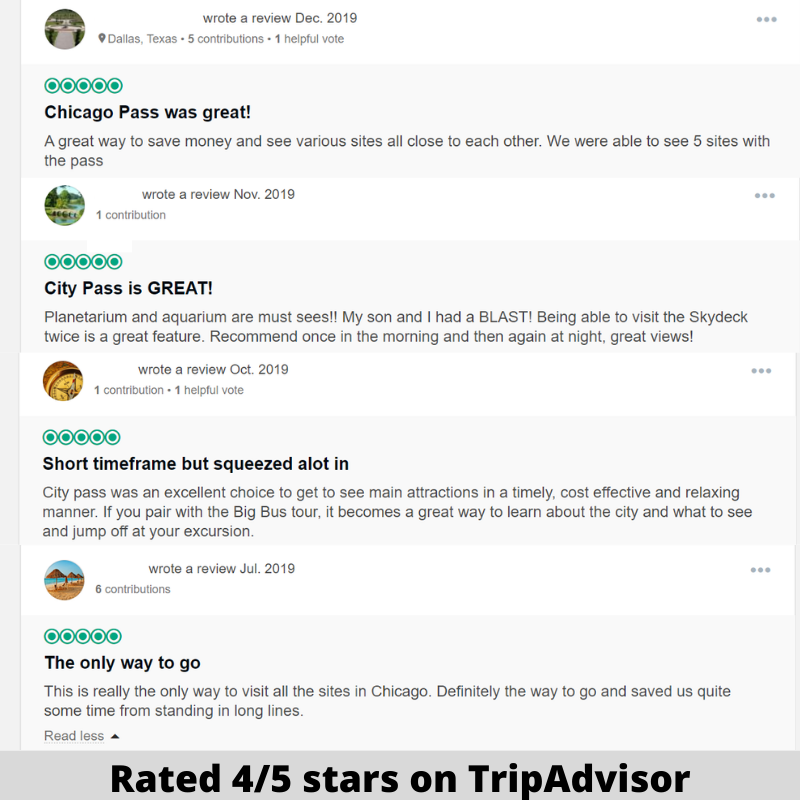 PRO TIP: Buy the pass online to save time and hassle. To buy the Chicago CityPASS, click here to go to the official website.
Here's what's included in the Chicago CityPASS:
The Chicago CityPASS is a pre-paid booklet of tickets which gives you FREE fast-track entry to the following 5 attractions:
Shedd Aquarium – Priority Entry
Skydeck Chicago – Fast Pass
The Field Museum – VIP Entry
360 Chicago* – Express Entry OR Museum of Science and Industry*
Art Institute of Chicago* – Fast Pass OR Adler Planetarium* – VIP Entry
The Chicago CityPASS was SO helpful for our long-weekend trip. I didn't have to worry about dealing with money and tickets. Simply show your mobile pass at each attraction to skip the long ticket lines and start your sightseeing adventure.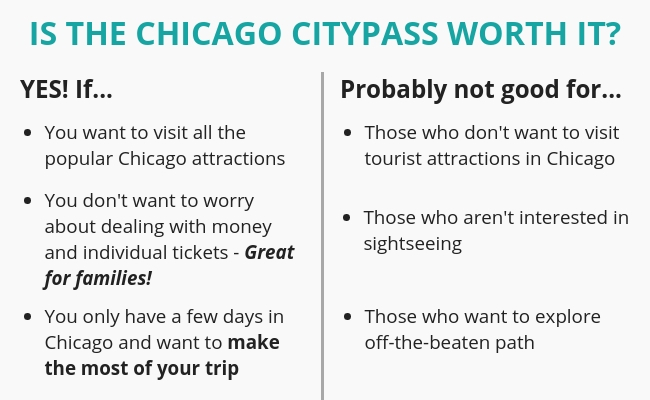 How to get your Chicago CityPASS:
Step 1: Head to the Chicago CityPASS official website to purchase your tickets.
Step 2: Choose between receiving your CityPASS tickets via email or having ticket booklets shipped to you. With email, you'll get instant access to your mobile tickets. Simply present your mobile tickets at each attraction. You can also print your tickets if you prefer a paper copy.
Step 3: Now you have FREE access to any of the top 5 Chicago attractions included in the CityPASS. You can activate your pass anytime within 12 months from the date of purchase.
Once activated, your pass is valid for 9 consecutive days, so there's no need to rush through each attraction.
Read Next: Chicago CityPASS vs. Chicago Explorer Pass – Which is better?
2. Visit a museum during free hours
This tip is mainly for Illinois residents, but I would definitely take advantage of the free museum days if you live in Illinois.
For those not visiting from Illinois, I recommend buying the Chicago CityPASS as this provides the best value when sightseeing in Chicago.
3. Visit Chicago's free museums and attractions
There are many free museums and attractions throughout Chicago that are worth seeing, such as Millennium Park, Navy Pier, and Garfield Park Conservatory.
4. Don't forget to bring your student ID
Some of Chicago's attractions offer discounted admission for students, for example, The Shedd Aquarium offers a small discount off the price of regular admission.
5. Ask for a tourist discount when shopping
Some department stores offer a 10% discount to tourists. Don't forget to inquire in store.
6. Go on a free walking tour
There are many free walking tours available in Chicago. A popular one is Chicago's Architecture Tour by foot which leads you along the Riverwalk and through the history of the industrial landscape.
Chicago hotels on a budget
Where are the best areas to stay in Chicago?
After visiting Chicago several times and staying in different neighborhoods, I recommend staying in one of these 5 areas:
Best Chicago hotels for every budget
If you're traveling on a budget, these are the best cheap hotels in Chicago:
If you have some more wiggle room in your budget, below are some of the best mid-range hotels in Chicago:
If you want to splurge on your accommodations, below are Chicago's top luxury hotels:
1. Compares hotel rates on Booking.com
Booking.com is my go-to site for finding affordable hotel accomodations. Below you can find local hotel deals in Chicago.
2. Book your hotel through Hotwire
I always like using Hotwire to book my hotel when visiting Chicago. It's a great way to score a 4 or 5-star hotel at a 2-star price.
3. Bundle your flight and hotel
Sometimes you can save up to $300 by bundling your flight and hotel when booking through websites like Expedia. Play around when searching to see if this provides the best budget option for you.
4. Stay in one of Chicago's hostels
For those on a tight budget, there is no denying that staying in a hostel is one of the best ways to save money when traveling. Try Hostelling International which is located in the heart of downtown Chicago and is rated 4.5/5 on TripAdvisor.
5. Stay outside of the downtown core
Sometimes accommodation deals can be found outside of the downtown area in one of Chicago's neighborhoods.
Keep in mind the travel time to get into town each day for sightseeing and transportation costs before booking outside of the main areas.
Chicago transportation on a budget
1. Fly, drive or take a train into the city
There are many affordable transportation options to get to Chicago today. If you choose to fly, there are two airports you can fly into: O'Hare International or Midway Airport.
I recommend using Skyscanner to compare prices flying into both airports to see which one is most affordable for your trip.
Skyscanner is my favorite website for checking and monitoring airfare prices. Select your dates and sign up for email alerts to instantly know if the price goes up or down.
2. Visit during the off-season
While you may still be able to find deals during Chicago's peak season (between June and August), be prepared for crowds and generally higher accommodation prices.
A better option is to visit during the off season (between November and March). The weather might not be favorable as it gets quite chilly in the windy city, but you will be rewarded with lower prices and fewer tourists! Chicago can also be quite beautiful during the holiday season.
Read Next: 10 Reasons To Visit Chicago In The Winter
3. Visit during the shoulder season
If visiting Chicago during the winter is not your cup of tea, but you still want to save some money, try going during the shoulder season. This is April-May and September-October.
Spring and Fall are beautiful times to explore Chicago's popular attractions. Even though the city is busier during this time of year, you can skip the long line ups at attractions with the Chicago CityPASS. It's perfect for those who want to save money and time when visiting Chicago.
PRO TIP: If you're interest, you can check out my review of the Chicago CityPASS here.
My must-have Chicago accessories:
Click the product to shop
Save money getting around Chicago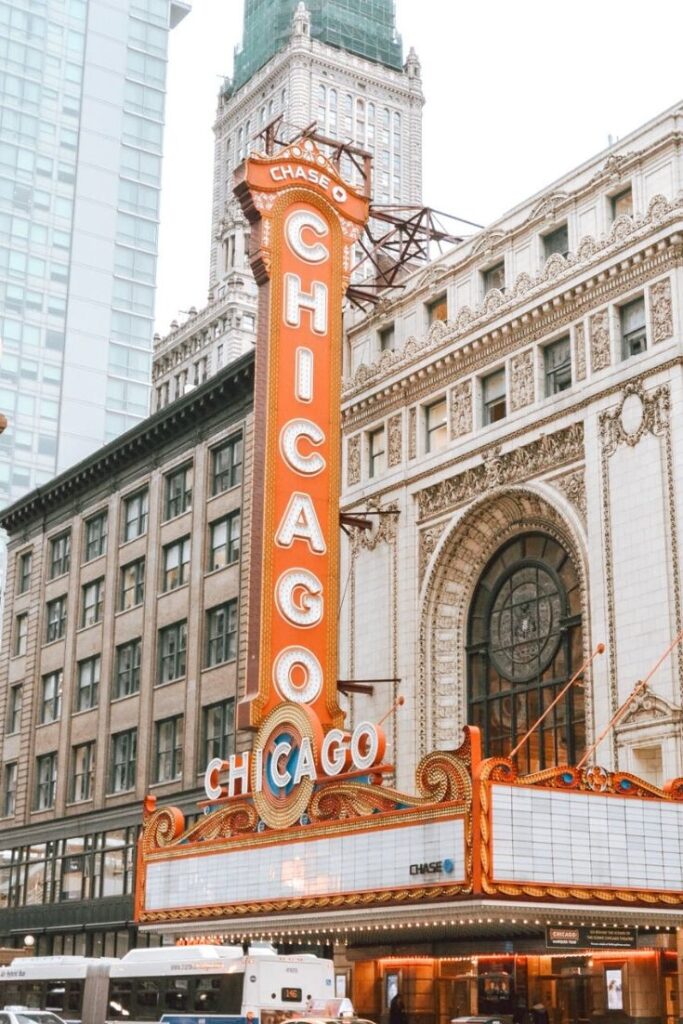 1. Avoid renting a car
Unless you are driving to Chicago, there is no need to rent a car when visiting the city.
This is an unnecessary expense since Chicago has a great public transportation system which makes getting around town much more affordable (and sometimes faster) than by car.
2. Take the train from the airport to downtown
A great way to visit Chicago on a budget is to skip the taxi and take the train from the airport to your hotel. It's quick, convenient and affordable.
3. Get to know the CTA
Chicago has a pretty good public transit system that I highly recommend using when visiting the city. If you plan on using it a lot during your stay, consider purchasing a 1, 3, 7, or 30-day pass where you can enjoy unlimited rides on all CTA buses and trains.
The CTA makes is super easy to get around the city and visit all the sightseeing attractions included in the Chicago CityPASS.
Cheap Chicago food and drinks
1. Eat where the locals eat
Skip the high-priced tourist restaurants and eat where the locals dine. If you need tips, check Yelp or TripAdvisor for delicious options in your price range.
2. Eat a big breakfast
There is no better way to start the day than with a big breakfast. Most local breakfast spots offer specials for under $10 per person which provides enough food to fuel you until dinner.
This saves you money by skipping lunch or you can grab a light snack in the afternoon to tie you over until dinner.
3. Take advantage of lunch specials
If breakfast is not your thing, many restaurants offer lunch specials (usually under $12 per person). These are usually smaller portions of their dinner menu offerings, which make this an affordable meal option.
4. Order the daily drink specials
Instead of paying full price for wine, beer or cocktails, ask if they are offering any daily drink specials. This might include discounted beverages or bar snacks during a specified happy hour.
5. Share a deep dish pizza
If you're looking for an affordable dinner option, try sharing a deep dish pizza at one of Chicago's top pizza spots like Lou Malnati's. This is a filling meal so you can get away with ordering a small portion to share between two people.
---
Frequently Asked Questions
Below are some common questions about visiting Chicago on a budget.
What is the best month to visit Chicago?
The best month to visit Chicago is in the spring (April through May) and fall (September through October). This is when the temperatures are mild and there are less crowds.
The cheapest time to visit Chicago is in the winter (November through March). This is the low season, when the weather is cold and there are fewer tourists. (With the exception of Thanksgiving and Christmas).
How many days should you spend in Chicago?
There are plenty of fun things to do in Chicago. You can spend a week and not get bored.
3 or 4 days should be enough to see the main attractions such as The Shedd Aquarium, Field Museum, Skydeck Chicago, and the Art Institute of Chicago.
If you want to explore outside of the main neighborhoods and go off-the-beaten-path, then I recommend spending 5 days in Chicago.