Planning a trip to Chicago? Find out how to spend the perfect 3 days in Chicago with this fun-packed itinerary.
With nearly 55 million visitors in 2017, it's easy to see why Chicago is becoming a hot spot for domestic and international tourists alike. If you're visiting for the first time, this Chicago itinerary will show you how to spend the perfect 3 days in Chicago.
Whether you're celebrating a birthday trip or a romantic weekend in Chicago, there is something for everyone in this itinerary.
Chicago Itineary: Top 10 things to do
According to GetYourGuide, here are the top 10 things to do in Chicago. This can help give you some ideas of what you'll want to do during your 3 days in Chicago.
Willis Tower – This is where you'll find one of Chicago's most popular attractions, SkyDeck Chicago. Visit for FREE with the Chicago CityPASS.
Navy Pier – Such a fun place to hang out during the summer months.
360 Chicago – One of my favorite places to visit at nighttime to see Chicago from above. Visit for FREE with the Chicago CityPASS.
Chicago River – Walk along the river or take this popular Architecture Boat Tour.
Art Institute of Chicago – Visit this popular art museum for FREE with the Chicago CityPASS.
Aqua at Lakeshore East
Lake Michigan
Field Museum of Natural History – Visit this popular museum for FREE with the Chicago CityPASS.
Centennial Wheel – Soar to heights of nearly 200 feet over Navy Pier with views of Chicago and Lake Michigan.
Save money with the Chicago CityPASS
Visiting Chicago for the first time can be stressful. It's a big city and there's lots of fun things to do in Chicago. This can make it challenging to plan an itinerary and determine which attractions to spend your money on.
Getting the most bang for your buck is my #1 factor when planning a vacation and the Chicago CityPASS was rated the #1 Chicago tourism pass by TripAdvisor.
They're also recommended by Expedia and CityPASS currently has a TrustScore rating of 4.8/5 on Trust Pilot. Many people have already used the Chicago CityPASS (including me) for their Chicago trip and posted happy reviews.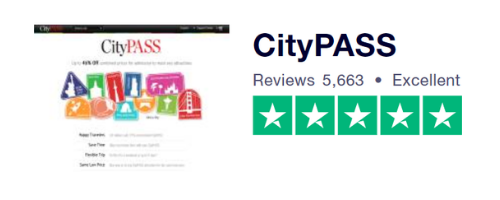 With the Chicago CityPASS, you can save time, money, and enjoy stress-free sightseeing. But don't just take my word for it. Check out these TripAdvisor reviews.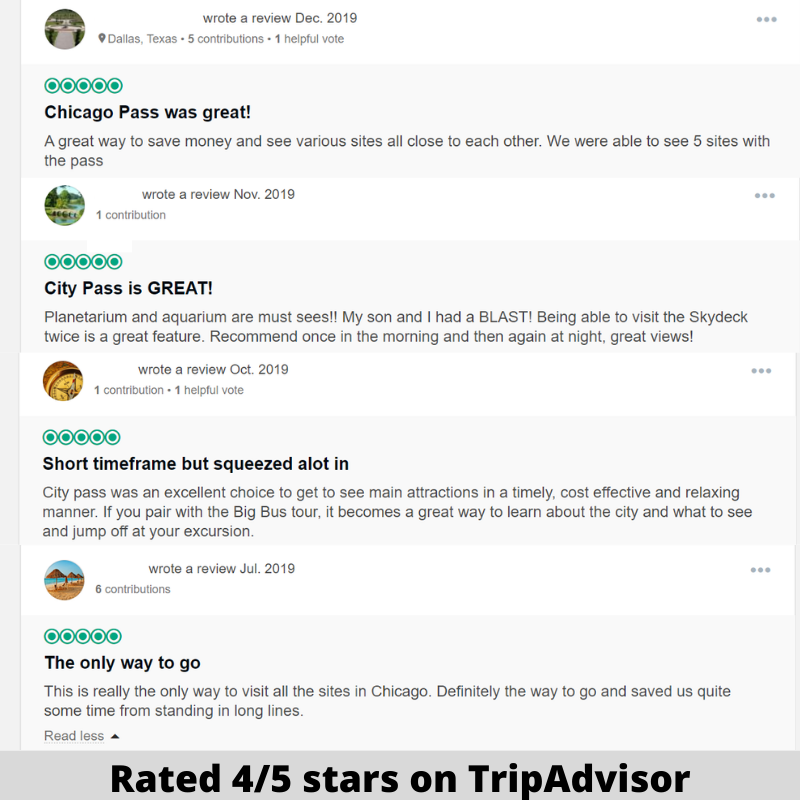 PRO TIP: Buy the pass online to save time and hassle. To buy the Chicago CityPASS, click here to go to the official website.
Here's what's included in the Chicago CityPASS:
✓ Visit 5 popular Chicago attractions
✓ Valid for 9 days
✓ Save 50% on regular ticket prices
✓ Mobile or printable pass option
The Chicago CityPASS is a pre-paid booklet of tickets which gives you FREE fast-track entry to the top 5 attractions in the city. This includes:
Standard Entry Price
Adult $44.90
FREE with the Chicago CityPASS
Standard Entry Price
Adult $45.00
FREE with the Chicago CityPASS

Standard Entry Price
Adult $40.00
FREE with the Chicago CityPASS

Plus, you'll also get free entry two more popular Chicago attractions. You can choose from the follow 4 top sights:
360 Chicago* – Express Entry OR Museum of Science and Industry*
Art Institute of Chicago* – Fast Pass OR Adler Planetarium* – VIP Entry
*Your CityPASS tickets include the option for you to choose between two attractions. There's no need to decide upfront where you'd like to visit. You can choose when you get there. I chose to visit 360 Chicago and the Art Institute of Chicago.
The Chicago CityPASS was SO helpful for our weekend trip. This is the best way to visit Chicago.
I didn't have to worry about dealing with money and tickets. Simply show your mobile pass at each attraction to skip the long ticket lines and start your sightseeing adventure. We found the pass was an excellent value for our Chicago itinerary and made visiting attractions stress-free.
Is the Chicago CityPASS worth it? Check out my honest review of the Chicago CityPASS here.
How to get your Chicago CityPASS:
Step 1: Head to the Chicago CityPASS official website to purchase your tickets.
Step 2: Choose between receiving your CityPASS tickets via email or having ticket booklets shipped to you. With email, you'll get instant access to your mobile tickets. Simply present your mobile tickets at each attraction. You can also print your tickets if you prefer a paper copy.
Step 3: Now you have FREE access to any of the top 5 Chicago attractions included in the CityPASS. You can activate your pass anytime within 12 months from the date of purchase. Once activated, your pass is valid for 9 consecutive days, so there's no need to rush through each attraction.
Still on the fence about the Chicago CityPASS? You may want to consider the Go Chicago Pass instead. This is another great way to save money on sightseeing and tours in the city.
Read Next: The cheapest way to see Chicago attractions
Where is the best neighborhood to stay in Chicago?
After visiting Chicago several times and staying in different neighborhoods, I recommend staying in one of these 5 areas:
Best Chicago hotels for every budget
If you're traveling on a budget, these are the best cheap hotels in Chicago:
If you have some more wiggle room in your budget, below are some of the best mid-range hotels in Chicago:
If you want to splurge on your accommodations, below are Chicago's top luxury hotels:
Getting Around the City
For this downtown Chicago itinerary, I recommend getting a CTA metro pass. You can get your pass at any Ventura Vending machine or Ventura retailer in Chicago.
It's also a good idea to wear comfortable shoes — this is a must when visiting Chicago since you'll be walking around a lot.
Related Posts: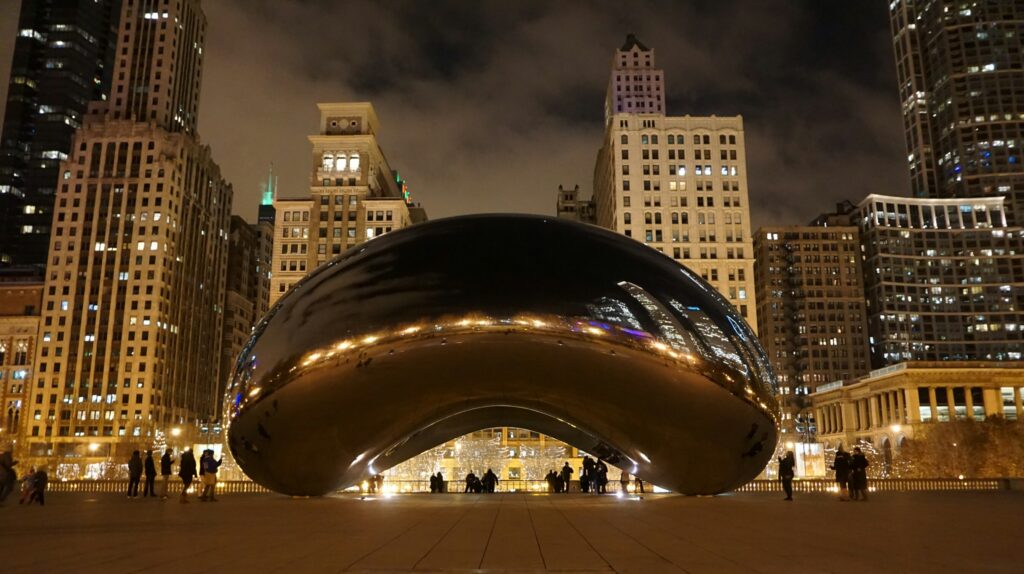 Chicago Itinerary: Day 1
Highlights of Day One in Chicago:
Morning
Arrive at Skydeck Chicago before it opens. (9:00am during the summer and 10:00am during the winter months). This way you'll be one of the first people in line to catch the elevator to the top.
Plan to spend at least one hour at the Skydeck (depending on how busy it is and how long you wish to stay).
From here, take transit or walk over to the Art Institute of Chicago. Plan to spend at least two hours touring the galleries.
The Art Institute of Chicago was named the top museum in the world as part of Chicago CityPASS. It's also ranked as the #1 attraction in Chicago on TripAdvisor. You definitely don't want to miss this when planning your Chicago itinerary.
Having the Chicago CityPASS can save you a lot of time when sightseeing. When I was visiting Chicago in the summer, there was a huge line up to get into the Art Institute of Chicago.
If you buy the CityPASS, you can skip the long lines and walk straight inside the museum through the Fast Pass entrance. You'll feel like a VIP with your CityPASS!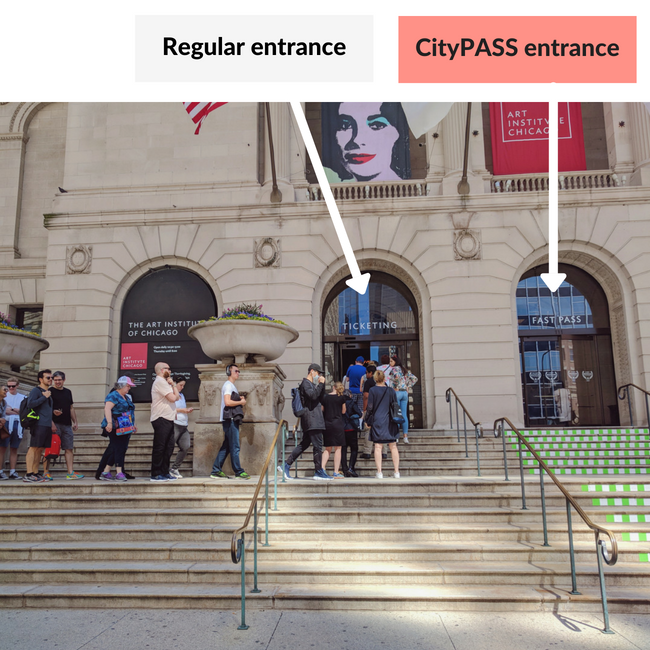 As you can see, getting the Chicago CityPASS is a good option if you want to visit the 5 top-rated attractions, save 50% off the regular ticket price, and maxmize your sightseeing time.
If you'd prefer to learn about space, I recommend visiting the Adler Planetarium which is America's first planetarium and a premiere resource for inspiring the next generation of space explorers. This is a fun museum to learn about astronomy and astrophysics.
Free admission to Skydeck Chicago, the Art Institute of Chicago, and the Adler Planetarium is included in the Chicago CityPASS.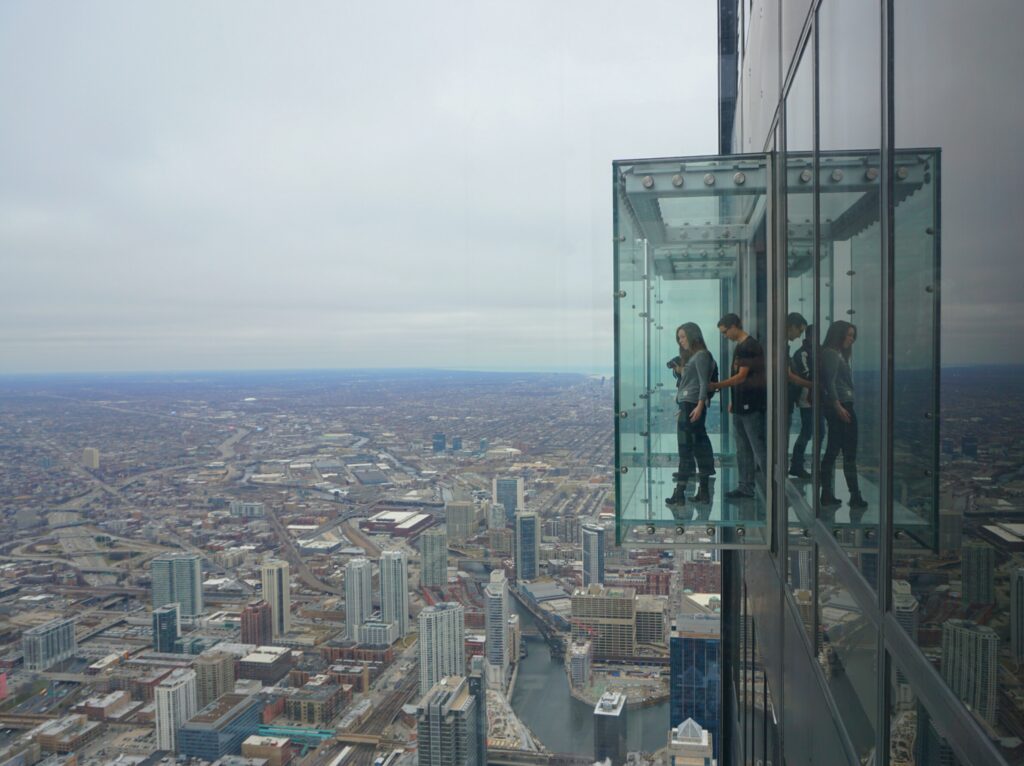 Afternoon
Grab lunch at a nearby café and browse the shops in The Loop. Make your way over to Millennium Park to see the famous Cloud Gate (a.ka. the bean). It's usually busy during the day, but you might get lucky by going early in the morning before other tourists arrive.
Walk up Michigan Avenue to the Chicago Riverwalk. Chicago's architecture is full of history which is why many people like to take an architecture boat cruise. This is the most popular tour which takes you on a 60 (or 75 minute) tour to discover hidden architectural gems among the city's renowned landmarks.
Chicago's Riverwalk is one of the prettiest aspects about the city and the perfect area to be at sunset as the buildings light up the night.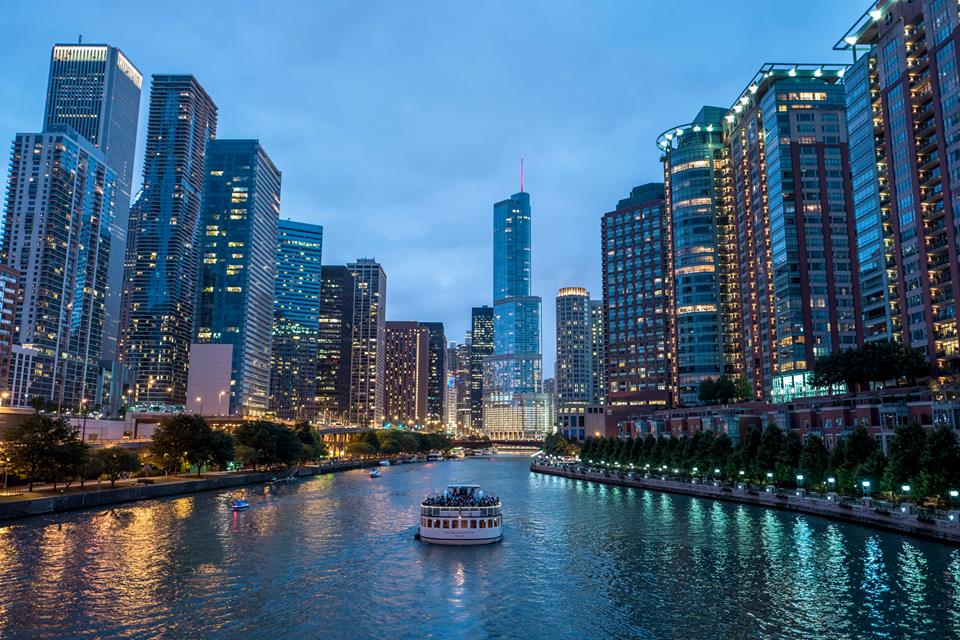 Evening
Sit down for dinner at one of Chicago's popular deep dish pizza restaurants (my favorite is Lou Malnati's). The pizza takes at least 30 minutes to arrive at the table after ordering, so make sure to get a salad or appetizer if you're hungry.
After dinner, catch transit to Second City to see a show. This theatre specializes in sketch comedy and improv. After opening its doors in 1959, it has become the most influential comedy theatre in the world.
Another popular nighttime activity is to head to Navy Pier to enjoy an up-close of the fireworks with a River Architecture Cruise. Don't forget to bring your camera!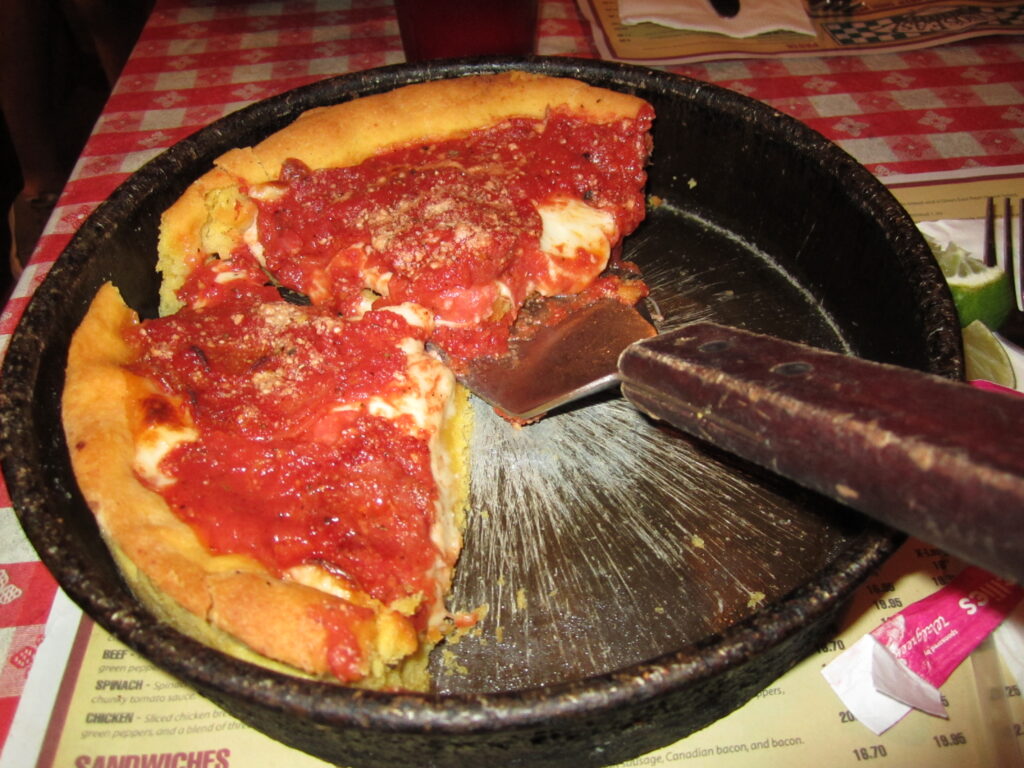 Prep for your trip to Chicago
Chicago Itinerary: Day 2
Highlights of Day Two in Chicago:
Morning
Begin your morning at the Shedd Aquarium. Plan to get here when it opens, as it gets busy (depending on the time of year you decide to visit).
This is the largest indoor aquarium in the world and not to be missed when visiting Chicago. Housing more than 8,000 aquatic animals, you can easily spend two hours (or more) exploring all the exhibits.
After the aquarium, walk over to the Field Museum. This is one of the largest natural history museums in the world and one of my favorite hot spots in Chicago.
Here you can explore over 26 million biological specimens and cultural artifacts and learn about the story of our planet and its cultures. Depending on your interests, plan to spend a couple of hours here.
Free admission to the Shedd Aquarium and the Field Museum is included in the Chicago CityPASS.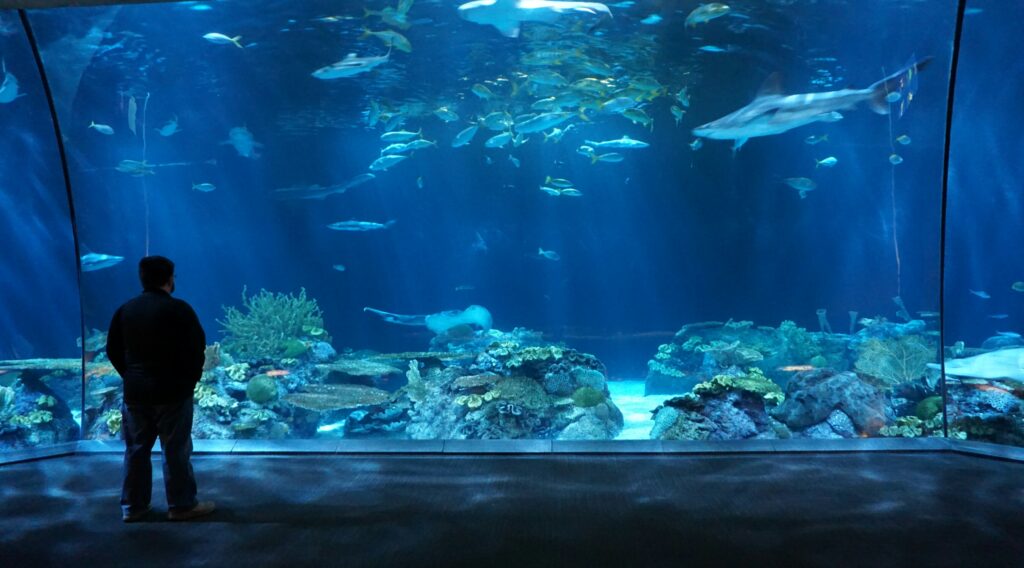 Afternoon
If the weather is nice, grab lunch to-go and eat it in Grant Park (just above Museum Campus). This is a nice way to take a break, relax, and enjoy the scenery.
Take transit (or walk) up Michigan Avenue north of the river to shop the Magnificent Mile. If you're not in the mood for shopping, check out Navy Pier which is a Chicago Landmark and offers a variety of attractions for all ages to enjoy.
If you're interested in learning about science, I recommend visiting Chicago's Museum of Science and Industry, which is the largest science center in the Western Hemisphere.
Free admission to the Museum of Science and Industry is included in the Chicago CityPASS.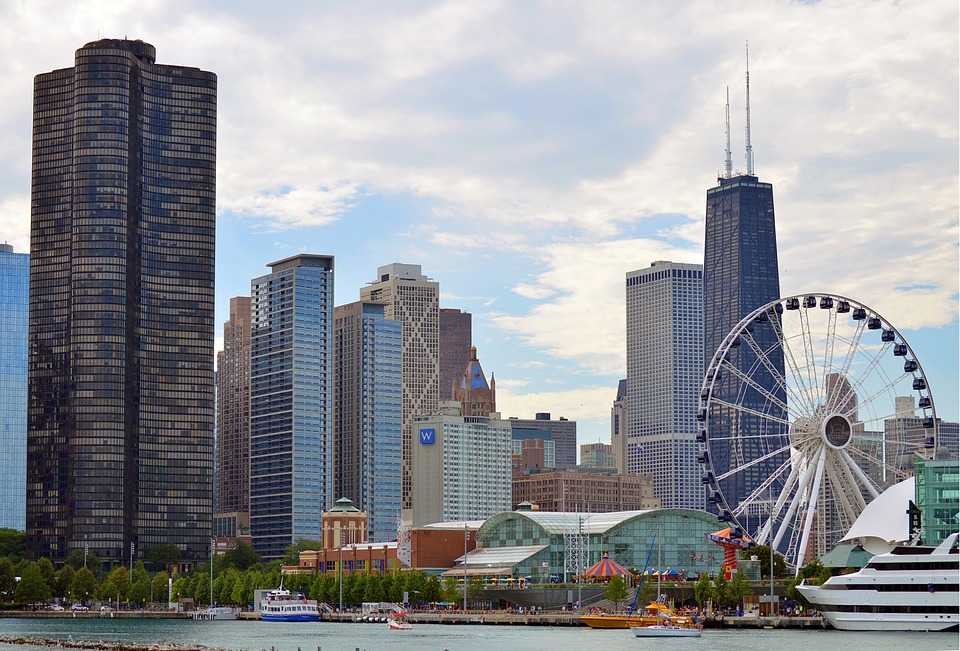 Evening
Make your way up Michigan Avenue to visit the top of the 360 Chicago.
Chicago is beautiful at night and I would highly suggest visiting the Skydeck during the day time, and the 360 Chicago at night to make the most of your Chicago itinerary.
If you're feeling fancy, enjoy a delicious dinner at the Signature Room on the 95th floor with the best view of the city. Or if you prefer to just stop in for a drink, check out the Signature Lounge and watch the city lights glimmer in the night sky.
Free admission to 360 Chicago is included in the Chicago CityPASS.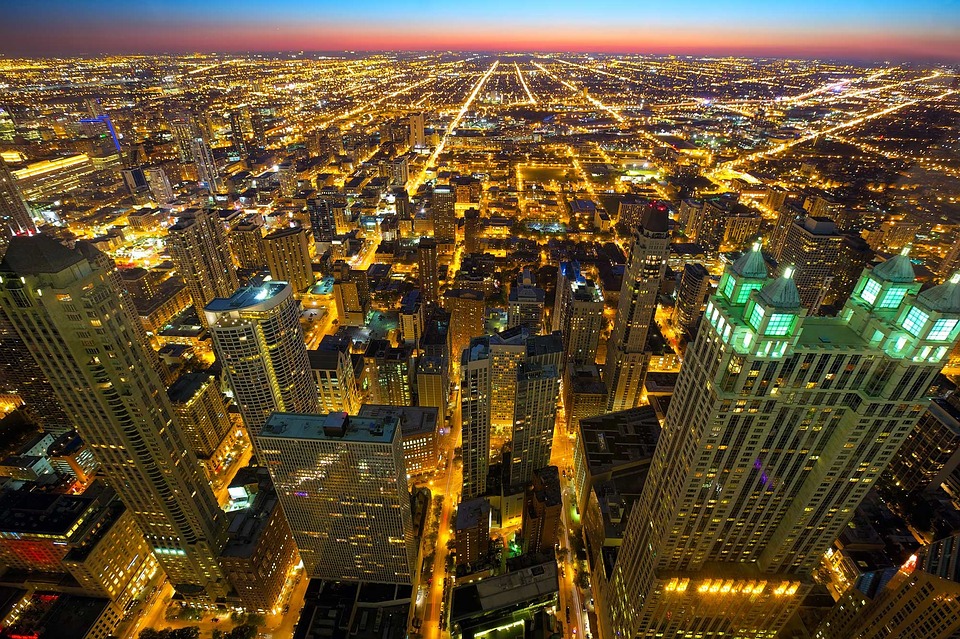 Chicago Itinerary: Day 3
Highlights of Day Three in Chicago:
Wicker Park (Great neighborhood for shopping and restaurants)
Gold Coast (Beautiful neighborhood for shopping and restaurants)
Morning
Start your morning by visiting the Lincoln Park Zoo which has free admission and is one of the oldest zoos in the USA (opening in 1868). Plan to spend two hours exploring the zoo grounds.
Hop on transit and head to Wicker Park to browse vintage shops and boutique stores in this trendy Chicago neighborhood. Grab a bite to eat for lunch at one of the many restaurants or cafes in the area.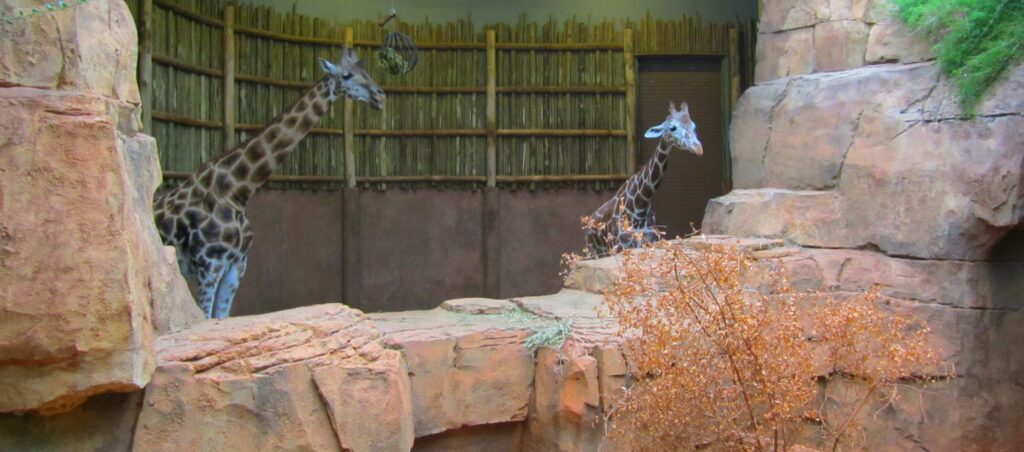 Afternoon
After exploring Wicker Park, take transit to the Gold Coast neighborhood which is nestled just north of downtown Chicago.
This is one of the country's most affluent neighborhoods filled with historic homes, designer shops and one-of-a-kind boutiques.
If you're looking to relax, sit down at one of the neighborhood cafes for a coffee or tea before heading down Rush Street towards Michigan Avenue.
A popular thing to do in Chicago is to take a food tour. Chicago has some of the best food in the world, so if you're a foodie, I highly recommend checking out one of these fun tours:
Evening
As your last evening on your vacation, you have a few options to add to your Chicago itinerary.
For music lovers, head to Andy's Jazz Club or Blue Chicago to listen to some of the best blues musicians that Chicago has to offer.
For theatre lovers, check out a performance at The Chicago Theatre.
If you feel like doing an activity, head to 10pin Bowling Lounge under the Marina Towers north of the Chicago River. They offer a selection of beers and upscale snacks.
Chicago's nightlife also offers a variety of lounges and bars to relax and unwind with a drink or two.
---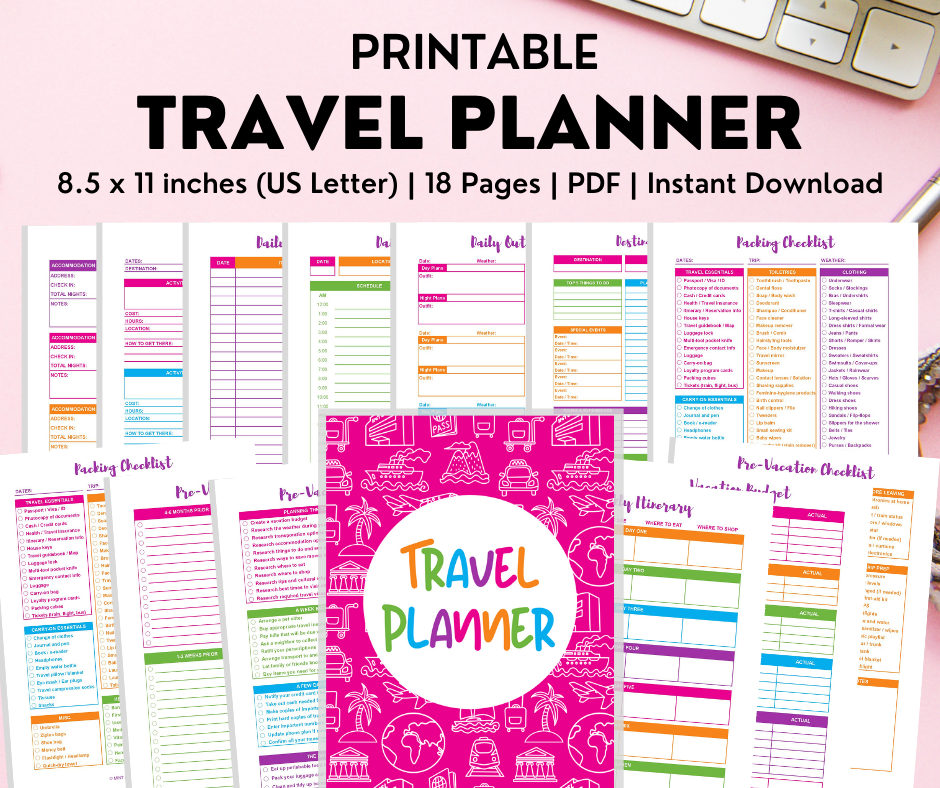 ---
Chicago FAQs
How many days do you need in Chicago?
3 to 4 days should be enough to see the top attractions in Chicago. However, depending on your interests and travel style, you can certainly spend a week in Chicago exploring the area and main tourist attractions.
Is 3 days in Chicago enough?
3 days is enough to see most of the top attractions in Chicago. If you want to take your time exploring the different neighborhoods, then you may want to consider staying 4 or 5 days in Chicago.
What can you see in Chicago in 3 days?
With this 3-day Chicago itinerary for first-timers, you can check out the city's most popular attractions over a weekend. This includes the Art Institute of Chicago, Skydeck, 360 Chicago, Field Museum, Shedd Aquarium, Navy Pier, Adler Planetarium, Lincoln Park Zoo, and Museum of Science & Industry.
This itinerary also includes exploring the top neighborhoods in Chicago, including The Loop, Magnificent Mile, Gold Coast, Grant Park, and Wicker Park.
Is 2 days enough for Chicago?
With so many things to do, see and eat in Chicago — it's impossible to do everything in just 2 days. However, 2 days is enough to see some of the city's top attractions, such as Skydeck, the Art Institute of Chicago, 360 Chicago, and Navy Pier.
What is the best month to visit Chicago?
The best time of year to visit Chicago is in the spring (April through May) and in the fall (September through October). This is when the temperatures are warm and comfortable.
Winters in Chicago can be very cold. But if you don't mind the cold, Chicago is beautiful during the winter months (November through March). You'll also find cheaper hotels rates.
How can I spend 2 days in Chicago?
If you want to spend 2 days in Chicago, it's easy to visit all the main tourist attractions and museums. Arrive the evening before, so you can have two full days to explore Chicago or you can arrive early in the morning.
For 2 days in Chicago, I recommend checking out the Shedd Aquarium, Field Museum, Magnificent Mile, 360 Chicago, Skydeck Chicago, Art Institute of Chicago, Millennium Park (Cloud Gate), Chicago's Riverwalk (Consider taking an Architecture Boat Cruise).
Make
Fast Money

with Surveys

Online survey companies, such as Survey Junkie want to pay you cash for your opinion. Start making extra money in your spare time. Join for free today!