Updated September 2019.
FLASH SALE!
Save up to 30% off the New York Pass today!
Offer ends Sunday,  September 15th, 2019.
Learn how to save money with the Pass here.
Ever since I watched Home Alone 2: Lost in New York when I was a kid, I wanted to visit New York City during the holidays. From the Christmas tree at Rockefeller Center to the luxury lobby at the Plaza Hotel – I wanted to see everything this magical city had to offer!
Celebrating New Year's Eve in the city doesn't have to be expensive. There are plenty of free things do in NYC. For example, Central Park puts on a fantastic fireworks display. Make sure to dress for the weather, because many of these free events take place outdoors.
If you're on a tight budget, consider what your must-do activities are when visiting NYC during the holidays. Be flexible and willing to spend as need, otherwise you may not fully enjoy your trip. Since we saved on both accommodation and transportation (we drove instead of flying), we set aside more money to spend on entertainment and meals.
Spending the holidays in New York City was on my bucket list since I was a kid. I finally checked it off my list in 2014 AND again in 2016!
NOTE: In 2014, I stayed outside of Manhattan and in 2016, I stayed in the city. I enjoyed staying in the city MUCH more. It was worth the extra cost (in my opinion).
Saving Money on Accommodations
Hotels can be extremely pricey during the holidays. I recommend booking in advance or comparing prices with Airbnb and hotels outside of Manhattan. (Use this Airbnb link to save $45 CAD off your next stay).
When choosing accommodations outside of the city, you'll want to consider the cost of transportation and commute length. This will help you determine if it's worth your time and money.
In 2014, I stayed at my boyfriend's brother's apartment in New Rochelle. We took the metro into the city every day. This saved us a lot of money on accommodation costs. However, when we wanted to take a break during the day (or change before going out in the evening) this was difficult because it was a 40 minute train ride back to New Rochelle. This is why in 2016, we decided to stay in the city, which was more convenient.
Here are three things you NEED to know before visiting New York City during the holidays.
Related Posts: 10 Tourist Mistakes To Avoid Making In NYC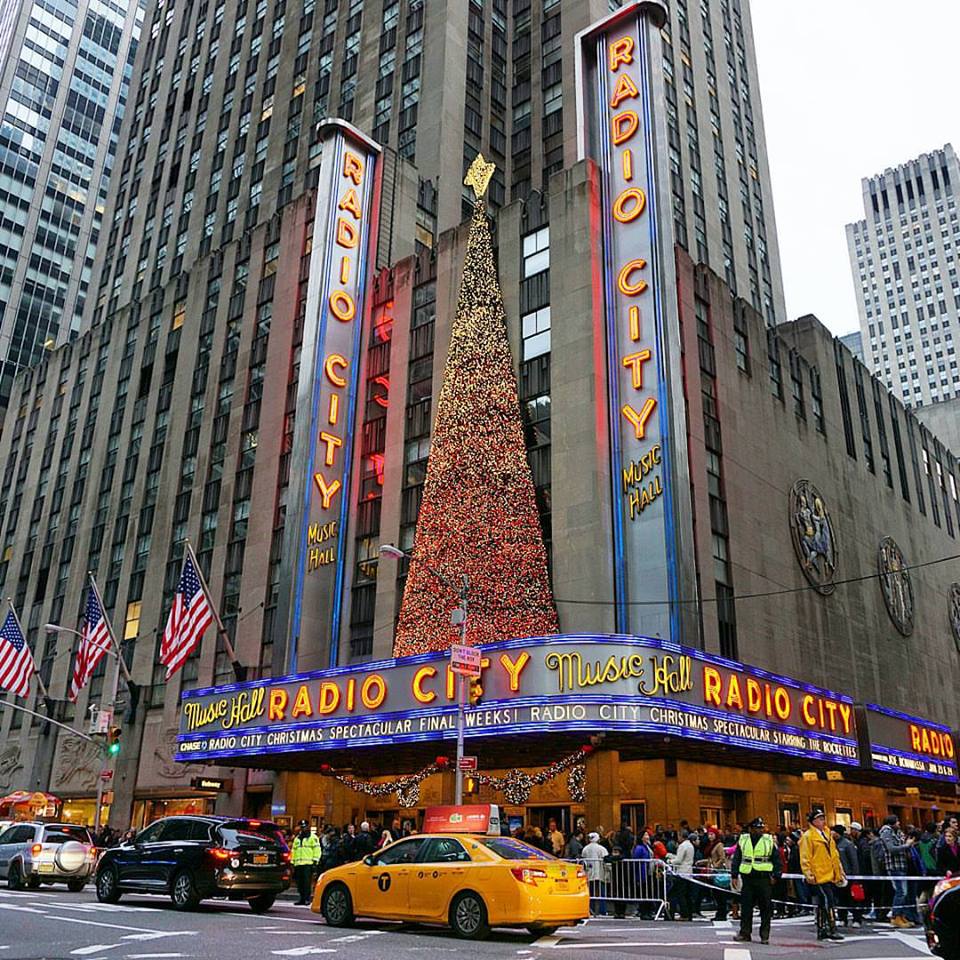 1. Save money on attractions with the New York Pass
Visiting NYC for the first time can be stressful. New York is a big city and there's lots of fun things to do and see. It can be challenging to plan an itinerary and determine which attractions to spend your money on.
For my first trip to NYC, I didn't have a plan. I tried to do some research before my trip to decide what to see and do, but I quickly got overwhelmed. I thought I could just figure it out while I was there.
BIG mistake! When I returned home from my trip, there were so many attractions that I missed, because I didn't plan ahead.
That's why for my second trip, I didn't want to repeat this mistake. I discovered the New York Pass, which helped me easily plan my itinerary and visit all the top attractions in the city. With the New York Pass, I saved time, money, and enjoyed stress-free sightseeing.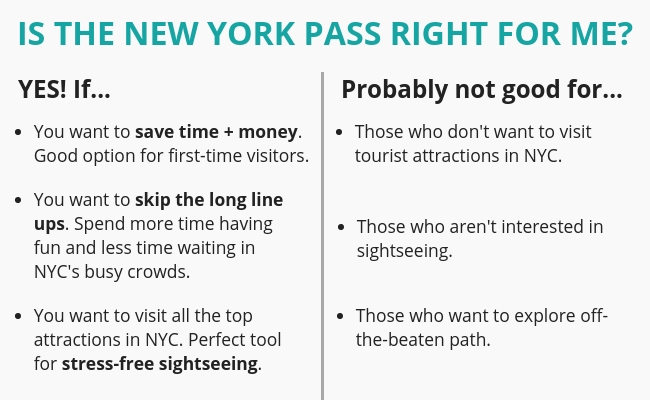 PRO TIP: Buy the pass online to save time and hassle. Plus, you'll save extra money off the retail price. To buy the New York Pass, click here to go to the official website.
Here's what's included in the New York Pass:
✔ Pick from over 100 NYC attractions
✔ Valid for up to 10 days
✔ Save up to 70% compared to purchasing tickets at each attraction
✔ Visit unlimited amount of NYC attractions each day
The New York Pass is a prepaid sightseeing card that can be used to get FREE entry to the city's top tourist attractions, including Hop-On Hop-Off Bus Tour, Empire State Building, and the Top of the Rock Observatory.
Standard Entry Price
Adult $39.00
FREE with the New York Pass
Top of the Rock Observatory
Standard Entry Price
Adult $34.00
FREE with the New York Pass

Standard Entry Price
Adult $60.00+
FREE with the New York Pass

Plus, you can use the New York Pass to get free entry to over 100 other attractions, museums, and tours in the city. Once you've bought the New York Pass, you can visit as many attractions as you want. The more sights you visit, the more money you save!
FLASH SALE!
Save up to 30% off the New York Pass today!
Offer ends Sunday,  September 15th, 2019.
Learn how to save money with the Pass here.
How to get your New York Pass:
Step 1: Choose which pass duration you want to buy (1, 2, 3, 5, 7, or 10 day). You can click here to purchase your New York Pass from the official website.
Step 2: Download your mobile pass instantly using the New York Pass App. If you prefer a physical pass, simply opt for delivery (they deliver worldwide) or collect on arrival in New York.
Step 3: You now have FREE access to any of the 100+ top NYC attractions included for the duration of your pass. You can activate your pass anytime within 12 months from the date of purchase.
Step 4: Download the free guide book, which is included with your purchase. Use this book to help you easily plan your itinerary.
My must-have NYC winter accessories:
Click the product to shop
2. The city is packed with tourists
I don't mind crowds. I've been to Seoul. I've been packed like a sardine into one of Toronto's subway trains during rush hour. BUT – I wasn't ready for the mass of people in New York during the holidays. This was next level busy!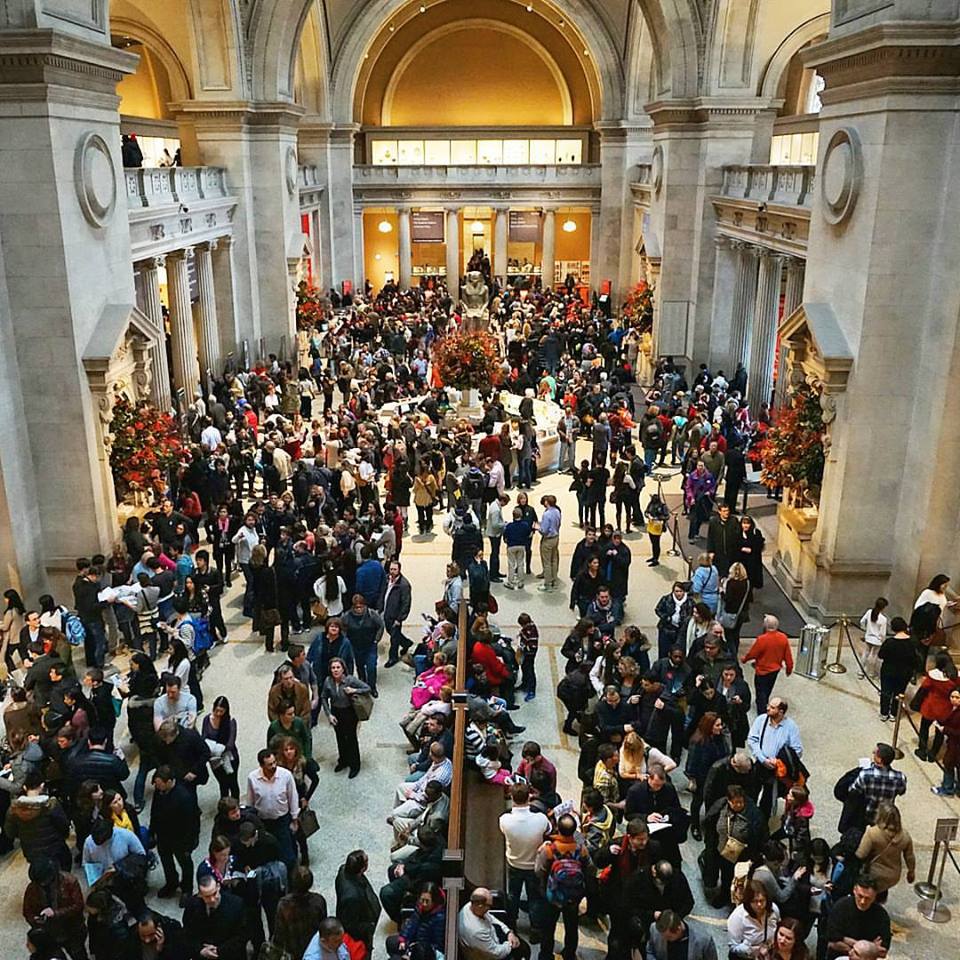 Photo of the entrance in The MET
At one point I felt like cattle walking along Fifth Avenue in Midtown. This is where many people like to go because it's nicely decorated here for Christmas. After capturing some photos and enjoying the sights, I tried to avoid this area for the rest of my trip.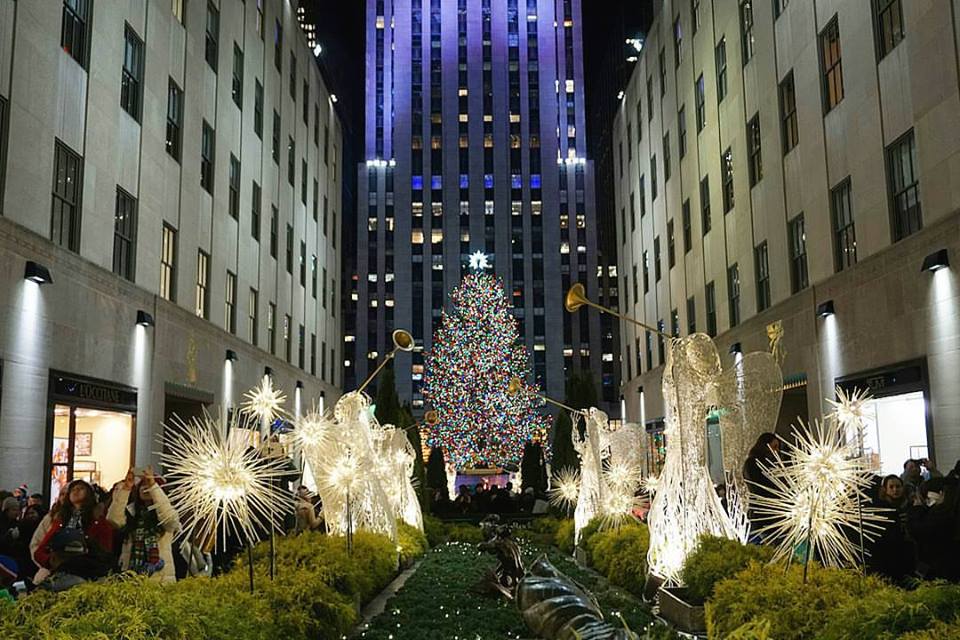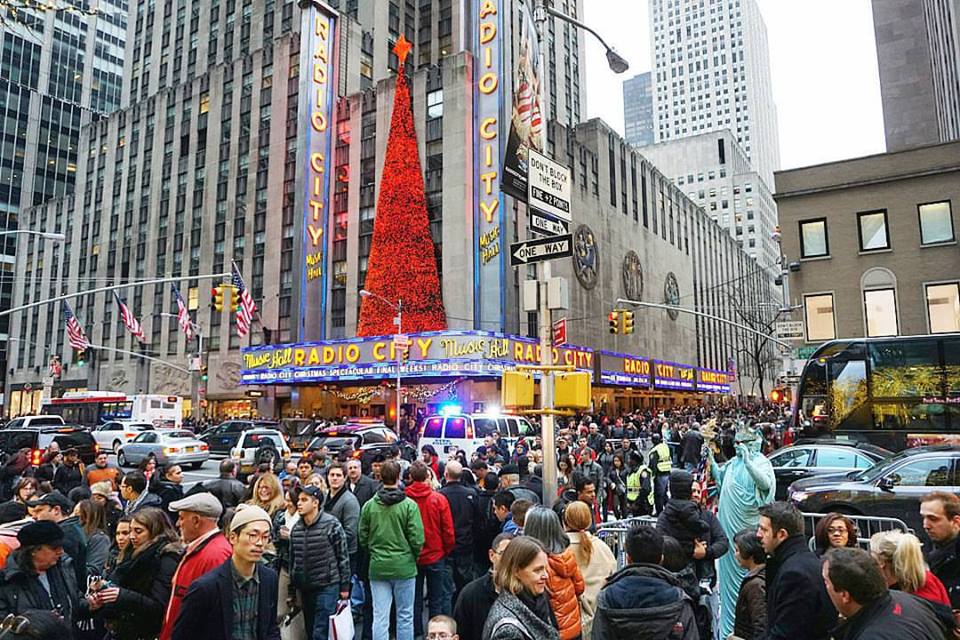 I recommend avoiding the main touristy sights or arriving early to see them when they are less crowded.
This is another reason why I love the New York Pass! You don't have to waste time waiting in long lines. Simply show your New York Pass and get FAST PASS ENTRY at the city's most popular attractions, including the Top of the Rock, The Metropolitan Museum of Art, and the Museum of Modern Art (MoMA).
CLICK HERE for a sample 3-day printable itinerary using the New York Pass!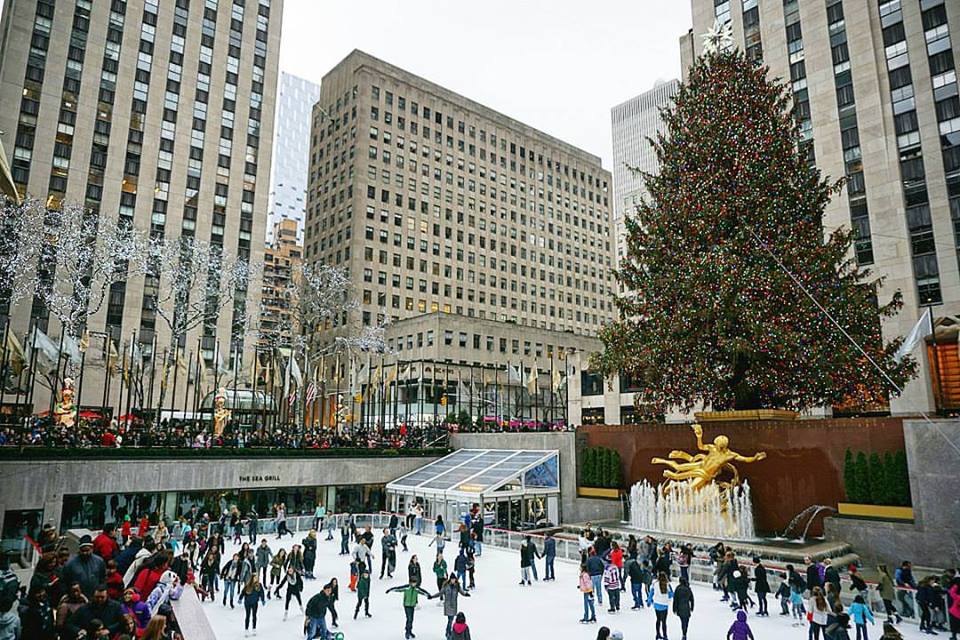 To enjoy a less crowded New York City, I suggest hanging out in Lower Manhattan, Lower East Side, the West Village, SoHo, and Greenwich Village area.
For special events like shows and theatre, it's probably a good idea to book your tickets in advance. Otherwise you probably won't get your first pick if you wait too long.
My favorite NYC travel guide books:
Click the product to shop
3. If you're celebrating New Year's Eve at Times Square, you MUST get there early
By early, I mean you should plan to arrive between 1:00 and 3:00pm. This is when they start closing off the streets around Times Square and start letting people into the pens.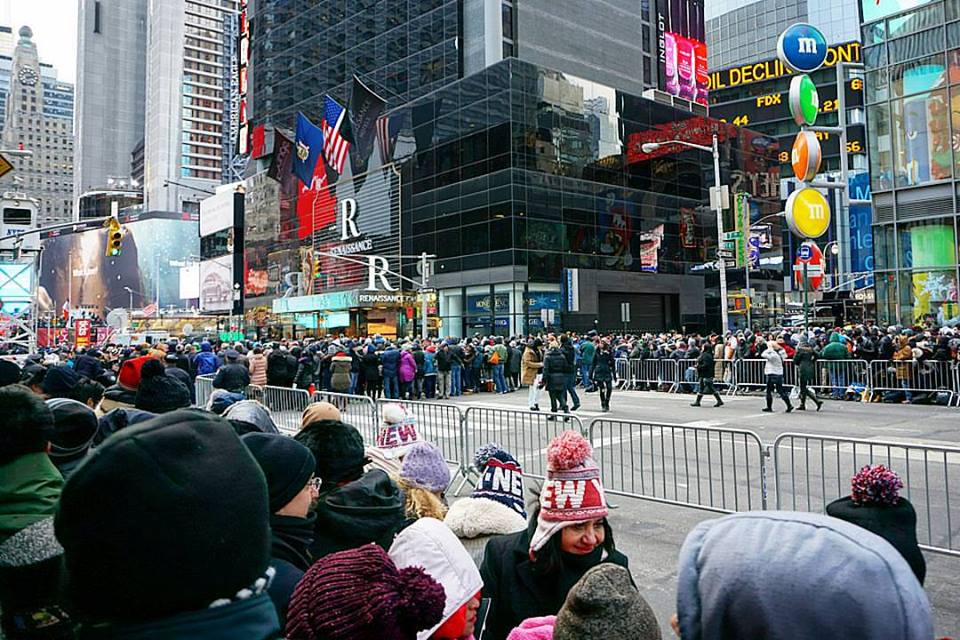 You know those people you see at Times Square on TV at midnight on New Year's Eve? They have been standing there since 1:00pm!
When I arrived at 3:00pm to check out the festivities, I couldn't believe how busy it was already. By 3:15pm, it was packed all the way up past 50th Street!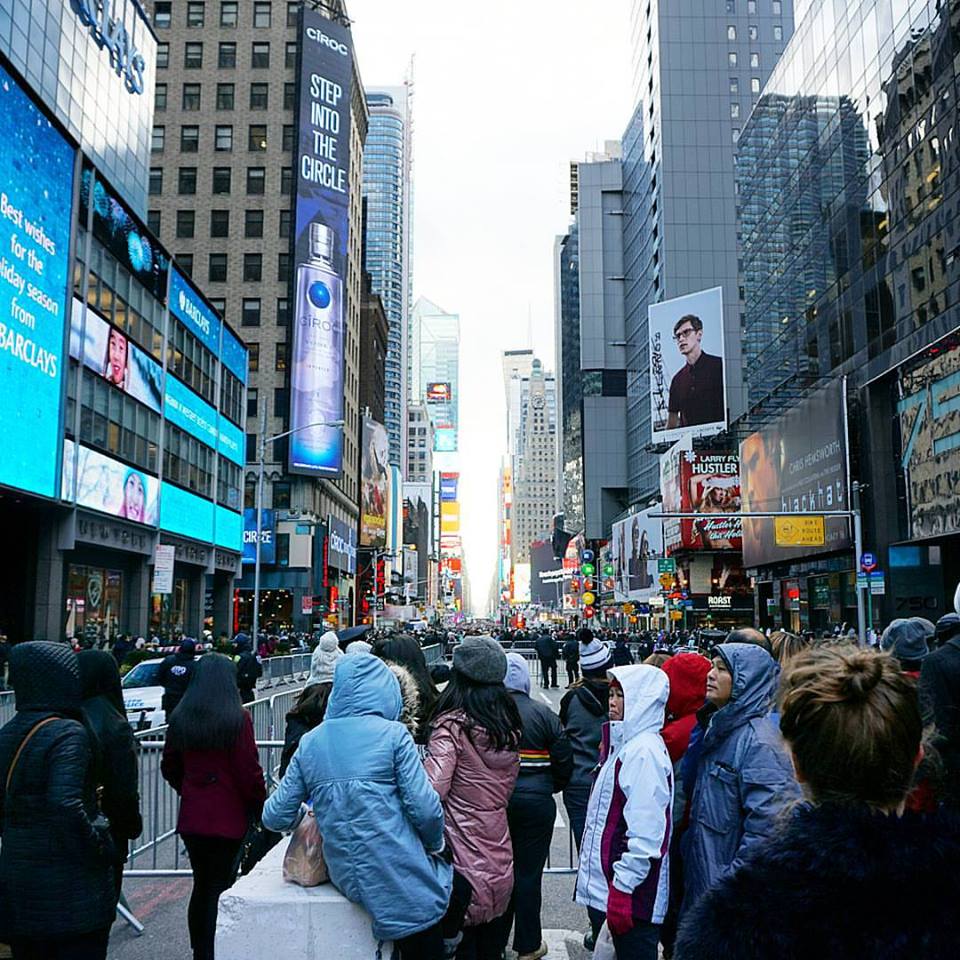 Tips for celebrating New Year's Eve in Times Square:
1. Get there early
This is a no-brainer. If you want to get the best spot, you MUST arrive early.
2. Dress warm
It can get quite cold in NYC and there is little room to move around, which can make it feel even colder.
3. Eat before you arrive and bring snacks with you
Unless you plan to pay a pretty penny to eat at one of the restaurants in Times Square and watch the ball drop from inside, you need to eat before you arrive. There won't be any food vendors open and most cafes and small businesses close in the afternoon on December 31st. I recommend bringing a protein bar or two with you as well, in case you get hungry in the evening.
4. Take the train
Driving will be hectic, so you'll want to take the train. But not to the Times Square stop, because you won't be able to exit the station. You'll have to get off a few stations before, so bring comfortable walking shoes in case you have to walk several blocks to reach a good vantage point.
5. Leave your bags at home
Large bags are not permitted and all bags will be searched by police before entering the pen. It's best to just bring yourself and carry what you need in your pockets.
6. Make sure to use the bathroom before you arrive
There are no portable restrooms in Times Square and many businesses close early, so you'll need to use the bathroom beforehand – otherwise hold it for the night (or wear a diaper). Also, keep in mind that you'll lose your spot if you leave.
7. Leave the alcohol at home
Alcohol is not permitted in Times Square so don't even bother.
8. Be friendly
If you've been standing in Times Square since the afternoon, it's a good idea to keep a positive attitude and be friendly to the people around you. Have conversation topics ready and don't be afraid to make friends with strangers because it's going to be a long night!
Over to you — have you been to New York City during the holidays before?
---
If you want to get the absolute most out of your NYC vacation, this 15-page travel binder printables package is for you!
Save your sanity by organizing all of your vacation details in one place. Use these beautiful printables to plan ahead so you can have the best vacation ever on a budget you can afford!