I was first interested in visiting South Korea shortly after finishing my undergraduate studies at University, when I decided to get my TEFL certificate (Teaching English as a Foreign Language).
South Korea was a popular destination for teaching English and I had planned on going with my boyfriend (now fiancé) to teach English overseas in Seoul or Busan.
With the anticipation of going to teach English in South Korea, I had wanted to learn more about its culture and even attempted to learn their language and hangul writing system. I started watching K-Dramas and fell in love with the country and knew it was a place I wanted to visit one day.
However, within a month after completing my TEFL program, I received a job promotion at work and decided to stay and pursue Business school part-time instead.
Fast forward two years later, I saw a seat sale for flights to Seoul and knew this was the perfect opportunity for me to visit. I booked with no regrets and got to travel to two cities (Seoul and Busan) that I had always wanted to see.
When booking accommodations in Seoul, a great way to save money is to check hotel rates on Booking.com. I love using Booking.com to get the best deal on hotels.
Before your trip, I also recommend picking up a travel guide book which includes a map of the city. This will help make it super easy to find your way around the city.
My favorite Seoul travel guides:
Click the product to shop
Here is a list of tips that I think will be helpful for North Americans to know before visiting South Korea!
Related Posts: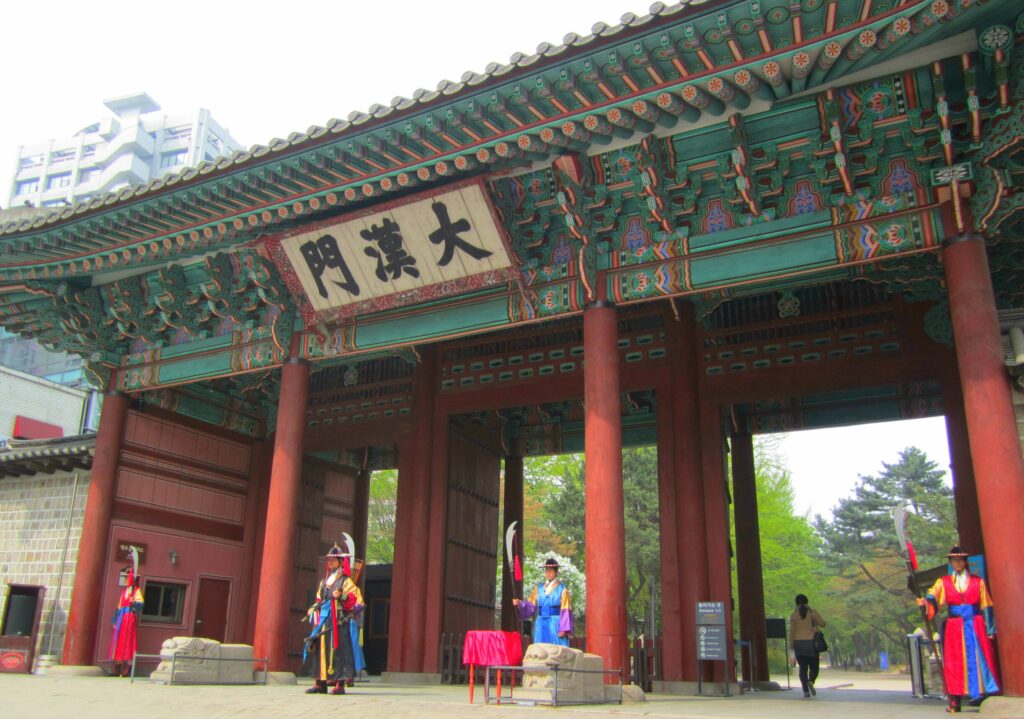 Tipping in South Korea
In North America, tipping has become almost ridiculous. Not too long ago, most people would tip between 10-15%. However we are now expected to tip anywhere from 18-20% and higher if service was exceptionally good.
One thing I found interesting was that there was no tipping in South Korea. You were not required to leave a tip at restaurants, after a taxi ride, maid service at the hotel, etc.
Of course tipping is always optional and appreciated, but in North America I feel that tipping is expected and it's not uncommon to get dirty looks when leaving anything less than 15%.
In South Korea, I had left out money each day for the maid service at the hotel, but nobody ever took it. By not tipping in Korea, I was able to save some extra money which helped make it an affordable trip.
My must-have accessories for Seoul:
Click the product to shop
Restaurant call buttons
Most Korean restaurants have a call button in one of the corners of the table. I think these are actually great and should be incorporated into more restaurants in North America.
If you need anything, you just need to press the call button and one of the servers will be over to assist your table. The servers allow each table to enjoy their meal without being interrupted unless prompted.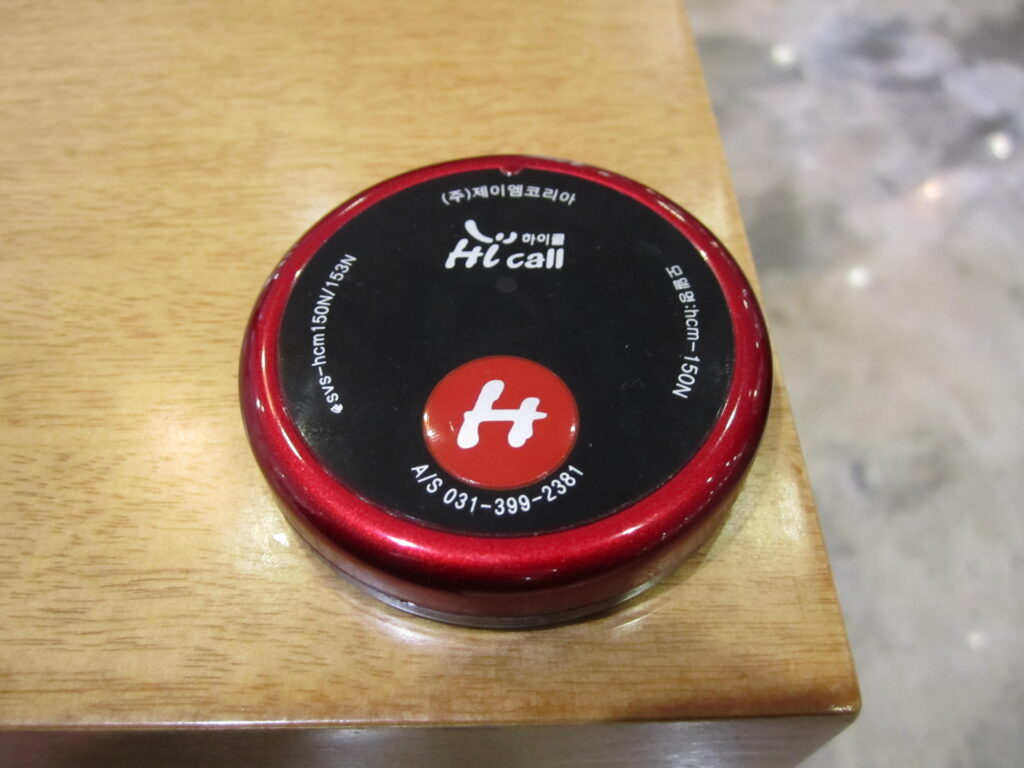 Don't ask the server for your bill, since it's probably at your table already
You might look a little funny if you call over your server at end of your meal and ask for the bill.
Chances are the bill is already sitting at your table. Check on the sides or underneath to see if your bill is attached somewhere.
Payment is made at the front cash in most restaurants instead of taken at the table (like in North American restaurants).
Your utensils will also most likely be at your table already. Check for a box or basket where you will find metal chopsticks and spoons.
Embrace eating Korean food
If you are traveling to South Korea, eat Korean food instead of looking for Western restaurants. This can also help you stick to your budget since Korean food is relatively cheap.
Western food tends to be quite expensive and difficult to find outside of Seoul and Busan. Korean food is also delicious and healthy, so indulge and enjoy your time while visiting Korea.
PRO TIP: If you're new to Korean food, I highly recommend booking a food tour. It's a lot of fun!
If you are adamant about eating Western or non-Korean food, these restaurants are mainly found in the tourist areas or in the Itaewon district of Seoul (where a lot of expats live).
Drinking is fairly popular and Soju is very affordable ($4.00 in a restaurant compared to $15.00 + here in Canada). It is their vodka-like drink that ranges from 18-25% alcohol.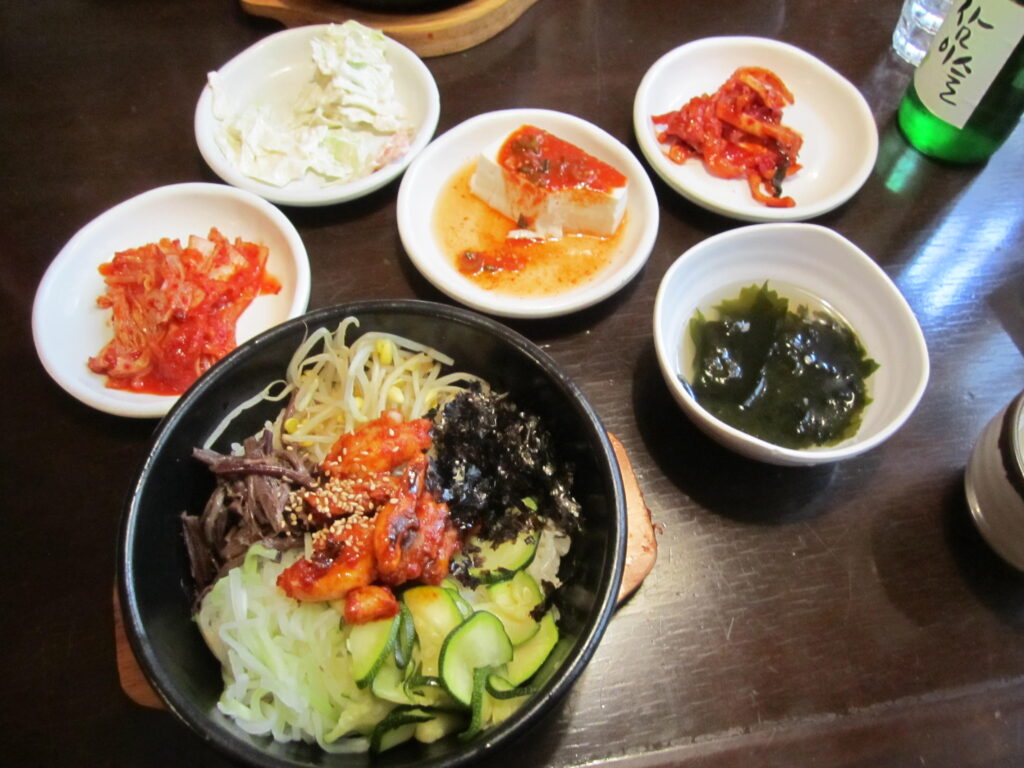 Bibimbap and sides
Korean table manners
There are a few things to watch out for when eating with Koreans or at a Korean restaurant:
Pour your elder's drink before your own
Do not blow your nose while sitting at the table
Do not pick up your rice bowl to eat (which is common in Chinese and Vietnamese culture)
Do not leave your chopsticks sticking out of your rice bowl (this resembles traditional Korean ancestral ceremonies)
Drink your soup first before trying other dishes
Avoid leaving food on the spoon while eating
Learn how to speak some Korean / Read some Hangul
I recommend getting a Korean phrasebook to get familiar with some common travel phrases, which you'll find essential for your trip. Most restaurants have Korean only menus with pictures of each item to help non-Korean speakers.
If you are familiar with Korean food, this makes it easy to identify what you want to order. However, if you plan on going off the beaten tourist path, you may not find a lot of restaurant menus with pictures or English-speaking severs. This is when knowing how to speak or read a little Korean comes in handy.
Most Koreans are taught English in school, but the older generation may not know much English. I found that our hotel staff knew good English but while shopping and dining — English was a hit or miss.
In fact, one restaurant that we went to had no English or picture menu and no English-speaking staff. I knew the restaurant was famous for their tteokbokki, so I was able to ask for it in Korean and our server brought over a tablet with photos of their menu for me to pick which item I wanted.
Rather than getting frustrated with my lack of ability to speak Korean, the restaurant was able to go out of their way to accommodate me. This was greatly appreciated!
Recommended Books for South Korea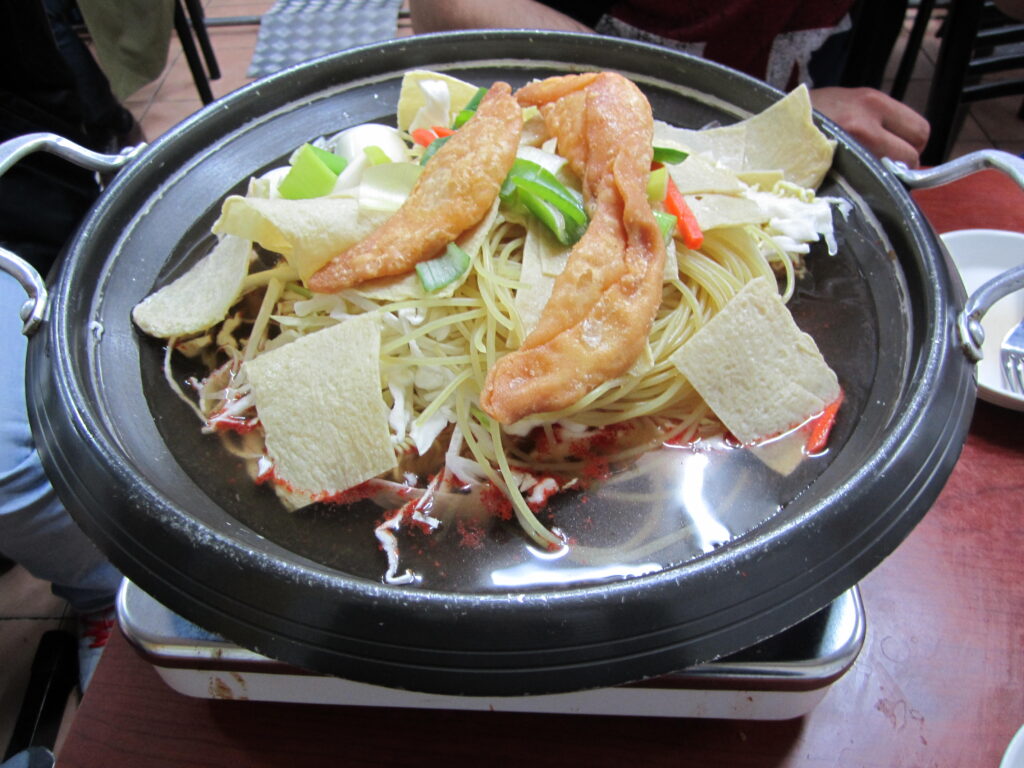 Pre-cooked tteokbokki
If you learn only a couple Korean phrases, I think the two most important phrases to learn are "Hello" and "Thank you".
You will hear these phrases daily and Koreans will respect that fact that you know these phrases (even if it's the only Korean you can speak).
Hello – annyeonghaseyo – 안녕하세요
Thank you – gamsahabnida – 감사합니다
Wear comfortable walking shoes
I cannot emphasize this point enough! If you plan on visiting Seoul or Busan, expect to do A LOT of walking.
I took the Seoul and Busan public transit to most places, but I also walked to a few spots too. Their transit systems are huge and there is quite a bit of walking and stairs involved within their underground subway.
Sometimes it was quicker to walk down the stairs with my luggage to transfer to the next train than to walk and find the elevator. I don't mind walking, but I really wish I knew to bring comfortable shoes.
The cities themselves are also big and spread out with large intersections, so don't worry about sacrificing style for comfort – many Koreans also wear runners and comfortable walking shoes too!
There are lots of beautiful hiking trails in Seoul and Busan, so if you're interested in the outdoors I highly suggest checking out some of these places.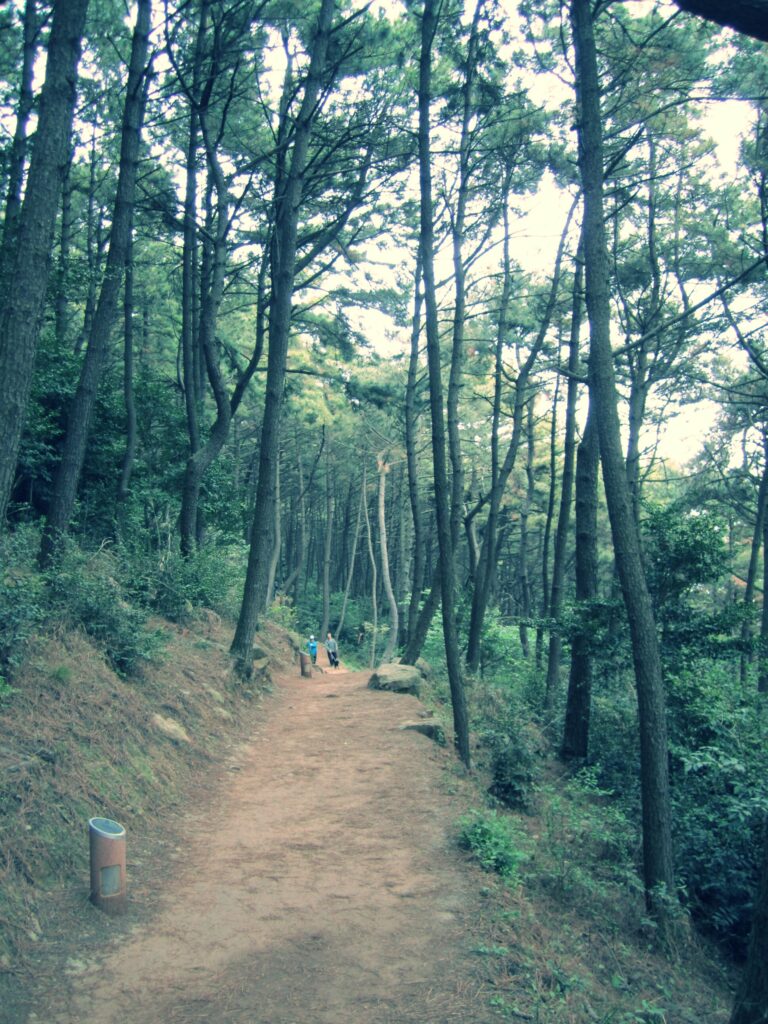 Moonlight Path, Dalmaji Hill in Busan
Don't forget to bring deodorant
I had read this tip online before I went to Korea and wanted to see for myself if it was hard to find.
I did manage to see some at one of their drugstore chains, Olive Young, but they only carried one brand and it was $8.00. I suggest bringing extra if you are planning on staying in Korea for an extended period of time and think you will need it.
Bring slippers for the hotel room
All three of the hotels we stayed at while in Seoul and Busan provided two pairs of slippers per guest: one to wear around the room and one to wear in the bathroom.
Just in case your hotel doesn't provide these (or you want a fresh pair of your own) bring a pair of flip flops to wear inside the bathroom. I say this because it is common for Korean bathrooms to not have a bathtub/ or an enclosed shower (only one of the hotels I stayed at had a bathtub/ shower combo).
Instead there is a shower head attached the wall and you shower over the toilet and sink area.
Everything tends to get wet, which is why most hotels have a metal lid over the toilet paper roll. It's an interesting concept and really helps to economize space, but you will inevitably need to wear bath slippers to keep your feet clean.
If you forget to bring some, your hotel will most likely provide them or you can pick them up at the Korean markets.
It is also common for Koreans to take off their shoes when entering a home and wear slippers around the house. In other words: outside shoes are for outside and inside slippers are for inside.
When I stayed at a traditional Korean Guesthouse in Seoul, the owner asked us to remove our outside shoes and wear house slippers before heading upstairs to the guest rooms. This was no problem since my family in Canada also removes their outdoor shoes when coming into the house and wears indoor slippers inside.
Beware of the hotel check-in and check-out times
Most Korean hotels do not let their guests check in until a certain time. If you check in early, you may be charged (likewise if you check out late).
Make a note of when the hotel check-in time is. If you are early, they may be able to hold your luggage for you so you can explore town before coming back later at the designated check-in time.
It's OK if you forgot to bring skincare products
Both Seoul and Busan were covered everywhere with skin care shops and beauty stores – even in the underground metro system!
It's not uncommon for Korean men and women to apply 10-14 (or more) skin care products per day. Even at one of the hotels we stayed at, they offered skin care products for guest use in the hotel rooms.
Koreans take their skin care regime very seriously, and the great thing about it is that Korean brand skin care products are very affordable (import products were on the pricey side).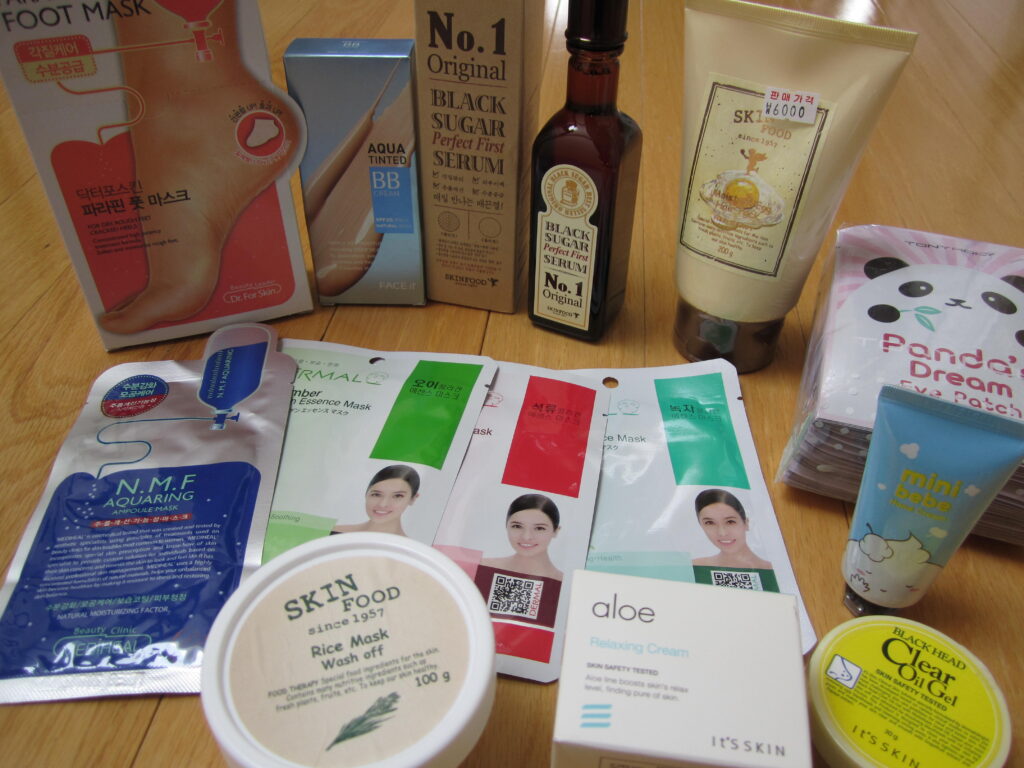 WiFi is everywhere (and it's usually free)
WiFi and mobile services are available on the Seoul and Busan metro system. I could access free WiFi while in the underground metro, but once I got on the Subway you will have to pay to get WiFi.
This is easy and affordable. Just sign up for a prepaid WiFi card at one of the major carriers and you'll have access to WiFi just about anywhere. Olleh was one of the popular WiFi zones and had shops all around the city.
I didn't end up signing up for a prepaid card and just tried to access free WiFi when I could.
I was able to get it on the street, in stores, my hotel and just about everywhere except while hiking and riding the subway. This was fine with me since I was on vacation and had no reason to be attached to my phone.
Getting around town
Taxis are pretty affordable in Seoul and Busan, but we decided to stick to the city's metro system for getting around since it was easy and convenient.
If you do decide to take a taxi, make sure to have your destination written in Korean because not all taxi drivers speak English. In fact, Mandarin is spoken more than English in Korea.
I highly suggest downloading the Seoul Metro App to help you find your way around town. Just put in your starting point and end point and it will tell you the fastest route available.
Double check the subway station before starting your trip since some have similar names. Also be aware of your exit number since some stations are so big they can have up to 15 or more different exits.
When riding the subway, avoid sitting in the seats designated for expecting mothers, older people or people in wheelchairs. If you do sit in these seats, be prepared to surrender them if needed, or you might get dirty looks from others.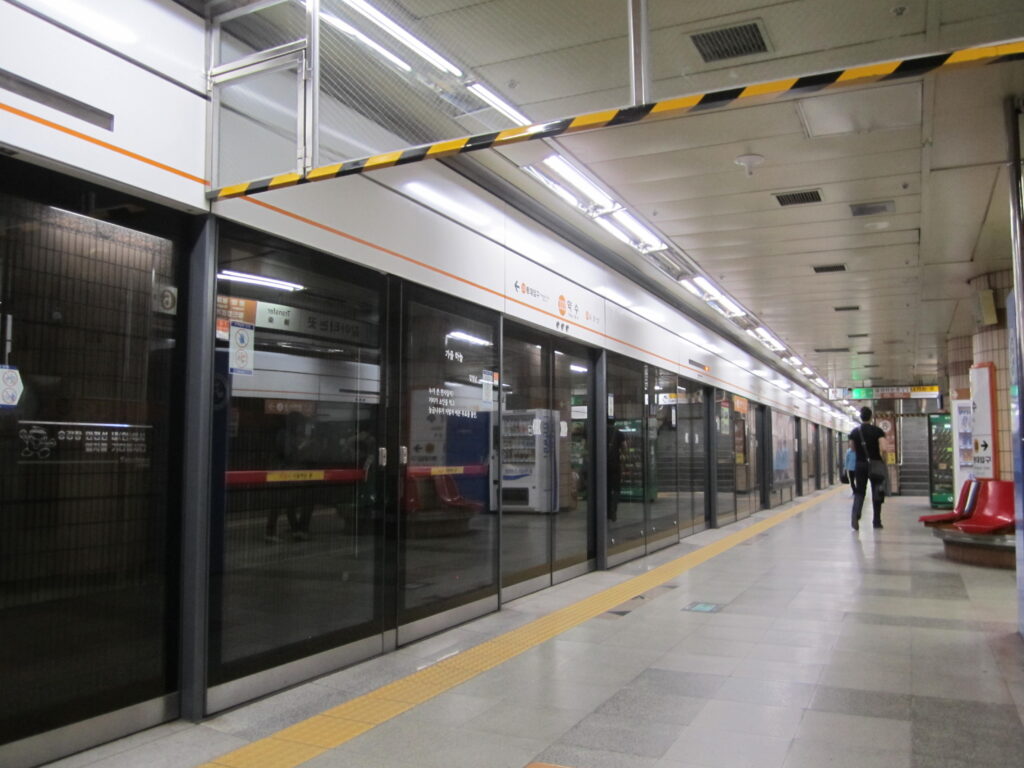 COFFEE, COFFEE EVERYWHERE!
Multiple coffee shops exist on every block and are far more popular than in the USA and Canada.
However, coffee and coffee-related drinks were more expensive than back at home. A small coffee averaged around $2.50-$3.00; a small Americano was around $3.00-$4.00. Also, Koreans like to drink their coffee black or with a bit of added sugar. If you want milk or cream, you have to ask for it.
Coffee is so popular there that they even had coffee vending machines around town!
South Korea is also full of themed coffee shops and cafes. In Seoul you will find a Cat Cafe, Dog Cafe, Hello Cafe and Charlie Brown Cafe — just to name a few.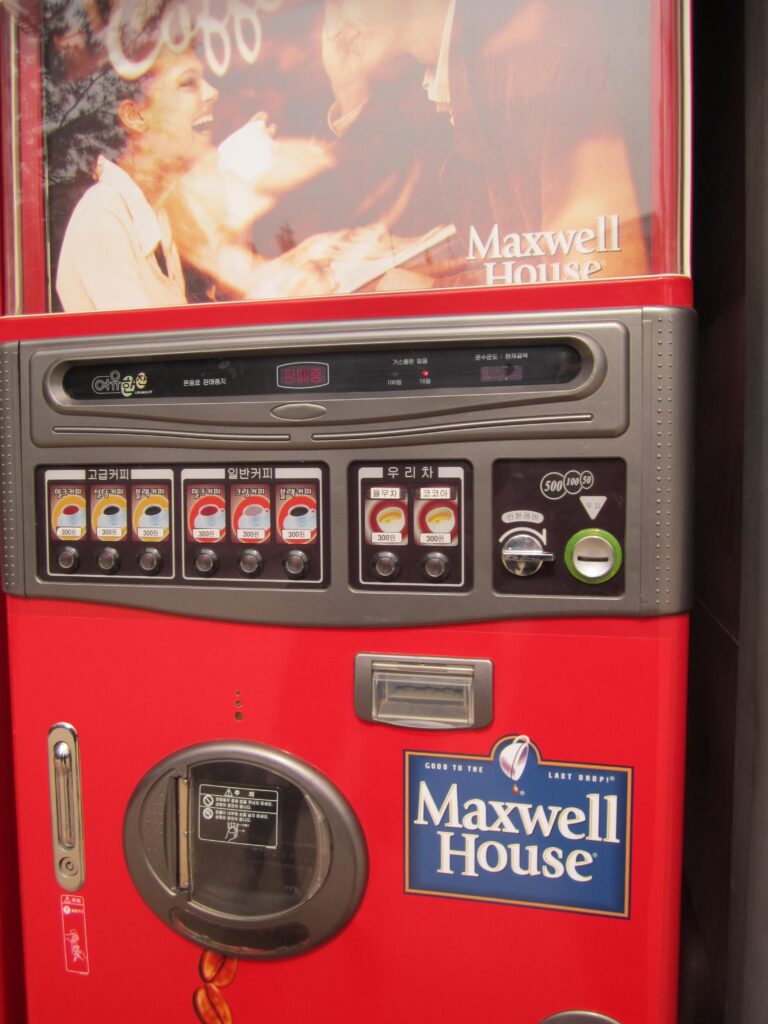 Maxwell House coffee vending machine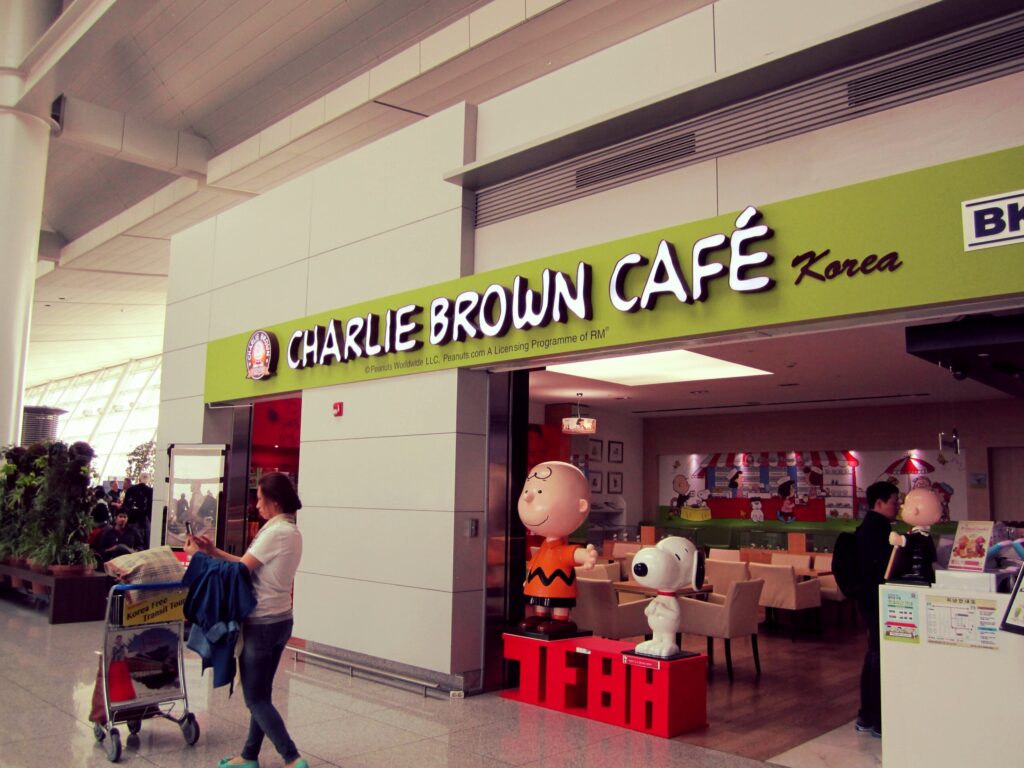 Charlie Brown Cafe in Incheon Airport
Shopping
Did you know the world's largest department store is located in Busan? Koreans love to shop and there are so many good shopping spots in Seoul and Busan.
Their main department stores for brand name and luxury items are Lotte and Shinsegae. I found in Seoul that these department stores even had its own grocery shops located on the bottom floor. Seoul and Busan are also full of markets for Korean-made items and brands.
Don't plan to haggle, but Korean products are already quite affordable. I found that popular stores in North America like Forever 21, Zara, H&M, Gap, etc. were on par with Canadian prices (slightly more expensive than the USA).
Don't come to South Korea to buy items that you can find back at home though – stock up on Korean products that you can't buy in North America.
My favourite place to shop in Seoul was in the Myeongdong district. I kept coming back because I loved it so much! There are lots of both Korean and popular North American shops to be found here.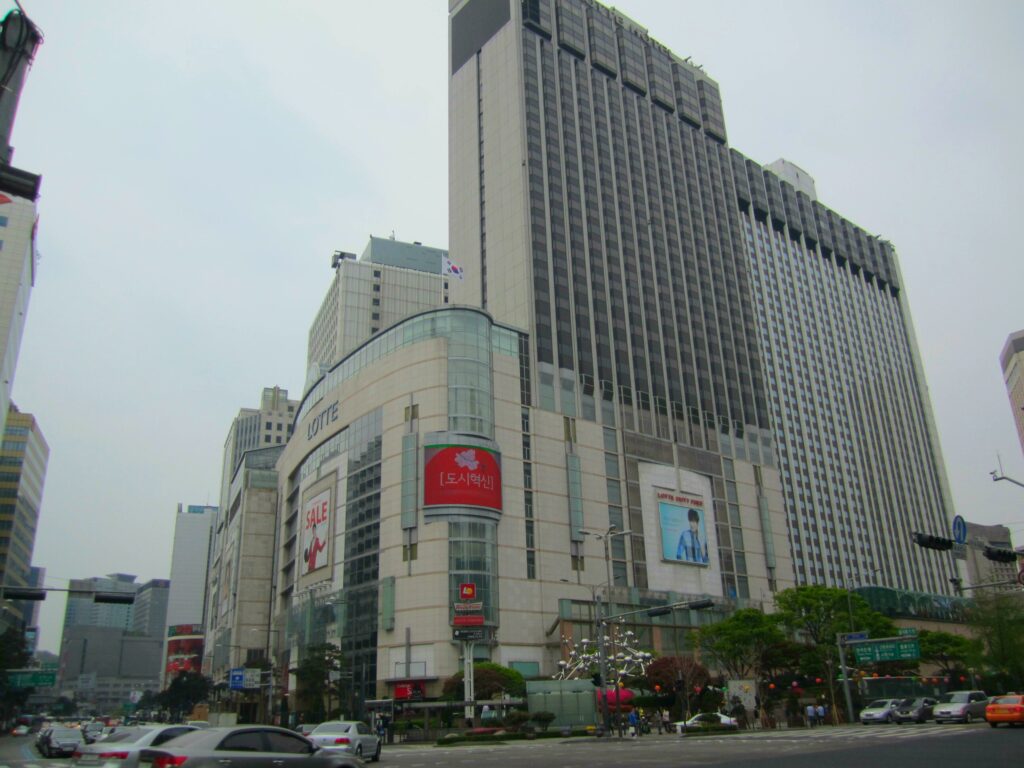 Lotte Department Store in Seoul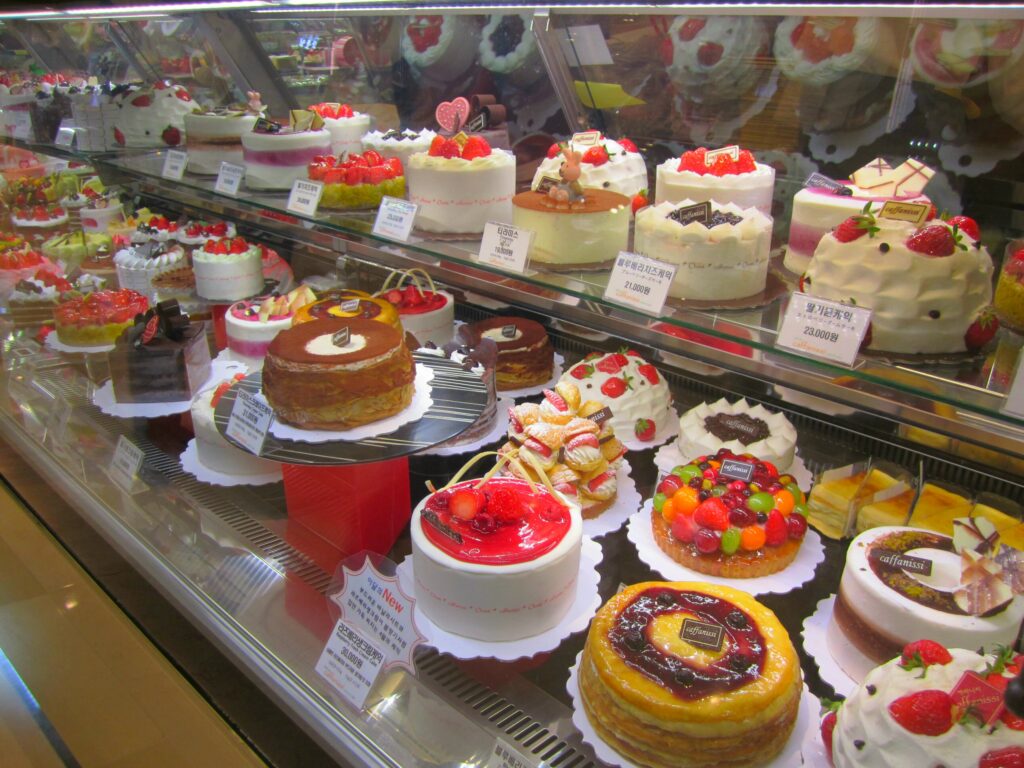 Cakes at the Lotte Department grocery store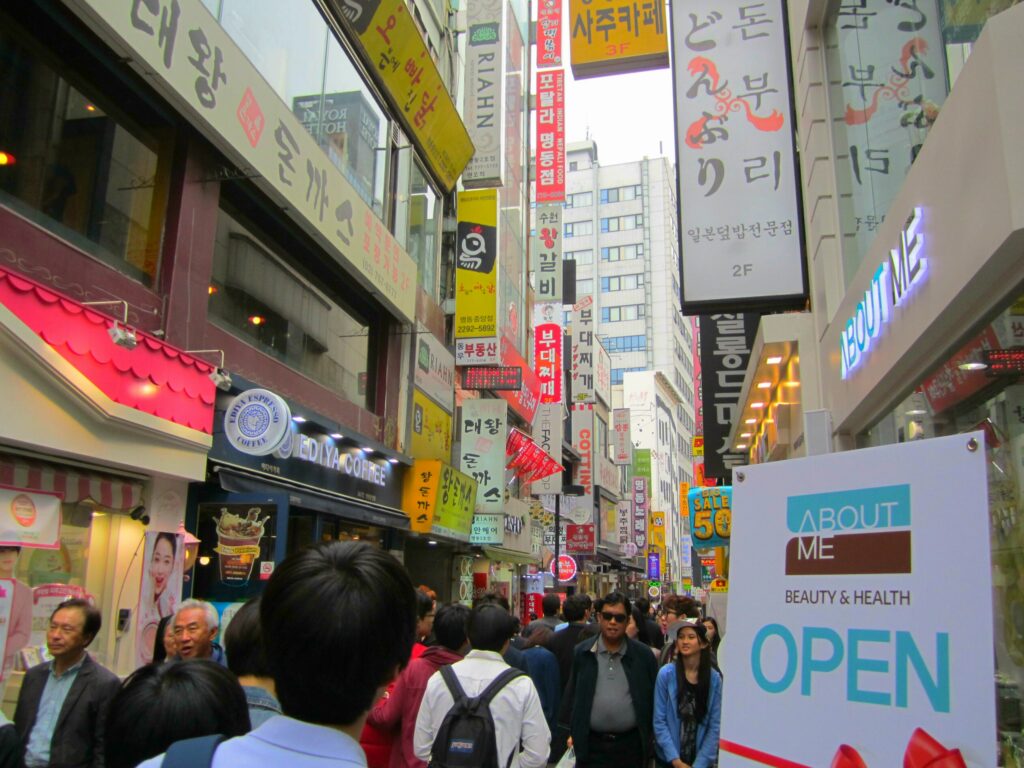 Myeongdong District in Seoul
Pushing and shoving in crowds
One thing I noticed while on vacation in Seoul and Busan is that people will push and shove to get through crowds. They are not being rude, this is just the norm.
So if you are riding the subway and someone elbows you when passing on the escalator, we may see this as rude and unacceptable, but it is common practice in South Korea.
In fact, they don't realize that others may view this as rude behaviour. Even when waiting in line to use the bathroom, be aggressive because someone may come up and take the next free stall before you.
Pushing and shoving aside, Korean people are very friendly. If we were looking at a map on the street, someone would come up to us and offer help with directions, which is very nice and appreciated.
Seoul and Busan are safe cities for solo travelers
Despite the constant news being broadcasted about North Korea in America and Canada, South Korea is pretty safe.
During our entire stay in Seoul and Busan, we always felt safe. But that doesn't mean you shouldn't take precautions. Like any other major city in the world, keep a close eye on your belongings and use common sense.
I saw many solo female and male tourists while I was in South Korea.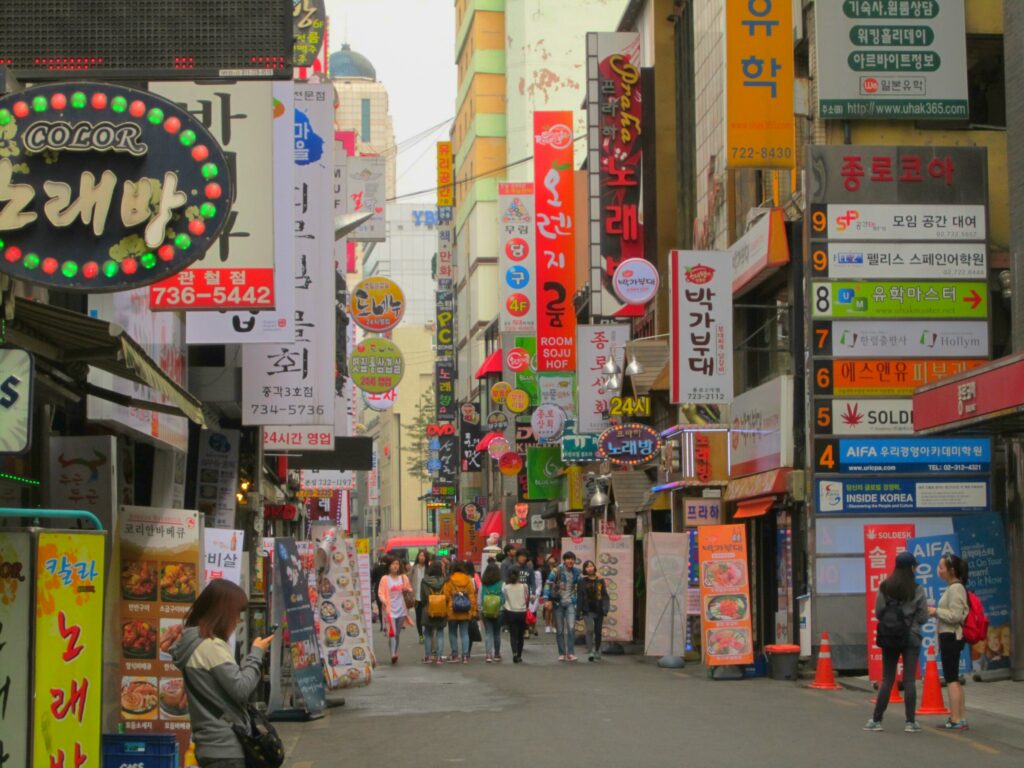 Toilets are a bit different than in North America
While at first sight, Seoul and Busan may feel like modern metropolitan cities, but their toilets are a different story.
If you plan on using a public bathroom, you will most likely encounter the "squat toilet". There is a trash can next to all public bathrooms for you to dispose of your used toilet paper – do not flush it down the toilet because it may get clogged.
I still find this a bit gross and something I never got used to while visiting South Korea.