For most people, being in your 20's involves a lot of firsts. Your first real job (finally!), your first time living on your own, your first serious relationship, your first car, your first credit card, and so on. It can also involve making silly money mistakes too.
Chances are, your twenties is also the first time that you're managing your own money. It can be a little tricky at first, especially when it comes to learning how to save and grow your income.
For me, my finances felt like a rollercoaster in my 20's. In my early twenties, I was broke, going to college, and living paycheck to paycheck. Then when I graduated, I landed my first corporate job and was able to build my savings account. In my mid-twenties, I quit my corporate job and went to graduate school, which completely wiped out all my savings. Now, I'm in my late twenties and I have $100,000 in the bank.
While I've made several mistakes along the way, I've learned how to develop the right financial habits to save money and grow my income. Many of us might feel that we're still young and have plenty of time to learn how to manage our money. It's true that being in your 20's is still young, but developing good spending habits now can put you on the right path going forward.
It's NEVER too early to start implementing smart money habits. (You're 40-year old self will thank you!) If you've made a few money mistakes already, you're not alone. The good news is that you can give yourself a quick pep talk and avoid these silly money mistakes people make in their 20s.
Related Posts: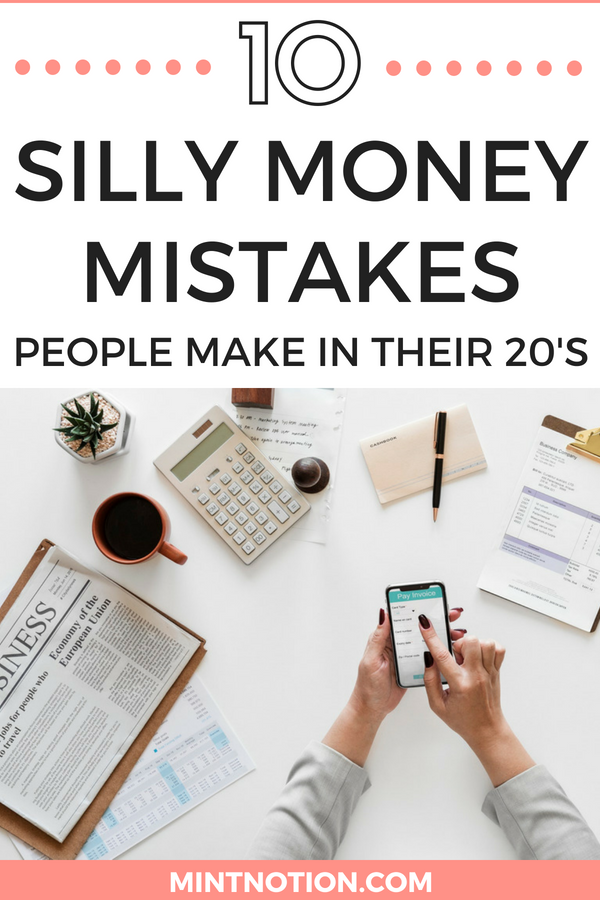 1. Not building an emergency fund
Unfortunately, many people get into debt because they haven't planned for unexpected expenses. This is one of the most common money mistakes people make.
According to a recent Bankrate survey, 34% of American households experienced a major unexpected expense over the past year. However, only 39% of survey respondents said they would be able to cover a $1,000 unexpected cost using their savings.
No matter what your current financial situation looks like, it's always wise to have at least $1,000 in your emergency fund. Unplanned expenses can and do happen, no matter how careful you are. Building an emergency fund can help you feel secure, ease your financial stress, and prevent you from getting into debt.
To take this a step further, I recommend saving around 6-12 months' worth of living expenses. Salary cuts or job losses can happen in today's economy, so it's important to have that extra cushion of savings.
Need a boost to get started? Take this fun money challenge and save $1,000 in just 60-days!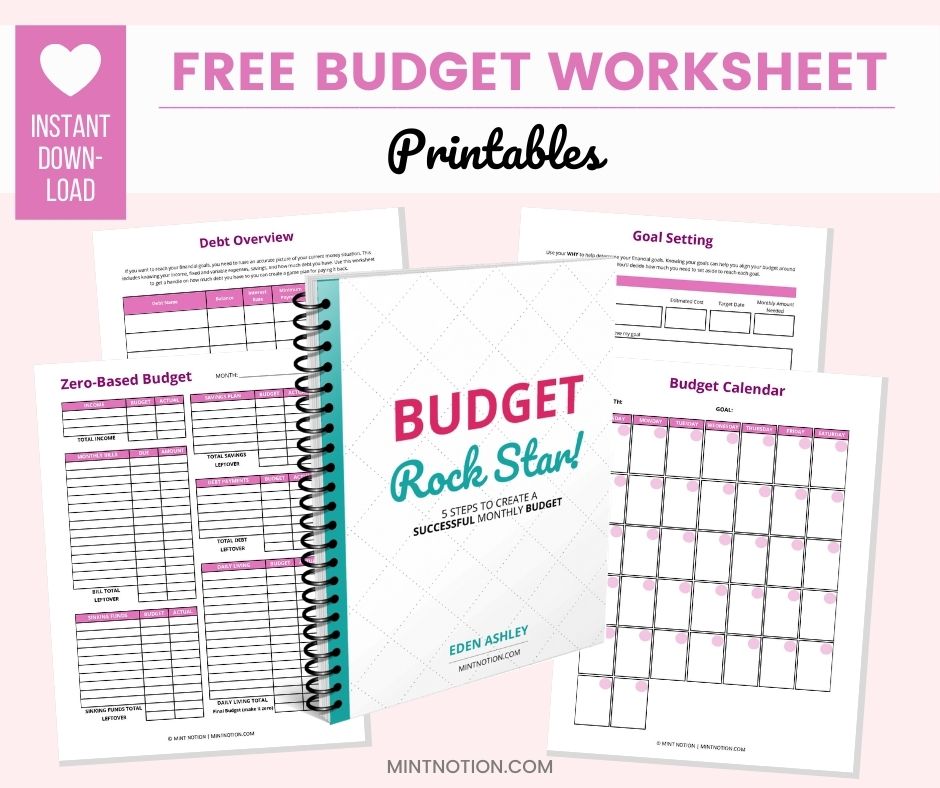 2. Not considering a side hustle
Whether you're making $25,000 per year or $100,000 per year, I always recommend having a side hustle. Starting a side hustle is not only a smart way to get ahead in today's economy, but it can be a lot of fun too. Here are a few reasons why you should get a side hustle:
The cost of living keeps going up
Wages are growing slower, making it harder to get ahead on just one income. Having a side hustle can help boost your income each month.
Job security is disappearing
It's important to diversify your income in case of a sudden job loss. Having a side hustle can help increase your savings and provide some level of protection in case of a salary cut or unemployment.
Less money-related stress and more freedom
If you're tired a living paycheck to paycheck, having a side hustle can help break this cycle. More income can lead to more freedom. We all deserve the freedom to love and live the way we want to!
Need ideas for your side hustle? Check out these fun side hustle ideas here.
3. Staying at a company too long that has little room for growth
A generation ago, it was common for people to start a company and work their way up the corporate ladder. However, today people generally don't stay in one place for that long anymore. In the USA, the average time spent at a single company is 4.6 years.
In 2017, the average raise is about 3% for employees and managers. If you're looking to score a higher salary, you may want to consider finding a new job. Changing your job has the potential to boost your income as much as 10%-20%.
In fact, Fortune estimated that staying at one company for more than 2 years will reduce your lifetime earnings by an average of 50%. That's a lot!
Whether you're a manager, employee, or an entrepreneur, it's vital that you OWN your career. This can make a huge difference in your income and career opportunities.
4. Not tracking your spending
One of the most common money mistakes people make is they forget to track their spending. No matter what your income is, everyone can benefit from tracking their spending.
Simply tracking your expenses can make a huge difference in your financial situation, especially if creating a budget sounds overwhelming right now.
You're spending should be in line with your goals and priorities. Tracking your expenses can help you discover if you're spending above your means in certain areas. For example, you might be spending a lot of money on clothing, when you really should be putting that money towards paying off your student loans.
Knowing where your money goes can also help you make sure to spend less than you earn. You'll get a better understanding of your current spending habits and how you can curb impulse spending.
5. Not paying attention to domino spending
If you're not paying attention, domino spending can add up quickly. Money mistakes like this can end up costing you in the long run. The key is to make sure they align with your values and financial goals.
Here are three examples of how domino spending can happen:
Example #1: Booking cheap flight tickets
You might find an excellent deal on flights tickets. This is considered the first purchase. The next chain of purchases might include pricey hotel accommodations, vacation spending money, a rental car, new outfits or accessories for your trip, and so on.
Solution: Finding an amazing flight deal is always exciting, however before you click the purchase button, make sure to research how much this trip is actually going to cost. $200 flight tickets for a weekend trip can easily turn into an $800+ vacation once you factor in hotel rooms, transportation, food, and your vacation spending money. It's important to make sure that these extra costs don't hinder your budget.
Example #2: "Save 40% off today's purchase"
"Save 40% off today's purchase" could turn into an expensive shopping spree that includes the dress you planned to buy, plus a bunch of other items you didn't need.
Solution: If you've been eyeing an item at the store for a while now and it finally went on sale for 40% off, consider if you still need that item. If you still need that item, then you may want to take advantage of this sale. However, you want to make sure that you ONLY buy that one item you needed instead of getting a bunch of other things on impulse. Learning how to control your impulse spending can help prevent blowing your budget.
Example #3: Just having one drink with friends
"Just one drink with friends" after work could turn into two or three, followed by dinner at that trendy new restaurant, and an expensive Uber ride home.
Solution: You have two options here. Either you can politely say "no" to your friends and save money by not going out for drinks. Or you can go out and have one drink with friends, then let them know you have to leave afterwards. Learning how to say "no" to friends when you're pressured to spend money can help you stick to your goals.
Related Post: How to say "no" to friends when you're trying to save money
6. Getting into debt, and ignoring it
In 2017, approximately 70% of grads left college with student debt, averaging around $22,135.
Unfortunately, student loans don't go away. Ignoring them will only make them worse, and you'll likely have to deal with debt collectors and poor credit standing. This can make it extremely difficult to rent an apartment, use a credit card, buy a car, own a home, and so on.
Whether you have student loan debt or credit card debt, it's important to make sure you have a debt repayment plan in place. It's also in your best interest to try and pay more than the minimum payments. This will help reduce the length of your loan and the amount you pay in interest.
For tips on paying off your student loans, check out this post here: How to pay off your student loans faster
7. Not learning how to cook basic meals at home
Many people have the misconception that it's too expensive and time-consuming to cook meals at home. Instead, it's super easy to avoid cooking by grabbing take-away from the local restaurant or fast-food chain.
While dining out once in awhile might not impact your budget, eating out several times per week can quickly add up. Whether it's breakfast on your way to work, or a quick lunch from the deli, or picking up a pizza to bring home for dinner – these costs could put a serious dent in your wallet.
Plus, you consume more fat and sodium when dining out than if you were to cook at home. Homemade meals are usually healthier and could help you save money in health care costs down the road.
If you're new to cooking, the best way to stay on track is to meal plan. You may want to consider trying the $5 Meal Plan to help you easily plan out your meals.
For just $5 per month, you will receive a delicious meal plan, where every meal will cost about $2 per person (or less). It's a great way to save time and money, plus they offer specialty plans, including gluten-free and vegetarian meals. You can click here to try it free for 14 days.
8. Spending above your means
Today's YOLO and FOMO (fear of missing out) mentality makes it super easy to live beyond your means, especially when you can buy most things on credit. Just because everyone else seems to be living above their means, doesn't mean that you should too. This is one of the most common money mistakes people make.
It's important to look at your motives for spending. For example, are you paying more than you can afford for rent just to keep up with your friends? Are you going for brunch every weekend to be social, even though you've already drained your restaurant fund?
Spending beyond your means can lead to debt, making it difficult to save money and reach your goals. While it may be due to an income problem, a 2015 study showed that 25% of American families making $150,000 a year or more live paycheck to paycheck.
The key to financial success is to live BELOW your means. Track your spending for the next 30 days. This will help you see exactly how much you're spending on groceries, dining out, entertainment, and other non-essentials. Then you can create an action plan for learning how to spend less than you earn.
9. Not setting financial goals
Whether you want to pay off student loans, save money for a home, retire early, or afford to travel more, it's important to set financial goals for yourself. If you don't set clear goals, it's going to be difficult to know how to manage your money or get out of debt. This is one of the most common money mistakes.
If you find yourself running out of money each month or unable to make room for savings, then you need to start setting financial goals. Here are some basic steps you can take to help you get started on goal planning.
1. Determine your values
This is where you want to figure out what matters most to you. Do you want to buy a house in the next few years? Do you want to eliminate debt? Do you want to plan for early retirement? Do you want to save money for a vacation?
Write down your goal in S.M.A.R.T format. This means your goal(s) must be specific, measurable, attainable, relevant, and time-based. For example, if you're planning your dream vacation to Paris, your S.M.A.R.T. goal might look like this: "Save $2,000 for trip to Paris which means I need to put away $170 per month for the next 12 months".
2. Make your goal a priority
You might have multiple goals, which is great. However, it may not be possible to achieve them all at once. I recommend putting a number next to each goal and ranking them based on what you value most. Then, as you create your monthly budget or track your monthly expenses, make sure that your spending is helping you get closer to achieving your goal.
3. Create a budget which aligns with your goal(s)
Want to save for a trip to Paris? Make sure to create a realistic budget that can help you achieve this goal. You may need to temporarily cut back on non-essential spending, but this can help you reach your savings goal faster.
A good way to help you hit your monthly saving's goal is to automate. This means automatically depositing a portion of each paycheck into your savings account. I recommend creating a separate saving's account for your goal. This can help prevent you from spending that money on something else.
4. Stick to your budget
I recommend doing monthly check-ins to make sure you're staying on track. If you find that you need an extra boost to stay motivated, I recommend doing weekly check-ins. This can help you determine if your currently spending is helping you get closer to reaching your goal.
You can download my Budget Binder printables here to help you get started.
10. Developing costly habits
Developing healthy financial habits in your twenties can help set you up for success going forward. Plus, good spending habits can prevent lifestyle inflation as your income increases and avoid making money mistakes.
However, many of us tend to develop costly habits in our twenties. These expensive money habits can interrupt your life and prevent you from accomplishing your goals. Some of these habits include never paying off your credit card, eating out too much, smoking / excessive drinking, gambling, impulsive shopping or deal hunting.
Why do we develop these bad habits in the first place? Most often, these habits result from stress or boredom. For example, you might eat out most nights for dinner because you're too tired from the stress at work to cook at home.
While it can be difficult to break these bad financial habits, it's possible to teach yourself healthy ways to deal with stress and boredom. For example, meal planning on the weekend can prevent you from eating out during the week. Knowing that you have a meal ready to eat at home can help you resist the urge to spend money at restaurants.
Recognize which triggers are causing you to spend on these costly habits and cut them out. This will make it easier to break these bad habits by avoiding the thing that's causing them. For example, do you have trouble saying "no" to a good deal? Unsubscribe from retailer emails and you won't be tempted to spend money every time there's a sale.
Changing your environment and surrounding yourself with people who support your goals can make a huge impact in helping you break these costly habits.