Today, I have a special interview to share with you about how to increase your affiliate earnings. I recently had the opportunity to interview Michelle, from Making Sense of Cents, who has been kind enough to share her tips to help you increase your affiliate income.
Affiliate marketing is the process of being rewarded with a commission when you promote other people's (or company's) products. It can be a great way to make money online and you don't even need a website or blog to start earning.
Michelle earns $50,000 per month in affiliate income and has just recently released her eCourse called Making Sense of Affiliate Marketing, where she shares her winning strategies to help others increase their affiliate income. She started her blog in 2011 knowing nothing about blogging, and now makes six figures a year from her blog and travels full-time with her husband in an RV.
If you're looking for a new way to earn extra income or how to make money while traveling, then I highly recommend getting started with affiliate marketing.
Today's interview will help you learn more about affiliate marketing and how to successfully increase your affiliate earnings. If you've read my latest income report, you'll remember that I recently signed up for Michelle's eCourse, which has been a total game changer for me.
When I first started monetizing my blog, I knew nothing about how to be successful with affiliate marketing. I was only making around $100 per month. However, the month I signed up for Michelle's eCourse, my earnings jumped to over $1,200 for that month. I know her strategies work, because my earnings have continued to grow since I started implementing her tips. Seriously – this girl knows her stuff!
UPDATE: I now make a full-time income from blogging thanks to the strategies I learned in the course. In just over a year, I went from making $100 per month blogging to $10,000 per month in January 2018.
Below is a snapshot of my blog income. My income comes solely from affiliate marketing and display advertising.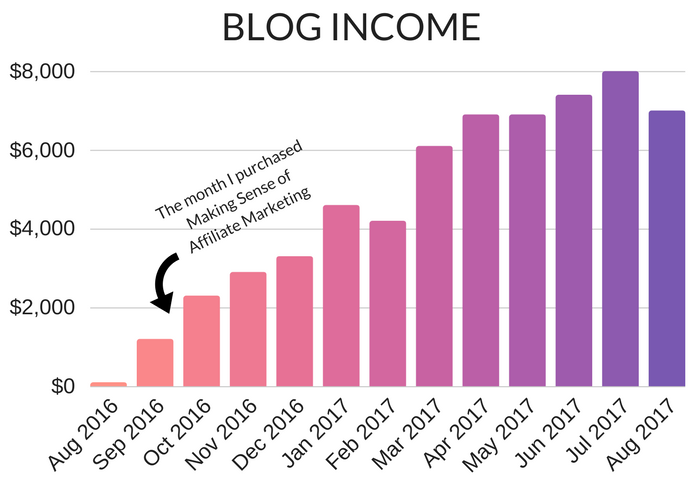 Michelle has been so kind to share more information about affiliate marketing and her tips on how to successfully increase your affiliate earnings. Use her tips to help you skyrocket your affiliate income today!
Let's get started!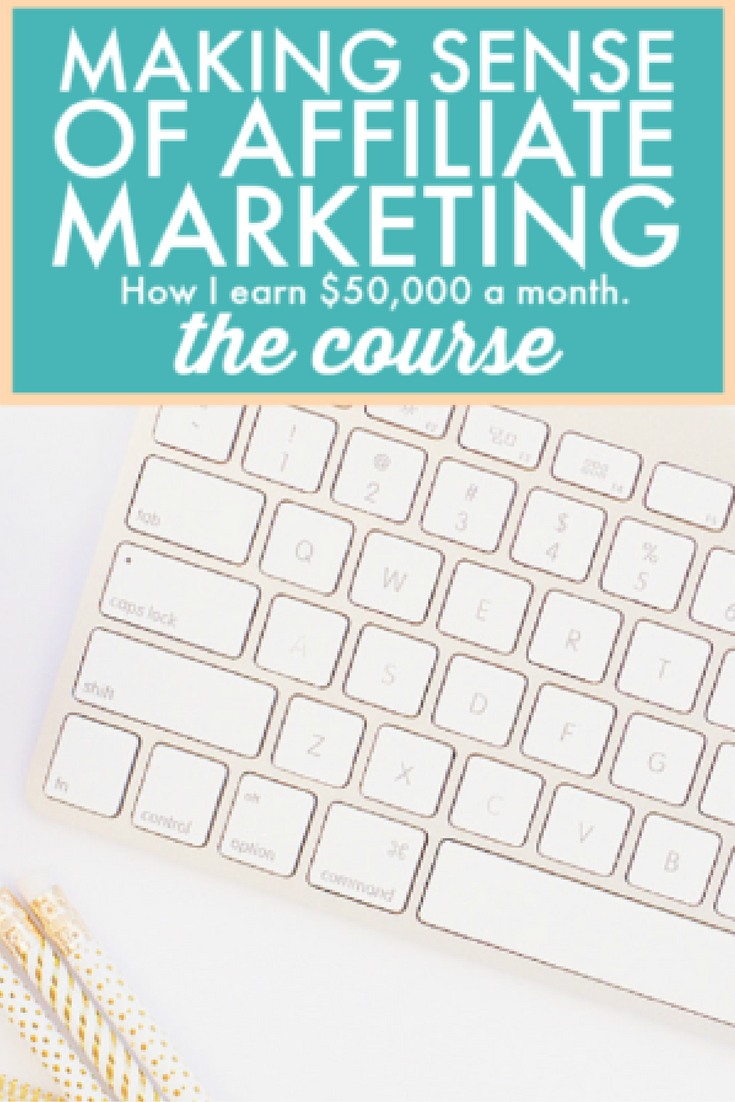 1. Tell us a little bit about your blog and how you got started with affiliate marketing?
In August of 2011, I started my personal finance blog with the hopes of teaching people how to save money after reading a magazine that featured a personal finance website in one of their articles. I got hooked on that website and my interest in blogging just grew from there. Before August of 2011, I didn't even know that blogs existed. I didn't know what they were, I didn't know that they could make money, or anything like that.
I did not create my blog with the intention of making money blogging. It was really all just a hobby. I then realized how much I loved blogging and realized that it was for me, so now I am a full-time blogger! It's funny how life can change so much.
On Making Sense of Cents, I talk a lot about different ways to make extra income, money saving tips, living your dream life, RVing (me and my husband RV full-time), and more. I love running Making Sense of Cents and I am very happy that this is now my full-time career, my business, and pretty much my life.
I've always been interested in affiliate marketing since I started blogging, but I never thought it was possible before. I always thought that you had to have a huge following and a ton of page views in order to be successful with affiliate marketing.
Well, one day I decided to give myself a goal of earning affiliate income, and I worked towards achieving that goal. I started by making a little bit each month, and then it just continued to grow month after month. I now know that you don't need a ton of page views or a huge following in order to make a great income through affiliate marketing.
2. I understand that you have been working remotely since 2013 and are currently traveling the USA with your husband in an RV full-time. How did you make the transition from being a part-time blogger to a full-time blogger?
I became a full-time blogger in October of 2013, after I quit my day job as a financial analyst so that I could blog full-time. The transition was a long one, but definitely worth it. I started by growing my blog, improving my blogging income, paying off student loan debt, and building a well funded emergency fund.
3. What advice do you have for someone who wants to start monetizing their blog, but doesn't know where to start?
My top tip would be to just start! Blogging can be done very affordably, so you can see if it's for you without really losing too much. I have a free blogging course that I definitely recommend signing up for – How To Start and Launch a Successful Money-Making Blog.
4. I heard affiliate marketing can be time consuming. Why do you prefer affiliate marketing over other types of blog monetization methods?
I would completely disagree with that. I don't think affiliate marketing is any more time consuming than the other ways to make money blogging.
I love affiliate income because it can feel quite passive. You can create just one blog post or social media post, and potentially earn money from it years down the line, as long as you maintain it and keep generating traffic to it. With affiliate marketing, I can enjoy life more and know that I am still able to earn a great living promoting products that I use and enjoy.
Think about it this way: If you already enjoy a product, why not get paid to promote it?
5. What is the biggest thing that people THINK they know about affiliate marketing, that isn't so?
Many people think that you have to have a huge platform and following in order to make money through affiliate marketing, but that just isn't so.
I think that anyone with an influencer platform can be successful with affiliate marketing. It's all about approaching your audience and affiliate marketing in the correct way so that you can do it effectively and efficiently. These are all things that I teach in my Making Sense of Affiliate Marketing Course.
6. There are a lot of affiliate marketing courses and resources available today. What makes your course stand out from the crowd and what exactly will you be teaching in Making Sense of Affiliate Marketing?
I actually haven't been able to find any affiliate marketing courses that are similar to mine, so I would love to hear what other ones are out there 🙂
I have over 700 students already taking my course, and that's with a very simple evergreen launch just a few months ago. I currently earn over $50,000 through affiliate marketing, and I don't think there's a single course comparable to mine with a teacher who has had as much success through affiliate marketing as I have. And, I teach every single thing I do in my course.
In Making Sense of Affiliate Marketing, students will learn:
The basics of affiliate marketing, what it is, etc.
The positives of affiliate marketing and why all online influencers should be doing it
The exact steps I've taken to earn over $400,000 from a single blog post
How to pick the correct affiliate products to promote
How to increase conversions
How to build trust and not lose followers
Required disclosures that you need to know about
The one major tool you need for affiliate marketing
Different strategies to use to promote your affiliate products
How to use Pinterest to succeed at affiliate marketing (yes, this includes the newest Pinterest affiliate rules!)
7. Do you need a lot of traffic to benefit from affiliate marketing? How can a new blogger benefit from this course?
Making Sense of Affiliate Marketing is a great learning tool, even if you are a brand new blogger. By taking this course, you will start off blogging the correct way. You can learn from my affiliate marketing mistakes and learn the best ways to start making an income by being an affiliate.
Through taking this course you are sure to grow a profitable blog quicker than the average blogger, as you'll learn exactly what you need to know about affiliate marketing. So, even if you only have one blog post, you are ready to get started with this course!
8. How niche-dependent are the strategies and recommendations taught in this course? Will these strategies only work for certain niches?
The lessons in my Making Sense of Affiliate Marketing course can be applied to any blogging niche. Whether you write about lifestyle, travel, finance, family, fashion, DIY, food, business, or anything else, you are able to apply everything to your affiliate marketing strategy.
9. What is the cost of this course and how can someone enroll?
The cost of the course is $197 and that includes lifetime access as well as over $500 in free bonuses. You can sign up by heading to makingsenseofaffiliatemarketing.com.
10. Finally, if you could tell your younger blogging self anything, what would it be?
The top thing I would tell my younger blogger self would be to spend time on affiliate marketing earlier! I probably lost so much money by not starting affiliate marketing sooner in my blogging career. I highly recommend that everyone starts ASAP.
You can find out more information about Making Sense of Affiliate Marketing here.
Over to you — are you interested in making extra income and increasing your affiliate earnings?