Today I'm sharing my very first blog traffic and income report where I show you how I made money online last month. This gives me a chance to reflect on the month and see what went well, and what didn't go so well.
You may be wondering why I would want to share this information with you, since for many people, money is a private topic.
This past spring, I started reading other blogger's income reports and it taught me so much about how to monetize a blog and make money online. By reading other blogger's income reports, I realized how little I knew about monetizing my own blog.
I didn't start my blog with the intention of making money from it. My blog was just a hobby and I enjoyed writing posts and helping others to save money so they could live simply and travel more.
For the first two years of my blogging journey, I only monetized my blog with Google Adsense, and my earnings were a joke. I was only making between $50-$100 a month from Google Adsense.
After I discovered other blogger's income reports, it made me realize what was possible. Some bloggers were earning a lot more than me with less page views per month, and other bloggers were earning less than me with more page views per month.
It was really interesting to get an inside look at how other bloggers were earning an income online and how it was possible to make money with my own blog. It also showed me that you don't need a million page views per month to make money with a blog.
I want to be open and honest about my blogging journey with you, and share what I've learned each month about growing my blog readership and making money online. I've decided to start sharing my blog traffic and income reports with you for these 2 main reasons:
Making extra income outside of a 9-5 job is possible
Before I started monetizing my blog, I thought that the only way to increase my income was to focus on traditional methods. This included asking for a pay raise at work, looking for a higher paying job, getting a second job, etc. I didn't know anything about making money online or side hustling. If I didn't discover other blogger's income reports, I would have never known the possibilities of making money online. I want to show you how to think outside the 9-5 life and how there are many different ways to increase your income and make money online. Side hustles can change your life and I like sharing my story to inspire others to find real ways to improve their financial situation.
If I can do it, you can do it!
I didn't know anything about blogging or social media when I first started this blog. I learned everything from scratch. By sharing my income reports with you, it gives me a chance to continue learning and to reflect on the month to see what went well and what didn't go so well. I'm not an expert and I don't try to be one. I'm just a girl who decided to go for it and see what I was capable of accomplishing. If I can do it, you can do it too!
Let's get to it then, shall we?
September Blog Income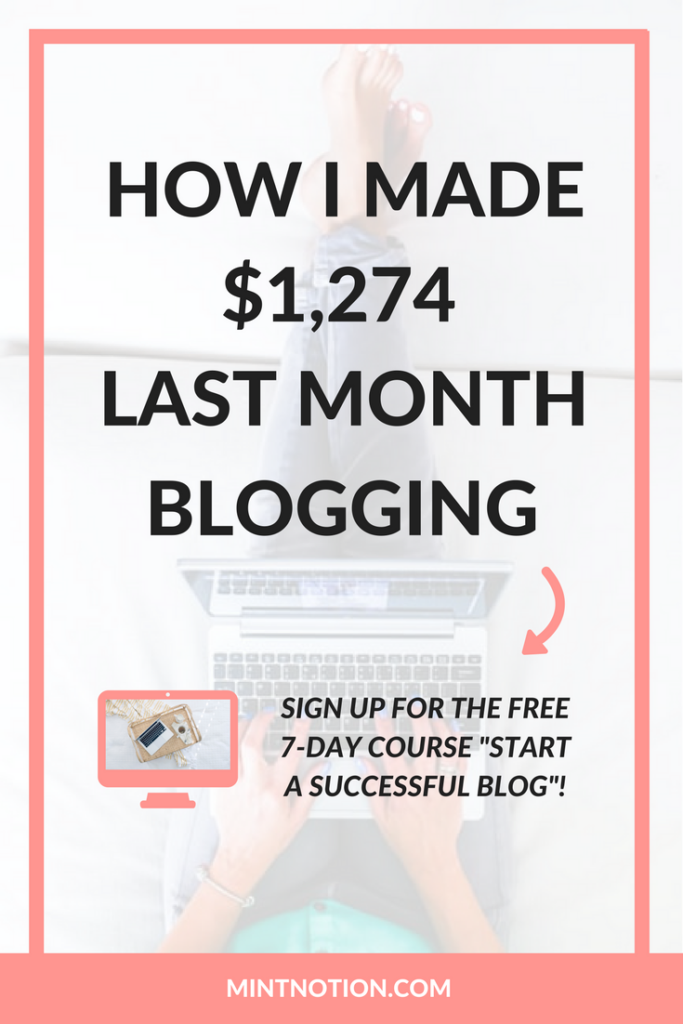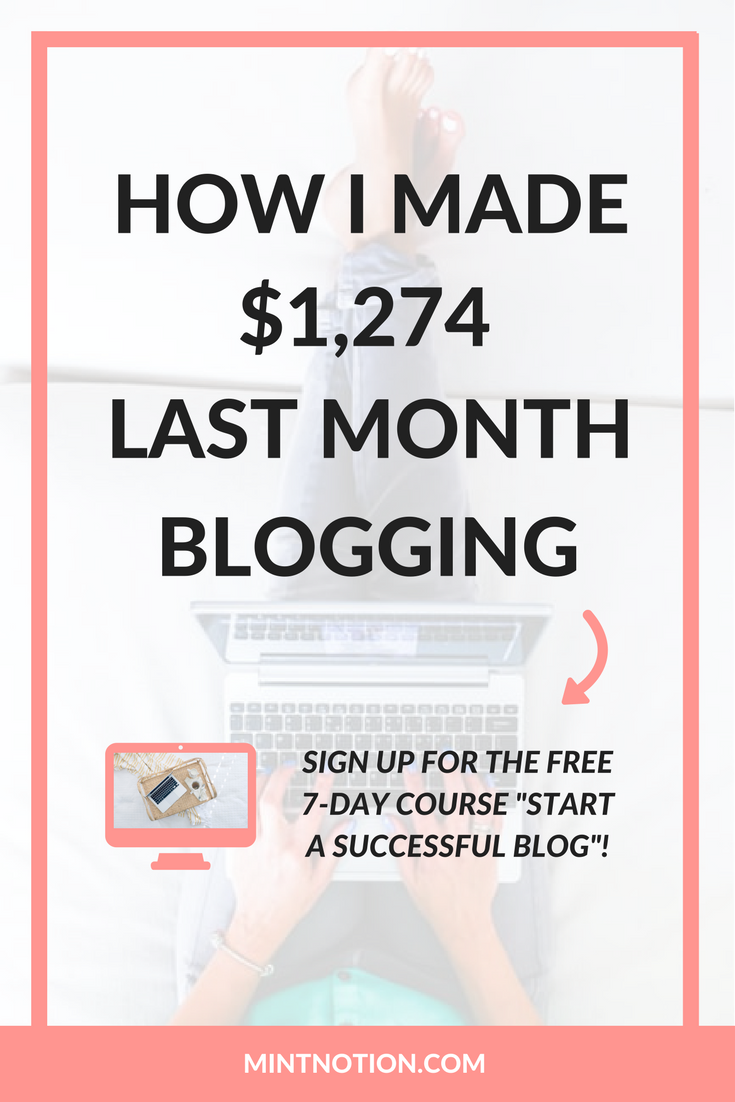 In September, I earned $1,274 before expenses.
As I already mentioned, I have been blogging for two years and have only used Google Adsense to monetize my blog in the past.
This past June, I decided to start experimenting with affiliate marketing and find ways to monetize my popular posts. My blog readership was quickly growing, thanks to these actionable strategies I started using, and I wanted to learn how I could monetize my blog (without selling out).
Other recent changes I implemented include:
I signed up for AdThrive
At the end of August, I stopped using Google Adsense and switched to a different ad network (AdThrive). Within one week, my ad earnings increased by over 400%! I am so glad that I started looking into using a different ad network — I was leaving a lot of money on the table before.
I started using Grammarly
Last month I downloaded this awesome free grammar checker called Grammarly. You can get the full version for a fee, but right now I am content with the free version. I majored in English in University, so I am pretty good at proofreading my work, but Grammarly has been a HUGE time saver for me. It instantly checks for spelling, grammar, and punctuation errors whenever I type anything (blogs posts, emails, social media posts, and more). It's definitely a must-have tool for any writers.
I changed my social sharing buttons
I also started using a new social sharing tool in September called Social Warfare. SumoMe was great, but I noticed that a lot of people were sharing random images from my blog to Pinterest and other social media platforms, which didn't go with the post being shared. It's a paid plugin, but totally worth the investment for your blog. I can upload Pinterest-specific images, customize the sharing buttons to fit my brand and add Click-to-Tweet quotes to my posts. Social Warfare is the best social sharing plugin I've ever used.
If you're interested in learning more about all the tools and resources I use for this website, please check out my Recommendations Page.
My page views were down last month, but my income went up. September was my best month for blog income since I started finding new ways to monetize my blog this summer (beyond using Google Adsense).
Most of my blog traffic comes from Pinterest, and when I was organizing some of my boards last month, I accidentally deleted some of my most popular pins. This is why my page views went down slightly, but I hope to increase them in the near future.
I am also trying to focus on learning more about SEO, which can help me increase my blog traffic. Don't put all your eggs in one basket, my friends!
I am really happy with the progress I've made in the past few months, and I am excited to see my blog continue to grow. I have a lot of fun ideas for the next six months and I can't wait to share them with you.
If you're interested in starting a blog, I've created a free step-by-step tutorial that will help you start your own blog for cheap, for only $2.95 per month for blog hosting (this discount is only available through my link).
This special discount also includes a free website domain (a $15 value) if you decide to purchase a Bluehost package through my link.
If you are serious about making money blogging, going self-hosted is a must. A self-hosted website will make you appear more professional and will help you monetize your blog since you'll have full access to your site.
September 2016 blog income breakdown – $1,274
This is income earned for the month of September, before any expenses or fees.
Affiliate Income – $543
Display advertising – $731
Total income: $1,274
Monthly Expenses
Total income (after expenses): $1,015
Blog traffic in September 2016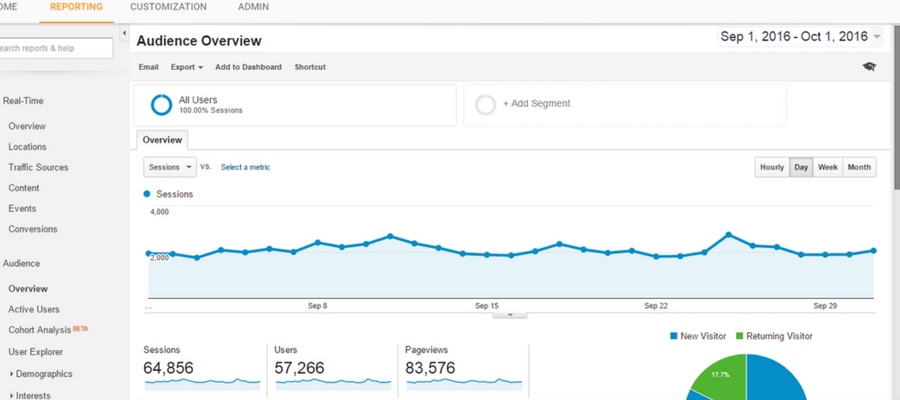 Monthly unique visitors: 57,266
Monthly page views: 83,576
New posts in September 2016
I only wrote 4 posts in September. I used to blog 2-3 times per week, but now I only post once per week. Each post takes me about 2-3 hours to write and edit. Posting less often allows me to have more time to promote my blog.
My blog goals and how I plan to double my income
Goal #1: Increase my blog traffic
My blog traffic in the summer was around 120,000 page views per month and I want to get it back up to that number, while continuing to further grow my blog readership.
How I plan to increase my monthly page views:
Utilize Pinterest group boards. Most of my blog traffic comes from Pinterest and group boards have been very helpful.
Participate in Facebook Groups. I can't believe I didn't join Facebook Groups sooner. I have learned a lot of new information in these groups and it's always great to support other bloggers.
Learn about SEO. I have been learning more and more about SEO in the past few months, but I want to start updating all my old posts and optimize them for search engines.
Goal #2: Increase my blog's affiliate income
My blog income has been seeing a steady increase in the past few months and I would like to eventually double it by the new year.
When I was reading other blogger's income reports this past summer, I discovered that Michelle, from Making Sense of Cents, was killing it with her affiliate income. Seriously, she earns over $50,000 per month from affiliate income – per month!
This was very inspiring and I noticed that she released an e-course recently called Making Sense of Affiliate Marketing. Naturally I wanted to learn more about affiliate marketing, so I decided to take the plunge and buy her course. (This was the first blogging-related course I ever purchased by the way).
UPDATE: I now make a full-time income from blogging thanks to the strategies I learned in the course. Before signing up for the course, I was barely making $100 per month from my blog.
Below is a snapshot of my blog income. My income comes solely from affiliate marketing and display advertising.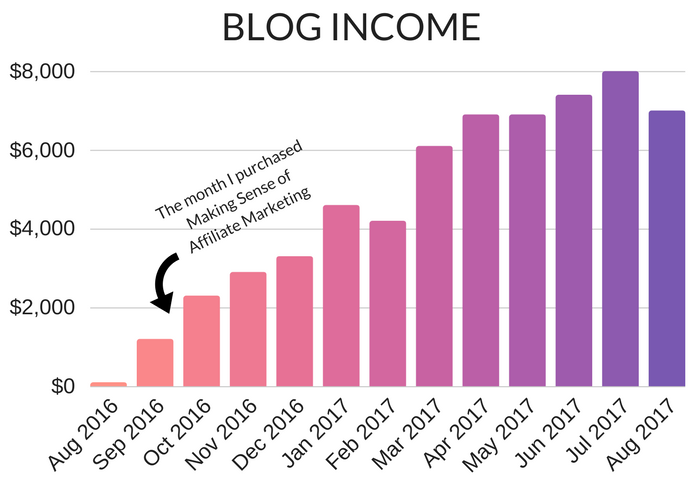 In her e-course, Michelle teaches you the exact strategies she used to go from making $0 in affiliate income to over $50,000 per month. I just finished taking her course and it's been a total game changer for me. It made me realize that I was approaching affiliate marketing all wrong before. I definitely need to get focused and work on implementing her winning strategies for my blog.
In fact, I've already started to implement some of her strategies and have seen good progress in my blog's income growth. I continue to develop focus and make improvements so I can double my blog's monthly income within the next few months. I just wish I knew all this information when I first started my blog, but at least I am taking action now.
I like the idea of making affiliate income, because it's mostly passive. Yes, it does take time to set up in the beginning, but with the right strategies (which you can learn in Michelle's e-course), it can be a great way to earn passive income.
In addition to Michelle spilling all her affiliate marketing secrets, the e-course comes with a bunch of bonus freebies, including:
Access to a private Facebook Mastermind group. You have the chance to get feedback from Michelle, so go ahead and ask as many questions as you'd like to get advice on any strategies you're implementing and how to make improvements. There is also a lot of top bloggers in this group who are sharing tips on their own affiliate marketing techniques. It's a great place to connect and help promote each other's work.
How to increase your page views
9 things to do when something goes viral
Pinterest Strategies to help increase your page views. Rosemarie Groner, from The Busy Budgeter, shares her tips on how to drive massive traffic with Pinterest.
I would recommend this course to both new and experienced bloggers in any niche. If you are looking to increase your affiliate income, then you absolutely NEED this e-course. You can see a breakdown of each module, read student testimonials and find out more information about the e-course here.
Over to you – what did your September look like? What ways do you like to earn extra income?
Related Posts:
1. How to easily start a blog
2. How I increased my Pinterest audience by over 1,200% in just 3 months
3. 9 effective ways to make money online
4. 6 actionable tips to increase your blog traffic